Are you looking for ways to build a passive income stream but not sure how? Then, investing in stocks might be an intriguing idea.
However, investing in stocks requires some research and guidance for beginner investors to make the right choices. If you want to know how to invest in stocks for beginners with little money, this guide will help you. We will go over some vital aspects of investing in shares to help you understand the overall process.
What are Stocks, and How Do Stocks Work?
Stock refers to your ownership of a particular corporation. It is a kind of financial security that details your holdings in a company since the equity is divided on a share basis. Investors who invest in stock are called shareholders or stockholders.
In a nutshell, when you purchase a stock or multiple stocks, you become the owner of a particular entity. It gives you the right to claim the company's net assets and future revenues.
Stocks are the best way to invest in lucrative companies, such as Apple. The issuance of shares helps companies raise capital by selling a portion of their ownership. It allows them to:
Pay off debt
Invest in growth
Expand their operations
Create more product lines
Build new products
Companies that want to sell their shares to the general public for the first time do it by issuing an IPO (initial public offering). The IPO allows you to buy company stock that is listed on the stock market. You can sell the stock to other investors once the prices go up.
Best Stock Brokers 2023
Since there are a plethora of online brokers, you might not be sure about which one to choose. Ideally, it is better to consider things such as services and rates before signing up with an online broker. You can choose one offering the lowest rates and the highest service quality.
Making a comparison among the services can take a lot of your time. Therefore, we have a list of the top five brokers whose services have an optimal rating.
How to Choose an Online Broker?
Choosing an online broker is vital since it can help you buy the best stocks at the right time. Before you sign up for one, you need to consider the following factors to make the best choice:
If you're looking to get your hands on some of the top shares, the best way to do so is by opening an account with an online broker like eToro. They will assist you in buying stocks through their platform or website. You can also choose to go through a full-service stockbroker or buy shares from the company directly.
However, it will require that you go through a bit of a hassle, and it will take a while before you start to invest in stocks. These stockbrokers will make you go through a long process, asking for various documents and other things.
Here is a step-by-step process to help you out with it.
Step 1: Open an Account
The first step is to go to the eToro page and click on the "Let's Start" or "Sign Up" option.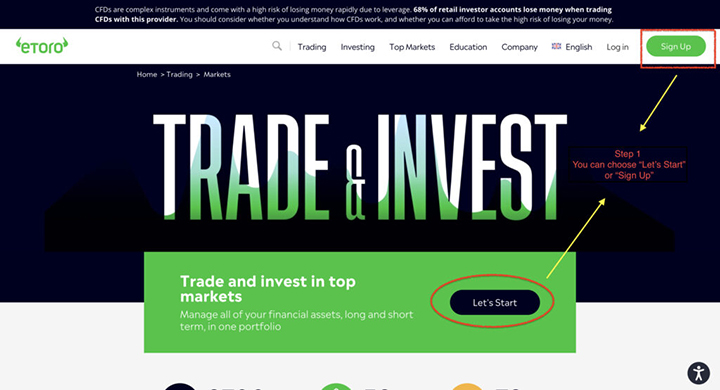 You will have to enter all the relevant information on the following and then submit it for review.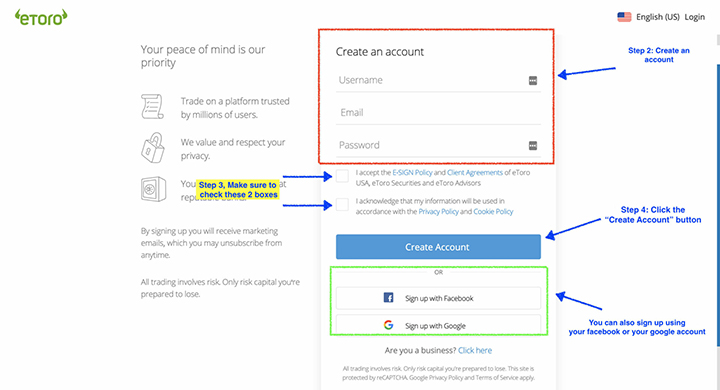 Step 2: Upload ID
The next step is to go through the verification process by providing the following items:
Confirmation of Residence, such as utility bill
Proof of Identity, such as a valid passport
Officially issued photo ID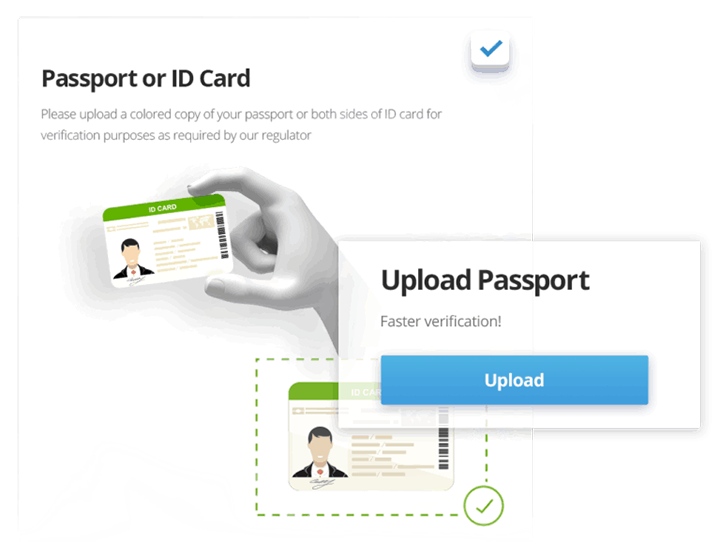 Step 3: Make a Deposit
Once you create an account, you can log in and deposit funds by entering the amount and selecting your currency.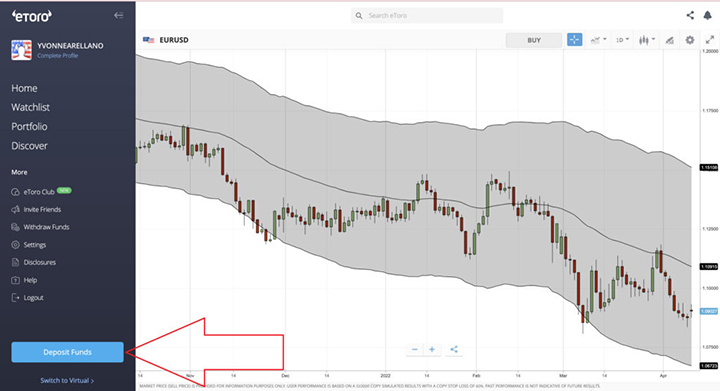 Step 4: Search for Stock
You can start browsing and looking at different stocks to invest your money into.
Best Stocks to Invest in 2023
Many investors tend to put all of their money into various shares in different categories all at once. You can either choose to go for passive investing or active investing.
It gives you a wide range of benefits, including:
Steady returns since the stocks might go up in the future.
You incur lower costs on making frequent transactions.
Lower taxes that you pay because every time you sell shares at a profit, you will have to bear the burden of capital gains tax.
There is a lesser risk since you can hold your investment when the market or the share prices go down for some reason.
The idea of active investing is to keep an eye on the market fluctuations to buy and sell the shares. It focuses more on gaining short-term profits. This strategy has its advantages, such as:
You can benefit from short-term opportunities and enjoy instant profit instead of waiting for it.
It allows better management of your portfolio.
Diversification of a portfolio is much easier
You can recover your losses in the next trade
Let's go over some of the best stocks in different industries that you need to keep an eye on in 2023 and the coming years.
Tech stocks are now becoming a top pick for investors as we increase our dependency on technology. Here is a list of the top tech stocks that you need to watch out for in 2023.
AMD plans to launch new CPUs like the Zen 4 on new TSMC new 5nm technology and is working on new technologies as well. The company has also passed Intel in sales for the first year, making it an ideal choice for investment.
2023 will be an exceptional year for the company due to its recent developments. The deal with Pensando for $1.9 billion is one prime example of it. Furthermore, the company plans to launch its Zen 4, which has been in the development phase for the last two years.
---
Intel is in a battle with AMD for market share in the server and desktop market. They are losing their competitive edge due to a lack of innovation. However, they have hired a new Chief Executive Officer, Pat Gelsinger, and they plan on designing new products like desktop graphic cards.
Investors are hopeful that the appointment of Pat Gelsinger as CEO will help them bring new ideas to the table. Pat is keen on working towards new ideas to design and manufacture some advanced GPUs and microprocessor chips compared to AMD and Nvidia.
---
TSMC is the biggest global computer chip maker, serving big brands like Apple, Intel, AMD, etc. The shares have good prospects, but geopolitical tensions are a major factor to consider. The Russian invasion of Ukraine has led many to believe that China might also invade the small nation.
However, the thing worth noticing is that the company's FCF (Free Cash Flow) is good. As a result, it will increase the market capitalization of the entire company. It is investors need to keep an eye on this share.
---
Apple is a market leader, but the lack of innovation in the new iPhone is making investors rethink its future. Nevertheless, it is a tech stock to keep an eye on in 2023 due to a number of reasons. Most prominently, the company's wearables and services are witnessing a rise in its sales.
The company saw an increase in its revenue by 17% in the first quarter of 2023. Moreover, investors can expect to see a growth in the company's earnings as its Macbook and iPhone series get more mature.
---
The Palantir Technologies Inc share is also seeing a rise after the company posted gains of 40% in sales. However, many experts predict whether it will continue to grow in the same way or not. Palantir Technologies hasn't posted a financial statement up till now where it is profitable.
It did manage to land some heavy clients, such as the deal of $44 million with the US Food and Drug Administration, which led to an increase in Palantir's share price by the end of 2021. They are also looking to expand their customer base, which means it is stock that you need to look out for in 2023.
Many consider blockchain to be the future of financial and government systems. Therefore, it is worth keeping an eye on the top blockchain stocks that can grow in the future. Here is a list of the most popular blockchain stocks that you need to watch out for in 2023.
Nvidia is a top pick for investors who are looking to gain from growth in the blockchain industry. This way, they can put their money towards companies focusing on blockchain technology without investing in the technology itself.
The new line of GPU and other developments make it a promising stock for 2023.
---
Amazon is having a rough year due to supply chain issues, labor shortages, and high costs. Nevertheless, it is a stock that has been the top pick for the investors that want to diversify their portfolios.
The company's huge advancements and developments in the blockchain sector make it a valuable share in 2023 and years ahead of it. Experts are confident about the company's prospects and its expansion into other sectors.
---
IBM is also making significant progress in Blockchain technology and we can expect to see some new developments coming from the company.
Although the company is facing some challenges due to external issues like the Russian-Ukraine war, many experts expect it to bounce back.
---
Block Inc.'s has a good history with low volatility. However, the valuation is a major concern for many investors. While it started as a payments company, it is now making progress in the blockchain field.
Analysts have also agreed that the company's approach toward blockchain technology is making it a valuable stock in the next few years.
---
With a P/E ratio of 19.23, Silvergate Capital Corp is one of the blockchain stocks to look at in 2023.
And not just that, the company's proactive initiatives in the blockchain sector have contributed positively to its image.
Further currency solutions from the company can help improve its overall revenues and increase the share price in the short and long run.
Green stocks are also a popular pick for investors now that the US House of Representatives is decimalizing the use of Marijuana. Here is a list of the top cannabis stocks that you need to watch out for in 2023.
The Alcanna acquisition and the growth in sales by triple-digit make Sundial Growers worth your attention. This acquisition is the biggest for Sundial Growers Inc since Alcanna is the top cannabis company in Northern America.
Furthermore, the company announced in July last year that it had completed the acquisition of Inner Spirit and the Spiritleaf retail network. Investors can learn more about their developments since the share has the potential to grow significantly.
---
Trulieve Cannabis Corp is working on taking advantage of the recent developments thanks to the US House of Representatives. While the company is relatively new since it only went public in 2018, it has made staggering progress over the last few years.
The decimalizing of the use of Marijuana will help the company explore new avenues and come up with new medical products. Trulieve Cannabis Corp suffered a significant fall in its share value due to supply chain issues, but it is still starting to recover from it.
---
Cresco Labs Inc just announced its new acquisition, and the company intends to expand operations. Investors are considering this stock due to these recent developments.
It did see a fall in its share value by a significant margin due to the meme stock mania, but it has some great prospects ahead. Analysts are confident that the stock will surge in 2023 and years ahead since the company has an exceptional wholesale business model that sets it apart from its competitors.
---
Green Thumb Industries Inc has kept a consistent cash flow and revenue growth over the last few years. However, including this cannabis company in your portfolio won't come cheap. The company has posted strong numbers for the last quarter of 2021.
Its stock price skyrocketed after Green Thumb Industries Inc published the last quarter's reports. In addition, experts at Wallet Investor, CNN, TipRanks, etc., have given it a buy rating. Therefore, you need to keep an eye on this stock.
---
Tilray Inc's mixed earnings in recent times are making investors rethink whether they should invest in this stock. Nevertheless, it still offers a great prospect to grow.
The company is working on signing new deals with different clients. Its most notable one is with the Authentic Brands Group, where Tilray signed a $250 million revenue-sharing deal. It helps them leverage ABG's various brands, including Nine West which makes cannabis products.
The automobile industry also has some top contenders that have the potential to grow in no time. Here is a list of the best car stocks that you need to watch out for in 2023.
Tesla delivered around 936,222 EVs to its customers in 2021. As a result, the company saw an increase in its revenue and net profit by 73% and 665%. Moreover, the company has opened a factory in Berlin, and it has started to manufacture Model Y.
Therefore, we can expect it to deliver and cater to the growing demand for EV cars in Europe. It will increase sales by a significant margin and impact the share price in 2023. Therefore, investors looking to invest in car stocks should keep an eye on Tesla Inc.
---
Fluctuations in the EV market make Nio Inc a volatile share. However, Nio shows an immersive potential to grow in the future. The company has a major facility in China, and the majority of its cities are under lockdown to curb the disease.
Therefore, Nio's share price can see some sort of impact on its share price.
---
With an extensive range of products, amazing sales growth, and a sizeable market, Guangzhou Xiaopeng Motors Technology AKA XPeng is a top share to include in your portfolio. The company exceeded its monthly delivery benchmark in December 2021.
Guangzhou Xiaopeng Motors Technology has managed to deliver these vehicles despite facing severe supply chain issues globally for the second time consecutively. Therefore, the stock price is worth considering in 2023 for investors to diversify their portfolios.
---
Ford Motor Company plans on bringing new vehicles for its customers that are more economical, environmentally friendly, and have more features. This innovation is bound to drive their sales up in the years to come.
Ford Motor Company managed to earn revenue of $156 billion in 2019 alone. As a result, it is seeing a steady rise in its value. While the company is facing challenges like supply chain issues, experts have a positive outlook for the Ford Motor Company in 2023.
---
Geely Global is one of the rate penny stocks that give annual dividends to its shareholders. Therefore, it can be beneficial for you to research more about this stock. Geely Holdings has acquired more than 30% of the shares of Renault Korea Motors.
Their collaboration means that we can expect to see a much more enhanced development process and realize some new vehicles line in the global market. Therefore, it can impact the share price of Geely Global share price in the future.
Energy is also a popular sector that investors are eyeing in the coming years. Here is a list of the top energy stocks that you need to watch out for in 2023.
Plug Power has great revenue projections for this year. If it can achieve its milestones, the company can also see a massive increase in its share value in the next coming 12 to 15 months.
Furthermore, the company is now focusing on creating new policed for the usage of renewable resources. Plug Power also has many hydrogen supply contract announcements in the pipeline, which means that it can see an impact on the share price in the near future.
---
The overall growth of Tesla makes it a top share in the energy category as well. The company has many green initiatives that they are currently working on, and it plans to open new projects for renewable energy.
However, investors are a little concerned about Elon Musk, the company's CEO, buying Twitter. Many believe that his attention will divert toward Twitter rather than Tesla. Nevertheless, there are all speculations that investors should not take heed of and focus on the company's financials to make a decision.
---
Enphase Energy Inc is also a top energy stock that investors need to pay attention to in 2023. The company's finances have a positive outlook, and it also has a powerful catalyst.
Moreover, the company is working on various new initiatives that will further improve its financial statement. Therefore, we can expect its share price to see a positive change in the next few months.
---
Many experts are advising investors to hold Ormat stocks and sell them at a higher price later. Though Ormat Technologies did suffer some setbacks due to the acquisitions from the short-seller Hindenburg, it is working on dealing with them.
Moreover, the company's exceptional Price To Sales Ratio (P/S) has caused its share price to rise significantly.
---
The growth prospects of Chevron due to its previous earnings make its shares worth buying. While the company's share price did suffer due to the pandemic, it is seeing a steady rise over time.
The acquisition of the Renewable Energy Group by Chevron Corporation also helps it to attract investors that want to have stocks of renewable companies in their portfolio.
Investing in global markets such as the US, UK, and Australia helps you gain access to international companies. You can invest in these three countries through online brokerage firms, but you will have to pay the fees.
Another common issue that investors face is taxation. You will have to pay taxes in these countries if you sell your stocks for profit. Nevertheless, you get the added benefit of diversifying your portfolio when you buy shares in the US, UK, and Australia.
Stocks list
FAQs
How Much Money Should I Invest in Stocks?
There is no limit to the amount you can start investing in the stock market. Generally, many financial experts recommend using the 50/30/20 budget rule, where you use the 20% income for investing purposes.
If you are a beginner, your initial goal should be to gain experience trading and investing in stocks. Once you gain some knowledge and experience, you can make the right decisions to buy the best stocks. Keep in mind that investing comes with risk, and you might lose some money when trading.
How to Invest in Stocks for Beginners with Little Money?
If you don't have a lot of money to invest in the stock market or want to start off with a small amount, you can do that. You can benefit from fractional trading that many online brokers offer to invest a small amount of money into the stocks.
However, the crucial thing to keep in mind is that investing is a long-term game. Therefore, using emergency savings to invest in the stock market isn't a wise idea. Also, small amounts of money mean that you won't be able to diversify your portfolio.
How Do You Make Money From Stocks?
The most common ways people can make money through stocks are by receiving dividends or selling shares at a higher price.
Dividends are the shares of profit you get as per your holdings in the company. Buying stocks at lower prices and selling high helps you earn money through capital gains.