This content represents the writer's opinions and research and is not intended to be taken as financial advice. The information presented is general in nature and may not meet the specific needs of any individual or entity. It is not intended to be relied upon as a professional or financial decision-making tool.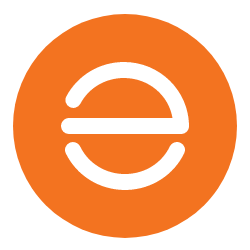 Enphase Energy Inc is one of the leading global energy companies in the United States. Based out of Fremont, CA, Enphase Energy has become a leading global supplier of advanced micro-inverter battery and solar systems. Whether it's for residential or commercial purposes, these systems make it possible to harness the power of the sun in order to save, sell, and use their own power. And the best part is that you can control this power through a dedicated mobile app. sometime wrongly called "nface energy".
When it comes to energy-efficient firms, Enphase Energy has managed to revolutionize the global solar sector through its micro-inverter tech solutions. In fact, Enphase Energy offers all-in-one micro-inverter-based solutions that can work as independent and all-in-one battery or solar solutions. Since the inception of the company, Enphase has managed to ship over 45 million micro-inverters. In addition, up to 2 million developed systems have been supplied by Enphase Energy across 135 countries.
Enphase Energy Inc Statistical Overview
Enphase Energy (ENPH) Stock Forecast 2023
Enphase Energy is the world's largest provider of microinverter-based solar and battery solutions. The firm operates on a worldwide scale and specializes in energy technology.
Enphase Energy Inc recently announced the debut of its IQ8TM Microinverters in Florida, Nothern California, France and the Netherlands. This was the first set extension of the product into overseas markets since its introduction in North America at the end of 2021 was a huge success.
Enphase Energy is making significant strides in becoming more established in Europe. In 2022 and 2021, the firm launched the Enphase Installer Network in France and the Netherlands. Additionally, the company stated that starting in 2023, it would increase its production capacity in Romania in conjunction with its partner Flex.
As at December 15, 2022 the stock price of ENPH was $313.97. Analysts have predicted that median target for Enphase Energy Inc in the next 12 months to be $325.90. The stock price of $313.97 corresponds to a +3.80% rise when compared to the median estimate. A high price of around $365.00 and a low price of $242.00 are predicted for 2023.
An growth over the long run is anticipated, according to estimates made by experts.
Enphase Energy (ENPH) Stock 2022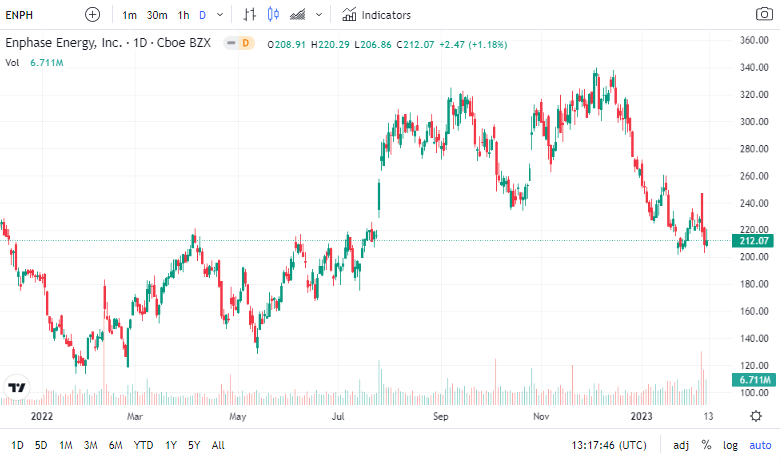 In 2022, ENPH stock managed to surpass the expectations of analysts with $432.3 million in reported top-line Q1 earnings. With solid earnings in Q1, Enphase Energy was leading the charge as one of the best stocks in the market in 2022.
During the second quarter of 2022, Enphase Energy was able to completely outperform forecasts made by experts. The news sparked widespread enthusiasm among investors, who subsequently increased their energy and solar stocks.
On April 17, 2022, the ENPH stock did, in fact, decline by 0.77%. But as at April 26 2022, the shares of Enphase Energy increased by 7.7%. In the second half of the year, ENPH has been on a bull run with the close price at December 1, 2022 been $314.00.
Enphase Energy (ENPH) Stock 2020
Before 2021, ENPH stock was devalued and market perception was more or less mixed. But throughout Q1 2021, ENPH stock was overvalued by almost 30% and recorded its highest stock price of $172 on March 30, 2021. It was changing market perception and increased demand for solar and energy solutions that rendered more opportunities for Enphase Energy in 2021.
And before the investors and the company realized it, the stock price of ENPH was increasing at a faster pace. At the start of 2021, it became clear that investors were looking for energy and solar stocks with long-term potential. Apart from the intrinsic value of the stock, the long-term investment potential in ENPH managed to convince a lot of investors.
In 2021, Enphase Energy was expected to double its annual profit margins and many investors managed to leverage this opportunity and bought ENPH stocks. With consistent higher cash flow, the ENPH stock is bound to result in a higher stock valuation. In November 2021, ENPH managed to cross the threshold of $272.50 in the stock price in the market. Investors are now expecting that the ENPH stock would likely exceed this mark by the end of Q3 2022.

Enphase Energy (ENPH) Stock 2020
The pandemic year had the opposite effect on companies providing energy and solar-powered solutions. According to most stock market analysts, ENPH stock had a significant boost in 2020 due to the high demand for the distribution and production of energy.
By the end of Q1 2020, the ENPH stock was no longer a high-risk investment. And by the end of Q2 2020, ENPH stock started to stand out and became one of the best solar and energy stocks in the market. In 2020, Enphase Energy also managed to strengthen its financial position and successfully executed expansion plans.
The truth is that 2020 became a growth starting year for Enphase Energy to drive unprecedented financial bump and increase its stock levels in the market. At this stage, many investors started to devise new strategies to invest in energy and solar stocks like ENPH.
By December 31, 2020, Enphase Energy realized that more growth has yet to come. What's interesting is that the growth potential of the company and its stock price promised long-term results for investors. And after the reported earnings of Q4 2020, many investors jumped aboard the train of ENPH stock.
Like other sectors, during the COVID-19 pandemic crisis, there was high volatility in the energy and solar markets. But some companies like Enphase Energy managed to leverage the situation and paid close attention to market indicators that led to consistent growth and a significant increase in its stock levels.
Enphase Energy (ENPH) Stock 2012-2019
When Energy Enphase went public back in March 2012, there were a lot of eager and enthusiastic investors who easily paid $6 per share for almost 9 million shares. But for six consecutive years, Enphase Energy managed to hold on to this price point.
In fact, this period was arguably the most challenging time for Enphase Energy. By December 31, 2013, Enphase Energy's shares were traded for even less than $4 on NASDAQ. At the start of 2014, Enphase Energy had already lost 1/3rd of its IPO stock price.
But from 2016 to 2018, the stock price of Enphase Energy was at an all-time low. By December 30, 2014, ENPH hit some highs, but they are nowhere near as high as current stock levels. In the last decade, the highest stock price of ENPH was just $17.35.
Conclusion
Enphase Energy has had a strong market position and upward stock trajectory due to a consistent ambitious drive. In fact, the company is more optimistic than ever about its financial outlook, leveraging potential opportunities, and fulfilling market expectations. In 2023 and beyond, the stock price of ENPH is bound to bump up and would further propel the company to expand performance parameters.
In the past, Enphase Energy has had several joint partnerships on different projects, but now it wants to focus on more effective collaborations to manufacture the more complex micro-inverters in the American and European markets. But apart from future expectations and long-term goals, Enphase Energy's progressive approach to anticipate challenges, address risks, and navigate market uncertainties will continue to strengthen the company.
Enphase Energy understands that more expansion means more comprehensive solutions and fulfilling more complex obligations. In retrospect, Enphase Energy emphasizes a more strategic and collaborative approach to drive unprecedented growth and improve its stock levels.
Risk Disclaimer
WeInvests is a financial portal-based research agency. We do our utmost best to offer reliable and unbiased information about crypto, finance, trading and stocks. However, we do not offer financial advice and users should always carry out their own research.
Read More