This content represents the writer's opinions and research and is not intended to be taken as financial advice. The information presented is general in nature and may not meet the specific needs of any individual or entity. It is not intended to be relied upon as a professional or financial decision-making tool.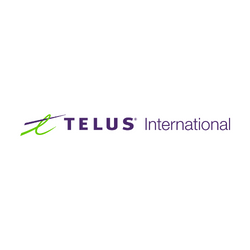 Telus International Inc. is a digital and communications solutions company that establishes strong human relationships in the corporate world to improve growth and engagement. This company focuses on what is important by offering solutions and services such as end-to-end service innovation and next-gen tech and IT building. So far, these solutions have helped several world industries, such as communications and media, fintech and financial services, games, eCommerce, technology, travel and hospitality, and healthcare. In total, the company has partnered with 600+ companies that believe in the success and strength of customer experience.
As a DX and CX company with a proven industry track record, Telus International has a team of experts whose only interest is restoring corporate culture. It sets up different-sized programs that are useful in supporting a business. More importantly, the company builds an intelligence system to facilitate easy interaction.
Telus International Inc. was established in 2005, and it has made much progress within nearly two decades. The software company has built an onshore presence and invested in businesses like Transactel, CallPoint New Europe, Vex Pro, and many others. Its technology partners include Google Cloud, Cisco, Upstreamworks, SalesForce, Uber, TikTok, Tech See, IIIO, and Verint. Recently, the company launched its IPO, TIXT, on Toronto Stock Exchange and New York Stock Exchange and has had many interested in it ever since.
TITX Stock Forecast 2023
According to 15 Analysts, Telus International Stocks (TIXT) is predicted to hit an average target of $29 over the next 12 months, with a high price of $50.00 and a low price of $26.00. This price forecast is a 41.88% increase from its current price ($20.44). Others think the TIXT price could reach $28.78 by November 2023. But whatever it is, the price should be around the range of $25 to $29.
Due to the price prediction, the earnings per share (EPS) has its own forecast. The average EPS should be $1.33 in 2023, and over the next 1 year (2024), it is predicted to be $1.46 – at a high point of $1.49 and a low point of $1.43. Likewise, the return on assets is expected to be 11.18%, which is less than what has been predicted for the US Software-Infrastructure industry (17.09%).
TIXT 2023 Forecast has analysts agreeing that the stock is an extremely good trade in 2023 compared to a few others on NYSE. From the stock chart, it has a good run through the year.
TITX Stock 2022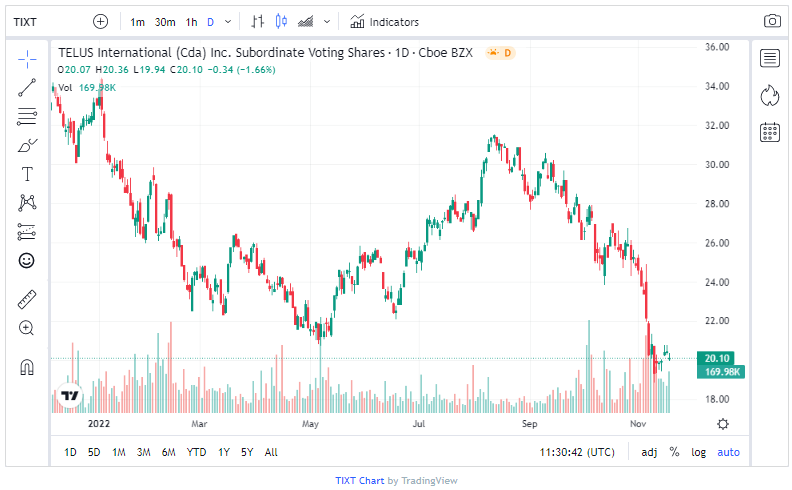 TELUS International began 2022 on a high note, with double-digit sales and profit growth and triple-digit cash flow rise year over year. The company's Q1 revenue increased by $94 million or 19% year over year to $599 million. Comparing the same quarter of 2021 to that of 2022, there was a $34 million net profit and a $0.13 diluted earnings per share.
The company's revenue for the second quarter increased by $91 million or 17% year over year to $624 million, driven by a gain in both new and current client business, particularly in the areas of content moderation and AI data services.
While navigating a prolonged period of macroeconomic uncertainty, the company continued to carry out its long-term strategic strategy in the third quarter of 2022, delivering solid double-digit revenue growth. Revenue for Telus International was $615 million, an increase of $59 million or 11% from the previous year. Its net income of $59 million and diluted EPS of $0.22 were higher than the corresponding figures from the same quarter in 2021 ($23 million and $0.09, respectively).
TITX Stock 2021
TIXT Stocks hit the market on February 3 2021. The software company listed its initial public offering in Toronto and New York at an IPO price between $23 to $25 per share. It offered 33.33 million common stock from 21.93M treasury and 11.40M Telus Corporation and Baring Private Equity Asia. When it was listed on the NYSE, it traded 30% more, valued at $33.10 per share. This event showed exactly the stock's demand and the strength for the future.
At the end of the IPO, TELUS Corporation held 66.6% of the proceeds, while the selling shareholder, Baring Private Equity Asia, held 31.5%. This success had the CEO, Jeff Puritt, confirm that it will continue to maintain partnerships with various Canadian telecom companies. He also thinks that this IPO will help establish the company and, in the future, become an independent acquirer.
The stock, TIXT, closed in 2021 at $33.06.
Conclusion
Telus International Inc. has done nothing to be but an industry leader in DX and CX solutions. This software company has changed the world, and its success can be told from its numerous partnerships with some of the world's tech giants. In the future, the company plans to foster great customer service and improve corporate culture in the best possible way.
This company's stock, TIXT, also plans to follow suit. It was only launched in 2021, but in a short time, the stock has proven that it has potential – an obvious good trade. In the next two years, the stock price is predicted to have increased more than 50% to its current price, which is definitely a good thing.
FAQ
What is TIXT Forecast on ROE?
From the technical analysis of TIXT stock price and its forecasts in 2023 and beyond, the expected return on equity should be 22.61%. Undoubtedly, the ROE is strong.
Is TIXT a Good Trade in 2023?
According to Wall Street analysts, TIXT is a strong trade in 2023 because of its current performance. Others think it is a good trade– a worthy investment.
Is TIXT a Strong Sell in 2023?
With the look of TIXT stocks on the market, buying and hodling is better than selling.
Risk Disclaimer
WeInvests is a financial portal-based research agency. We do our utmost best to offer reliable and unbiased information about crypto, finance, trading and stocks. However, we do not offer financial advice and users should always carry out their own research.
Read More