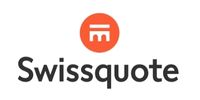 The security of a Swiss Bank
Competitive Prices
Cutting-edge technology
Pros
Security
Range of trading instruments
User-friendly platform
Educational resources
Customer service
Cons
High fees
Limited payment options
Swissquote Highlights

| | |
| --- | --- |
| 💻 Trading Platforms | eTrading, Advanced Trader, MetaTrader, and Robo-Advisor platforms with access to various markets and instruments |
| 📞 Customer Service | 24/5 support via phone, email, or online chat |
| 🎁 Promotions/Bonuses | No deposit bonus |
| 🛡 Regulation | Multi-regulated by FINMA, FCA, MFSA, DFSA, etc. |
| 💵 Deposit/Withdrawal Methods | arious payment methods; minimum deposit $1,000; no withdrawal fee |
| 📊 Spreads/Commissions | Variable spreads depending on the instrument and market conditions; commissions from 0.1% (stocks) to 1% (cryptos) |
| 🔒 Security | Segregated funds; SSL encryption; firewalls; anti-virus software |
| 📚 Education/Resources | Webinars, videos, articles, etc.; economic calendar, market news, market analysis, etc. |
| 📱 Mobile Trading | iOS and Android app with all eTrading platform features and functions |
| ⚡ Execution Speed | Fast and reliable execution with low latency and minimal slippage; various order types |
| 🔧 Trading Tools/Indicators | Moving averages, Bollinger bands, Fibonacci retracement, etc.; custom indicators and alerts |
| 🌍 Country/Region Availability | Over 120 countries and regions; some restrictions apply |
| 💰 Account Minimum | $1,000 for live account; free demo account with $100,000 virtual funds$1,000 for live account; free demo account with $100,000 virtual funds |
| ⚖ Leverage/Margin Requirements | Flexible leverage options depending on instrument and jurisdiction |
| 📈 Asset Selection/Market Access | Over 3,000 instruments across forex, stocks, indices, commodities, cryptocurrencies, options, ETFs, etc.; CFDs or direct investing (stocks only) |
This online bank broker has been able to distinguish itself from the rest since its inception in 1996. Aside from sharing a similar ability of Swissqoute's main competitors to offer very broad products and assets, like Saxo Bank, Swissquote managed to align innovation, original marketing mix, and internal processes to display an impressive array of quality deliverables in each segment of their business.
If you are seeing this brand name for the first time and wonder who is Swissquote, know this is a reputable, regulated bank broker by multiple Tier 1 regulators such as Swiss FINMA and is listed on the SIX Swiss Exchange.
What is Swissquote offering? Several trading platforms including MT4, thousands of assets including those even experts had not heard of and services brokers simply do not offer yet. Swissquote does a good job wrapping it all in a way beginner traders will want to get involved while experts would brainstorm new ways to grow wealth.
Staking, Crypto and Themed products are just one part of how Swissquote gets into the heads of new-age traders, in a way no one would doubt they are dealing with one of the best brokers. Now, does Swissquote's effort translate into great ratings? Surprisingly, not quite as one would expect, but let's move into more details.
Is Swissquote a Good Option for you?
Products with a "swiss" word in them must be expensive, right? Swissquote can say they are very competitive as a licensed bank, however, as a regulated broker they are not on the more affordable half of the broker list. That said, traders looking for an exclusive and quality bank broker like Swissquote must be ready for a compromise.
As a licensed bank and a FINMA-regulated broker, you don't need to ask if you can trust Swissquote.
If you are used to MetaTrader, Swissquote features interesting plugins for both MT4 and MT5
Some beginner traders might think the minimum deposit of $1000 for the Standard Account is too much. Beginners that like Swissquote's Robo-Advisor portfolio builder would also need at least CHF 50,000 to put in.
Somewhat higher spreads are also not quite adequate for traders interested in frequent trading strategies.
However, starters will find Swissquote's education one of the best, especially because the content covers rare products trading such as options and other packaged derivatives.
Swissquote is a rare bank broker that offers cryptocurrency staking and a wallet, without the risks associated with exchange hacking. Of course, the conditions are different and there is a %20 fee.
Is Swissquote regulated?
Swissquote has opened a few divisions and additionally has many affiliates to reach a global presence. This also means most of the clients will be able to open an account. As a publicly traded company, Swissquote also has to adhere to SIX Exchange regulation. Here is the list of the main Swissquote regulators:
Swiss Financial Market Supervisory Authority (FINMA)
Financial Conduct Authority (FCA), Swissquote's UK office
Dubai Financial Services Authority (DFSA), Swissquote's office in Dubai
Monetary Authority of Singapore (MAS), Swissquote's office in Singapore
Malta Financial Services Authority (MFSA)
Securities and Futures Commission (SFC), Hong Kong office
Investor's funds in Swissquote bank accounts are covered up to CHF 100,000.
Who Is Swissquote Recommended For?
Since Swissquote's record shows advanced services and financial products development, such as Swiss DOTS and Barrier Reverse Convertibles, it is a bank broker for investors with experience but also with bigger accounts.
Still, a classic trading account that does not involve CFD trading but just investing in multiple asset categories does not require a minimum investment. Additionally, staking, wallet Themes, ETF, and ETP investing are part of this regular investing account. If you agree to the fees, it is a great solution for beginner investors, but use Swissquote resources for best practices.
Traders that rely on quick automated trading on MetaTrader platforms could be disappointed with the spreads Swissquote is offering, even though trade executions are good.
Swissquote Trade Experience
It is great to see a broker with so many assets and many platforms. But, MetaTrader 4 does not support many of the assets presented. Therefore, MT4 does not have stocks, ETFs, or crypto. However, the MT4 platform is packed with an unusual range of forex pairs, indices, futures, commodities, and bonds. MT5 has stocks included, making it one of the best asset ranges offered for this platform in the industry.
To spice the trading experience even more, Swissqupote offered an advanced version of MetaTrader platforms, a plug-in that has very useful add-ons not found by default. If you are a fan of Autochartist and Trading Central, they are optional too.
Swissquote developed Advanced Trader proprietary platform for mobiles and desktops. This platform is appealing, runs smoothly, and features advanced trading options often found only on professional desktop trading platforms. Exploring the app is fun, beginner traders will especially like the educational segment.
Advanced Trader platform is like TradingView adaptation that is customizable and integrates Swissqoute assets, features, and specialties. The charts are TradingView charts will all of their features. Unlike MetaTrader, Advanced trader has all tradeable products.
Spreads are relatively high even for higher tier accounts.
Commission for US stocks is $0.03 per share or $20 minimum. (standard account)
0.15% for other equities is 0.15% or a minimum of $20. (standard account)
Flat fees for investing account, depending on the product, usually CHF 9, 0.5% on crypto
Robo-Advisory service has 0.75% fee
Crypto trading involves a 1% fee
20% crypto staking fee
Forex and CFD accounts do not have a commission for forex assets.
Investing account custody fee of CHF 50 per quarter. Additional fees may apply depending on the service.
2 EUR for SEPA transfers and $25 additional outgoing payment fees.
Inactivity fee of 10 units after 6 months
How to open an account with Swissquote
Swissquote has a bit more complicated sign-up process than other brokers and you may need to fill in more information. To start applying click Open Account but first select Trading if you want to invest or CFD if you want to trade CFD products and Forex. Robo-Advisory and other services have separate sign-up processes and accounts.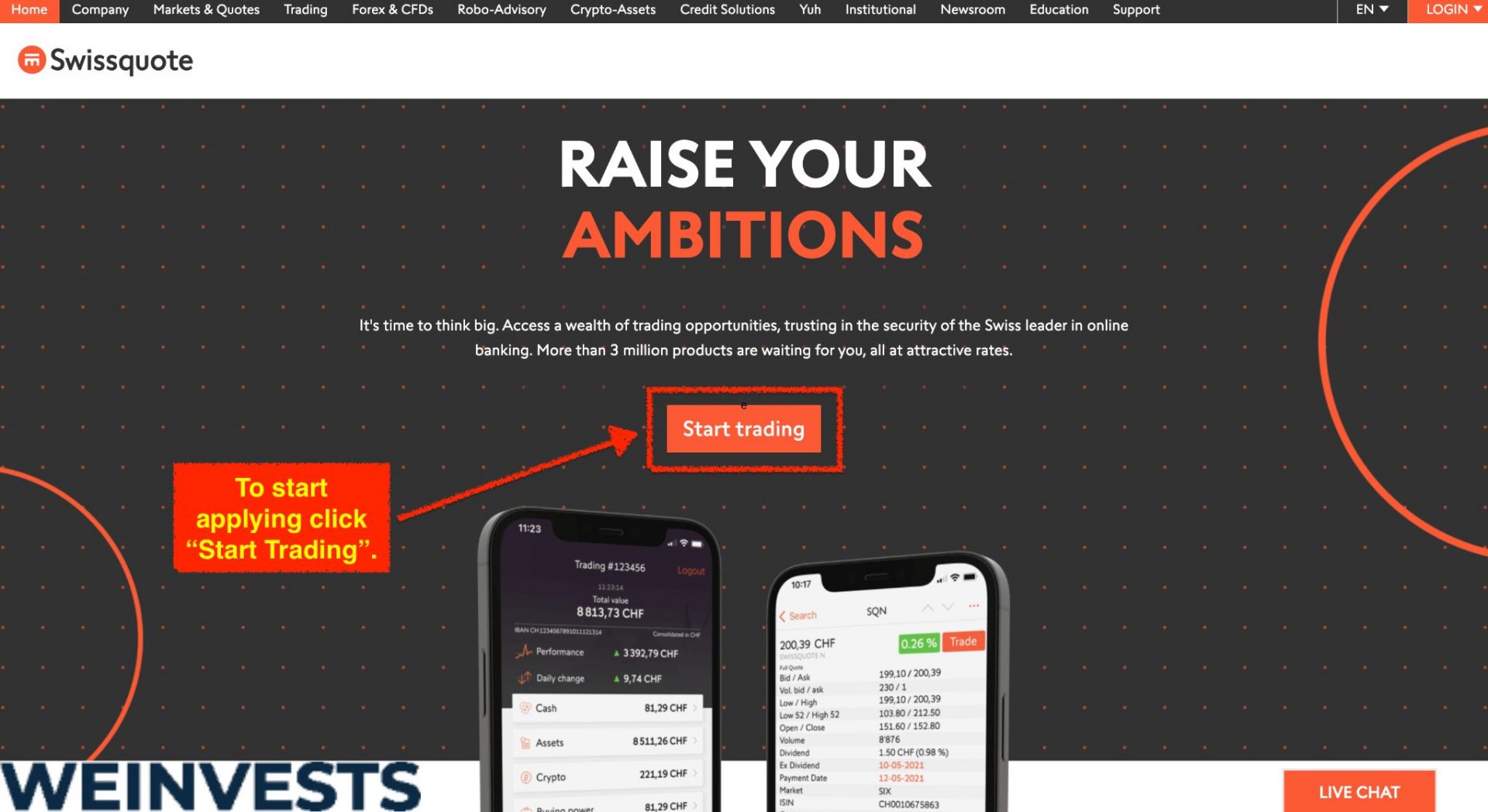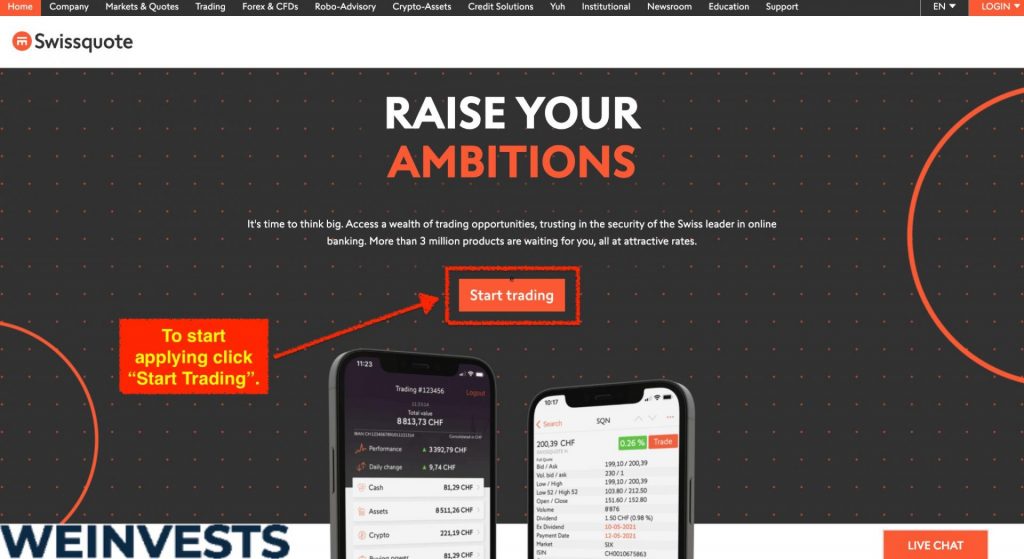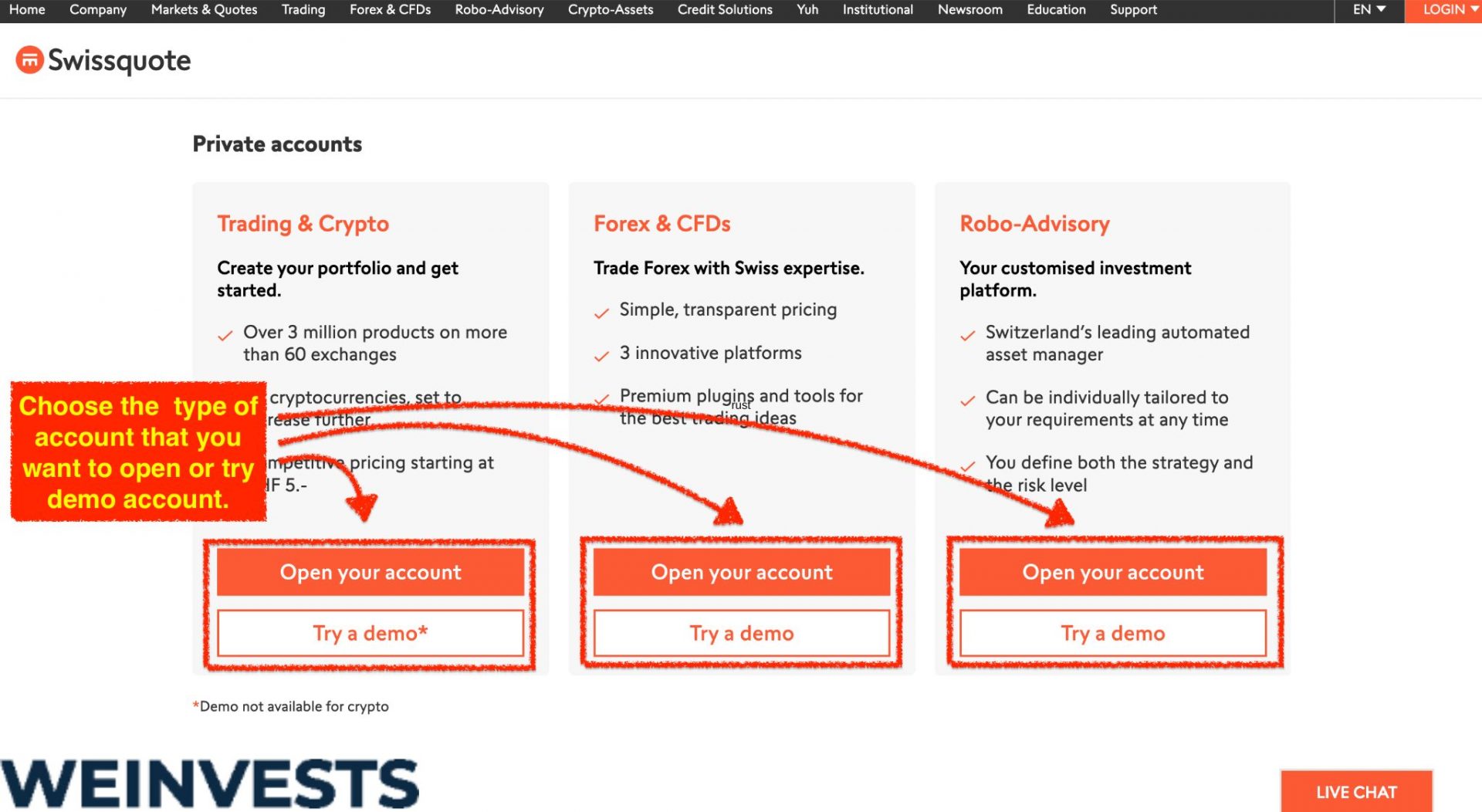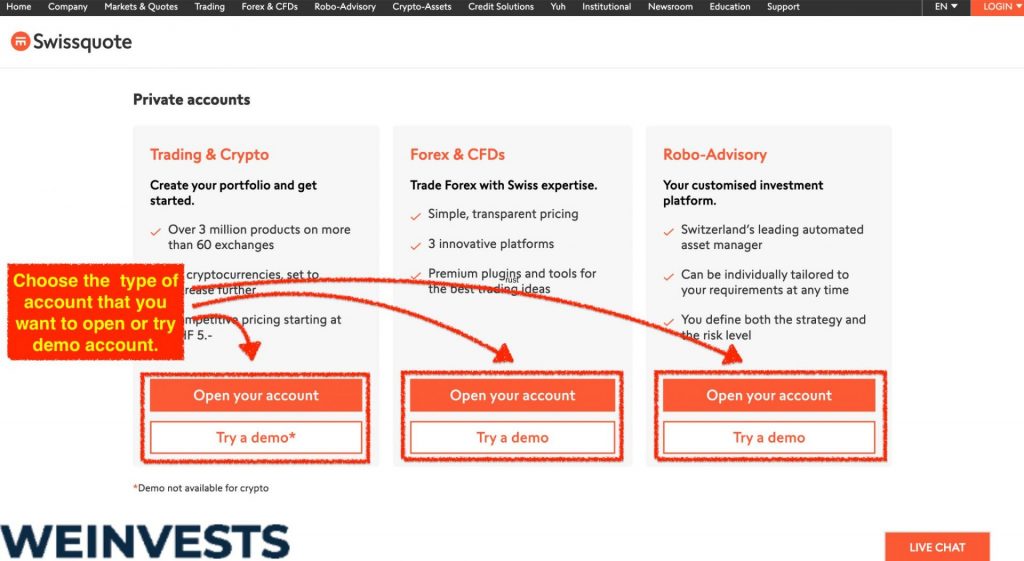 The first step is Personal Information where you fill in your location, name, email, and mobile information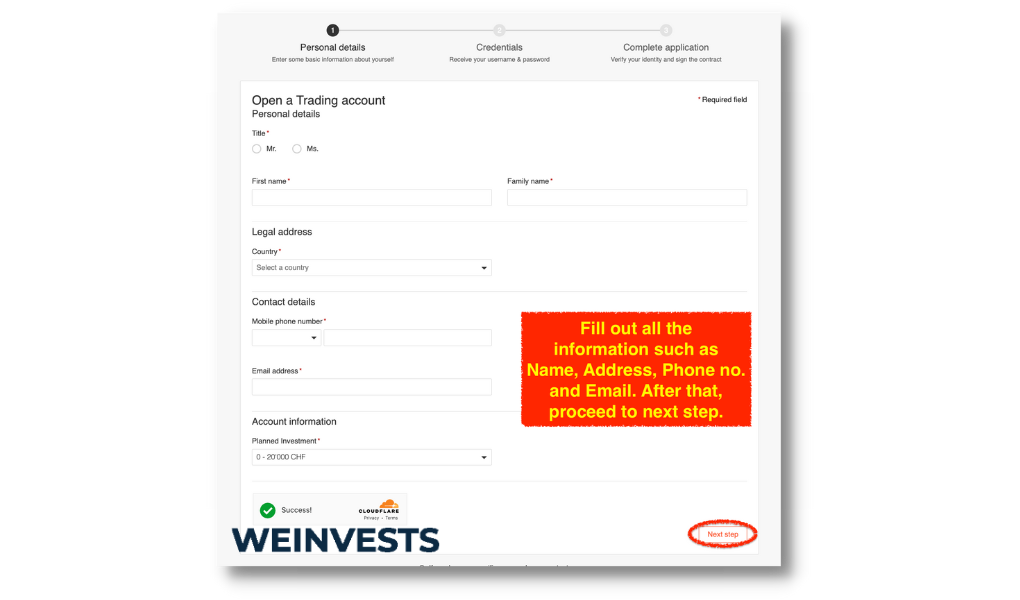 The Client Profile section asks for more details about your employment, tax, residence, etc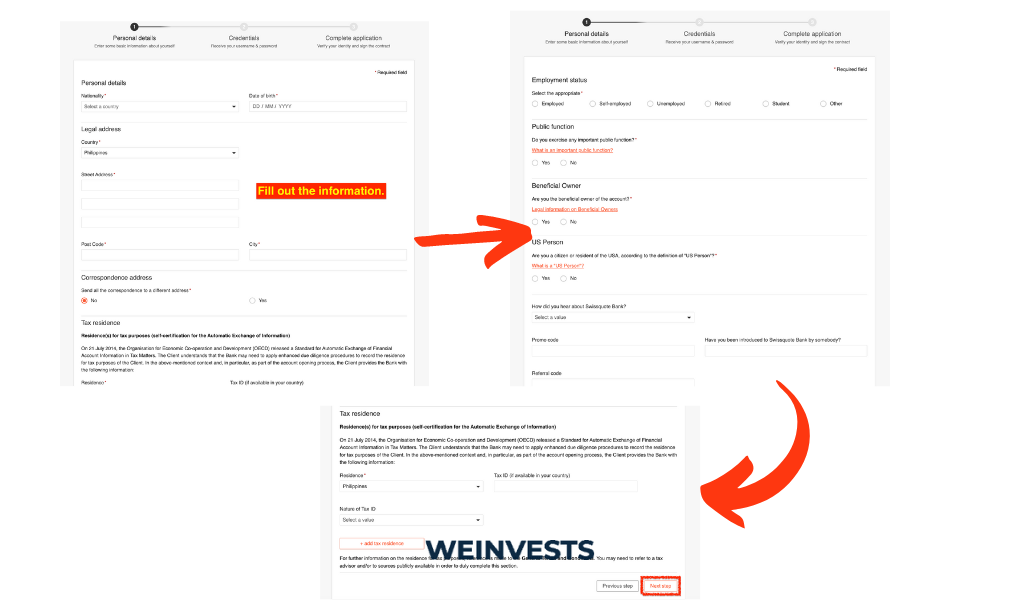 Financial Information is the next step where even more details are required about the sources of your funds, but also a selection of your account currency and the platform. Here you also need to enter your bank details for funding.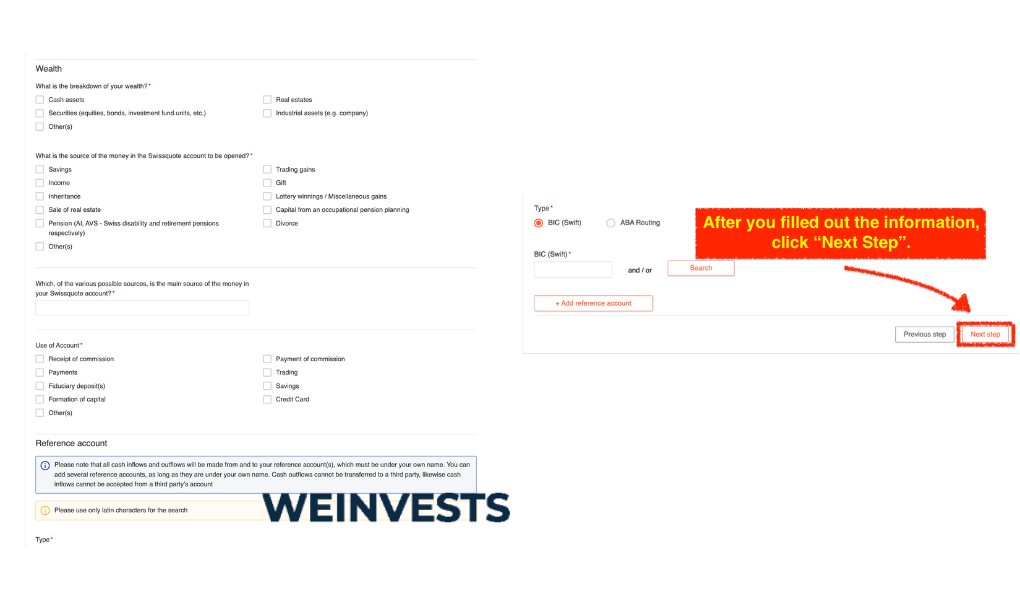 The final step is a review of your information in case you need to edit it.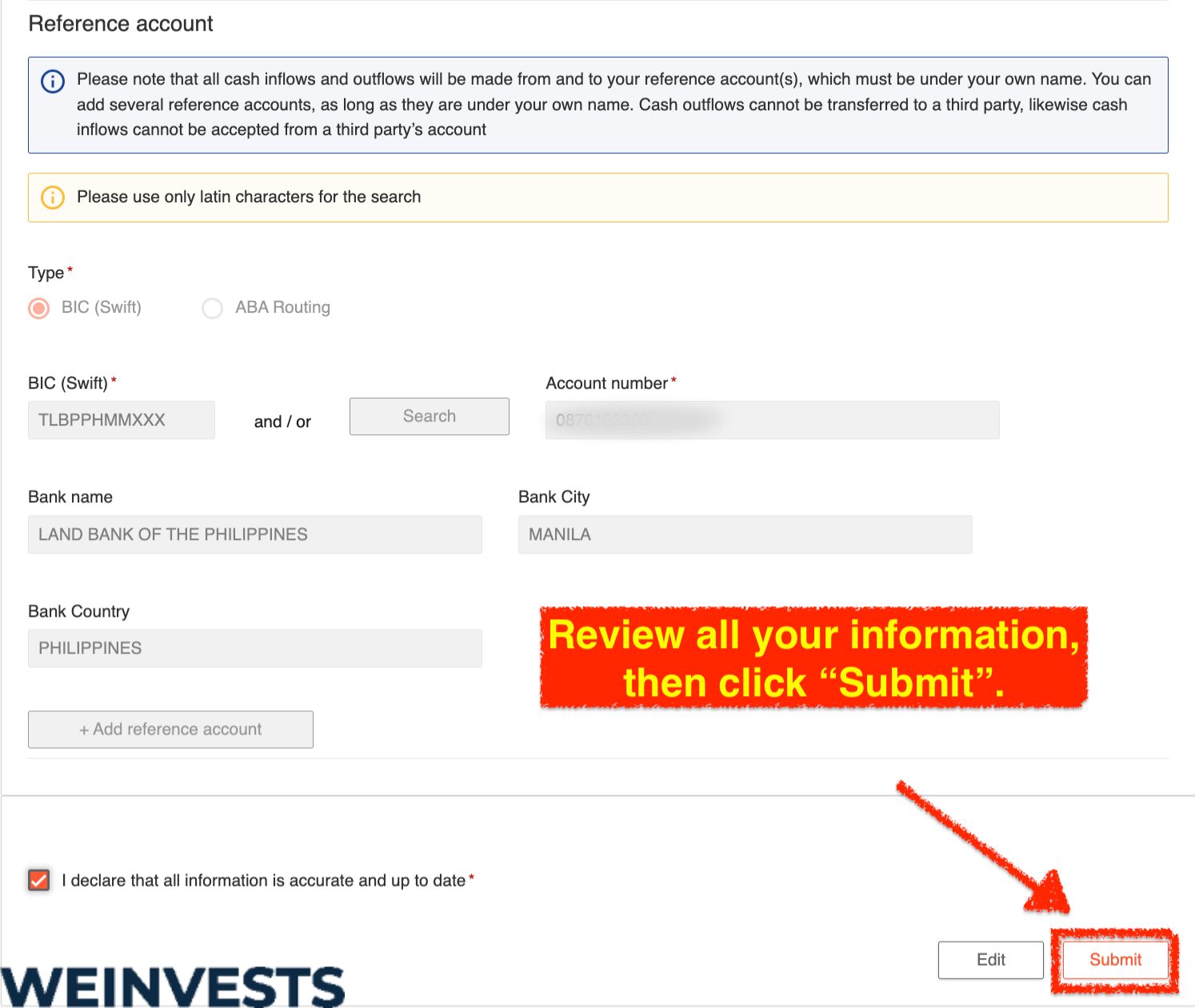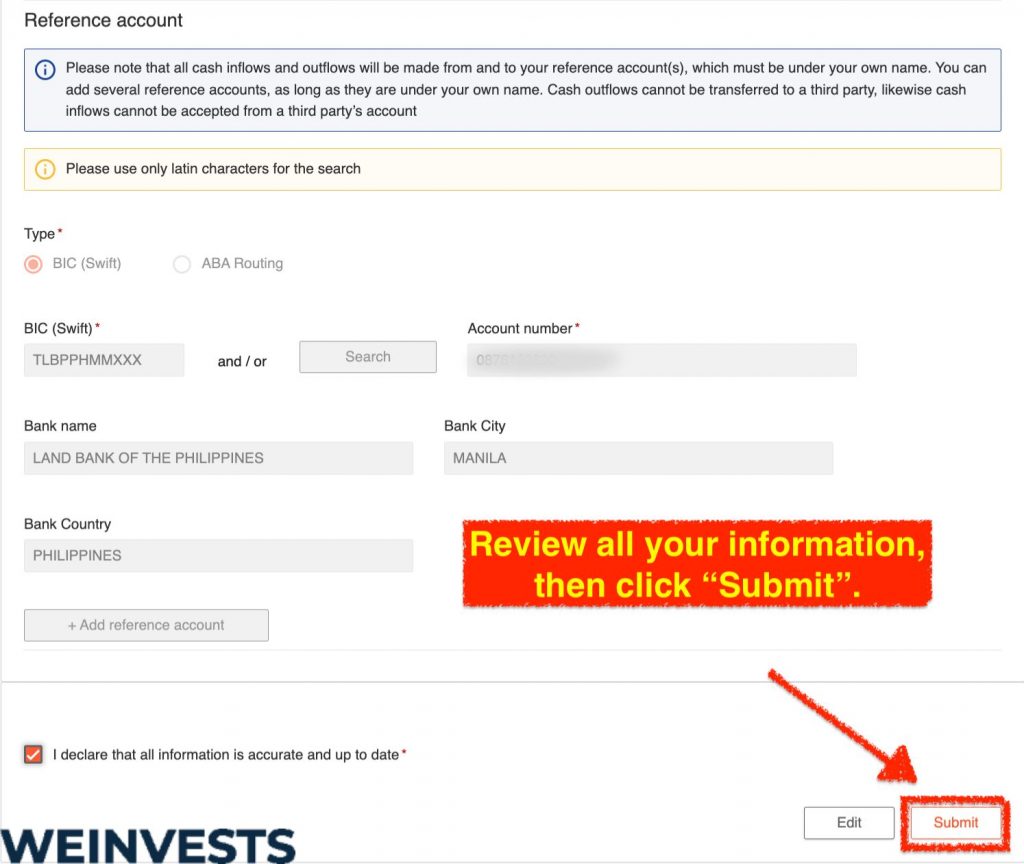 Swissquote demo account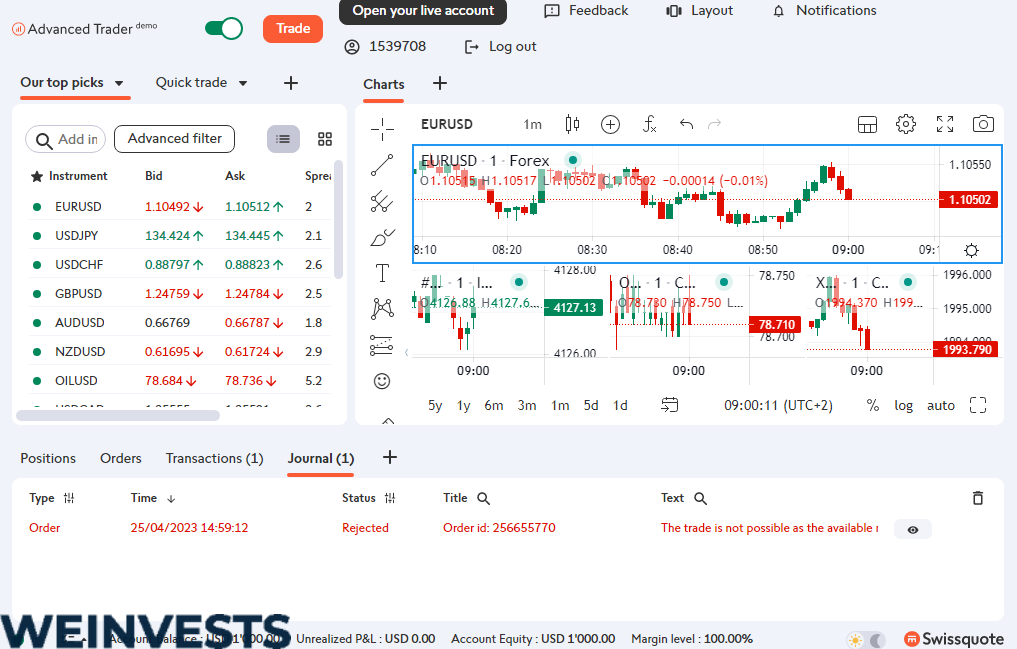 Swissqoute has a demo account for various services they offer, from Robo-Advisory automated portfolio to CFD trading. This is great for beginners or just to explore these special offers without the need to risk real funds. However, you will still need to fill in some information for a demo and they have a limited lifetime of 30 days.
The demo will automatically provide you with CHF 10,000 of paper money.
Swissquote Education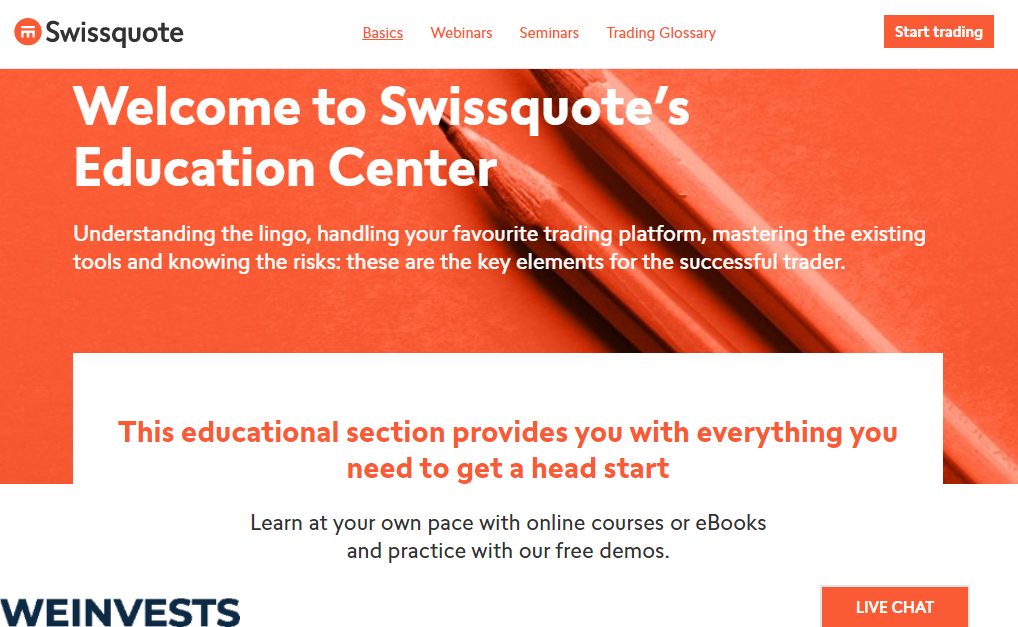 Swissqoute has expanded its reach and depth to the point of making its own magazine. It is a mix of news, marketing, and education. Here are the most important elements of Swissquote's extensive educational content:
The best part is the Education Center which features numerous videos and ebooks that are not just quick reads you can find anywhere on the internet. New traders willing to learn will enjoy Swissquote Education Center
Swissqupte Podcast. The host is talking about new events every day across various markets. Great for understanding the macro view.
The blog is always up-to-date, and very organized across several categories. The content is of high quality featuring technical, fundamental analysis and outlook for future trends.
The research section is also very rich that delivers great value. There are in-house primary analyses with probabilities and opinions, not only describing what is going on with the latest global developments.
Swissquote Customer Service
Please go over the customer service available, like chat, phone etc…
Swissquote Crypto Wallet
Swissquote integrated SQX technology that aggregates the best pricing across different exchanges and broker clients. The wallet is part of the Swissquote account, of course, your identity will be completely revealed. What's more, you will not be able to transfer crypto from exchanges Swissqoute does not approve. These attempts will be rejected and even charged.
On the bright side, after checking and whitelisting, you will be able to deposit and withdraw using crypto. Currently, Bitcoin, Ethereum, Tezos, and Polkadot are supported for this purpose.
Swissqoute offers 35 cryptocurrencies but also other related products for trading, staking, and holding.
Conclusion
It is interesting how an apparently great bank broker with very capable leadership, quality offerings, and the best regulation does not result in high ratings among the community of traders. The main problems are withdrawals, tedious account opening, limitations of the crypto wallet, and non-competitive fees and spread.
Swissquote has been fined numerous times with many fine headlines circulation on the internet. The pressure of having very strict controls on many business areas is probably resulting in fines almost every year. Because of these restrictions, this broker bank is somewhat clumsy when efficiency is needed, like for withdrawals, KYC, crypto transactions, support responses, etc.
The best part of this broker is their educational and trading content. Of course, these will urge you to seize the opportunities and trade, make sure you do it on the demo first.
FAQ
What are Swissquote funding channels?
Primarily Swissquote relies on bank transactions and their eBanking, but Credit/Debit cards are also accepted. Interestingly, Swissquote allows funding and withdrawals with Bitcoin, Ethereum Tezos, and Polkadot using their wallet.
What are Swissquote minimal trading sizes?
The broker supports fractional shares and the minimum trade size for a CFD Standard trading account is 0.01 lots or 1000 units. However, a higher tier account with better trading conditions has 0.1 lots minimum trade size.
How good is Swissquote compared to other brokers?
Swissquote is different because it offers a wallet, staking, SQX liquidity aggregation technology, special products, and good coverage of trading platforms. The educational content is also good. While other bank brokers may offer the same regulation level, they lack some of the mentioned abilities.
Risk Disclaimer
WeInvests is a financial portal-based research agency. We do our utmost best to offer reliable and unbiased information about crypto, finance, trading and stocks. However, we do not offer financial advice and users should always carry out their own research.
Read More