This content represents the writer's opinions and research and is not intended to be taken as financial advice. The information presented is general in nature and may not meet the specific needs of any individual or entity. It is not intended to be relied upon as a professional or financial decision-making tool.
It is no longer news that Web 3.0 brings a new experience and structure to the internet we know today. Companies raised about $1.8 billion in the first quarter of 2022 for this cause, with more finance apps running off it. At the center of this transformation are decentralized finance applications.
Decentralized applications present new opportunities for users to control their data and digital assets. Still, you need decentralized browsers (dApps) to interact with them and harvest their full potential. Those in the cryptocurrency industry can start with their crypto wallets, among which the Trust wallet is popular.
We will walk you through enabling the dApp browser on your Trust Wallet. You will catch up quickly as we break everything down to its most basic level.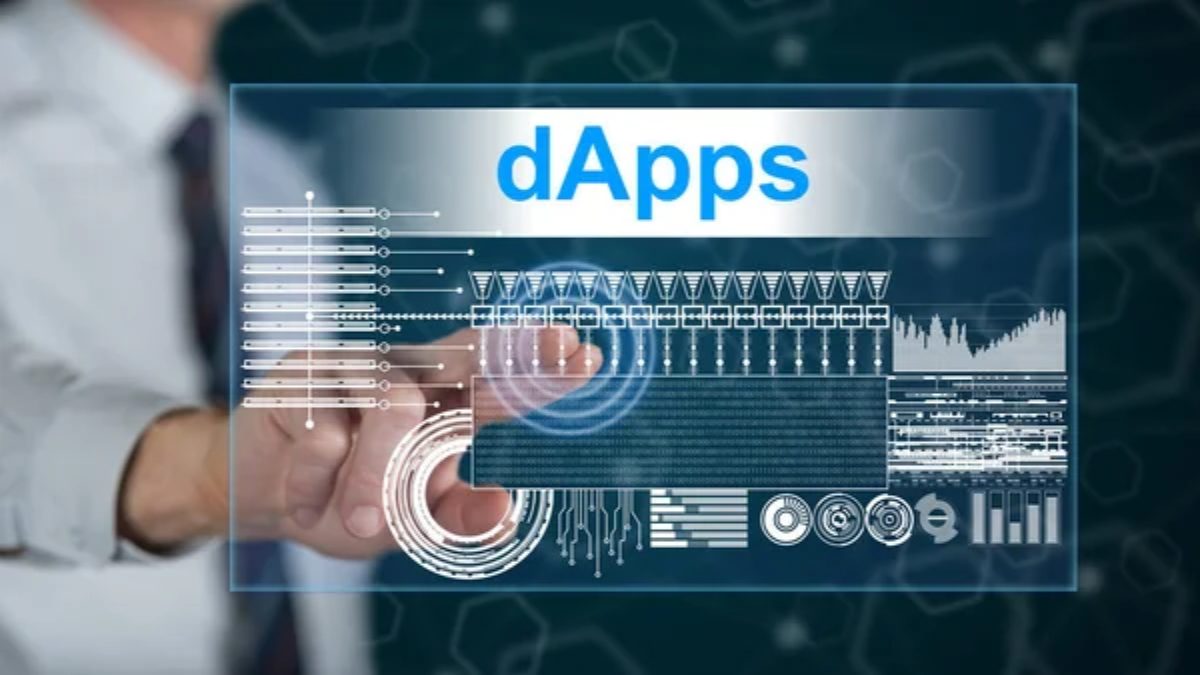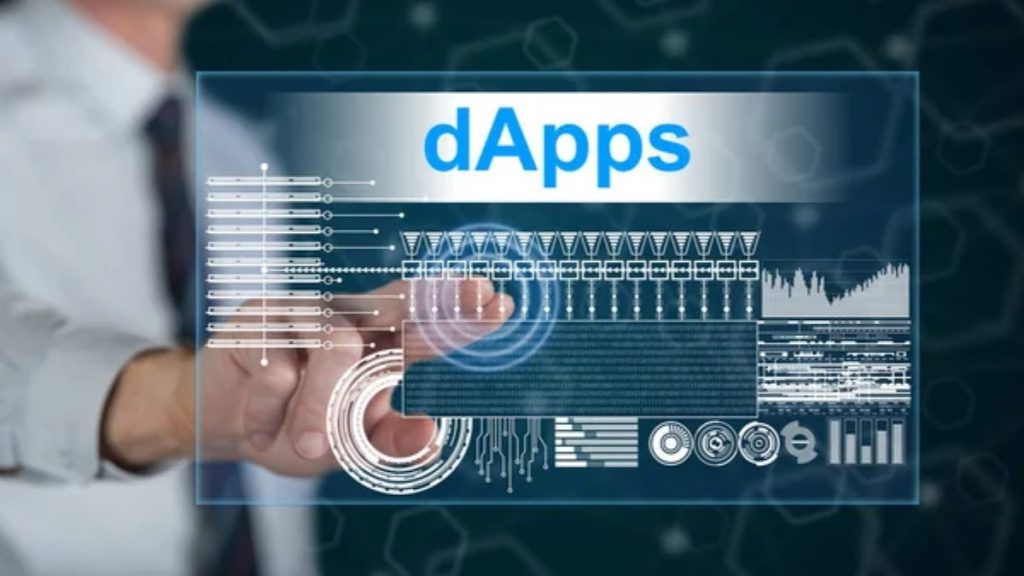 Trust Wallet and Why You Need It
Cryptocurrencies don't float around when you buy them, and you cannot store them in conventional bank accounts. Wallets provide digital storage facilities for people to keep their crypto assets and access them at any time. Trust Wallet is a popular option among cryptocurrency users.
It secures user assets through the Ethereum blockchain, giving them a versatile transaction platform. You can quickly load it up and send or receive tokens without hassle.
The following are the advantages of using this option:
Users can add up to 4.5 billion assets.
It is easy to set up on Android or iOS devices.
Users have complete control as the storage is non-custodial.
It supports direct cryptocurrency exchange.
Trust Wallet has versatile integrations with multiple devices. Apart from its mobile application, you can install the browser extension on your PC. That makes usage easy and flexible.
This option has many benefits as a cryptocurrency wallet, but one often overlooked is that it works with dApps. You can load your favorite decentralized applications without leaving the platform. That is what we will explore further in this piece.
Now, here is why you need Trust Wallet:
The platform has a Web 3.0 browser users can use to interact with decentralized applications.
It offers a seamless connection to any decentralized application using the Ethereum Network or Binance Smart Chain.
The platform is optimized for mobile devices, including smartphones and tablets.
Despite being primarily a crypto storage solution, its users have access to various dApps. We will learn more about how to set it up in the following section.
What is a dApp Browser?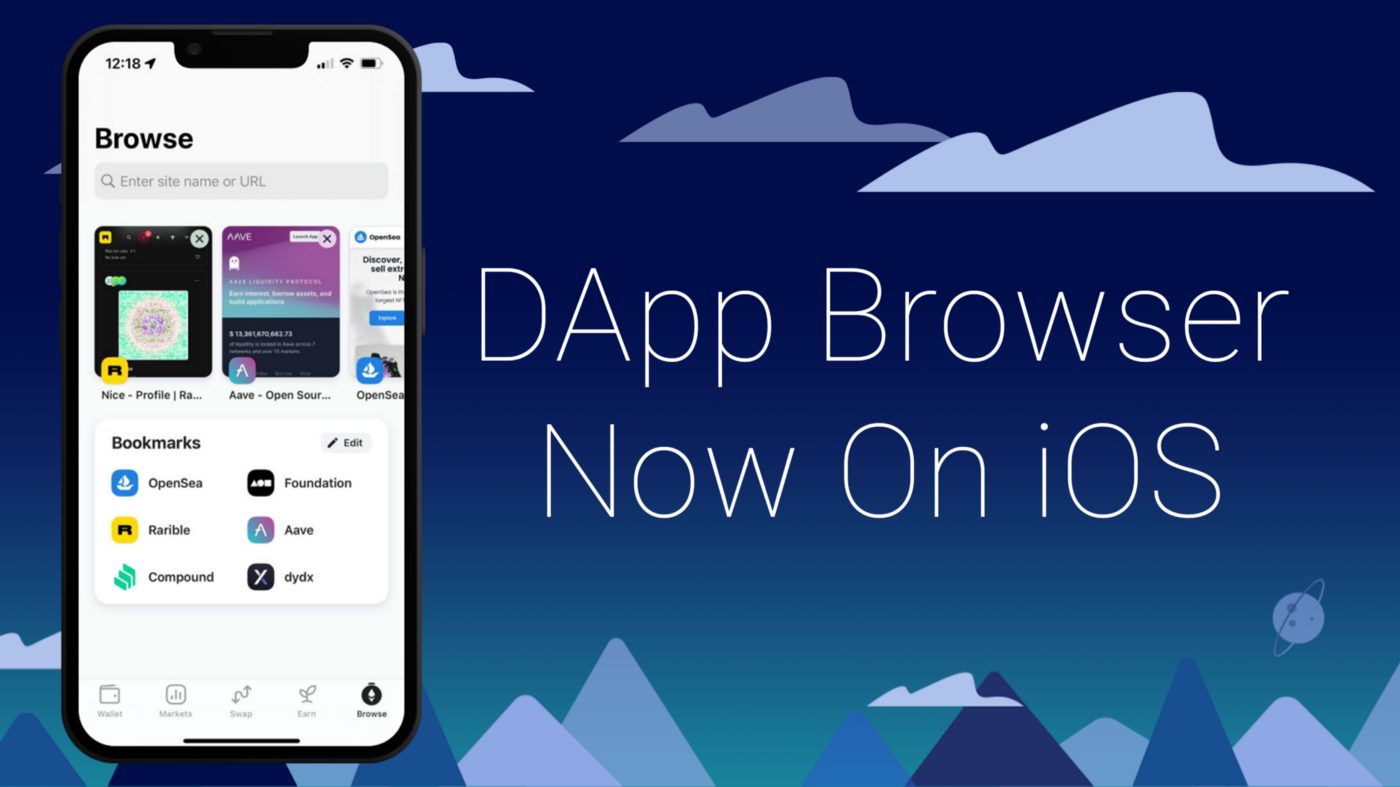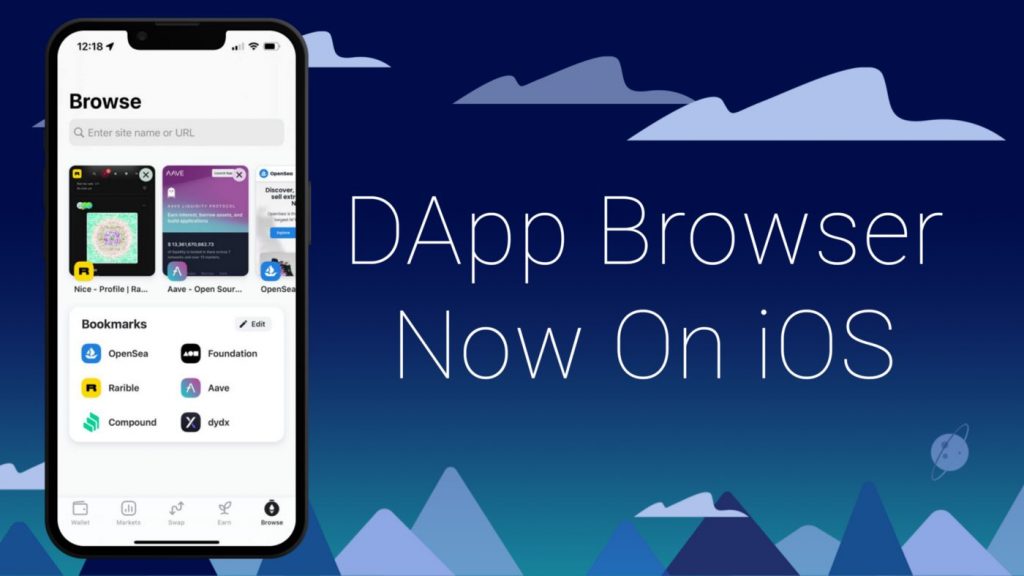 The most popular mobile web browsers will likely include Google Chrome and Safari. These platforms work on multiple devices to give us a synchronized experience. However, they are not designed to handle decentralized applications.
A dApp browser allows users to interact with decentralized applications on a blockchain. It could be Ethereum, BNB Chain, Solana, Polygon, etc. You will also have an interface, just like you would on a regular Web 2.0 browser.
DApps are open-source, and they work across multiple computers. They use a peer-to-peer system instead of having a central server. That approach makes them more secure and anti-censorship.
The following are the prominent features of dApp browsers:
A user interface for navigation and interaction.
2-factor authentication and signing protocols for transactions.
An open-source structure for security and transparency.
Quick access to decentralized applications on any blockchain.
Storage support for storing digital assets like private keys.
By "decentralized applications," we refer to games, financial institutions, trading, social media, etc. All these can be at your beck and call with a dApp.
Trust Wallet not only has a browser for decentralized apps (dApps), but it also has a simple API for making new multi-chain apps. Developers can build accounts and sign transactions on their Android or iOS devices. That brings us to how you can enable the dApp browser with this powerful application.
How to Enable a dApp Browser in Trust Wallet?
The dApp browser on Trust Wallet may not be enabled by default. You must toggle the option when you log into the platform. However, the first step is to install the application on your device.
You can put it on your phone or install the browser add-on on your computer. Follow the steps below to get started.
Open the Play Store or App Store on your Android or iOS device.
Search for Trust Wallet and download it.
You can also download the wallet from the official website.
Go to https://trustwallet.com/ and download the applicable APK file.
For PCs, search for the extension in your Chrome Web Store.
To install the extension in your browser, click it.
Once you download it, you are halfway to setting up the dApp browser. Let's see how you do it on different devices.
Using an Android Device
Turning on the dApp browser in the application on an Android device is easier than on an iOS device. The steps are the same whether you download from the Play Store or through an APK file.
The following are the steps to follow if you use an Android device:
Create a new account
If you are using Trust Wallet for the first time, you must create a new account. Click "Create a New Wallet" and follow the prompts. Save your recovery phrase somewhere safe.
The recovery phrase will be needed to add other devices. Move on to the next step when you get to the home screen.
Go to Settings
The gear icon is located at the bottom of the screen, alongside other navigation buttons. Click it to access the settings.
Click "Preferences"
Scroll down until you see "Preferences," and click it. A new window with two options will appear: currency and the DApp browser.
Go to "DApp browser" and toggle the option on
This final step would enable the browser if it were off.
Click "DApps" on the navigation menu
Go back to the home screen and check the navigation menu. You should see the button to access the decentralized browser.
Using an iOS Device
Enabling this option on iOS smartphones is more complex than on Android phones. Trust Wallet removed the browser from its iOS application in 2021.
It was a tradeoff to keep its mobile app on the App Store. Even so, the process is still simple and requires a few tweaks. You will only find the option if you go into settings after making some adjustments.
Here is how to enable the DApp browser for iOS users:
You can refer to our guidelines for Android users, which follow the same process. Copy and store the recovery phrase in a safe location before you proceed. Once you get to the homepage, proceed to the next step.
Both browsers can do the job, but we recommend Safari. Open the browser on your device and enter the following address:
Trust://browser_enable
Once you tap "enter," you will get a notification window to the Trust page. Accept and continue to the next step.
Once you leave the pop-up window, switch to the already opened Trust Wallet application. The "dApps" button will appear alongside the other navigation buttons. Clicking it gives you access to decentralized applications.
Using WalletConnect (for iOS devices)
Another way iOS users can turn on the DApp option in their Trust Wallet is through WalletConnect. It is also applicable to any decentralized application. However, we will demonstrate it with PancakeSwap.
This option links your Wallet with the DApp. Also, it works both ways, whether connecting from the DApp or Trust Wallet. The only drawback is that you must manually add the applications you need.
Follow the steps below to enable the browser for PancakeSwap:
Open PancakeSwap on your browser
Open Safari and load the official PancakeSwap website. Once you get to the homepage, search for "Connect Wallet" and proceed to the next step.
Click "Connect Wallet" and pick Trust Wallet
Doing this will generate a QR code. You will also see an "Install" button, but you can ignore it and proceed to the next step.
Open the Trust Wallet app and click "Connect Wallet"
Once the application is open on your iOS device, scroll until you find the "Connect Wallet" button.
Click it to open the QR scanner.
Scan the PancakwSwap QR code
Point your smartphone to scan the generated QR code from PancakeSwap.
This method is efficient if you use different devices. You can also use it to add multiple DApps to your Wallet and have them available at all times. Moreover, you might not find everything on the wallet's DApps browser.
Easy Accessibility with Trust Wallet
Developers are paying more attention to decentralized applications. However, accessibility is not as open as the mainstream trading platforms where people buy and sell cryptocurrencies. Binance is the largest cryptocurrency exchange, but it is centralized.
Trust Wallet offers a new way to access decentralized applications from one platform. It provides versatility and, most importantly, a non-custodial nature for users. With it, you can access the following:
Decentralized finance apps like PancakeSwap
Smart Chains like ApolloX
Yield Farming like Venus
Games like Axie Infinity
Decentralized exchanges like Biswap
Marketplaces like LooksRare
You can easily add new decentralized applications using the "Wallet Connect" feature. Overall, Trust Wallet brings in the flexibility that boosts Web 3.0 integration.
Conclusion
Trust Wallet is a flexible cryptocurrency wallet that can be used for swaps, sales, and DApps, among other things. It has an in-house DApp browser that you can use to access all your decentralized applications. You will even find options when you log into the platform.
This functionality is available for iOS and Android users. But it is easier to turn on the DApp browser button on an Android device than on an iOS device.
For Android, you can toggle the option in the settings. This will bring up a button allowing you to access the available decentralized apps.
iOS users can use their web browser or the "Wallet Connect" feature on the dApps to turn on the option. The latter uses a manual process to add the applications.
Frequently Asked Questions
Why should I invest in Bitcoin ETFs?
What is the difference between BITO and BITI?
BITI takes short positions, meaning it gains if the bitcoin price drops. BITO relies on the expected price of bitcoin, which terminates on the contract's expiration date.
Both funds track BTC futures contracts on the CME. Several brokerages offer support, including TD Ameritrade, Fidelity, Vanguard, E-Trade, etc. Create an account with them, and you can purchase BITO and BITI.
Risk Disclaimer
WeInvests is a financial portal-based research agency. We do our utmost best to offer reliable and unbiased information about crypto, finance, trading and stocks. However, we do not offer financial advice and users should always carry out their own research.
Read More