This content represents the writer's opinions and research and is not intended to be taken as financial advice. The information presented is general in nature and may not meet the specific needs of any individual or entity. It is not intended to be relied upon as a professional or financial decision-making tool.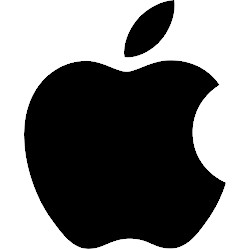 In the past, the California-based company has managed to make its shareholders incredibly wealthy and now there are more opportunities for investors to be part of it. Apple has become a premium and iconic brand that rolls out revolutionary tech products and services throughout the world.
Apple customers also show continuous brand loyalty and prefer to stay within a seamless Apple ecosystem. In fact, a good chunk of Apple's sales stems from repeat customers who continue to upgrade or use new versions of the company's products.
Predominantly, hallmark products of Apple revolve around the iPad, iPhone, and Mac series computers. Over the years, the incredible success of Apple's products has caused its share price and market appreciation. In the last 5 years, Apple's stock price has increased by 226.88%.
A Brief Outlook of Apple
As of now, Apple's stock price is stable at $142.16. For years, Apple Inc. has been a giant tech firm that manufactures, designs, and sells the most premium tablets, personal computers, smartphones, wearables, and other accessories.
Apple (AAPL) Statistical Overview
Apple Stock Price Prediction 2023
Apple (AAPL) is one of the world's biggest companies in terms of market capitalization, earnings, and profit. The global success of the company's products and the consistent rise of its financial indicators have meant that the value of the company's stock has consistently outpaced the S&P 500 Index.
Now is the time to evaluate Apple stock and determine whether to add it to the 2023 purchase list or not. Recently, two significant pieces of Apple news came, the first of which was the delay in the release of Apple's driverless vehicle, which was supposed to be released as early as 2025. Second, Morgan Stanley cut its projection for Apple's iPhone manufacturing. Both of these developments have weighed on the AAPL shares. AAPL is presently trading in the same range as it did in May 2022.
The tech giant, however, is more ready than ever to tackle supply chain obstacles like global chip shortage. In terms of market capitalization, the tech giant states that it might see a drop in its quarterly earnings by at least $4 billion in Q3 of 2022. As Apple stock stabilizes at $147.11 at the start of Q2 2022, this is bound to favor new and long-term investors.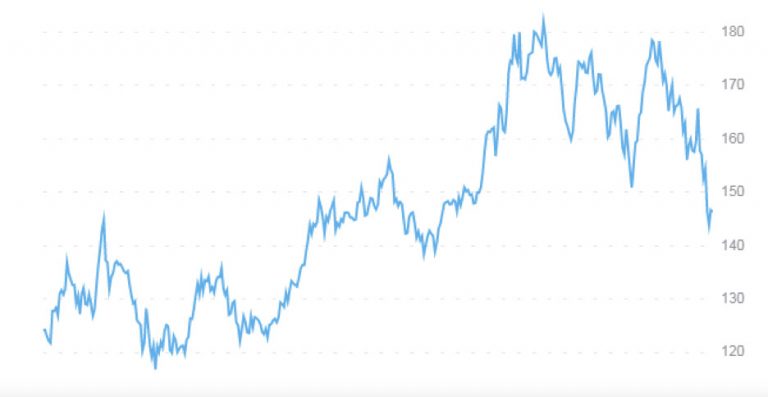 Apple Inc managed to report strong Q2 results with a revenue increase of 9%. In fact, the sale of the iPhone grew by 5% with $51 billion in revenue. Similarly, sales of the Mac series jumped to 14% and Apple Services also saw an increase of 17%. Currently, the strong surge in iPhone demand is expected to increase at a 7.6% growth rate. And once 5G enters the picture – this percentage will further increase.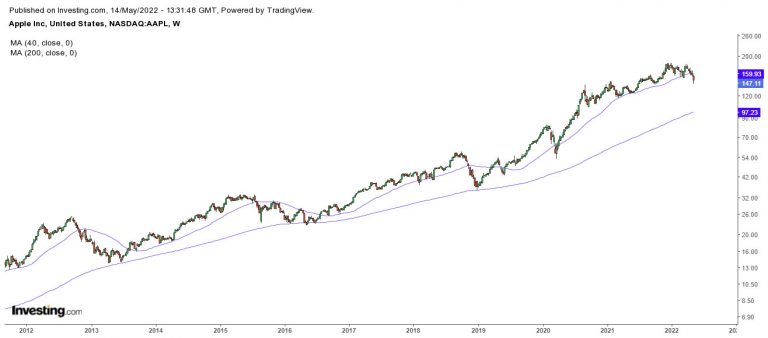 It is clear that AAPL stock is heading towards more growth. Through meticulous planning, flawless execution, and personal touch, Apple has been able to withstand a lot of challenges.
In 2022, the tech giant continues to spend more money on research and development to manufacture and launch more game-changing products. In the coming five years, Historically, Apple's stock has shown steady growth, with an average annual increase of 15%.
A Historical Look at Stock Price History of Apple
Apple Stock 2022
Apple's stock plummeted in 2022, owing to substantial reductions in the technology industry. Despite the market downturn, the company outperformed the odds, showing an increase in iPhone and Mac sales.
In January 2022, Apple shares hit an all-time high, capping off a fantastic year for the tech industry in which the COVID-19 epidemic prompted homebound consumers to invest substantially in home office and entertainment equipment. The rest of the year, however, did not go as well. While 2022 began on a high note, rising inflation significantly hampered consumer spending, resulting in a stock market sell-off.
Despite a 20% year-to-date drop in Apple stock, the iPhone maker has performed better than most tech businesses in 2022. For example, shares of Netflix and AMD are down more than 50% year to date. Despite a decrease in expenditure across various industries, Apple's products continue to perform well.
Apple Stock 2021
Throughout 2021, Apple's stock saw several ups and downs. For instance, at the start of Q1, the pandemic crisis was still at its peak that creates continuous supply chain problems. What's interesting is that Apple's stock managed to regain its strength by the end of Q2 2021.
On May 06, 2021, Apple announced a new line of updated Mac series and added Apple services. This ultimately had a positive impact on Apple's stock price. On October 16, Apple suffered a major blow due to major supply chain issues.
But Apple was on the same boat as major tech giants like Amazon that were experiencing similar supply chain hurdles. In the end, it cost Apple a $6 billion loss in Q3 sales and a 4% drop in stock price. By June 15, Apple managed to control around 17.5% of global smartphones, from 16% in 2020.
Apple Stock 2020
On August 4, 2020, the tech giant became the first major company to hit the mark of $2 trillion market capitalization. Later on, Microsoft also managed to reach the $2 trillion mark in June 2021. Alphabet, the parent company of Google, followed the suit in November. But since Apple crossed the $2 trillion record before other tech giants, it had a great influence on its stock price.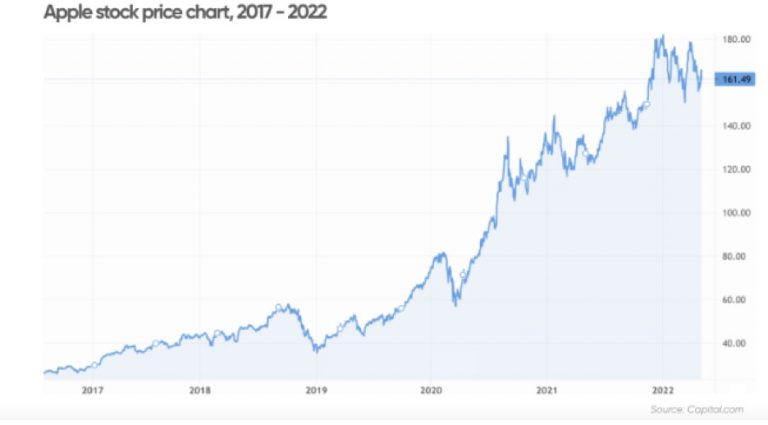 Historically, Apple's stock was split for the first time in 2005 when it reached $88.99. The last major split for Apple stock occurred on August 31, 2020. This was a 4:1 stock split with a pre-split market price of $499.23. Before the release of Apple's iPhone 13 on September 12, 2021, Apple had released iPhone 12 on 15 October 2020.
And by the end of Q3 2020, Apple had already managed to increase its stock price by 3%. In fact, by November 31, 2020, Apple had started to increase its market share in smartphones by 12%. And in 2021, iPhone 13 helped Apple gain 14% of market share control in smartphones.
Apple Stock 2019
According to Fortune, Apple's stock price was increased by 89% by December 31, 2019, which made its market presence more resilient than ever. On the other hand, Apple announced that it sold fewer units of smartphones than expected.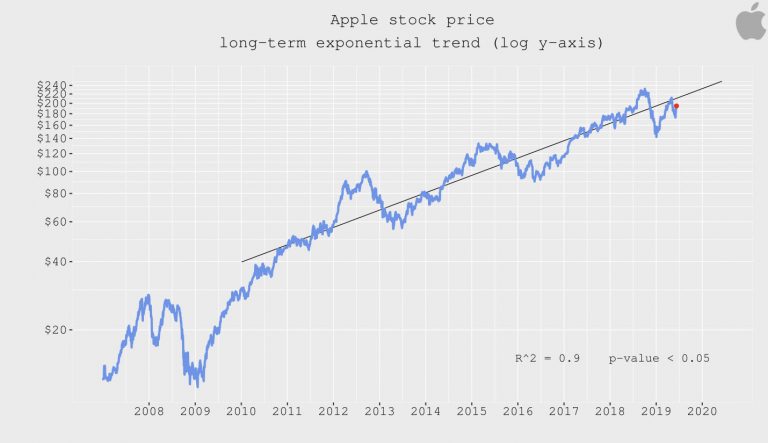 On June 12, 2019, the long-term exponential growth of Apple stock skyrocketed to 27%. At the start of 2019, it looks like Apple may have one of its lowest performance years. But to investors' surprise, 2019 ended up being one of the strongest years for Apple since 2009.
Practically, 2019 was one of the most tumultuous years for Apple due to supply chain and legal lawsuit matters. But despite all hurdles, Apple closed its share price at $293.65 per share on December 31, 20219. At the same time, Apple had a 29% increase in its S&P 500 Index benchmark.
On September 21, 2019, Apple managed to lead the charge for Dow Jones Average and ultimately gained around 84%. And by December 7, 2019, Apple reached the $1 trillion threshold and pushed the firm in a more innovative direction. But the arrival of 5G for iPhones would propel Apple to head in a different direction at the start of 2020.
Apple Stock 2018
Like 2019, Apple saw major ups and downs in 2018. But for the most part, Apple shareholders and investors see 2018 as one of its best years. It is crucial to understand that Apple has always been relentless to maintain its market position and boost its stock price.
On September 22, 2018, Apple announced a wide range of new products and services. But even Apple's Special Event on March 27, 2018, had teased a new line of products. And ultimately at WWDC on June 8, 2018, Apple further made more product announcements and announced added new features that received a positive impression in the market.
Although WWDC and Apple's special event matter every year, 2018 became a defining year for Apple's stock. Many shareholders believe that 2018 was the beginning of a new chapter for the company as shares went 40% up in the stock market.
Overall, on November 01, Apple reported its Q4 earnings that showed strong earnings but there were still weak areas due to the difficult first two quarters. These reports managed to highlight that each share price was increased by $2.91 with a revenue increase of $62.9 billion.
After the holiday season of December 25, however, Apple did not manage to live market expectations. In fact, Apple's share price continued to fall until the next quarter. Due to manufacturing and supply chain issues, Apple even had to cut orders for its new iPhone models in 2018.
Apple Stock 2017
As per CNBC reporting, Apple suffered a major revenue loss in 2017. In fact, On July 07, 2017, Apple stock closed trading at its lowest level of price. In terms of market value, the company lost over $450 billion after hitting a peak.
Technically, the combination of legislative and supply chain issues hit Apply stock the hardest. And on August 10, 2017, Apple reached its lowest stock price of $39.97. By the end of September 31, 2017, Apple had over 22 billion shares. Over the years, ownership of Apple shares has increased significantly.
Conclusion
Most recently, wearables and services have become the two major sources of Apple's high-profit margins and increased sales. It should not come as a surprise that Apple's revenue increased by 8.1% YoY to almost $90.15 billion in Q4 2022.
Primarily, Apple's core services include AppleCare, iCloud, Apple Music, Apple Pay, Apple TV+, App Store, Apple Arcade, etc. Not to mention, Apple TV+ became the first-ever streaming service to get Best Motion Picture Oscar for the movie "CODA" at the 2022 Academy Awards.
As iPhone and Macbook series get more mature, Many investors are interested in the growth potential of Apple's stock. In retrospect, Apple has had incredible success and long-term investors are more curious about what lies ahead for the company's stock.
Risk Disclaimer
WeInvests is a financial portal-based research agency. We do our utmost best to offer reliable and unbiased information about crypto, finance, trading and stocks. However, we do not offer financial advice and users should always carry out their own research.
Read More