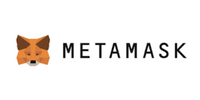 Own your data
Buy, store, send and swap tokens
MetaMask is a cryptocurrency and NFT wallet connected to the Ethereum blockchain. This decentralized hot wallet is an excellent way for investors to store their digital assets away from centralized exchanges or nosy government officials.
The conventional financial platform is collapsing slowly with price hikes and rising inflation. It is no wonder people are looking for alternative investments to hedge against these types of economic unrest.
One of the primary things people have invested in and made money with is non-fungible tokens. These digital assets are at the forefront of smart contract technology and are taking the world by storm.
NFTs can be utilized for different use cases, including art, music, in-game items, and even housing deeds. The possibilities are endless with this technology, and we cannot wait to see what the future holds for it.
With MetaMask, you can start to build your NFT collection and hold these virtual items until they increase in value. Another fantastic thing about MetaMask is that the extension is compatible with various browsers and operating platforms.
If you need to transfer cryptocurrency or the latest NFT to your friend, you will be happy to know that you can do it with MetaMask. The wallet is Ethereum-based, with plans for cross-chain compatibility and interoperability shortly.
In this piece, we discuss MetaMask, highlight its features, and talk about the safety of the cryptocurrency plus non-fungible token wallet; without waiting too long, let us begin this article.
What Is MetaMask?
Whether you have Chrome, Edge, or Firefox, you will be able to use the Ethereum-based MetaMask on it. The extension allows you to store ETH, ERC-20, and ERC-721 tokens in a decentralized location.
By being connected to the Ethereum Mainnet, MetaMask secures your assets via the blockchain and verifies its authenticity. In addition to that, you can also link MetaMask to two exchanges: Coinbase and Shapeshift. You can quickly shift ETH between the above platforms due to the interoperability between the two.
Something else that is wonderful about the wallet is that it can be used to connect a considerable amount of NFT marketplaces. You can add digital assets to your collection from various non-fungible marketplaces, including OpenSea, Rarible, SuperRare, etc.
Another awesome thing about MetaMask is that the extension is open source, meaning the code is naked and available for the entire world to see and access. This wallet has proven a favorite amongst the Ethereum community, and rightfully so.
If you check out the MetaMask Twitter account, you will see that it has over 100,000 followers and over 1 million monthly active users. There seems to be no stopping MetaMask from becoming the dominant NFT and cryptocurrency wallet globally.
Our MetaMask Analysis
We loved signing up with MetaMask because it was a straightforward process without any hiccups. Once you are on the MetaMask website, you can download the extension directly.
After the browser extension has been downloaded, you can begin the wallet sign-up process.
Cybercriminals or hackers cannot compromise your credentials because MetaMask is a decentralized wallet. The above reason is the primary motive for investors to use it to keep their digital asset collection away from unscrupulous individuals or governments.
Once you have signed up to MetaMask, you will be immediately supplied with a passphrase. Make sure that you keep the secret phrase safe, as if you lose it, you will not be able to gain access to your account.
Besides MetaMask being a great wallet, you can use it to connect to various cryptocurrency and NFT marketplaces. That means no matter what broker you use, MetaMask should be able to connect to it with ease.
If you are looking for a place to store your Ethereum-based NFTs, you shouldn't look beyond the MetaMask wallet. You can also connect MetaMask to blockchains, including the Avalanche C chain, Binance Smart Chain, and Polygon.
What's incredible about the cross-chain compatibility is that it allows people to swap, buy, or sell tokens with great ease. If you want to purchase NFTs on other blockchains such as the Polygon or MATIC launchpad, you won't have a problem doing that either.
Another fantastic thing about MetaMask is that if you need to buy Ethereum tokens, you can do it via the browser extension with a wire transfer or your debit/credit card.
The Signup Process
One of the best things about MetaMask is the sign-up process. It is straightforward, so there is no excuse for not using this prominent NFT wallet to store your virtual assets. Below we have listed the steps for registering with MetaMask and highlighted what you should do afterward for the best results.
How MetaMask Works?
Understanding how MetaMask works is crucial to getting the most out of the mobile application or browser extension. Without sufficient knowledge, you may struggle to build your portfolio and could even put your NFTs at risk.
Verification
Your account is secured via a passphrase, and the verification is done through email. Once your passphrase is entered correctly, and your email address is verified, nothing stops you from getting involved in the world of non-fungible tokens.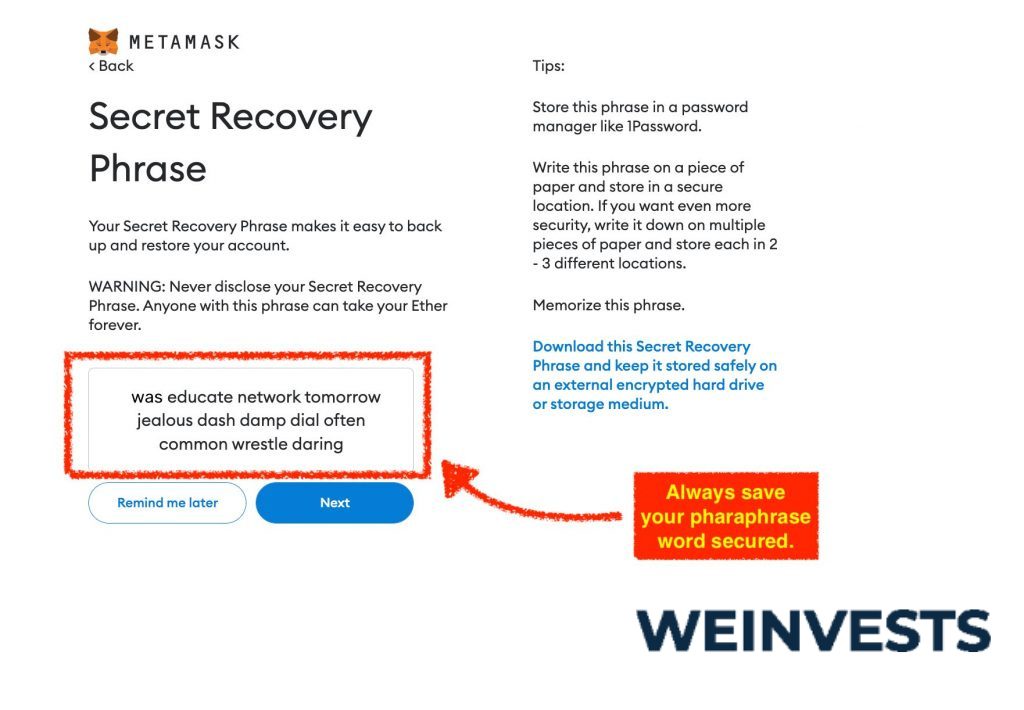 Fees
Unfortunately, there is a downside to using MetaMask: high gas fees. Since MetaMask is primarily based on the Ethereum blockchain, you can expect higher costs due to the relatively low finality rate.
Luckily, the wallet can connect to other blockchains, including Polygon, Binance, and Avalanche. You can find non-fungible tokens on these networks at a fraction of the price. This is an excellent way for NFT investor to diversify their portfolio and add more assets to their collection.
Another thing to note regarding fees is that the swap expenses range from 0.3% to 0.9%, but all prices will be displayed to you before completing the transaction.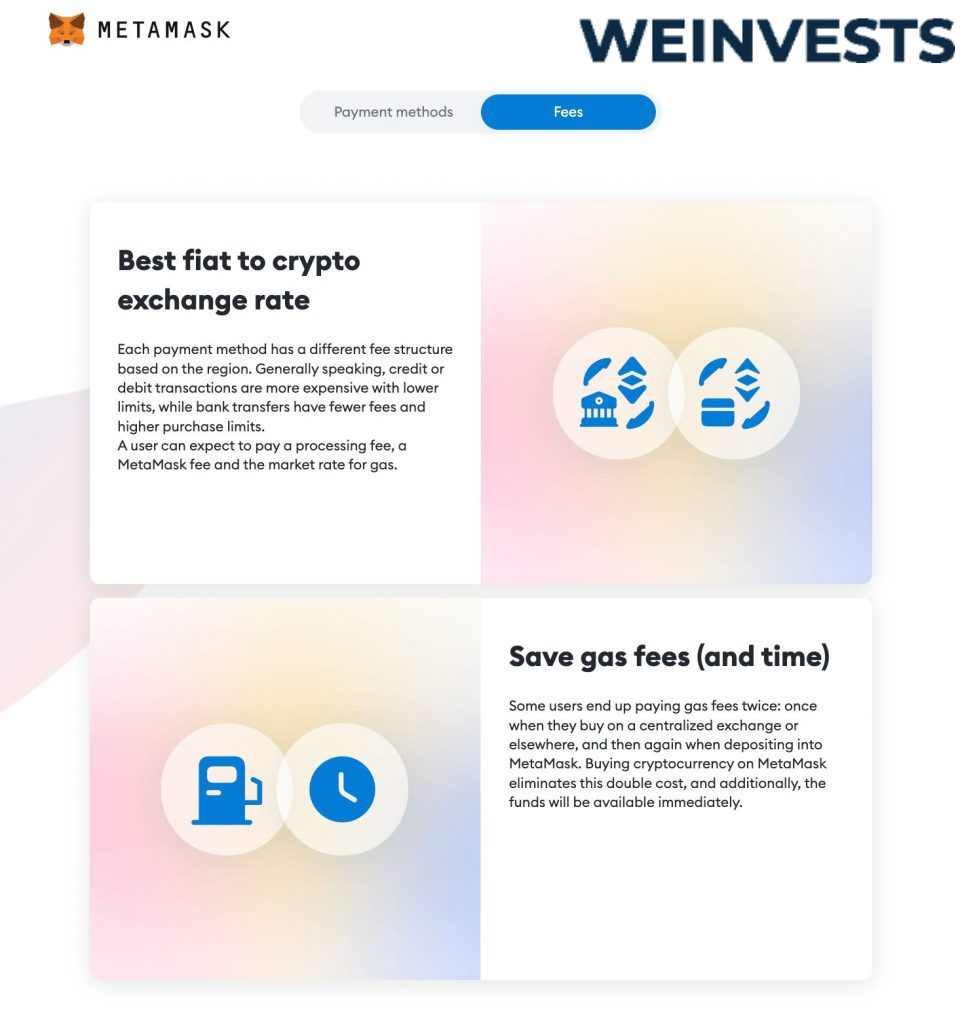 Payouts and Withdrawals in Metamask
Payout
Sending your NFTs to a reliable cryptocurrency exchange is best if you want to cash out from MetaMask.
We recommend connecting your MetaMask wallet to Coinbase or the Binance Smart Chain if you want exceptional withdrawal speeds.
Step 1: Create or Login to a Binance Account
Binance supports a long list of cryptocurrency pairs. Ethereum and Bitcoin are among these options, but there are other lesser-known cryptos that you can buy and sell too.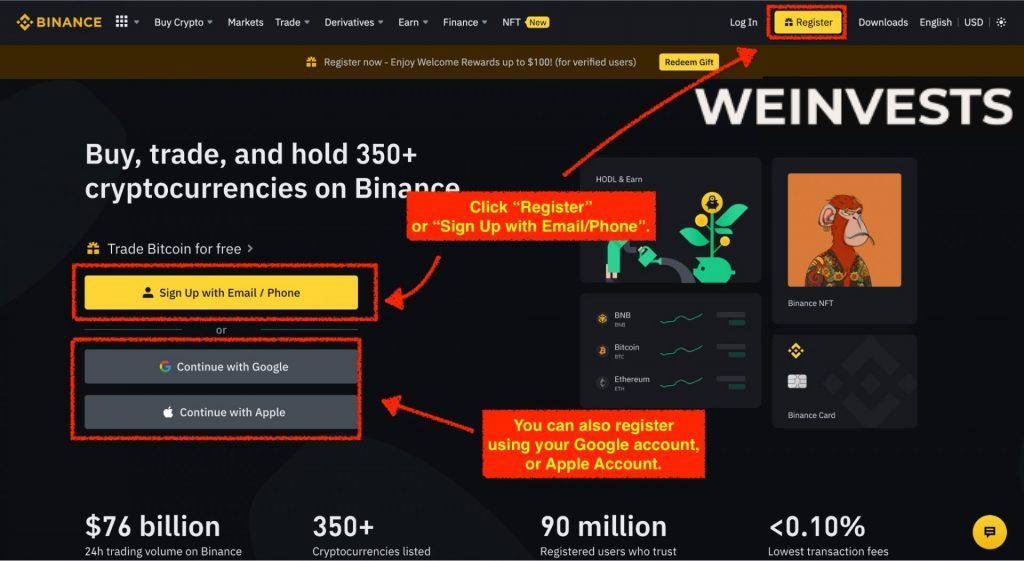 Step 2: Get your Ethereum Address in Binance.com
Click "Wallet" and select "Fiat and Spot" from the drop down menu.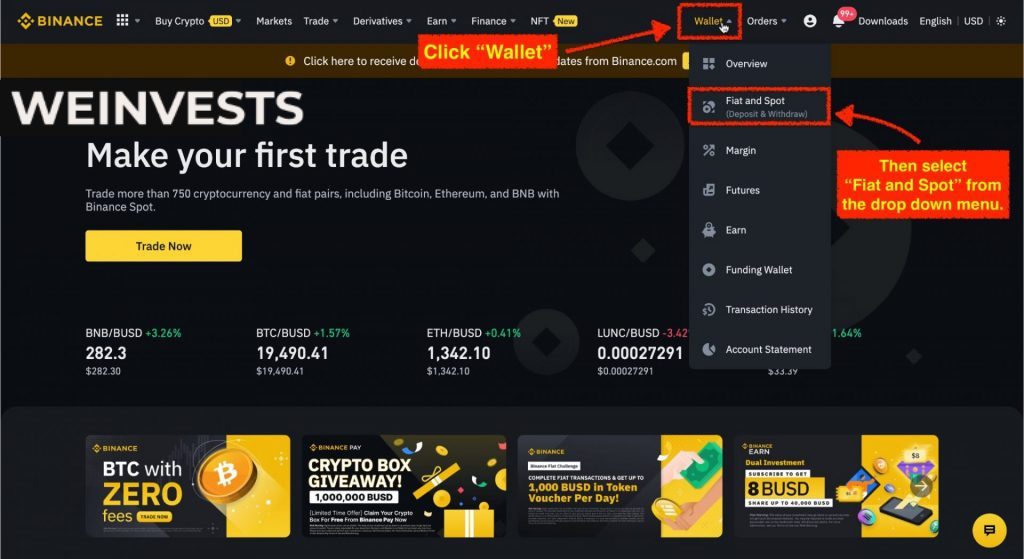 Find "ETH" from the list, then click "Deposit".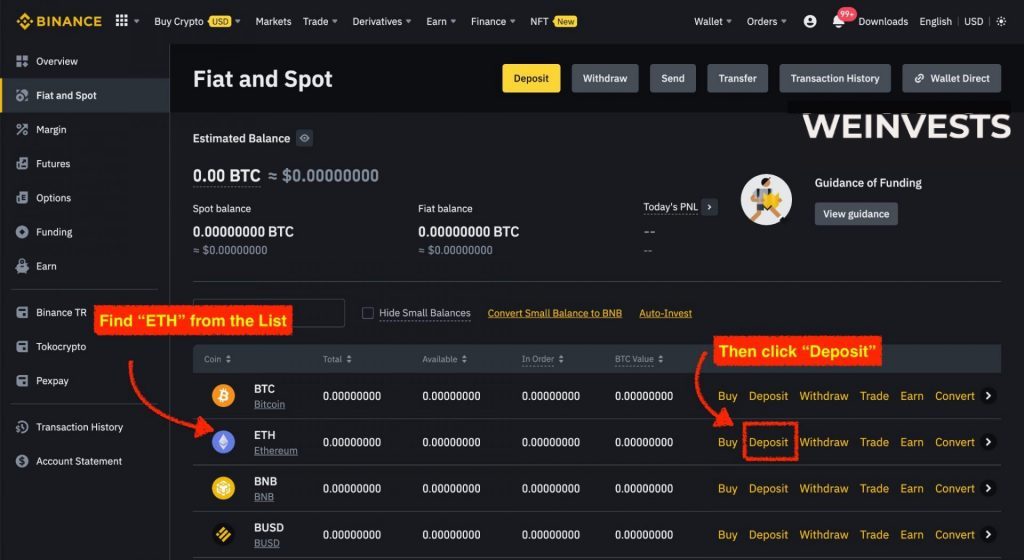 Select "ETH" from the Crypto coin menu and then change the network to "ETH (Ethereum) ERC20".
You can now view and copy the ETH address, Save it for later.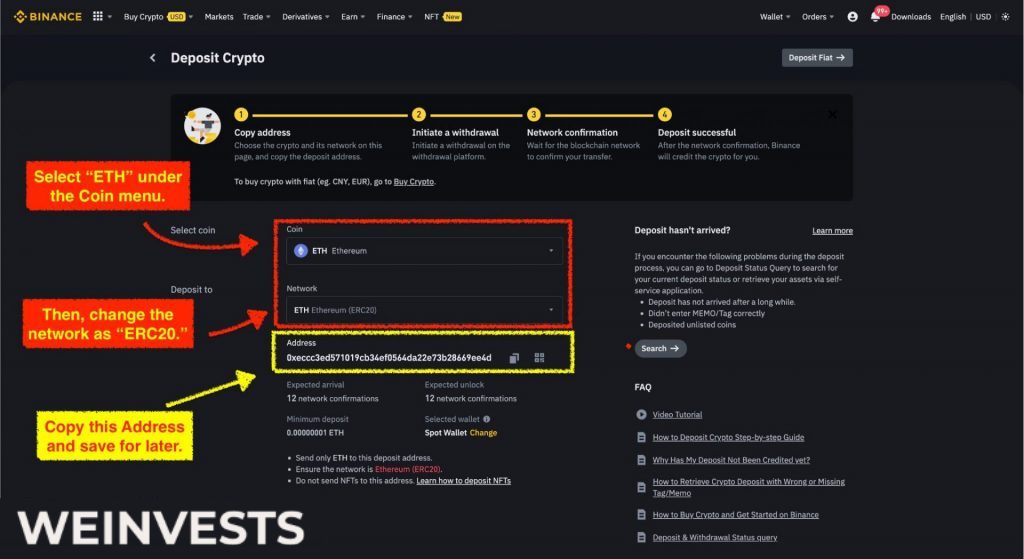 Step 3: Send the ETH from MetaMask
In the MetaMask extension, click "Send". Paste the ETH address from the Binance website.
Select the amount you would like to transfer to your Binance account, then click "Next". You can also add the address to you address book for your next transactions.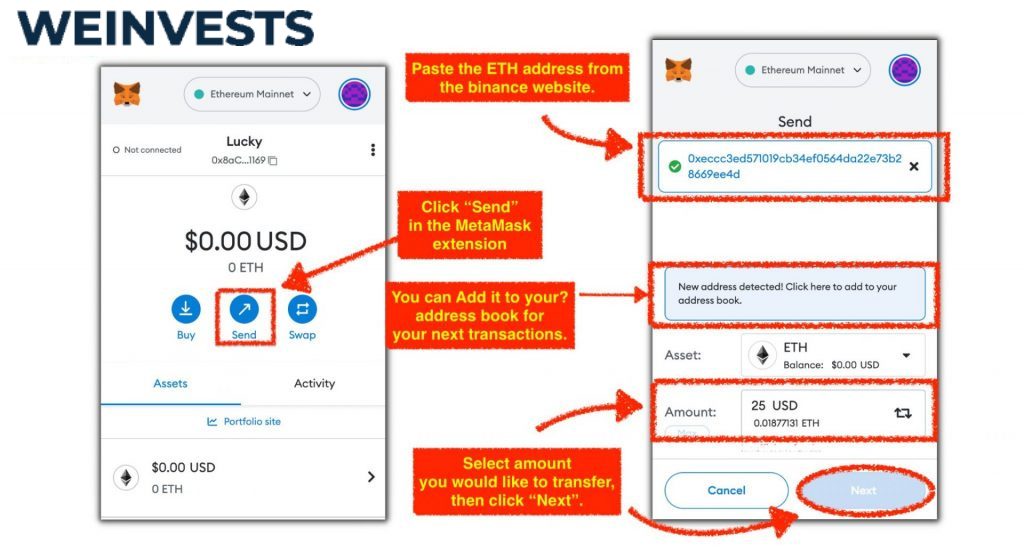 Step 4: Sell the Crypto Coins on Binance.
Once you have successfully sent the coins from your Metamask account to your Binance account, You will be able to see the Ethereum balance on your account. The next step would be selling Ethereum on Binance in exchange for fiat money.
On Binance website go to "Markets" then select "Ethereum".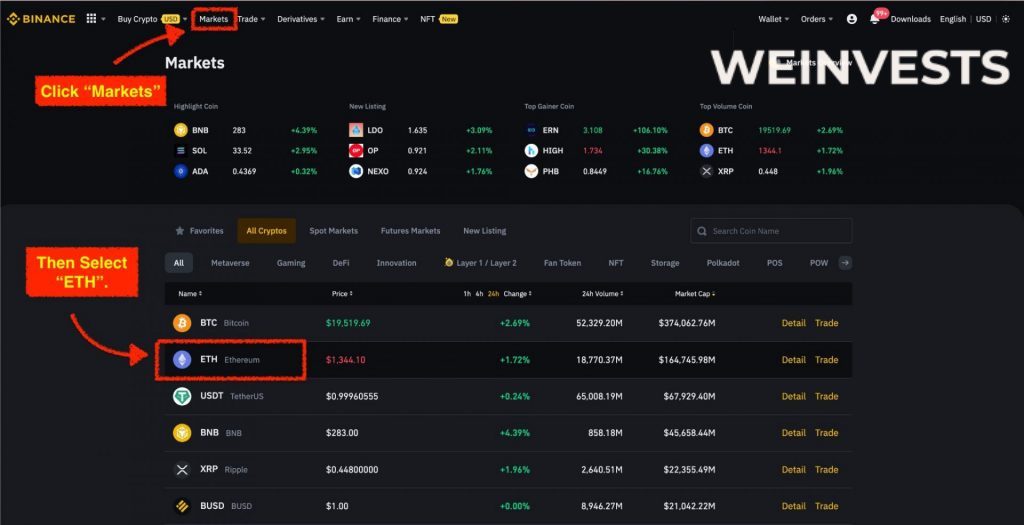 On the bottom of the Ethereum page, You can see the Sell page, Select the amount of Ethereum you'd want to sell, then click "Sell".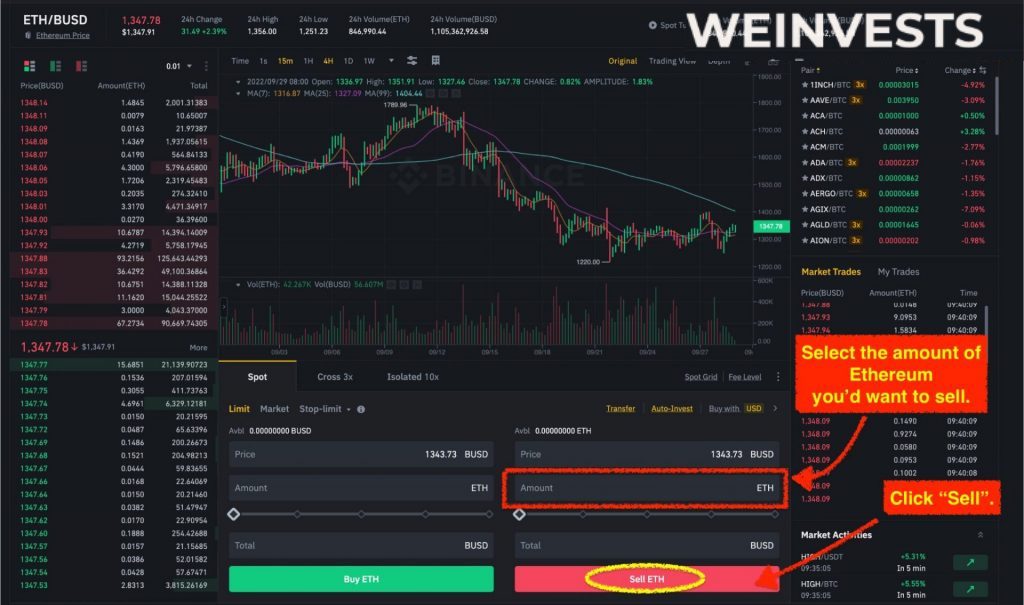 Step 5: Transfer the money to your Bank Account.
Once you have sold Ethereum and the fiat money is available in your account, you can transfer the funds to your Bank Account.
On your Binance Homepage, Click on "Wallet" and then select "Fiat and Spot" from the drop-down menu. Here, you can view which cryptocurrencies you have and their respective balances. You can click "Withdraw", and then you will be redirected to the withdrawal page that has the guide on how to transfer the amount to your bank account.
Remember that the currency is set properly. Click on the "Payment Method" and then select "Bank Card". Input the specific amount you want to withdraw and enter your bank details.
After clicking "Continue", you will need to verify your phone number with a 6-digit verification code. If the verification is successful and completed, You will receive a confirmation that the withdrawal request has been submitted.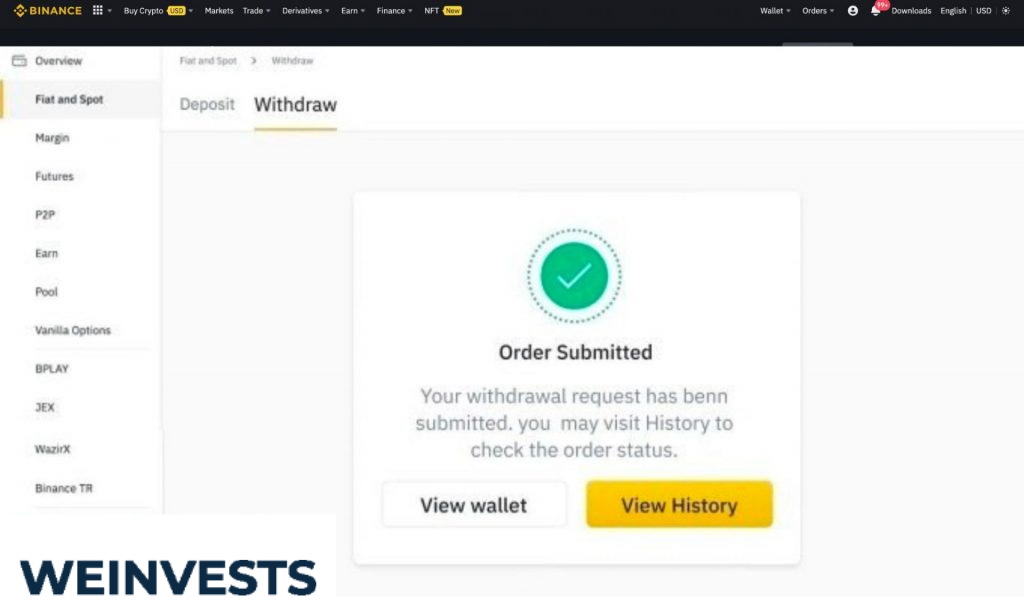 Withdrawals
If you follow the steps provided on the MetaMask website, you will be pleasantly surprised at how easy the withdrawal process can be. People who are new to investing in cryptocurrencies and NFTs should pay close attention to details when withdrawing funds from MetaMask.
Say, for example, you enter the incorrect wallet address into an exchange; you may lose your digital assets forever.
Support
Unfortunately, only community channels and a help center are available with MetaMask. That means investors may struggle to find detailed information regarding the company or the application's inner workings.
Please note that if you have problems with the MetaMask software, you can send the platform a request and receive a reply within 24 to 48 hours. It is crucial to remember that MetaMask will never ask for your personal information or secret passphrase.
Ease of Use
You can hold or store your favorite NFTs with MetaMask's innovative browser extension and mobile application. What's excellent about MetaMask is that the wallet works optimally on all operating platforms, including Windows, macOS, Linux, etc.
If you are someone who prefers to use their mobile device, MetaMask can run on Android, iOS, and Google Smartphones.
There are also many guides online that can educate you on transferring digital assets and connecting to various Mainnets.
Reputation
ConenSys created MetaMask in 2016 and has done a sterling job since its inception; investors have loved using MetaMask as their NFT and cryptocurrency-decentralized wallet.
Something imperative to note is that before 2019, MetaMask could only be utilized as a desktop browser extension. That has changed with the vast compatibility available across various mobile devices in recent years.
Platform Safety
Decentralization is the primary feature of MetaMask, meaning you don't need sensitive information to sign up for the wallet. However, it is possible to enter your credentials and display them.
In order to remain anonymous, all you are required to do is keep your passphrase safe. By following the above steps, you will always have access to your account no matter what device you are using.
Transparency
The community and developers involved with MetaMask are well known for their trustworthiness and transparency. Whether you have questions about your account or want to learn to buy more Ethereum for your wallet, the helpful community can assist you.
What's also great about the MetaMask website is it concisely provides various education to its users.
Compatibility with NFT Marketplaces
One of the best things about MetaMask is that the extension is used by non-fungible token investors worldwide. Since the application has been around since 2016, it has a vast range of compatibility with NFT marketplaces.
You will love how easy it is to connect your wallet to marketplaces, including OpenSea, Rarible, Mintable, and Coinbase. All it takes is one click, and you will be able to get on the non-fungible token bandwagon.
Cross Chain Compatibility
MetaMask has the excellent cross-chain capability and can hold various digital and cryptocurrency assets. You can hold ERC-721 and ERC-20 wrapped tokens, so you are spoilt for choice when it comes to options.
Once you connect your MetaMask wallet to other exchanges, you will also be able to store your NFTs on them. With the popularity of Ethereum, we think that MetaMask has done an excellent job at using the blockchain as their preferred network.
Our Verdict of MetaMask
Overall, MetaMask is an excellent cryptocurrency NFT wallet that people worldwide love using. The application is intuitively designed and has decentralization features that you cannot find in many competitors.
It's crucial to remember that if you forget your passphrase, you won't be able to access your account. If you can manage to keep your secret code safe, you will be able to use MetaMask for your investment purposes for a very long time.
Risk Disclaimer
WeInvests is a financial portal-based research agency. We do our utmost best to offer reliable and unbiased information about crypto, finance, trading and stocks. However, we do not offer financial advice and users should always carry out their own research.
Read More