This content represents the writer's opinions and research and is not intended to be taken as financial advice. The information presented is general in nature and may not meet the specific needs of any individual or entity. It is not intended to be relied upon as a professional or financial decision-making tool.
Decentraland was established in 2015 and formally launched in February 2020. As a high-tech 3D virtual world, it gives users full control over their new digital real estate, which is divided into 52ft. by 52ft. (about 16m x 16m) parcels.
When a user merges many plots that are close to one another, they create an estate. Each parcel of virtual land has its own X and Y coordinates and may be acquired using the MANA cryptocurrency through the Ethereum blockchain.
The difference between Decentraland and other centralised digital worlds is that the community runs it instead of a single entity that can ban, censor, or stop operations at any time. Keep reading this guide to learn more about how to buy Decentraland (MANA).
Decentraland (MANA) Tokenomics
The economic system of Decentraland revolves around tokens. Here are some of the tokens used in transaction.
MANA
This is an ERC-20 token that is interchangeable and fungible. It is a form of currency used to acquire LAND, wearable items for avatars, and collectibles. MANA can be bought and sold on crypto exchanges or won by playing online games. In the virtual environment, the token may also be used to cast votes for specific community decisions.
LAND
This is a modest plot of land in the virtual world. The plot is a unique ERC-721 token with a designated location. Since LAND is a unique token, it is considered non-fungible.
The 52ft. by 52ft. piece of LAND is suitable for designing, developing, and building using SDK or Decentraland Builder. Similar to the MANA token, LAND may be used to cast votes, with each parcel representing 2,000 votes.
wMANA
The term wMANA represents wrapped MANA. One can get wMANA by locking the MANA token in the Decentralized Autonomous Organization (DAO). This coin type is mostly used to cast votes in platform's governance process.
Avatars may vote on a variety of reforms, including activating Decentraland's Treasury to allocate funds and economic and blockchain reforms. Unlike LAND, where a single parcel corresponds to 2000 votes, a single wMANA token corresponds to a single vote. However, unlike MANA, wMANA cannot be used in purchasing or trading.
Estate
This is another ERC-721 token purchased from the market. One acquires an estate by purchasing many parcels of land next to and in close proximity to one another. The benefit of owning an estate is the ability to build a plaza-like structure and create a large interactive game. Another intriguing fact, similar to LAND, is that an estate can be locked in DAO and used to cast votes.
Where to Buy Decentraland (MANA)
Here are five locations where one may purchase MANA using Bitcoin, a debit card, or a credit card.
How to buy Decentraland (MANA) on eToro
After a comprehensive review of all available markets, the platform provides a high degree of security and has an intuitive user interface. Additionally, the platform supports multiple languages and currencies. Here is a detailed guide on how to purchase MANA on eToro.
Also, it is important to note that – From 6:00 AM ET on Wednesday July 12th, 2023, US customers will no longer be able to open new positions in Decentraland (MANA) on eToro. US Based eToro customers can continue to hold and sell existing positions in Decentraland (MANA).
Step 1: Open an Account
Start by filling up the online form with the username, email address, and password you prefer. Ensure that you choose the E-sign and privacy policy checkboxes. Then, continue by clicking the "Create Account" button.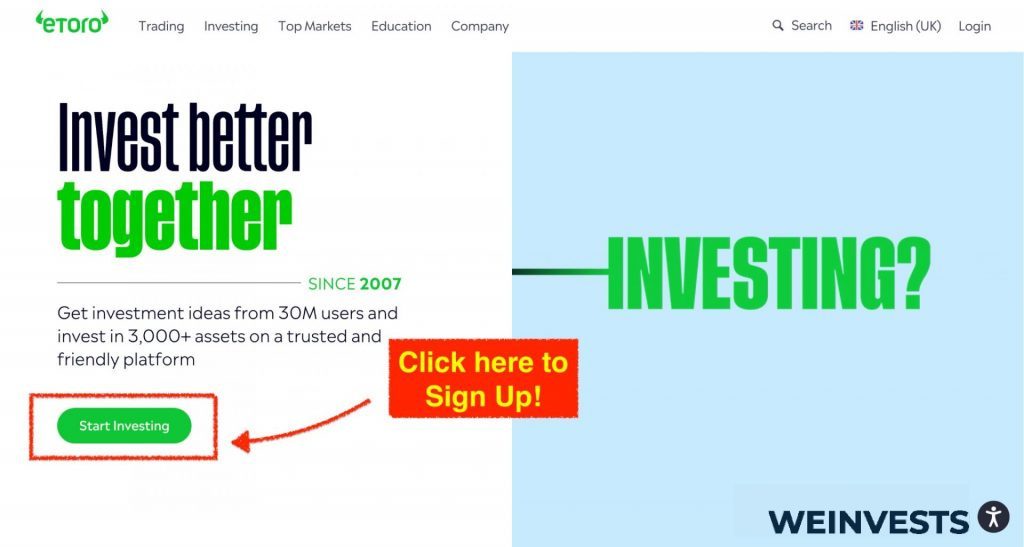 Step 2: Upload ID
To complete account verification, you must upload your passport or ID card and provide proof of address. You can also upload your verification documents on the eToro app. Ensure that all submitted documents are visible and posted in full, without any modifications or cropping. The verification procedure will begin once the appropriate papers have been uploaded.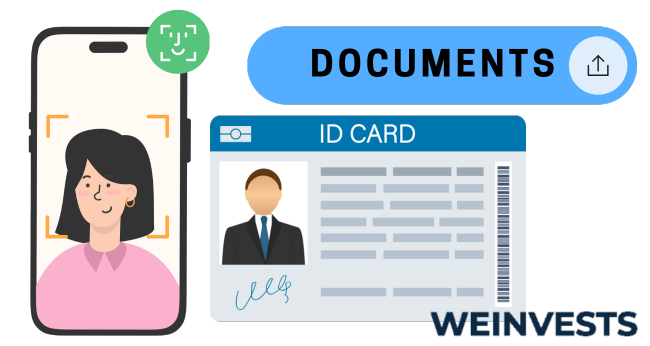 Step 3: Make a Deposit
To make a deposit, click "Deposit Funds" and a box labelled "Select Amount" will open with the minimum deposit amount. Select the currency of your choice and enter the deposit amount.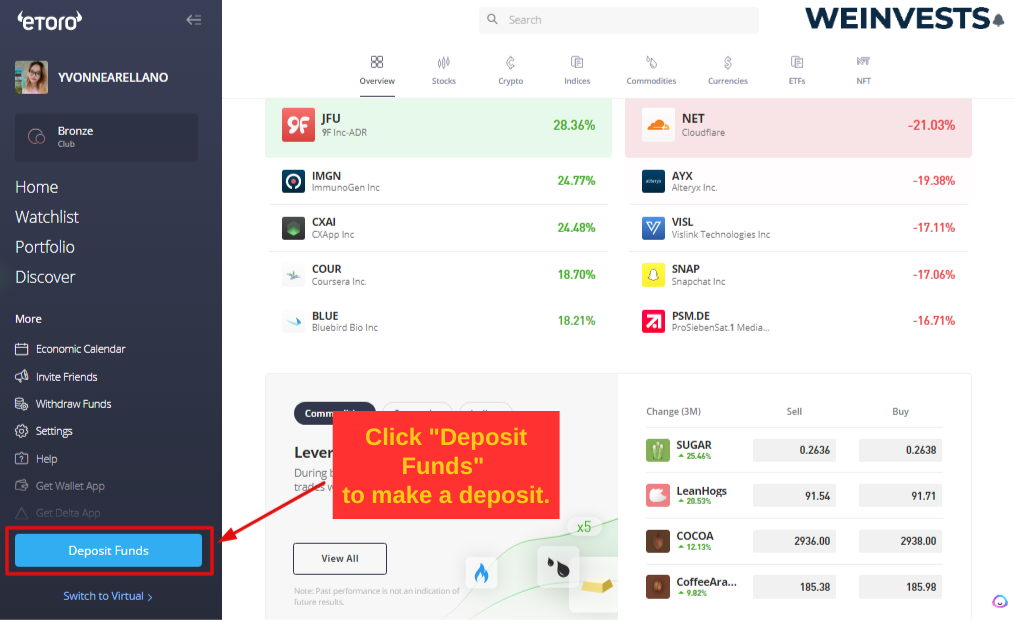 Step 4: Search for Decentraland (MANA)
This next part is where you search for Decentraland (MANA). In the search box, type MANA or Decentraland. Click the result from the first drop-down menu. This will take you to the Decentraland instrument page. Next, click the "Trade" option.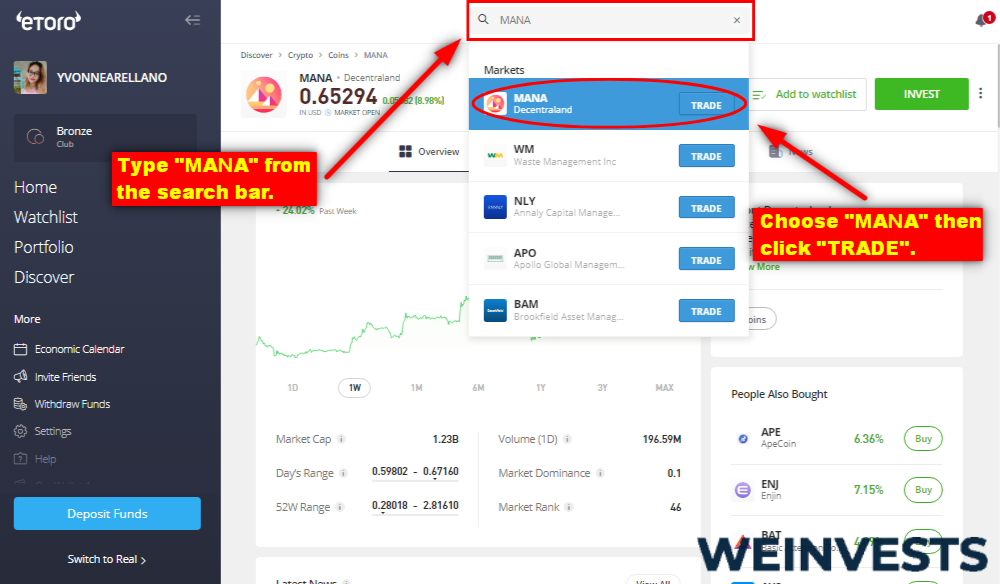 Step 5: Trade Decentaland (MANA)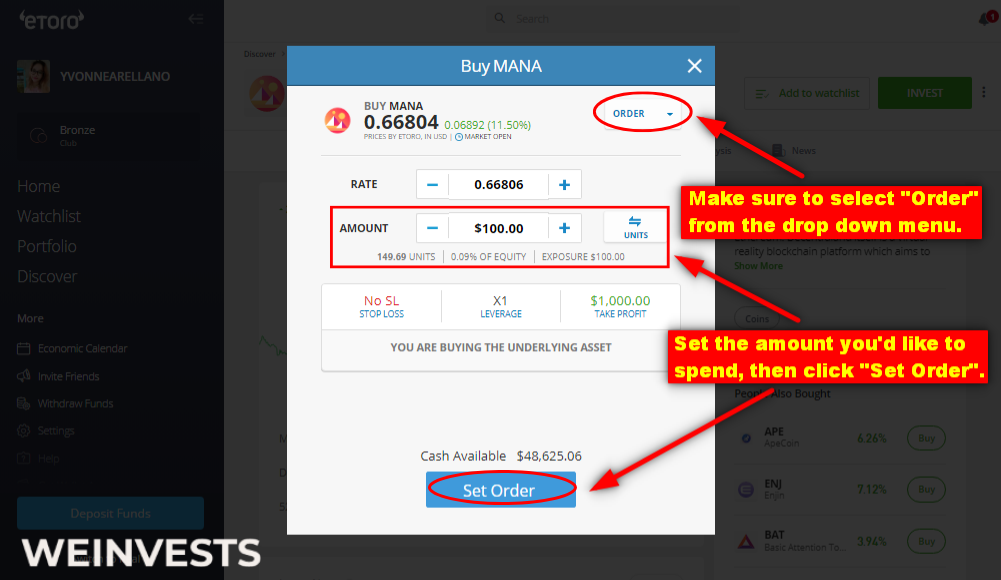 The 6th step is purchasing Bitcoin. On the trading page, select the tab labelled "Buy." Select the sum you want to trade and the "Units" you wish to acquire. Then click the option labelled "Open Trade." After acquiring Bitcoin, the next page will enable you to acquire tokens.
Binance
If you reside in the United Kingdom, Singapore, Canada, or Australia, Binance is the ideal exchange for you. The benefit of using this option is that it has lower fees and a high degree of liquidity, allowing users to purchase or sell their coins without friction. In addition, one may get a 10% cashback discount on the trading fees.
Uphold
This is a leading option for UK and US purchases. The trading platform is very innovative and designed to fulfil users' purchasing requirements. In addition, the platform provides trading choices through a mobile app and a PC.
This option allows you to tailor your trading experience and make purchases directly from your deposit without having to wait for the clearing of your funds. However, the platform forbids residents from the Netherlands and Germany from trading.
Huobi Global
Founded in 2013, the platform serves about 5 million users across 130 countries. Huobi Global is the best place to get MANA as it is one of the biggest places to trade digital assets in the world. However, the site does not welcome users from Canada or the United States.
KuCoin
This is a crypto trading platform to consider if you are concerned about trading costs and fees. The platform supports debit and credit card purchases as well as peer-to-peer (P2P) exchange. Furthermore, it provides competitive pricing and accepts customers from the United States.
WazirX
This is another marketplace for purchasing MANA on which there are over 400,000 users. However, only users in India are permitted on the platform. One advantage of WazirX is that, since it is a part of the Binance group, it adheres to strict quality standards.
How to buy Decentraland (MANA) with PayPal?
If you would rather purchase MANA through PayPal, you may still use eToro. When making a deposit, just choose PayPal as your preferred payment option. This choice will lead you to the login page for your PayPal account, where you will enter your credentials and authorise the transaction.
Alternatively, Bitcoin may be acquired at Coinbase using PayPal and then transferred to Binance. Bitcoin may then be converted into MANA. However, only people from the United States, the United Kingdom, Canada, and a few European countries can use this method.
How to buy Decentraland (MANA) with Credit Card?
Credit cards may also be used to acquire MANA. This is possible with eToro, where you may choose a credit card payment option. Here, you have the option of using either your Visa or Mastercard to make purchases. The money you put down will be used to buy/sell Bitcoins, which will then be converted into MANA.
Safe Storage
Decentraland values security and preserving users' privacy. Every user in virtual reality is granted full autonomy over their experiences. Hence, no one can gain control over your VR.
While developers have made every effort to guarantee safety and security, given that the virtual world is still a relatively new phenomenon, it is vital for users to exercise extreme caution. This includes using strong passwords and keeping private keys confidential.
In order to prevent being hacked, you must be cautious about the internet service providers and servers you use. To safeguard privacy, use private servers over public ones. This is because hackers often use public servers to acquire credentials to access VRs. Moreover, be certain that the device you use for transactions is secure.
Obtaining training on how to safeguard your account and transactions, as well as your server, is an additional precaution you should take. There are a number of online platforms that can help you learn how to keep your payment systems, crypto-data, and transactions safe.
Alternate Ways to Buy Decentraland (MANA)
There are several more options for purchasing MANA, including ATMs, brokerages, and P2P exchanges. Here is a summary of these options.
Decentraland ATMs
While you can't buy Decentraland directly with cash, you may use an ATM to acquire Bitcoin. The Bitcoin may then be transferred using eToro or Binance into Decentraland (MANA). There are over 30,000 crypto ATMs located across more than 78 countries. However, in certain countries, such as the United Kingdom, this method is prohibited.
P2P exchanges
Peer-to-peer (P2P) exchanges are an additional alternative for acquiring crypto services. P2P is a tool that enables users to lend their crypto assets to others as loans. A lender can set their own interest rates and doesn't need a broker or middleman.
Among the P2P exchange platforms available are Binance, Paxful, Bybit, Huobi, Gemini, OKX, WazirX, Hodl Hold, and LocalBitcoins. All of these options differ in terms of the type and amount of transaction fees, payment methods, borrowing and lending tools, staking services, merchant qualification rating and testing, speed, and ease of use. Research a couple of them to find one that works for you.
Mainstream Brokerages
Another method of acquiring MANA is through mainstream brokerages. These agents facilitate the purchase and sale of tokens at varying prices and with referral discounts. Among these brokers are eToro, AvaTrade, IC Markets, easyMarkets, Plus500 (CFD broker), Pepperstone, and XTB.
Apart from the above-discussed options, there are some ways of buying MANA without ID or registration. Some of these ways include.
BitQuick: This is available in the US where you purchase Bitcoin with cash and convert it into MANA.
Bitit: This option is only accessible in Europe if a user uses a 3D Secure debit or credit card. Cashlib, Flexepin, and Neosurf gift cards may be used for amounts greater than $150,000.
BitFinex: This is a Bitcoin exchange facility where one can deposit the coin without registration.
How to invest in Decentraland (MANA)?
There are several ways to invest in MANA. One way is to purchase MANA directly and keep it until the price rises. When the coin's value reaches your targeted profit level, you may cash out.
Alternatively, you may invest your MANA through cryptocurrency exchanges and brokers. If you are unfamiliar with the investing procedure, it will be best to use a broker. Moreover, brokers provide security for your investment. Nevertheless, you must employ regulated brokers, such as eToro, who are licensed to do business in your place of residency.
Decentraland exchange is another alternative investing option. Some exchanges have relatively low transaction fees, which is a quality that many investors find appealing about this alternative. However, since the option is unregulated, there might be no safety guarantees. Thus, you need to be well-informed before employing this option.
In exchange for a return, users may stake their tokens in order to support the virtual environment's operations. However, various platforms vary in terms of return and the duration of staking.
Conclusion
Unquestionably, Decentraland's cutting-edge investing concept is quickly revolutionising the cryptocurrency industry. The first ever Ethereum-backed virtual world controls a major piece of the NFT market and is anticipated to develop rapidly in the next few years. The site is easy to use and provides several currencies and payment options. Now that you have obtained adequate information about Decentraland (MANA), it's time to try it.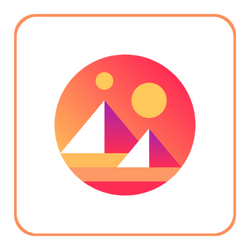 Decentraland (MANA) Price Prediction 2023, 2024, 2025 – 2030
The pricing forecasts for Decentraland indicate that prices of MANA will rise with time, with an estimated rate of $15.23 in 2027. This is a rough estimate of a growth of more than 368.1% over the next five years. The forecasts indicate that by 2023, the value of cryptocurrencies will have increased by $6 and will reach a price of $106.06 by 2030. With the rise of the more centralised Metaverse, Decentraland will have a competitive edge due to the fact that it is community-run. Given the growth of virtual reality, extensive market analysis from many organisations and researchers indicates that the MANA cryptocurrency will prove to be a worthwhile investment. Therefore, it is apparent that it can be regarded as a high-end investment with decent returns.
Risk Disclaimer
WeInvests is a financial portal-based research agency. We do our utmost best to offer reliable and unbiased information about crypto, finance, trading and stocks. However, we do not offer financial advice and users should always carry out their own research.
Read More