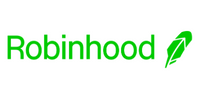 User-friendly platforms
Low commissions and fees
Automated trading possibility
Pros
Beginner friendly
Active community and educational materials
Strong branding and customer loyalty
Cons
Lacks sophisticated tools
Limited asset classes
Available mainly in the US
Robinhood Highlights

| | |
| --- | --- |
| 📈 Demo Account | No demo account available |
| 💸 Leverage | No leverage available |
| 📊 Available assets | Stocks, ETFs, options, cryptocurrencies |
| 💵 Deposit Methods | Bank transfer, wire transfer, debit card |
| 🗠 Minimum Trade On Stocks | No minimum trade size or amount |
| 💰 Min Deposit | No minimum deposit to open an account |
| ⚖ Regulation | Regulated by FINRA and SIPC in the US |
| 🌐 Countries | US residents only |
With the development of new technologies and devices, online brokers had more channels to offer their services such as trading in stocks, exchange-traded funds (ETFs), cryptocurrencies, foreign exchange (FX), bonds, and other financial instruments to the global public.
Mobile apps enabled users to buy and sell financial instruments on the go creating another playing field for online brokers to gain further market share. Probably one of the leading platforms that leveraged mobile trading in the best way possible is Robinhood.
What is Robinhood? It is a mobile app brokerage focused on the commission-free trading of:
Stocks
ETFs
Options
Cryptos
Who is Robinhood? Established in 2013 and currently headquartered in the US, the firm gained rapid popularity especially with the younger population of investors thanks to its innovative solutions and the user-friendliness of its platform. Currently, it provides its services only to the residents of the US and doesn't offer its platforms outside the country. However, there were some plans to open a branch in the UK which got delayed due to Brexit.
Is Robinhood a Good Option for You?
So the first question to ask is – "Can we trust Robinood?" Let's break down key aspects of this platform that are worth considering before opening an account.
The company has almost 10 years of track record and is publicly listed with a solid valuation. It has been one of the first to become a true commission-free brokerage platform bringing an interface that every beginner investor can understand and navigate through. Therefore, it gave the company a major advantage in a niche market driving it to become one of the largest online brokerage platforms in the US.
Given the fact that it is currently available only in the US the only regulatory bodies for the moment are thus US authorities. This means that the company should follow all the regulatory guidelines in order to continue its operations in the US. Combining this with the 10-year track record we can be sure that Robinhood has met all the requirements to operate in the US which makes it a solid online brokerage platform.
Is Robinhood Regulated?
Looking for the regulatory environment for any broker is a must before deciding on investing with them. It can showcase whether the company is monitored by the major government authorities or is trying to hide its operations through offshore registries which might bring some concerns.
In case of the Robinhood, as mentioned, the company is only registered in the US at the moment thus the main regulators are:
Securities and Exchange Commission (SEC) in the US
Financial Industry Regulatory Authority (FINRA) in the US
Federal Deposit Insurance Corporation (FDIC) in the US
Office of the Comptroller of the Currency (OCC) in the US
Almost all financial regulatory bodies in the US are overseeing Robinhood's operations hence we can rest assured that the company has a stable operational and financial base.
Who is Robinhood Recommended for?
Although most of the functionalities of online brokers are similar since they mainly enable you to buy and sell financial instruments in the market, you still should look at whether the platform is not too sophisticated for a beginner, or lacks certain functionalities which are required for a professional trader.
In the case of Robinhood, due to its simplicity, it is mostly relevant for beginners who like to have basic functionalities. However, thanks to the fact that it provides commission-free trading it might be also suitable for professional investors who want to minimize trading costs and are ready to bypass the complex features that may be available on other platforms but not on Robinhood.
Robinhood Trade Experience
Another important feature to consider is the accessibility of the online brokerage in terms of platforms, applications, and APIs that can be used to navigate through during your interaction with financial markets.
Robinhood comes with two options at the moment – either accessing the platform through the mobile app or the web browser. This is quite common for most online brokers to provide both web and mobile interfaces for the users and only in certain cases, there might be some additional accessibilities such as APIs or integrations with other platforms.
Another major factor for consideration is the fee structure. Below we break down the fees that apply to Robinhood per expense category.
Commissions and fees
Although Robinhood mentions that it is a commission-free brokerage and in fact, it is for trading most of the US stocks and ETFs, some commissions might still be applicable and you need to be aware of those.
Robinhood discloses on its platform that there are certain commissions applicable which are imposed by FINRA and other self-regulated organizations if it comes to sell orders so in those cases Robinhood charges the fees from the clients and passes it to those entities.
There might be other fees applicable which are again paid to regulators and SEC in particular, that is in case the notional value of the sale is larger than USD 500.
Other fees might be applicable for crypto and options trading as well as foreign stocks trading and the fee value mostly depends on the transaction size so it is worth doing your research to identify what fees are applicable in your particular case.
CFD fees
Robinhood doesn't offer CFD trading.
Online fees
Robinhood mentions on its platform that it is not charging any fees if it comes to opening an account, making deposits, or maintaining the account.
Non-trading fees
There might be some wire fees in case you make a wire transfer to your Robinhood account. In some cases, account transfer fees might be applicable if you transfer your account to another broker from Robinhood. There are also additional subscription fees in case you want to apply for the premium services.
How to open an account with Robinhood?
As highlighted before Robinhood is only available for customers who are based in the US. There are some discussions that the company might open its affiliate in the UK but there are no timelines for now. Below we provide step by step guide on how to open an account with Robinhood.
Step 1 – Direct to the Robinhood website or download the mobile app. Choose "Sign Up" and provide your email address as well as password to create an account. You will also need to provide some personal information such as your name, social security number, and address, to name a few.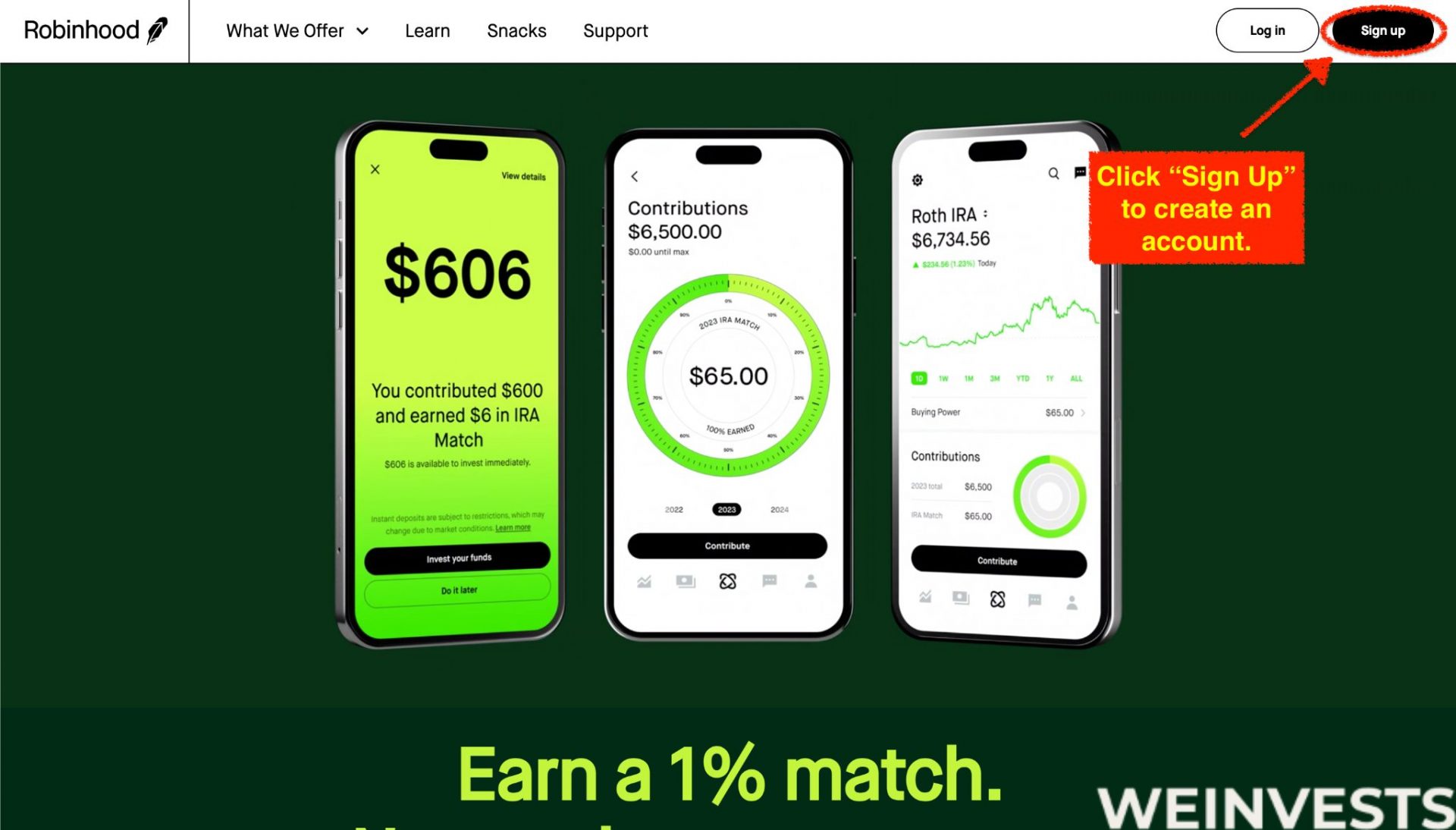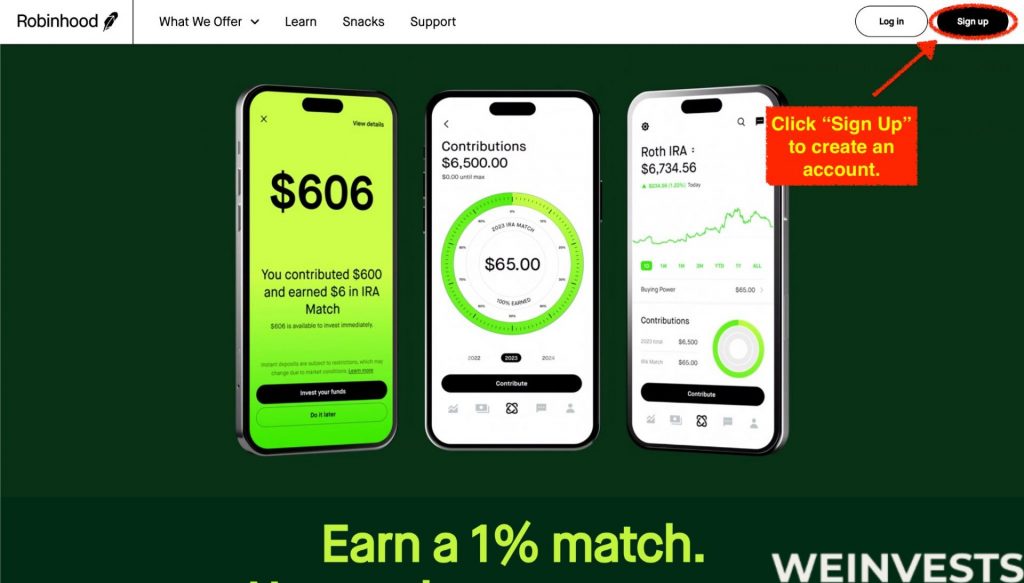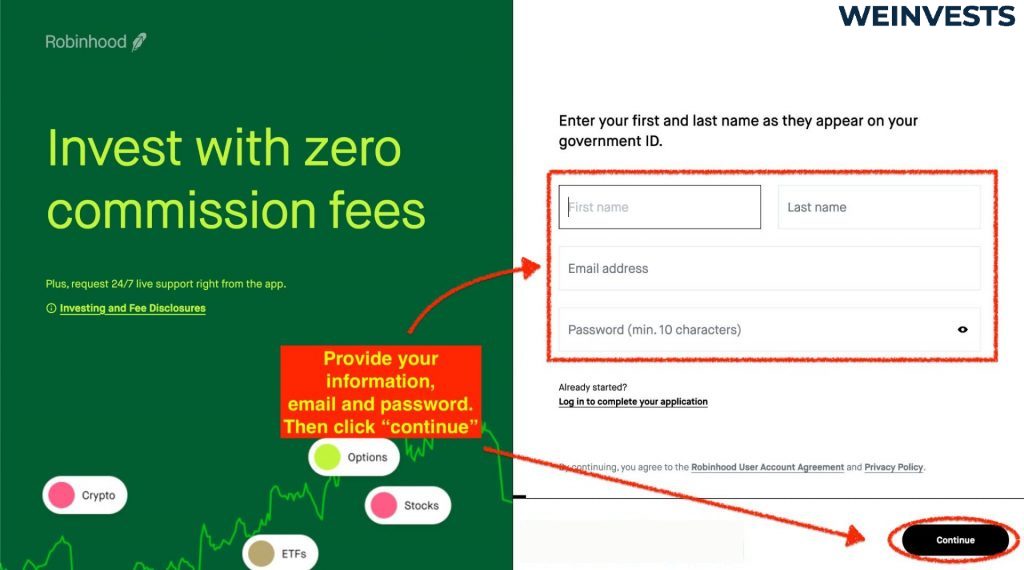 Step 2 – Once Step 1 is completed you will be asked several questions to identify your investment goals, experience, risk tolerance, and appetite.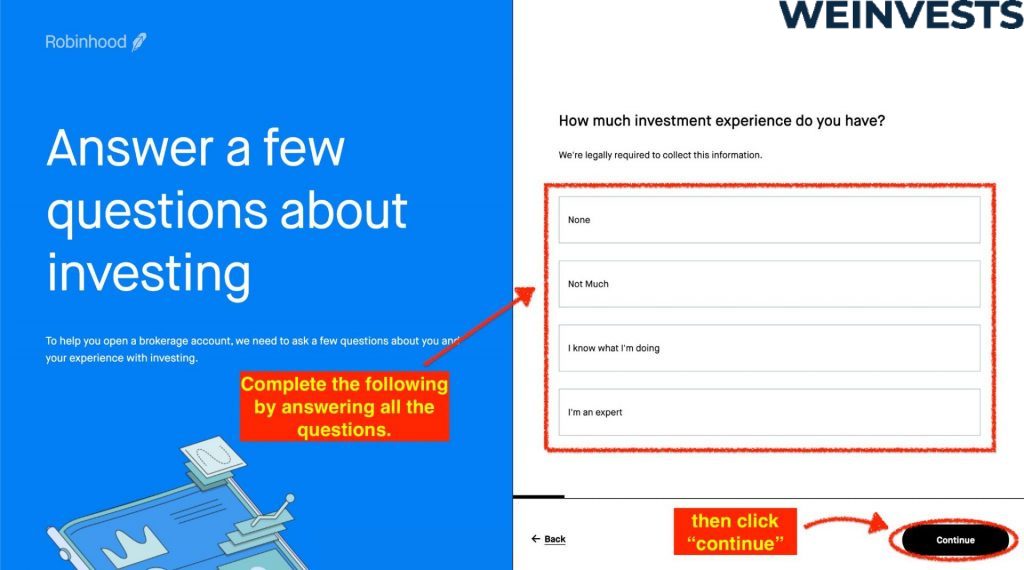 Step 3 – Link your bank account to be able to transfer fiat money for investing.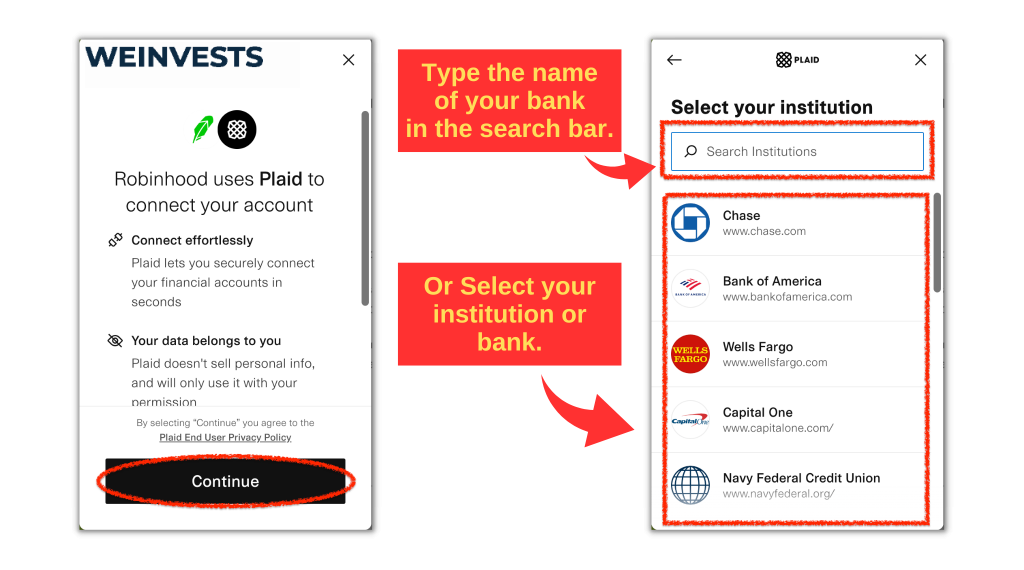 Step 4 – Once all the steps are completed and verified by the platform you will be able to invest in all financial instruments that are available on Robinhood's platform.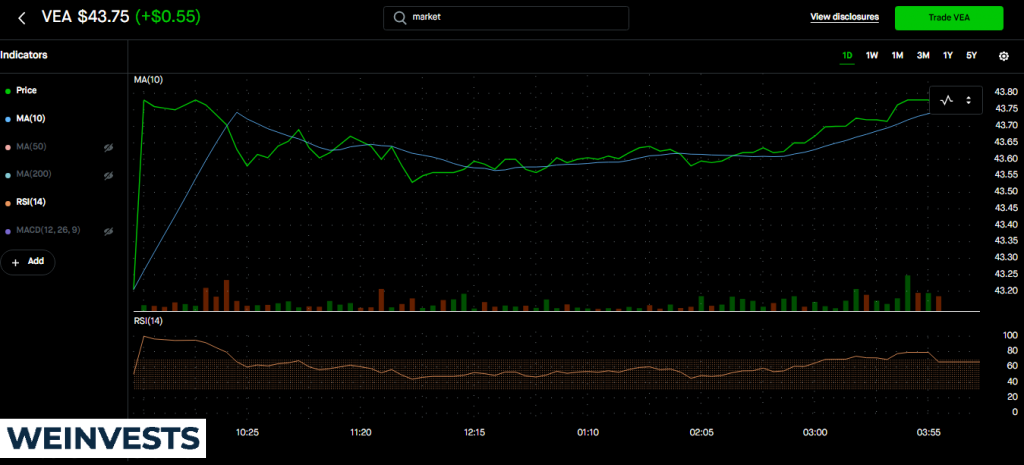 Robinhood Education
Robinhood offers educational materials and tools such as articles, videos, and interactive guides to support users in their learning and investing journey. They provide news feeds, market data, and information on recent market trends.
Youtube – Robinhood delivers its YouTube channel where they discuss various educational topics as well as updates and news related to the company.
Blog – In their blog, Robinhood supplies information about the financials of the company as well as news and updates related to the platform.
Customer Support
It is important to know that you can get the required help whenever you need it so another item on your checklist should be to verify if the online brokerage provides solid customer support.
In the case of Robinhood, the online broker claims that it has 24/7 customer support available both through chat and phone calls in the app and web-based interfaces. Therefore, you can contact the customer support representative directly through chat or you can request a phone call from Robinhood support in which case you will be notified what phone number is going to call you and your position on the waiting list.
Robinhood Crypto Wallet
Robinhood offers customers its crypto wallet which is a self-custody wallet enabling the users to buy and sell cryptos with no network fees but with certain spreads that come through the differences between buy and sell prices. Currently, it enables only one wallet at a time on the platform but Robinhood claims that it keeps working to add more features in the future.
Conclusion
Robinhood is a leading US-based online broker that enables its US customers to buy and sell financial instruments in a commission-free manner. It gained quick popularity among investors thanks to its user-friendly interface and ease of making financial transactions.
Robinhood offers an app and web-based interfaces at the moment which are coming with simple investment tools as well as several educational materials for better investment decision-making. Because of its less sophisticated features, the platform is best suited for beginners who don't require complex features to make research and analysis. Nevertheless, professional traders might also appreciate the platform thanks to its commission-free trading capability.
Currently, the company provides services only to the US but with potential extension to the UK in the future. Since it is a US-based organization all the major regulatory bodies available in the US are overseeing the company giving the investors additional confidence in the soundness of Robinhood's finances and operations.
FAQ
Why Robinhood is not available in other countries than the US?
Robinhood was planning to expand to the UK, however, due to Brexit and COVID crisis the platform decided to hold back with its expansion and focus on the US Operations for the time being.
Is Robinhood really commission-free?
If it comes to trading in major US stocks and ETFs Robinhood does provide commission-free trading possibilities. However, if it comes to investing in other assets such as options, cryptos, or foreign stocks then certain commissions or spreads may apply.
Are there educational materials for beginners?
Yes, they have numerous educational materials both on their platform as well as on other social media such as YouTube, Facebook, etc. where you can find useful information about market e<trends and platform updates.
Risk Disclaimer
WeInvests is a financial portal-based research agency. We do our utmost best to offer reliable and unbiased information about crypto, finance, trading and stocks. However, we do not offer financial advice and users should always carry out their own research.
Read More