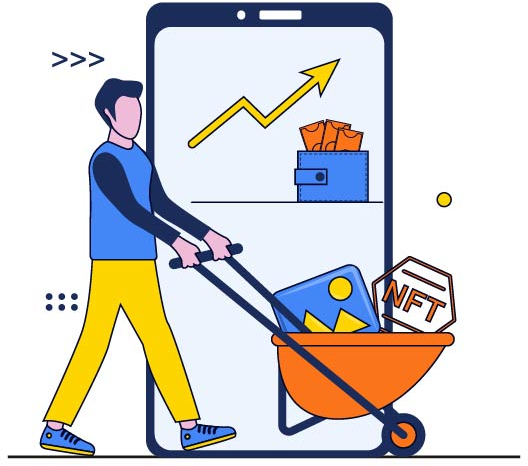 Over the last couple of years, the popularity of Non-Fungible Tokens (NFTs) has risen to such a point that is very difficult not to sit up and pay attention. Not only have NFTs become an internet sensation, but they have also emerged as good investment opportunities.
A lot of well-known individuals have made headlines by investing millions of dollars in various new, exciting, and rare NFTs in the digital art, and music industries. Considering the huge sums of money that these investors are paying for NFTs, it is safe to assume that they consider it to be a worthwhile investment.
Once you understand the basics of what NFTs are, the benefits of investing in them become clear. This step-by-step guide will cover the process of how to invest in NFTs in the easiest way possible.
Is It Worth Investing in NFTs?
From the time NFTs first began making headlines online, until now, the value of NFTs has drastically increased. People who bought NFTs at very cheap prices, when the concept of investing in NFTs was still very new, have seen their investment grow at a very fast rate.
Judging by the way the internet seems to be gradually moving towards the creation of a multiverse, and how more and more people are beginning to realize the value of cryptocurrency over fiat currencies. Very soon the average prices of NFTs will be much higher than they are today.
Why Invest in NFTs?
The reasons that people chose to invest in NFTs vary from one person to another. Like all investment decisions, before deciding to invest in NFTs, you should first be clear on why you want to do it, and whether it is the right decision for you.
Investing in NFTs carries the inherent risks associated with all online investments, such as cryptocurrency, stocks, etc. It is not easy to predict how the market will turn, so it is wise to only invest money you can afford to lose. Some reasons for investing in NFTs are:
They are a unique digital token, which makes them very rare, and means you will be the owner of the only copy in existence. This means that no matter what happens, you will always be the owner of that token until you decide to sell it.
They are collectible items, just like baseball cards, whose true value is based on the industry. Due to market fluctuations, this makes NFTs a high-risk investment, but there is definitely potential for a return on investment.
Some people invest in NFTs simply for the love of the art or the music. An example is investing in an NFT of musical compositions from your favorite musician.
Best NFT to Invest in 2023
There have been a lot of new and exciting NFTs minted since the start of 2022, and a lot of them have offered great investment opportunities. Many of these NFTs have made headlines, not only because of the people who bought them but also because of how much their prices have increased since the time they were minted.
The following is a short list of some NFTs that have proved to be great investment options for 2023:
One of the most easily recognizable NFTs of 2022 is the Bored Ape collection, by developer Yuga Labs. It is a collection of over 10,000 depictions of various digital ape artworks that have collectively sold for millions on the NFT market.
The Bored Ape Yacht Club NFTs have grown so popular, that the developers have decided to create a Bored Ape Metaverse for use by owners of these tokens. When the deeds to land on the Bored Ape Metaverse were dropped, the response was so huge it caused a crash on the Ethereum blockchain.
One of the most interesting, and versatile, NFTs to own in 2022 is the Lucky Block, which offers owners unique access to a lifetime daily lottery jackpot price. Not only is this vastly different from what other NFTs have to offer, but Lucky Block owners also have the chance to win prizes from draws conducted safely and transparently.
As one of the most valuable NFTs around, CryptoPunks has become a status symbol in the world of NFTs. They were one of the first NFT collections to be minted back in 2017 and consist of 10,000 unique human pixel images. Since they were bought by Yuga Labs in 2022 they have become increasingly popular due to the limitless possibilities for their future.
NFT Investment Tips
Now that you have decided to invest in NFTs, there are a few things you need to know about the best way of acquiring NFT tokens. The process can be a bit complicated, especially for beginners, but by following these simple steps.
NFT Investing Strategy
The overall success or failure of any investment project is highly dependent on the choice of the strategy employed. There are a lot of different ways to go about investing in NFTs, but the intention of any trader is usually to invest in NFTs at a low price and then sell them later on at a much higher price.
In order for this to work, it is best to know a lot about what is happening currently in the world of NFT trading, so that you can be able to invest in new NFTs soon after they are minted, and while the floor price is still low. If you calculate properly and invest in NFTs from reputable artists, then there is a good chance that the price will increase.
NFT Investing for Beginners
Online trading is always a bit difficult for beginners, and the risks are increased due to their lack of experience. It is a good idea, if you are a beginner, to choose a trading platform that offers copy trading and has a demo account; two very essential tools for traders with no experience.
Another good strategy is to stick to well-known artists, at least until you know more about the industry.
Conclusion
Even though there are a lot of risks associated with NFT investments, the potential for gains is also there for those who can follow the steps in this guide.
Visit our website, for more important information, and all you need to know about investing in NFTs.
Risk Disclaimer
WeInvests is a financial portal-based research agency. We do our utmost best to offer reliable and unbiased information about crypto, finance, trading and stocks. However, we do not offer financial advice and users should always carry out their own research.
Read More