This content represents the writer's opinions and research and is not intended to be taken as financial advice. The information presented is general in nature and may not meet the specific needs of any individual or entity. It is not intended to be relied upon as a professional or financial decision-making tool.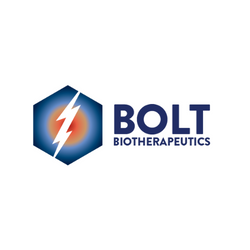 BOLT Biotherapeutics (est. 2015) is a world-class pioneer of targeted immunotherapy whose influence in the health sector has been incredible. This company consists of intelligent innovators whose primary goal is to provide transformative treatments for people living with cancer and those with limited or unavailable medical solutions. It is a biotech company founded by Dr. Edgar G. Engleman, a Stanford University graduate whose work in cancer immunotherapeutics and myeloid biology has received massive recognition.
BOLT Biotherapeutics is made up of a team of professionals who have helped the company build a huge pipeline of immune-stimulating, myeloid-engaging therapeutics using its leading product, BoltBody ISAC (BDC-1001). This PD-L1-approved drug has gone through a preclinical stage to refractory checkpoint tumors such as non-small cell lung cancer, breast cancer, and head and neck cancer. Currently, it is in a multi-arm phase ½ trial to target HER2 tumors (HER2+ gastric, breast, and HER2- breast cancer). It also has a myeloid-modulating agonist antibody (BDC-3042) to target dectin-2, i.e., solid tumors with unmet needs but still remains in a preclinical stage.
In 2021, the company listed its initial public offering to raise $150M from the sales of 8.825M BOLT at $17 per share. However, it raised $230M from 11.5M common stock at $20 per share. BOLT Biotherapeutics planned to use proceeds from the offering to fund clinical research and development of BDC-1001, which was at its phase 1/2 trial. It also planned to use part of the fund to complete IND-enabling studies, initiation of BDC-2034 clinical development, and the rest for PD-L1 ISAC and TAM1 research and development.
Find out what has happened to the stocks so far since the first listing and its forecasts in this article.
BOLT Stock Forecast 2023
12 Stock Analysts predicted BOLT Biotherapeutics stocks, BOLT, will be $6.8 over the next 12 months, i.e., 2023. This stock price will be a 431.25% increase from its current price ($1.31), with the lowest at $4.04 and the highest at $8.4. It is forecasted to beat the market by 2023, affecting its revenue growth and earnings per share. Wall Street analysis also thinks that Bolt Biotherapeutic's share in 2023 could reach $7.67, an increase of 485.27% from its current price ($1.31).
BOLT Stock 2022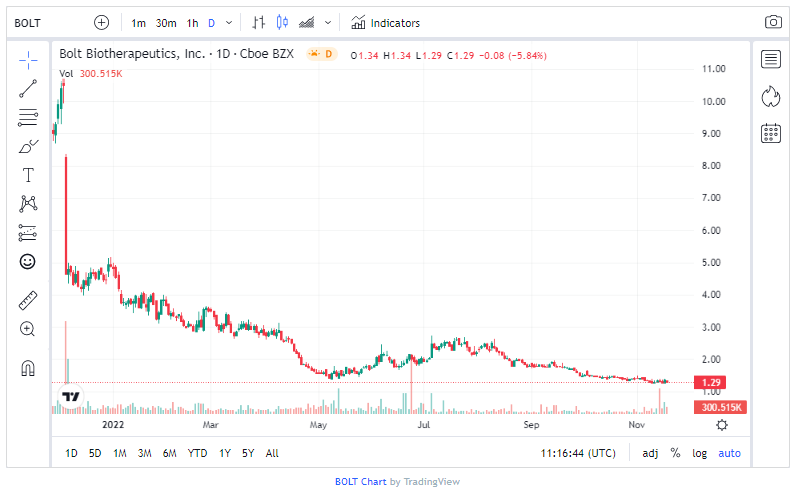 The BOLT stock price opened the year at $4.87 and experienced a serious downfall in the latter parts of 2022. The stock price of BOLT experienced a bearish run from January to April having a close price of $2.82. This downfall was nothing compared to the downward trend that occurred at the later part in April through to May 2022.
The closing price at May was $1.7. As at December 15 ($1.32), there was a decrease when compared to the closing price in June 30,2022 ($2.04).
BOLT Stock 2021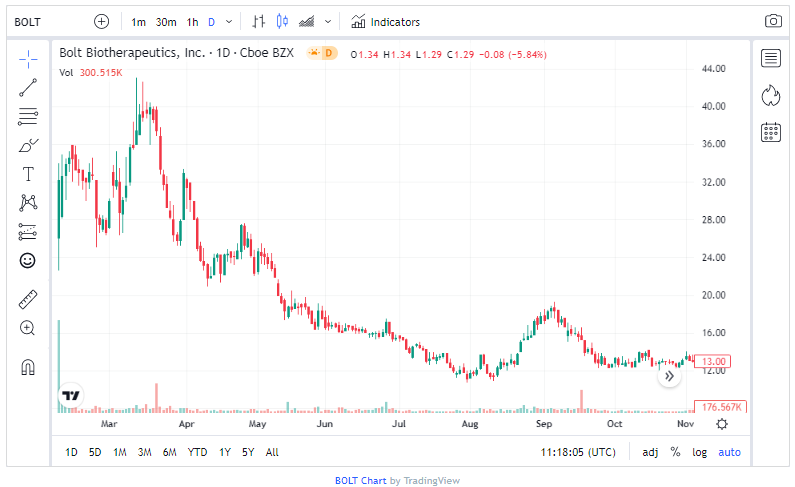 On February 9, 2021, Bolt Biotherapeutics announced the closing of its initial public offering of 13,225,000 shares of common stock. This included the full exercise of underwriters by their option to purchase 1,725,000 shares of common stock. The price per share for the public was set at $20.
By February 15, 2021, the price of a share of stock was $33.05; however, on March 8, 2021, the price had increased to $39.10, indicating 18.31% rise. Following this price increase, the stock price started to decrease during the month of April, eventually reaching $22.80 on May 2, 2021.
By August 29, 2021, the stock price was $18.60, which indicated 44.16% decrease when compared to the stock price as at February 8, 2021. At the end of the year, closing price was $4.9, which was a decrease when compared to price in September 29, 2021 ($12.32).
Conclusion
What BOLT Biotherapeutics does is phenomenal. Having a company interested in biotech solutions for cancer and diseases with unmet needs is such a rare opportunity. However, there is only so little this company can do, especially regarding research and development, initiation of a treatment stage, and corporate works. Therefore, the company decided to list BOLT stocks to invite people to invest and make short-term or long-term profits.
BOLT Biotherapeutics Inc. plans to use proceeds to launch various projects, which shows that its future plans are great. After reading this article, you should spend a few more hours researching and then create an account on eToro to start trading.
FAQ
Is BOLT Stock Good to Buy in 2023?
From technical analysis, BOLT seems like a good buy in 2023 and beyond. The stock price is predicted to increase by 485.27% its current price in 2023.
Does the Company Review Its Own Stock Price?
Bolt Biotherapeutics Inc. has a dedicated page that displays the stock's quote and chart information.
Risk Disclaimer
WeInvests is a financial portal-based research agency. We do our utmost best to offer reliable and unbiased information about crypto, finance, trading and stocks. However, we do not offer financial advice and users should always carry out their own research.
Read More