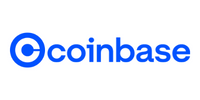 Excellent customer service
Easy withdrawal process
Store your NFTs and cryptocurrency investments in one place
Pros
Excellent customer service
Attached to one of the biggest cryptocurrency exchanges by market capitalization
You can hold a range of NFTs from different blockchains with the Coinbase wallet
Support available in a multitude of different languages
Easy withdrawal process
Store your NFTs and cryptocurrency investments in one place
Cons
Newcomers may struggle to understand NFTs
Cold wallets are a safer option for storing valuable digital assets
High transaction and gas fees
Your privacy may be compromised if you are using the Coinbase wallet
Non-fungible trading is not for everyone
NFTs have been gaining popularity lately, and rightfully so. This smart contract technology changes how people prove ownership of a tangible or intangible item. What's excellent about non-fungible tokens is that the blockchain verifies the asset's authenticity and provides you with a reference link to prove its legitimacy. People worldwide have been enjoying the benefits of NFTs and have used hot wallets to store them.
If you use a solid NFT wallet, you keep your non-fungible token and other cryptocurrencies that you are holding secure. One of the best things about these hot wallets is two-factor authentication and a unique passphrase. People wanting to add an extra layer of protection for their cryptos and NFTs may want to look for a Nano Ledger or other branded cold wallet to store their items. Remember, the NFT space is still relatively new, so many hacks and scams are online.
This article explores a prominent NFT wallet from Coinbase and showcases some of its features. You will learn how the wallet works, what NFT marketplaces can connect with it, how to load funds, etc.
By the end of the piece, you will have a clear understanding of how non-fungible token wallets work and will be able to make an intelligent decision when it comes to using one for your investment purposes.
Let us begin this article!
Key Features
Coinbase wallet is an Ethereum-based cryptocurrency, and non-fungible token wallet that can be used to hold ERC-20 and other ETH wrapped tokens or NFTs. You can store a diverse range of unique and valuable non-fungible tokens on your Coinbase wallet without the concern that hackers or cyber criminals may take it.
What's excellent about the Coinbase wallet is that the company owns both the wallet and the exchange. That means the support for swapping assets and the overall user experience is more consistent when investing with this platform.
Additionally, Coinbase has started to develop its own NFT marketplace, where the exchange's users can buy, sell, and trade non-fungible tokens at the press of a button.
Another awesome thing about the Coinbase wallet is that you can transfer your digital assets from a MetaMask wallet. That is great news because most investors already use MetaMask, and some even exchange cryptos, NFTs, and other digital items with it on the Coinbase platform.
What Is Coinbase Wallet?
Coinbase allet was introduced to the public a few years ago, and it puts you in control of your data, keys, cryptocurrencies, and non-fungible tokens. The wallet is a self-custody crypto wallet meaning that no third party will have access to your most precious virtual assets.
Crypto and NFT traders can make wise decisions when holding, buying, or selling their items with the Coinbase wallet. It is important to remember that NFT technology is only at the beginning of its adoption curve. Holding is a long-term strategy for an investor to get a significant return on investment.
What does this mean, you ask? Let us tell you! In 2020, non-fungible tokens rose in popularity after releasing the Bored Ape Yacht Club collection. This group of pictures displayed various animated apes in different attire, colors, and facial features. The above NFTs sold for over $1 million each and are held by the most notable celebrities and sports stars.
Something else that stands out when using the Coinbase wallet is that the app is available on both Android and iOS. You can quickly gain access to your favorite NFTs and cryptocurrencies in the palm of your hand.
What is remarkable is that you can quickly store your NFTs in the wallet without worrying about managing your private key. Losing your passphrase can be detrimental to a person's account, as, without it, you will not be able to gain access to the wallet again. Luckily, Coinbase takes care of these issues because it is a centralized exchange.
Our Coinbase Wallet Analysis
When someone at our office mentioned Coinbase NFT wallet to us, we had to go and check it out. We headed over to the Coinbase website and opened an account with the platform. The information we had to enter included our email address, country of residence, name, surname, contact, etc.
We loved signing up for the Coinbase wallet because the process was smooth, and there were no hiccups.
The Signup Process
Registering with Coinbase is as easy as one, two, and three. Below, we have listed the steps you should take and discuss our personal experience.
How Coinbase NFT Wallet Works
Below is some information regarding how the Coinbase NFT wallet works so that any questions you have can be cleared up.
Verification
What's fantastic about Coinbase wallet is that the verification process only takes a few minutes. It's crucial to remember that Coinbase is a centralized exchange so it will require your credentials, including your name, surname, contact details, and residential address.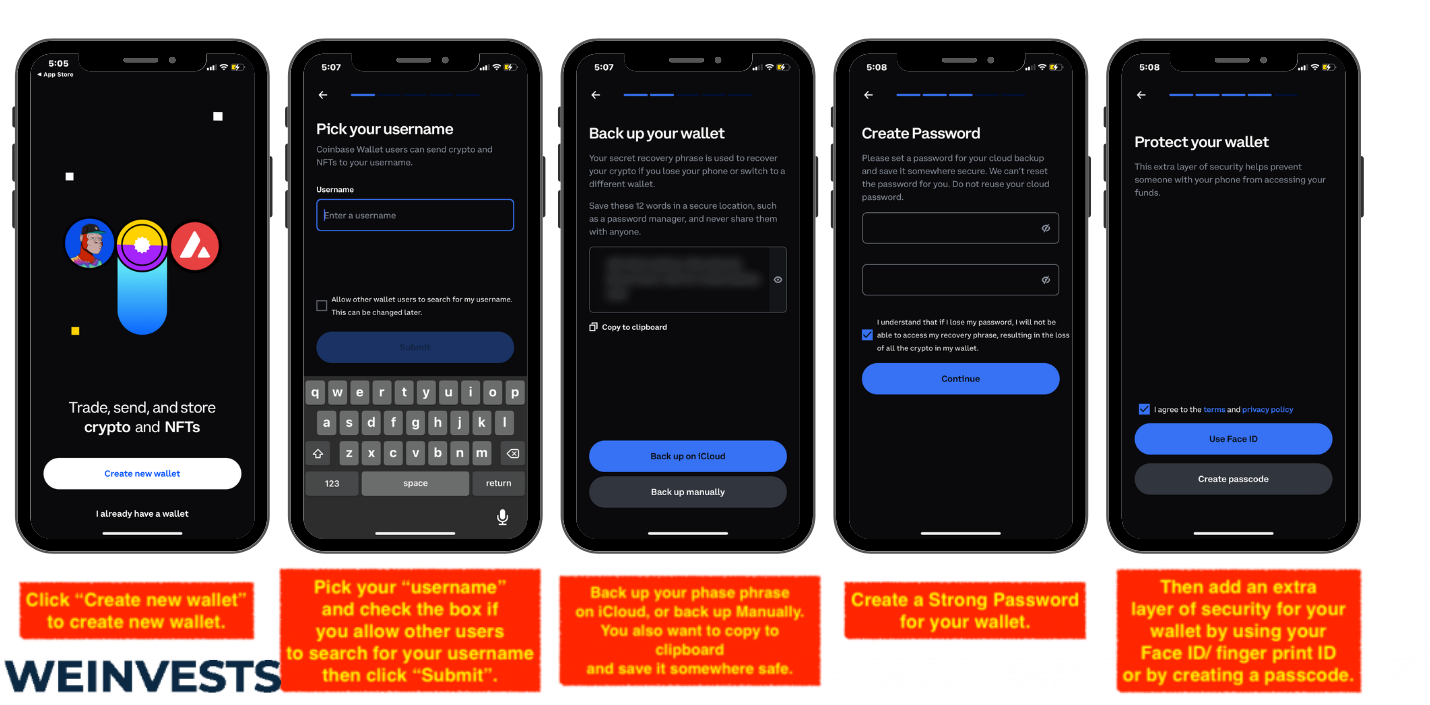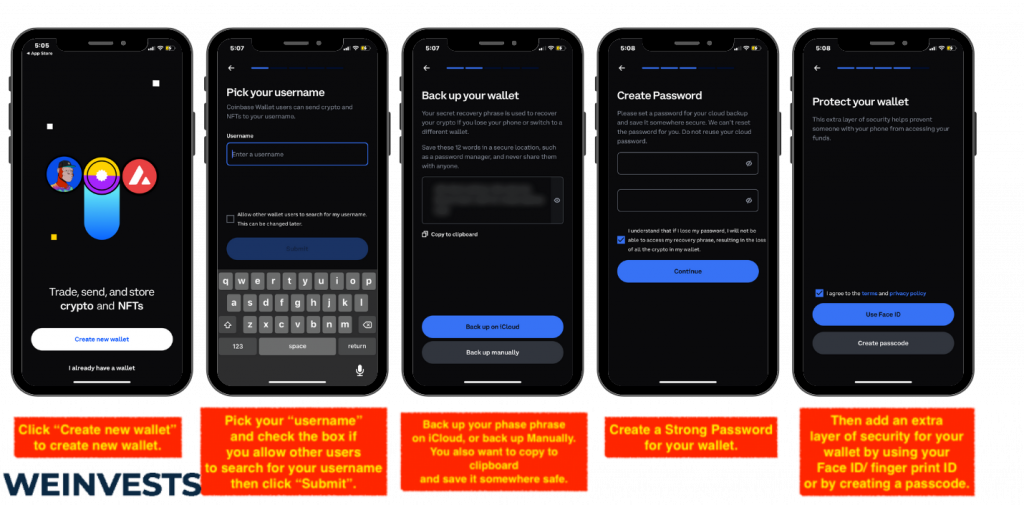 This KYC (Know Your Customer) information is vital to keeping your account safe from hackers and unscrupulous individuals.
Fees
What is remarkable about the Coinbase wallet is that it charges no fees to store your USD or cryptocurrency. Even if you would like to transfer cryptocurrency or an NFT to your friend, you will be pleasantly surprised that it is free of charge.
Furthermore, what is important to remember is that purchasing new NFTs for your collection does incur gas fees and extra expenses.
Payouts and Withdrawals in Coinbase
Payout
Withdrawing your money from Coinbase is easy. You need to head over to the "Cash Out" page and choose the amount you would like to draw. Please remember that if you have sold your non-fungible token on the marketplace for Ethereum, it would be wise to convert that ETH to USD (you cannot withdraw cryptocurrency directly to your bank account.)
Step 1: Sell your Cryptocurrency for cash.
On the "Home" tab Click "Trade" to start selling your crypto coin.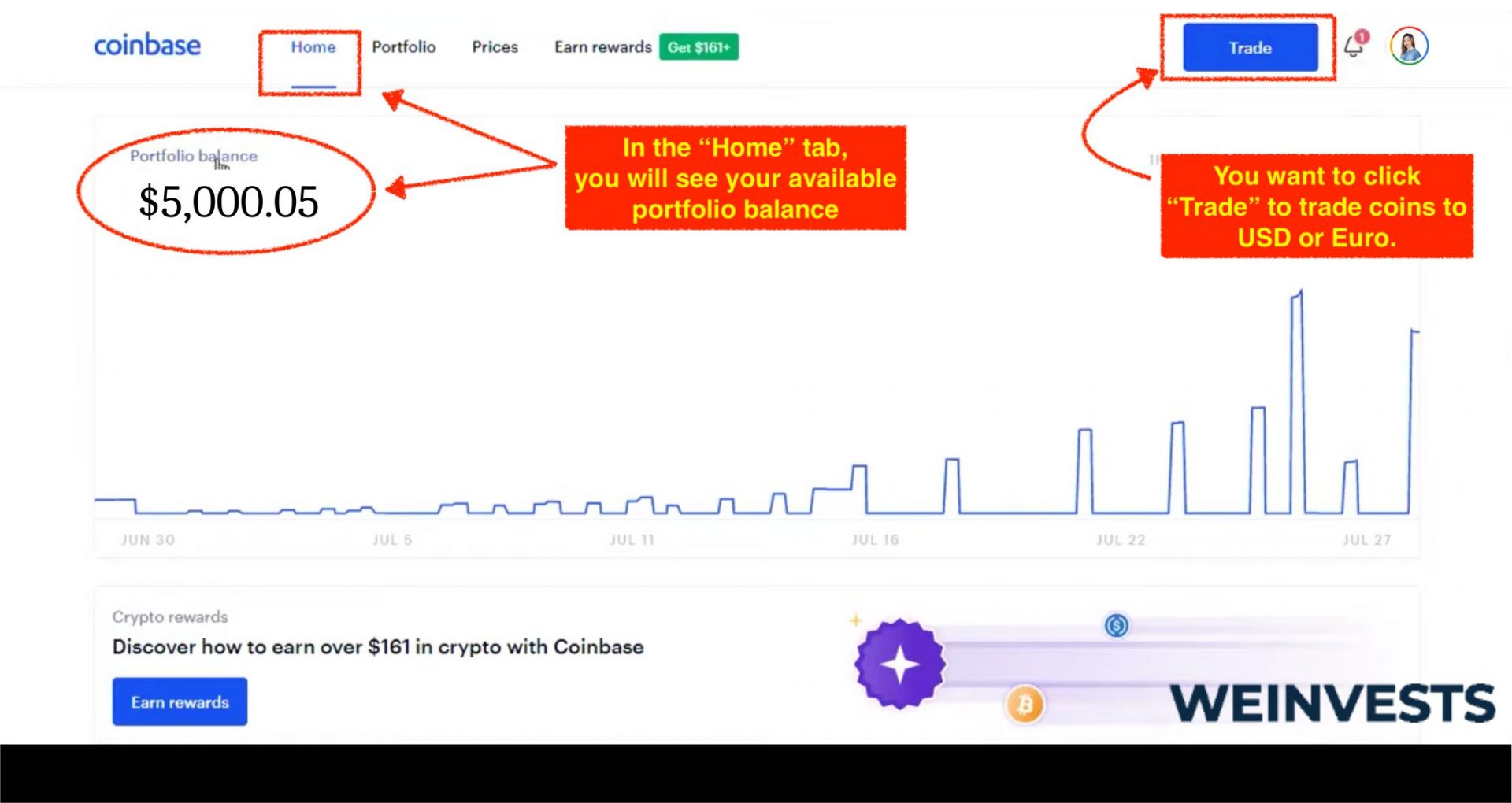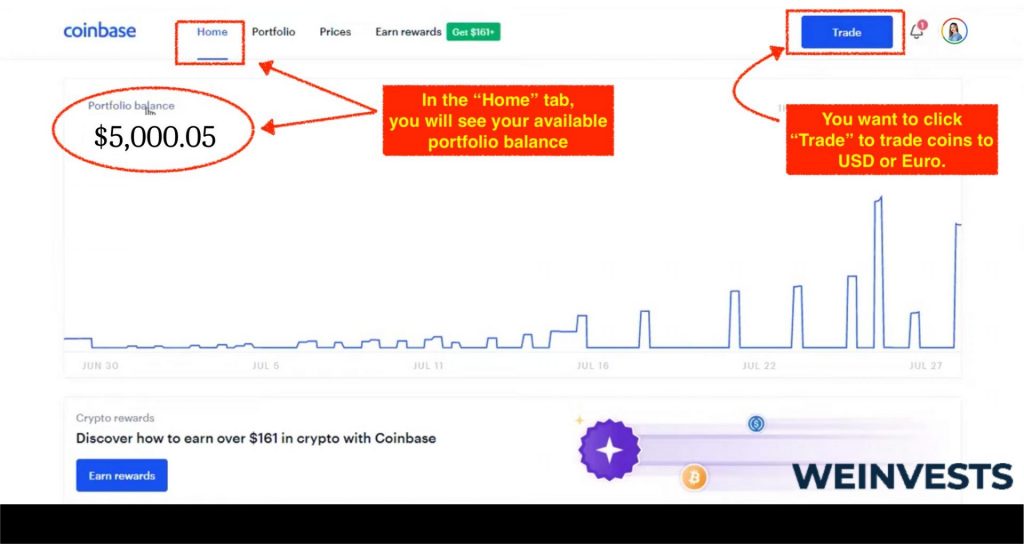 Click Buy / Sell.
On the Sell tab, select the asset you want to sell and enter the amount.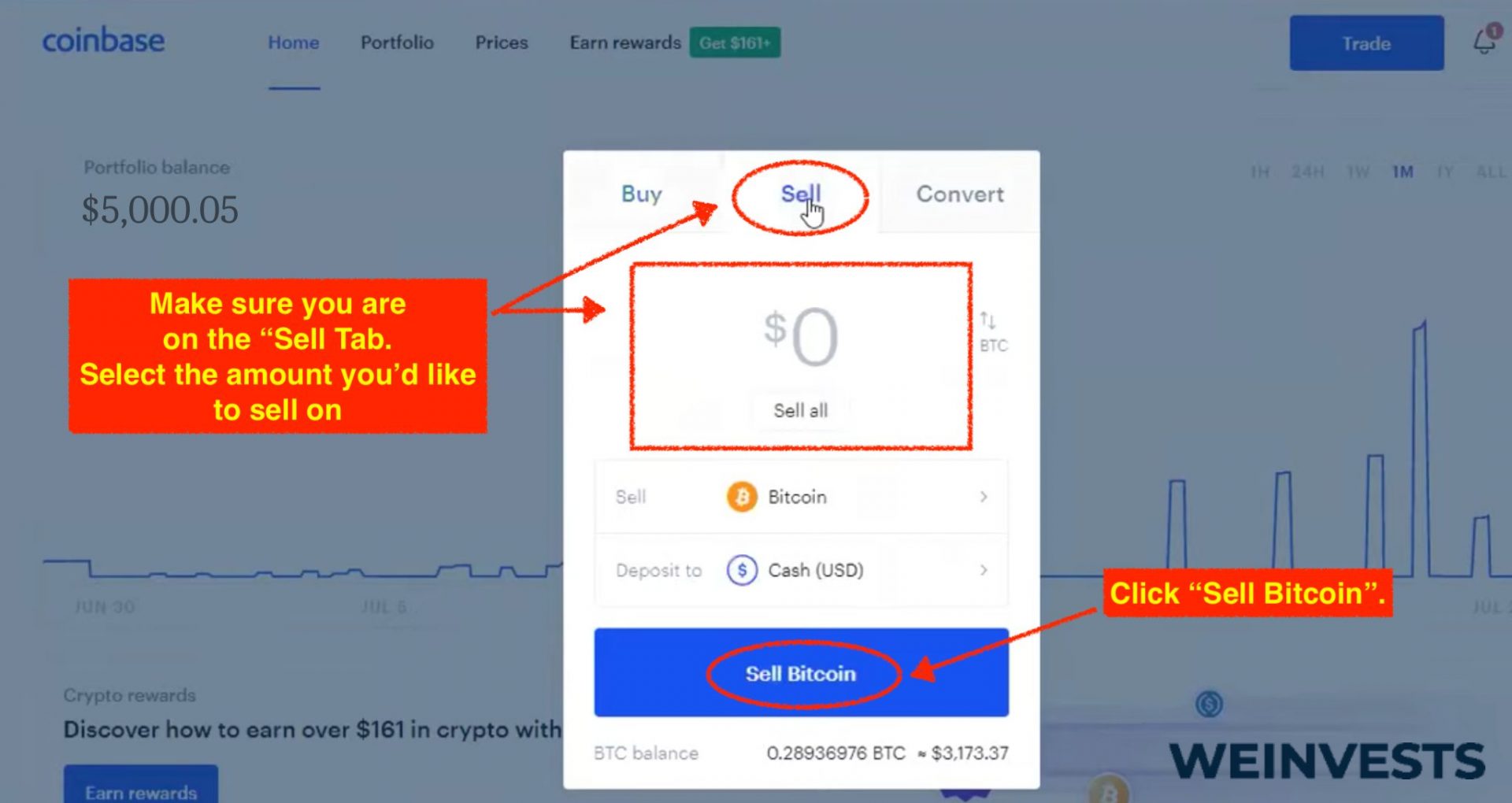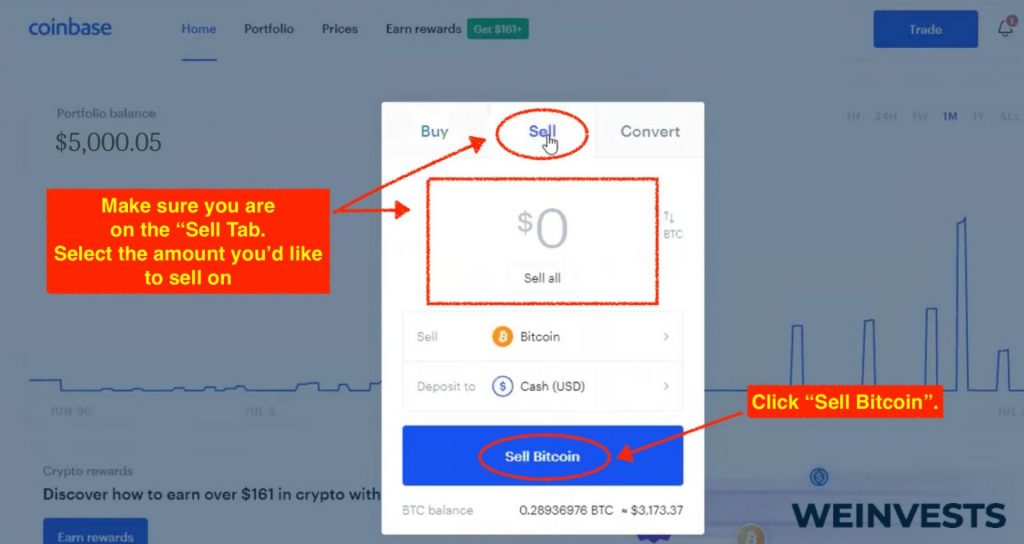 Once you click "Sell Bitcoin". You will be redirected to Order preview.
Click Sell > Sell now to complete this action.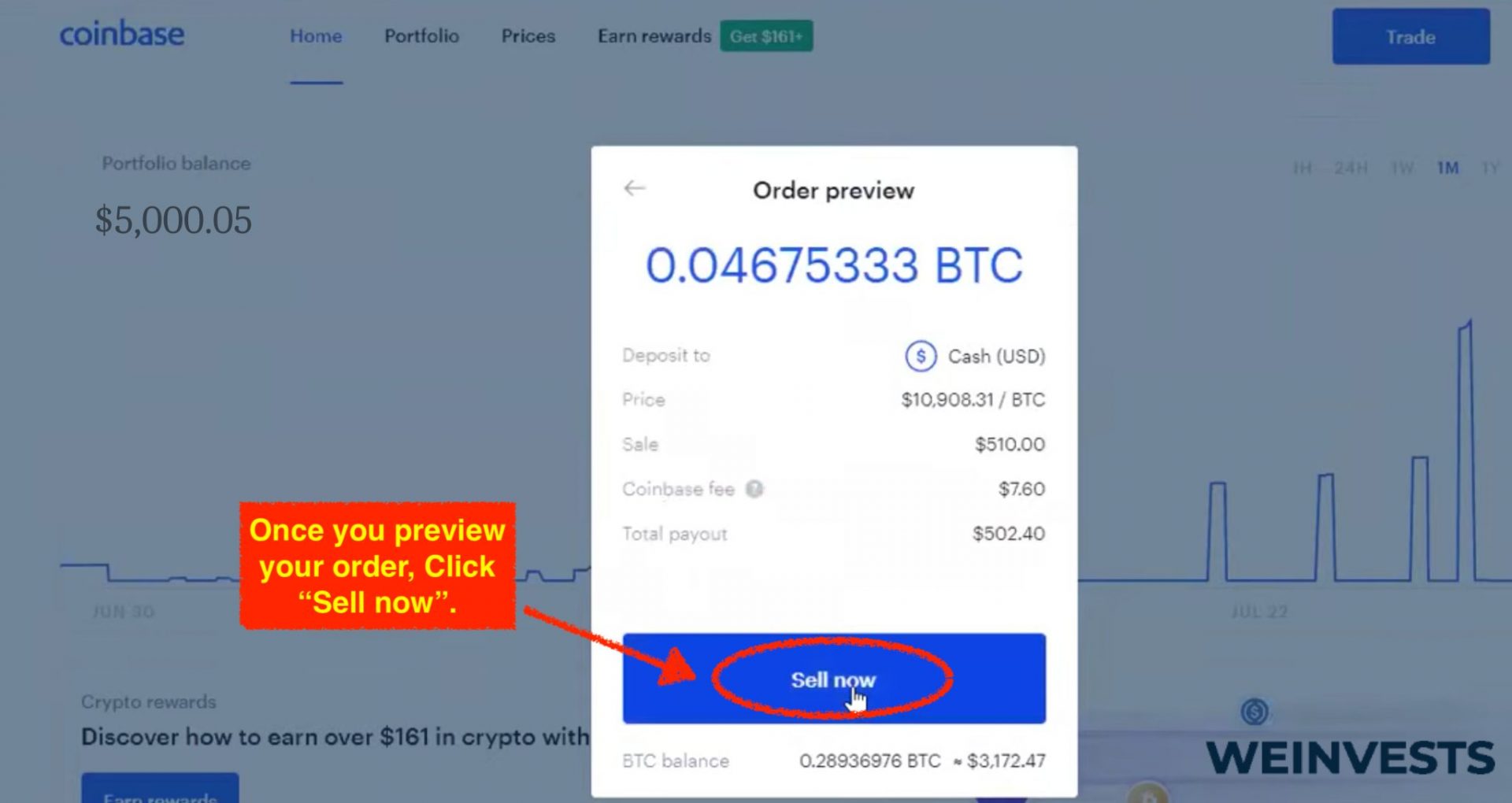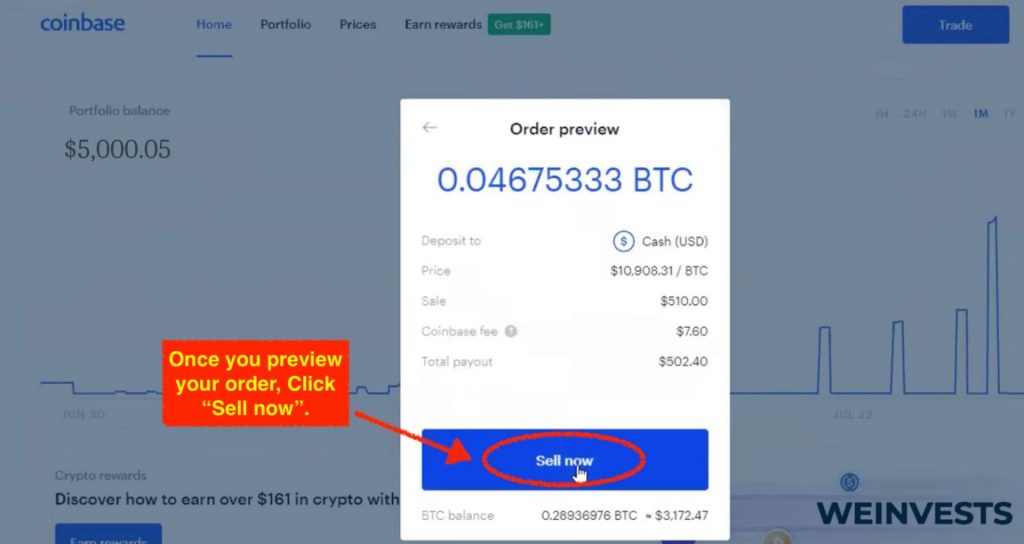 You will receive a confirmation message that your request has been submitted.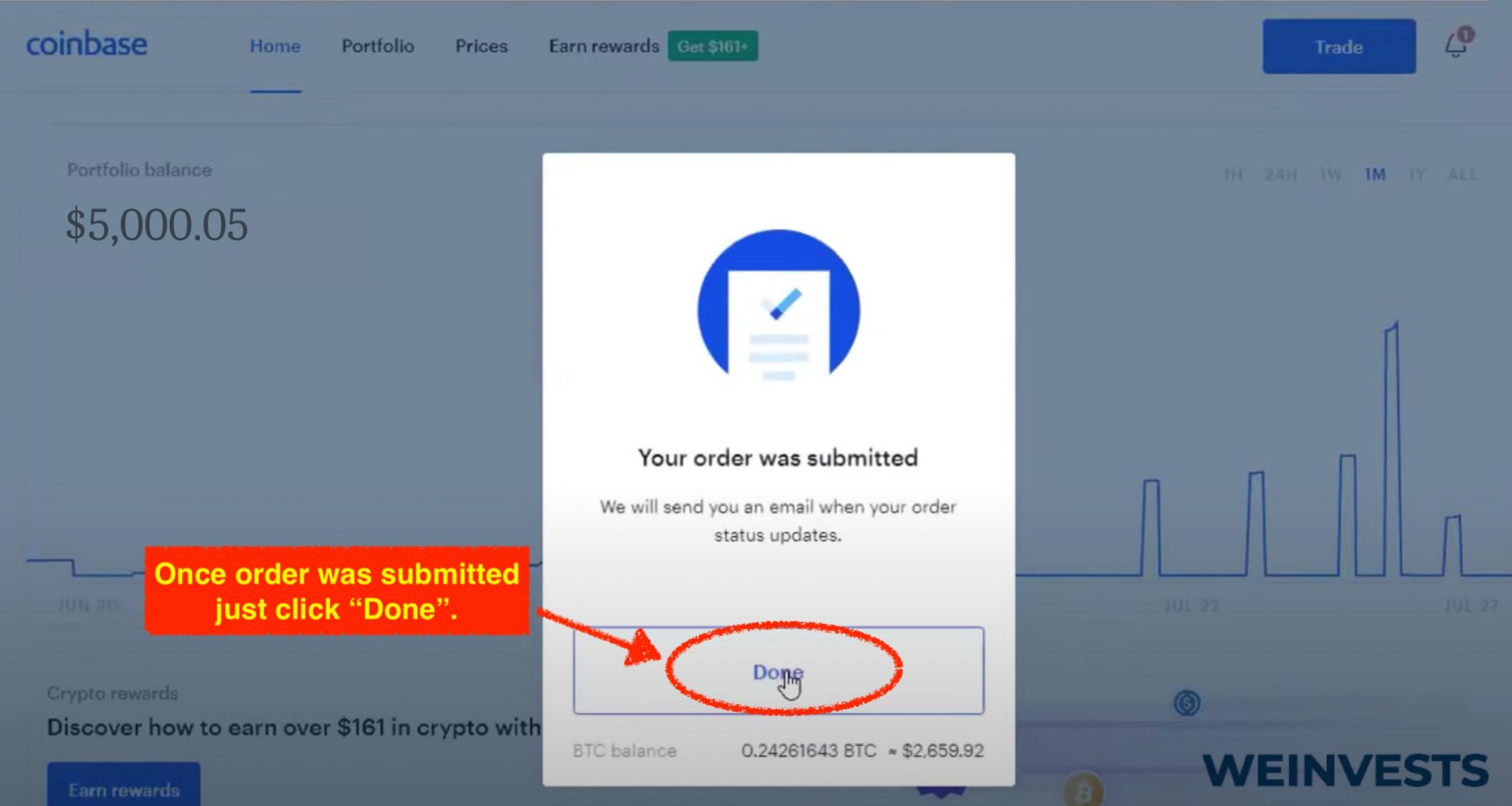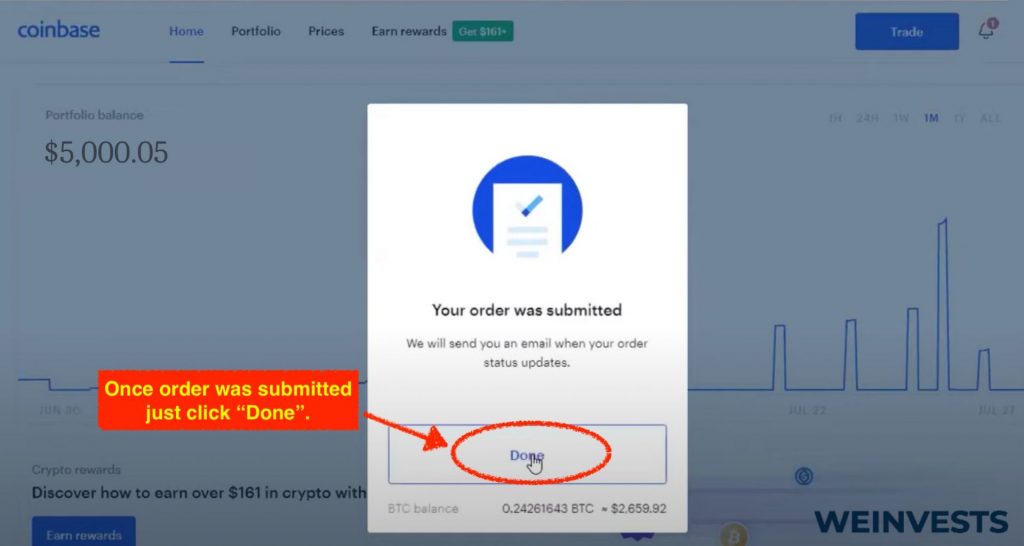 Step 2: Cash out your funds.
From a web browser, Go to 'Portfolio' and select your cash balance under Assets.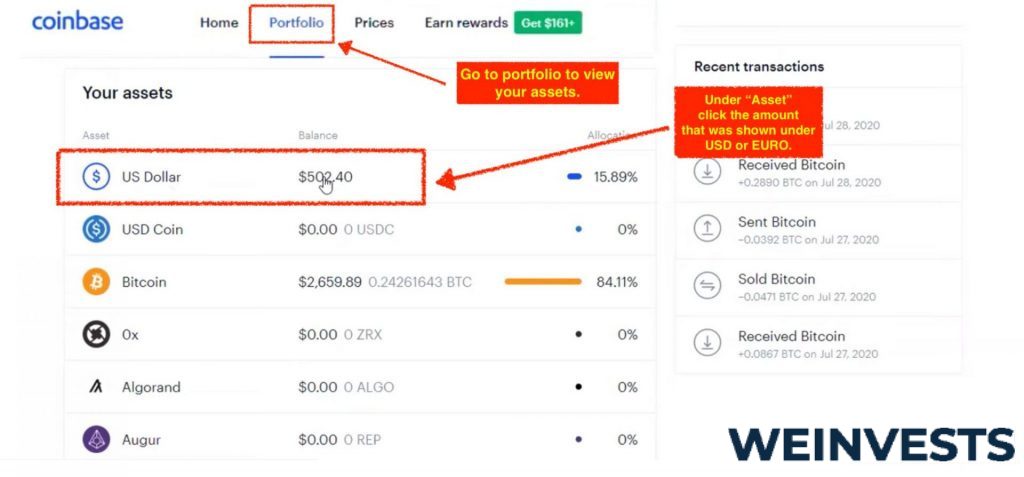 On the Cash out tab, enter the amount you want to cash out and then click Continue.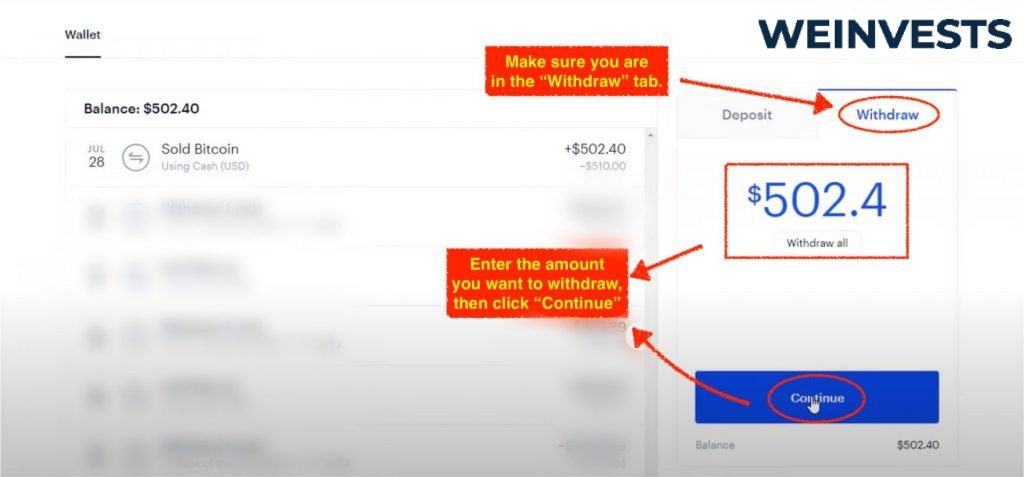 Choose your payment destination and then click Continue.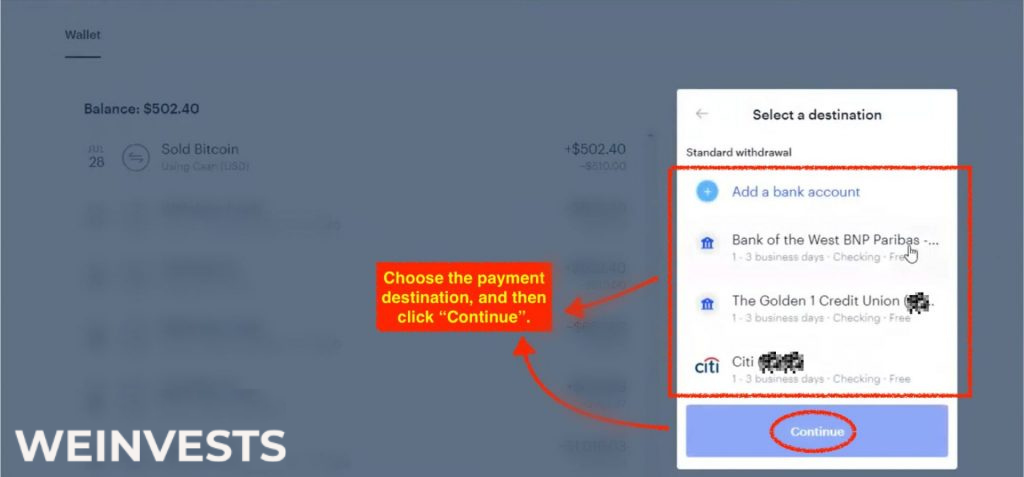 Review the information, and then Click Withdraw now to complete your transfer.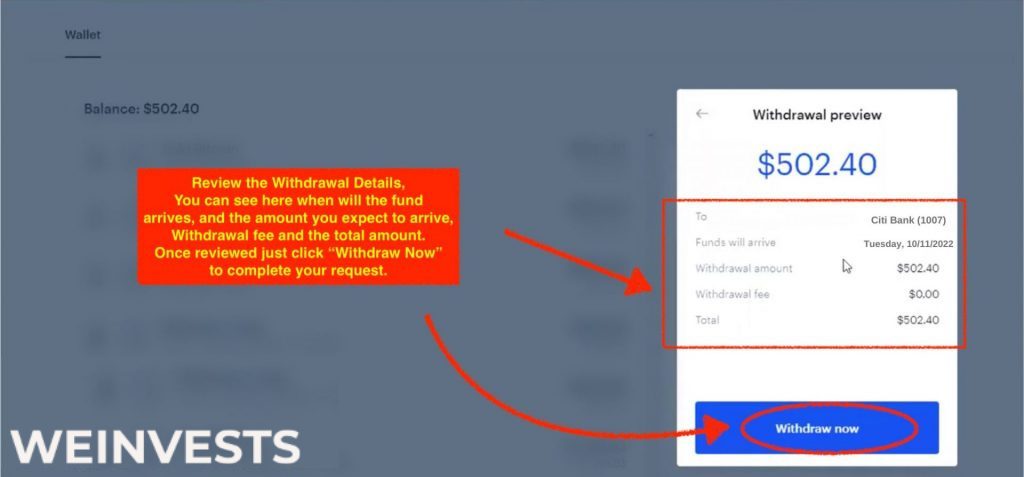 Withdrawals
The withdrawal and deposit process on Coinbase is excellent. It takes roughly 24 to 48 hours for the funds to reach your account once you deposit them.
When you withdraw funds from the platform, the same time frame applies. Something crucial to keep in mind is that Coinbase can only send money back to the account you initially deposited with.
You can deposit funds into Coinbase from all major payment gateways, including wire transfers, MasterCard, Visa, Stripe, etc
Support
If you need assistance with anything on the platform, from depositing funds to adjusting your account details, you will be happy to know that the support staff and community are here to help you.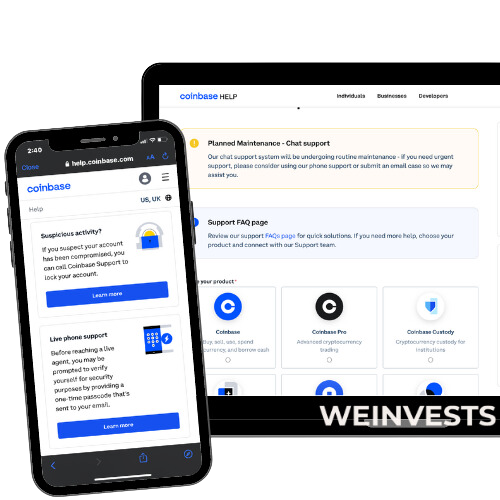 One thing about the Coinbase community is that they are a group of knowledgeable and experienced investors who guide you when it comes to purchasing your first non-fungible token.
Ease of Use
Due to Coinbase's intuitive, user-friendly interface, traders worldwide love it. There is a massive amount of helpful information on the exchange's website, where you can learn about NFTs and cryptocurrencies to better your odds in the market.
Another great thing is that the wallet comes as a browser extension or mobile app.
Reputation
Being the second-largest cryptocurrency exchange globally, you can bet that Coinbase has made a name for itself. The Coinbase wallet is no exception to the above statement and is the preferred wallet for many investors worldwide.
Having a centralized exchange handle the protection of your purchases is a good idea if you are still a newcomer to non-fungible token trading.
Platform Safety
One of the best things about the Coinbase wallet is that it's secured via SSL and encryption technology. This security software was designed to keep users safe while trading cryptocurrencies and NFTs.
Compatibility with NFT Marketplaces
Coinbase wallet is an Ethereum-based cryptocurrency and non-fungible token storage solution that can be connected to multiple NFT marketplaces. You can gain access to websites such as Rarible, Mintable, and OpenSea.
Most NFT marketplaces that run on the Ethereum blockchain can accept Coinbase wallet for the buying, selling, and swapping of digital assets.
Cross Chain Compatibility
Ethereum is the second-largest cryptocurrency and is growing significantly larger every day. With Ethereum 2.0, we may see some more interoperability with other blockchains.
However, at the moment, the Coinbase wallet is only compatible with the Ethereum network, and rightfully so. You can also use the Coinbase wallet to hold ERC-721 standard-based tokens and wrapped ERC-20 digital assets.
Our Verdict on Coinbase Wallet
Overall, we think Coinbase wallet is an excellent browser extension and mobile app that can be used to invest in NFTs. Even though it is a centralized exchange and wallet, you are still guaranteed your autonomy through the company's confidentiality agreement.
You can store an extensive range of NFTs and cryptocurrencies on the Coinbase wallet. The platform can also connect to a comprehensive range of Ethereum-based NFT marketplaces, meaning you're spoilt for choice when it comes to options.
The exchange's homepage is filled with informative data to help educate you in the crypto industry and kick start your investing journey.
Risk Disclaimer
WeInvests is a financial portal-based research agency. We do our utmost best to offer reliable and unbiased information about crypto, finance, trading and stocks. However, we do not offer financial advice and users should always carry out their own research.
Read More