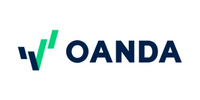 One of the online brokerage pioneers
International presence
Regulated worldwide
Pros
Strong focus on FX products and services
Suitable for beginners and professionals
Long track record
Cons
Lacks some of the assets
Different fees might apply
Customer support only through chat
Oanda Highlights

| | |
| --- | --- |
| 📈 Demo Account | Free demo account with $100,000 virtual funds to practice trading |
| 💸 Leverage | Up to 50:1 leverage on forex and CFDs |
| 📊 Available assets | Forex, indices, commodities, metals, bonds, and cryptocurrencies |
| 💵 Deposit Methods | Bank transfer, credit/debit card, PayPal, and electronic wallets |
| 🗠 Minimum Trade On Stocks | No minimum trade size or amount |
| 💰 Min Deposit | No minimum deposit to open an account |
| ⚖ Regulation | Regulated by CFTC and NFA in the US; FCA in the UK; ASIC in Australia; IIROC in Canada; MAS in Singapore; FSA in Japan; FSCA in South Africa; DFSA in Dubai; and BVI FSC in British Virgin Islands |
| 🌐 Countries | Over 190 countries and regions |
Online brokers offer various products such as stocks, exchange-traded funds (ETFs), cryptocurrencies, foreign exchange (FX), and bonds, to name a few. In addition to the standard product offerings, these platforms also deliver investment research services and portfolio management tools. In this article, we will cover one of the pioneers in online brokerage – Oanda.
What is Oanda? Oanda is one of the leading online brokers offering its platforms for traders and investors to make transactions in financial instruments mostly focusing on currency exchange.
Who is Oanda? Established in 1996 and currently headquartered in New York, US, the firm has its real-time currency converter available for clients and commits on its website to having all available FX pairs enabled for trading on its platforms. In recent years the company tried to extend its offering to include contracts for differences (CFDs) in various asset classes, such as:
Indices
Bonds
Cryptos
Commodities
Is Oanda a Good Option for You?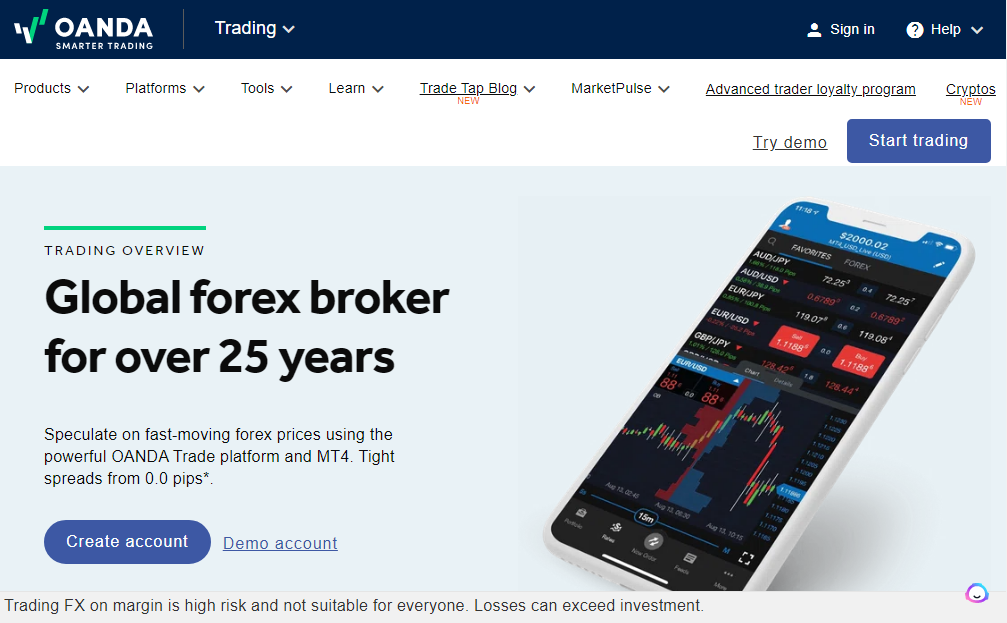 One of the main questions that first come to any investor's mind when choosing an online brokerage is – "Can I trust Oanda?" The short answer to that question is – "Yes".
Oanda has a long track record since it was established in 1996 being one of the pioneers if it comes to online brokerage enabling users to trade in Foreign Exchange (FX) market. This gives Oanda a first-mover advantage and showcases that the company has a solid background and has established strong customer loyalty and trust.
Thanks to its global presence Oanda is also regulated by major financial regulatory authorities which plays a major role when it comes to being sure that your money is safe with a regulated online broker.
Oanda also mentions on its platform that it has access to both current and historical data for almost all possible currency pairs, which given the fact that there are about 180 currencies worldwide, makes the company cover pretty much all the possible currency pairs, and it is quite impressive.
It is worth mentioning that some of the products offered to customers may be limited to just specific jurisdictions. Thus it is worth reading what services are provided specifically to your country of residence to minimize the impact of any surprise events after opening an account with this online broker.
Is Oanda Regulated?
To find the right online broker for your needs you must consider some key factors and one of the first items to check is the regulatory environment. it is worth identifying what are the major financial regulators that oversee the operations of the particular online broker since a lack of sufficient regulatory oversight may lead to fraud and cause losses for the clients.
In the case of Oanda, the company is under the supervision of major regulatory authorities globally such as:
National Futures Association (NFA) in the US
Commodity Futures Trading Commission (CFTC) in the US
Financial Conduct Authority (FCA) in the UK
Investment Industry Regulatory Organization of Canada (IIROC) in Canada
Australian Securities & Investments Commission in Australia
The list of all major countries and regulatory bodies makes us feel safer when it comes to investing with Oanda since we can be sure that these authorities are monitoring and auditing the operations of the firm which gives some kind of relief to investors, although it is never a guarantee.
Who is Oanda Recommended for?
Another question that is worth asking is whether the platform meets my trading experience and whether it provides all the required features that are necessary for a particular strategy or trading style that I am used to.
Thanks to its comprehensive offering Oanda can be well suited both for people who start their journey in investing/trading as well as for more experienced participants of financial markets.
The platform has a user-friendly interface that can be understood and navigated through by clients who are new to the market. At the same time, it has many sophisticated tools such as the Metatrader platform or TradingView integration for more complex charting and technical analysis that will be appreciated by more experienced traders.
Oanda Trade Experience
So it is important to consider the platform interface, accessibility, and tools offered, which can be additional factors that may support your decision in the online brokerage choice.
Oanda offers both web and mobile interfaces that include technical charting tools, which are powered by TradingView. The platform can also be accessed through MetaTrader 4 and 5 as well as via TradingView integration. The firm also offers an API that can be used to access both its real-time as well as historical currency exchange rates.

Another major factor for consideration is the fee structure as it is important to identify the fee arrangement that is going to apply to your trading strategy. It is also worth comparing several online platforms to find the best possible execution with attractive fees.
If it comes to the standard trading fees, Oanda charges those through bid and ask spreads or the difference between the purchase and sell prices. In certain cases, there may be applicable overnight fees if you decide to leave the positions open overnight, as well as some financing fees which are usually calculated based on the applicable interest rates for the particular instrument.
There are spreads charged on CFDs as well and depending on market volume or volatility those can have a wide or narrow range. On its platform, Oanda commits to having 1 point spread for some of the German and UK indices while 5 points spread on some Spain indices at the moment.
Oanda commits to not charging for opening the account or making deposits.
There can be cases where inactivity fees or other costs may be applicable depending on your specific circumstances, so it is worth looking at the pricing policy to understand what costs you might bear based on your trading strategy.
How to open an account with Oanda?
Depending on your jurisdiction Oanda might not offer its services to your country of residence so it is worth checking on the website before deciding on investing with Oanda. Below we provide step-by-step guidance on how to open an account with Oanda:
Step 1 – Once you are on Oanda's website click on "Menu" and choose "Forex Trading" from the drop-down. Once the new page is loaded click on "Start trading" on the top right of the page.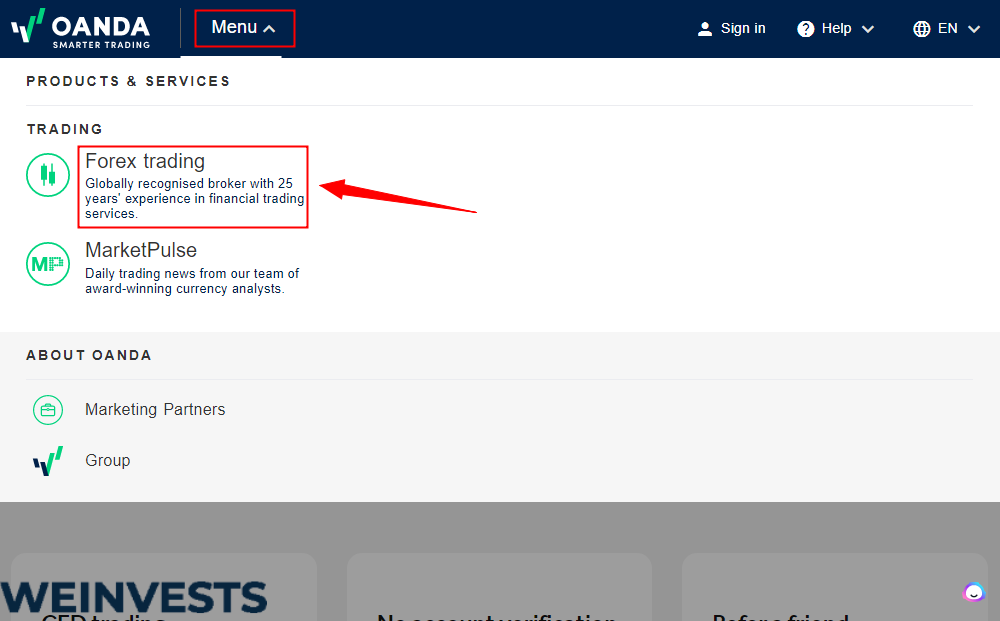 Step 2 – You will be directed to the account creation form which you will need to fill in with all the required information in order to be able to open an account. It will ask for your residence country and citizenship, your personal details such as full name, birth date, email, and phone number as well as information regarding your home address and employment status. Once you fill in all the required information Oanda will verify your identity and confirm that you are eligible to trade with them.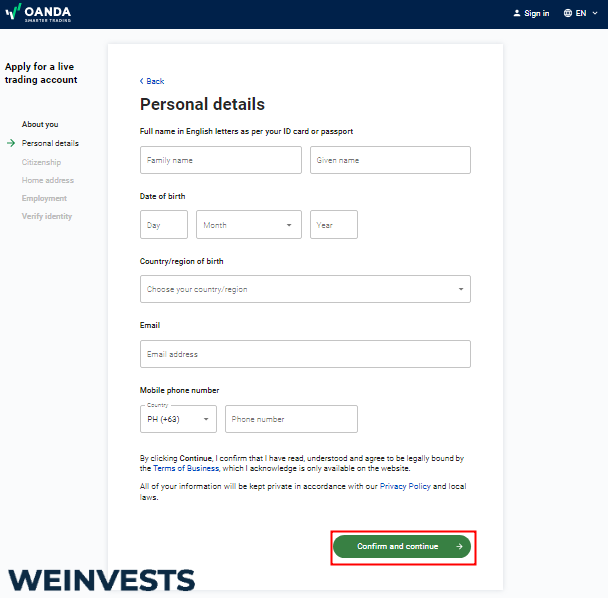 Step 3 – The next step would be to confirm your identity by sharing a government-issued ID.
Step 4 – Once your profile is verified and ready for use you will need to fund the account with fiat money by making a traditional bank transaction to your personalized bank account number shown in your Oanda profile.
Oanda demo account
Oanda offers a demo account to its users to experience how the platform looks like before making any decision to open a real account and invest using Oanda's services. From the same page where you choose "Start trading", there is an option right next to it to "Try demo" which will open for you a demo account.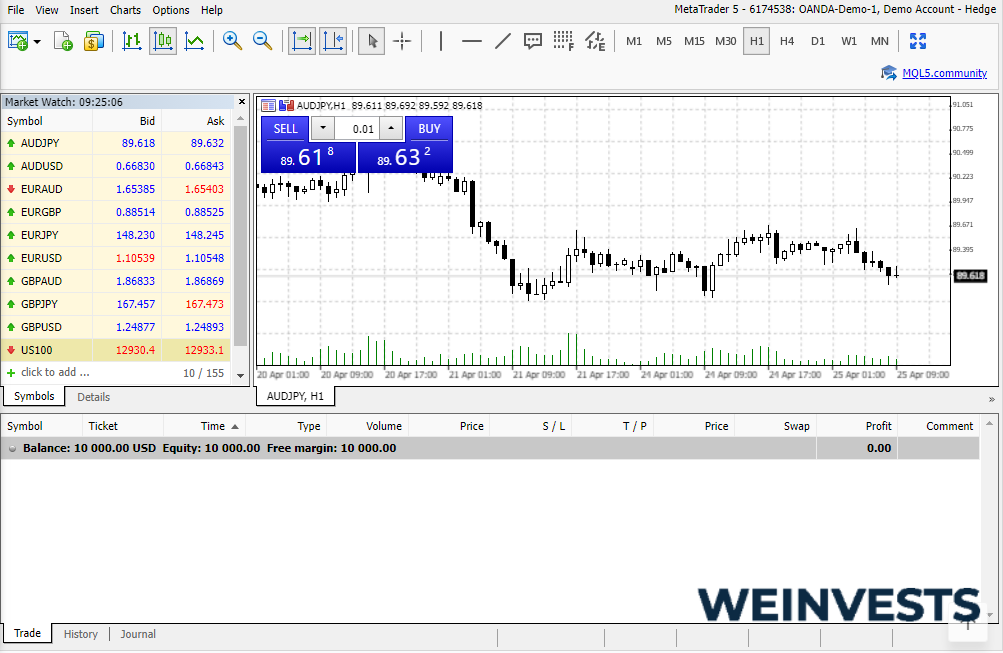 The demo account opening is much faster compared to the real account, and hence you can start using the platform and get used to it even before your full account has been verified. You receive a USD 10,000 balance which can be used for experimenting and conducting artificial trades.
Oanda Education
For both newcomers and professionals, Oanda provides many educational materials to help clients increase their skills in trading and financial markets and make better-informed investment decisions.
Youtube – Apart from the on-platform educational materials the company provides also a YouTube channel where they discuss both platform-related topics as well as cover the markets.
Blog – On their website, they have a blog section where the company covers some market-related news.
Customer Support
Customer service is also a major consideration factor since in case of issues with your portfolio or access to your money, you should be able to contact the company and receive appropriate support in your queries.
Oanda's customer service is available 24 hours 5 working days a week through the chat covering questions associated with both clients' accounts as well as other technical inquiries and questions that may arise during the account opening or trading.
Oanda Crypto Wallet
Oanda has a crypto wallet that is provided by the Paxos Trust Company and it is enabled only for regular account holders. The platform enables trading in 4 major crypto assets with applicable spreads:
Bitcoin
Bitcoin Cash
Ether
Conclusion
Oanda is a major online broker with the main area of focus being on currency trading. The firm is trying to extend its offerings to include other instruments as well, such as stocks, indices, commodities, and crypto. It provides several interfaces and tools for investors to choose from thus making the offering quite comprehensive.
Since the company has been in the industry for more than 25 years it has established its competitive market share thanks to a competitive fee structure and innovative product offerings with the main purpose of capturing more clients in this market landscape. Its long-time record provides further support to believe that the platform has solid financials and operations and is also well-regulated.
One of the drawbacks of Oanda is the fee structure which may include overnight transaction fees as well as some financing costs.
FAQs
What is the main advantage of Oanda?
Oanda is an FX trading platform so the company has a solid experience in FX product offering since its inception.
Is Oanda a regulated broker?
Yes, Oanda is regulated by all major regulatory bodies globally.
Is the crypto platform worth using?
Since the firm's major focus is on FX products, it is still in the initial stage of developing other asset classes which is the reason why they offer just 4 major crypto assets. So if your main focus is crypto trading, it would be better to compare with other platforms with a crypto focus to see which one is a better fit for you.
Risk Disclaimer
WeInvests is a financial portal-based research agency. We do our utmost best to offer reliable and unbiased information about crypto, finance, trading and stocks. However, we do not offer financial advice and users should always carry out their own research.
Read More