This content represents the writer's opinions and research and is not intended to be taken as financial advice. The information presented is general in nature and may not meet the specific needs of any individual or entity. It is not intended to be relied upon as a professional or financial decision-making tool.
Bitcoin has grown tremendously over the last decade, all thanks to its anonymous creator Satoshi Nakamoto. Initially starting as a reward token for miners completing tasks on the blockchain, it has developed to become much more than that.
When the coin was first released in 2008, you could buy a Bitcoin for under a dollar, but it quickly rose in value to over $10 within its first year. The rest, as they say, is history, and now the coin has reached an all-time high of nearly $70,000.
With all this hype surrounding Bitcoin, it is no wonder people are gathering interest concerning investing in Bitcoin and other cryptocurrencies. Let us show you how Bitcoin can be bought and the different options for investing in it.
Buying Bitcoin
Below, the steps to buying Bitcoin have been broken down to provide an easy-to-understand guide. Be aware that you still need to perform due diligence and research based on your current circumstance and financial stature.
Choosing a Cryptocurrencies Trading Service
The initial step of investing in Bitcoin starts with finding the right crypto trading venue or service. There are multiple popular trading platforms where a person can purchase Bitcoin, and these services are known as brokerages, payment services, or cryptocurrency exchanges.
How To Buy Bitcoin on eToro?
There are various ways to buy Bitcoin, one of which is to purchase directly from another individual online. However, if you want the easiest and safest method, then we suggest opening an account with an online cryptocurrency broker that allows the purchase and sale of Bitcoin on its platform.
Out of the many cryptocurrency brokers out there, such as Coinbase, Crypto.com, etc. On eToro you are guaranteed that your funds are safe and well protected due to its state-of-the-art security system. A dedicated panel of experts is also available to assist you should you face challenges buying Bitcoin on this platform.
Purchasing Bitcoin requires a simple step-by-step process which we shall walk you through below.
Step 1: Open an Account
Nothing can be easier than opening an eToro account online. The process is made simple enough for beginner traders to understand. Here is how to do it:
Go to etoro website, you will be required to enter all your personal details on the electronic form provided. This is just basic information required by all brokers when opening an account.
It will require you to fill in only the basic information, which only takes a couple of minutes.
You should check out eToro's terms, conditions, and policies before proceeding to the next step. Additionally, rereading your information to make sure it doesn't have any errors is also a good idea.
There is a section of terms and conditions for you to review and agree to.
Once complete click "Create Account".
Check Your E-mail and verify your new account, Click on "Verify your account".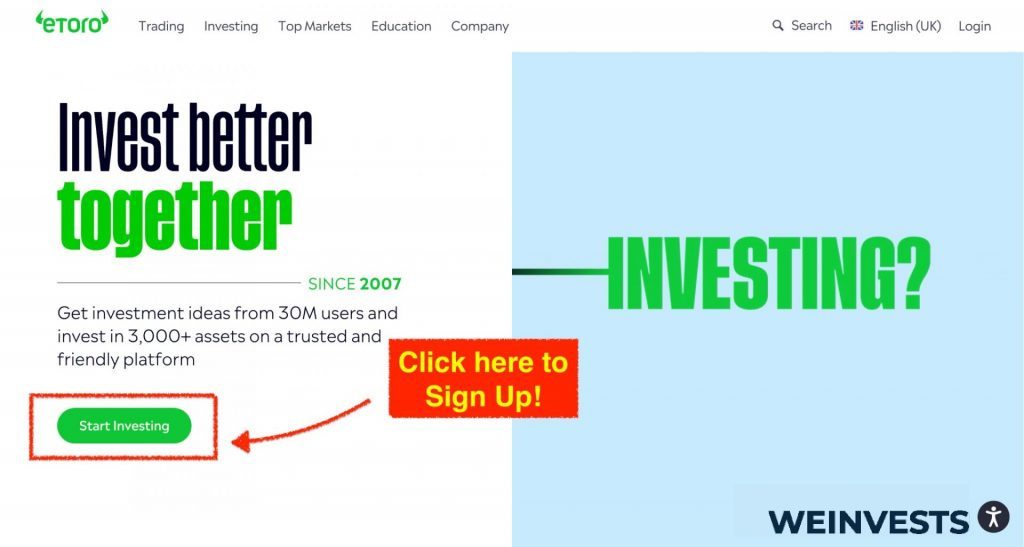 Step 2: Upload ID
The eToro platform is governed by the same rules and regulations to which other legitimate brokers must submit. One such regulation concerns the "Know Your Client" regulations which state that a broker needs to know the identity of all their registered users.
Utility bill
Driver's license or a valid passport
Bank account statement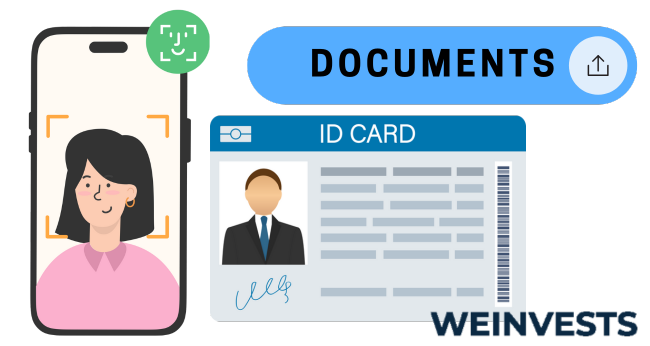 Step 3: Make a Deposit
Depositing funds into your eToro account can be done with no payment of fees required. There are many deposit methods to consider, but we recommend using eToro Money for the best deals. Just follow these steps to complete your deposit: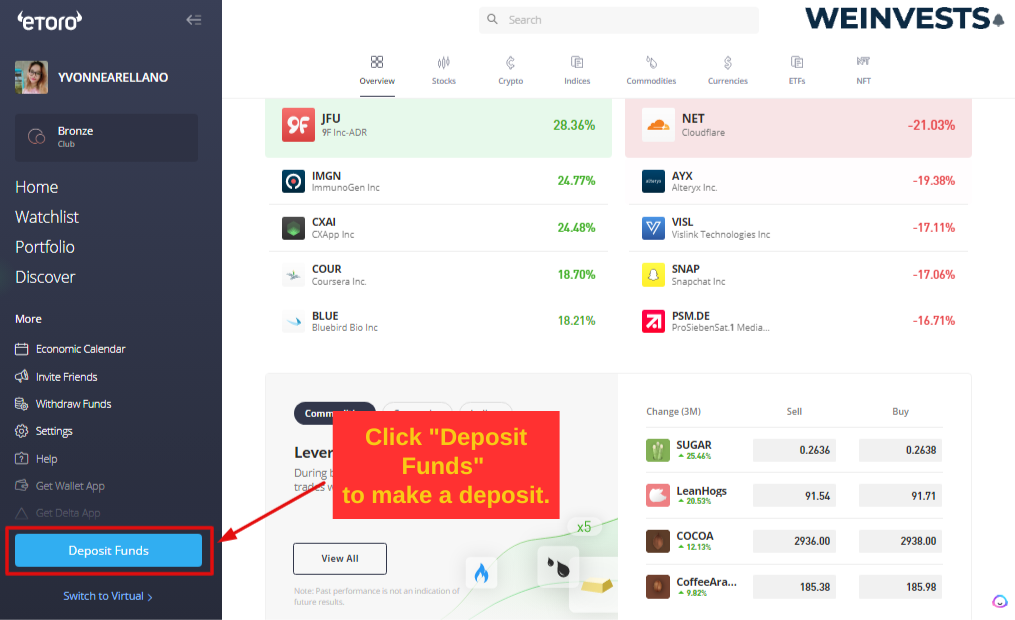 Log onto your active eToro account
Click on "deposit"
State your amount and desired currency
Choose the deposit method you want and confirm
Money will be transferred to your wallet
Step 4: Search for BTC
Once your eToro account has been financed, simply search for Bitcoin on the cryptocurrency markets page. Here you will find the day's rates for buying and selling Bitcoin and other cryptocurrencies that are supported by eToro. The rates are constantly fluctuating so timing is everything to get the best value for money.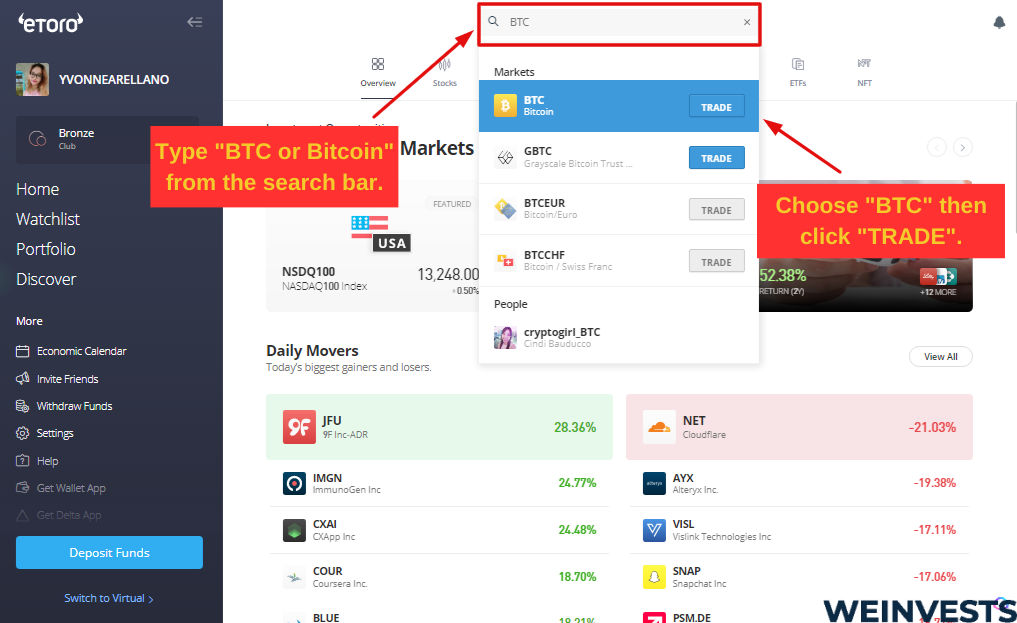 Step 5: Buy BTC
When you are ready to purchase Bitcoin, you can choose to buy the full coin or buy it fractionally. For example, you can purchase 0.2 Bitcoin for $200, if the full Bitcoin price is $1,000. How much you choose to buy depends on your funds and your future trading intentions.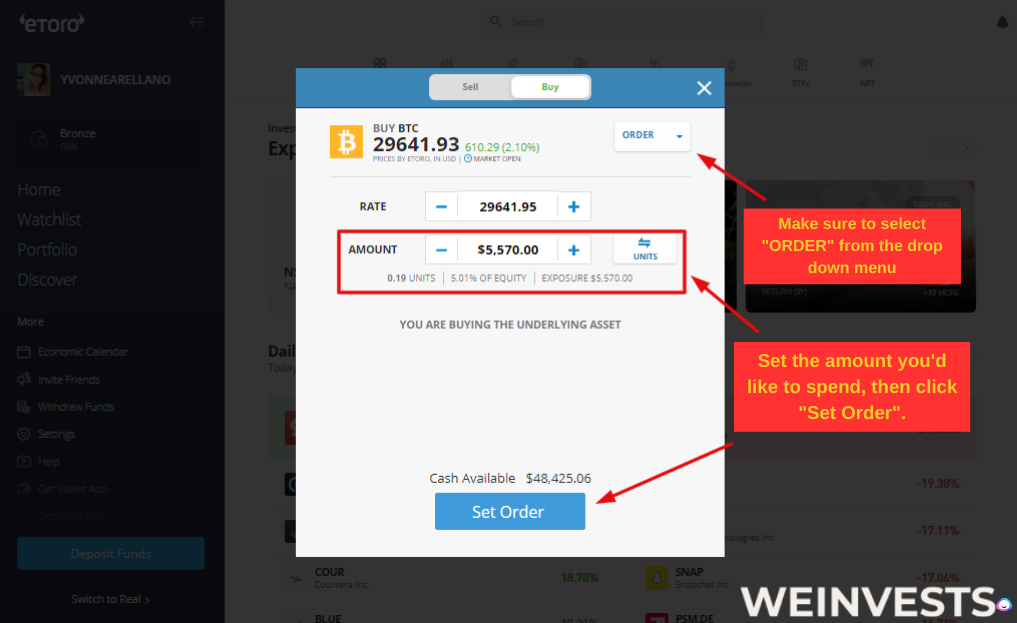 Connect the Exchange to a Payment Option
The process of signing up for an exchange is very much the same as setting up a general brokerage account for trading. Once you have selected your platform, it is time to gather personal documents to verify the account. Depending on the exchange, this information may include your social security number, pictures of a driver's license, information regarding the source of funds, and employment status. The data required primarily depends on the law of the country in which you live.
After your identity has been verified, the exchange requires that a payment option be connected to the service.
Although purchasing crypto with a credit card can be done, it may not be ideal because the volatility of these assets could increase the overall cost of buying a particular coin.
Even though Bitcoin is legal in the United States, banks may stop or question funds sent to crypto-related exchanges or sites. It is imperative to make sure your bank allows funding to your chosen service provider before proceeding.
The fees for deposits via credit/debit card and bank account vary significantly from exchange to exchange. If you are looking for a solid deal for a beginner, Coinbase has a 3.98% fee for credit cards and a 1.48% fee for bank accounts. It is vital to research the expenses of your chosen exchange to find the best option for your investment strategy.
In most cases, exchanges also charge transaction fees for each purchase. This fee can either be a percentage of the trading amount or a flat price; this depends on the cryptocurrency provider. A processing fee is also included for a credit card, which is in addition to other transaction fees.
Place an Order
After choosing an exchange and connecting a payment option, you can now buy Bitcoin or other cryptocurrencies. In this day and age, cryptocurrencies have become more mainstream, growing significantly in features and liquidity.
The operational changes that the cryptocurrency industry has been through have drawn a lot of attention from big players in the financial service sector. People once thought cryptocurrency was a fraud with questionable practices, but now it's proving to be more than that by morphing into a legitimate business model.
Cryptocurrency exchanges are nearly at the same level of features as stock brokerages. Most platforms offer users a vast number of ways to invest in various order types. Almost every crypto provider offers stop-loss, purchase limits, and market orders for people who want options when trading these volatile assets.
Kraken is the exchange that offers the most order types and allows users to set take profit limit orders, stop limits, stop losses, and market limits all from its intuitive dashboard.
Safe Storage
Cryptocurrency and Bitcoin wallets is a place where users can store their digital coins securely. Protecting your crypto outside of the exchange ensures that only you have access to the funds via your key code.
It also assists in storing funds outside of the exchange and protects the cash in case the platform gets hacked or compromised.
Security is not the primary concern of cryptocurrency exchanges, even though most offer wallets to their users. An investor with extensive or long-term cryptocurrency holdings is recommended to use their cold wallet when storing funds.
Some wallets have more features than that others, such as the ability to store numerous altcoins. A few only allow Bitcoin, and others offer the option to swap one digital asset for another.
Hot and Cold Wallets
When it comes to selecting a Bitcoin wallet, there are multiple options out there. First, you need to understand the difference between hot and cold wallets.
Hot wallets are generally used for small amounts of Bitcoin that are actively traded on an exchange. A hot wallet can be compared to a cheque account as only the funds you are willing to invest are stored in it.
On the other hand, a cold wallet is a wallet outside of the exchange's network and not connected to the internet. These devices are composed of a simple chip the size of a USB stick and are packed with security encryption technology.
Furthermore, the hardware offline wallets come with software that protects the user's private key while viewing their portfolio. This technology should be used to store long-term investments or large amounts of cryptocurrency equity.
Conclusion
With the emergence of Bitcoin and other cryptocurrencies over the last 10 years, there has never been a better time to invest. There are many ways to buy Bitcoin, but some of the most reliable methods are through cryptocurrency exchanges like Kraken or Gemini.
Remember, your fund's safety is of the utmost importance, so investing in a cold wallet can help you protect your equity in the event of an exchange being hacked.
What's the future of Bitcoin (BTC)? Read our article to find out: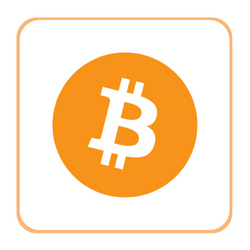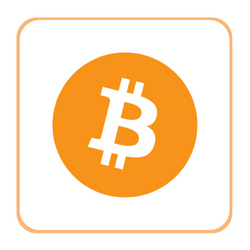 How to Stake Bitcoin
Generally speaking,
staking
cryptocurrencies is the process of locking up the crypto-assets you possess with the purpose to earn interest or receive other rewards (like voting rights, etc.). It allows you to earn these rewards depending on the amount you have staked, and how much and what kind of rewards are being distributed to the specific staking pool you joined. Most crypto exchanges and platforms, which offer to stake rewards typically distribute payments in the same cryptocurrency on a regular schedule, resulting in an annual interest rate from 3% to 15% (or even more).
Risk Disclaimer
WeInvests is a financial portal-based research agency. We do our utmost best to offer reliable and unbiased information about crypto, finance, trading and stocks. However, we do not offer financial advice and users should always carry out their own research.
Read More