This content represents the writer's opinions and research and is not intended to be taken as financial advice. The information presented is general in nature and may not meet the specific needs of any individual or entity. It is not intended to be relied upon as a professional or financial decision-making tool.
Dogecoin is the poster child for a joke that got way out of hand. It was originally created back in 2013 as a spoof of Bitcoin, essentially poking fun at the entire concept of cryptocurrency. Well, fast forward almost a decade, and you have a giant of the industry with a market cap exceeding $40 billion! It seems that nobody got the joke…
Whatever it was intended as Dogecoin is now one of the most iconic and successful cryptocurrencies on the market today. Many investors who are already involved in the crypto industry with holdings in some of the other big-name coins are branching out into Dogecoin to see where it can take them.
Buying Dogecoin (sometime misspelled dogecin) online is simple- when you know how! The key is knowing where to look, how to prepare, and what payment method to use. Below, we discuss the answers to each of these questions.
Buying Dogecoin Online
Here is our step-by-step guide walking you through where and how to buy Dogecoin online. Before you start, make sure you do your research to find the best method and outlet for you.
How to buy Dogecoin on eToro
Dogecoin is currently one of the most relevant cryptocurrencies that exist. Even though it was first created in 2013 as Bitcoin's competition and people did not believe much in it, it's currently one of the most successful coins.
Numerous investors who already know about the benefits of cryptocurrencies are interested in what Dogecoin can offer. However, to do this, you need to know the ideal site to buy this crypto. This guide offers you the information you should consider purchasing Dogecoin using eToro.
Step 1: Open an Account
Buying Dogecoin can be a very straightforward process with eToro, but you must follow specific steps. Firstly, you have to open an account.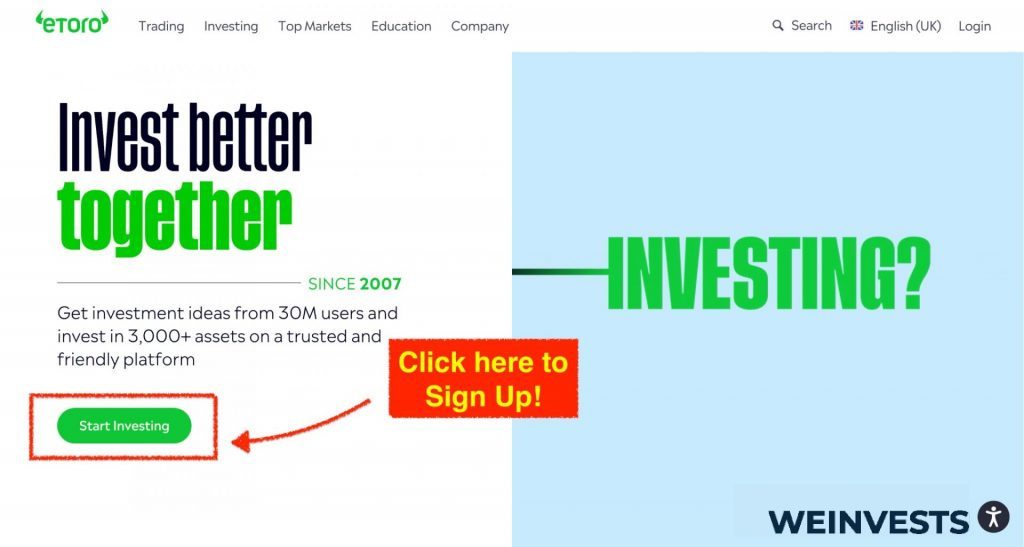 Go to the eToro home page, fill out your personal information, and read through the page's privacy policy and its Terms & Services.
Once you fill out all the necessary information and review eToro's policies, you only have to click on the 'Create Account" button and proceed to the next step. Go to your E-mail and verify your account.
Step 2: Upload ID
All new investors who register in eToro have to verify their identity, which is why you have to provide Proof of Identity and a Confirmation of Residence.
During this step, you must upload any official photo ID, for example, your passport. As a Confirmation of Residence, you have to provide a utility bill from the past three months.
To provide you with the best features, eToro might require you to fill out a questionnaire where you can add your capital market knowledge, professional status, investment goals, and the risk level you want to manage.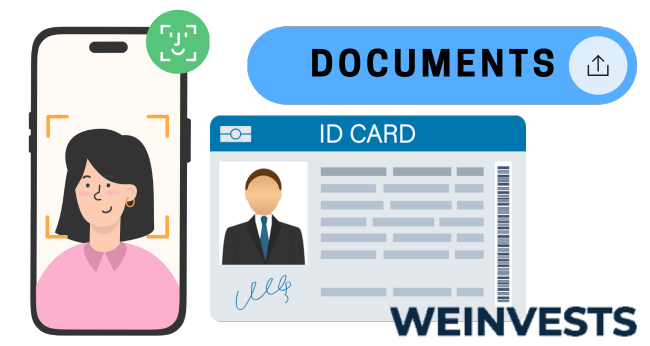 Step 3: Make a Deposit
If you want to use eToro to buy Dogecoin, you have to fund your account first. All you need to do is to log into your account, click the button that says, 'Deposit Funds,' enter the amount of money you want to deposit and the currency, and select your deposit method.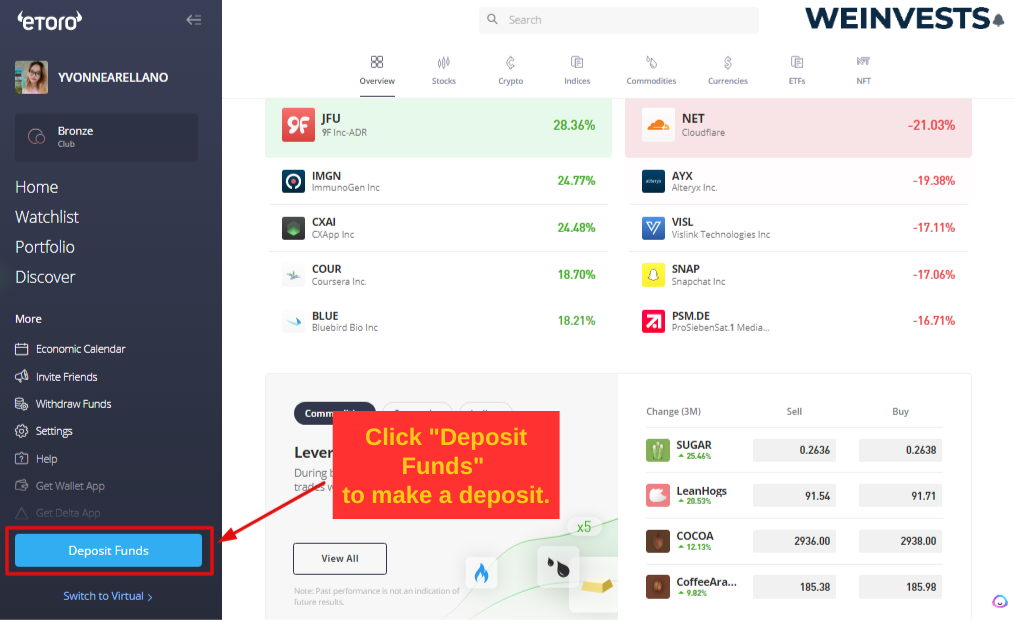 You might be wondering if it's safe to deposit money in your eToro account, but this is completely safe. All transactions are secure because the platform uses Secure Socket Layer technology to keep your assets protected.
Your funds are safe in a bank account if you use eToro. At the same time, the eToro crypto wallet uses sturdy security protocols, so it's one of the most secure alternatives you could choose.
Step 4: Search for DOGE
During this step, you have to use eToro to search for Dogecoin and compare it with regard to other coins. The platform is straightforward and intuitive, so you don't have to worry much.
Dogecoin is one of the most famous cryptocurrencies today, so it has immensely influenced a lot of other cryptocurrencies as well as the history of cryptos in general. Make sure you identify it in the eToro platform and buy it soon.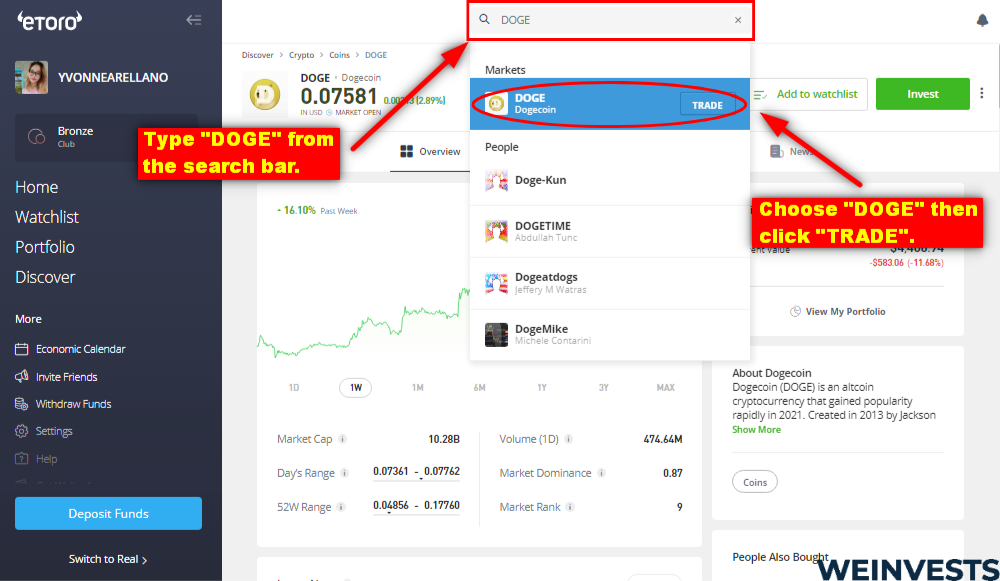 Step 5: Trade DOGE
The last step in this guide is the reason why you probably came here in the first place – all that's left is for you to use eToro to buy Dogecoin. As was mentioned before, it's a safe platform, so your assets are always secure.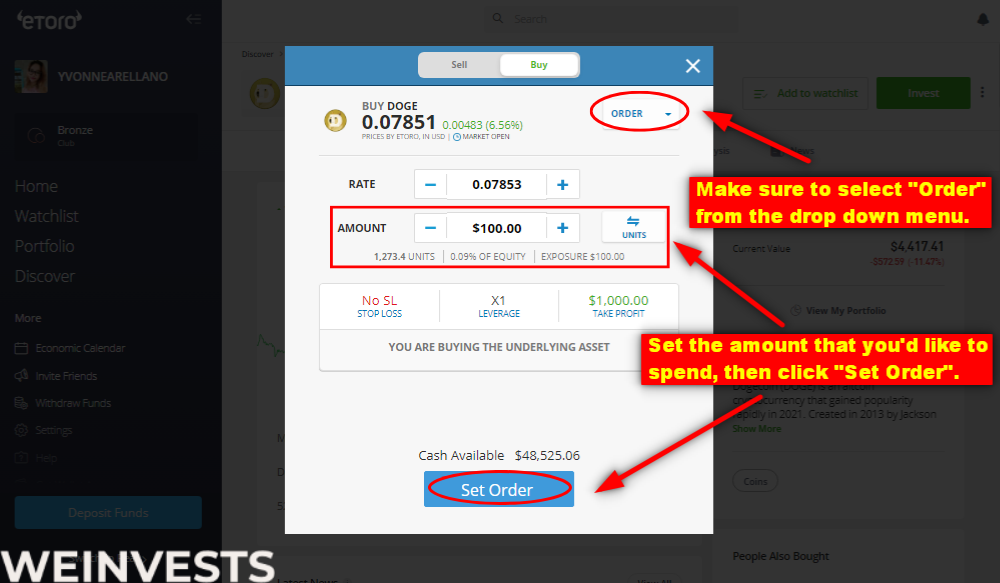 Open a Dogecoin-Friendly Digital Wallet
The first step to buying any cryptocurrency is to prepare somewhere for it to go. You don't go out and start earning money at work before opening a bank account to get paid into, and you don't go to the ATM without preparing a wallet to put the cash in.
Cryptocurrency is no different. Before you buy Dogecoin online, make sure you have a digital wallet set up. More than that- make sure it is compatible with the currency and matches your requirements.
There are two main storage options when dealing with Dogecoin: an online digital wallet or an offline digital wallet. Both options have their pros and cons but are equally intelligent choices.
Before we explain the differences between the two, we would like to point out that you should not store Dogecoin on an exchange or trading platform. Many apps let you keep your funds active on the platform without the need to move it somewhere else. It may seem convenient, but it leaves your money wildly vulnerable. Don't take the risk for the sake of saving a few minutes the next time you want to make a trade.
Ok, now for the important question: online or offline? Here is a brief overview of what each has to offer.
Online Digital Wallet (Software Wallet)
Software wallets are 100% digital, meaning they exist only in the cyber world. They are controlled by security keys and access codes that are unique to the use and their account. You download the software onto your PC then register directly.
These wallets are handy because they are instantly accessible. Whenever you are at your screen, your funds are no more than a few clicks away. Dogecoin has several specialty online digital wallets that are set up for ultimate compatibility.
The downside? Anything stored on a PC is open to malware attacks. Even the most secure software is at risk, especially as hackers grow more competent and devious by the day. We are not saying your money is at risk when using a software wallet, considering that all of the options associated with Dogecoin use seriously impressive safety features, but it is worth thinking about.
Offline Digital Wallet (Hardware Wallet)
It doesn't get more secure than an offline digital wallet. These nifty devices let you download and transfer your funds to a drive-based account. Picture a simple USB stick, but with a whole bunch of money on it rather than old vacation pics.
Various brands spell professional-grade hardware wallets with advanced security features and ultra-durable designs. Honestly, the only downside is the chance of misplacing it, but that is on you.
Dogecoin works with leading digital wallets, both software, and hardware, so there are plenty of options to choose from.
Get Your Dogecoin Address
You need a Dogecoin address before you can buy and store the currency. By creating a Dogecoin digital wallet, you get one automatically. If you have the desktop app, you can find it by searching under the "much receive" tab.
Different wallets show the address in different places, but it is usually easy to spot. It is a long mix of letters and numbers that starts with a D, so it is quite recognizable. It is essential to keep a note of this address- it is the only way to access your Dogecoin funds, and without it, you could lose them all.
Find an Exchange
Ok, now for the main event- deciding where exactly you want to buy your Dogecoin. There are almost as many exchanges as there are cryptocurrencies! However, they are not all created equally. Different platforms work better for different people, depending on the location, currency, and payment method.
In the UK, and Australia, for buying Dogecoin, these are a few platforms:
Make a Purchase
Buying is the easy bit. Nowadays, exchanges are so user-friendly that truly anybody can buy Dogecoin and get invested in the crypto world. The only thing you may need to think a little more about is what payment method to choose.
Credit or Debit Card
Card payments are the fastest and easiest ways to buy Dogecoin and almost any other mainstream cryptocurrency. Speed, convenience, and flexibility are the names of the game, with most transactions going through smoothly and seamlessly. Most payments are immediate, as are the fund deposits. It is also the most widely accepted form of online payment for buying Dogecoin.
One thing to consider when buying Dogecoin with a credit or debit card is the fee. Although pretty much every crypto exchange out there today (at least the good ones) let you buy with a card, they charge for the privileged. Fees usually range from around three to five percent per transaction, depending on where you decide to buy your currency.
Always check the Dogecoin rates and the card fees before making a purchase, as well as find out what the minimum and maximum spends are. People looking to purchase a lot of Dogecoin are probably better to steer away from using a card. It is likely to cause problems if you try to exceed the card payment limit- not to mention the extra money spent on the fee alone!
On the other hand, anyone looking for a quick, easy purchase in a manageable amount is best off using a card. When it comes to Dogecoin, some of the best card rates are available on Binance.US and Kraken.
Bank Transfer
Bank transfers are a great choice of payment option for those who are not in a rush. If time is not of the essence and you don't mind waiting for your funds to arrive, you can reduce fees and increase buying limits by purchasing Dogecoin this way.
Surprisingly, bank transfers as a payment option for Dogecoin are quite limited in terms of the platforms that accept them. The main limitation here is finding platforms that offer Dogecoin and bank transfers in the US.
Unfortunately, there is no way to buy Dogecoin directly through PayPal. Most exchange platforms do not accept PayPal, so the options are limited for most currencies.
The only way to acquire Dogecoin through PayPal is to buy Bitcoin on a platform that accepts PayPal and supports exchanges into Dogecoin. It is not the most direct way to make a purchase, but it is the only solution at this time for those who specifically want to pay with PayPal.
Other Cryptocurrencies
You can also buy Dogecoin with other cryptocurrencies through a multi-currency exchange. Say, for example, that you already own a lot of Bitcoin, but you want to diversify and mix it up a little. In this case, you could use a platform such as Changelly or BitPanda to make the switch.
It is pretty simple, really. All you need to do is say what cryptocurrency you want to pay with (as long as it is supported) and how many Dogecoins you want to buy. The calculator then lets you know how much of the other currency to deposit, which you can transfer from your digital wallet onto the platform almost instantaneously.
Timing this type of exchange well is what separates good crypto traders from great crypto traders. Master the art of swapping between Dogecoin, Bitcoin, and whatever other currency you are interested in when the price is right and the sky is the limit.
Withdraw Dogecoin
Once the transaction is confirmed, funds should become available. From there, all you need to do is withdraw them into the account of your choice. To do this, you need to have your Dogecoin address and wallet security keys at the ready.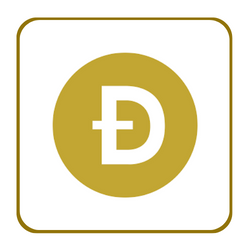 Dogecoin (DOGE) Price Prediction 2023, 2024, 2025
The price predictions for Dogecoin are far from dramatic, with steady reliability being one of its most appealing features. It does not fluctuate as much as a lot of other altcoins, which is shown in the forecast for the next few years. It is predicted to hold steady between the $0.29 and $0.30 mark for the foreseeable future. Always keep as up-to-date as possible with any currency you are interested in to avoid making any unfortunate moves.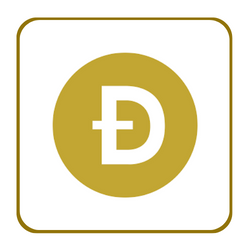 How to Stake Dogecoin
Dogecoin
staking
is possible because the token uses a so-called proof-of-stake or PoS mechanism. In contrast to proof-of-work, where miners are rewarded for validating new transactions on the
blockchain
, proof-of-stake networks reward their users for delegating their digital assets to validator nodes.  The more tokens you hold, the higher the chance one of your tokens ''is chosen'' to validate incoming blockchain transactions and thus provide you with staking rewards.
FAQ
Can you buy Dogecoin on TD Ameritrade?
TD Ameritrade does not support trading in Dogecoin. TD Ameritrade primarily focuses on traditional assets such as stocks, bonds, and exchange-traded funds (ETFs). However, this may change in the future as the cryptocurrency market continues to evolve and gain widespread adoption. I would suggest checking with TD Ameritrade directly for the most up-to-date information on their offerings.
Which is the best exchange to buy Dogecoin on?
The best exchange to buy Dogecoin on will depend on a number of factors, including your location, payment method, and desired level of security. Some popular exchanges for buying Dogecoin include Binance, Kraken, and Robinhood.
It is important to research and compare the features and fees of multiple exchanges before making a decision.
The best exchange will depend on your location, payment method, and security preferences.
Popular exchanges for buying Dogecoin include Binance, Kraken, and Robinhood.
It is important to research and compare the features and fees of multiple exchanges.
How do I secure my Dogecoin after buying it?
After buying Dogecoin, it is important to store it securely to protect it from potential hacking or theft. The safest way to store Dogecoin is to use a hardware wallet, which is a physical device that can store your cryptocurrency offline. Another option is to use a software wallet, which is a digital wallet that is stored on your computer or mobile device. It is important to research and compare the security features of different wallets before making a decision.
It is important to store Dogecoin securely to protect it from potential hacking or theft.
The safest way to store Dogecoin is using a hardware wallet.
Another option is using a software
Risk Disclaimer
WeInvests is a financial portal-based research agency. We do our utmost best to offer reliable and unbiased information about crypto, finance, trading and stocks. However, we do not offer financial advice and users should always carry out their own research.
Read More