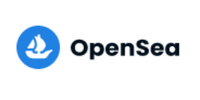 It's a very famous platform
It gives you numerous collectibles to choose from
OpenSea offers immensely sturdy security systems
Pros
Its commissions are very competitive
It's a very famous platform
OpenSea offers immensely sturdy security platform
It gives you numerous collectibles to choose from
Cons
You can only pay in crypto
If you want to sell on the platform, you need a crypto wallet
Ever since many celebrities have made non-fungible tokens very famous, numerous people and investors want to reap the benefits that these can offer. Nowadays, digital collectibles are highly relevant, and finding the best markets to obtain them is as important as knowing which ones to buy.
Differentiating between markets can be challenging, especially if the person doesn't know each site's features. Therefore, this review focuses on examining OpenSea to what it offers users.
What Is OpenSea?
OpenSea is one of the most widely known marketplaces where you can buy and sell non-fungible tokens. You can acquire or sell different types of NFTs, for example, digital art, collectibles, domain names, and more, and you're able to do all of this by using your Ethereum wallet.
Using OpenSea means you have to rely on an Ethereum wallet that connects to decentralized applications (dapps). Dapps, in turn, are programs, and these let you buy or sell by using smart contracts.
Since OpenSea uses dapps, you don't need to worry about the website keeping custody of your collectibles. Alternatively, all of them are in your wallet, which you can connect to the OpenSea website.
At the same time, you only need to connect a crypto wallet with OpenSea, which makes the process much easier. The site offers you over 200 NFT categories to choose from, and this is one of the reasons why it's so famous – it gives you so many options that it's hard for any other marketplace to compete with it.
There is a lot more to say about OpenSea in this review, but the most crucial aspect of the platform is that it's a legit NFT marketplace where you can buy and sell these tokens. Lastly, for people who would like to mint their own, this option is also available. Take a look at the following sections to know more about OpenSea.
OpenSea Features
Examining the features of a marketplace is an essential thing to do before determining if it's the right site to rely on when investing in NFTs. OpenSea has several features you should keep in mind, and here are the most important ones:
How OpenSea Works?
OpenSea is an NFT marketplace where you can buy and sell tokens. It's one of the most famous ones out there, particularly because of its wide selection of NFT categories.
Relying on OpenSea means you have to go through a very straightforward process to get started. Once you do, you can browse through the 200+ categories, choose the tokens you want to purchase, and start making your transactions.
Even though you were not able to buy NFTs with anything other than crypto before, now OpenSea offers other alternatives. Therefore, all you must do is make your payments through MoonPay if you prefer using your credit card.
OpenSea works by allowing users to quickly buy and sell NFTs. Additionally, you can mint your own tokens if that's what you want.
Our OpenSea Analysis
Given the fact that OpenSea is such a famous website, it stands to reason that many potential users want to know if it can provide them with the features they need to invest in NFTs.
This platform certainly gives you various options to buy, sell, and mint tokens. Nonetheless, wondering whether or not it's legit is still a very valid question, especially considering that there are thousands of marketplaces out there, and many sites might be scams in disguise.
After testing this site, experts concluded that it's legit and gives you what it promises – hundreds of NFT categories to choose from, different options to buy and sell, and a myriad of opportunities that might broaden your investment perspectives.
The Signup Process
Using OpenSea is a very straightforward process. Although the following steps are what you must complete when you use most NFT platforms, in this case, things are slightly different. Take a look:
First of all, you don't need to create an account to use OpenSea. If you have a crypto wallet, all you need to do is link it to the platform and you're good to go.
If you don't need to register, you might wonder what you should do when you're getting started. It's simple – learn as much as you can about OpenSea before making your first purchase or sale.
OpenSea gives you so many categories that you might want to spend some time going through a few of them before actually buying or selling something. Therefore, don't rush the process and check out everything that it can give you.
Since you don't have to create an account, checking your email is also unnecessary. This is crucial when you register for platforms where you have to verify your identity, but with OpenSea, you don't have to spend any time doing this. You can just jump right in and start examining what the site can give you.
As you can imagine, the last step in the process is to browse the site for specific NFTs. By this point, you should have an idea of what you want to buy or sell, and OpenSea's features must be available for you to enjoy.
Ease of Use
You don't even need to open an account to get started, so it might be challenging to find a more user-friendly platform than this one.
Reputation
Since it has been around for so long, OpenSea has built up a reputation of being trustworthy and the ideal option for many beginners NFT investors.
Platform Safety
OpenSea has incomparable safety methods because it cares about your security. With top-notch blockchain technology, it guarantees that all your tokens are always safe.
Transparency
All of OpenSea's information is available on its website, and you can find multiple user reviews throughout the web. The site is immensely transparent, which also shows how trustworthy it is.
NFT Minting
As was mentioned before, you can mint with OpenSea. However, many advanced investors don't recommend it if you're just getting started. Even so, this site offers you the option in case you want to give it a try.
The Mobile App
OpenSea has a convenient app available, but you can only use it to browse through its catalog. You can't buy or sell NFTs as you use them, so keep that in mind before downloading it.
NFT Storage
Storing NFT is quick, straightforward, and safe when it comes to relying on OpenSea. Since the platform protects your tokens, there is little chance of you finding competitors that offer such fantastic advantages.
Fees
The fees model of OpenSea is yet another one of its straightforward options – the platform takes 2.5% for each transaction that happens. That's it!
Risk Disclaimer
WeInvests is a financial portal-based research agency. We do our utmost best to offer reliable and unbiased information about crypto, finance, trading and stocks. However, we do not offer financial advice and users should always carry out their own research.
Read More