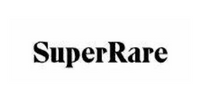 The future of art collecting
Pioneering art market royalties
Built for longevity
Pros
Purchase high quality truly unique works of cryptocurrency art
The platform provides numerous ways to curate high-end NFT collections
SuperRare focuses exclusively on crypto art and does not dabble in games or meme
The marketplace offers a highly intuitive user interface
Competitive pricing for interested buyers
SuperRare are professionals at what they do
Cons
High gas fees
You can only use Ethereum to purchase NFTs on the SuperRare marketplace
Limited wallet compatibility
SuperRare does not trade many other types of digital items as it is an NFT marketplace dedicated to art non-fungible tokens. The platform guarantees that each item is a one-of-a-kind piece by hand-picking artists who are allowed to mint NFTs on its marketplace. That creates exclusivity and makes the marketplace one of the most highly valued in the industry.
One of the most remarkable things about SuperRare is that it curates its collection. SuperRare has partnered with prominent digital artists in the traditional and new-age art space. Some of the best work in the world is displayed on this Ethereum-based network, and rightfully so.
The blockchain has changed the way people digitally claim ownership over an item, and we can wait to see where this technology takes us. NFTs can be used for everything from transferring a home deed to showing automobile ownership. After the technology has time to develop further, more use cases will appear.
What is incredible about the SuperRare NFT marketplace is the platform that allows you to buy and sell NFTs from the world's top artists. It has been dubbed the future of art collecting, and transferring digital assets to your wallet quickly are made easily by the platform.
Something excellent about the SuperRare marketplace is that the service can connect all the prominent cryptocurrency wallets. You will be able to use the likes of MetaMask, Rainbow Wallet, Trust Wallet, and imToken to store your NFTs.
This article explores the NFT marketplace owned by SuperRare and highlights some of its most significant features. By the end of the piece, you will better understand the application and know whether to use it for your investment purposes. Without further delay, it is time to get started.
Key Features
Some key features stand out from the crowd when you first visit the SuperRare website. Firstly, it operates exclusively on the Ethereum blockchain, which has the second-largest market capitalization.
On the platform, you will only find digital art of the finest quality and from the most creative artists in the world. SuperRare has two primary and secondary marketplaces that handle resold and new items.
Unfortunately, since SuperRare is Ethereum-based, there is no cross-chain support for the marketplace. However, it is possible to use SuperRare across devices, including laptops, smartphones, mobile devices, or tablets.
The best thing about SuperRare is that it's an excellent application developed for iOS and Android. It downloads and installs quickly because of its minuscule size plus compressed installation file.
What Is SuperRare?
A group of hand-picked artists can curate and trade their NFTs on the SuperRare marketplace. The platform bridges the gap between NFT platforms and real-world art galleries, making non-fungible tokens accessible to more conventional art buyers with its innovative platform.
One of the primary things that people love about this platform is the large array of art NFTs. People from all over the world have bought, sold, and traded non-fungible tokens via SuperRare, so why haven't you?
Our SuperRare Analysis
When we heard about SuperRare, we just had to open an account with the marketplace. First off, we loaded some ETH to our MetaMask wallet and were ready to begin.
Even though the user interface is relatively simple to navigate, we would not recommend this platform for first-time NFT buyers. It is an exclusive platform developed with serious collectors and artists in mind.
When you check out the platform for the first time, you will see that it sells expensive NFTs that most people cannot afford.
However, something extraordinary about the platform is that you are guaranteed a high-quality art piece and are at much less risk of buying a fraudulent non-fungible token. With SuperRare, you can build your unique and valuable collection of NFTs and hold them with the platform for as long as you need to.
Another thing we should mention about SuperRare is that the platform charges high gas fees. Due to the low finality rate on the Ethereum mainnet, the transfer costs when buying an NFT from SuperRare are exceptionally high.
It's important to remember that if you want to get non-fungible tokens for cheaper, you may want to look at another blockchain with a higher finality rate.
The Signup Process
Signing up with SuperRare is a straightforward and quick procedure.
The platform will ask you for important details, including your name, surname, address, contact number, and country of residence. You can trust SuperRare with your credential as the platform is secure by encryption technology, and the home page has an SSL certification.
How SuperRare Works?
Verification
Getting started with SuperRare is as easy as one, two, and three. All you need to do is connect your cryptocurrency wallet, and you will be ready to invest in the best NFTs in the world.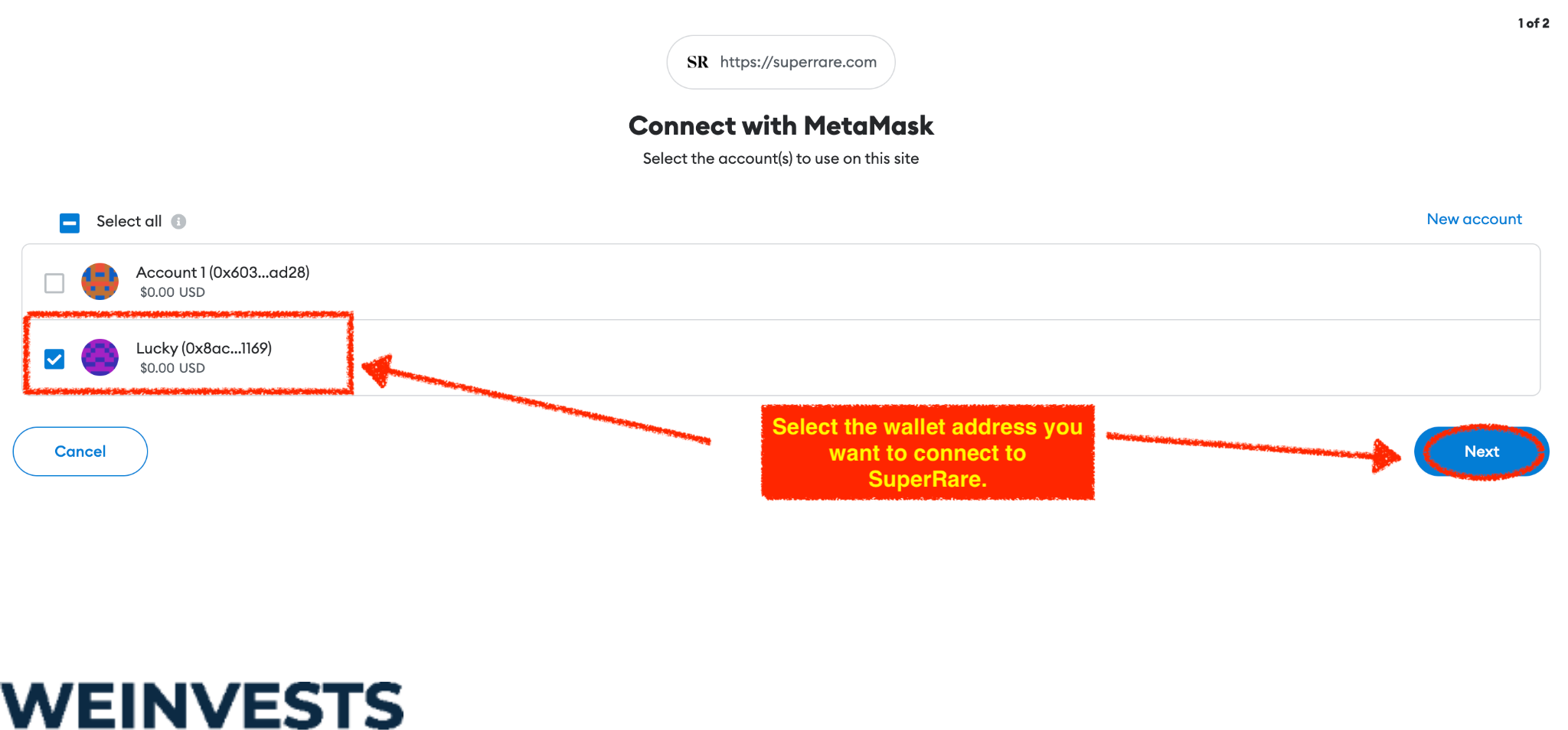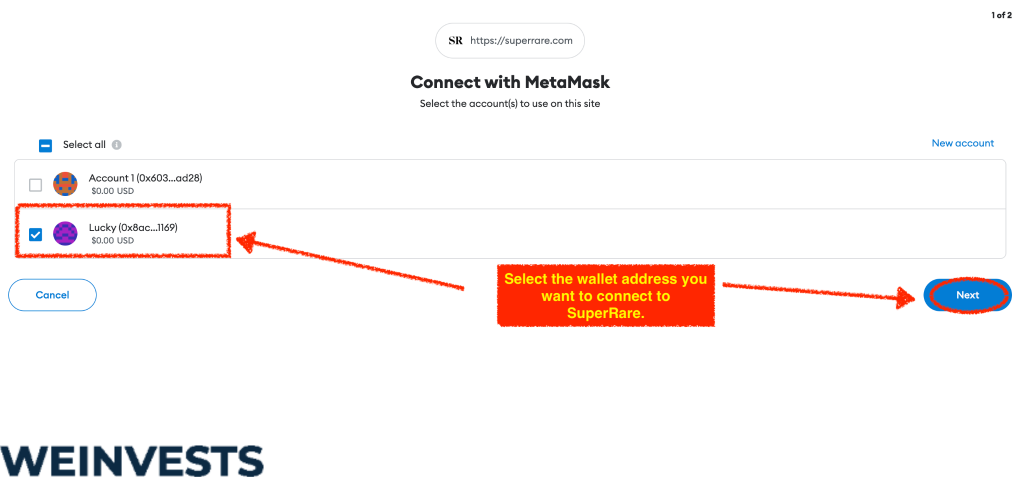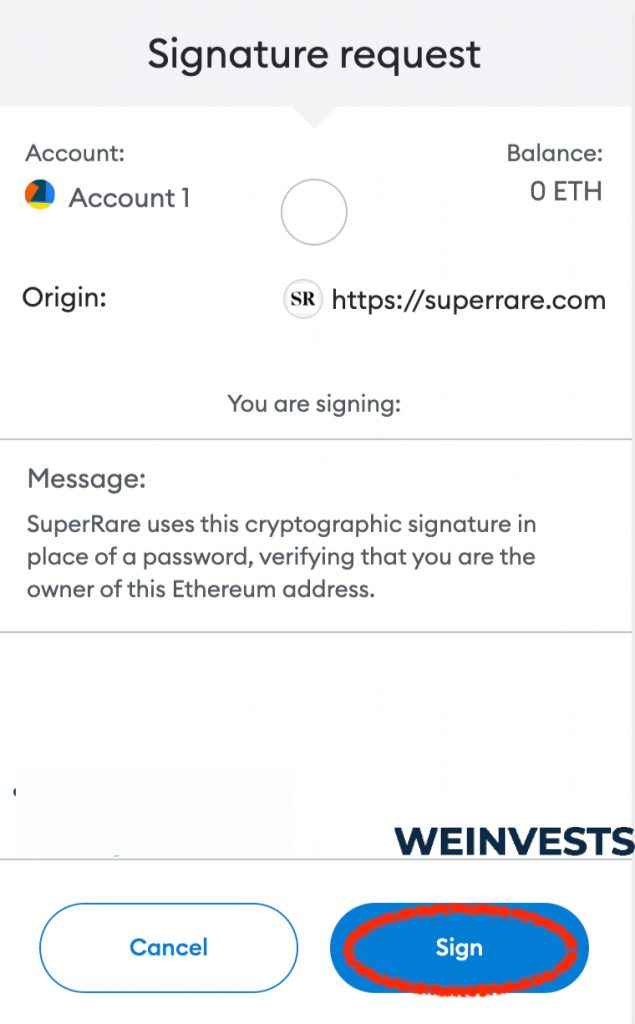 Once you have signed up, it is a matter of verifying your account via email, and you are ready to begin trading. Take your time to filter out some of the non-fungible tokens you want to invest in.
Payout
Withdrawing from your SuperRare account is easy. You need to head over to the "Withdrawal Page" page and click "Cash Out."
Your NFTs or cryptocurrency will be transferred to your desired wallet. In most cases, it doesn't take longer than a few minutes for your non-fungible token to reach your wallet a
Withdrawals
We mentioned earlier that SuperRare uses some of the most prominent Ethereum-based wallets online. With this in mind, you can be confident that the withdrawal process is always quick and efficient. Another awesome thing is that your identity can remain anonymous if you wish it to be.
Fees
One of the downsides of SuperRare is the exuberant fees that the platform charges for buying and selling non-fungible tokens. Unfortunately, being based on the Ethereum blockchain is one of the main reasons the cost of transacting is so expensive.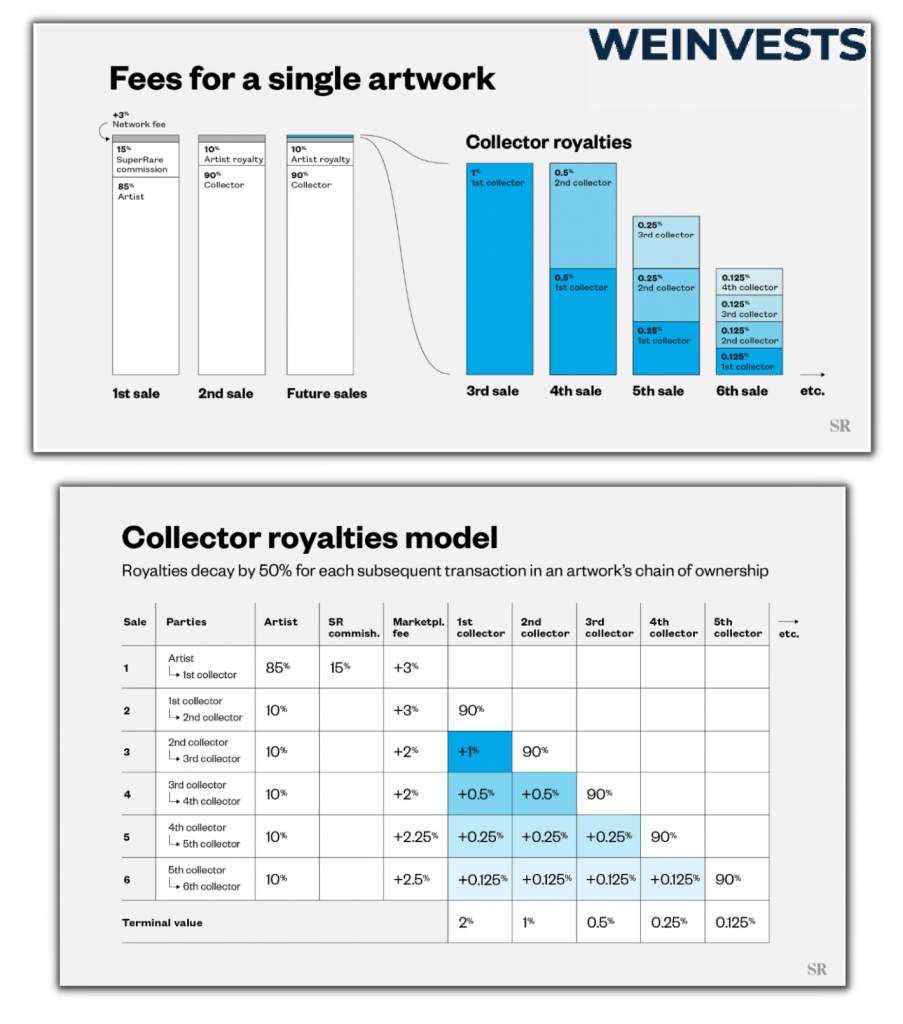 The DAO Treasury receives 15% of the sale amount from SuperRare, while the artist gets 85% of the revenue. It is important to note that the seller receives 90% of secondary sales, and the original artist gets an additional 10% as royalty.
Above the price paid for NFTs on the SuperRare marketplace, an extra three percent is added to the sale amount. These funds go directly to the SuperRare DAO Community Treasury, which increases the organization's valuation.
If you are an artist and want to mint NFTs on the SuperRare marketplace, it is crucial to understand the fees involved. Gas fees can fluctuate at times of high activity and are determined by market conditions.
Support
One of the most fantastic things about SuperRare is that the community and platform support its users. If you have any issues with the marketplace, you can quickly head over to the forum to find out how to resolve the problem.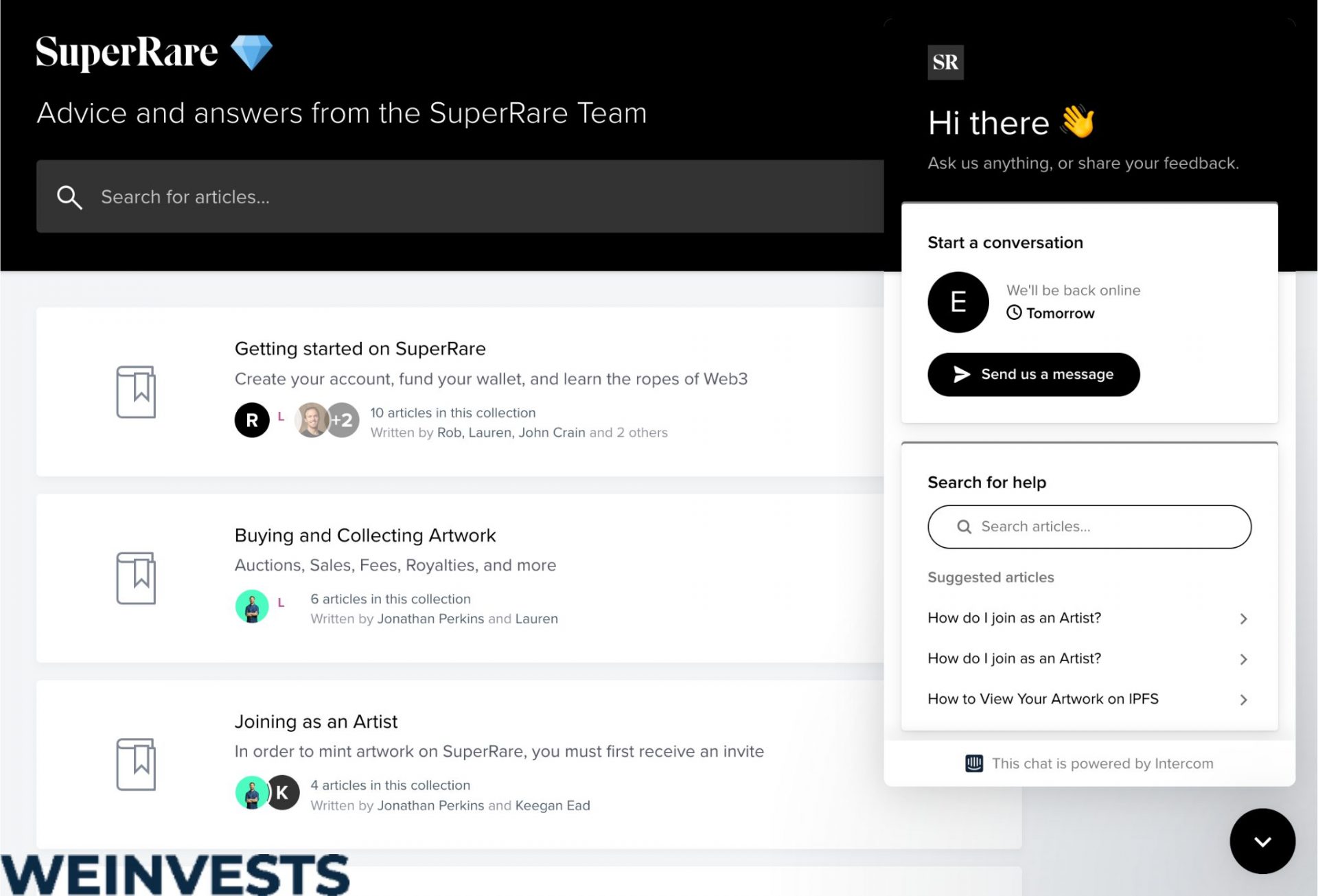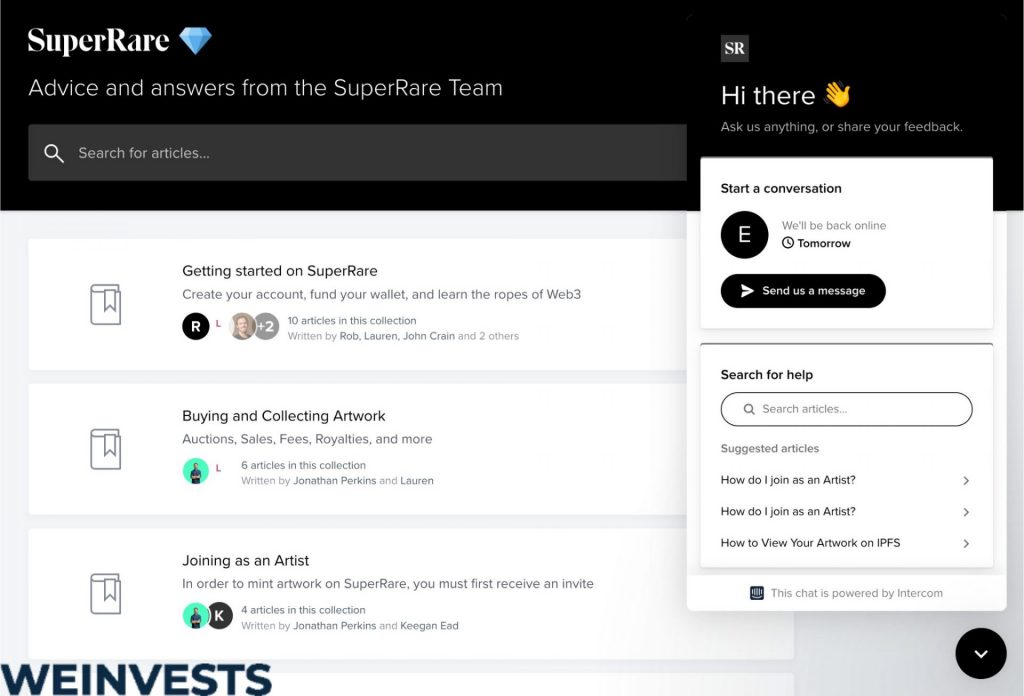 Ease of Use

SuperRare is one of the straightforward NFTs marketplaces there is. The user-friendly, innovative design allows investors of all skill levels to get involved in the daunting world of non-fungible token investing.
Reputation

This platform has a reputation for selling prominent artists' best and most exclusive non-fungible tokens. Many reviews online praise SuperRare for its exceptional customer service and high-quality NFT art.
Platform Safety

User safety is the primary concern in the SuperRare marketplace, and rightfully so. When users feel safe using a service, it is guaranteed that they will come to use it again in the future.
Compatibility with Various Cryptocurrency Wallets
You can use wallets such as MetaMask, Trust Wallet, and Rainbow Wallet to take advantage of the NFTs for sale on the SuperRare marketplace. These wallets are some of the safest in the industry and allow you to trade, store, and hold Ethereum and ERC-721 digital assets.
Cross Chain Compatibility
Due to SuperRare being based on the Ethereum blockchain, there is no cross-chain compatibility.
The platform only supports ERC-721 and masked Ethereum NFTs, so be aware of that before spending your hard-earned cash on these art pieces.
Our Verdict of SuperRare
Overall, we think SuperRare is an excellent marketplace that can help people build an exclusive selection of non-fungible tokens. With the tools and information that the platform provides you, you can make a wise investment decision.
The SuperRare platform lets you buy, sell, and trade the highest quality NFTs and digital art in the industry. Some of the best artists in the world trust SuperRare with their minting and promotion requirements.
It is essential to know that the gas fees are relatively high on SuperRare because it is Ethereum-based. If you don't mind the extra three percent added to each sale and you are looking for the best of the best when it comes to NFTs, you will be happy to use SuperRare.
What are you waiting for? Explore the world of non-fungible tokens with SuperRare and build a collection you can be proud of.
Risk Disclaimer
WeInvests is a financial portal-based research agency. We do our utmost best to offer reliable and unbiased information about crypto, finance, trading and stocks. However, we do not offer financial advice and users should always carry out their own research.
Read More