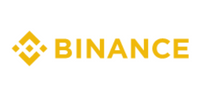 Very low trading fees
Various extra services
50+ available cryptos
Pros
Immensely low trading fees
You get more than 50 available cryptos
Various extra services
Cons
It's not available in seven US states
Fewer crypto pairs than the global Binance site
Non-transparent structure
Binance is one of the most famous trading platforms out there. Even though it has gained massive popularity, you should never trust a site without examining its features first and determining various things. If it's a legit trading app with convenient alternatives for you, then you might want to trust it, but if it's not, you should steer clear of it because it's probably a scam.
This review focuses on describing all of Binance's characteristics in detail. Since it's a trading platform, it's essential to uncover the truths about what it can offer and identify if it's a convenient option for users who want to change their trading path. This article gives you everything from the site's key features to its sign-up process, fees, disadvantages, and much more.
Key Features
Understanding the most important features of Binance is probably one of the essential aspects of reviewing this platform. Therefore, take a look at the following list of characteristics that this site can offer you:
Extensive List of Crypto Pairs. Unlike many other platforms, Binance supports a long list of cryptocurrency pairs. Ethereum and Bitcoin are among these options, but there are other lesser-known cryptos that you can buy and sell too.
Low Trading Fees. Compared to other platforms, trading fees with Binance are immensely low. Additionally, you might have to pay even less if you hold the site's coin, which is called after its own name.
Innovative Ideas. Binance has shined because of its way of rewriting the narrative when it comes to the cryptocurrency exchange. Its team announced the plan of opening the first blockchain bank in Malta, which might be a game-changing occurrence for the trading world.
What Is Binance?
Binance is a trading platform that started in late 2017 and it has become one of the most relevant sites today. Since it offers numerous options to its clients and its fees are immensely competitive, many people want to rely on it to make their trades, especially when they're focused on trading Ethereum, Bitcoin, Bitcoin Cash, etc.
The project originally started in China, but nowadays, its headquarters are in Malta. At the same time, it was initially a crypto-to-crypto exchange, but it now offers many other options, including credit and debit card payments.
Our Binance Analysis
Since you can't trust a platform until you determine whether or not it's legit, we decided to help you with that and see for ourselves. One of our experts opened an account with Binance to identify any possible red flags that might mean that the site is a scam.
After testing all of the site's features and trying to withdraw some money, our expert said that Binance is what it says to be – a platform where you can buy and sell cryptocurrencies and enjoy the trading world like never before.
Even though Binance does not offer hundreds of options like other platforms, using it and withdrawing money from it is pretty straightforward. Therefore, it might be a convenient alternative for you.
The Signup Process
The next aspect you need to consider when examining Binance is the site's sign-up process. Here are the steps you must complete to open an account:
How Does Binance Work?
In a nutshell, Binance is a platform that allows you to buy and sell cryptocurrencies such as Ethereum and Bitcoin. To get into the details of how it functions, check out the following aspects of the platform:
Verification
One of the most crucial aspects of opening an account with Binance is verifying it. If you don't, you're unable to enjoy all the advantages that the site can give you.
Verifying your account with Binance requires you to set up 2FA, and this might be new for many users. However, once you get used to it, it's a very straightforward process that only provides you and Binance an extra layer of security.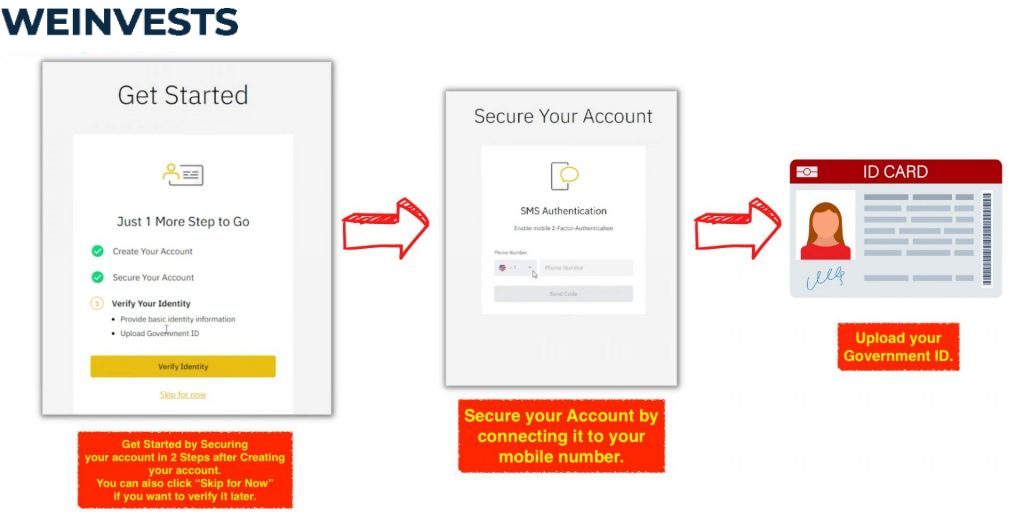 Fees
With Binance, there are different kinds of fees. However, regardless of the type you examine, you might quickly notice that this site is one of the most competitive ones in this regard.
To put it differently, Binance's fees are immensely low compared to other sites. Trading fees, for example, change depending on your trading volume, but the standard fee is 0.1%, and it can get as low as 0.075% if you have a positive BNB balance on your Binance account.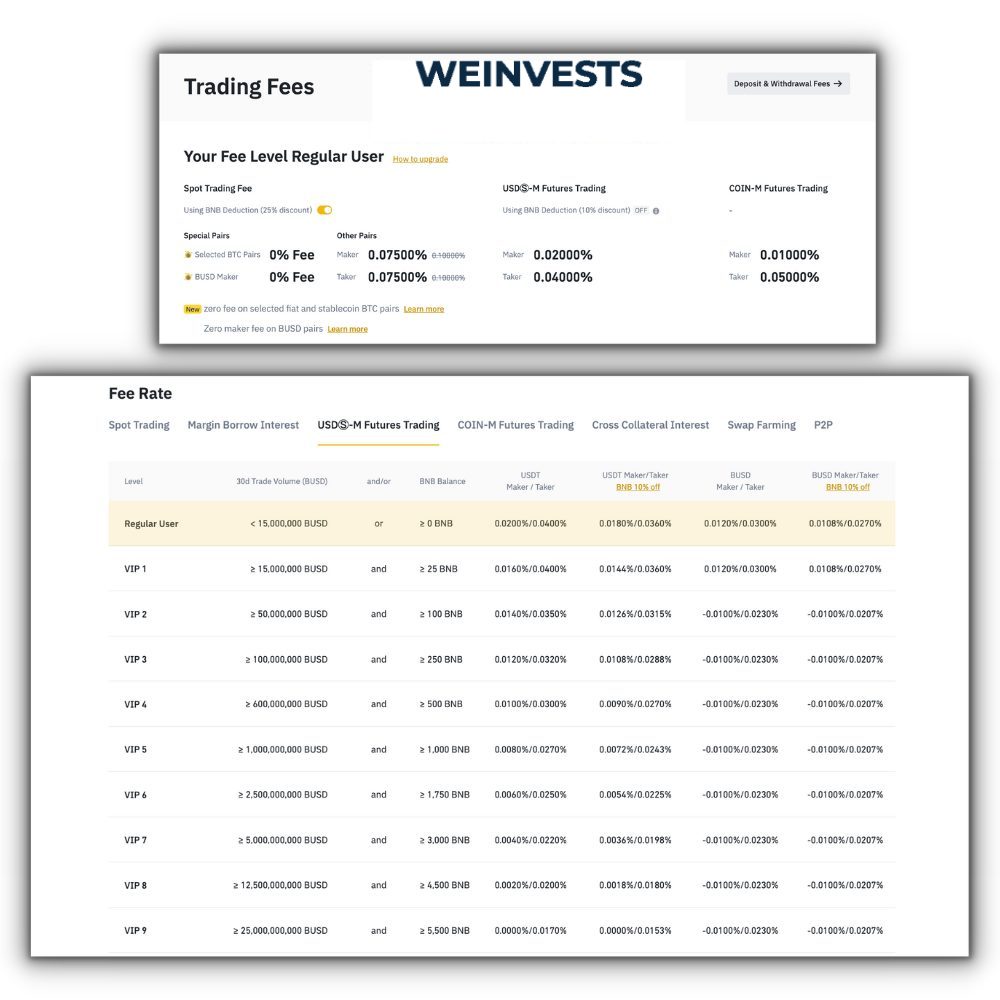 Payouts and Withdrawals in Binance
Payout
Depositing coins is immensely easy with Binance, regardless of what you want to pay. Just go over to the deposit page on the site and scroll down the list of supported tokens.
Once you make sure that the coin you want to deposit is on the list, copy the unique wallet address that the site gives you and link it to your private wallet to make the payments.
Step 1: Deposit Crypto on Binance
Open your Binance App and tap "Wallets", Go to "Overview" then click "Deposit".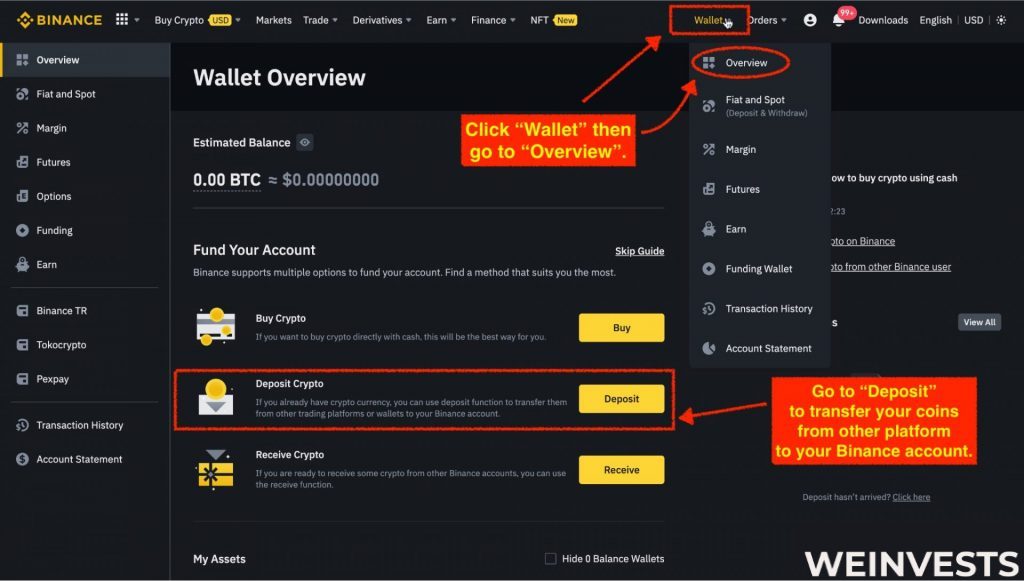 Step 2: Select the cryptocurrency you want to deposit.
Click the dropdown menu and select the crypto coin you want to deposit.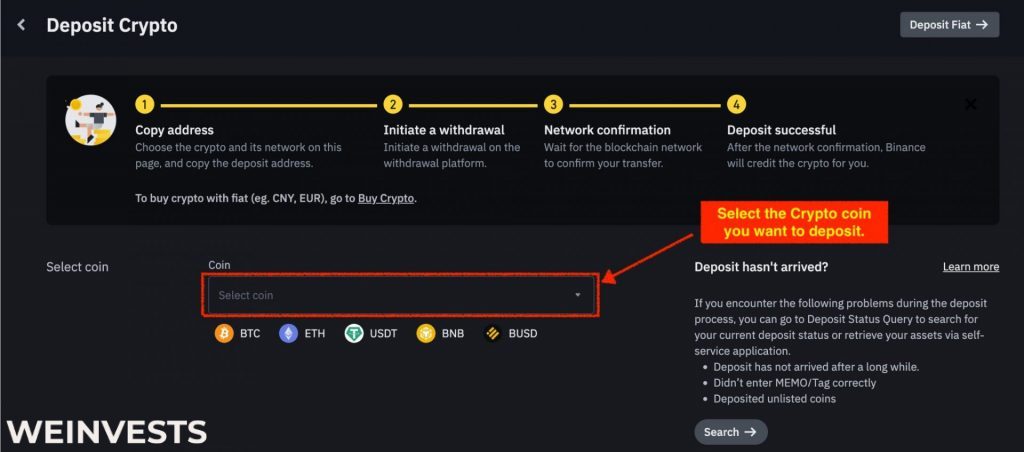 Step 3: Choose the Deposit Network.
Next, choose the deposit network. Please make sure that the selected network is the same as the network of the platform you are withdrawing funds from. If you select the wrong network, you will lose your funds.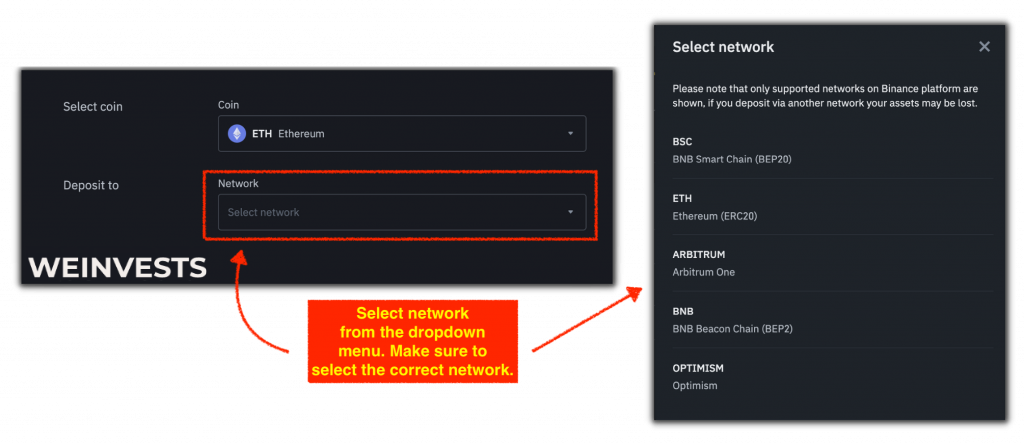 Step 4: Copy your Binance wallet of Generate a QR code.
Click to copy your Binance Wallet's deposit address and paste it to the address field on the platform you intend to withdraw crypto from. Alternatively, you can click the QR code icon to get a QR code of the address and import it to the platform you're withdrawing from.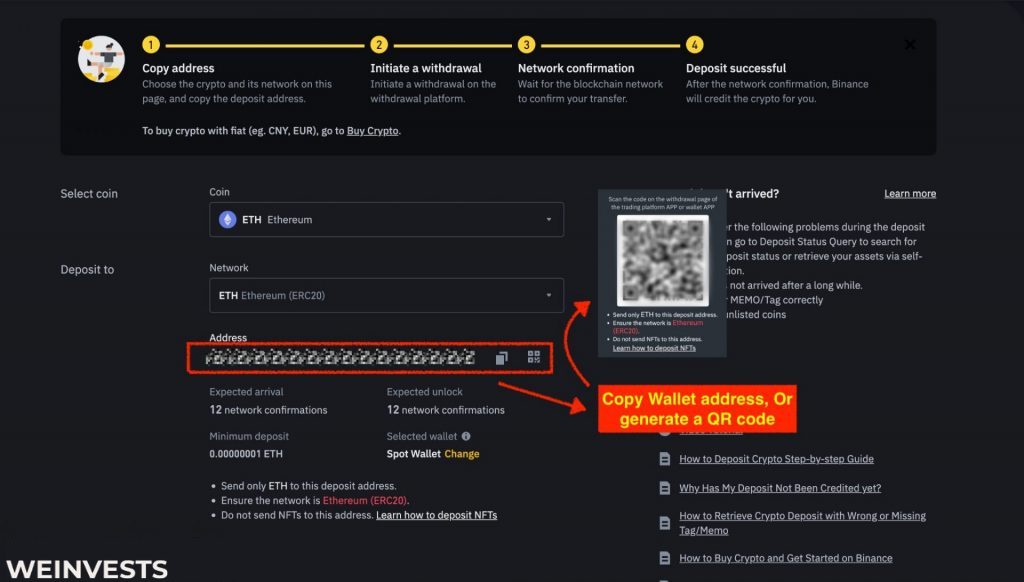 After confirming the deposit request, it takes time for the transaction to be confirmed. Once the transfer is processed, the funds will be credited to your Binance account shortly after.
Step 5: Sell the Crypto Coins on Binance.
Once you have successfully sent the coins from your trading platform to your Binance account, You will be able to see the coin balance on your account (In this example we used Ethereum). The next step would be selling your coin on Binance in exchange for fiat money.
On the Binance website go to "Markets" then select the crypto coin (In this example we used Ethereum).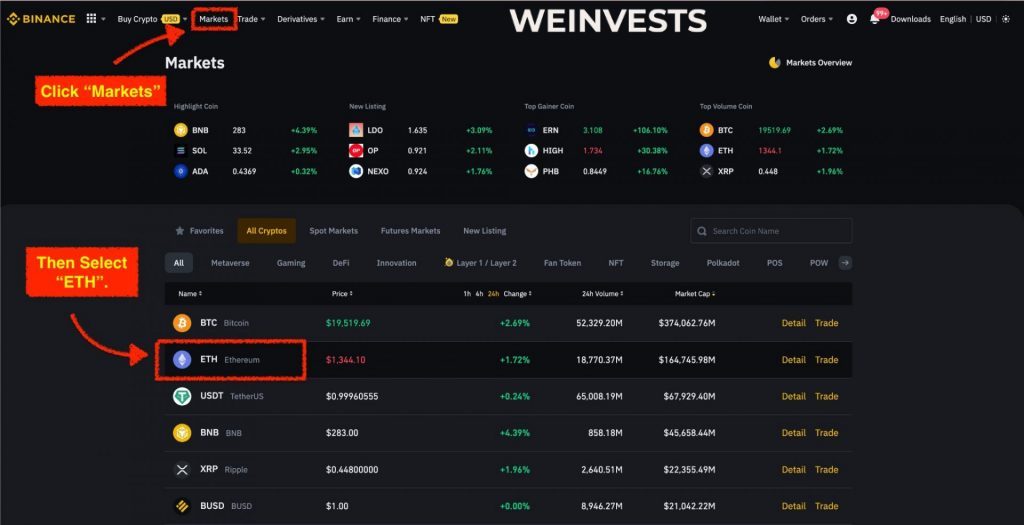 On the bottom of the trading page, You can see the Sell button, Select the amount of coin you'd want to sell, then click "Sell".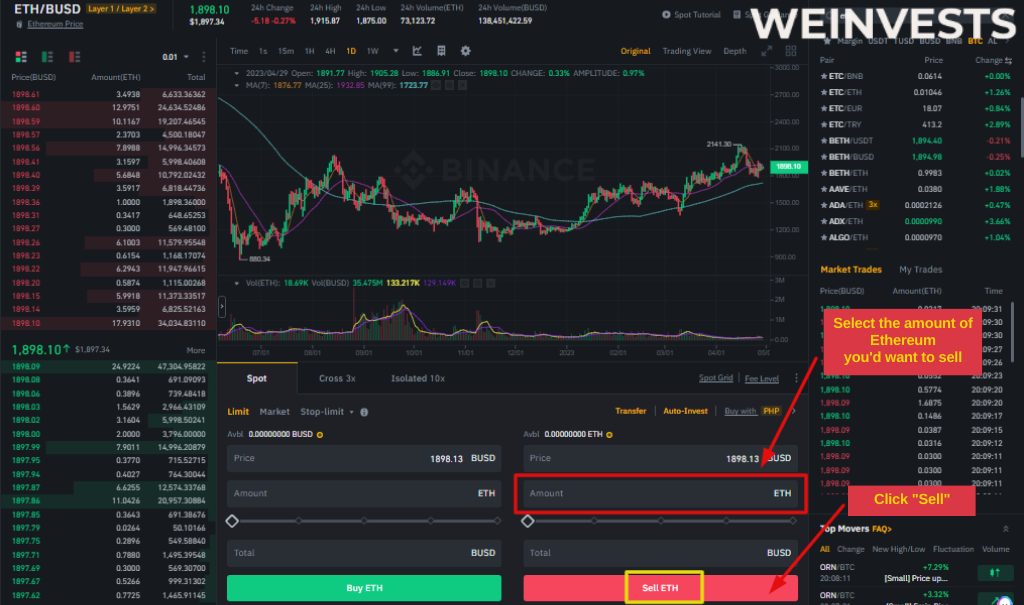 Step 5: Transfer the money to your Bank Account.
Once you have sold your crypto coin and the fiat money is available in your account, you can transfer the funds to your Bank Account.
On your Binance Homepage, Click on "Wallet" and then select "Fiat and Spot" from the drop-down menu. Here, you can view which cryptocurrencies you have and their respective balances. You can click "Withdraw", and then you will be redirected to the withdrawal page that has the guide on how to transfer the amount to your bank account.
Remember that the currency is set properly. Click on the "Payment Method" and then select "Bank Card". Input the specific amount you want to withdraw and enter your bank details.
After clicking "Continue", you will need to verify your phone number with a 6-digit verification code. If the verification is successful and completed, You will receive a confirmation that the withdrawal request has been submitted.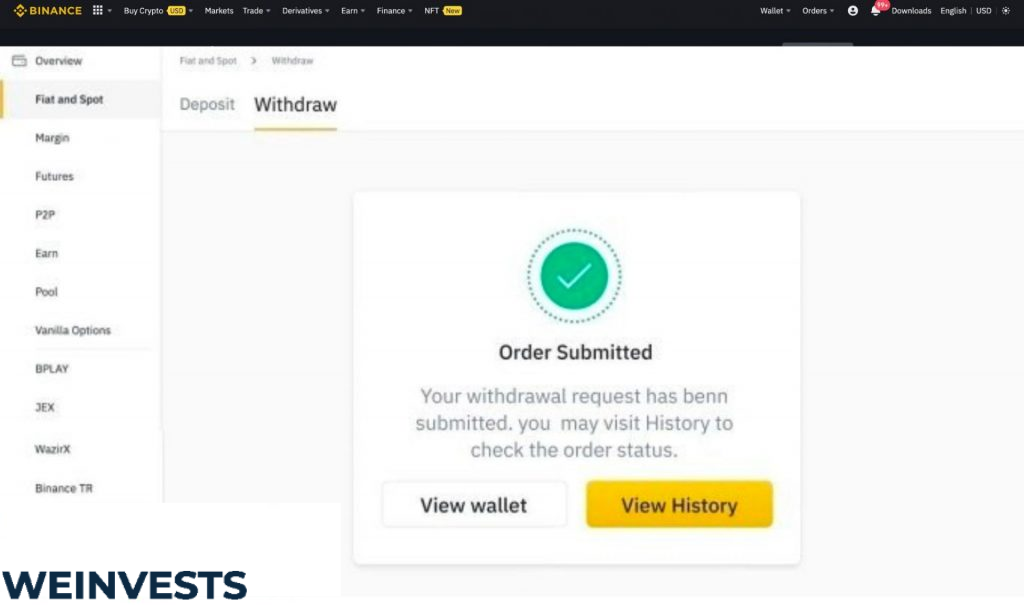 Withdrawals
There is no minimum deposit at Binance, and a free withdrawal option is not available. Consequently, you must pay a fee each time you're going to withdraw your earnings.
Withdrawal fees depend on what you're going to withdraw (the withdrawal method and the currency). Thus, you have to check the site and see how much you must pay because it changes with your needs.
Support
The only way you can contact Binance is through live chat, which is available 24/7. If you message Binance, you might get a bot answering at first. However, after a few minutes, an agent will come, talk to you, and answer all your questions.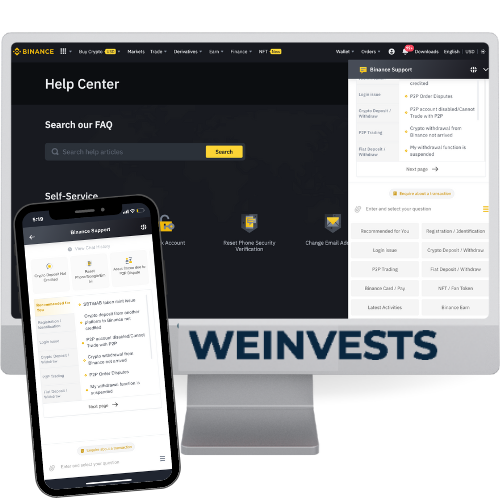 Binance does not have any forums, but its agents sometimes go on third-party forums such as Reddit and answer people's questions. Although this is certainly helpful, it's safe to say that there is room for improvement in this matter.
Ease of Use
Determining if a platform is straightforward is one of the most important aspects of evaluating it, especially if you're a beginner. When you're starting to trade, you have a lot to worry about, for example, learning all the basic concepts of this world while you're trying to make the best choices.
Therefore, challenging platforms with numerous incomprehensible options are often a poor choice. Instead, you should go with one that has a simple layout, and this is true even if you're an advanced trader.
In the case of Binance, you don't have to worry about user-friendliness at all. It's one of the most straightforward sites you can trust, which is one of the reasons why so many people use it.
Even though Binance offers several different options, the number of alternatives that it has is not as overwhelming as to intimidate beginners. Therefore, it's often one of the most convenient sites to use at first.
Reputation
Binance has a fantastic reputation. If you take a look online, you might notice that many clients have left positive reviews, especially when mentioning the withdrawal process and fees.
As was mentioned before, Binance offers competitive fees, which has made the platform gain an attractive appeal among its users. Instead of focusing on other developments, Binance has paid more attention to giving the best alternatives to its users.
Binance users often say that even though they might have to wait to get answers from customer support, the team is friendly and helpful. Thus, this aspect needs improvement to offer different alternatives to its clients, but it's still a positive characteristic of the site because it solves people's problems.
Platform Safety
Binance is one of the safest platforms you can trust. You can't make any transactions on the site unless you verify it with 2FA, which adds a sturdy layer of security to all your account movements.
At the same time, Binance relies upon heavy protection methods to keep the coins safe. Even though it's a new platform compared to others, it's very secure, and this is what matters.
Compatibility with the NFT Marketplaces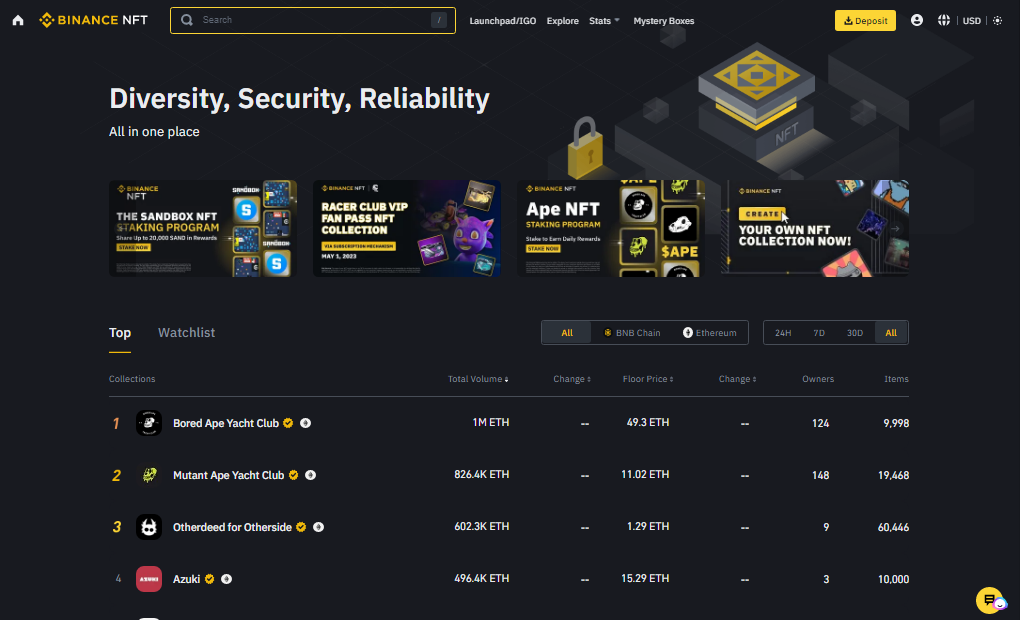 There is no information as to whether or not you can directly link your Binance account to NFT marketplaces. However, if you use Binance, there are other ways around this.
After withdrawing your funds to your crypto wallet or account, you can use the cryptocurrencies to buy and sell NFTs. Thus, Binance's characteristics still allow you to enter the NFT world.
Cross-chain Compatibility
Binance offers one of the widest lists of options when it comes to the cryptocurrency exchange. With a myriad of alternatives to choose from, cross-chain compatibility is also available on the site.
With Binance, you can trade everything from Bitcoin to Ethereum. At the same time, your assets are always secure, so you never need to worry about someone taking your hard-earned tokens.
Numerous security measures protect your coins when you use Binance, and it's one of the platforms that offer more options in terms of cryptocurrency exchange.
Overall, Binance is a legit trading platform with cross-chain compatibility options and secure measurements to keep your assets safe.
Our Verdict of Binance
Binance started in 2017 and it quickly became famous because of its numerous crypto exchange options. Even though it's newer than other platforms, it offers so many advantages that it's one of the sturdiest competitors out there, especially when it comes to fees comparison.
This platform shines if you examine the number of cryptos that you can buy and sell when using it. Moreover, since it gives its users sturdy security methods, clients never need to worry about the safety of their assets.
With Binance, you also get numerous extra features that other platforms don't offer you, including the possibility of soon exploring a blockchain bank. The team behind the brand certainly focuses on giving innovative opportunities to all its clients, which is why it's often improving the platform to make sure it's up to date.
You can trade in Binance using cryptos or depositing from your bank account through your debit and credit cards. Furthermore, opening an account is immensely straightforward, and once you set up 2FA, you're ready to go.
Binance is one of the best platforms you can trust to make your trades. It's a legit trading site with sturdy security measurements and various options to choose from, so now using it is on your hands!
Risk Disclaimer
WeInvests is a financial portal-based research agency. We do our utmost best to offer reliable and unbiased information about crypto, finance, trading and stocks. However, we do not offer financial advice and users should always carry out their own research.
Read More