This content represents the writer's opinions and research and is not intended to be taken as financial advice. The information presented is general in nature and may not meet the specific needs of any individual or entity. It is not intended to be relied upon as a professional or financial decision-making tool.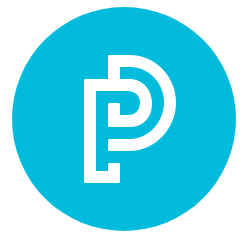 When it comes to the production of hydrogen fuel cells, Plug Power has become one of the best players in the market. Today, it looks like Plug Power is ready to step up its game and lead the charge in hydrogen fuel space.
In the past, PLUG stock has had several rebounds but now is the peak time for investors to take advantage of its stock's rising momentum. In 2023, climate change concerns managed to put renewable energy in the spotlight and Plug Power is at the forefront to roll out transformative new changes.
Primarily, the New York-based company supplies cells of hydrogen fuel used in warehouse forklifts. In fact, modern and advanced fuel cells are more than capable to replace old school batteries in a variety of electricity-powered vehicles and equipment. Some of the major retail clients of Plug Power include Walmart, Nike, Amazon, and Home Depot.
The long-term objective of Enphase is to produce over 50% of its hydrogen energy through renewable sources by the end of 2024. Plug Power also plans to shift from forklifts and dive into heavy-duty equipment and vehicles in Europe and the U.S. What's exciting is that Plug Power understands that it is a dawn of a new era and their stationary fuel cells can power entire distribution hubs and data centers.
Despite market turmoil and volatile market, experts believe that Plug Power knows how to follow the course of the future and extract opportunities with a long-term objective. In the past, PLUG has been one of the best-performing stocks on Wall Street. But with the mainstream adoption of renewable energy sources, PLUG is set to drive more growth and bump up its stock prices to new heights.
Plug Power Statistical Overview
Plug Power Stock Forecast 2023
Plug Power continues to make significant progress in its efforts to establish itself as a leader in the green hydrogen revolution. As PLUG expands its green hydrogen manufacturing facilities, its profit margins are expected to climb significantly. This is because the corporation can create green hydrogen at a lower cost in its own plants. In addition, the substantial tax credit for green hydrogen should be a game changer for PLUG in 2023.
The company estimates that its 2023 revenue will total $1.4 billion as a result of these future, favorable catalysts. By the end of the year, PLUG also anticipated generating "breakeven operational margins".
On other fronts, the joint venture between Plug Power and Renault, the major European manufacturer, is anticipated to pick up steam as the partnership is on track to manufacture and deliver 800 vans by 2023. It's also interesting that Airbus is a partner of Plug Power.
The enormous European aircraft maker, Airbus, recently declared "that it is developing a hydrogen-powered fuel cell engine." Around 2025, the corporation hopes to start testing the engine, and five to six years later, it wants to start producing new aircraft that might use hydrogen.
As a result, it is possible that Airbus may purchase a significant volume of hydrogen from Plug Power within the next year or two. As a result, PLUG stock could see a significant increase by the end of 2023, possibly in 2024, or even sooner. As Plug's potential becomes obvious next year, PLUG stock should skyrocket, making the shares one of the best.
As per CNN business, the company's stock price can expect to rise and go up to $78 as the highest estimate.
Experts predict the lowest estimate to be around $15, while the average is around $28. The median growth shows an increase of approximately 84.15% from the current price of $15.21.
Plug Power Stock 2022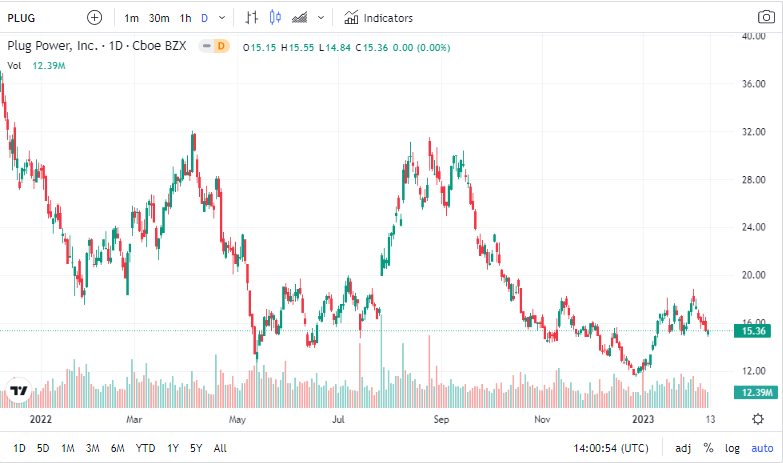 On May 15, 2022, Plug Power received the order of 1 GW of electrolyzer order from H2 Energy Europe. This, in turn, had a swift surge in its stock levels in a short period. Plug Power stock reached $16.64 and was headed in an upward trajectory.
Plug Power's two major deals in 2022 hinted that the firm would be helming the green hydrogen revolution. On February 12, 2022, U.S and EU governments offered support for hydrogen-powered solutions and Plug was ready to dive into more complex and large-scale green hydrogen projects.
In 2022, there was more valuation and validation of PLUG stocks. The deals with retail giants like Walmart and Amazon suggested there was rapid adoption of hydrogen-powered solutions across the US and Europe. As a major supplier of hydrogen-powered solutions, Plug Power understands that it provides companies the opportunity to become more energy-efficient, reduce CO2 emissions, and cut back overdependence on traditional fuels.
As of March 31, 2022, Plug totaled investments of over $4 billion. Revenue during the third quarter of the company's fiscal 2022 came in at $188.6 million, up 31.1% from the same time last year, but falling short of consensus projections by $58.61 million. Gross margin was negative 24%, with gross profit remaining negative at $46 million.
The revenue for Plug Power's entire fiscal year 2022 was forecast to be 5% to 10% less than previous projection of $900 million to $925 million and to surge by roughly 70% from fiscal 2021.
Plug Power Stock 2021
On January 18, 2021, Plug Power managed to cross the threshold of the highest stock price of $68.45. In terms of revenue generation, acquisitions, partnerships, profit margins, and high ROI, 2021 remains to be the best year for Plug Power. The fact of the matter is that since the start of 2021, PLUG stock has had a balanced and growth-driven trajectory.

Investors believe with more partnerships and acquisitions, PLUG stock would head in the right direction. But coming back to 2021, PLUG saw its highest stock prices due to European expansion efforts of the company. On May 17, 2021, Plug Power started to expand its market reach.
In fact, Plug got an order to fulfill 1 gigawatt of the electrolyzer. But in Denmark, the production of green hydrogen is complicated. Still, Plug managed to deliver the installation of the biggest electrolyzer capacity in the world.
Jumping to November 30, 2021, Plug Power partnered with Acciona Energia, a Spanish-based energy company. This joint venture deal was ultimately finalized with 50-50 terms. After operating as AccionaPlug, the company can now operate, maintain, and develop a wide range of hydrogen projects across Portugal and Spain. This, in turn, had a significant increase in PLUG's stock price.
Another partnership that had a positive impact on PLUG's stock price is the company partnership with Charlottesville, which operates as an Apex Clean Energy firm. The focus of the deal revolved around 345 megawatts of wind power agreement along with a dedicated development plan to launch a new H2 production facility.
Similarly, Plug also made a joint venture with Renault, the famous French carmaker to create hydrogen-powered unique vans. On top of making hydrogen-based vans, this venture also involves the installation of various hydrogen charging stations throughout Europe. The installation of these hydrogen charging stations would serve as a carbon-free H2 and provide maintenance to fleets.
Another joint venture with Baker Hughes also significantly managed to boost PLUG's stock in the market. The focus of Baker Hughes was to join hands with Plug Power to set in motion a private fund that would provide capital for clean-hydrogen and large-scale projects.
On February 25, 2021, SK Group, a major South Korean company, also made a joint-venture deal of $1.6 billion with Plug Power. This joint venture made it possible for SK Group to expand its hydrogen energy efforts across Asia.
In 2021, PLUG stock didn't have an ideal EPS Rating or a perfect distribution and accumulation rating. Still, it was clear that the PLUG was evolving and more joint-venture partnerships and working on different global projects made the company more appealing to investors.
Plug Power Stock 2020
The pandemic year served as a wake-up for governments and corporations to make long-term investments in renewable energy sources. Naturally, PLUG marched to the opportunity and represented a lot of companies to adopt and embrace hydrogen-powered energy solutions.
In line with the US government, the bi-partisan infrastructure bill of $10 billion was passed to support the hydrogen-powered energy solutions. In 2020, Washington made it clear that it would invest 80% of its energy funds in hydrogen hubs. Plug Power partnered with state officials of NY, Massachusetts, New Jersey, and Connecticut to roll out these hydrogen-powered hubs.
Even the market cap of $9.5 billion around PLUG stock significantly undervalues its future potential. By the end of Q4 2020, it became clear that the green hydrogen energy solutions are bound to proliferate EU and the U.S and Plug Power would be leading the charge.
Plug Power Stock 2012-2019
By December 31, 2018, PLUG stock hit its lowest stock price of $1.23 and it continued this trajectory for most of 2019. But by December 16, 2019, the PLUG stock had managed to reach $3.2. Clearly, the perception and demand for H2 energy were changing for good. However, it wasn't enough to garner the attention of the federal government and big investors.

Plug Power Stock 2002-2011
In 2002, PLUG stock successfully went public but the growth parameters, market response, and demand for such technology were quite limited at the time. Since 2002, PLUG stock has had more than one rebound. But at the time when Plug Power's stock went public, there was little to no discourse around large-scale adoption of H2 energy or other renewable energy sources.

From 2003 to up until 2011, the average stock price of PLUG stock remained at $1.95. Although there was a spike for PLUG stock back in 2014, a lot of ambitious initiatives and partnerships of the company were short-lived and failed to sustain the stock levels for a long time.
From 2003 to 2011, hydrogen fuel became more and more cost-effective and a perfect alternative to conventional fuel. Once the oil prices started to soar, a lot of market players started to look for alternative solutions like H2 energy. By Q4 2011, there was a heightened interest in the hydrogen energy stocks and market perception and growth around PLUG started to take their course.
Plug Power has been through a lot of regulatory hurdles and unexpected challenges throughout the 2000s. Sure, now there is nationwide support for H2 energy but at that time most of the focus of Plug Power revolves around changing the market perspective.
Experts now realize that clean energy sources are bound to become foundational building blocks for different industries in the foreseeable future. It was only a matter of time before there were more incentives and subsidies from state and federal governments that would propel Plug Power to move forward.
Since the 2000s, investors have been investors in "how" Plug Power would achieve expansion and hit long-term green goals around hydrogen. Unlike today when clean and renewable energy investments are pouring in at a massive scale, there was a long struggle for PLUG stocks to maintain their position in the market. In the 2000s, one of the main reasons PLUG stock levels couldn't build up a bigger and better consistency is due to supply chain challenges and increased hydrogen costs around the globe.
Conclusion
Plug Power continues to maintain a unique position in the green hydrogen space. And within this ecosystem, there are bound to be more successful collaborations and partnerships for Plug Power.
On top of consistency and being ahead of time, it's the ambitious drive of Plug Power that would ultimately make it possible to cut back on CO2 emissions. Plus, the market perception of hydrogen fuel has become more favorable and there is a clear understanding that H2 energy is the future.
Risk Disclaimer
WeInvests is a financial portal-based research agency. We do our utmost best to offer reliable and unbiased information about crypto, finance, trading and stocks. However, we do not offer financial advice and users should always carry out their own research.
Read More