This content represents the writer's opinions and research and is not intended to be taken as financial advice. The information presented is general in nature and may not meet the specific needs of any individual or entity. It is not intended to be relied upon as a professional or financial decision-making tool.
Dogecoin is the internet's most expensive Joke.
If not the general public, Crypto enthusiasts had known for a few years that Doge enjoys a significant bull run versus BTC if it falls into a certain demand zone.
In 4.5 years, Doge successfully had seven runs against BTC, and this, by 2019/2020, crashed many investors hope in Doge's substantial appreciation.
Then, on December 20, 2020, as Bitcoin achieved new all-time highs milestones, Meme Lord Elon Musk, following up on his couple of previous Dogecoin tweets, tweeted 'One word: Doge'
When Musk tweeted, 'SpaceX is going to put a literal Dogecoin on the literal moon' months later, Dogecoin had risen 5,200% against Bitcoin in about three months!
Like Vultures to a carcass, this resulting run drew investors to Doge and other Memecoins.
Contrary to what Dogecoin's base would want you to believe, will Doge's new market trend be 'happily ever after?'
Read on to find out.
Dogecoin Overview
Doge's 2023, 2024, 2025 Price Prediction
After investigating the history price of dogecoin from 2019 to present day. We must get ourselves on the lookout for possible playouts of Doge in the coming years.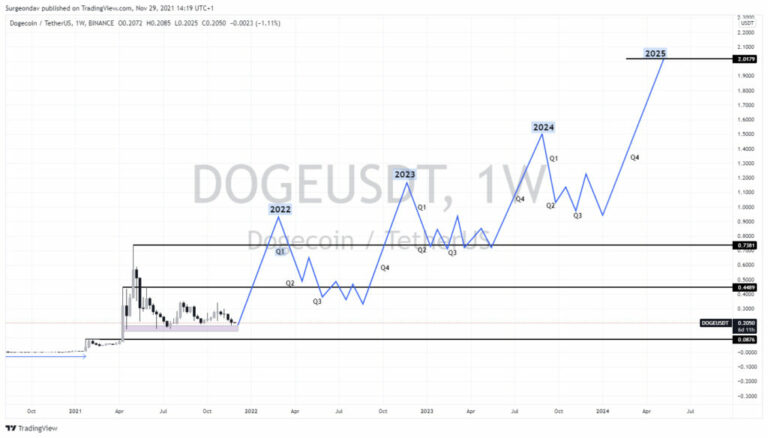 A prediction of Doge's future movement relies on its use case applicability just as it is with other coins. Technically, Doge is expected to maintain its bullish structure for the next 3-4 years, considering its past if Doge strives to repeat the price patterns of 2021 in the coming years; 2023 till 2025.
We expect a similar trend in 2023, 2024, and 2025 if the pattern is maintained such that Doge trades as high as $2 or close.
We expect a similar trend in 2023, 2024, and 2025 if the pattern is maintained such that Doge trades as high as $2 or close.
Fundamentally, Dogecoin mining ease has always kept the altcoin on the front seat. Moreover, this year the most popular crypto exchanges like Gemini and eToro have listed Doge, causing the price to soar.
On the other hand, the fact that the digital currency lacks great value negatively impacts Dogecoin. Many opine it as a speculation, and if this belief remains unaltered, its price can experience great difficulty at breaking out of $0.4
Due to the increasing number of cryptocurrencies in South East Asian countries, the price of dogecoin decreased. However, it recovered quickly and ended the year at $0.002.
For most of 2019, Dogecoin traded sideways. By December 2019, it was trading at $0.0020.
The price of dogecoin started the year at $0.002. It then improved steadily and reached a high of $0.003 in February.
Bitcoin's price rally led to an increase in DOGE's value. The popular meme coin performed well during this period, as it gained widespread attention after it almost doubled in price in just one day. Following various events, including Elon Musk's support, the price of DOGE increased by 15,000% on May 8.
The negative effects of the SNL event on the dogecoin price were further exacerbated by the market crash that occurred on May 19. This resulted in the price of dogecoin falling to around $0.168.
Doge 2030 and beyond
Even if Doge does reach $1, you have to understand that cryptocurrency markets remain extremely volatile, making it difficult to accurately predict a coin's price in a few hours and even harder to give long-term estimates. As such, there is a possibility analysts get their predictions wrong.
Dogecoin Technical Analysis
When you study Doge's line chart below, doesn't it seem a bit bizarre for a position #10 Coinmarketcap coin?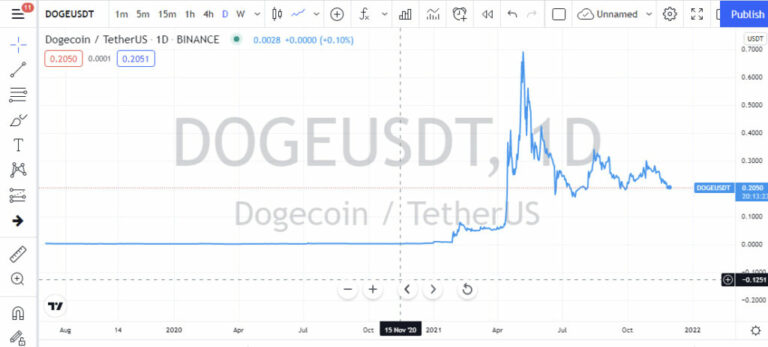 You're noticing the effect when an individual has too much influence on a cryptocurrency coin market movement.
Can you imagine the momentum at which Doge rose and fell without taking any breathing space?
I'm sure intended long-term holders might probably be regretting they didn't join the paper hands group.
I am not pronouncing Doge's demise. No one is saying Doge is dying. I only stated the Market's obvious trend.
Take a seat and relax as we dive into analyzing Doge's trend using technical tools to predict its future movement for the coming years.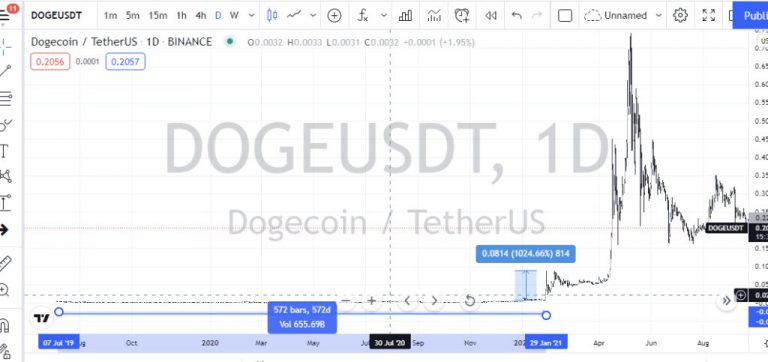 Despite reaching new heights in 2021, Dogecoin is not a 'new' cryptocurrency.
It was created in 2013 as a joke currency by two software engineers, Billy Markus and Jackson Palmer.
While the Dogecoin subreddit did form on December 8, Billy and Jackson created the Dogecoin Bitcointalk.org profile on December 6.
Coinmarketcap's price tracker recorded Dogecoin's first official price on December 15, 2013. Coinmarketcap reported a $0.0005588 and $$0.0002979 open and close price.
Doge's price had still not risen by December 15, 2014, closing at $0.0001882. It wasn't until April 2017 that Dogecoin saw a somewhat substantial price hike., hitting $0.0007463 at the end of the month and $0.02 during the January 2018 cryptocurrency bubble.
It would, however, return to a price of $0.002346 by the end of 2018, before its drastic rise during 2021.
In this article, we will start analyzing Doge's price movement from 2021.
As clearly shown in the above chart, Doge never had any significant rise or fall in its price until January 2021.
From 2019 till 2020, the trading volume was as low as water in a desert's heart.
Q1, Q2 2021
Doge's little-activity period stepped up on January 2021 when it experienced a price surge from $0.01 to $0.03. That was the first time in Doge's history such demand strength played out.
This awakening of Doge happened days after the GameStop frenzy on Reddit skyrocketed GameStop's shares to soar by nearly 2,000% since the beginning of 2021.
Dogecoin witnessed resurgence because of Reddit and a tweet from the chairman of WallStreetBets who wrote on Twitter, "Has Doge ever been to a dollar?" The same WallStreetBets was behind the surge in GameStop, which created pain for hedge funds that are shorting or betting against the stock.
Hours after the tweet, millions of people joined the subreddit Satoshi Street Bets and wrote about "taking Doge to the moon," which encouraged users not to sell the Dogecoin till its value reached a dollar.
One of the early posts on SatoshiStreetBets read: "Let's make Dogecoin a thing. That's it, that's the post."
At 12.03 pm Singapore time, Dogecoin had added about $7.17 billion to its market capitalization in 24 hours, and its total market cap stood at $8.2 billion, making it the ninth-largest cryptocurrency.
Such activity in the cryptocurrency space is not new. In 2018, the US commodity futures trading commission (CFTC) had sounded the alarm about the same.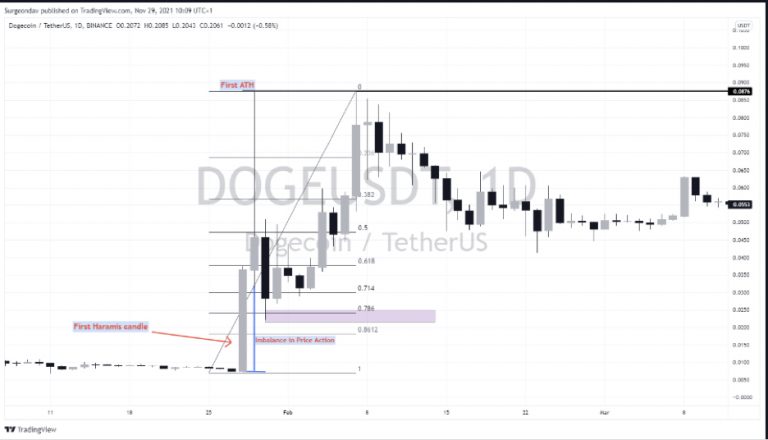 This breakthrough was like an awakening call to people who had slept on Doge. Demands began to pull in; the Doge holders believed they could push the price further, which they did.
After Doge formed his first haramis candle, it pushed further up to make its ATH trading around $0.08 before experiencing a strong sell rejection and retraced deeply to the 78% fib zone. Doge actually needed this retracement to balance price action; the retracement came to fill up to 50% imbalance in price action below.
After achieving that balance, Doge now had a reason to reverse into the upside, which it did.
Assuming Doge failed to do that and went to short all the way down to $0.01 that it started from on Jan.28, it would have been a blow to people's projection that Doge has finally woken up.
And because that didn't happen, it clarified that Doge is out of its sleep.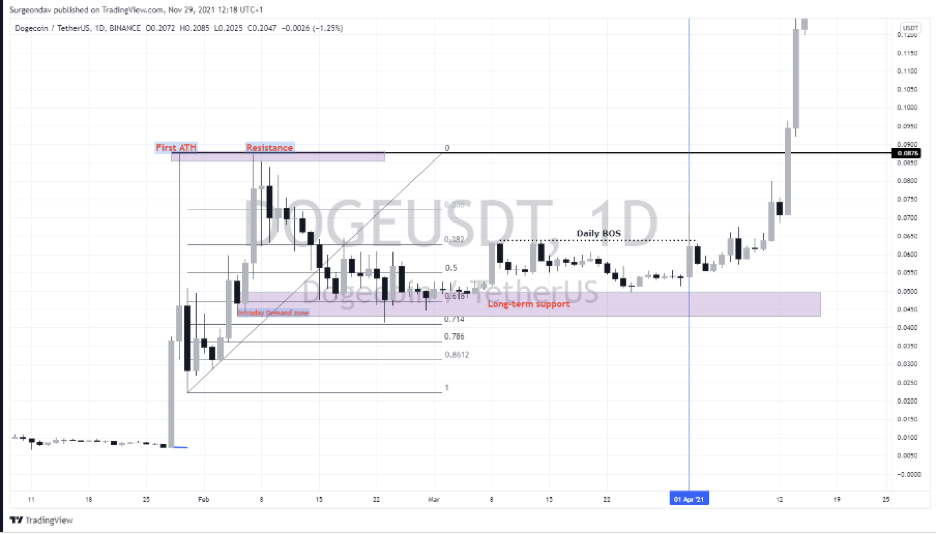 Doge resumed the 270% bull run from 0.02, where it first found support back to the ATH zone to form a resistance zone; since price could not rally above the last high, rather experienced a bearish rejection sponsored by sells, driving the price down to around $0.05 where an intraday demand zone acted as a support zone that would later hold till April before price broke out.
This bearish rejection dipped all the way down to 61.8 and 71.4 fib levels.
With such deep retracement, one could have easily suggested market structure might soon turn bearish, but then the volume indicator showed that the sell strength of the bearish rejection isn't as strong as that of the buy move that was resisted at the ATH zone.
Since price found support at the 5th of February demand zone, the price has been ranging, bouncing back and forth from $0.043 to $0.063 for 45 days. It was indeed a long nap.
This long nap lasted till April 1, when there was a break in structure on the daily timeframe with a 4h marabuzzo candle.
This BOS reinstated the market structure to its bullish state but could not shoot higher than that until it came to find a stronger demand as the "Buy Initiating D zone" on the second week of April.
The initiated demand zone, in turn, sponsored a strong buy momentum that mitigated April 13 ATH to make a new ATH of $ 0.4489 three days later.
That debut was another significant breakthrough for Doge, achieving a 550% price surge in just three days. This surge can fundamentally be referenced to Musk and Cuban's tweets.
Musk tweeted: "The Dogefather SNL May 8." Mark Cuban, the basketball team owner, the Dallas Mavericks, has made several posts about the meme-based token that week. Cuban, a billionaire entrepreneur, and TV personality said his NBA team was on track to complete 6,000 Dogecoin transactions in April.
"Doge is the one coin that people use for transactions," Cuban said when asked by a user why he was backing Dogecoin. "People spend their Doge, and that means more businesses will start taking it."
Those were Cuban words then, which had something to do with Doge's price surge.
After hitting a new ATH, people began to take their profits by selling off their holdings which sent Doge back to a retracement journey all the way to the 71.4 & 78.6 fib zones, where it found a support that gave a bullish rejection with a "hammer" candle.
When it made that retracement, RSI value was around 58, which was neither a buy nor a sell signal.
However, it signifies a preparation or consolidation for either of the moves. What would help an analyst know the end game of the consolidation as a buy is the market structure, which was still bullish on the daily timeframe.
Q2, Q3, Q4 2021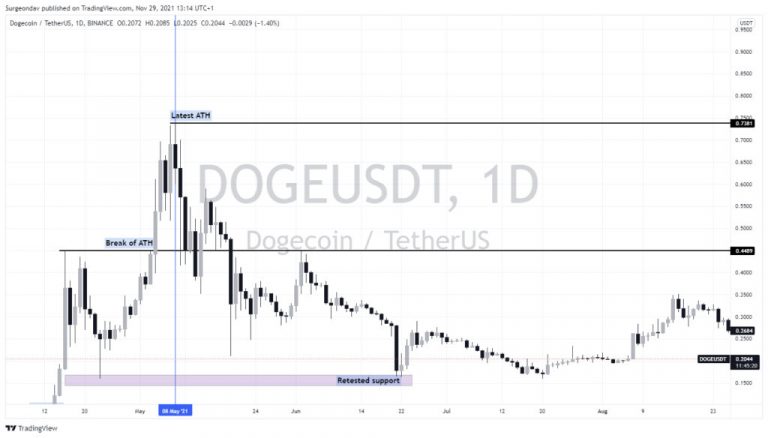 The retracement ended towards the last week in April to resume a buy that broke the last ATH on May 2, the second day of the Q2 of the year.
This buy ended in creating a new and the latest ATH that has not been broken. This ATH recorded Doge valued at 7 cents, which is a remarkable move knowing the move came from 2cents, making people cling to high hopes of Doge hitting $1 soon.
Unfortunately, that did not happen before the coin experienced a drowning dump.
Did fundamentals have any take on this move? Yes. Nothing significant happens in the crypto market without the fundamental taking part in it.
The latest leg higher came a day after multi-asset brokerage platform eToro announced support for the cryptocurrency, citing strong client demand.
The new listing opens Dogecoin to some 20 million users spread across the globe. Not long after that, Gemini announced it would join in supporting the meme-based crypto, adding fuel to Doge's upward trajectory.
Additional buying pressure may have stemmed from pro baseball team Oakland Athletics' decision to sell tickets for Dogecoin.
In an announcement on Monday, the Major League baseball team said it was selling two-seat pods for 100 Doge ($48.80 at the time of writing) for its three-match series against the Toronto Blue Jays.
While some acknowledge, the run-up could be tied to Elon Musk's hosted stint on Saturday Night Live, where it was a safe bet, the cryptocurrency would at least get a name check.
More celebrities joined the bandwagon. The latest celebrity chef (and meme himself), Guy Fieri, used the magic words "To the Moon" in one of his tweets at that time.
Since then, it has been making lower highs and lower lows due to intraday bullish and bearish rejections till it found its way down to an already established April 23 support, and since then, the price has been ranging with no definite movement till this day; retesting the support repeatedly throughout the last quarter of the year.
What is Dogecoin?
From its very design, Dogecoin was not meant to be taken seriously.
Use cases:
Dogecoin derives its value from the following use cases.
As a medium of exchange (less threatening version of Bitcoin)
Dogecoin raised 25 thousand dollars for the Jamaican Bobsleigh team to feature in Olympics
Dogecoin raised 50 thousand for giving Africa access to drinking water.
Merchants now accept Doge for buying supercars, Booking hotels, movie subscriptions.
Lower transaction
No smart contract; lack of Dapps.
Speculation: DogeCoin has a huge trading volume demand.
Features of Dogecoin
A Token's Market Cap can only be calculated by multiplying its price by circulating supply; Dogecoin's price is under a dollar yet has a market cap of about $30 billion.
Miners get a 10,000 Doge reward per block.
One Dogecoin is mined every minute.
Dogecoin has 30 TPS; 5-10 Min Tx Time; 1 cent Tx fee; 1 Min Block Time.
Dogecoin will have an inflation rate of about 4%.
Dogecoin is based on the PoW Lucky coin consensus, A fork of Litecoin.
It uses Scrypt Algorithm like Litecoin.
Dogecoin can be merged mined with Litecoin.
Dogecoin coin mining launched at the same time on December 6 2013; it wasn't presold.
Dogecoin is one of the safest coins out there; it has numerous safety levels, making it almost impossible to hack.
Dogecoin is one of the easiest gambling betting and payment method.
Jackson Palmer, Dogecoin co-creator, is proud that without any software updates within several years, the market cap for Doge is still over $50 billion.
Summary
Doge is the biggest and oldest memecoin in the cryptocurrency space. It saw a massive price increase earlier this year; however, it seems left behind right now.
The Doge/BTC chart shows a massive falling wedge. For Doge to be bullish again, it needs to reclaim the levels shown on the chart.
The Doge/USDT chart shows similar patterns.
How to Buy Dogecoin on eToro
Dogecoin started as a joke, but soon enough, it became one of the most famous cryptocurrencies. Even though it was initially Bitcoin's opponent, no one took it very seriously until its price reached the skies.
In a matter of a few years, Dogecoin crushed many other crypto options. Therefore, it changed the narrative when it comes to price prediction because no one thought it would change as much.
Nowadays, numerous investors are interested in this coin because it might open new doors for their trading journey. However, if you want to buy it, you need to trust a reliable platform, and this is where eToro comes in. This guide describes what you must know on the matter.
Step 1: Open an Account
The first thing you need to do to buy Dogecoin with eToro is open an account with this platform. Go to eToro Homepage.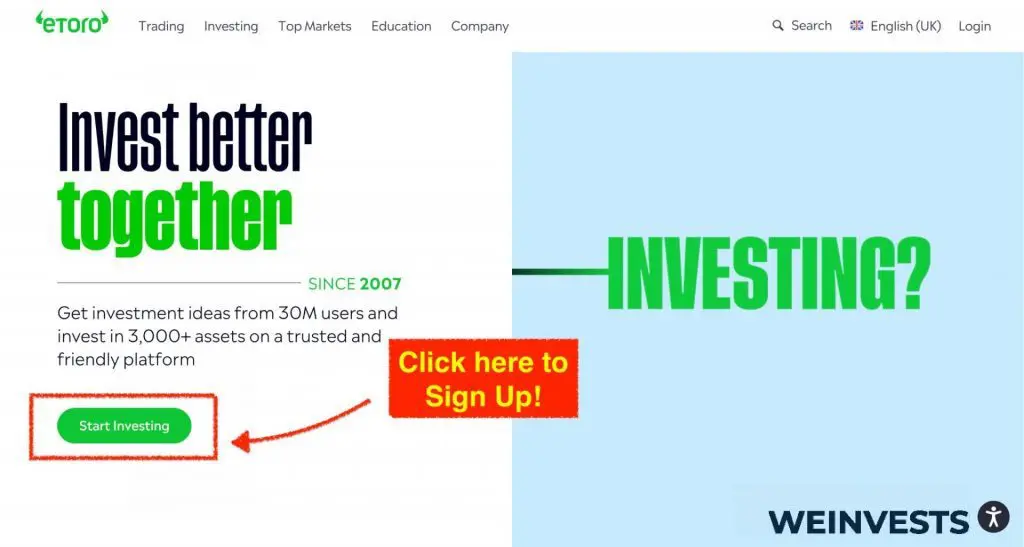 If you want to enjoy eToro's benefits, the process is forthright – you have to fill out your information in a specific form that the site provides.
Fill in all the relevant data about yourself, and once you're sure you've added all the details correctly, click on 'Create Account'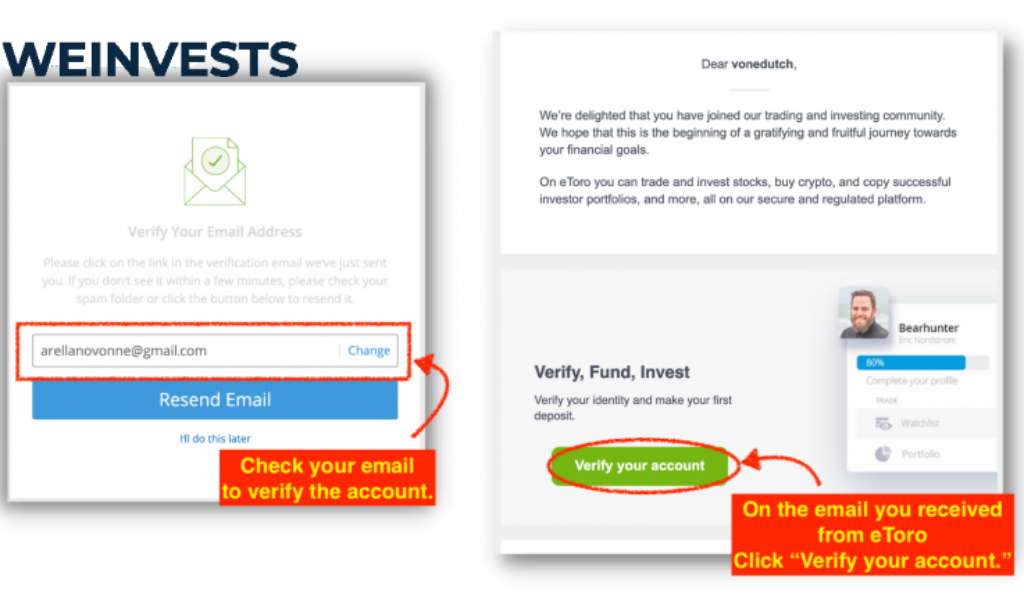 Nonetheless, before you sign up, make sure you review eToro's Terms & Conditions and the site's privacy policy.
Step 2: Upload ID
Even though there are numerous trading platforms out there, eToro is one of the few ones that are legit and takes security matters very seriously.
Consequently, all new investors who open an account with eToro have to upload a valid ID (a picture of your passport works) and a document that confirms their residence. You can add a utility bill in the case of the latter.
This step might seem unimportant for some, but it's one of the most essential stages of the process because it allows the platform to make sure that its users are real people wanting to trade Dogecoin.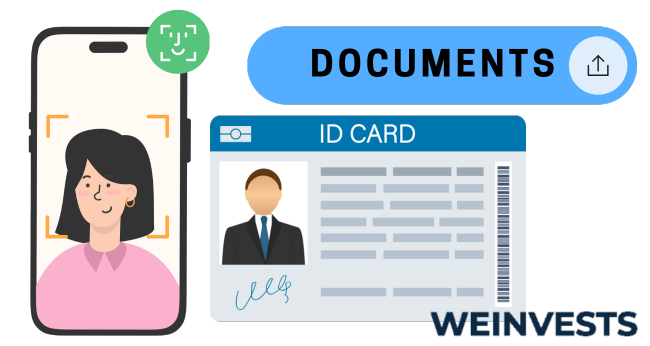 Step 3: Make a Deposit
Once you open and verify your account, you can proceed to fund it. You have to do this if you want to buy Dogecoin, otherwise, you won't have money to acquire the coin.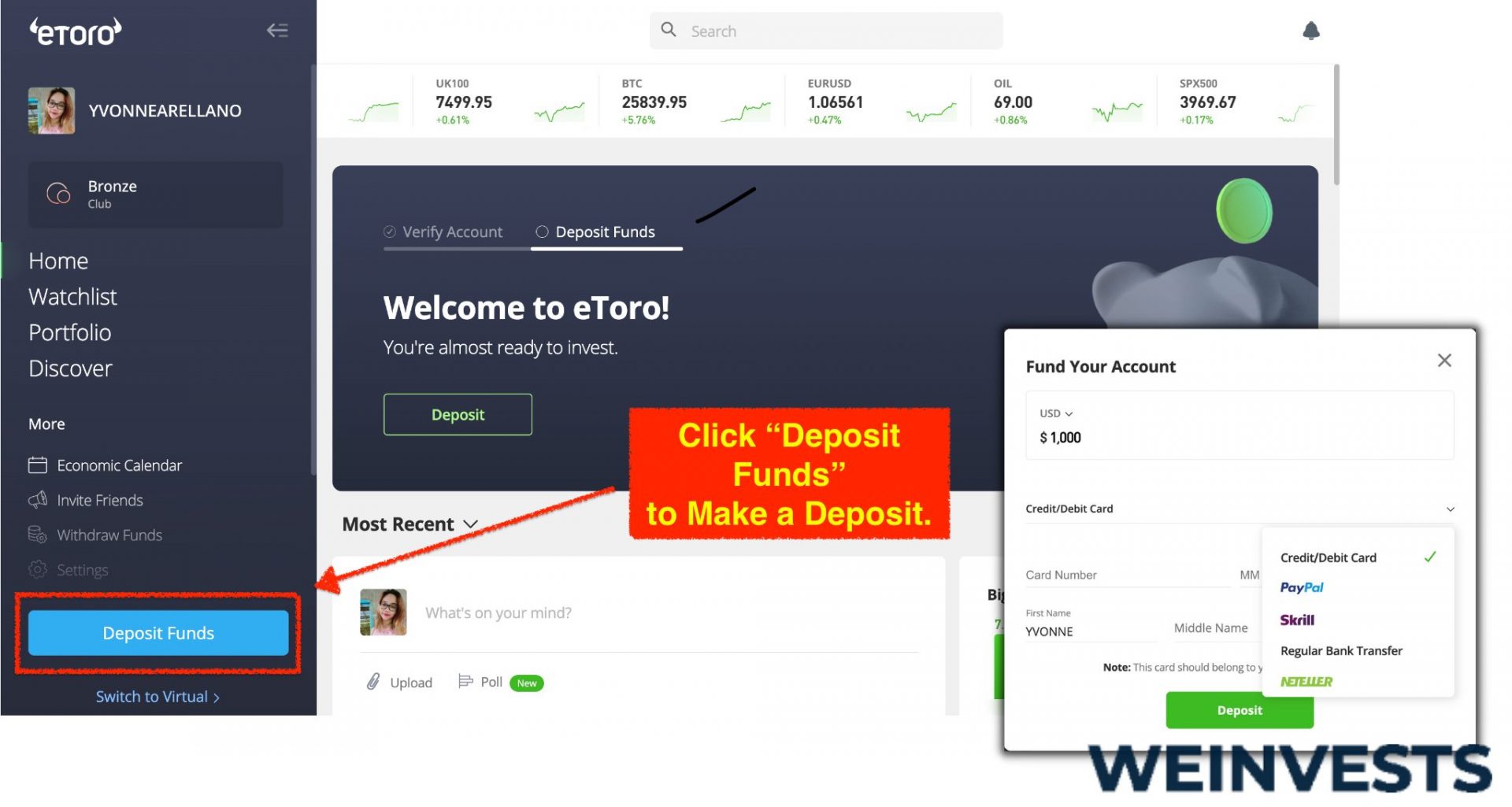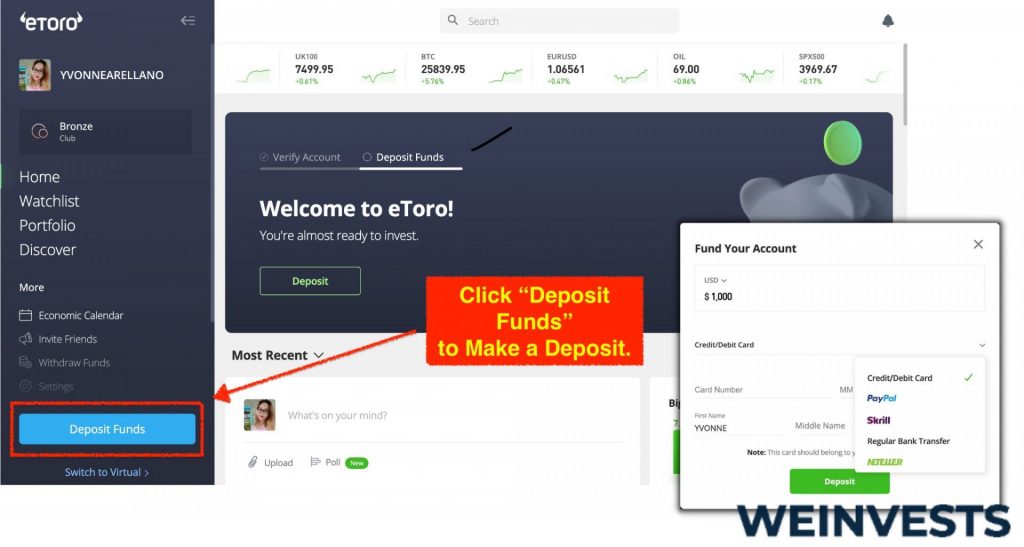 Depositing money in eToro is immensely straightforward as well. Log into your account and look for a button that says, 'Deposit Funds.' Then, choose how much you want to deposit and select the payment method you want to use.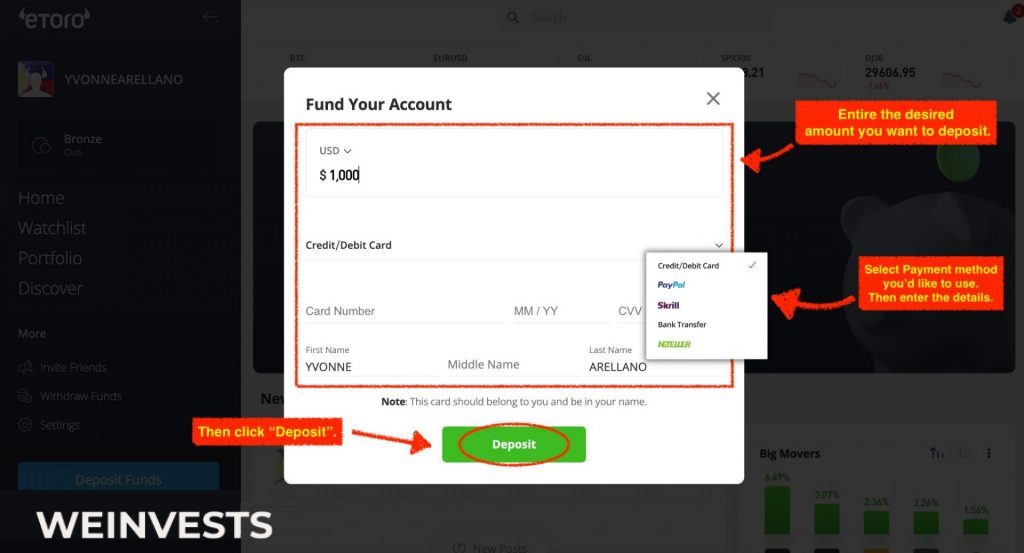 Step 4: Search for Dogecoin
If you made it to this step, it means your account is ready. Thus, you can get started by searching for Dogecoin in eToro, which is the final step before making your purchase.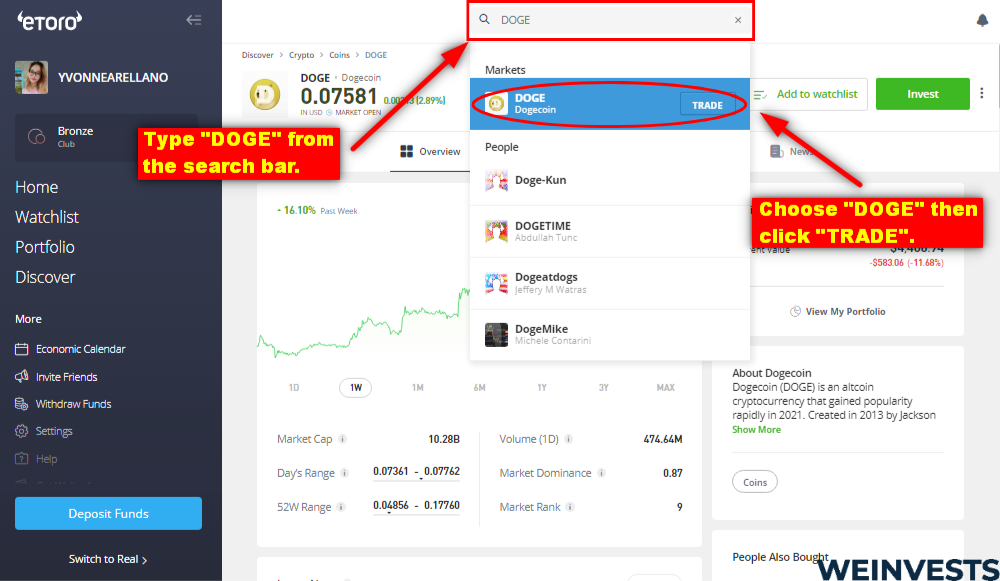 Step 5: Buy Dogecoin
Your account is ready, you know how much Dogecoin is worth, so you can make your purchase through eToro.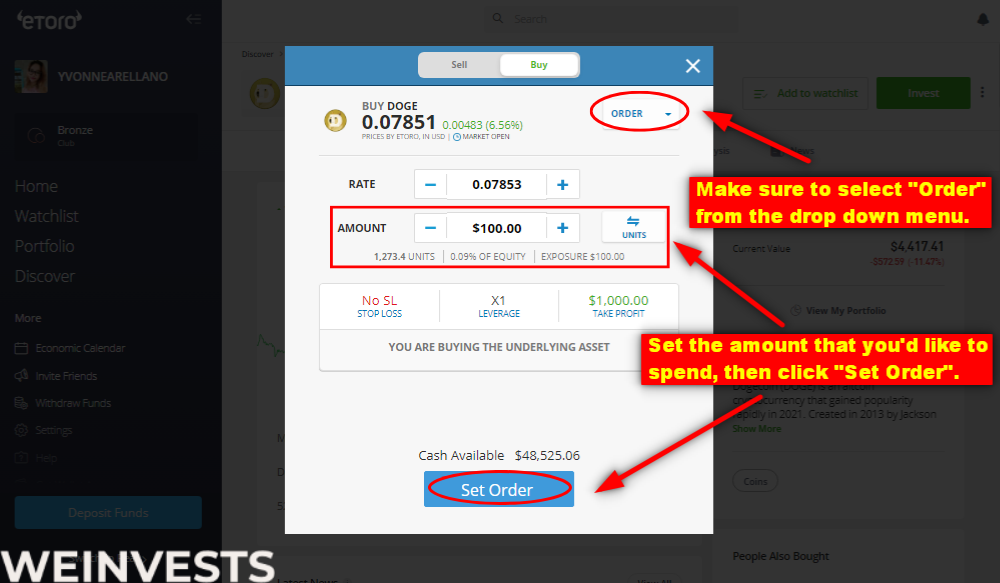 Even though predicting any crypto's price is immensely challenging, numerous traders believe that Dogecoin might be one of the most relevant cryptocurrencies in the near future. With eToro, you can purchase coins and expand your investment portfolio!
FAQs
How can I buy Dogecoin?
The easiest way to buy Dogecoin is to create a wallet and then purchase and exchange Dogecoin with Bitcoin or other Altcoins with a reliable exchanger.
Why did Dogecoin break the internet?
Don't be shocked, but Elon's tweets aren't the sole contributor to Dogecoin breaking the internet.
Doge's price pumpers include:
– Meme culture
– Social Media
– Elon Musk
– Robinhood
Meme Culture: Everyone loves memes. Memes are relatable, and you can easily connect with them better than you can with the complicated technology most tokens are marketing.
People who take Doge as the meme gives it enough hype juice it needs.
Social media: social media amplifies memes. Memes have high engagements on social media, and their algorithm pushes out memes to as many of their audiences as possible to organically generate traffic.
Elon Musk: Of course, Elon Musk is one of Doge's price pumpers. You don't have to be a crypto analyst to link his Dogecoin tweets to Doge's price surges directly.
Elon Musk is an avid meme lover, which might be fueling his support for Dogecoin.
Robinhood: TikTok media has easy Doge Trading tool access. Fractionated and commissioned free trading.
Will Dogecoin reach $1?
Doge is enjoying its hype bubble for the time being, but only time will tell if it can indeed reach $1.
The real danger is not in reaching $1; it is by reaching $1; according to Elon Musk, Doge's real danger is that most of its coins are heavily concentrated in a few wallets.
If such individuals decide to dump their tokens when Doge reaches $1, there will be a serious fall in price, and people will lose a lot of money.
That wouldn't be funny.
Is Dogecoin on TikTok?
Dogecoin is widely represented on social media such as Twitter and TikTok. In summer 2020 the
Remember when the Dogecoin TikTok challenge popped up, encouraging people to invest in this cryptocurrency?
But Dogecoin's biggest (in terms of influence impact) supporter is for sure Elon Musk and his constant tweets.
Why are people keen to pump the meme?
– People have fun about the meme and love pumping the meme.
– Traders making money from investing in Doge and hoping to drive up the hype and value in the hope of someone buying at a higher price than they did, are incentivized enough to pump Doge.
– Some set of people think Doge might become the next bitcoin with just enough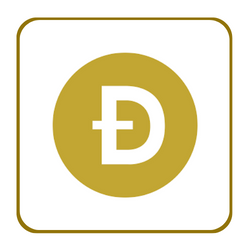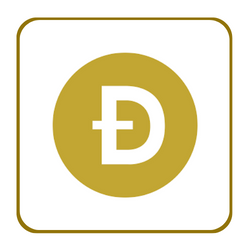 How to Stake Dogecoin
Dogecoin
staking
is possible because the token uses a so-called proof-of-stake or PoS mechanism. In contrast to proof-of-work, where miners are rewarded for validating new transactions on the
blockchain
, proof-of-stake networks reward their users for delegating their digital assets to validator nodes.  The more tokens you hold, the higher the chance one of your tokens ''is chosen'' to validate incoming blockchain transactions and thus provide you with staking rewards.
Risk Disclaimer
WeInvests is a financial portal-based research agency. We do our utmost best to offer reliable and unbiased information about crypto, finance, trading and stocks. However, we do not offer financial advice and users should always carry out their own research.
Read More