This content represents the writer's opinions and research and is not intended to be taken as financial advice. The information presented is general in nature and may not meet the specific needs of any individual or entity. It is not intended to be relied upon as a professional or financial decision-making tool.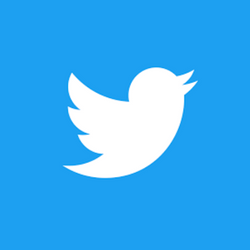 Twitter is the brainchild of a New York University alumnus, Jack Dorsey. He developed the idea as an undergraduate student engineer in 2006 after a podcasting venture by Evan Williams, Noah Glass, and Biz Stone. He came up with the name "TWTTR." The idea was to create a small messaging or microblogging app to facilitate easy communication among individuals and groups. Despite minor setbacks, the idea was successful after launch, but it remained a free SMS social element. Every year, the company improved its features to enhance user experience and gained millions of users.
In 2013, Twitter filed to go public. It announced the news in September via a tweet. The company listed stocks at $26, making $1.8 billion from 70 million TWTTR shares sales and giving a $31B market value. It rose to 73% during its launch, which was $44.90 at the end of the day.
However, the company under another leadership only became popular but wasn't making many profits. When Dorsey returned, he developed an idea to improve user interaction by adding extra features, including Fleets which was introduced in 2020, and Spaces in 2021. By the end of the year, Twitter had recorded over 210 active users, and Dorsey stepped down for Parag Agrawal to become CEO.
In 2022, Twitter was purchased by the South-African business mogul and the world's richest man, Elon Musk. He bought the company out for $44B, and his interests will bring about an overall change in services and stock prices.
What happened to Twitter?
According to technical analysis, Twitter stocks (TWTTR) were predicted to close in 2022 at a maximum price of $52.88. The reason was that it is a high-return stock and offers good profit potential. The long-term forecast is that it should increase by 6.57% in 2027. That means an investment of $200 in 2023 will become $213.14 in 2027.
Unfortunately, the forecast was only valid when TWTTR was public. It listed its initial public offering (IPO) at $26 per share in 2013. However, under Elon Musk's management, the company has gone private. He staked 9% at an average stock price of $36, which allowed him to buy out the company. Other shareholders agreed to sell their stocks at $54.20 per share and claim cash value. This action brought about the delisting of the stocks from the New York Stock Exchange in November. Twitter will only become a private company with new board directors and a different trajectory.
Twitter Stock 2022
Compared to most assets in the stock market globally, Twitter stock did well in 2022. It started the year at about $43 and fell below $35 at the end of February. Twitter stock recovered from there and surpassed the $50 as of October 27.
2022 was the year Twitter changed its ownership baton, and the transition has changed the dynamics of the stock in a remarkable way. Elon Musk started acquiring Twitter shares in January 2022, and became the largest shareholder in April with 9.1% stake in the company. On April 14, he moved to purchase the company, a decision the board eventually agreed to a $44 billion deal on April 25.
The multibillionaire made a U-turn on his decision in July, asserting a breach of contract by Twitter as they refused to crack down on spam bot accounts.Twitter filed a lawsuit against Mr Musk in the Delaware Court of Chancery. Elon Musk eventually completed the deal on October 27 weeks before the trial started. With Elon as the new owner and CEO, Twitter was delisted from NYSE and became a private company.
Twitter Stock 2021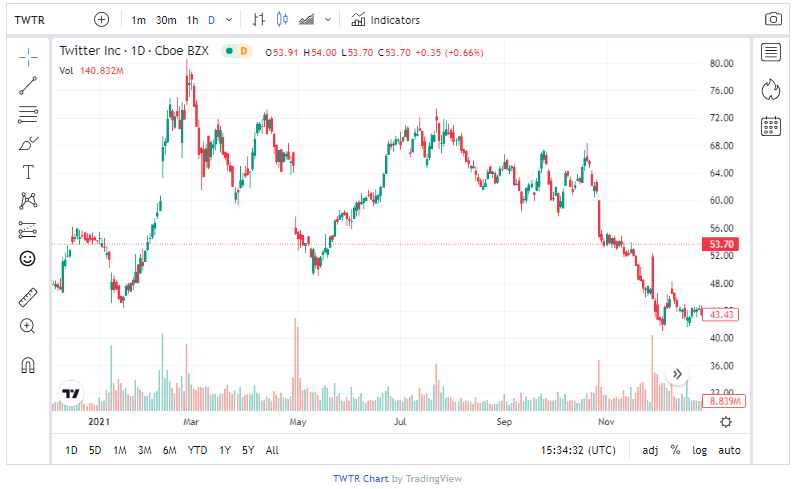 One year before Twitter's delisting as a public company, TWITTR opened in 2021 at $48.55. It wasn't much of a rise compared to the sales after the IPO launch in 2013. However, the social platform had great potential, so stock owners believed it would do well later in the year, which it did. In the second month of Q1, the price increased to $80.75 and maintained stability with slight fluctuations until November. In this Q4 month, the price had dropped back to its starting price and was struggling. It ended the year at $44.46.
Twitter Stock 2020
This microblogging app stock opened in 2020 at $32.97. It had a good run, even with the rumors of a pandemic. Unfortunately, COVID-19 and global lockdowns in various countries affected the month of February. The price dropped to an all-time low of $22 and continued to remain that way until the mid-part of Q2. Most people were home, working remotely, and looking for new ways to invest money at the time. The price went back to $30.50 on May 20 2020, and kept increasing until the latter parts of the year. According to Q4 results, TWITTR stock closed in 2020 at $54.33.
Twitter Stock 2019
2019 was a consistent year for TWITTR. Stock prices hardly increased or decreased throughout the year, leaving investors caught between deciding to invest or not. It opened in January at $32.28 and closed the year at $32.03 in December. Between Q1, Q2, Q3, and Q4 2019, the stock's highest price was $44.09. It was a one-time experience on September 23 2019.
Twitter Stock 2018
2018 had a lot of ups and downs. This company had only grown in popularity but hadn't become profitable. Throughout the entire year, Twitter Inc. tried various means to make profits by introducing new features to improve the microblogging or messaging experience. Unfortunately, stock prices were only momentary with the introduction of different initiatives. For instance, it started Q1 2018 at $24.94, and by the end of the month, it increased to an all-time high of $36.80. It also experienced a rise and fall between Q2 and Q3, which was discouraging for potential investors. By Q4, the price was fluctuating below and above $30. The stock price was $28.43 by the end of 2018.
Twitter Stock 2017
As Twitter grew in popularity in 2017, the stock prices increased, but not so much. Jack Dorsey had just resumed his CEO position two years after Richard William Costolo headed the company for five years. His interest in promoting the social platform was strong, and he welcomed ideas on increasing profits. TWITTR stock had just opened the year at $17.13 and was experiencing challenges increasingly during the latter part of the year. There was a bit of hope in November when the price increased to an all-time high of $22.48. It continued to increase slowly until it closed for the year at $24.01.
Twitter Stock 2016
Talk about consistency, TWTTR was exactly that throughout 2016. It had ups and downs and wasn't increasing as much compared to the price at IPO. The stock dandled between $14 to $18 between Q1 to Q4. It opened the year at $19.87 and closed at $16.30, which was a 17.96% decrease from year to date.
Conclusion
Twitter is arguably one of the best social platforms ever created. This idea changed the history of microblogging, and everyone accepts it for what it is. While there are millions of users because of this platform's free service, it hasn't always generated the most profit. Recently, Twitter was bought by the world's richest man, Elon Musk, and it was turned into a private company. Now, users may have to pay for some services while using the platform.
This change in ownership and operation affected stock prices. Since it is a private company, stocks have been delisted from NYSE and other exchange platforms. This move by Elon got him a lot of backlash, but his visions for the platform seem long-term. So, while it is unfortunate that people cannot become TWTTR investors, future plans may have something more favorable.
FAQ
Will TWTTR Stocks Become Public Again?
Twttr stocks have been delisted on public markets due to securities filing. However, there is no mention of whether it would become public again or not.
Jack Dorsey, the founder of Twitter, still shares with the company. He rolled 18 million shares (approximately 2.4% stake) into the Elon-led company.
What is the Current TWTTR Stock Price?
According to Performance Outlook, the previous close of TWTTR stock was $53.35.
Risk Disclaimer
WeInvests is a financial portal-based research agency. We do our utmost best to offer reliable and unbiased information about crypto, finance, trading and stocks. However, we do not offer financial advice and users should always carry out their own research.
Read More