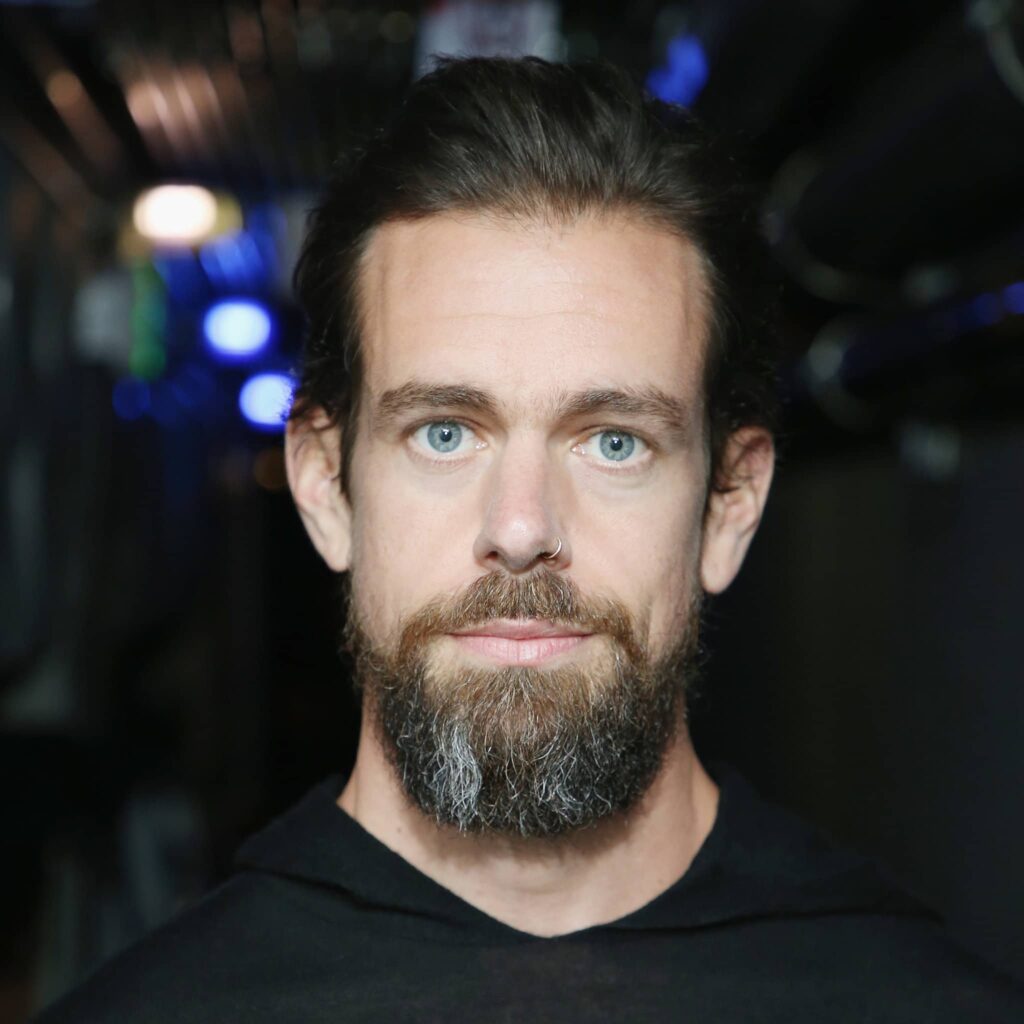 Jack Dorsey is the CEO and co-founder of the social media platform Twitter. He is also the owner and founder of an American financial services and digital payments company called Square Inc. He is famous for his life of luxury, particular habits such as ice baths and fasting, and being a longtime advocate and lover of cryptocurrency.
Why are Jack Dorsey and the companies he has founded such advocates and lovers of cryptocurrency and Bitcoin? What are Dorsey's views on its future?
Jack Dorsey's Net Worth
Jack Dorsey is a highly successful American entrepreneur and computer programmer who co-founded both Twitter and Square, Inc. He is also known for his involvement in cryptocurrency and NFTs (non-fungible tokens). Below is a detailed table of Jack Dorsey's net worth, including information on his earnings, investments, and other assets, including his involvement in cryptocurrency and NFTs.
Table: Jack Dorsey's Net Worth
| Category | Amount |
| --- | --- |
| Earnings (Square) | $15 billion (estimated) |
| Earnings (Twitter) | $1 billion (estimated) |
| Other Earnings | $100 million (estimated) |
| Investments | $20 million (estimated) |
| Crypto Investments | $200 million (estimated) |
| NFT Investments | $5 million (estimated) |
| Real Estate | $60 million (estimated) |
| Total Net Worth | $391 million (estimated) |
Updated Mar. 2023
Earnings:
Jack Dorsey's estimated net worth is $391 million, according to various sources. The bulk of his earnings come from his leadership roles in Square, Inc. and Twitter, two highly successful companies that have seen significant growth in recent years.
Investments:
Dorsey has made significant investments in various businesses and startups over the years, including investments in companies like Pinterest and Uber. According to estimates, his investments are worth around $20 million.
Crypto Investments:
In recent years, Dorsey has become heavily involved in cryptocurrency, particularly in Bitcoin. He has made some significant investments in the digital currency, and Square, Inc. has also invested in Bitcoin. According to reports, his crypto investments are worth around $200 million.
NFT Investments:
Dorsey has also become involved in NFTs (non-fungible tokens), a type of digital asset that is unique and can be bought and sold like any other asset. He has reportedly made some investments in various NFT-related projects, including digital art pieces and other unique items. According to reports, his NFT investments are worth around $5 million.
Real Estate:
Dorsey owns several properties around the world, including a $9.9 million mansion in San Francisco and a $4.5 million home in Los Angeles. He also reportedly owns properties in New York and Hawaii. In total, his real estate holdings are estimated to be worth around $60 million.
Jack Dorsey is a highly successful entrepreneur and computer programmer with an estimated net worth of $391 million. The bulk of his earnings come from his leadership roles in Square, Inc. and Twitter, and his involvement in cryptocurrency and NFTs add to his overall net worth. Dorsey's real estate holdings also add significantly to his net worth, and his continued success in the technology industry is likely to see his net worth continue to grow in the coming years.
Jack Dorsey & Bitcoin
On the 14th of May 2021, he tweeted from his personal Bitcoin account that "Bitcoin changes everything for the better and that "we will forever work to make Bitcoin better."
Dorsey later tweeted that same evening that he believes the future of Bitcoin and cryptocurrency as a whole is only going to improve, grow and increase in popularity. According to him, the Bitcoin revolution cannot be changed or stopped. This is a key reason why the billionaire is such a lover and huge fan of Bitcoin.
Dorsey has been an advocate and has described the digital currency as "principled" and "resilient". His company Square Inc. has invested as much as $170 million in Bitcoin and purchased around 3318 Bitcoins.
This is not the first time the company and its founder have invested their capital and trust in cryptocurrency, as the digital payments company previously spent $50 million on Bitcoin. This brings the firm's total holdings to 8027 Bitcoins, which is worth over $400 million. These investments represent a total of 5% of the company's securities, cash, and cash equivalents.
Square believes that cryptocurrency can become an economical instrument for empowerment. The company sees it as a global monetary system for individuals all around the world to secure their financial futures. That is the reason for implementing a Bitcoin strategy that is aimed at working towards a greener future.
However, Square has recently stated they have no further plans to invest in any more Bitcoin. Nevertheless, the company's strategy around cryptocurrency has not changed.
On the 12th of February 2021, Jack Dorsey and US rap artist Jay-Z announced their combined vision and desire to make Bitcoin the internet's currency. The pair have put their digital capital where their mouths are through the creation of a new Bitcoin development endowment called Trust.
Dorsey tweeted that Jay-Z and himself are giving 500 Bitcoins to the endowment trust to fund Bitcoin development in Africa and India. The project is seeking three board members in its mission to achieve the required objectives.
On the 25th of March 2021, Jack Dorsey gave testimony as the CEO of Twitter at a hearing on Disinformation Nation. This hearing was a discussion based on the topic of social media's role in promoting extremism and misinformation.
However, Dorsey used this virtual streaming platform as an opportunity to show the entire world his love for cryptocurrency with a Bitcoin clock displayed over his right shoulder. While it can show the time as a regular clock would, the main purpose is to show the current price of Bitcoin and other cryptocurrencies.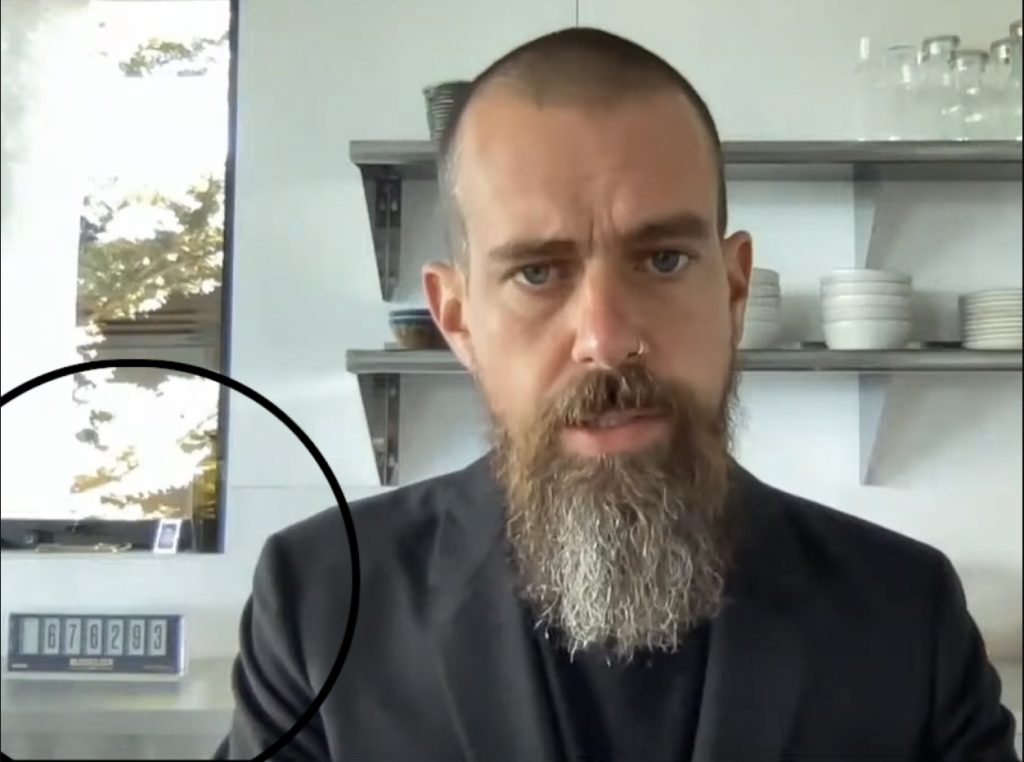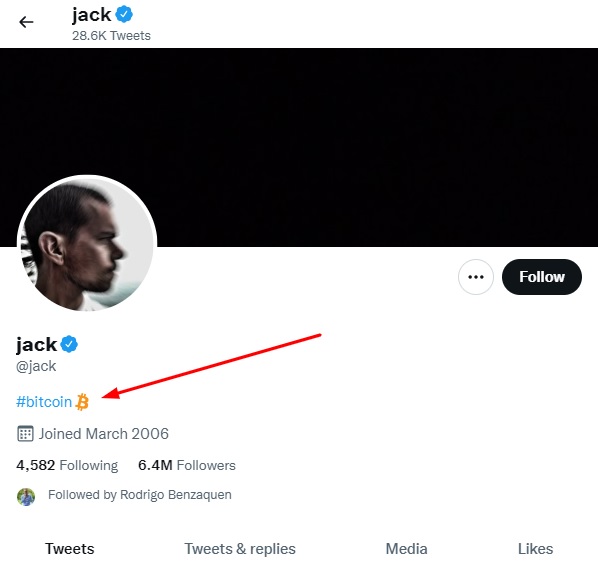 Moreover, Dorsey is such a lover and advocate for Bitcoin and believes in its future to such a high degree that it makes up the only text in his Twitter bio description.
The billionaire CEO has a Twitter profile description of "#Bitcoin," with an emoji of the Bitcoin logo next to it.
The Twitter CEO has a big vision for Bitcoin and in a recent interview with The Times, he stated that he believes that cryptocurrencies such as Bitcoin should become the world's single currency within 10 years.
According to Jack, the world is ultimately going to have one currency as is the internet. He believes that the medium is going to be none other than Bitcoin. Dorsey estimates that this transition is going to happen within the next 10 years, but it could come ever faster than that.
He has gone on record many times on several podcasts and interviews listing the benefits of Bitcoin while hailing it as a future currency and describing it as the "next big unlock" in terms of the financial world. Only time can tell if he is on the right track with his thoughts or if he may have miscalculated.
Has Jack Dorsey Traded Bitcoin?
Twitter and Square CEO Jack Dorsey has been a Bitcoin investor since 2017 and believes that digital currency can be a reliable and sustainable financial alternative.
In collaboration with Shawn Carter (better known as Jay-Z), the two have collaborated to further develop Bitcoin mining in Africa and India. Recently, Dorsey pledged $5 million to create a solar-operated mining facility. Working with Blockstream, a Canadian company specializing in storing digital assets, Dorsey hopes to create a greener approach to Bitcoin, which received recent scrutiny for the environmental damages mining has.
Amongst the sustainable Bitcoin farm, Dorsey is also working on an integrative Bitcoin wallet to make it easier to use one's digital currency.
Risk Disclaimer
WeInvests is a financial portal-based research agency. We do our utmost best to offer reliable and unbiased information about crypto, finance, trading and stocks. However, we do not offer financial advice and users should always carry out their own research.
Read More