This content represents the writer's opinions and research and is not intended to be taken as financial advice. The information presented is general in nature and may not meet the specific needs of any individual or entity. It is not intended to be relied upon as a professional or financial decision-making tool.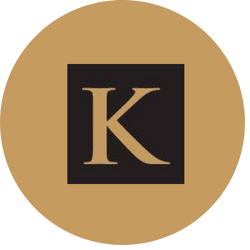 Kinross Gold Corporation was founded in 1993 and is based in Toronto, Canada. It is involved in the purchase of potential gold reserves (mines) along with its affiliate businesses. It is also active in exploring and developing gold mining areas. Its main operational focus lies in the USA, Brazil, Chile, and Mauritania. The company is also involved in the mining and processing of mixed gold ores. It also works for the recovery of areas where gold was mined. The refining and trading of silver is also an associated business.
The company produces approximately 2.4 Mn gold equivalent ounces per annum and is estimated to own about 30 million ounces of probable gold and 60 million ounces of silver reserves. It runs greenfield and brownfield exploration sites in North and South America, Africa, and Russia. It generally acquires its sites when entering a new region.
Kinross Gold Stock Forecast 2023
Gold prices have been going up after touching the lowest point of the year in November 2022. rising rates mean that mining companies can be expected to earn higher profitability rates in the coming year. this prospect of higher income it's not translated into higher stock prices. This means that Kinross Gold is undervalued at its current market price. This makes it a good trade for investors looking for exposure to gold shares.
Kinross Gold Is also expected to remain stable due to its diversified business exposure spread over the Americas, Africa, and mineral-rich Russia. Its financials have grown by over 7% in the last five years, while its net profit has grown by over 450%. Net profit margin has also increased from 2% to over 14% for 2021. The share price is expected to rise post-release of 2022 financial results.
Kinross Stock in 2022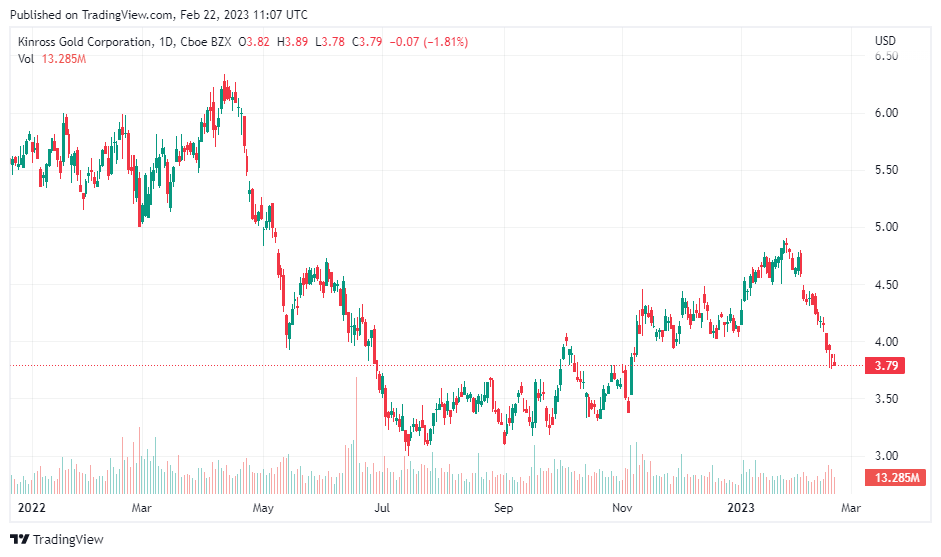 In this graph for 2022, you can see significant ups and downs. On April 8, 2022, Kinross Gold stocks jumped to $6.2 because of announcements in its quarter result about the company selling off its Russian assets for $680 Mn. Investors received this news with relief as the company had suspended its Russian operations since March 2022. This high was eventually offset by the steep dip seen on May 12, 2022 ($ 4.06), when its quarterly earnings were lower than expected due to lower operating income.
The weakest points of the year were seen on July 15, before the release of its Q2 results. Expectations were minimal for the company to match its earnings estimates successfully. The price has remained in the $3 – $4.5 range since then, showing the stock's undervaluation.
Kinross Stock in 2021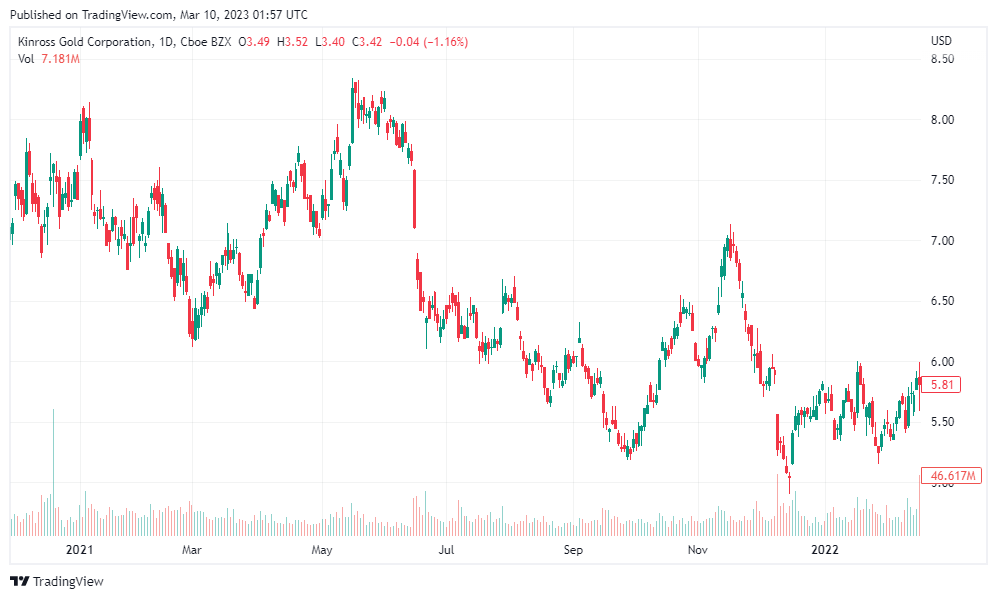 In the graph for 2021, you can see even more dramatic ups and downs. On March 1, 2021, Kinross Gold stocks fell by almost 15% because of announcements about the company trading Great Bear Resources for $1.4 billion. Investors received this news with a significant dip, while Great Bear Resources prices rose after the report.
This low was eventually offset by the steep peak seen on May 12, 2021 ($ 7.8), when its quarterly earnings were better than expected due to lower operational costs.
The weakest points of the year were seen on September 29, before the release of its Q3 results, when expectations were minimal for the company to match its earning estimates. The price recovered after the company announced approval for its share buyback program. The stock peaked on November 15, when it released earnings reports for its Udinsk and Lobo-Marte project studies, and Q3 earnings were received positively by the market.
Kinross Stock in 2020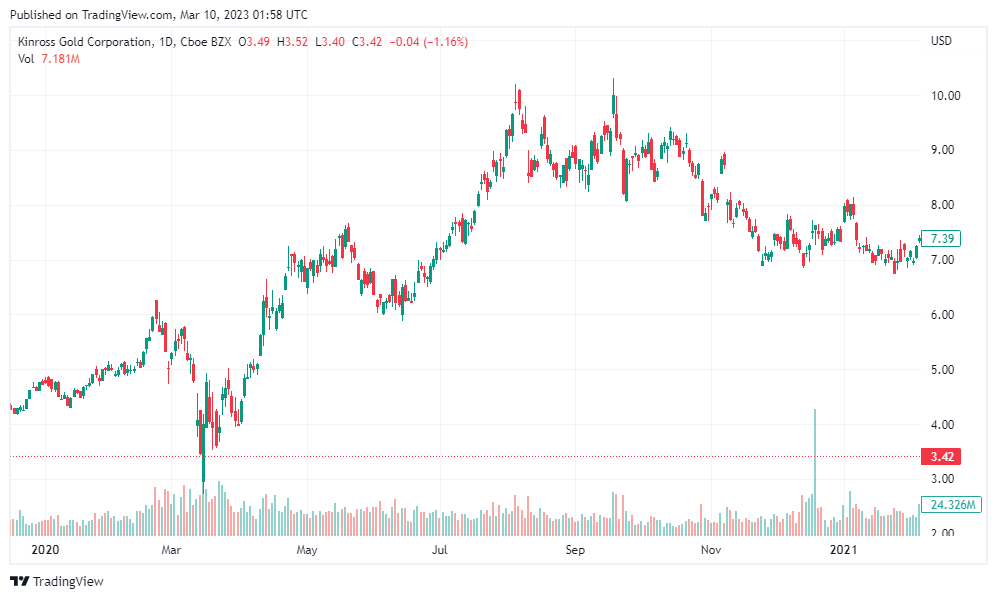 In the graph for 2020, you can see less drama up to March 2020. this is surprising because this was the COVID-19 year when the stock market crashed in March. If you see the graph, you will see that the stock did well. Kinross Gold stocks fell after the Q1 earnings announcement and its Paracatu report. Investors received this news with a significant dip while the stock continued to fluctuate up to March 31st, after which it started to rise. The stock posted strong Q2 and Q3 results. The forecasts for Q4 were also optimistic, due to which the prices trended upward until September 15. The stock peaked at $10 per share. Prices fell when the company announced dividends and plans to acquire 70% interest in the peak gold project in Alaska. This led to a dip in stock prices. The stock price managed to do well on the whole compared to other years.
Kinross Stock in 2019
2019 started at a low point for Kinross Gold which ended on February 19, when the company released earnings results for Q4 2018 and full-year results. However, this short-term peak quickly dipped into further depths until May 10, 2019, when the Q1 results were released, and the company reported better operating margins.
This was the turning point for 2019 as the stock price steadily rose to the top. The peak price was reached on September 24th, when the stock touched $ 5.4. This positive sentiment was mainly due to news released by the company about pursuing its Tasiast 24K project. This positively viewed project head boosted the market price of the company shares. A temporary dip occurred in November when the Q3 results were released. However, the stock closed the year at $4.74.
Kinross Stock in 2018
2018 started at a high point for Kinross Gold which ended on February 14, when the company released earnings results for Q4 2017 and full-year results. The less-than-satisfactory results meant that the price remained volatile and continued to follow a downward trajectory until April 9th, when the company's Russian holdings were expected to be sanctioned. This, however, did not happen and helped boost the share price, which rose until May 8, 2018, when the Q1 results were released, and the company reported average results.
The stock price maintained a stable price range up to June 6, 2018. The share then started a downward fall that continued up to August 6, 2018, when the Q2 results were judged to be better than anticipated, and the stock began to attract speculators. The rest of 2018 is a literal see-saw of dips and troughs.
Kinross Stock in 2017
The chart for 2017 looks like a mountain range and shows just how the market reacted to the significant earnings points for the company. The year's first peak occurred on February 8, a week before the company was due to release its earnings results for Q4 2017 and full-year results.
The results released meant that the price continued its downward trend. The pricing volatility continued downward until March 15, 2017, when the rumors of the company selling its Cerro Cesale holdings started to circulate. The stock began to follow a rising trend until June 7th, when the company's Cerro Cesale holding sale was finalized. The announcement of Q2 results on August 2 led to an anticipatory rally, and the share continued to fluctuate heavily. Positive performance and results led to price rises, and the stock rose to a peak of $4.89 on September 7, 2017, when its Tasiast Phase two and Round Mountain feasibility studies were to be released. These being positive led to the rally for the share prices, which continued to fluctuate until October 26, when they dipped to a low of $3.87. positive earnings for the Q3 meant that the share price continued to be actively traded. The announcement of a new mining right caused a dip on December 12, 2017, which led to positive market sentiment, and the share closed the year on a rising trend.
Conclusion
Kinross Gold Corporation is an undervalued stock with potential in the current market. The stock has a volatile history and a habit of fluctuating drastically on minor news and events.
It is also a good option for medium-term investors due to strong market prospects and steady demand for gold.
Value investors already find the price attractive because the stock is significantly undervalued and will face a steady demand through 2023. People already holding the stock should stick it out until the price rises further, as expected.
FAQ
How High will Kinross Gold Corporation stock rise?
Price estimates for 2023/24 are projected for the stock to reach $5.9. the volatility of the stock means that the expected price ranges between $3.9 to $7.9.
Do Gold prices rise during inflation?
During recessionary periods, the price of gold usually goes up. The decline in the actual value of money means that people prefer to invest in physical gold. This means that gold companies' stock prices go up as the demand for their product rises. So as a result, the stock prices of gold companies also rise. This is why it is forecasted that Kinross corporation stock prices will increase all through 2023.
Should I Trade Kinross Gold Corporation Stock?
It is a trade at its current low prices as stock prices are expected to rise in the net 12 months.
Risk Disclaimer
WeInvests is a financial portal-based research agency. We do our utmost best to offer reliable and unbiased information about crypto, finance, trading and stocks. However, we do not offer financial advice and users should always carry out their own research.
Read More