This content represents the writer's opinions and research and is not intended to be taken as financial advice. The information presented is general in nature and may not meet the specific needs of any individual or entity. It is not intended to be relied upon as a professional or financial decision-making tool.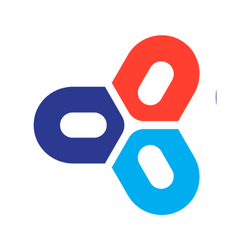 Compass Therapeutics operates in the biotechnology space with a focus on oncology. The Boston, Mass.-based company develops next-gen antibody-based therapeutics to bolster the immune system and fight diseases like cancer. With a market cap of $581.74 million (as of December 2022), Compass Therapeutics is considered a mid-cap company with the potential for more room to grow.
Compass Therapeutics harnesses the relationship between angiogenesis, the immune system and tumor growth for a pipeline of drug candidates that help the body respond effectively to tumors. The company is focused on discovering ways to engage the immune system to fight cancer.
The company's high-profile drug candidate, CTX-009, is currently in ongoing Phase 2 and Phase 3 clinical trials for Biliary Tract Cancers (BTC) and Colorectal Cancer (CRC). Compass has also inked partnerships with the likes of pharma giant Merck to explore how their drugs can work together to combat tumors.
While Compass Therapeutics is not yet profitable, it is not hurting for cash flow. The company has what it describes as enough "cash runway" to fund drug trials through 2026 thanks to an equity financing in the capital markets combined with current cash and equivalents.
The biotech sector tends has a tendency to be volatile, due to the uncertainty around drug trials and regulation, and CMPX stock is no exception. In the past 52-week period leading up to mid-December 2022, the stock has traded between $1.25 and $5.07. Wall Street analysts remain bullish on CMPX shares, with several "buy" ratings attached to the stock.
Founded in 2014, Compass Therapeutics boasts a deep bench of global leaders on its advisory board with expertise in drug development, pharma, and clinical trials.
CMPX Stock Forecast 2023
Compass Therapeutics boasts a robust drug pipeline, which explains why analysts are bullish on the stock. The Phase 2 and Phase 3 studies for cancer drug CTX-009 extend into H2 2023, at which time the company plans to initiate a Phase 1 study for its CTX-8371 drug also for cancer after filing an Investigational New Drug Application (IND) earlier in 2023.
The Compass Therapeutics, Inc. stock has buy indications from both short and long-term moving averages, indicating that the stock is expected to beat the market over the next twelve months, according to analysts.
Based on five Wall Street analysts' 12-month price targets for Compass Therapeutics over the previous three months. The average price estimate is $9.66, with a top of $11.00 and a low of $8.00 expected. The average price prediction represents a 109.54% increase over the previous price of $4.61.
CMPX Stock 2022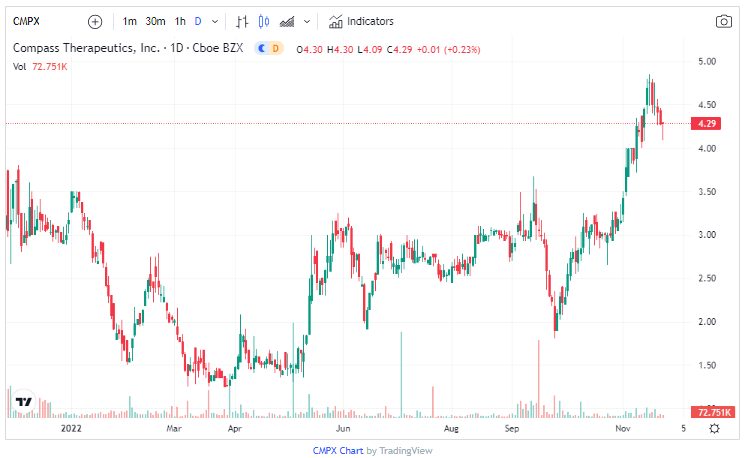 Investors were in a risk-off mood in 2022 due to a perfect storm of high inflation, rising interest rates, and a looming recession. However, biotech stocks were largely shielded from any economic downturn because they were not dependent on consumer spending. People will always need access to drugs to fight diseases like cancer, which worked in the sector's favor.
CMPX stock is traded near its 52-week high heading into the final stretch of 2022. The stock got a boost after healthcare investor Orbimed Advisors acquired over 400,000 shares in the market on Nov. 8, 2022, which helped the stock climb 40% higher. Orbimed poured nearly $1.3 million into CMPX at $3.21 per share.
If Wall Street analysts are right, the stock has more runway for gains. Raymond James recently lifted its price target on Compass shares from $5 to $8 compared to an average price target of $10. HC Wainwright & Co analysts have a price target of $10 on the stock.
Compass Therapeutics boasts a robust drug pipeline, which explains why analysts are bullish on the stock. The Phase 2 and Phase 3 studies for cancer drug CTX-009 extend into H2 2023, at which time the company plans to initiate a Phase 1 study for its CTX-8371 drug also for cancer after filing an an Investigational New Drug Application (IND) earlier in 2023.
CMPX Stock 2021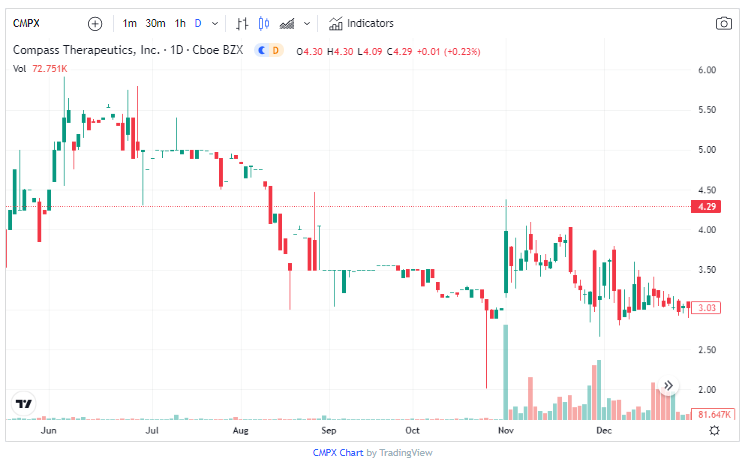 Compass Therapeutics started trading in the public markets in early November 2021 on the Nasdaq at $3.50 per share. The company sold 35,715,000 shares of common stock. After peaking at just over $4 per share, the stock closed down on the year at $3.17 per share.
CMPX Stock 2020
Compass Therapeutics was planning an IPO in November 2020. However, the company abruptly canceled the deal at the eleventh hour, blaming unfavorable market conditions.
Compass Therapeutics became the company it is today as a result of a reverse merger with Olivia Ventures in June 2020. The deal was completed alongside a $60 million private placement.
The private placement attracted a roster of existing and new investors into the company including OrbiMed, F-Prime Capital, Borealis Ventures, Cowen Healthcare Investments, Peter Thiel, Biomatics Capital, Ulysses Diversified Holdings, Biomed Realty Ventures, Consonance Capital and Limulus.
CMPX Stock 2019
Compass Therapeutics was not publicly traded in 2019. However, the company had a listing in its sights and was participating in Wall Street healthcare conferences and cancer symposiums, including those hosted by JPMorgan and Cowen & Co. Compass specialized in its novel approach to antibody discovery and development back then, when its focus was similarly on eradicating tumors.
Compass reached a major milestone in 2019 when its maiden patient was dosed in a Phase 1 trial for its CTX-471 product. The trial targeted patients with metastatic or locally advanced solid cancers. Today Compass is collaborating with Merck for its CTX-471 human monoclonal antibody.
CMPX Stock 2018
In 2018, Compass Therapeutics completed a $132 million Series A financing after adding $49 million to the early round. It was this financing that paved the way for clinical trials of its antibody-based therapeutics. This is also when Compass made its way onto the radar as a future listed company.
It was also named of FierceBiotech's Fierce 15 Biotechnology Companies that year. Compass was touted as one of the "most promising private biotech companies in the industry." Compass said it was honored to be recognized for its "pioneering approach to antibody-based therapeutics."
CMPX Stock 2017
Even though Compass Therapeutics was a young company in 2017, it counted billionaire investor Peter Thiel among its backers at this time. Thiel Capital was among the participants in the biotech company's $170 million round alongside other backers OrbiMed Advisors and F-Prime Capital, previously known as Fidelity Biosciences.
CMPX Stock 2016
Compass Therapeutics raised $49 million in 2016 in a Series A round. A trio of investors participated in the fundraising, including Founders Fund, Alumni Ventures, and 10x Capital.
Conclusion
As of Q4 2023, there is a great deal of uncertainty in the financial markets and the global economy. Investors have been fleeing risk due to the uncertainties from high inflation, rising interest rates, and a recession. Biotech stocks tend to be resilient during economic downturns because they are not dependent on consumer spending. The sector is defensive in nature, which bodes well for CMPX and its peers.
Compass Therapeutics stock continues to trade below its 52-week high of $5.07. If it is able to recapture those levels, investors would be in for profits. There are reasons to suggest that the stock has more runway for gains, including a roadmap for ongoing clinical trials throughout the coming year and beyond. However, there is no certainty that the company's products will continue to advance through these trials.
Institutional investors such as Orbimed Advisors have been adding to its position in CMPX, suggesting they anticipate the stock price will increase. In addition, Wall Street analysts are bullish on CMPX shares, with several buy ratings in play and an average price target of $10 per share compared to the stock's current level of approximately $4.61.
While Compass is not yet operating at a profit, it has no trouble raising capital in the equity markets. Most recently, the biotech play completed an $80 million private placement, the proceeds from which will be directed "toward advancing their pipeline of antibody treatments for oncology," according to Thomas Schuetz, MD, PhD, Chief Executive Officer and Co-Founder of Compass in a statement.
Compass attracted a number of institutional investors to the round, including but not limited to Janus Henderson Investors, Braidwell LP, Vivo Capital, Adage Capital Partners LP, OrbiMed, Monashee Investment Management and DAFNA Capital Management LLC. Thanks to the funding, Compass has enough capital to reach its development plans as well as clinical and regulatory milestones through 2025.
The company has inked strategic partnerships with the likes of pharmaceutical giant Merck to advance its antibody in the fight against cancer. Compass is growing the cash on its balance sheet but continues to operate at a net loss. The company's Q3 net loss was $12 million vs. $6 million in the year-ago period. However, for the nine-month period to Sept. 30, its net loss was $27.6 million vs. a steeper $69.2 million in the year-ago period.
FAQ
How high will Compass Therapeutics (CMPX) go in the stock market?
There no way to predict with certainty how a stock will perform in the market. However, Wall Street analysts are mostly bullish on the stock, having assigned "buy" and "overweight" ratings to the shares. In addition, analysts on average are predicting 126% upside from where CMPX is trading today. There could be ups and downs along the way given the volatile nature of biotechnology stocks and the uncertainty around clinical trials.
How long should I hold CMPX?
This depends on your investment horizon and when you will need access to the funds. However, biotech stocks require some patience due to the long-term nature of clinical trials before drugs are brought to market. So you might want to sit tight for a while.
When will Compass Therapeutics be profitable?
This is a good question. Compass is currently not profitable and it is unclear when they expect to achieve profitability. However, it's not unusual for biotechnology stocks to operate at a loss given the capital-intensive nature of drug development.
Risk Disclaimer
WeInvests is a financial portal-based research agency. We do our utmost best to offer reliable and unbiased information about crypto, finance, trading and stocks. However, we do not offer financial advice and users should always carry out their own research.
Read More