This content represents the writer's opinions and research and is not intended to be taken as financial advice. The information presented is general in nature and may not meet the specific needs of any individual or entity. It is not intended to be relied upon as a professional or financial decision-making tool.
Chainlink Staking is possible, because it provides a new level of cryptoeconomic security to the network. It allows users to earn rewards for improving the security of the services they use by backing them with LINK tokens. The platform is currently in its early stages and is expected to launch with v0.1. Through staking rewards, users can add an additional layer of security to their networks and protect themselves against loss and attacks.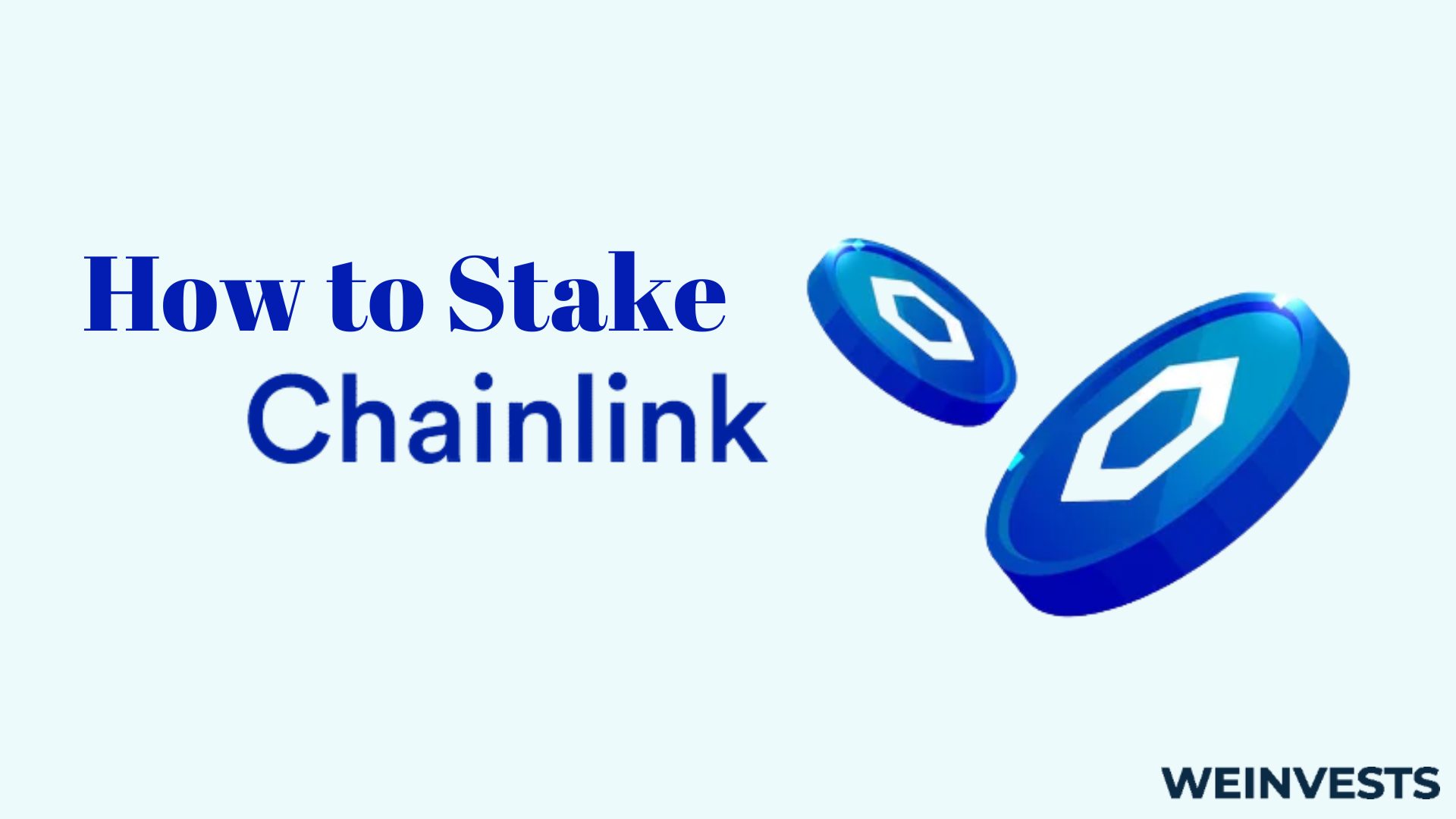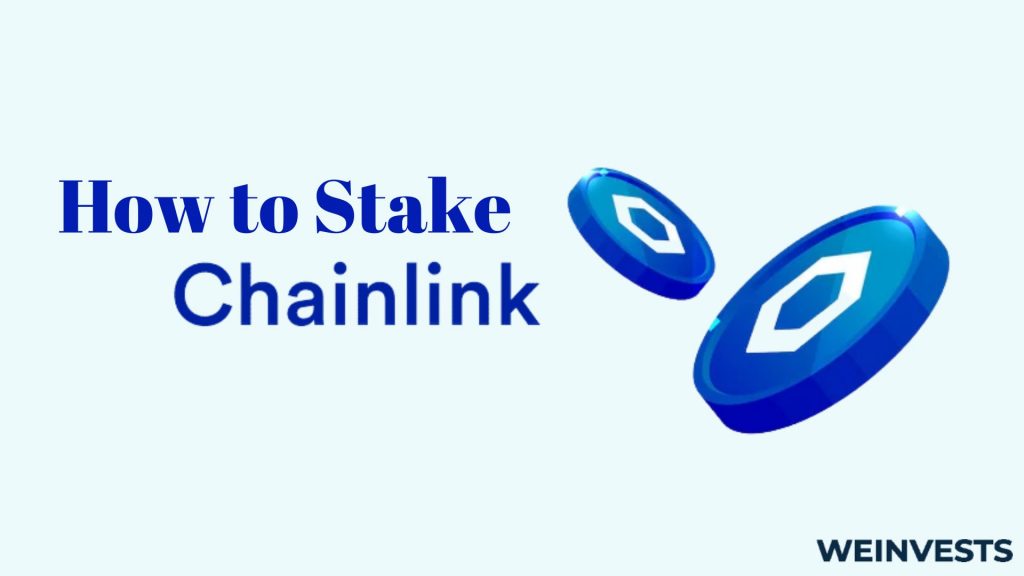 Pros & Cons of Staking Chainlink
Pros
Staking Chainlink helps you earn a portion of whatever the node operator makes.
Using nodes with more user demand will earn you more rewards.
You can use LinkStake, which is a tool that helps you stake more effectively using different nodes at the same time.
Cons
When you stake Chainlink, you are putting your assets as collateral, and if the node that you selected provides inaccurate information, you can lose a portion of your funds.
Not the easiest crypto to stake for users who are not tech savvy.
This is a new technology in early adoption and it has many inherent risks.
What is Chainlink Staking?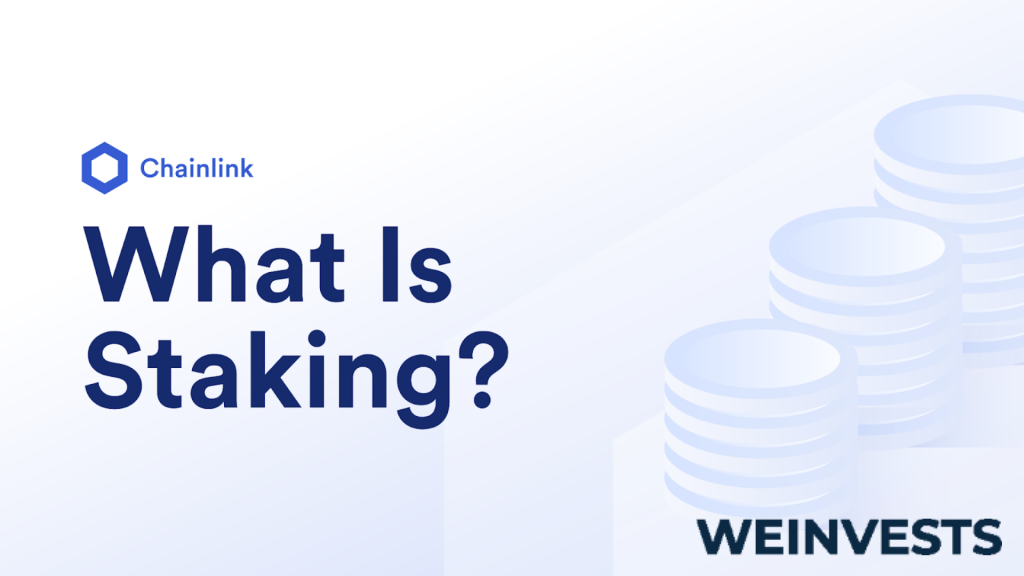 The goal of Chainlink is to get real-world data, such as the price of gold, onto the blockchain. Whenever someone wants to buy gold, they will pay a node operator to provide them with this data. When you stake Chainlink, you are giving the node a portion of the fee that it collects, and if it makes money from selling data, you will keep a portion. If the node provides inaccurate data, you will lose a percentage of your Chainlink.
How to Stake Chainlink?
Anyone can stake the Chainlink token. However, before you start make sure you are aware what cryptocurrency laws are in place in your country. There are many ways to get Chainlink, but there may be some inherent risks. First and foremost, it is a volatile asset that could go down in price rather quickly. As usual, the best way to obtain your tokens is to buy them when the price is low, and not at a peak. Also you should consider keeping your tokens in a wallet that you have more control over, such as the ones offered by Metamask or Ledger.

Chainlink staking is done through node operators. They are individuals who provide data to the Chainlink network. For instance, one of them is Everstake, which provides the current price of Ethereum. After staking is live, they will allow you to put Chainlink on their platform, and they will give you a portion of the earnings generated by them. To begin staking you will have to deposit your Chainlink tokens with the node operator. Depending on the node that you selected, you might earn rewards over time. You can keep the additional funds on the node operator that you selected, or you can withdraw them. New earnings can be withdrawn at any time, depending on the reward rate. Before you start staking, make sure that you have the necessary funds in your wallet by withdrawing them from an exchange. Then you may want to select node operators to monitor and to sign up for LinkStake.

One of the most popular platforms for staking Chainlink is Binance. However, you can also do it on other platforms, such as KuCoin and Crypto.com. In this article, we'll go through the steps how to stake Chainlink on Binance.
Step 1: Sign Up and Verify your Account
If you want to stake Chainlink, the first thing you must do is create an account on Binance.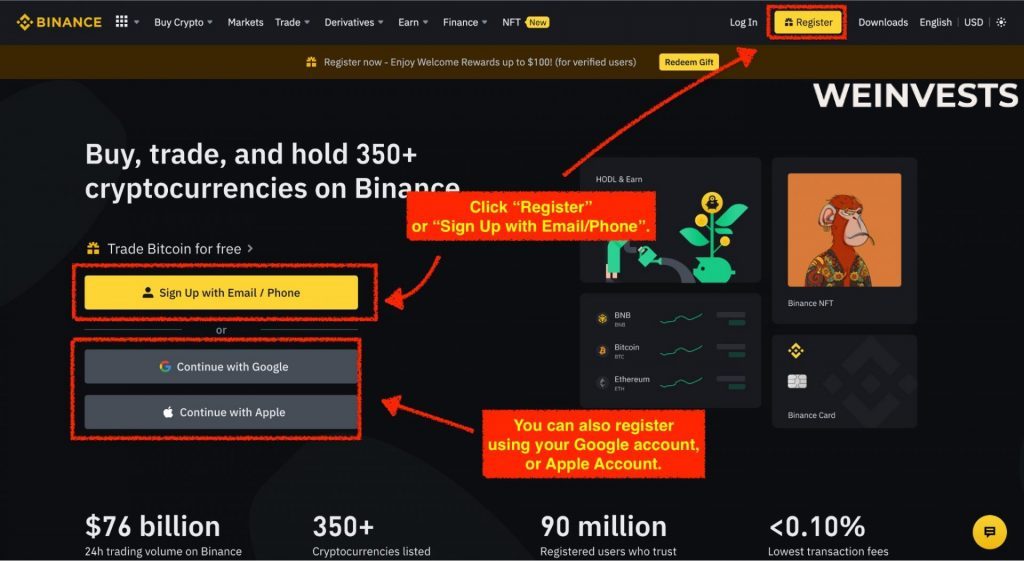 Then go through the verification steps to provide Binance with proof of identity.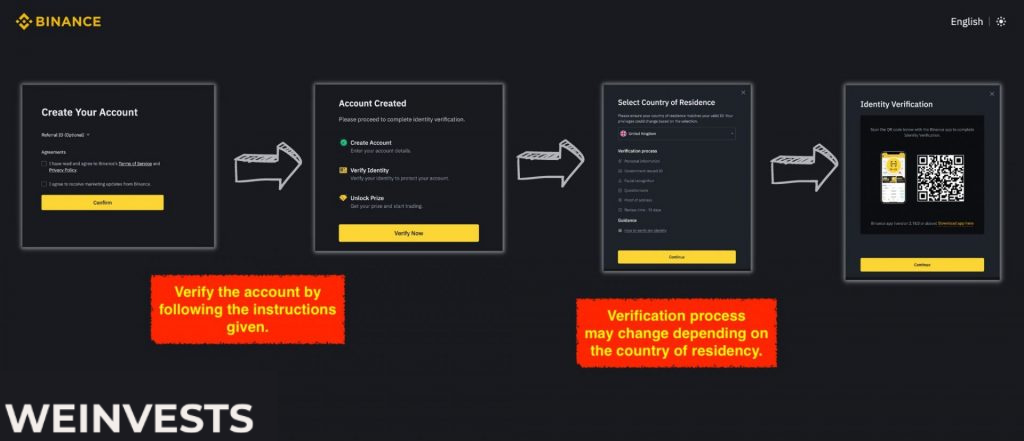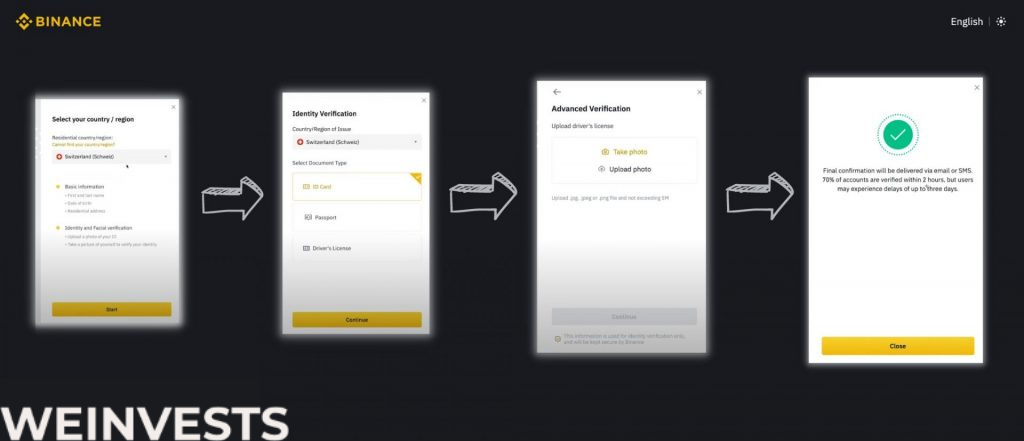 Step 2: Fund your Account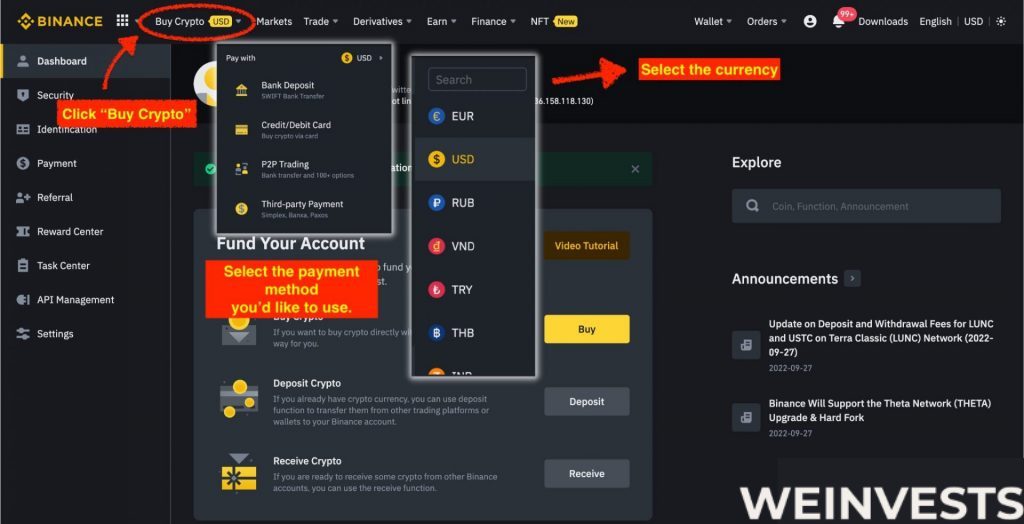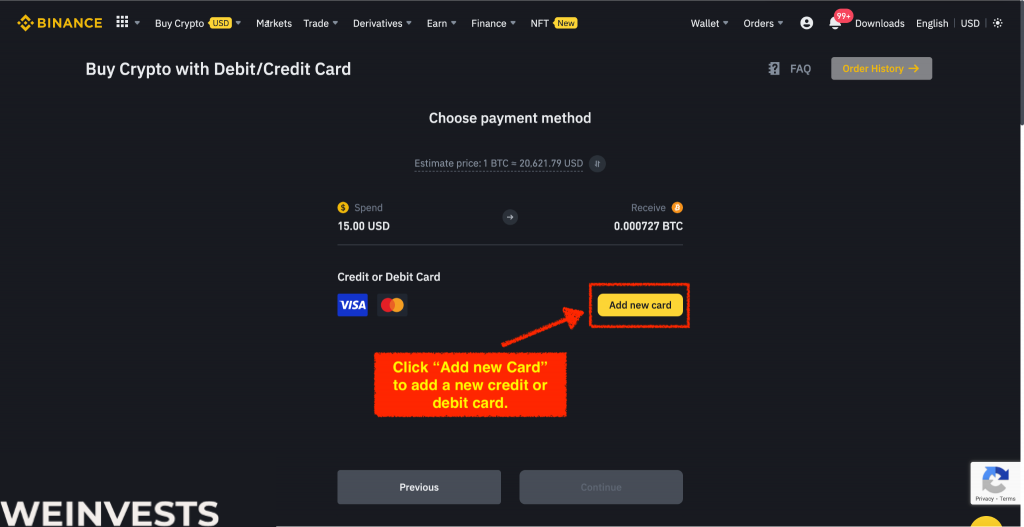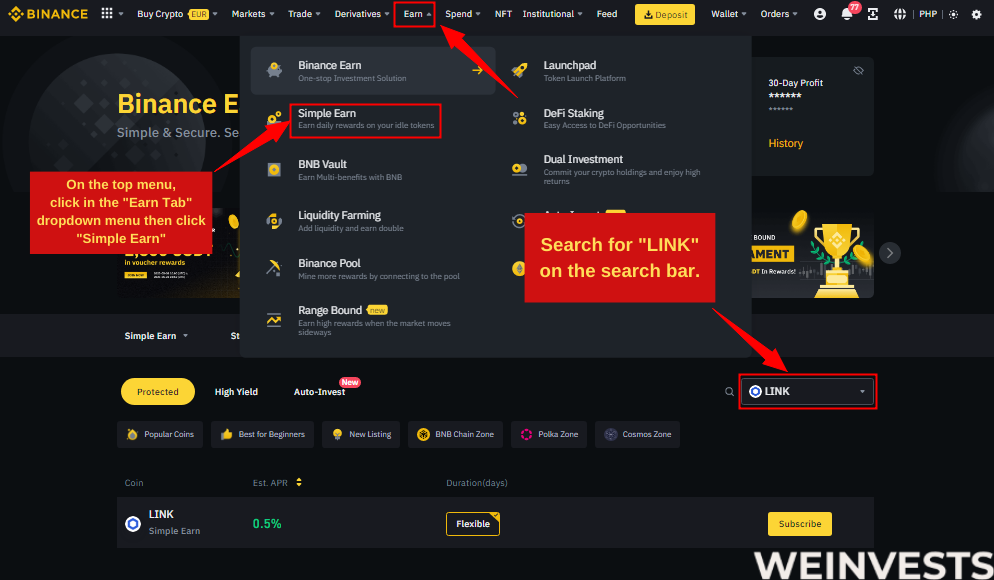 Go to the drop-down menu labeled 'Earn.' Here, you will have multiple options. Click on 'Binance Earn' and then search for 'LINK'.
Step 4: Analyze the Staking Parameters and Stake
Here, you can analyze Chainlink using the 'Calculate your crypto earnings' feature. You can input the amount you want to invest and see the projected earnings for 1 year, 2 years, 3 years, or 5 years. Simply click on the desired number of years to invest in 'LINK'.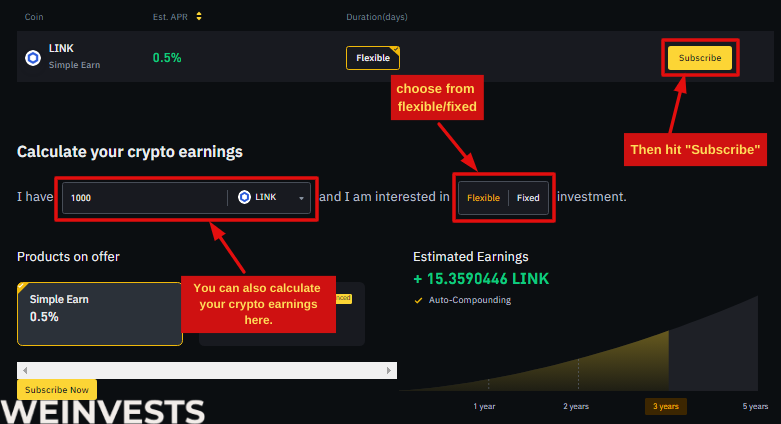 If you want to earn rewards with your Chainlink on Binance.com, you can go to the "Products on Offer" section under "Earn" and choose between two options: "Simple Earn" and "Flexible DeFi Staking".

"Simple Earn" lets you deposit your LINK in flexible or locked products and earn daily rewards. You can subscribe or redeem at any time, so you can maintain your assets' flexibility and liquidity. The rewards are sourced from Binance's own funds and are based on the market conditions.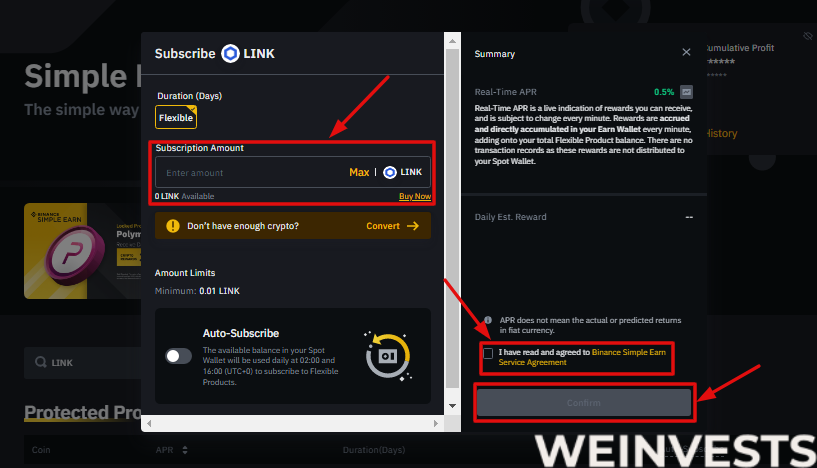 "Flexible DeFi Staking" allows you to stake your LINK in DeFi protocols and earn interest. You can redeem your assets at any time as well. The rewards are generated by the DeFi protocols and change according to their performance and risks.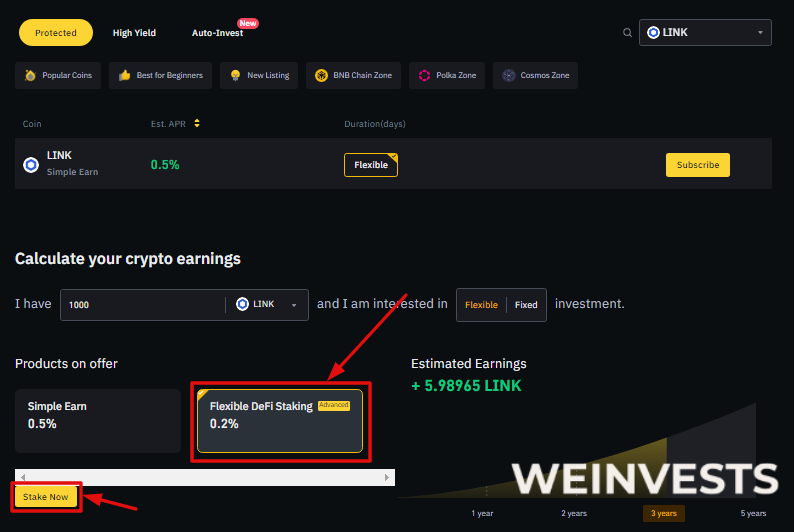 You can check the different rewards rates and durations for LINK and select the one that suits your needs and preferences. You can find the details of each product on the Binance Earn page.
Chainlink Staking Tax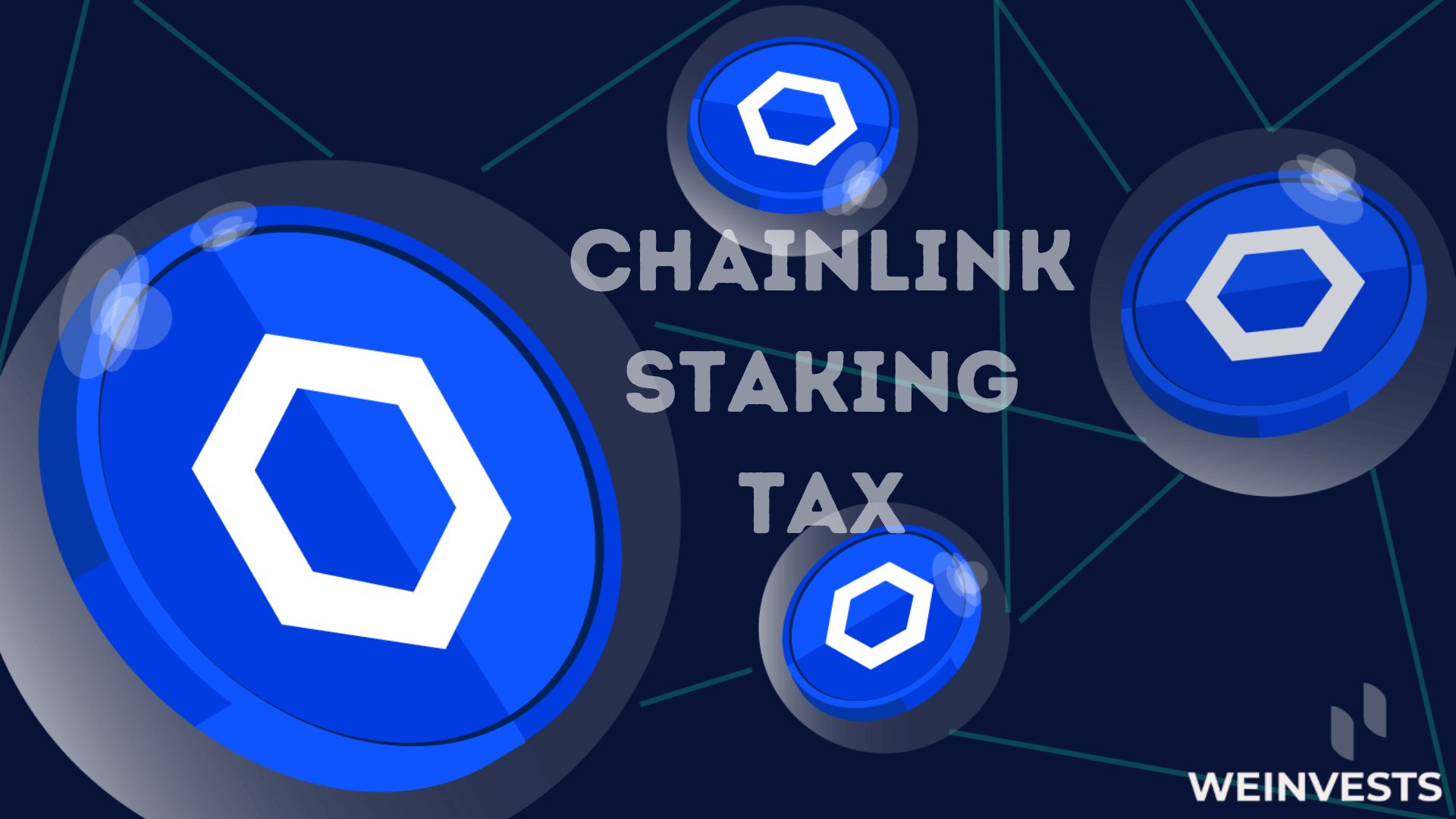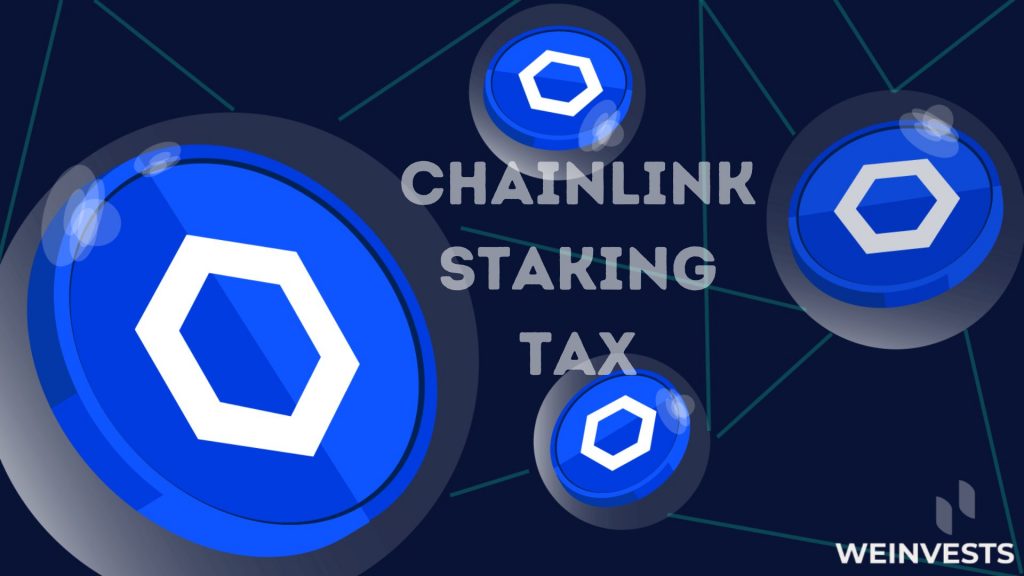 As recently announced by HM Revenue & Customs, cryptocurrency earnings are taxable in the UK. They can be subject to both Capital Gains Tax and Income Tax. If you've made gains from crypto using the tax-free allowance of £12,300, you'll have to pay either 10% or 20% tax.
If you earn additional income from cryptocurrency, say if you've been trading successfully, then you'll face a 45% tax rate. This amount depends on the various transactions that you've completed and the current tax band that you're in. As of late it was also revealed that the HMRC is actively working with exchanges to collect customer data and transaction details.
Various exchanges contacted their customers to inform them about the data they were sharing with the HMRC regarding the cryptocurrency they had in their possession. As the government learns more about your crypto holdings, when you sell or transfer digital money, you'll be liable to pay capital gains tax.
In addition to trading cryptocurrency and selling it for fiat money, crypto assets are also liable for taxation when you spend them on goods and services. If you give your partner or spouse cryptocurrency, then you'll be liable for Capital Gain Tax. Unlike other countries where taxation of cryptocurrencies is more relaxed, the HMRC in the United Kingdom does indeed follow through to the last letter of the law.
Why do people like Staking Chainlink?
By establishing a staking model for Chainlink, the community will be able to expand participation in the network beyond those users who are qualified and able to run their own nodes. This allows people who hold LINK to delegate their tokens to trusted nodes. According to the developers of Chainlink, the company's token staking system will provide a 5% annual return on the treasury reserve and fees that are paid by those who use the company's data feeds. The goal of the system is to end treasury emissions once the network's usage grows. This will allow all of the rewards to come from the fees that are paid by oracle users. To be considered for the data feeds, a node will need to have a large amount of LINK. This will prevent them from attacking the network, as it would affect the value of their LINK tokens.
The combination of these two principles should help create a more secure and reliable node operator. As people who hold LINK will want to avoid having their part of their delegation reduced, the best and most honest nodes will most likely be rewarded with the most tokens. This feedback loop should help improve the network's overall security and reliability.
Conclusion
Staking on the Chainlink network can serve as a form of cash flow for its holders, as the treasury will stop issuing new reserve tokens after the current supply has been distributed. The rewards will depend on the fees that are generated by the network's various protocols. Similar to how Ethereum will reward its stakers after its network merge, the rewards distributed by LINK will depend on the demand for its oracle services.
Although it has been previously announced that the release of Chainlink's 2.0 staking system would take place, it is still not clear when exactly this system will be implemented and how it will affect the token emissions. Other details about the system's implementation and deployment have also been vague. If the company can successfully implement its plans and reach this point in its roadmap, it should benefit from a renewed interest in cryptocurrencies.
Chainlink Staking FAQ's
How many Chainlink tokens do I need to be able to stake?
Ideally, you should have at least 1,000 LINK tokens in your wallet.
When can I start staking Chainlink?
The first beta version of Chainlink Staking (v0. 1) is scheduled to launch in December 2022.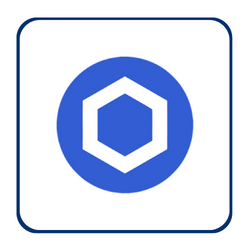 How to Buy (LINK) Chainlink
Cryptocurrency is still a new thing, but it's becoming a top investment choice among investors. There are many…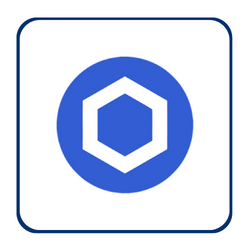 Chainlink (LINK) Price Prediction 2023, 2024, 2025 – 2030
Chainlink doesn't follow traditional altcoin price movements and had a slow start. For the past two years, it's stayed at the $5 level, hitting $19 in 2020 and dropping again in 2021. Generally, experts believe it should slowly climb within the next nine years to be around $278.66 at the end of 2031.
Risk Disclaimer
WeInvests is a financial portal-based research agency. We do our utmost best to offer reliable and unbiased information about crypto, finance, trading and stocks. However, we do not offer financial advice and users should always carry out their own research.
Read More