This content represents the writer's opinions and research and is not intended to be taken as financial advice. The information presented is general in nature and may not meet the specific needs of any individual or entity. It is not intended to be relied upon as a professional or financial decision-making tool.
Cryptocurrency is still a new thing, but it's becoming a top investment choice among investors. There are many options available, and you've probably heard of (LINK) Chainlink. Do you know where to go to get it or how to trade it? This guide helps you understand why you want it and the ways to purchase it. Let's get started!
(LINK) Chainlink Tokenomics
Tokenomics focuses on why investors believe a cryptocurrency is valuable and interesting.
Chainlink is part of many projects because it uses the oracle network and connects smart contracts to the real world. Oracles are crucial in crypto infrastructure, and Chainlink is the de facto provider for such contracts. Therefore, it represents a large component of developing web 3.0.
It's expanded significantly in 2021, increasing its total value secured from about $7 billion early in the year to roughly $58 billion in March 2021. That's an 800 percent spike. However, the market cap of the utility token (LINK) is only up about 30 percent.
Right now, Chainlink 2.0 is in the mix. That might address certain issues to include linear staking in 2023. Potentially, LINK could be locked in on the network, limiting the number of tokens circulated and traded.
Chainlink works by letting people purchase services and specify the number of oracles they need and what query they have. In a sense, it uses an order-matching process to choose oracles required and writes those into the SLA. Node operators aren't always the data providers here.
Where to Trade (LINK) Chainlink?
The first step in trading LINK is to choose a crypto trading venue or service. There are plenty of them available, and popular options include payment services, brokerages, and crypto exchanges. Let's learn more about each one:
Payment services include all third-party payment processors, such as PayPal, Stripe, and others. Most of those companies do not allow you to purchase cryptocurrency directly from them, especially when they aren't as well known. Sometimes, Bitcoin and Ethereum can be bought, but Chainlink is a newer one on the market.
Some cryptocurrency payment gateways handle digital currencies of all types. If that's the case, you purchase how much LINK you want, add it to a digital wallet, and store it for later use or sale.
Brokerages are mediators between the trader and the market. They often work well for higher money amounts because they offer better security features and more liquidity. However, it's up to you to understand how trades work, and you require collateral before you can start. Often, brokerages don't let you buy crypto directly. You must trade it, though that's not always the case.
Crypto exchanges let sellers and buyers exchange fiat money for crypto and vice versa. Most people like that option when they want to use traditional currency to purchase Chainlink. However, they might trade cryptos with each other, as well.
There's virtually no way to purchase cryptocurrency without an ID or registration, regardless of whether you select a brokerage, payment service, or crypto exchange. These companies require it to protect themselves and you.
How to Buy Chainlink on eToro
Chainlink is an excellent way to diversify your cryptocurrency and traditional asset portfolios. eToro, one of the leading online brokers, is an ideal platform for purchasing Chainlink due to its user-friendly interface and a wide range of features for both beginners and professional traders. In this mini-guide, they will walk you through the process of opening an account on eToro and purchase in Chainlink crypto.
Step 1: Open an Account
Opening an account on eToro is quick and straightforward. Start by visiting the eToro homepage (https://www.etoro.com/) and click on the "Sign Up" or "Join Now" button. You will be redirected to a registration page where you will need to provide your personal information, such as your name, email address, and phone number. You will also create a username and password for your new account. After completing the registration form, click "Create Account." You will receive a confirmation email from eToro with a link to verify your account.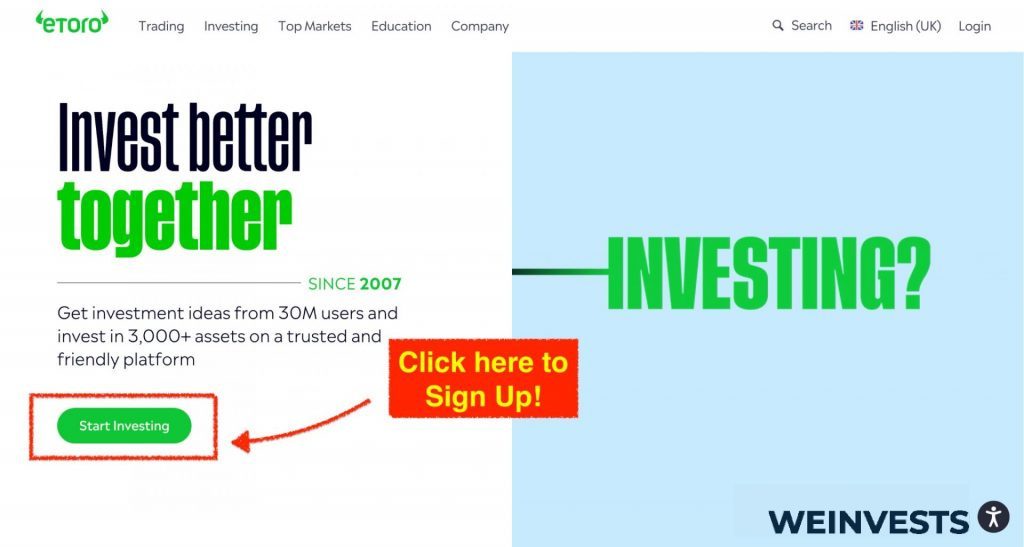 Step 2: Upload ID
To comply with regulations and ensure the security of your account, eToro requires you to submit proof of identity. You can either upload a copy of your government-issued ID or passport. Make sure that the document is clear and all the information is visible. After uploading the required documents, eToro will review them and notify you once your account is verified.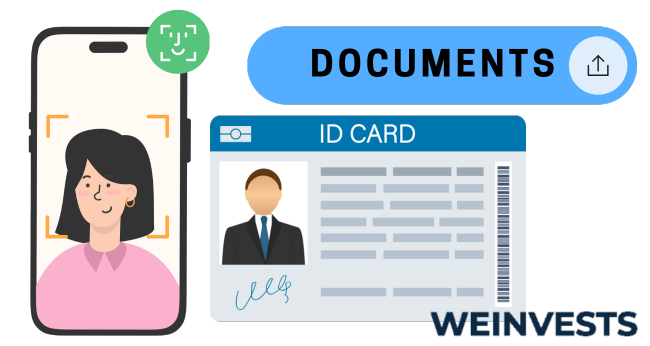 Step 3: Make a Deposit
To start investing in Chainlink stocks, you need to fund your eToro account. Log in to your account and click the "Deposit Funds" button, typically found at the bottom-left corner of the platform. eToro supports various payment methods, including credit/debit cards, PayPal, wire transfer, and more. Choose your preferred method and enter the necessary details. Follow the on-screen instructions to complete the deposit process.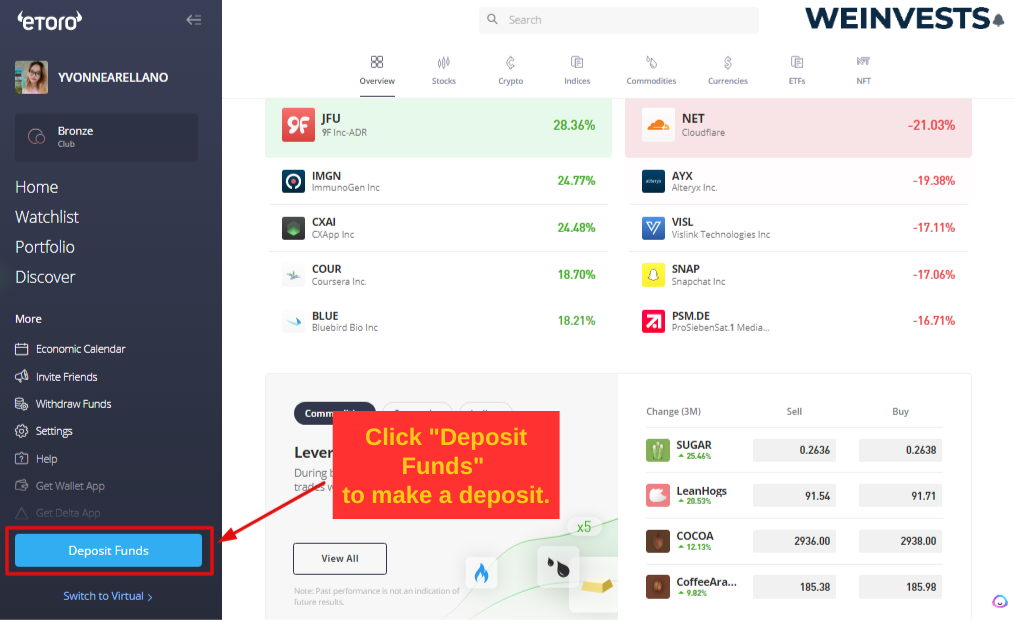 Step 4: Search for LINK
Now that your account is funded, you can search for Chainlink on the eToro platform. In the search bar located at the top of the screen, type "Chainlink" or "LINK" and press enter. You will see Chainlink listed in the search results. Click on it to access the Chainlink crypto page, where you can find information about its performance, charts, and news.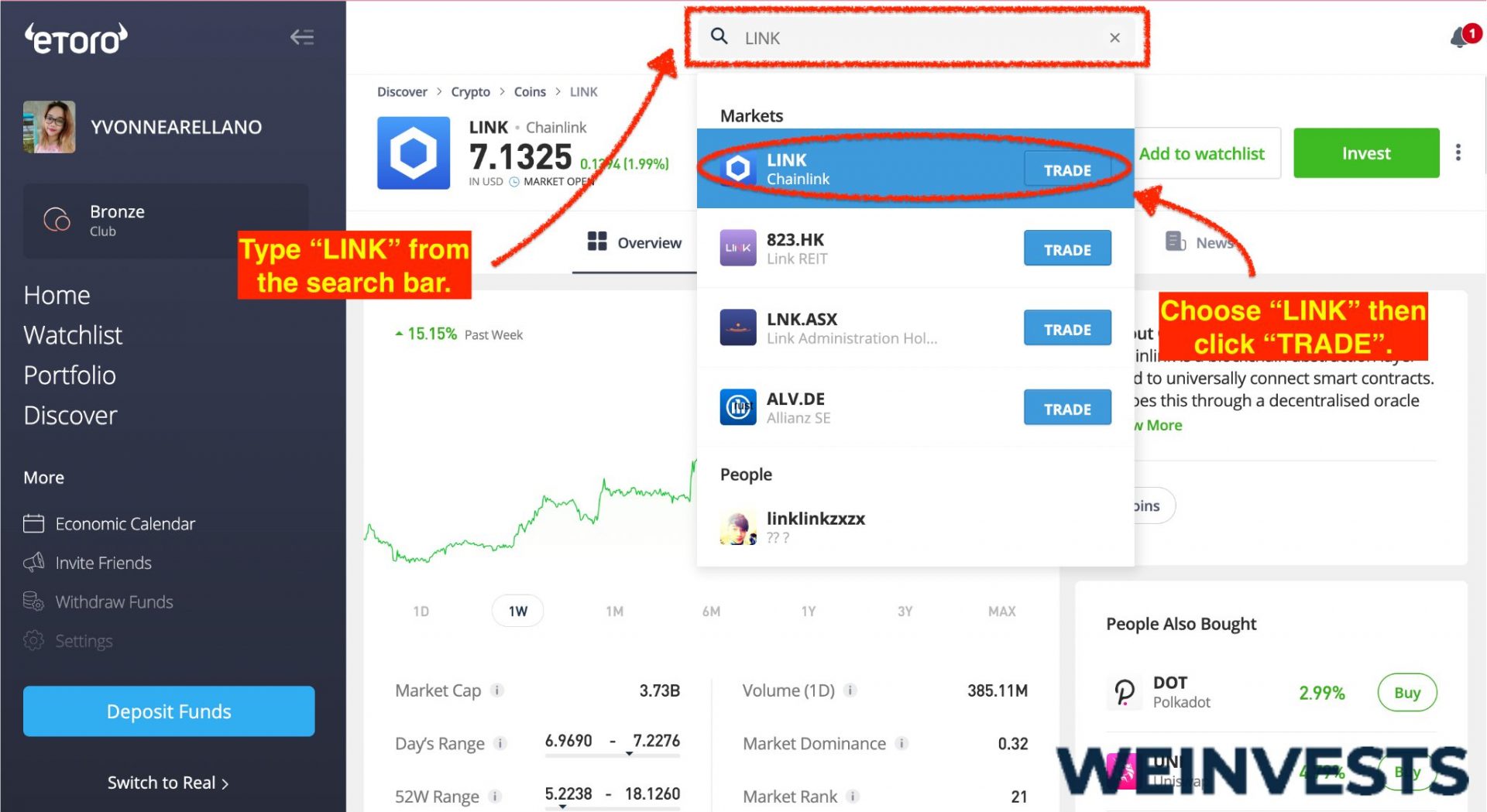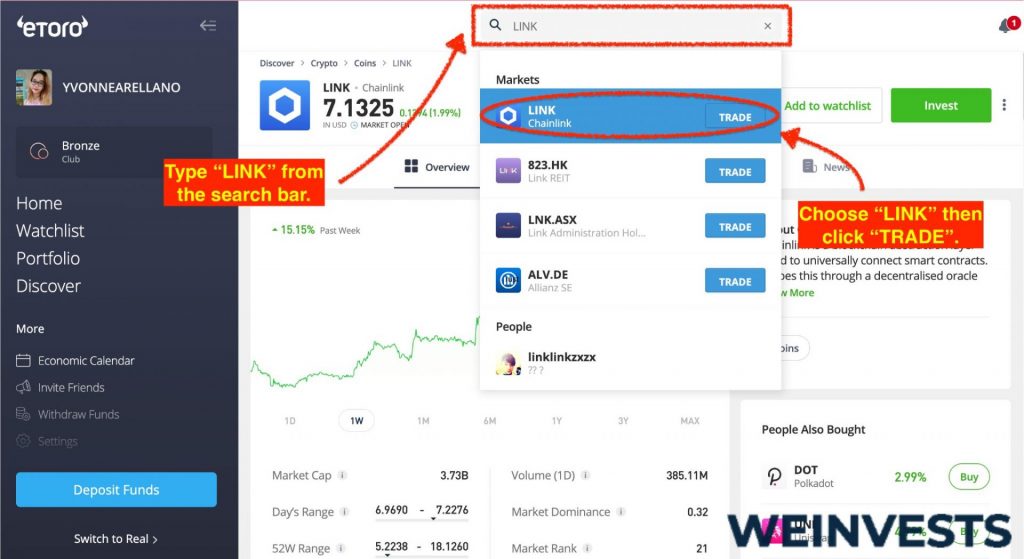 Step 5: Trade LINK
On the Chainlink crypto page, click the "Trade" button, usually found in the top right corner. A new window will pop up, allowing you to set the amount you want to invest, choose a leverage ratio, and set stop loss and take profit levels. Review your order carefully, and when you're ready, click "Set Order."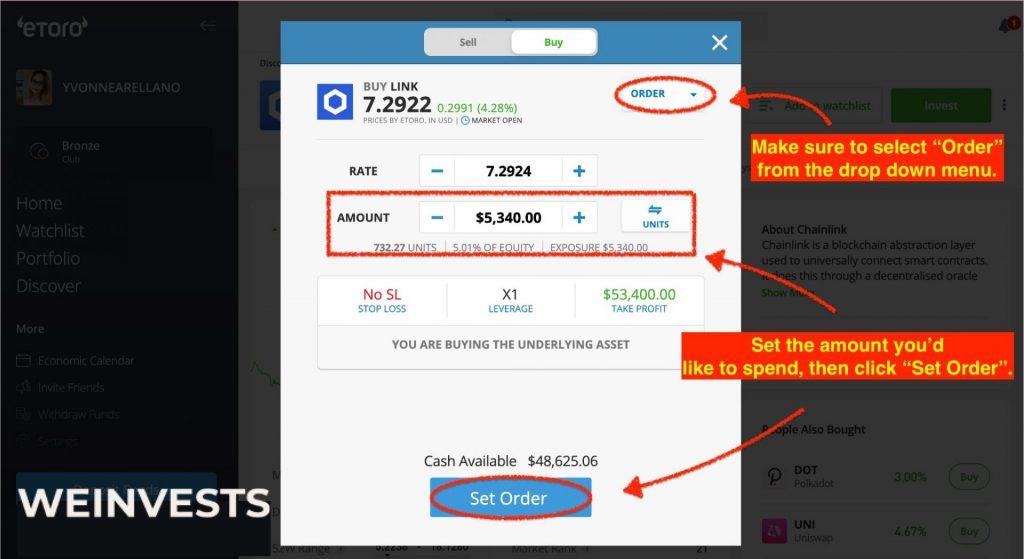 Even though the cryptocurrency world is immensely unpredictable, investors and programmers alike are interested in LINK because of its unique features.
How to Trade (LINK) Chainlink with PayPal?
You may purchase LINK with PayPal directly from eToro! Follow all of the account sign-up steps above. When you're ready to deposit money (fund account), select PayPal in the drop-down list. Enter the amount you want to spend, click "trade," and it asks you to sign in to your PayPal account to confirm the transaction.
Some people think they have to trade another cryptocurrency from a P2P marketplace and convert that currency to Chainlink. You can do that, but you have to open an account with eToro and Paxful (or another exchange). Then, you trade Bitcoins with PayPal, transfer them to your eToro account, and trade them for LINK. It's much easier to purchase LINK directly from PayPal.
How to Trade (LINK) Chainlink with Credit Card?
Again, you can trade Bitcoin from a crypto wallet with your credit card and trade it in for Chainlink. However, the steps are similar to the above, and it requires multiple accounts.
Instead, it's better to trade LINK with a credit card from eToro directly! Complete the sign-up steps above. When it's time to fund your account, choose the credit card option from the drop-down list.
Enter the amount you want to spend, add your card number, expiration date, and CVV/CVC, and ensure that the name on the card is the same as the one on your identity document from step 4. Click "deposit," and you're done!
Safe Storage
You've got to focus on safe storage for your Chainlink (or any other cryptocurrency). While cash in a bank account has many protections, crypto doesn't, so it's all up to you. Users have lost their crypto, and you don't want that to happen! Let's learn about the many ways to store it, including hardware devices and apps.
Many people prefer this method because a third party holds your crypto in cold or hot storage. Most brokerages and cryptocurrency exchanges have wallets of their own, so you don't have to do anything else or set up another account. Plus, it's easily accessible for trades, and you can't lose it if you keep track of your login credentials.
Cold wallets are offline, and hardware wallets are the most popular here. They are small devices that connect to your computer, so they're only online when you send or receive cryptocurrency.
Ensure that your hardware wallet can accept LINK because some don't. You may also want to determine how many cryptos it stores for you. When you connect your wallet to your computer, you get an address. Use that to move cryptocurrency around from the broker or exchange to the account.
A hot wallet is the opposite of a cold wallet. It's often an application that stores the cryptocurrency online. Many people like them because they're easy to use, quick to set up, free, and offer you more control over your digital assets.
However, they're housed in the cloud, so they could get hacked. The odds for that are low, but it's important to be aware of it and use a strong password when creating an account.
Alternate Ways to Trade (LINK) Chainlink
Chainlink ATMs let you insert physical cash into a kiosk or standalone device (similar to a vending machine) and buy Chainlink. You can also send Chainlink to the ATM to get physical money back.
These aren't available in all countries, and they typically charge high fees for use (up to 10 percent). However, they are private and secure and offer more convenience than other options.
Peer-to-peer crypto exchanges don't use automated engines to complete transactions, so you must manually post the offer and deal directly with the other party.
You've got more freedom to choose rates and payment methods because small entities operate them. However, you've got to search for high-quality offers, you might pay higher prices, and getting a good deal means understanding price predictions and fluctuations.
Options include LocalCoinSwap, HODL, and Paxful.
Traders often use brokerages to buy and sell crypto derivatives. Therefore, they don't own the cryptocurrency. Instead, they make bets on whether the price goes down or up to make a profit. However, some brokers let you purchase LINK directly.
People can bet on futures, options, and contracts-for-difference. CFDs let you speculate on the asset price and whether it rises or falls. Crypto futures require you to enter into an agreement with your broker, buying and selling at specific future prices when the contract expires. Similarly, options help you withdraw from the contract, losing the premium at times.
Brokerages include Capital.com, Kraken, Coinbase, Gemini, Robinhood, and eToro.
How to Invest in (LINK) Chainlink?
You've got many ways to invest in Chainlink. Though most people trade the coin itself and wait for it to rise high enough to sell, it's not the only option. Crypto ETFs and Chainlink stacking are also available.
Stacking rewards the token holders for participating in the process of mining. You're earning LINK because you're doing your part here. You don't always get LINK back; sometimes, you might receive Bitcoin for your trouble.
A crypto exchange-traded fund (ETF) pools together related assets that are offered by traditional exchanges through brokers. Overall, the ETF tracks the prices of digital tokens. There's diversification, low cost of ownership, and many other benefits.
Conclusion
You've just learned how to trade Chainlink. While it's unique, you can trade it through an exchange like eToro. Most people prefer that because they create an account, verify it, and are on their way.
While there are other methods, you only have to visit one website, create one account, and purchase LINK and other cryptocurrencies. Always check out your other options because this is a big decision.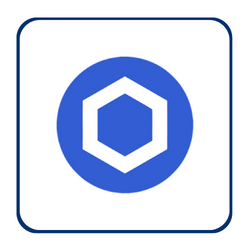 How to stake Chainlink
Staking is a key mechanism of Chainlink. Staking provides Chainlink ecosystem participants with the opportunity to earn rewards for increasing the security of the
blockchain
. Chainlink enables users to earn LINK by delegating their tokens to ensure it is secure regarding
how to stake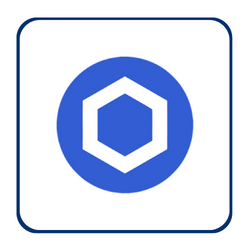 Chainlink (LINK) Price Prediction 2023, 2024, 2025 – 2030
Chainlink doesn't follow traditional altcoin price movements and had a slow start. For the past two years, it's stayed at the $5 level, hitting $19 in 2020 and dropping again in 2021. Generally, experts believe it should slowly climb within the next nine years to be around $278.66 at the end of 2031.
Risk Disclaimer
WeInvests is a financial portal-based research agency. We do our utmost best to offer reliable and unbiased information about crypto, finance, trading and stocks. However, we do not offer financial advice and users should always carry out their own research.
Read More