This content represents the writer's opinions and research and is not intended to be taken as financial advice. The information presented is general in nature and may not meet the specific needs of any individual or entity. It is not intended to be relied upon as a professional or financial decision-making tool.
In the last decade, the marijuana industry had significant growth. In fact, current market estimation hints that the cannabis industry would grow by over $20 billion by the end of 2025. Naturally, the majority of investors now want to make the most out of cannabis stocks.
Plus, the decriminalization and legalization of cannabis were a step in the right direction. Market experts believe that there are many growth opportunities attached to the cannabis sector. And this might just be the beginning for cannabis and marijuana stocks. As the cannabis market becomes more diversified, there are many cannabis stocks to buy.
The focus of this guide is to help you choose from the best cannabis stocks and shed a light on the ups and downs of top cannabis stocks.
What is Cannabis Stocks?
You may not be aware of it but global cannabis spending managed to cross the threshold of $57 billion in one decade. Just like traditional stocks, investors determine the price of a cannabis stock in the form of the bid-ask spread. Investors also determine the stock price by finding out what the seller can accept and what buyers can pay. Ultimately, the difference between these two parameters renders the price of cannabis stock.
Depending on a brokerage solution and specific dollar amount, you can opt for as many cannabis shares as you want. Since the legalization of cannabis, cannabis stocks continue to be in the spotlight. When it comes to the recreational use of cannabis, the revenue stream of the legal cannabis sector is forecasted to reach $26.7 billion by the end of 2024.
The surge in the cannabis market started back in late December 2017. And since then, cannabis has had growth in an upward direction. It is no wonder more and more investors want to invest in valuable marijuana and cannabis stocks.
Statistically, cannabis stocks have yet to deliver optimal returns for their investors. But investors are more optimistic about their cannabis stock investments than ever. And that's because the US cannabis sector is in a healthy and well-positioned state.
TOP 5 Cannabis Stocks
On 16 May 2022, the stock price of Sundial Growers increased by 16%. The Canadian-based cannabis producer has become one of the best players in the marijuana sector.
The past stock performance of the SNDL (Sundial Growers) shows that it has been able to overcome many challenges and negative declines.
Sundial has released its financial and operational results for the third quarter of 2022, which ended on September 30, 2022. The company reported net revenue of $230.5 million in the third quarter of 2022, up from $223.7 million in the second quarter of 2022 and $14.4 million in the third quarter of 2021, reflecting a 3% rise sequentially and a 1,501% increase year over year.
SNDL stock experienced various ups and downs throughout 2022. What's fascinating is that Sundial stock always seems to regain its momentum in the cannabis industry. It is one of the primary reasons why an increasing number of investors continue to make long-term investments in SNDL stock.
---
When it comes to marijuana stocks, Trulieve Cannabis stock makes one of the best investment options for investors.
TCNNF has become a renowned cannabis grower as well as a prominent retailer. Primarily, it focuses on medical marijuana operations in the Florida market.
Since 2017, TCNNF has had growth in an upward direction and its stock has been profitable for investors. Standing at $15.40 right now, many investors are reluctant to invest in TCNNF due to its unstable stock price. Although TCNNF stock has been profitable for many investors in the past, it has started to dwindle throughout Q1 of 2022, with the company reporting a net loss of $115 million in its last report.
On the bright side, Trulieve has plans to purchase HRVSF or Harvest Health and Recreation. Investors believe that this would boost its stock price in the market and would make it a highly profitable cannabis stock across different states of the country.
---
When it comes to growing, manufacturing, packaging, and distributing cannabis products, Cresco Labs is one of the best players in the marijuana market.
Since Cresco Labs operates in ten different states with state-of-the-art cannabis dispensaries and production facilities, it gets an optimistic market perception.
On May 18, Cresco Labs has one of the most stable cannabis stock streaks in the market. On March 25, Cresco Labs decided to acquire Columbia Care, a major manufacturer, and cultivator of cannabis products and services with over a $2 billion valuation.
Cresco Labs and Columbia Care are in the process of divesting other assets in order to meet regulatory criteria prior to the completion of the Columbia Care Acquisition. Additional information on the divestitures will be released soon.
The Company is completing regulatory assessments and permissions in order to complete the Columbia Care Acquisition as soon as feasible, which is now scheduled to be near the end of the first quarter of 2023. After the finalization of this acquisition, investors believe it would have a significantly positive impact on Cresco Lab's stock price.
After the finalization of this acquisition, investors believe it would have a significantly positive impact on Cresco Lab's stock price. But on April 12, the stock price of Cresco Labs had already started to increase because of this announcement.
Like many other cannabis players, Cresco saw a significant decline in its stock price on March 15, 2020. But the quest for further expansion for Cresco Labs Inc is not going to end soon. In fact, Cresco Labs continues to acquire more cannabis production and manufacturing entities to grow in the Florida cannabis market and increase its stock price in the coming years.
---
Green Thumb Industries runs 17 manufacturing facilities, 77 open retail locations and operations across 15 U.S. markets.
As far as its stock price, GTBIF is trading at $11.35, which represents a decline of -42.85% Year-to-date (YTD).
GTBIF also holds all the required licenses for its 96 retail cannabis spots. Although GTBIF hit its lowest stock price on March 28, 2020, it managed to hit its highest stock price on December 14, 2021. The continuous increase in GTMIF's stock price in 2021 was due to its rising sales and expansion plans.
---
Tilray is another Canadian company that cultivates, distributes, and processes medical marijuana-based products. When it comes to medical cannabis, Tilray has become one of the major exporters in Canada.Unlike other cannabis players, Tilray runs cannabis operations in Europe.
A heightened degree of exposure continues to help Tilray increase its stock price in the market.
In fact, each significant investment in medical cannabis and R&D increases Tilray's stock price. In 2022, Tilray has licenses to sell, export, import, and grow cannabis products in more than 20 countries.
Tilray's financial results for the Q1 of 2023 ended August 31, 2022. The company reported a net revenue of $153.2 million. On a constant currency basis, net revenue remained strong at $166.5 million for the quarter.
How to Invest in Cannabis Stocks?
Stocks
In addition to investing in cannabis stocks via direct investment in companies that are operating in the cannabis sector, investors can also find alternative ways to create portfolio exposure to the cannabis industry.
ETFs and Mutual Funds
One of the common alternatives to add cannabis shares to your portfolio is using ETFs and Mutual Funds which are either focused solely on the cannabis sector or have some exposure to the industry apart from being concentrated on other factors such as value-growth or large-small cap stocks.
Crowdfunding
Another way of investing in cannabis shares is through investment in start-ups. Companies that are just starting to build their footprint in the market provide opportunities to invest early with them in order to capitalize on the potential growth of the firm. Investors could find some crowdfunding opportunities related to cannabis start-ups as potential exposure to the cannabis sector.
Angel Investor
In addition, some investors with larger portfolios may consider also becoming angel investors for such start-ups which means that those investors are ready to invest large amounts either by becoming a shareholder of the company or providing capital financing in the form of a loan.
Indirect Investing
There is also an indirect way of investing in cannabis such as investing in the land where the cannabis can be produced, or investing in other parts of the supply chain that are helping to bring the product to its final stage which is then consumed by clients.
Drawbacks of Cannabis Stocks
There are certain drawbacks to any industry and cannabis is not an exception.
One of the major drawbacks for cannabis shares is the regulatory landscape which is still in the process of evolution. In many countries and jurisdictions cannabis is still considered an illegal product for consumption which not only impacts the demand but also limits the global supply given certain countries are not allowing imports or production of cannabis.
Given the fact that this is still an emerging market, cannabis shares are overall more volatile due to changes in investors' sentiments which then affects the stock prices. The sentiment of the investors may change due to various factors such as changes in supply and demand, regulatory concerns, growth in competition, or poor financial results of the firms operating in the cannabis sector. Rising competition is one of the major concerns since it spread the profitability amongst the players and thus impacts the stock performance of the individual players.
Since the cannabis industry is relatively new there is also a lack of sufficient data to perform certain analyses which is an additional limitation for investors who want to perform fundamental analysis of the cannabis industry and companies considering both macro- and micro-economic aspects.
Last but not least, cannabis stocks come with company-specific risks or idiosyncratic risk which is specific to the company. Those may be the risk of violation of regulations, issues with product quality, or supply chain issues.
These factors may have an unfavorable impact on cannabis stock investors and thus need to be carefully considered before making a final investment decision.
How to Choose Cannabis Stocks to Invest In?
In a traditional sense, investors have to ask fundamental questions before investing in a specific cannabis stock. For instance, is the cannabis stock trading on the official stock exchange, and does stock purchase requires public disclosure of personal information? You also will have to make some comparative and technical analysis of cannabis stocks to make the most profitable investments.
Today, there is a multitude of analytical reports and endless hype around cannabis and marijuana stock. So, the end goal of investors should be to check information from the most reputable sources and narrow down their options through extensive and continuous research.
The safe option for investors is to opt for indirect cannabis stocks rather than invest in young cannabis companies' stocks that come with high risk. Remember, there is more than one type of marijuana and cannabis stock. The approach of investors should be to review the portfolio of each cannabis stock before making a long-term investment.
See whether or not the cannabis stock you want to invest in has had significant market exposure and would perform well in the coming years. In terms of classification, cannabis stocks divide into Biotechs, supply providers, and growers.
Depending on your needs and market exposure, you can choose the most suitable cannabis stock for investment. Also, make sure the cannabis stock is clear in terms of market regulations and licensing. After all, cannabis, in some states, is still not legal. So, make sure the cannabis company's stock fulfills licensing requirements of a specific state.
For instance, if you want to invest in a cannabis stock of a medical marijuana company, it will have different licensing than recreational use. The best strategy for investors is to diversify their investments within the marijuana and cannabis space. And that means investing in pure-play cannabis stocks along with pharmaceutical cannabis, and REITs.
Market experts profess that the cannabis industry is still in its infancy and investors who are ready to make big leaps of investments are bound to reap the most benefits. Of course, it would be difficult to just invest in pure cannabis stocks. However, if you're willing to take some risk, then buy marijuana stocks that have future growth potential.
Where to Buy Cannabis Stocks?
With eToro, you can buy and invest in cannabis stocks with a few clicks. Right after opening an eToro account, investors are often surprised to find how simple it can be to buy and invest in cannabis stocks.
If you're wondering how to open and use the eToro online broker to buy and invest in cannabis stocks, follow these simplified steps:
Step 1: Open an Account
It takes just a few minutes to open a dedicated and personalized eToro account. You just need to fill out the application form with the standard required information and you're good to go.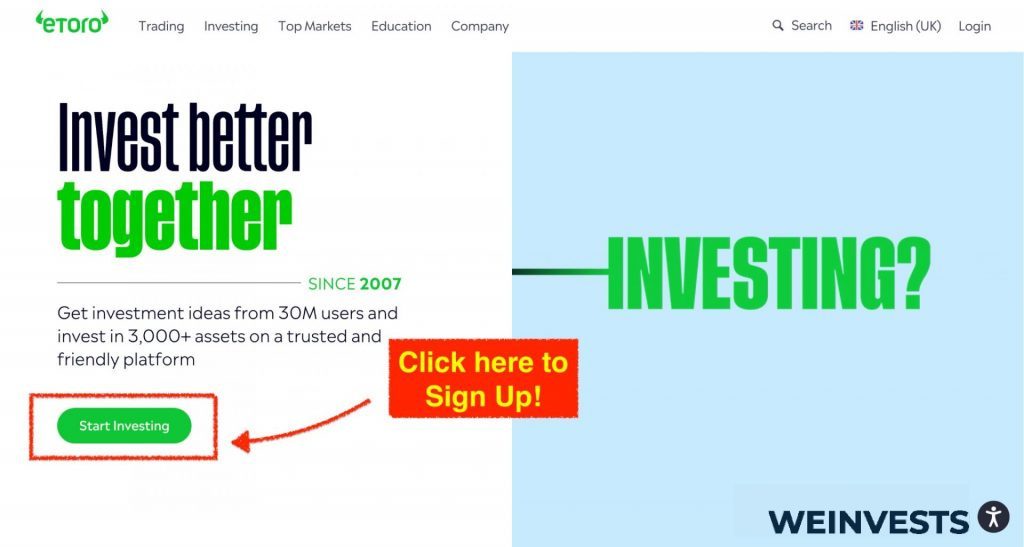 Step 2: Upload ID
After opening an eToro broker account, you have to make sure you're in compliance with KYC and AML regulations. For the sake of verification, eToro will give you the option to upload your current ID. You can upload your driver's license or valid passport as verification documents. In addition, make sure to pass the other verification documents like a utility bill and a bank statement for the last 3 months.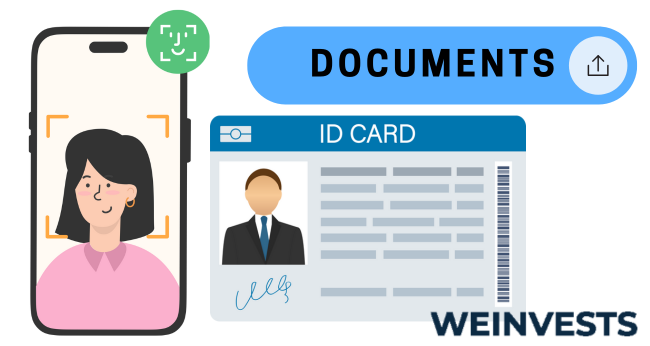 Step 3: Make a Deposit
If you're ready to buy and invest in cannabis stocks, make sure to have some funds in your eToro account. You can make free and instant deposits through a wire bank transfer, PayPal, or your debit/credit card.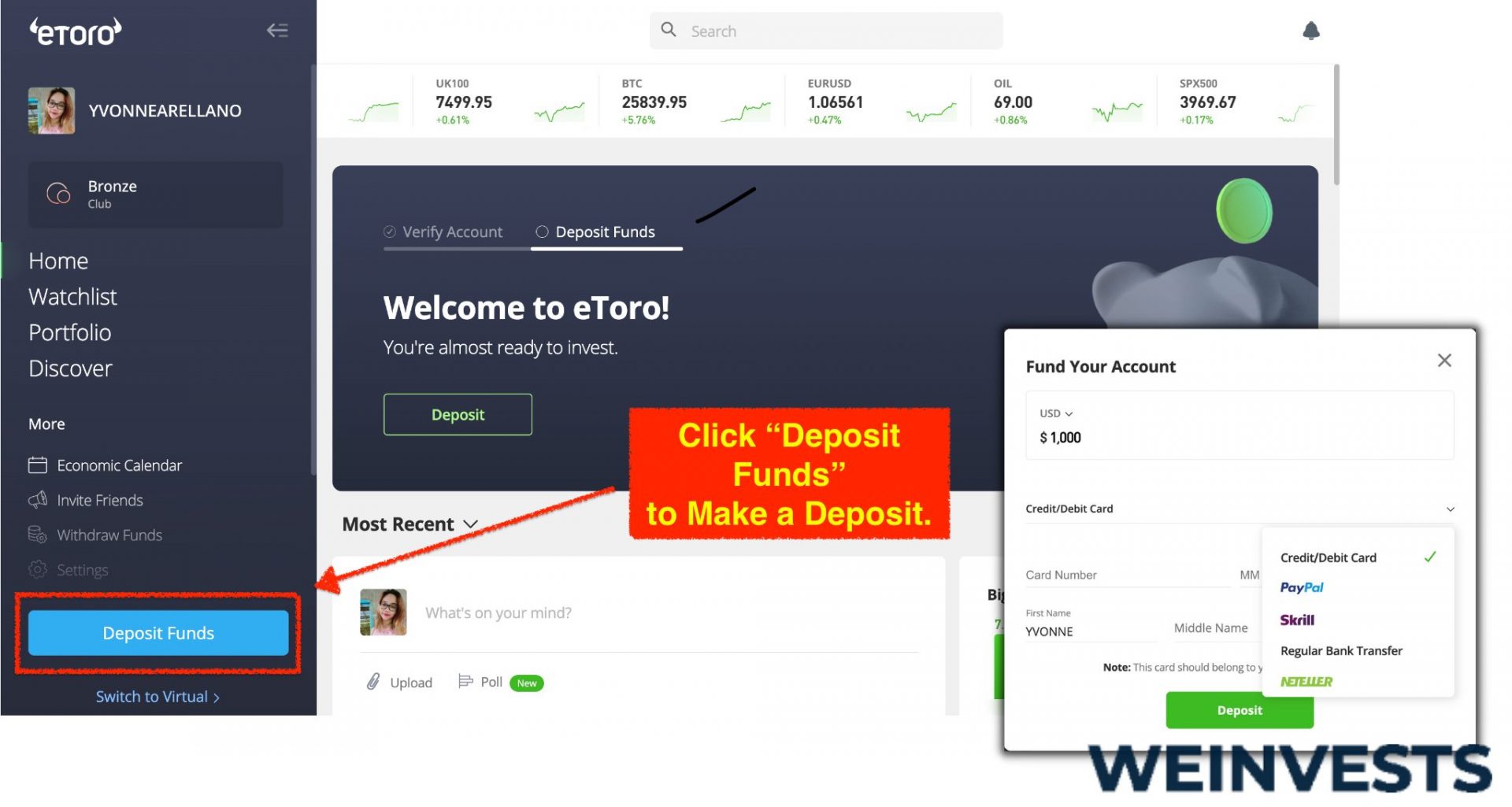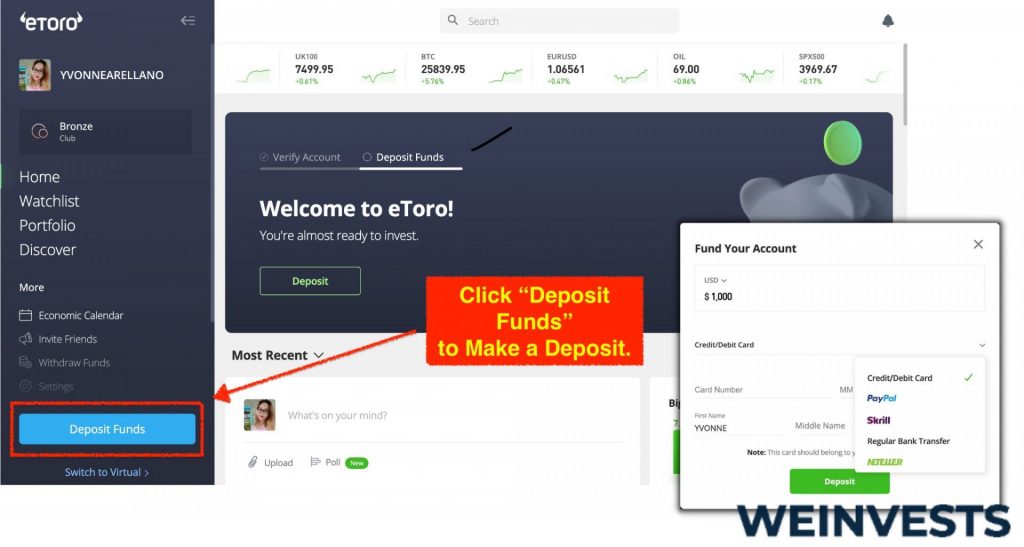 Step 4: Search for Stock
Your last step is to use the eToro platform and search for the most attractive and valued cannabis stocks. On eToro, you can make a minimum of $10 stake on a cannabis stake.
After selecting a cannabis stock you want to invest in – click on the "trade" to process the placed order of cannabis stock. With a trading ticket, investors can set predetermined stop loss as well as profitable price levels.
Conclusion
Cannabis equities, like any other stock, require patience, sheer will, a planned approach, and long-term commitment from investors to enjoy the benefits. As an investor, your investing strategy should be to opt for the most valuable cannabis stocks rather than the most famous ones in the marketplace.
Despite economic turmoil and legal restrictions, investors can expect the cannabis market to grow and should not feel reluctant to make long-term investments. Like any other growing industry, the cannabis market needs more investors to steer the sector in the right direction. And like other industries, the more you learn about the cannabis market, the more profitable investments you can make.
If you're planning to purchase equity in a cannabis company, first make sure you're aware of the market rules and regulations. Remember that both cannabis stocks and marijuana products have different classifications. In hindsight, investors can choose from the top of the line and growth-driven cannabis stocks to be on the safe side.
Risk Disclaimer
WeInvests is a financial portal-based research agency. We do our utmost best to offer reliable and unbiased information about crypto, finance, trading and stocks. However, we do not offer financial advice and users should always carry out their own research.
Read More