This content represents the writer's opinions and research and is not intended to be taken as financial advice. The information presented is general in nature and may not meet the specific needs of any individual or entity. It is not intended to be relied upon as a professional or financial decision-making tool.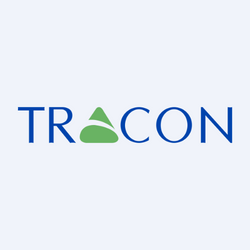 TRACON Pharmaceuticals Inc. (est. 2004) is a clinical-stage company interested in a novel therapy for cancer and sarcoma (or macular degeneration). It also focuses on the commercialization of drugs in the United States and other parts of the world. It is a recognized CRO-independent company that offers its various partners, such as Alphamab Oncology and 3D Medicines, excellent quality, and affordable treatment. The biopharmaceutical company aims to be a world leader in developing targeted therapies for cancer patients and people with diseases with limited medical provisions.
This San Diego-based has its lead product, ENVAFOLIMAB (KN035), doing wonders. It is a PD-L1 antibody invented by Alphamab Oncology, approved by Chinese NMPA and licensed by TRACON to treat solid tumors. It also has the ENVASARC undergoing pivotal trial and study at various cancer centers in the U.K. and the U.S.A. Overall, this company's interest is in providing companies with zero clinical and commercial influence an opportunity to get out there and become CRO-independent.
TRACON Pharmaceuticals Inc. became a public company in November 2016. It announced and listed an underwritten public offering (I.P.O.) of TCON stocks in November 2016 at $5.75 per share. It offered 2,625,000 common shares and raised over $15M. During this offering, Jefferies L.L.C. and Stifel offered to become part of the managers of the public listing.
Tracon Stocks (TCON) Forecast 2023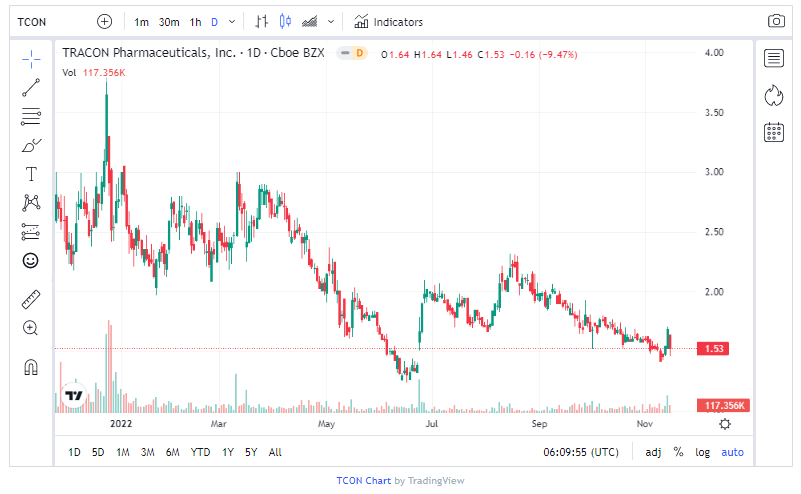 According to analysts, TCON stock is forecasted for a 12-month price in 2023 at a median target of $8. It is expected to have a high of $14 and a low of $7. This predicted price is expected to be a 555.74% increase from the stock's last price, i.e., from the previous year. It is also predicted that by February 23, 2023, the price of Tracon Pharmaceutical's stock will reach above $10, which is an increase of 719.67%.
The Pharmaceuticals sub-prognosis industry is optimistic as the world returns to normalcy and the need for electives and increased healthcare utilization increases. If COVID-19 variants continue to emerge, obtaining a COVID-19 vaccination may become a seasonal occurrence, similar to the flu vaccine. If this were to happen, it would be extremely profitable for pharmaceutical corporations because it would produce recurrent sales.
This forecast shows that TCON is not expected to beat the U.S. biotechnology sector's price and revenue growth. By the end of 2023, the revenue growth is predicted to be $494,629,316. And at the end of 2024, the forecasted revenue is $1,871,836,709. There is clearly a future for Tracon Pharmaceuticals Inc. shares – maybe not just up to the biotech's growth.
TRACON Pharmaceuticals announced its Q3 2022 results, an estimated price of $17M, which will be used to fund certain projects in 2023
TCON Stock 2022
Tracon Pharmaceuticals missed projected earnings by 14.29% in the first quarter of 2022, posting an EPS of $-0.48 vs an estimate of $-0.42. The corporation recorded a $5.1 million loss. TCON stock had dropped 43% since the beginning of 2022, according to the Q1 earnings report. Tracon Pharmaceuticals Inc. lost $6.2 million in the second quarter. The San Diego-based corporation reported a loss of $0.31 per share.
TCON Shares received FDA fast-track classification as a soft tissue cancer candidate in September. The FDA created the fast-track process to help with the development and approval of pharmaceuticals to treat serious or life-threatening diseases or conditions, as well as to address unmet medical needs. TCON's stock price increased by 5% to $2.00 as a result of this.
TCON Stock 2021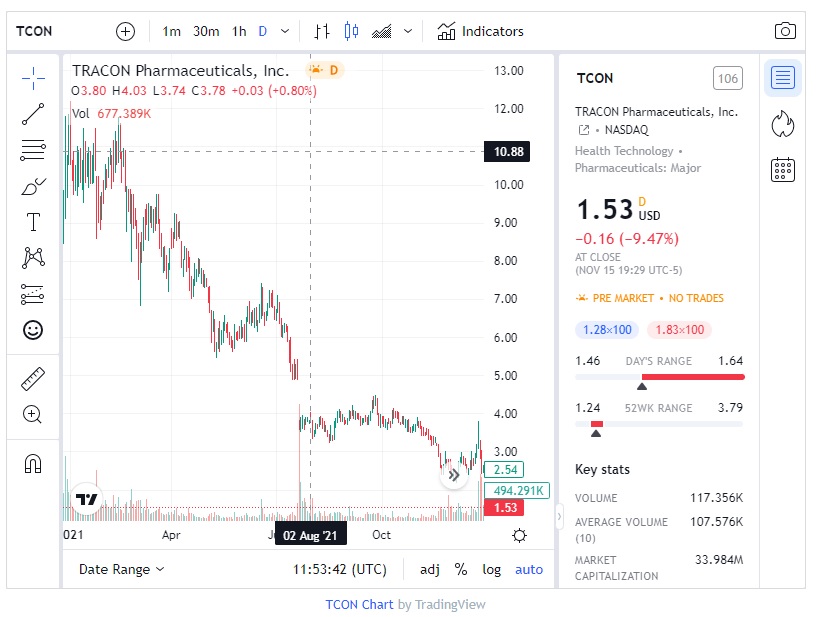 TCON Stock opened in 2021 at $11.86. It had an interesting run throughout Q1 2021. However, the price began to drop from the start of Q2 while managing to stay within the $7 price range. Unfortunately, the stock price fell again in Q3 and continued until the year's end. From the charts, it had a super downward curve. The competition with the U.S. biotechnology industry may have influenced the price drop. It closed in December at $2.76.
TCON Stock 2020
TRACON Pharmaceuticals Inc. opened in 2020 with the hopes of having a great run through the year since the world finally realized a medical breakthrough. The stock price was $2.35 at the beginning of the year, even with rumors of COVID-19. However, the price increased slightly between February and March because the company was interested in providing solutions to the global pandemic.
Unfortunately, by mid-March, the company had invested so much into research and development that the stock price started dropping below $2. The price fluctuated from $1 to $2 between Q2 and Q3. However, there was a bit of hope at the start of Q4 2020 as the tension had eased. It even had an all-time high for the year at $10.40 on December 1. According to Q4 results, it ended the year at $10.64.
TCON Stock 2019
TCON had an outstanding time in 2019. It opened the year at $6.10 and continued to increase and decrease at different times of the year. Q1 had its fair share of a high price of $16.70 on March 18, 2019. The start of Q2 was promising as it experienced an all-time high of $17.30 in April. Unfortunately, the price began to drop a few days later, and it struggled to rise even until Q3. The latter part of the year wasn't so great, ending at $2.25. There were rumors of a pandemic towards the end of 2019, which may have prevented the stock price's increase.
TCON Stock 2018
TCON Stock 2018 chart doesn't look so good. It has a downward movement which specifically shows that the stock price did well at the start of the year but continued falling in the following months. It opened in January at $34.00, but by April, the stock price was at $23.50. At the start of Q3 2018, TCON's price had dropped below $20, experiencing an all-time low of $6.24. It ended the year at $6.20. The cause of this fall was rumored to have been a change in the company's corporate activities.
TCON Stock 2017
TRACON Pharmaceuticals Stock in 2017 looked so great in the beginning. By the end of the year, there was so much loss incurred from the stock prices. TCON opened the year at $51.00 and maintained stability throughout the first quarter. Unfortunately, by the second month of the second quarter (Q2), it had dropped to as low as $25.00, which is a 50% decrease from its starting price. It, however, picked up again in Q3 and struggled to keep increasing for the rest of the year. The closing price was $33.50.
TCON Stock 2016
TCON Stock seemed like a profitable investment in 2016 as the stock price opened at $90.80 and kept within that price range for the first quarter. Unfortunately, it kept falling by the start of Q2, probably because of the rumors of the company listings its public offering. In November, the company had an underwritten public offering for $64.50. After the offering, it kept a stable price and ended the year at $49.00.
Conclusion
TRACON Pharmaceuticals Inc. has done a lot for the health and biopharmaceutical industry by providing targeted therapy solutions for cancer and sarcoma patients. While this company partners with leading drug manufacturing companies with limited influence, it allows the public to contribute. Its stock, TCON, is listed on the New York Stock Exchange, so the revenue generated from the sales will be used to support commercialization, research, and development.
But before buying TCON stocks, investing your time and energy into researching its previous prices and forecasts is consequential. It will help you know whether you are about to make a good decision that won't jeopardize your financial goals. The company has had its best and worst moments but promises to continue contributing immensely towards global health.
FAQ
What Does TRACON Plan to Use Its Net Proceeds For?
Tracon Pharmaceuticals Inc. plans to use its stock offerings to fund projects such as the TRC105 development involving a drug for Angiosarcoma in its global Phase 3 trial stage.
Does TCON Stock Have a Future?
TCON Stock has a future. It may have experienced falls over the last 6 years, but there are expectations of the price rising to 545.16% of its current price.
What is TCON's Return on Equity (R.O.E.) Forecast for the Next 3 years?
Risk Disclaimer
WeInvests is a financial portal-based research agency. We do our utmost best to offer reliable and unbiased information about crypto, finance, trading and stocks. However, we do not offer financial advice and users should always carry out their own research.
Read More