This content represents the writer's opinions and research and is not intended to be taken as financial advice. The information presented is general in nature and may not meet the specific needs of any individual or entity. It is not intended to be relied upon as a professional or financial decision-making tool.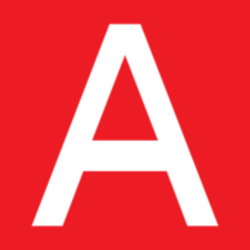 Alphabet Inc. is a collection of over 160 firms, including the world's largest tech giants, Google, YouTube, Chrome, Android, and Google Maps. Over the last decade, the tech company has gained billions of users across its platform, a revolutionary development in the tech space. According to statistics, at least over 100,000 people are using one of this company's firms per minute.
Alphabet Inc. has become relevant in the world that apart from these tech firms with prospering leaders, it has also branched into finance. Google launched an initial public offering (IPO) on August 19th 2004, with 19,605,052 shares offered at $85 per share. On that day, Google sold $1.67B in shares. Today, there are two classes of shares – the Alphabet Inc. (GOOG) and (GOOGL) stocks that many investors have a grasp on. However, while the former is less liquid and has no voting rights, the latter is more liquid and has voting rights. And as far as investors and traders are concerned, GOOGL stocks are more prioritized.
Although stock prices change every now and then, the company has maintained a balance. However, the place of research cannot be overemphasized. Every investor or trader has different objectives, so researching with the perfect guide is consequential. Here is a guide revealing the year's forecast on GOOGL stocks and changes over the last 6 years.
Google Stock Forecast 2023
GOOGL, like other tech stocks like AAPL, TSLA, AMZN, and MSFT, is often considered safe and profitable in the long run. The projections for Alphabet stock for 2023 are based on its price history and the company's earnings report.
Data from the first three fiscal quarters of 2022 showed that GOOGL missed all its projected earnings for 2022. This has compelled many analysts to review their price prediction for GOOGL for the fourth fiscal quarter coming up on January 31, 2023.
Most analysts now predict that by the fourth quarter, GOOGL will be priced at $110-130, corresponding to a 20-45% increase from its current price. Although Alphabet announced a 20-in-1 stock split for GOOGL in mid-July, 2022, it did very little to boost its price.
Alphabet's forecast for GOOGL after the Q4 earnings release is $76.92 billion, a staggering 11.33% increase from its last realized revenue on October 25, 2022. Investors are uncertain about the possibility of Alphabet hitting the target as it has missed the previous quarter's target. The company continued downsizing, budget cuts, and weak earnings have contributed to the stock's continual plunge.
Amid these challenges, many price predictions indicate investors to hold their assets or buy new assets as the price of GOOGL is at one of its lowest in a long while. Many predictions place GOOGL's price for 2023 to 2025 to increase to about $200 to $300.
Alphabet Stock Forecast 2022
Alphabet's GOOGL stock opened the market at $145.05 in January 2022 and was on a downtrend throughout the year. 2022 proved to be one of the unfavorable years for tech stocks, and GOOGL was not left out of the heat. It's down 37.27% from the start of the year.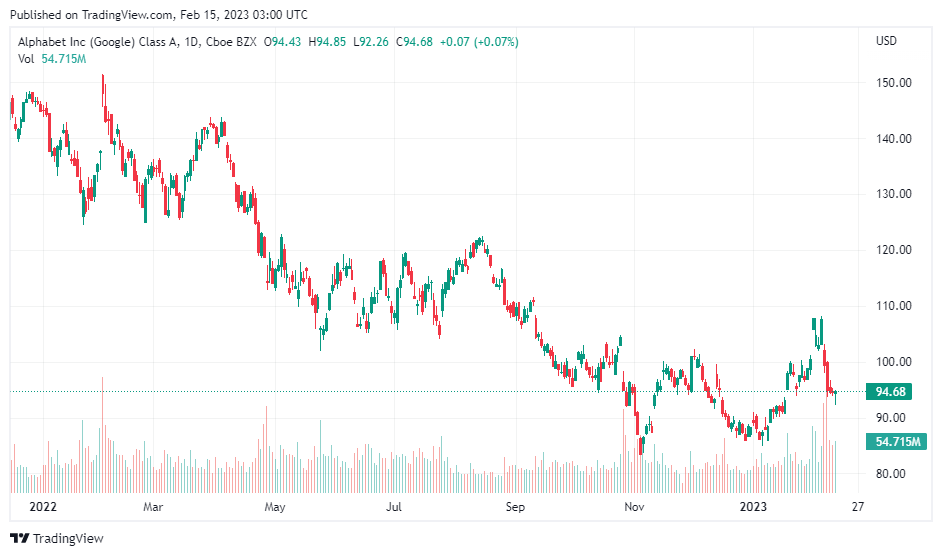 Alphabet's Q1 earnings report came in on April 26 with $68.01 billion in revenue, slightly short of its $68.06 billion projection. Its Q2 earnings report on July 26 was $69.69 billion, also less than the projected revenue for that quarter which was $69.8 billion. The third fiscal quarter came on October 25, and Alphabet reported revenue of $ 69.09 billion, largely less than the projected $70.98 billion. As of now, the price of GOOGL stock sits at $90.86.
Alphabet Stock 2021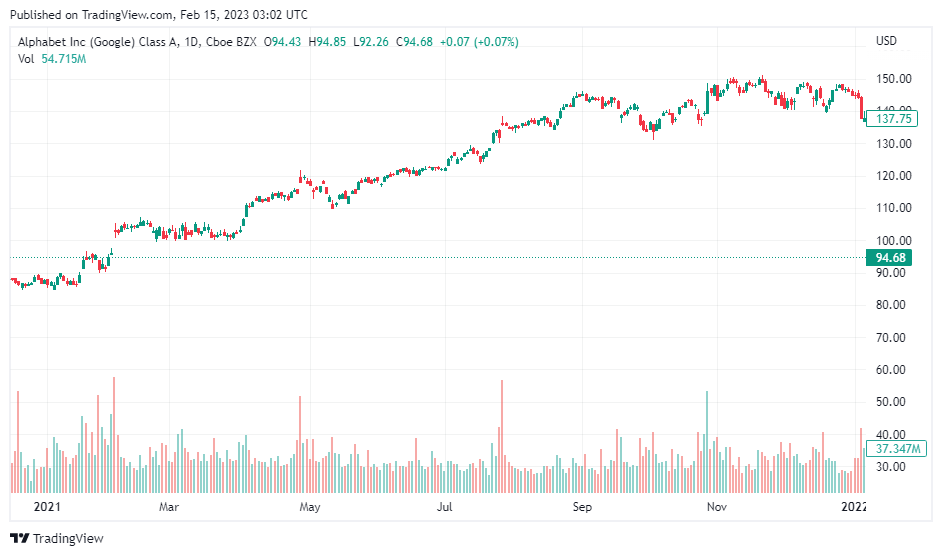 In January, Alphabet GOOGL stock opened the market at $87.88 and maintained a form of stability until it closed for Q1 2021 at $102.96. The U.S. market was favorable towards tech companies during this period because the Covid-19 pandemic and global lockdown still had people working remotely. The stock prices went above $100.
The stocks did fine for the rest of the year as people were working hybrid – online and physically. However, there was a remarkable change in November. The prices hit an all-time high of $150.97. Even though it dipped four days later, it maintained a high price, closing Q4 2021 at $146.
Alphabet Stock 2020
2020 was a huge year for the tech giant Alphabet Inc. While the rest of the world was battling the Covid-19 pandemic and lockdowns in most parts of the world, it was a big win for this tech company. It had many people depending on remote jobs and others spending more time on the internet than ever. Many used Google to check their symptoms, while others opened their YouTube channel.
There was an automatic effect on GOOGL stocks too. The price opened for January 2020 at $67.08 and increased until the latter part of February. The price dropped below $60 between late Q1 and early Q2 and picked up later – although fluctuating. By August, the price increased until it hit an all-time high on December 4th 2020, at $91.23. The stock price closed for Q4 2020 at $86.98.
Alphabet Stock 2019
GOOGL stocks opened in January 2019 at $50.83 and maintained a level of consistency for the rest of the Q1 months, hitting a high price of $61.32 in March. It ended Q1 2019 at $58.67. A crash in the U.S. market caused the price to fluctuate between Q2 and Q3. However, by the start of October, the stocks started gaining momentum, reaching an all-time high price of $64.97 on the 28th. The rest of the year was good, and Q4 results had the closing price of GOOGL at $66.81, which is a 23.91% increase from year-to-date.
Alphabet Stock 2018
Alphabet's Class A GOOGL stock started 2018 at $52.42 and remained consistent (with little fluctuations) throughout the first quarter. The second quarter experienced the same and closed Q2 at $55.78. However, there was a bit of hope in Q3 as the price increased to $62.46 in August before falling back to $59.69 in September. It fluctuated for a while in the latter months until it experienced a great fall in December at an all-time low of $48.51. It ended the year at $51.85.
Alphabet Stock 2017
The stock opened the year at $38.94 but began to increase a few days into the year and maintained a good status because of a thriving market. It remained consistent until October 27th, when it reached an all-time high of $52.42. The remaining months were even better and GOOGL stocks closed for the year at $52.32.
Alphabet Stock 2016
In 2004 when the company launched its stocks, it offered investors $85 per share. Unfortunately, by 2016, the starting price was $37.15 (-56.2% fall from IPO). GOOGL stocks remained stable from Q1, Q2, and Q3 to early Q4 2016. There is no substantial reason for this, but the stocks reached an all-time high of $40.83 on October 25th. It fell again and ended Q4 at $38.59.
Conclusion
This company has over 160 firms that have worked independently toward success.
The GOOGL stocks is one of its best innovations, allowing people to become shareholders. However, while there have been fluctuations in the prices of stocks since its IPO launch in 2004, it still has a bright future. This guide does justice for anyone interested in buying or selling GOOGL stocks by providing historical data and offering the best broker platform for success.
FAQ
What is the Difference Between GOOG and GOOGL Stocks?
Alphabet has two main stock ticker symbols – GOOGL and GOOG. The former is a Class A share that gives investors a right to stake and with voting rights, while the latter is a Class C share that gives stockholders a right to stake but without voting rights. They have the same price and are targeted to preserve a company's corporate control.
When is the Best Time to Buy Google Stock?
There is no best time to buy GOOGL stock. The only thing is that before you do, ensure to spend some time researching materials and historical stock performance. You can make logical decisions on when and the strategy to use after reviewing the movements of stock prices.
Risk Disclaimer
WeInvests is a financial portal-based research agency. We do our utmost best to offer reliable and unbiased information about crypto, finance, trading and stocks. However, we do not offer financial advice and users should always carry out their own research.
Read More