This content represents the writer's opinions and research and is not intended to be taken as financial advice. The information presented is general in nature and may not meet the specific needs of any individual or entity. It is not intended to be relied upon as a professional or financial decision-making tool.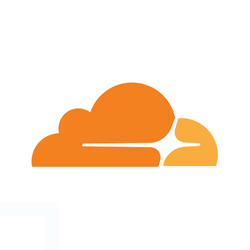 Cloudflare (NET) is a provider of security, performance, and site reliability solutions that went public in 2019. Since then the stock has increased by 151.6%.
However, its market value fluctuated since its IPO and now is in a downward trend with no bottom in sight. The market seems to be cautious of the current fundamentals and the forward-looking statements made by managers.
Taking into account Cloudflare's lower price than a year before and its recent developments, it's a good time for investors to wonder how the price will move in the future.
Our goal in this article is to explore what analysts think about the stock price and whether it's realistic. Afterwards, we will examine Cloudflare's price history and possible explanations why it has behaved as it has.
Let's get started with the business model of Cloudflare…
Business Overview of Cloudflare, Inc.
Cloudflare, Inc., founded in 2010 and headquartered in San Francisco, California, is a cloud services provider. With a focus on security products, its cloud-based services replace the need for on-premise solutions. It provides routing, traffic optimization, VPNs, firewalls, and load balancing for websites.
More specifically, the company mainly provides a reverse proxy between a website's visitor and a customer's hosting provider. But Thomas Seifert, the Cloudflare's CFO, seems to want investors to think of the company's offering "almost like Cisco-as-a-service".
As he said, "anything that wants to connect to the Internet, that connection we make more secure, faster, and more reliable."
Even though Cloudflare started with firewalling, DDoS mitigation, and load balancing services, the company has made efforts to expand its TAM to include VPN and remote browser isolation services.
No doubt, Cloudflare's business scalability and management's ambition to compete with the world's biggest on-premise security players are apparent.
Cloudflare has a "freemium" model, meaning that it also offers a free solution to protect websites from DDoS attacks and certain information from other attacks and reduce loading times. Solutions to paying customers include more advanced security offerings, faster network speeds, mobile optimization, etc.
Getting free customers to pay and upselling to already-paying customers is Cloudflare's key challenge, just like for any company that pursues this business model. At present, the company has 156,000 thousand paying customers.
Cloudflare Stock Forecast 2023
Source: CNN Business
Cloudflare went public in late 2019, so we have a bit more than 3 years of stock price history here. There's also enough public information about the company's financials to help analysts forecast the price of the stock.
Based on Wall Street's 12-month median price target and the stock's price, Cloudflare has a 32.4% upside. Such a forecast could be justified if it was on a long-term basis.
Its portfolio of products covers 20% of the top 1 million websites, but if growth slows, the stock may be at risk as it's trading on high multiples. It was evident earlier in the year that this would be a potential problem as Cloudflare's pipeline generation slowed in Q1 2022 and its customers started taking longer to pay their bills.
No doubt, the stock's price has fallen a lot this year but nobody can say with certainty if it's anywhere near the bottom. Based on the company's fundamentals, it's more likely that the price will move more or less sideways. For this reason, the lowest price target of $50 per share seems the more conservative forecast here.
But let's consider some pros and cons of the stock to gain more insight into the future.
Pros
Cloudflare almost has a monopoly when it comes to DDoS and bot protection. Its worldwide market share as of September 2022 was about 86.33%.
From CDN to cybersecurity, Cloudflare is a leader in multiple growing industries that are moving to the cloud, making it more recession-resistant than other firms. With its high dollar-based net retention rates, it has consistently and successfully rolled out new products to existing customers, leading to substantial growth.
Its 6-year average revenue CAGR is 51%
151,800 paying customers joined Cloudflare in the second quarter of 2022, representing a 20% increase year over year.
The company's dollar-based net retention rate has been around 125% for the last few years. Ultimately, Cloudflare hopes to reach 130%, matching its cloud peers. Given the expanding portfolio of higher value-added solutions, this seems achievable.
Cons
Cloudflare is highly leveraged with a long-term debt being 2.6 times its shareholders' equity
The company has still to turn a profit
Because managers and directors own 60.5% of the company, they could block a potential acquisition
The stock seems overvalued, trading at 16 times the revenue and 24 times the book value
Cloudflare Stock 2022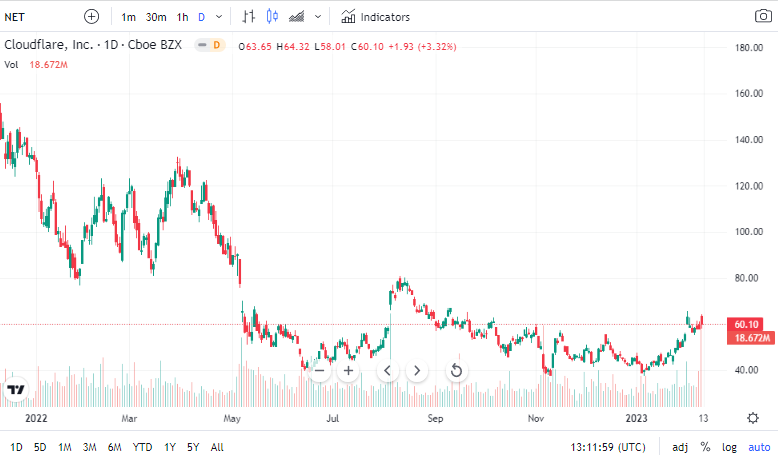 Like most stocks globally, 2022 was not the best of years for Cloudflare stock. The stock was down by 65.71% YTD in 2022. Starting the year above $130, Cloudflare stock finished disappointingly at around $50. As the valuation of Cloudflare is mostly forward-looking, the lack of guidance that continually suggests more growth can be the primary factor of this sell-off here.
Let's take a look at some notable price swings to understand what drives the stock's price:
Cloudflare Stock 2021
In 2021, the stock climbed by 73.05%. The quarterly results were mostly positive and the market responded.
But there are two significant price moves that we need to consider as they seem to be correlated with new developments:
Sep. 29 – Oct. 18 (+60.91%)

On September 29th, the company announced it will deploy equipment directly into the most crowded office complexes and multi-family properties in the world in order to provide network security and connectivity to these buildings

Apr. 13 (+11.3%)

Four years ago, Cloudflare introduced Cloudflare Workers, which allowed users on any plan to write code in any language and deploy it to the company's edge nodes.

On the same day that the stock climbed by 11.13%, Cloudflare announced a new partnership with Nvidia which will give Cloudflare Workers access to machine learning and deep learning methods that are easily scalable and secure.
By supporting Nvidia GPUs and TensorFlow, the Workers platform will allow customers to build AI applications that run across the edge network, using pre-built or custom models.
Cloudflare Stock 2020
In 2020, the stock price increased by 345.4%. Although this may reflect more than the company's fundamentals, some significant developments seem correlated with corresponding one-day price swings:
Nov. 05 (+11.16%)

On the same day, the company released its earnings results for the third quarter where it beat estimates and raised guidance.

Matthew Prince, co-founder and CEO of Cloudflare commented: "Our third quarter represented many significant milestones including surpassing $100M in revenue, crossing 100,000 paying customers, and releasing more than a dozen new products and features."

Oct. 12 (+23%)

On the day of the surge, Cloudflare announced that it launched Cloudflare One, a network-as-a-service solution that protects and accelerates the performance of devices, applications, and entire networks.

Due to the Zero Trust security model, the solution allows distributed teams to work across multiple devices and networks without compromising security.

76% of businesses today say their security approach is antiquated and they need to move to a Zero Trust framework, according to a Forrester Consulting commissioned study as of October 2020; 82% of organizations are already committed to adopting a Zero Trust security architecture.
Conclusion
Cloudflare has a huge market share and its revenue growth is very encouraging.
On top of that, the company seems to be able to continually expand its business by launching new solutions.
The stock's current price may also be seen as attractive to investors who highly value the business and believe in its growth. There's no denying that the company is highly competitive and seems efficient in its attempts to expand its total addressable market.
However, the market continually votes on the forward-looking developments of the company. So, there might be a risk of further dips if the company doesn't live up to expectations in the short term.
And though common for stocks in this industry, Cloudflare's unprofitability does not convey a lot of confidence.
Regardless, Cloudflare's position in the market and its prospects make it worthwhile to track in case the price falls to more attractive levels.
FAQ
Is Cloudflare undervalued?
The stock of Cloudflare seems undervalued to some analysts who take Cloudflare's scalability and growth rate into account. But based on its current financial condition and the stock's price, the company seems way overvalued.
What is the target price for Cloudflare?
Based on 21 analysts who offer forecasts for Cloudflare (NET), the median target price is 60.00, with a low estimate of 50.00 and a high estimate of 150.00.
Why is Cloudflare not profitable?
Cloudflare is not yet profitable because it has some non-cash expenses, such as share-based compensation.
Risk Disclaimer
WeInvests is a financial portal-based research agency. We do our utmost best to offer reliable and unbiased information about crypto, finance, trading and stocks. However, we do not offer financial advice and users should always carry out their own research.
Read More