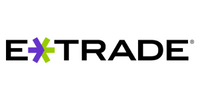 $0 commissions – Focus on your future, not fees
Easy-to-use tools – Powerful, intuitive platforms
Product choices – Full range of investments
Pros
Beginner friendly broker with interesting offers such as Core Portfolio.
Well designed propriatary platforms that integrate E-Trade services, customization and unique features.
No commission trading on US Stocks, options, mutual funds, and ETFs.
Good educational content for investing and great tutorial coverage for the platforms.
Cons
Very low ratings on review portals, especially since the Morgan Stanly takeover.
Many administration fees that are common for banks, not brokers.
Customer Service does not handle problems efficiently, no chat and long waiting time.
E-Trade Highlights

| | |
| --- | --- |
| 📈 Demo Account | Free demo account with $100,000 virtual funds to practice trading |
| 💸 Leverage | Up to 4:1 intraday and 2:1 overnight leverage on marginable stocks |
| 📊 Available assets | Stocks, ETFs, mutual funds, options, futures, bonds, and CDs |
| 💵 Deposit Methods | Bank transfer, wire transfer, check deposit, and account transferBank transfer, wire transfer, check deposit, and account transfer |
| 🗠 Minimum Trade On Stocks | No minimum trade size or amount |
| 💰 Min Deposit | No minimum deposit to open an account; $2,000 minimum deposit to trade on margin |
| ⚖ Regulation | Regulated by FINRA and SIPC |
| 🌐 Countries | US residents only |
To understand who is E-Trade we have to review what E-Trade business delivers to its clients and research more about how this brokerage brand stands with them.
E-Trade is one of the older brokerage houses from the US, starting in 1983. The brand established some legacy, however, E-Trade's reputation in recent years has failed to align well with its long history. In 2020 E-Trade has been merged with Stanley Morgan. This well-known bank has kept the E-Trade brand, but you will be dealing with Stanley Morgan essentially.
E-Trade does not offer CFDs, it is a discount broker that specializes in very wide equity products, retirement accounts, managed investment solutions, and easy-to-use, automated investment applications. Of course, E-Trade offers are intermixed with Stanley Morgan's banking services.
The broker's online presentation is deprived of a typical banking language. The homepage uses cute baby images to target family investments and also uses a friendly tone to appeal to less financially savvy people.
Logically, E-Trade focuses on easy-to-use platforms, no-commission stock investing, and other services that aim to bring investing as accessible. However, Stanley Morgan still needs to work on E-Trade's low ratings. In 2023, clients will gradually move on to Stanley Morgan completely. Read on for more details.
Is E-Trade a Good Option for you?
E-Trade offers a wide selection of equity products such as stocks, bonds, ETFs, Futures, and more. This enables them to offer bundled products, all combined in a convenient proprietary platform. Saving accounts -IRA, managed portfolios, and more services are blended for retail clients who are willing to build investment portfolios.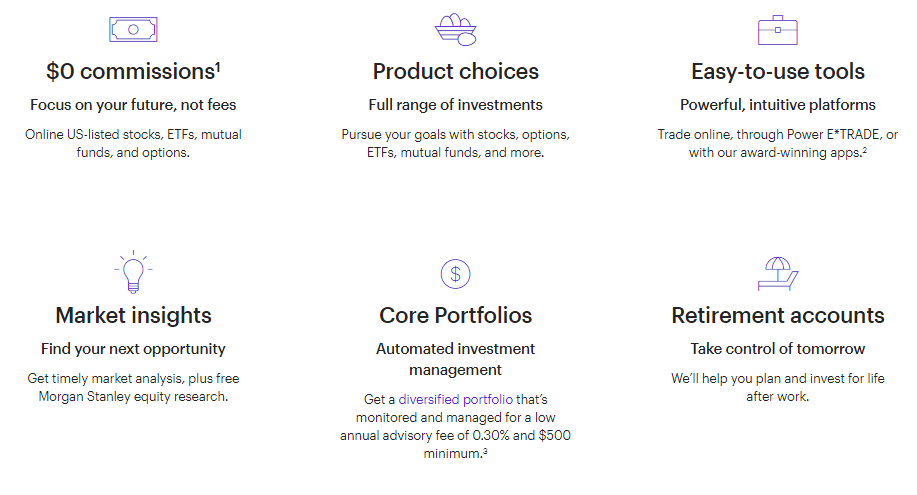 E-Trade is also a good source to learn the best practices. The broker does an excellent job providing educational material that is up to date, and covers the most important aspects of today's markets, trends, and all you need to get involved. Therefore, E-Trade also has to rely on good customer service 24/7.
By looking at some advanced products like options and IPOs, E-Trade can be attractive to more experienced investors, however, other US major brokers are more competitive in this regard.
One of the most important questions is can you trust E-Trade? The broker is a public company (NASDAQ: ETFC), a member of SIPC, NFA, and FDIC, and has a Protection Guarantee. Now, E-Trade has been fined several times for insider trading schemes in 2018 and failure to prevent user private information misuse in 2016. Banks and brokerages get fined often, yet the fines are rarely a problem for such large-cap financial institutions. Sometimes these fines do not influence clients or tarnish the broker's reputation.
Is E-Trade regulated?
E-Trade is a member of the NFA, FDIC, and SIPC. As an affiliate of Stanley Morgan's institution, the brand belongs to one of the most strictly regulated jurisdictions. E-Trade is also a publically traded company on NASDAQ. The broker is one of the largest companies in the industry.
While regulations can sometimes filter unethical behavior, in the US they also set up steep market entry barriers, effectively limiting better brokerage competition.
Who Is E-Trade Recommended For?
Outside the US, clients can go with the Stanley Morgan EU division, but E-Trade does not accept non-US clients.
Primarily, E-Trade is adequate for US residents looking to invest and build portfolios without much effort. Therefore, beginners will enjoy good customer service that will introduce them, offer easy-to-use platforms, and even offer managed investment services if personal trading is too much of a hurdle.
For those who want to learn more, E-Trade has good educational content and also Insights. The E-Trade mobile platform is adapted for entry-level investing, although more advanced traders can pick the Power E-Trade platform.
The broker will offer 3 account types, and they can all be opened at the same time. For investing choose Brokerage Account. Bank Accounts and Retirement Accounts are also optional.
E-Trade has good proprietary platforms, however, experienced traders would likely seek better options and more international coverage. On the other hand, the broker offers a wide range of advanced investment products such as Options, IPOs, and ETFs.
E-Trade Trade Experience
All of the E-Trade platforms are proprietary, you will have a few options based on how you want to invest. For beginners, the best platform is the "E-Trade" platform while experienced traders would choose "Power E-Trade". Both platforms have their mobile versions.
If you are interested in E-Trade's "Core Portfolio" service, you will have a good overview of your easily created portfolio using a mobile app. This is an automated investment solution for custom portfolios but with E-Trade monitoring. Based on your goals, risk tolerance, and investment choice, E-Trade will rebalance that portfolio. This is a very easy way to get involved, E-Trade has made a simple step-by-step questionnaire that automatically creates an optimal portfolio structure based on your responses.
Traders who would like to invest on their own will enjoy the Power E-Trade platform with many unique tools. The markets scanner, for example, has a great earnings filter, you can customize widgets or elements you would like to view, a Trade Lab tab for analysis, Options linking, and more. These features are well integrated into an attractive design that will immerse you to learn many of the platform's abilities. E-Trade has included tutorials for all of the platform elements.
Commissions and Fees
US Stocks, options, mutual funds, and ETFs have zero commissions but OTC securities will have a certain fee.
Trading through a broker service is charged $25.
The options trading fee is $0.65 with a reduction to $0.5 for at least 30 trades per quarter.
Futures trading will incur a $1.5 fee per side ($3 for complete trade) with additional fees charged by the NFA and non-ECN brokerage. The crypto futures fee is $2.5 per side.
Bonds trading is somewhat expensive, with a $10 minimum and $1 per bond, but $0 for US bonds.
CFD fees
E-Trade does not offer CFDs.
Non-trading fees
E-Trade charges $25 for outgoing wire transfers.
Various other admin fees and 3% currency conversion fee.
How to open an account with E-Trade
The webpage will check for your IP and if you are not from the US the registration will be closed to you.
Start registration by clicking on Open Account.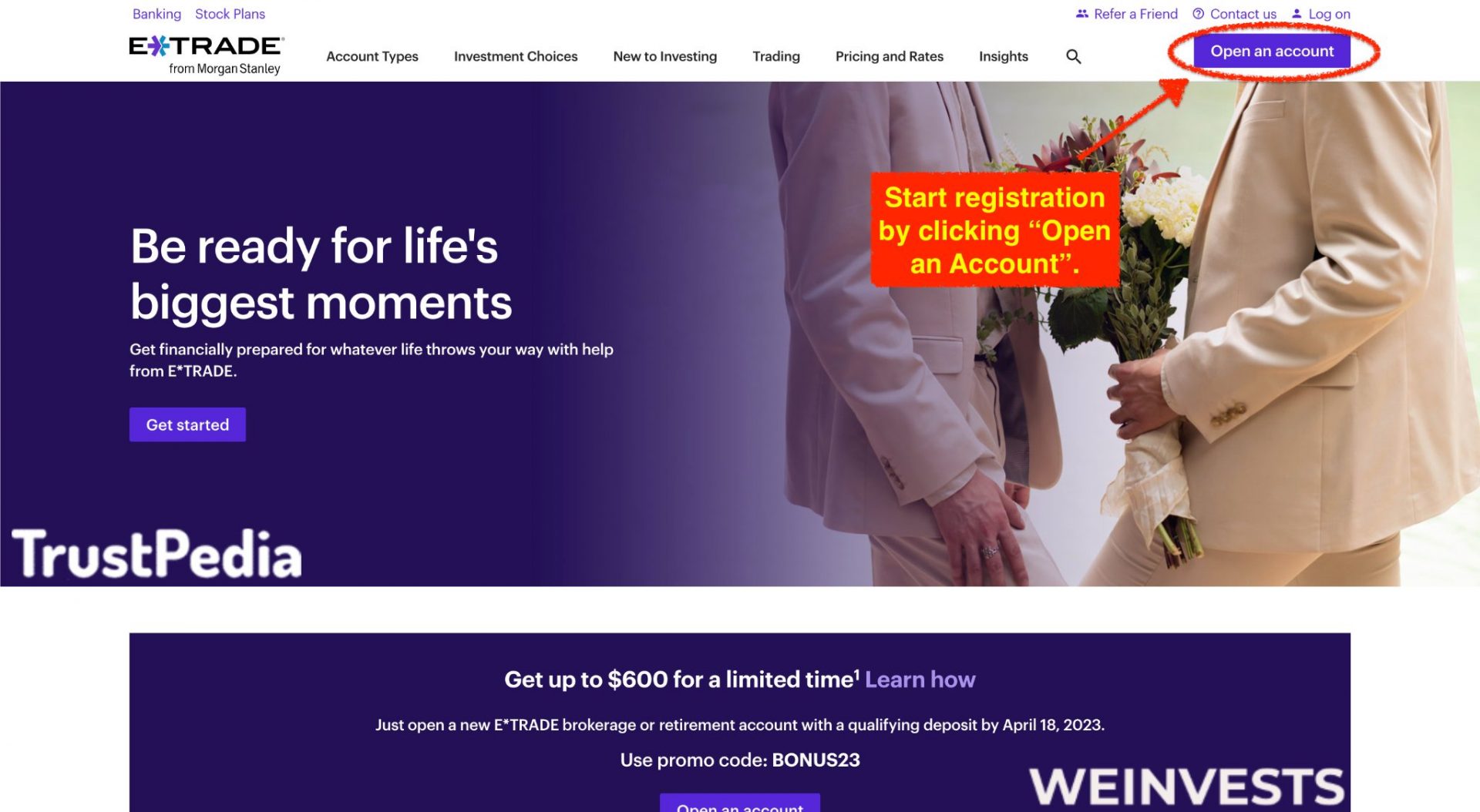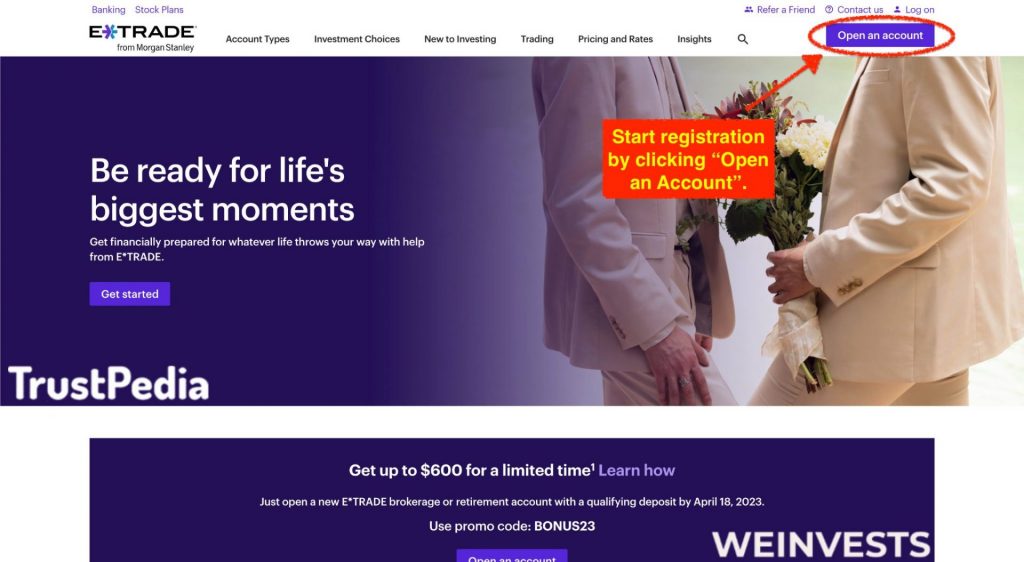 Select your account type, brokerage, or retirement plan. Joint or Custodial accounts are also optional for brokerage.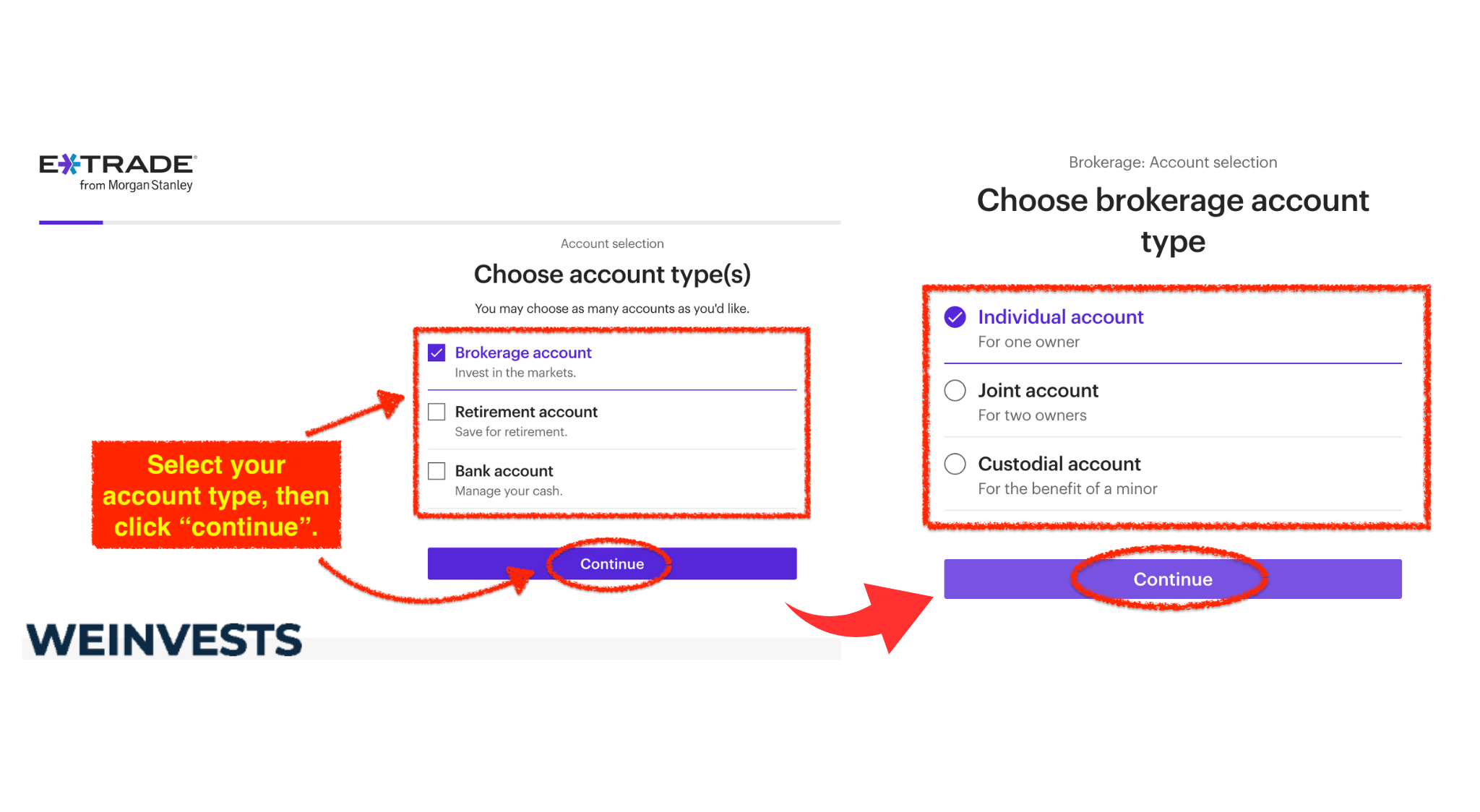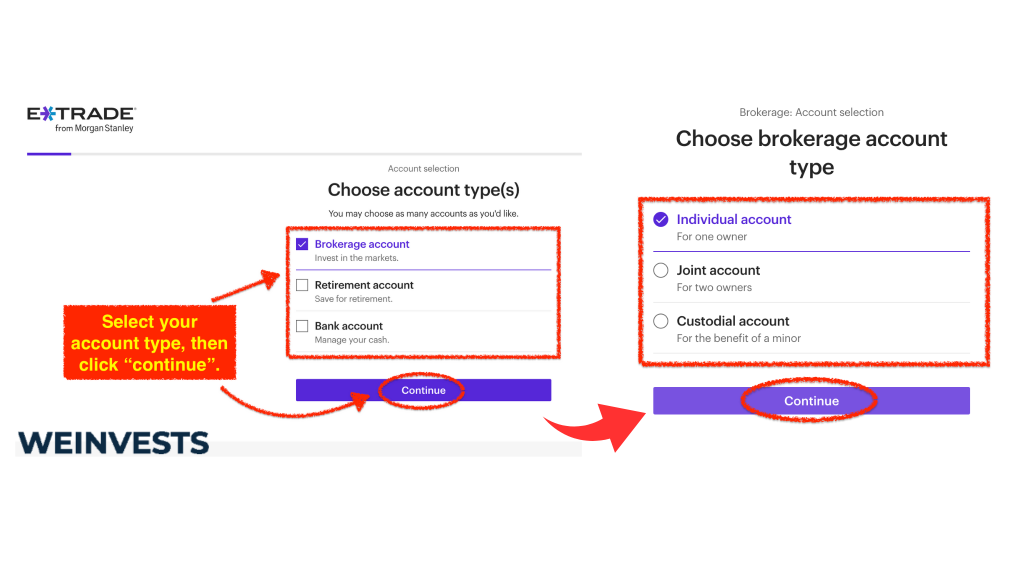 The Personal Information page will ask for names, phone addresses, and other data.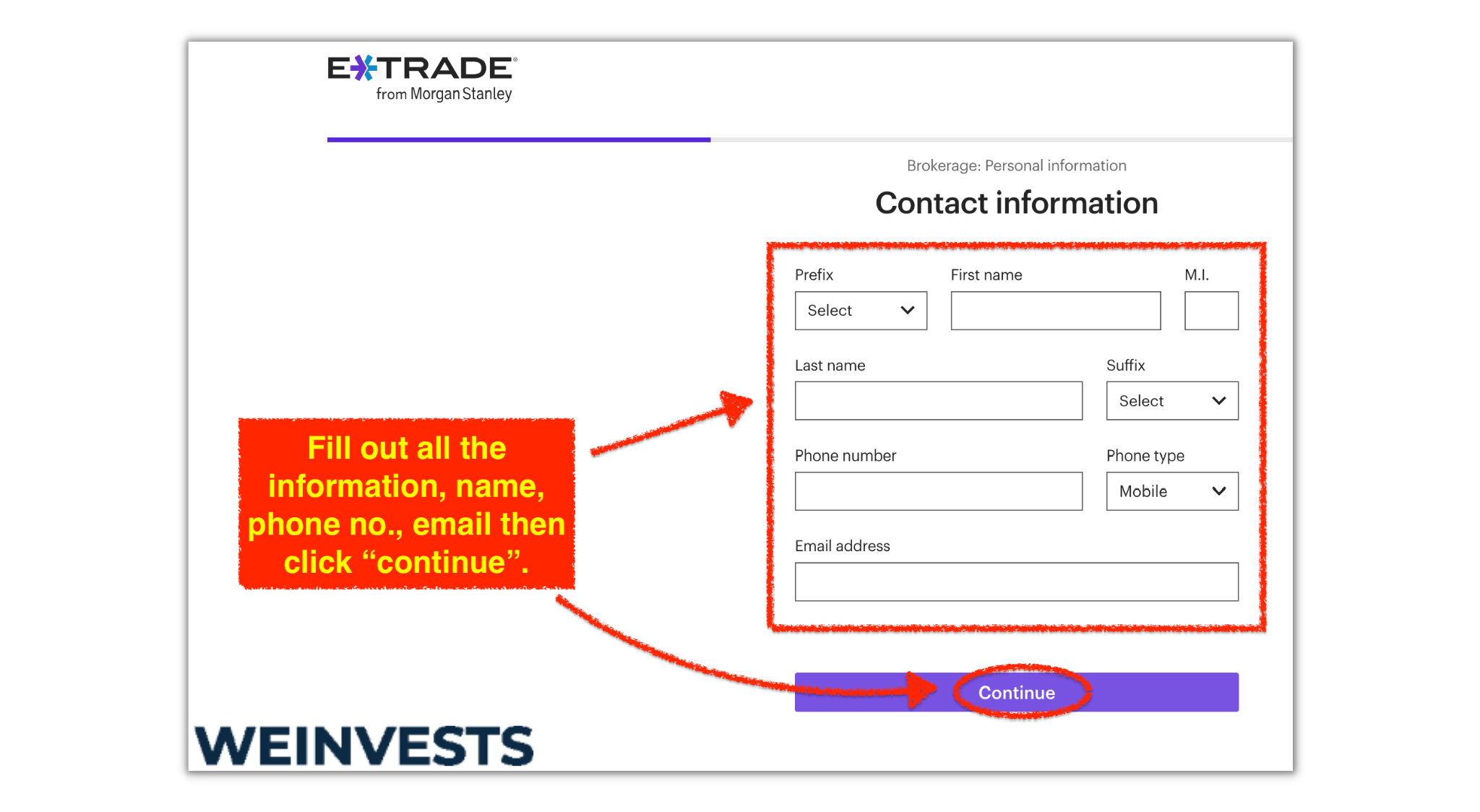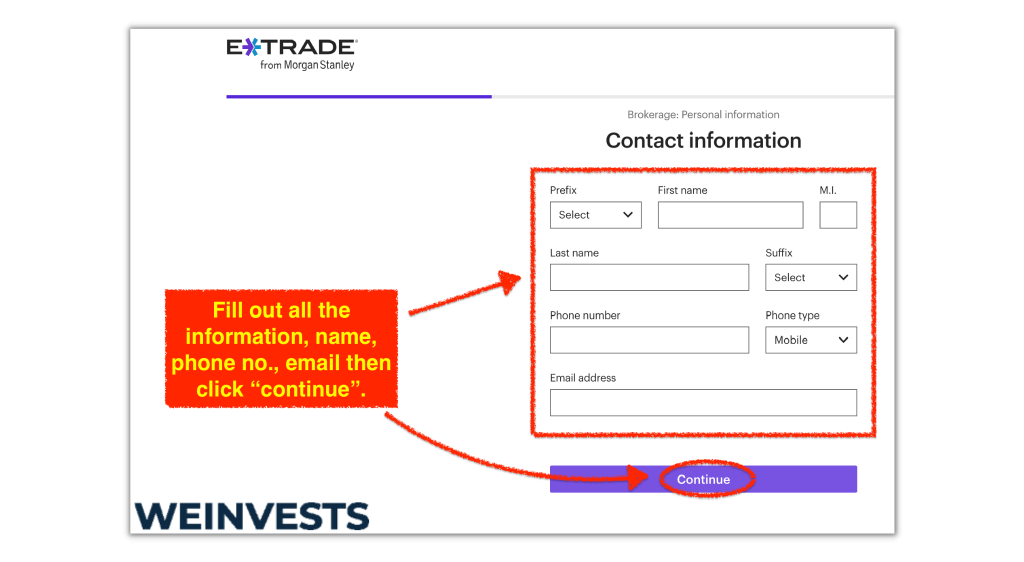 Next is Identity Verification page requires more of your data such as annual income, Social Security number or ITIN, etc.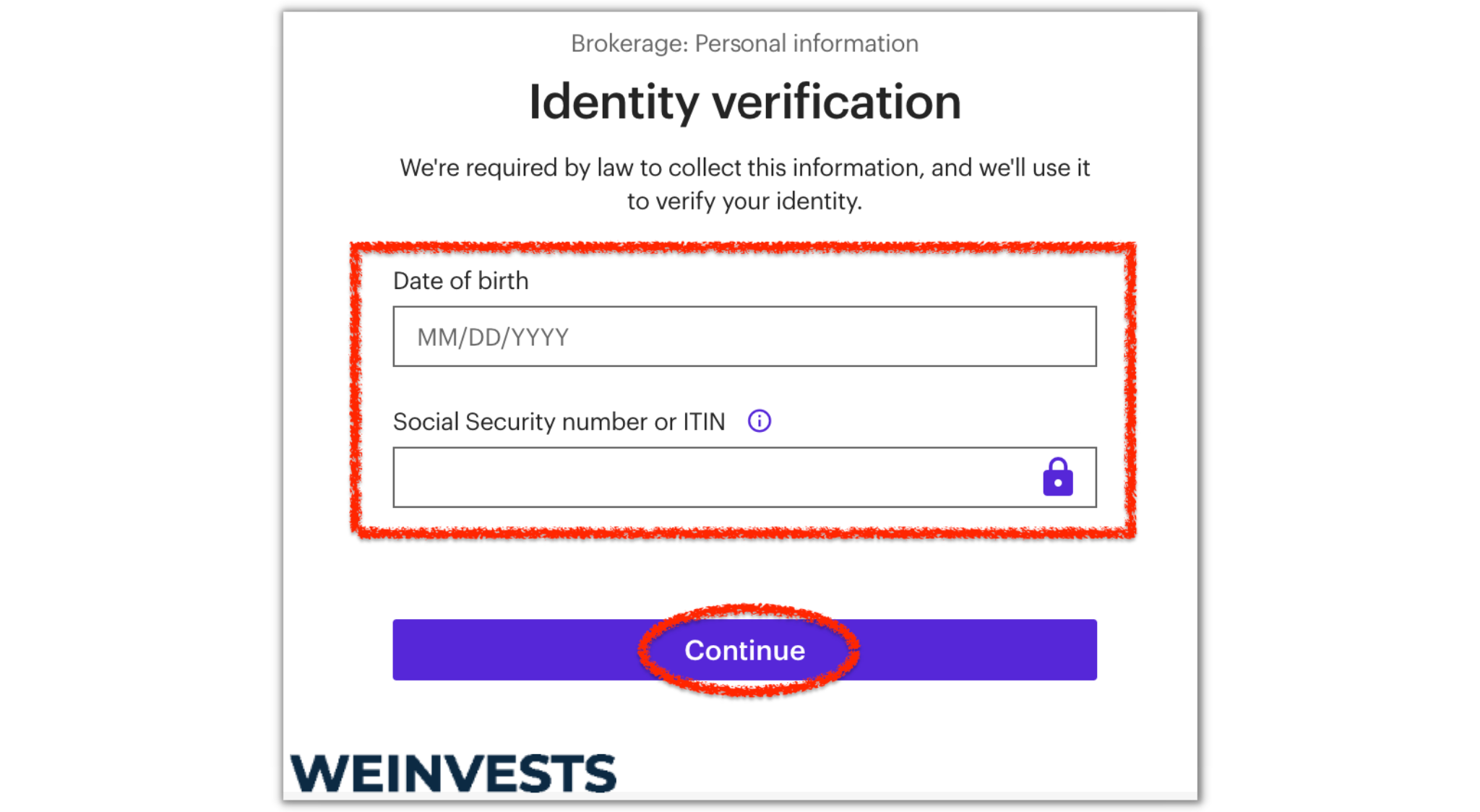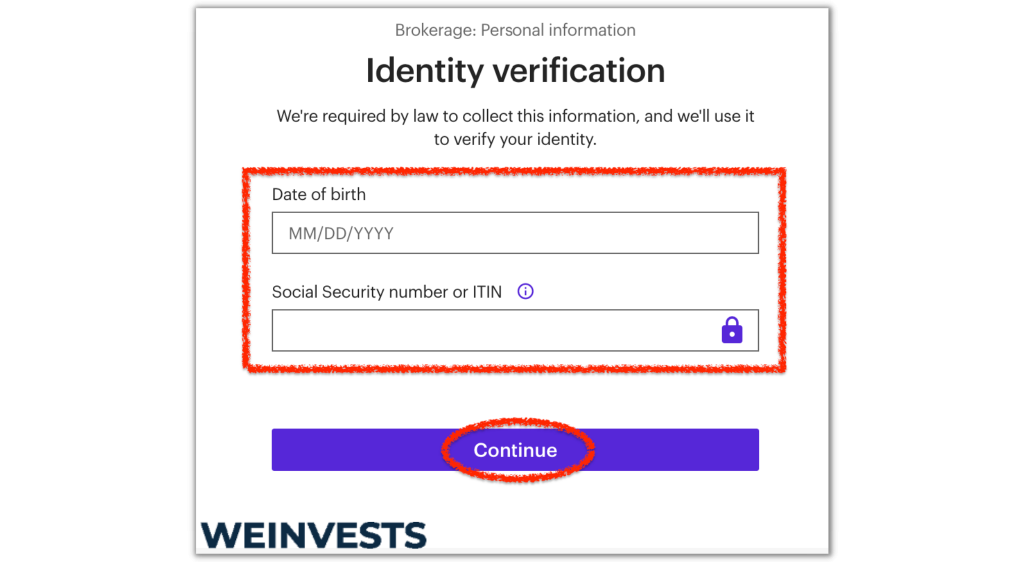 Investment Profile step will ask about your trading experience.
Account Setup page is about controlling your account, for example, if you want margin, futures, additional trusted person, etc.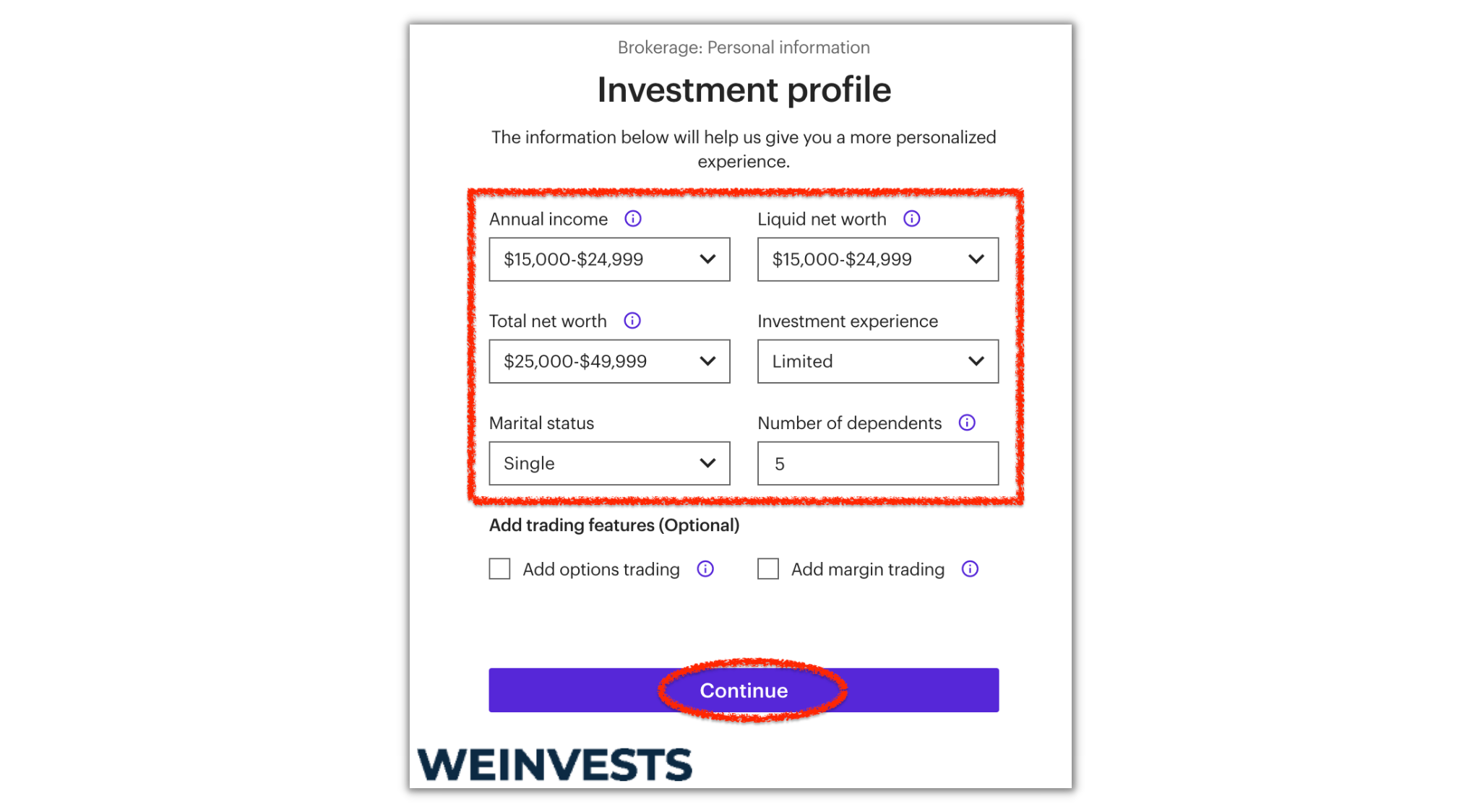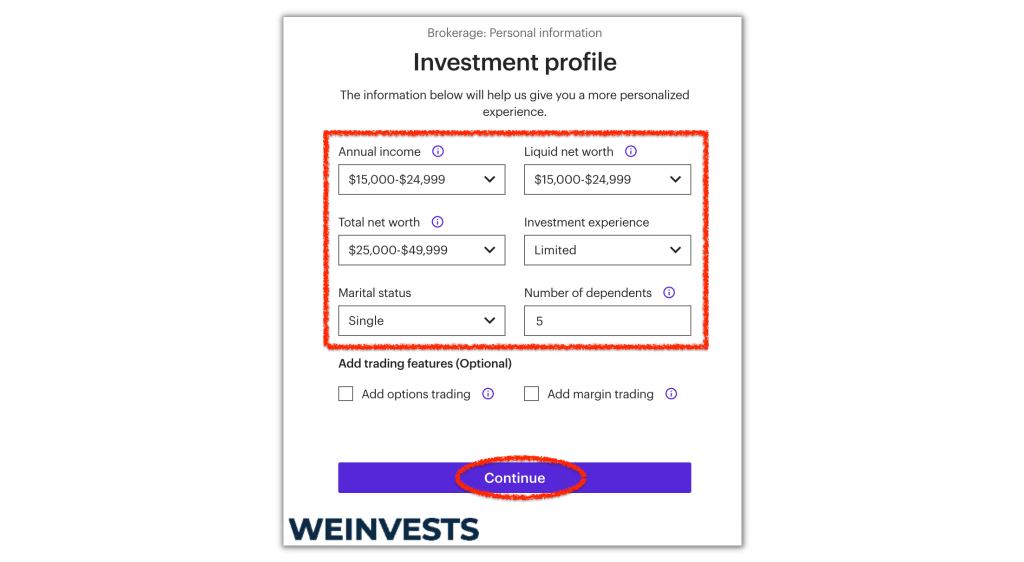 A review page is next where you can see a summary of the data you have provided thus far.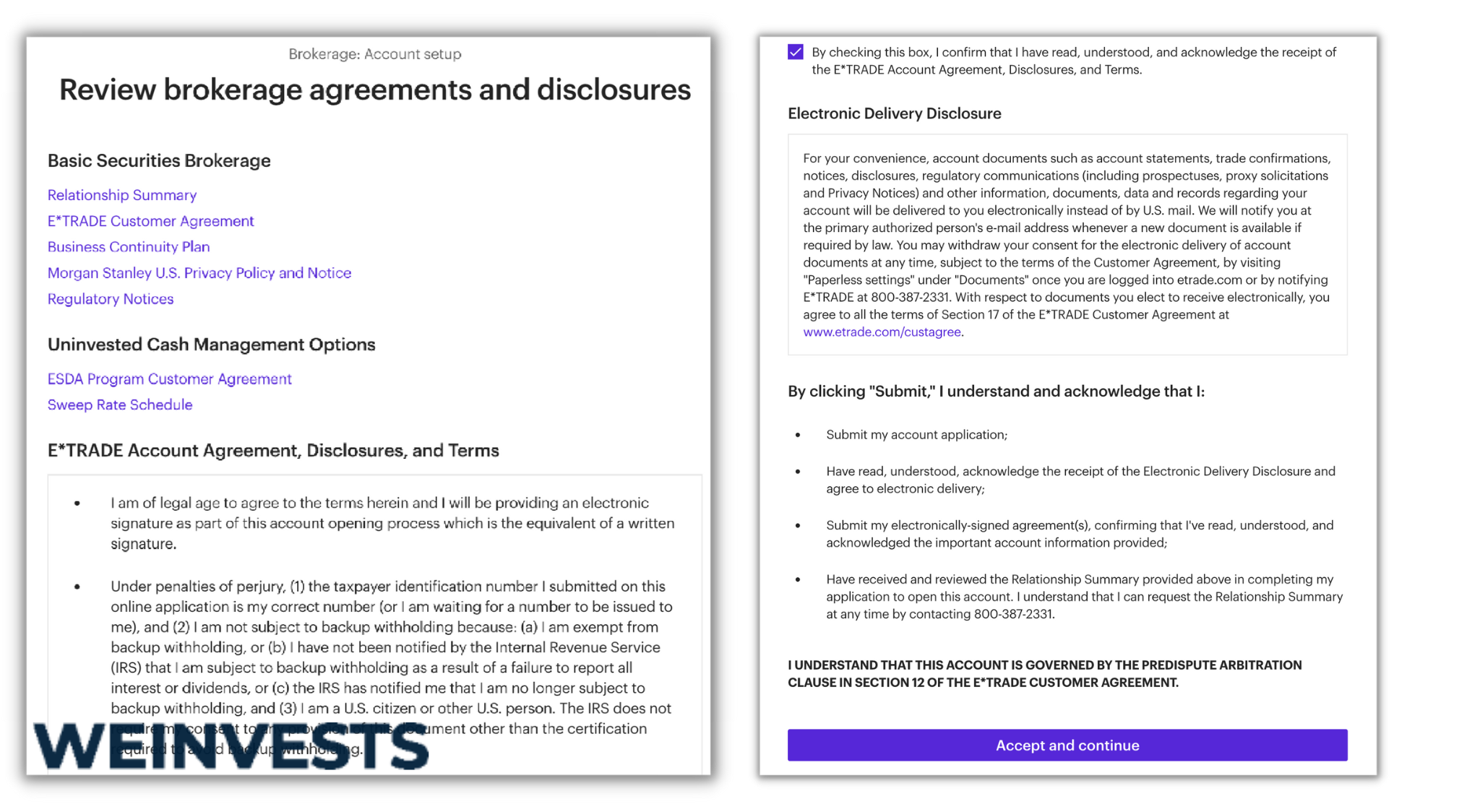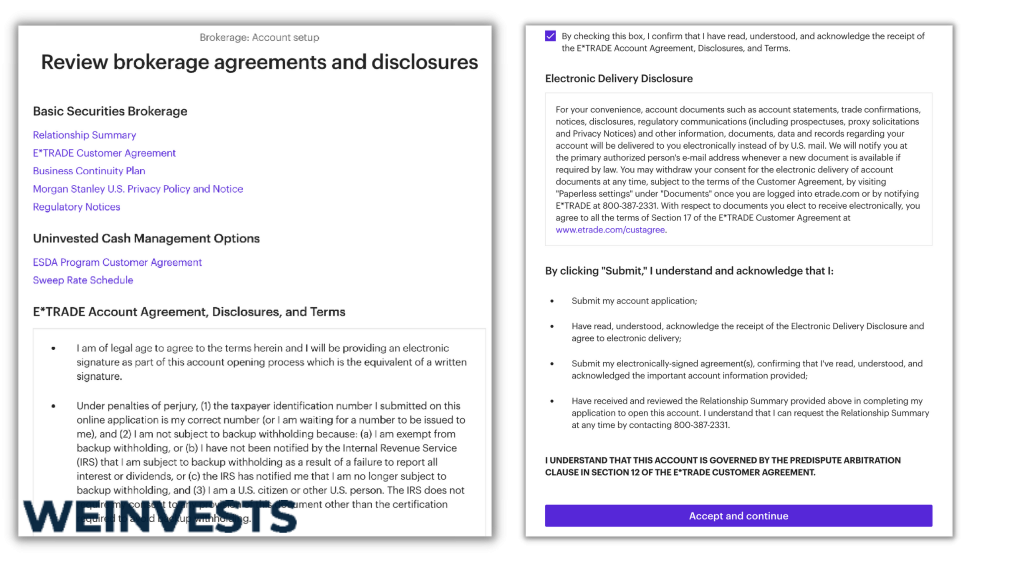 Finally, you can create your username and password for logging in in the last step, but your registration will need to be approved first.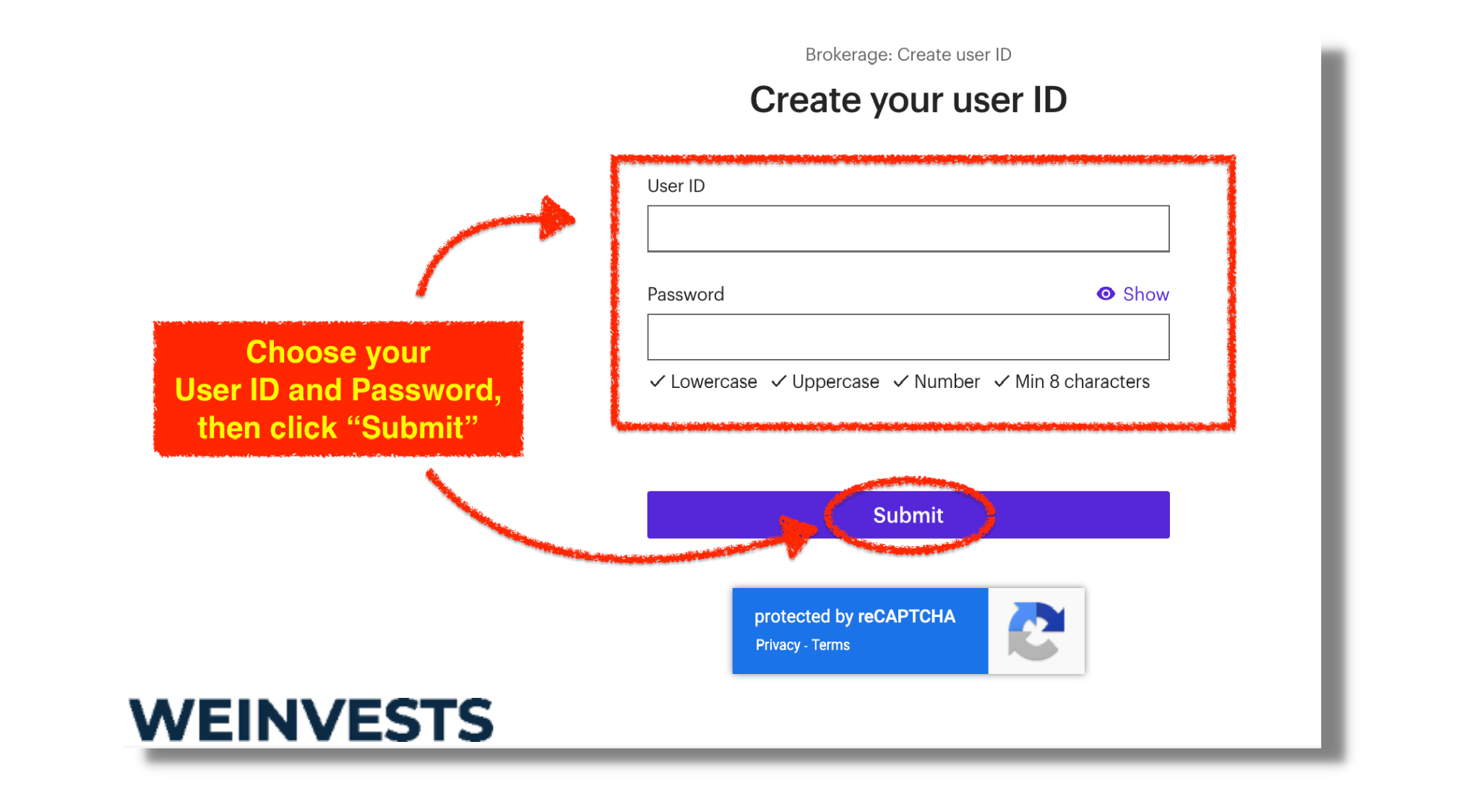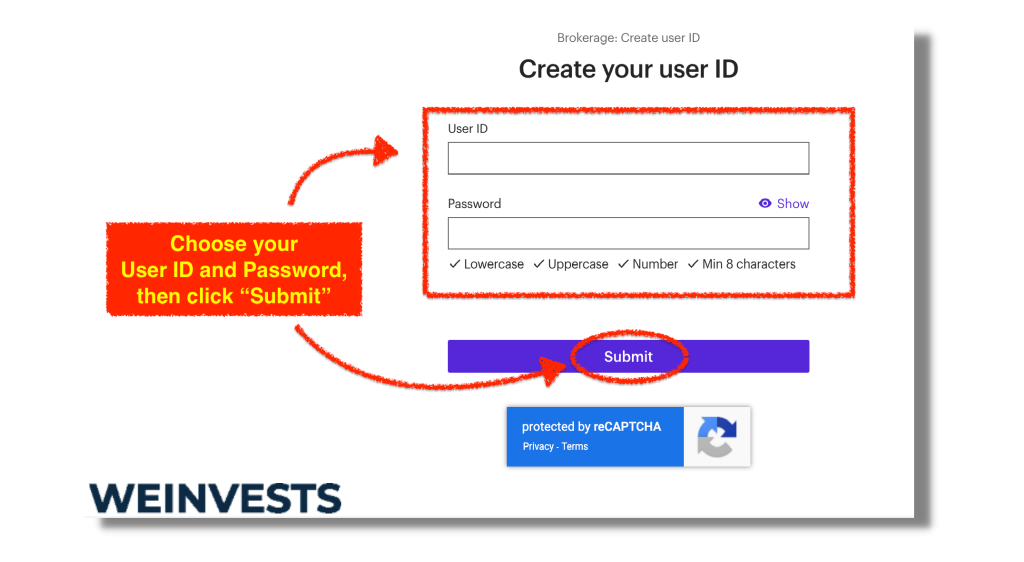 E-Trade demo account
E-Trade platforms feature paper trading. However, you will not be able to try the platforms without registration. All registrations will need to be approved and that may take up to a day. Unfortunately, E-Trade is not offering a quicker way to trade their platforms and trading.
Paper trading has the same conditions and quotes as real, but using virtual funds.
E-Trade Education
E-Trade is focused on entry-level traders but will also provide enough depth for others and those who are willing to learn more than just investment basics.
The E-Trade library is interactive, as you read the investment basics, for example, the page features choices and selection figures to demonstrate how various aspects of investing work.
Webinars and platform tutorials are very well organized. Now, accessing more advanced parts like webinars will require you to log in.
YouTube.
Blog.
E-Trade Customer Service
E-Trade customer service is available 24/7 and the preferred method is to contact by phone. The agents are tailored to be friendly and supportive, adequate for new investors. You can contact E-Trade by email too, but there is no chat.
The waiting time is sometimes longer than 20 minutes and some clients report customer service is not efficient in problem-solving.
Conclusion
E-Trade offers very wide investing options and quality platforms for all investor levels. Beginners will like Core portfolio, Education, and powerful but easy platforms. Of course, CFD traders, robot trading, and those outside the US will have nothing to find with E-Trade.
We also think some fees should be disclosed better, not only to promote no-commission stock trading while conversion and other fees are in small letters. Similarly to other banks, there are many administration fees, it could be easier to just encompass the fees into commissions or maybe some subscription plan. This way E-Trade is messy at the corners, which is not helpful for beginner investors they try to attract
E-Trade is one of the larger houses still in business but also one with the lowest ratings on the internet. The merger with Stanley Morgan is likely to rebrand this brokerage company as the clients will completely migrate to the bank brokerage service. According to client reviews, the platform is buggy, the customer service is not answering and many had a terrible experience overall since the Morgan Stanley takeover.
Until E-Trade becomes more stable, investing large amounts with this broker is risky, despite all the regulations.
FAQs
Does E-Trade offer fractional trading?
E-Trade should provide you with fractional share trading but not in a traditional way. Check with E-Trade for current conditions as they could change during the 2023 migration to Stanley Morgan.
Does E-Trade offer a bonus to new customers?
Yes, E-Trade offers a bonus for new clients but the first tier amount is $50 for at least a $5000 deposit. Other conditions apply.
Is there a minimum deposit with E-Trade?
Core Portfolio requires at least a $500 deposit, while other services may have different minimums. Brokerage accounts do not state a minimum deposit requirement.
Risk Disclaimer
WeInvests is a financial portal-based research agency. We do our utmost best to offer reliable and unbiased information about crypto, finance, trading and stocks. However, we do not offer financial advice and users should always carry out their own research.
Read More