This content represents the writer's opinions and research and is not intended to be taken as financial advice. The information presented is general in nature and may not meet the specific needs of any individual or entity. It is not intended to be relied upon as a professional or financial decision-making tool.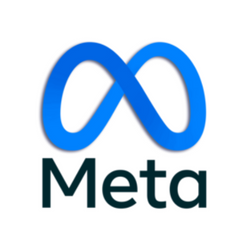 Human civilization prioritises digital innovation. We're always looking to improve on past experiences and technology. That's how we have built our society up to what it is today. While many people would wonder what's next for the human race, you won't have to search too far for an answer – virtual interaction. Meta is the frontrunner in the development of virtual interaction and recently launched the Metaverse.
Meta, formerly known as Facebook, is a digital company committed to helping people connect, communicate, and grow their businesses. Because of Meta's success over the years, many people wish to purchase their stocks. But you'd do well to avoid investing blindly.
What is Meta?
When Meta was founded in 2004, no one could have predicted that this company would do so well. As Facebook, this digital company connected millions of users in different parts of the world. Facebook's growth was astronomical, and it's safe to say it was the pioneer of modern social media.
Gradually, Mark Zuckerberg extended his influence beyond the confines of Facebook. He purchased Instagram and Whatsapp. By doing so, Mark ensured that his company could offer millions of users the opportunity to communicate virtually. Facebook is committed to improving the experience of its users.
As part of their bid to serve users better, Facebook was rebranded as Meta. This new brand will serve as a combination of all the applications and technology that Meta offers. Meta's main purpose is to introduce the Metaverse to users and create a new form of interaction.
The metaverse will serve as a digital universe where people can communicate like the real world. It will combine online social experiences that are transformed into a 3D world. You'll be able to share immersive experiences with people in different parts of the world and try out new forms of interaction. Meta has grown beyond regular 2D interaction, connecting augmented and virtual reality.
Meta Stock Forecast 2023
Meta stock price fell for about 70% from the start of 2022 to December. That massive plunge came as a surprise to many but it has also made analysts cautious about their predictions for 2023. As expected, analysts are not hoping for a drastic improvement of the stock prices in 2023 due to the events in 2022 but also due to other factors.
One of them is the billions Meta is investing in AI and VR that is not yielding profit for the tech giant and another is the decline of user engagement on its social platforms as many of its users spend more time on TikTok and Snapchat.
Therefore, Meta is forecasted to open at 125.09 in January, 2023, but it is expected to drop by the end of the first quarter at a minimum price of $103.12. However, experts hope it will pick up again at Q2 and maintain relative stability throughout that quarter only to plunge again around September with a mimimum price of $97.89 and a maximum price of $110.54. The stock price is expected to close at a maximum price of $99.75 in December, 2023.
While this doesn't look promising, there could be a renewed interest on the VR in 2023 that could potentially improve the stock prices.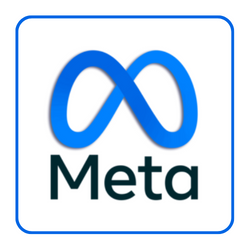 How To Buy Meta Stocks
Formerly known as Facebook, Meta is one of the biggest corporate names globally, having a dominant presence in the social media and tech industries. Known for its flagship products such as Facebook, Instagram, WhatsApp, and Oculus, Meta has the broadest worldwide user base as well as a strong market position. Investing in Meta shares can be an appealing opportunity for investors looking to capitalize on the company's future innovation and expansion potential.
Meta Stock 2022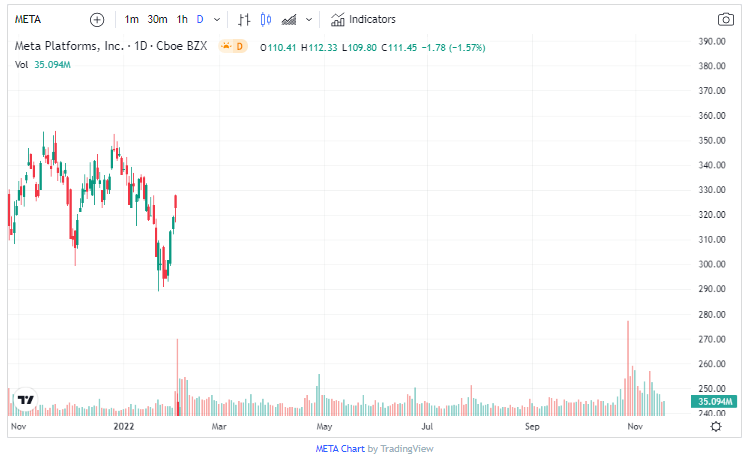 As mentioned earlier, Meta is an innovative, growing project. Despite having a good start to 2022, META's prices have been far from satisfactory. Meta kicked off 2022 with a price of $338.54. By the end of Q1, the price had dropped to $222.36. However, price kept dropping till the end of the year. Things got even worse by the start of Q3, and the price fell to $160.03. The last quarter of the year kicked off with an even lesser price of $138.61 and as of now, December 14, 2022, the stock price is $120.15. The constant price dips have been due to the inflation that has been raving through different countries worldwide.
As the world currency market struggles, fewer people have lesser resources to invest in META. However, there's still plenty of home for these stocks. Meta is only in the early phase of its virtual reality project. As more people participate, interest will increase and may drive stock prices higher.
Meta Stock 2021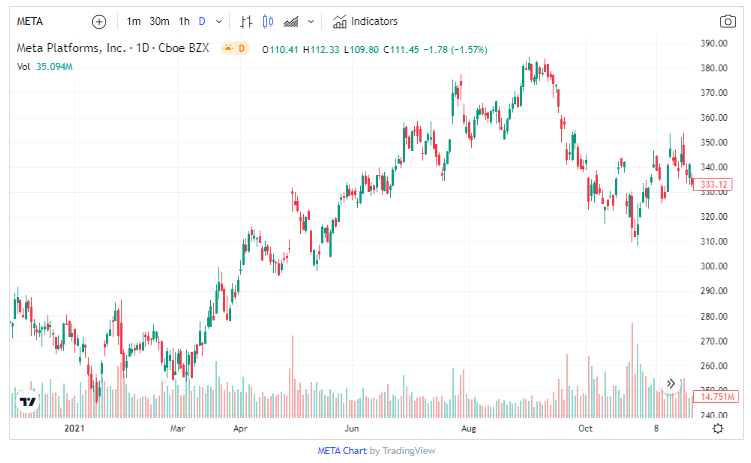 Now, let's review how Meta's stocks performed in 2021. The year started with a market value of $269.10. By the end of the first quarter, the price had risen to $295.44. The end of Q2 was even better than the previous quarter as prices traded at a respectable figure of $346.55. The beginning of the year's final quarter saw prices dip to $341.10. However, the year closed off at $337.20. 2021 was a fairly stable year for META stock, and its prices maintained the same range. META investors enjoyed a fairly good year after the economic hardships of the covid-19 year.
META Stock 2020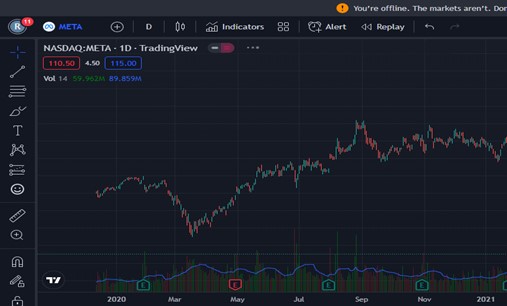 2020 was a unique period for Meta and stocks in general. The COVID-19 pandemic halted most activities around the world. So, how did Meta's prices fare during this period?
The stock price for the first day of the year closed at $204.78. For the next few weeks, the price ranged around this value before dropping to $159.60 at the start of Q2. The second quarter was considerably better than the previous one, and prices grew steadily.
By the start of Q3, the value of Meta's stocks had risen to $236.72. This was some way off the year's starting price and showed META had grown after the difficult start to 2020. META's Q4 price started at $265.54. It maintained this price range till the close of the year at $273.33.
Meta Stock 2019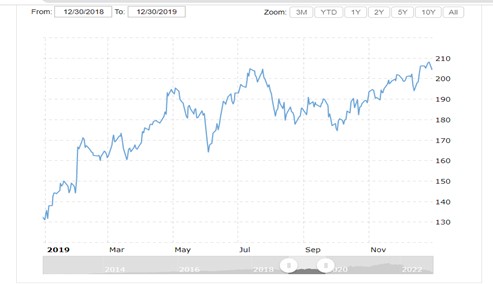 Despite an impressive run in 2019, Meta stock failed to reach its 2018 high of $217.50. It ended the year at $204.41, up from $135.68. This trend could have been due to investors' renewed faith in the company after a scandalous 2018.
The year's first half was favorable, reaching $193 on June 28. It reached $204.66 on July 24 before dropping in the following months.
Meta Stock 2018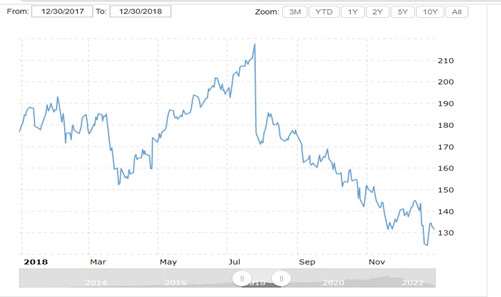 2018 was a turbulent year for Meta, with several scandals. The stock performed well in January before hitting its first fall for the year on January 12, hitting $179.37 from $187.77 the previous day. Analysts linked that event to the announcement of changes to the news feed.
The stock recovered for the rest of the first half, reaching an impressive $217.50 by July 25. However, the stock plunged to $176.26 the following day, just after releasing its second-quarter results. It stayed bearish the rest of the year, ending at $133.20.
Meta Stock 2017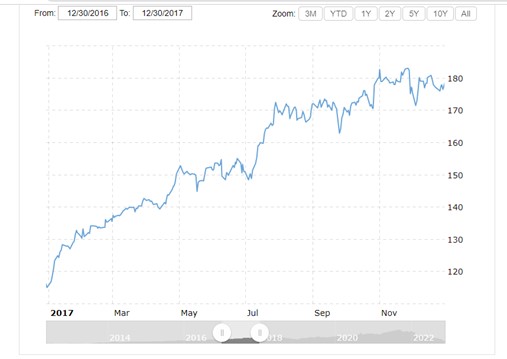 The performance for 2017 was remarkable. As interest in the social media company grew, its stock hit the $180 mark. However, it found it challenging to sustain that run, as it would later end the year at &176.46.
Its highest price for the year came on November 27, when it reached $183.03. That showed steady but remarkable growth after ending the first quarter at $150.98. Compared to its starting price of $116.86 on January 3, Meta stock had a good year.
Meta Stock 2016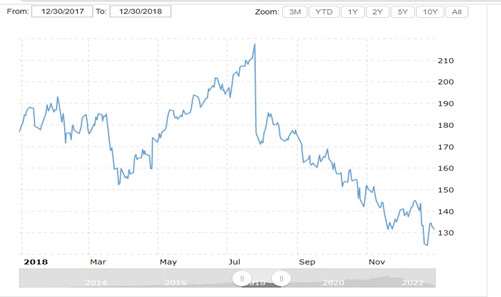 Meta's stock struggled to find footing in early January after starting the year at $102.22. However, it steadily climbed by February, closing the month at $106.92. It continued its bullish run, hitting $120.58 on May 10.
Meta found it difficult to sustain its bull run, dropping to $108.97 on June 27 before resuming its upward trend. It continued surging upward, reaching $133.28 on October 24. That became its all-time high for the year, as it would later swing down to $120.57 by December.
Conclusion
And that's all for the Meta stock forecast. Meta is a digital company with an eye on the future. By changing the way people communicate and interact, they're bringing the far ends of the world closer to each other.
Meta will allow users to communicate and connect in a 3D world. As more developments come into play on the platform, investors will gain more from their stocks.
If you're interested in buying META, don't be in a rush. Go through this article to learn about the asset's price movement. It could open your eyes to unique possibilities.
FAQs
What is META?
META is a symbol that represents Meta Inc.'s stocks on popular exchanges. You'll find META on different exchanges worldwide.
To own stocks in Zuckerberg's company, you can purchase META on eToro or other reputable exchanges. eToro will allow you to buy META in a few simple steps.
What's next for META?
META's value has dipped considerably for the past few months. In 2023, the asset started trading at $338.54. However, it's currently trading at $113.
The global financial market is suffering from the effects of severe inflation. Hence, the META price dip is similar to what you'll find on other popular stocks.
What is the target price of META?
According to expert analysis, Meta stocks should hit $143.00 as the average price in the coming months. The highest price should be $250.00, representing a remarkable growth rate for its current 2023 form. Nevertheless, projections still show the stock could trade as low as $80.00.
Risk Disclaimer
WeInvests is a financial portal-based research agency. We do our utmost best to offer reliable and unbiased information about crypto, finance, trading and stocks. However, we do not offer financial advice and users should always carry out their own research.
Read More