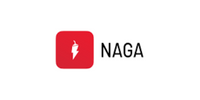 Excellent Demo account
User-friendly
Safe and Secure
Pros
Strict regulation
High deposit security
No deposit fees
Great customer support
Helpful demo account
straightforward sign-up procedure
Offers virtual trading assistant
Elite copy trading software
Educational tools for beginners
Cons
No US clients authorized
Charges withdrawal fees
No copy trading in demo mode
Naga Highlights

| | |
| --- | --- |
| 💻 Trading Platforms | NAGA Trader, MetaTrader 4, and MetaTrader 5 platforms with access to various markets and instruments |
| 📞 Customer Service | 24/5 support via phone, email, or online chat |
| 🎁 Promotions/Bonuses | Welcome bonus, cashback program, referral program, etc. |
| 🛡 Regulation | Regulated by CySEC in Cyprus; also registered with BaFin in Germany and FCA in the UK |
| 💵 Deposit/Withdrawal Methods | Various payment methods; minimum deposit $250; no withdrawal fee |
| 📊 Spreads/Commissions | Variable spreads depending on the instrument and market conditions; commissions from 0% (stocks) to 0.2% (cryptos) |
| 🔒 Security | Segregated funds; SSL encryption; firewalls; anti-virus software |
| 📚 Education/Resources | Webinars, videos, articles, etc.; economic calendar, market news, market analysis, etc. |
| 📱 Mobile Trading | iOS and Android app with all NAGA Trader platform features and functions |
| ⚡ Execution Speed | Fast and reliable execution with low latency and minimal slippage; various order types |
| 🔧 Trading Tools/Indicators | Moving averages, Bollinger bands, Fibonacci retracement, etc.; custom indicators and alerts |
| 🌍 Country/Region Availability | Over 190 countries and regions |
| 💰 Account Minimum | $250 for live account; free demo account with $10,000 virtual funds |
| ⚖ Leverage/Margin Requirements | Up to 30:1 leverage on forex and CFDs |
| 📈 Asset Selection/Market Access | Over 800 instruments across forex, stocks, indices, commodities, cryptocurrencies, gaming items, etc. |
NAGA defines itself as a multi-asset neo broker, which is quite a mouth full. To break it down, in layman's terms, a neo broker is a financial trading app that can be used by traders to access and trade stocks without paying any additional fees. NAGA is, therefore, the online trading software that specializes in investments, and payments.
Over the years, NAGA has steadily grown into an international juggernaut in the realm of online trading. Their reach spans four continents, 100 countries, and the service has well over 1 million clients. Based on this information, it is safe to say that they are one of the leaders in forex trade.
An area in which NAGA has truly excelled in the development of its sophisticated, reliable, and user-friendly mobile app. One look at the level of detail on the interface, and the ease of use, will convince why millions of users have chosen NAGA as their gateway to the forex trading world. The images below will give you an idea of what trading on NAGA will look like.
NAGA Markets Europe
NAGA is a top-rated, multi-asset neo broker which specializes in payments, investments, and cryptocurrencies. It's a FinTech company based in Germany, and it was established in 2015, giving it more than half a decade of experience in the online trading world.
Currently, this company is publicly listed on the Frankfurt Stock Exchange, which is the world's 12th largest stock exchange according to market capitalization. It has the following identification numbers: "WKN: A161NR | ISIN: DE000A161NR7."
NAGA Markets operates through the NAGA Group AG, which is the holding company of several other companies in the investment and technology sector. Some of the companies related to the NAGA Group AG include:
NAGA Markets Europe LTD
NAGA Global LLC
NAGA Pay GMBH
NAGA Technology GMBH
Moreover, NAGA Group AG has a close link with NAGAX Europe. In this particular case, NAGA Markets Europe LTD is a regulated and authorized entity in the trading world. It operates with regulation from the Cyprus Securities and Exchange Commission (CySEC). The license number for NAGA Markets Europe LTD is "No. 204/13."
As a licensed and regulated company, it's a trusted entity for those who want to engage in trading in a safe and professional way.
Currently, the registered address for NAGA Markets Europe LTD is located in Limassol, Cyprus. The full address goes as follows: "7, Ariadnis Street, Mouttagiaka, 4531."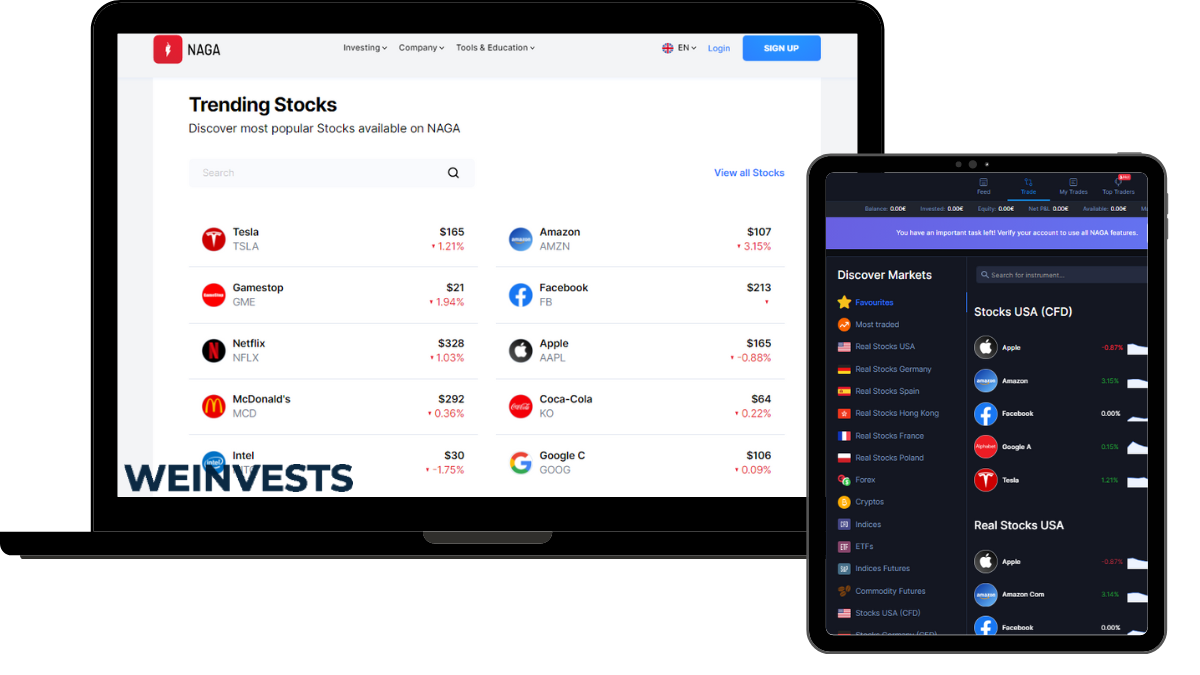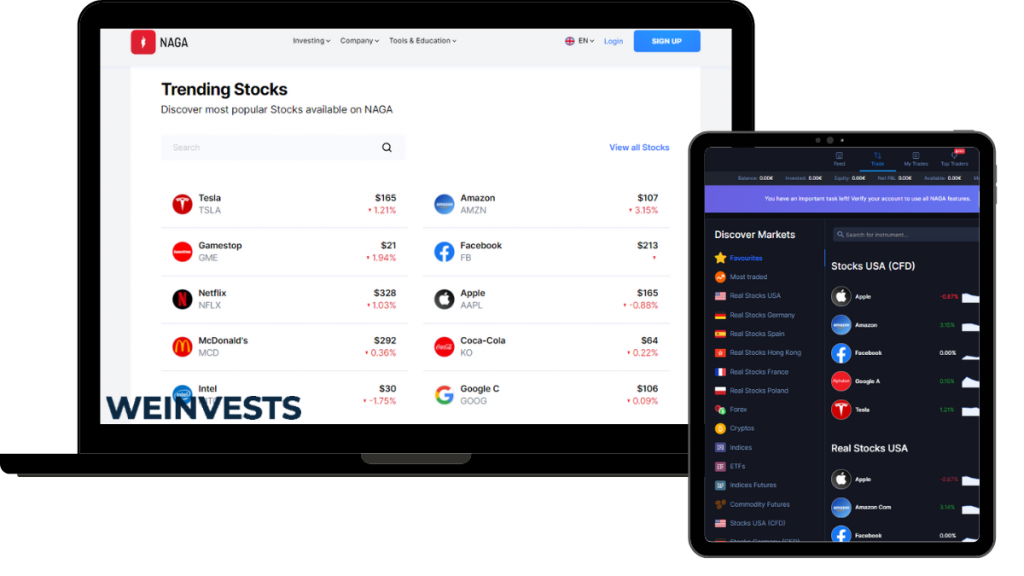 Is NAGA a Good Option for you?
When dealing with finances, it is only natural to have a certain level of apprehension when it comes to handing over your hard-earned money.
It is generally considered to be a reliable broker which puts your financial safety above all else. The risks associated with trading on NAGA are low and the software is designed in such a way as to provide you with all the help you need when making your trade decisions. NAGA also has SSL encryption on both its PC and mobile apps to ensure the safety and security of your personal info.
Is NAGA Regulated?
The NAGA Markets Europe LTD is both licensed and regulated by Cyprus Securities and Exchange Commission (CySEC), with license no. 204/13. All client funds are kept separate for NAGA's own portfolio and overseen by some of the largest banks in the European Union. Please note that the regulation is for NAGA Markets Europe Ltd Only!
Who Is NAGA Recommended For?
The way that the NAGA software has been developed and integrated with its easy-to-use but the sophisticated interface, means that this app can be used by virtually anyone. It is straightforward to log onto naga.com and begin trading, so many beginner traders are comfortable using the platform as a place to learn and gain experience.
On the other hand, the platform is also geared to handle and process large quantities of trade information daily. This is gold to an advanced trader and, when combined with the level of sophistication, NAGA has proved itself as the ideal tool for serious traders. The shared wallet option is also a big hit among advanced traders who usually don't have time to constantly switch from one app to another mid-trade.
The transition from beginner to advanced trader is seamless when one is using NAGA. So, whether you are just starting out, or you have years of trade experience under your belt.
NAGA Trade Experience
When it comes to a great trade experience, full apps can rival NAGA due to its well-developed and efficient software. From the moment you log onto the platform for the first time, you will be guided through all the necessary steps with ease and transparency.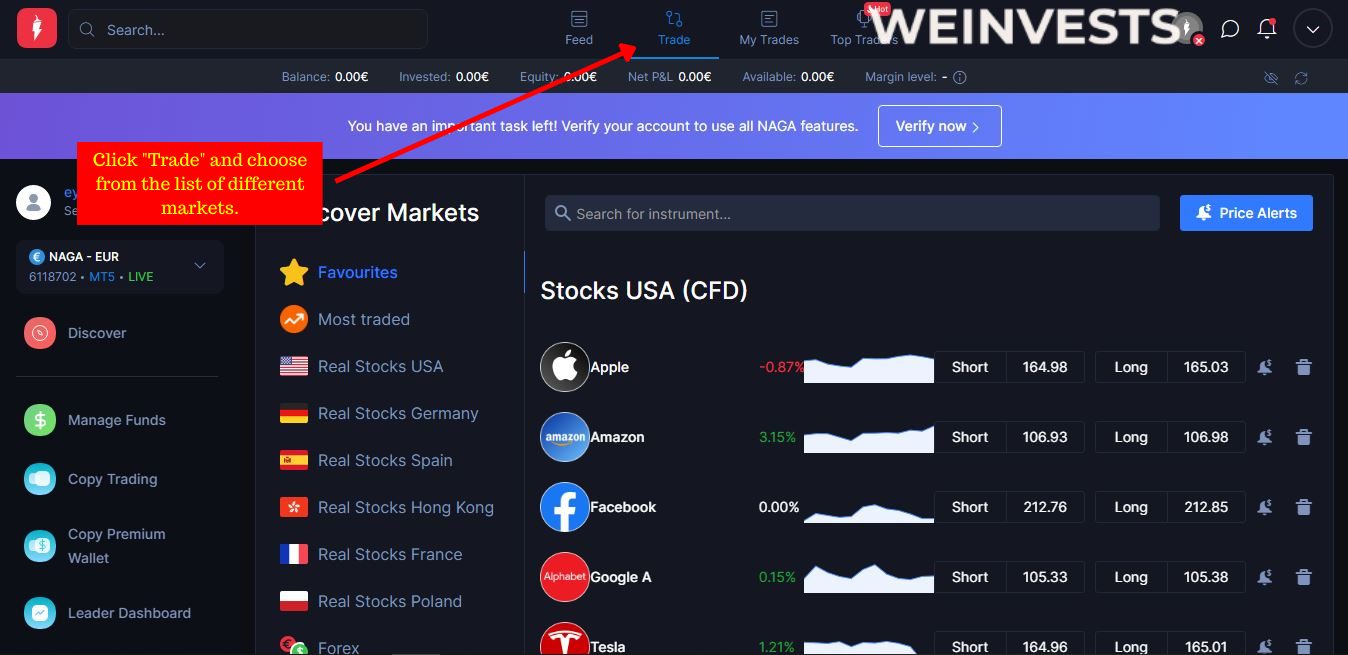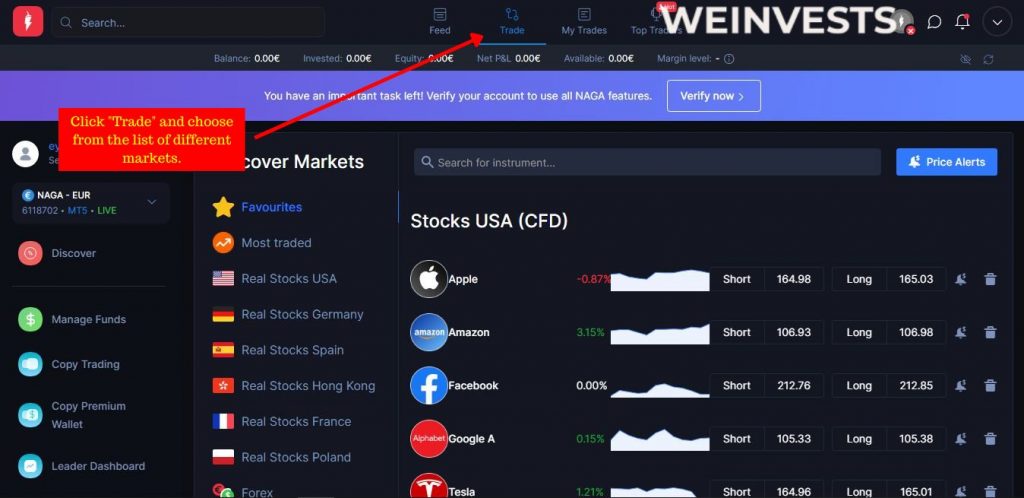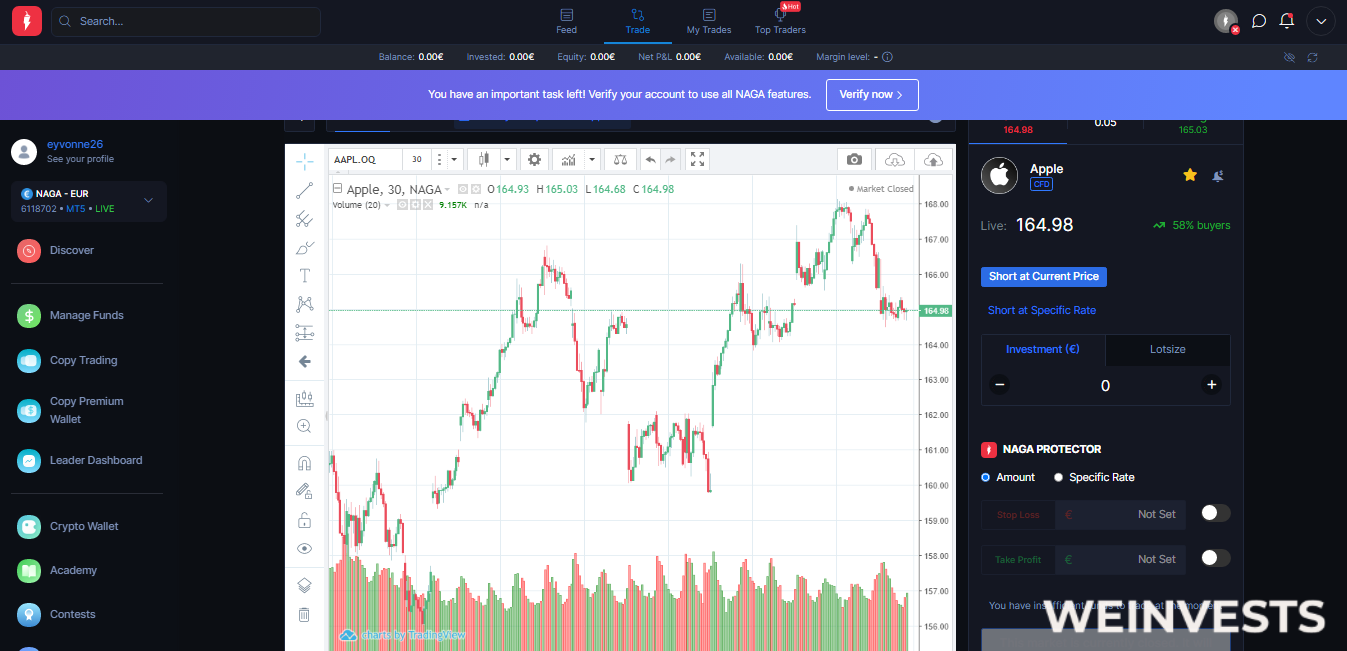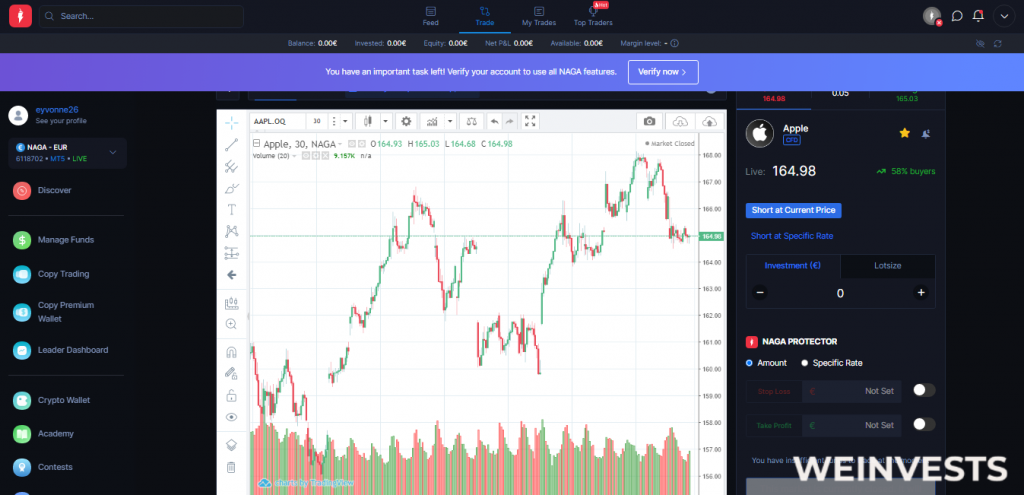 To start with, the registration process could not be simpler. All you need to do is access the sign-in page through an access portal on the home page and from there it's just a matter of filling in your personal details. There is no long waiting period either, once you have confirmed your details you will be able to begin your trading journey in no time at all.
When you make your initial deposit you will be pleasantly surprised that you are not charged any deposit fee. This is the same for all other future deposits you might make. The withdrawal process is different though because you will be asked to pay a withdrawal fee.
All trades are executed in real-time as quickly as you order them no matter how many accounts are running in your shared wallet. This is due to the efficiency of the NAGA software and its state-of-the-art search engines. The fact that all these complex data operations are presented in an easy-to-understand interface is a testament to the attention to detail that went into the development of this app.
NAGA also offers a selection of educational tools to help novice traders learn how to navigate the platform and execute trades safely. Chief among these educational perks is the NAGA Demo app which we shall discuss more about it a little later in the review. Other tools on offer include educational videos and a dedicated support staff who are available to answer questions around the clock.
Commissions and Fees
One of the best things about trading on NAGA is that at no point are you expected to pay any account fees, commission, or negative interest charges, and this applies to all NAGA markets. Regardless of account size, a low spread is offered to all traders to improve the trading conditions of investors who choose to trade with NAGA.
If the trader opts for social trading, the cost and spread of profit that is generated between the master account and copy account will be calculated automatically. The only cases in which commission is charged are when trading particular assets, but these will be clearly stated on the platform.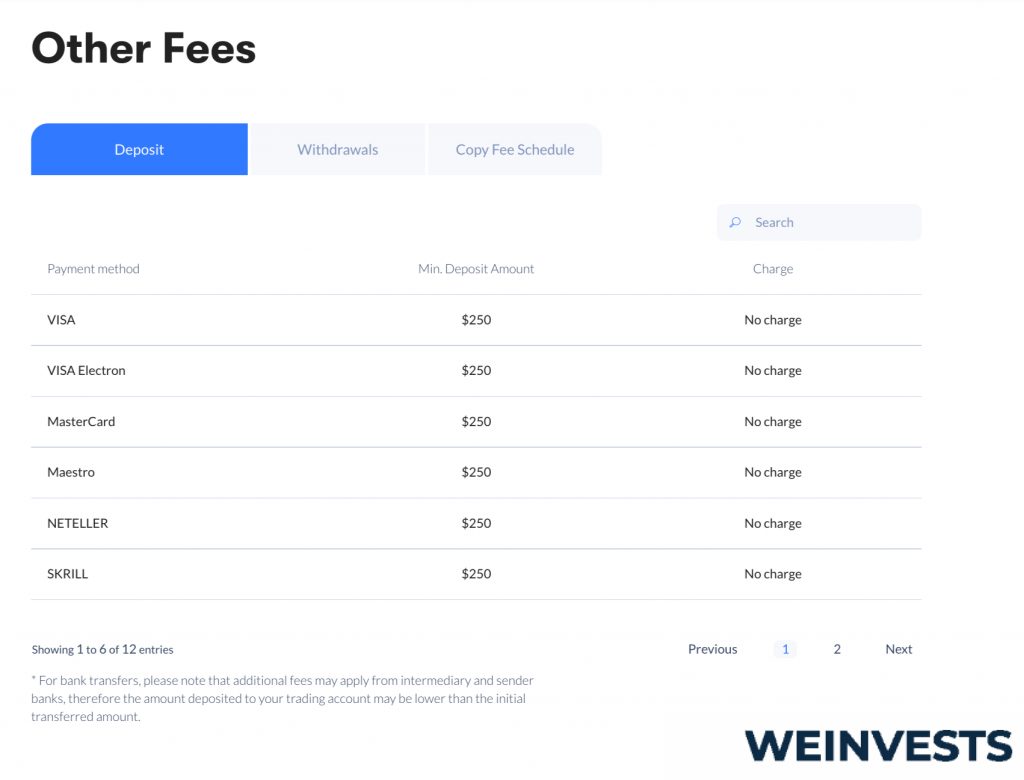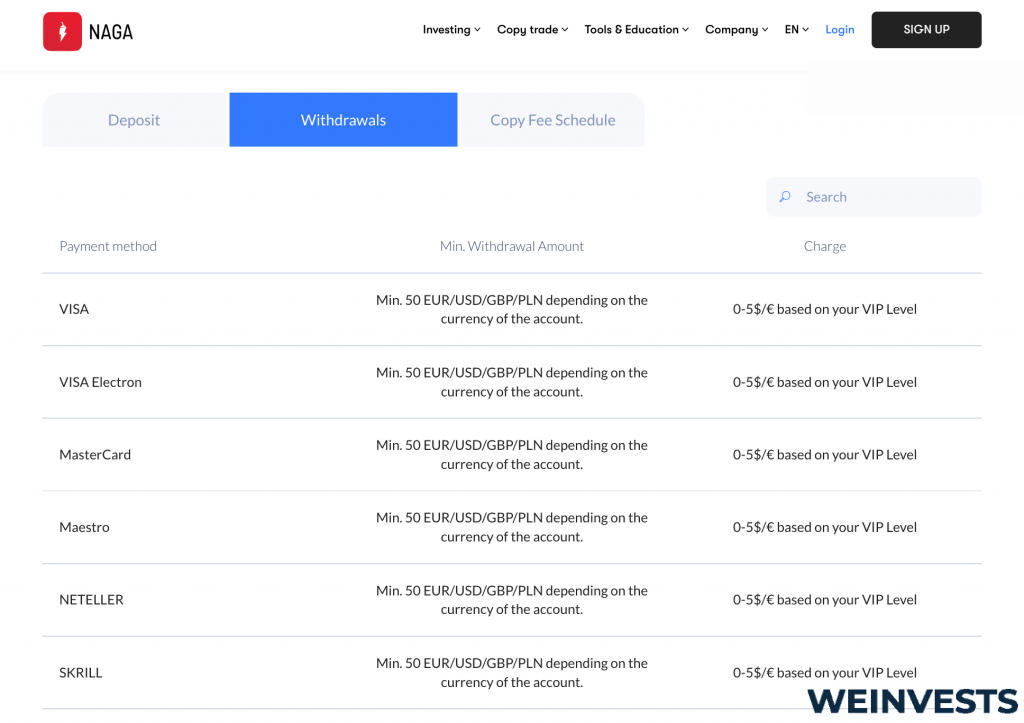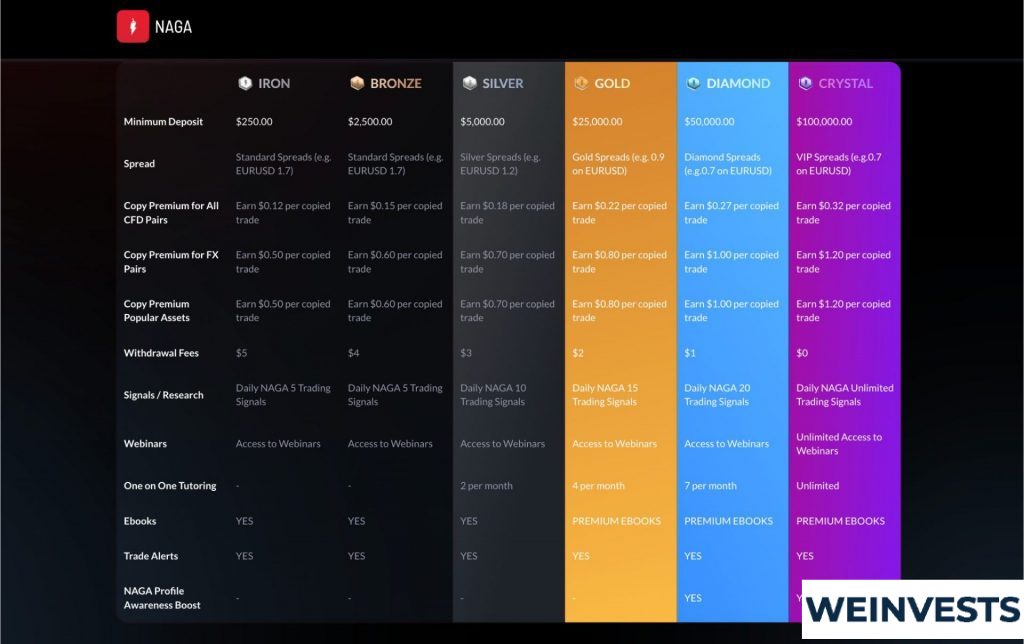 How To Open a NAGA Account?
Opening a NAGA account is straightforward and the process does not take long to complete. From start to finish, all the requirements can be boiled down into four easy steps.
Step 1: Click the "Sign Up" or "Create an Account" button.
The registration process has been made very straightforward, even for first-time users. You go to the NAGA website and select sign up, after which you indicate your country of residence.
You will then be asked to fill in personal details and confirm your registration using the email address you provided.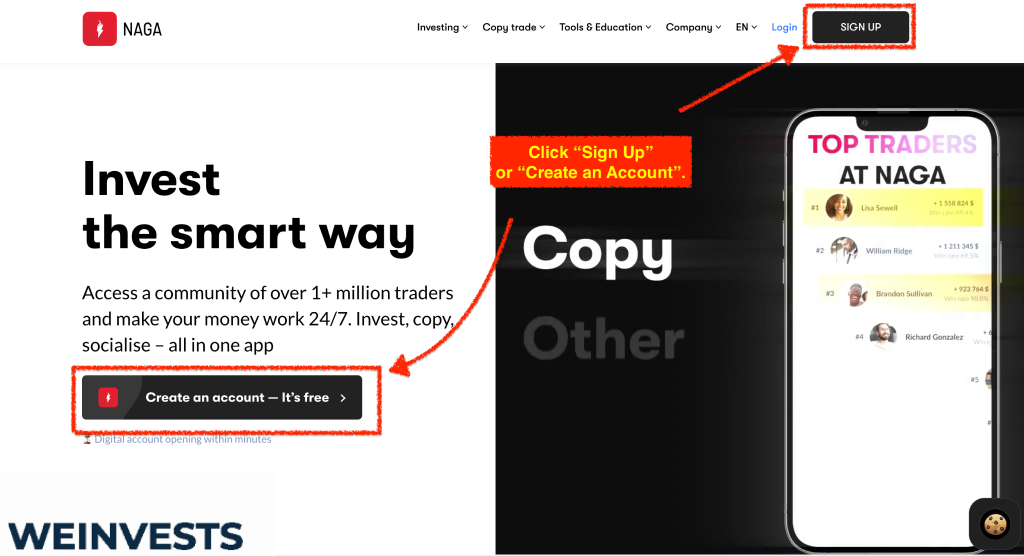 Step 2: Sign Up using your Email Address
The website will then ask you to enter your desired email address and choose your Country.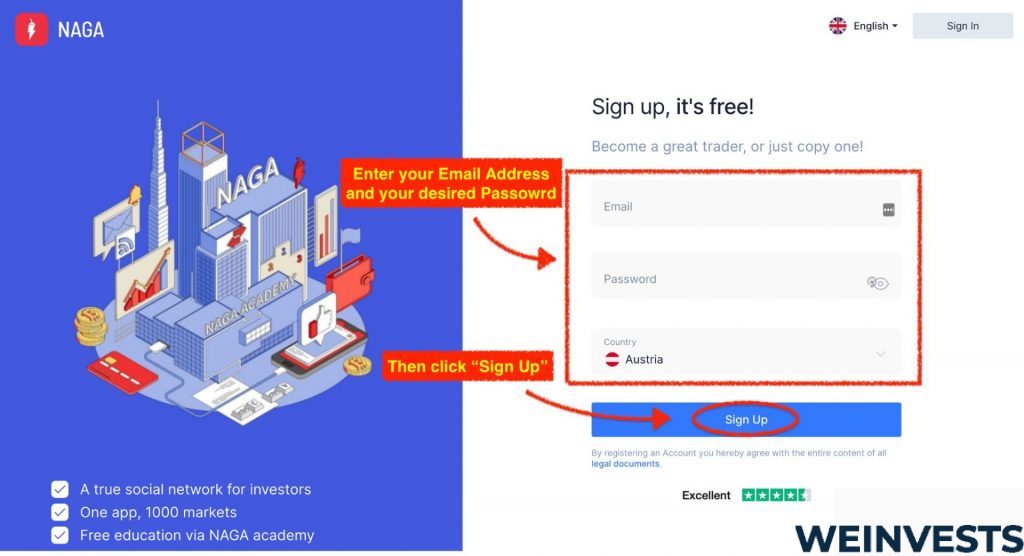 Step 3: Enter your Personal Information.
The app will then ask you to complete and verify your personal information, which should not take long at all.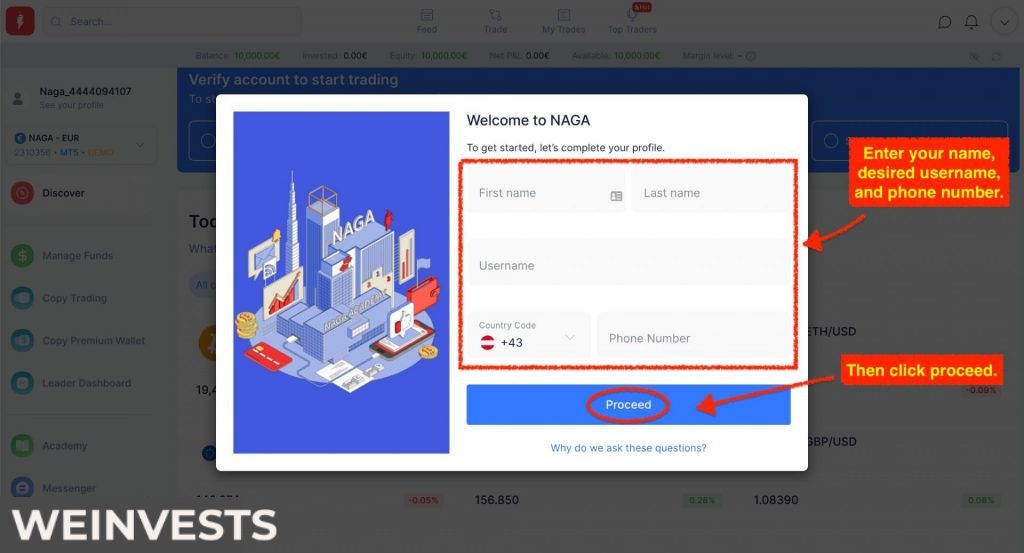 Step 4: Open a Real Money NAGA Account.
Once you are in, The platform will ask you if you want to Open a Real Money Account or Explore NAGA platform. Click Open Real Money NAGA Account to start the verification process.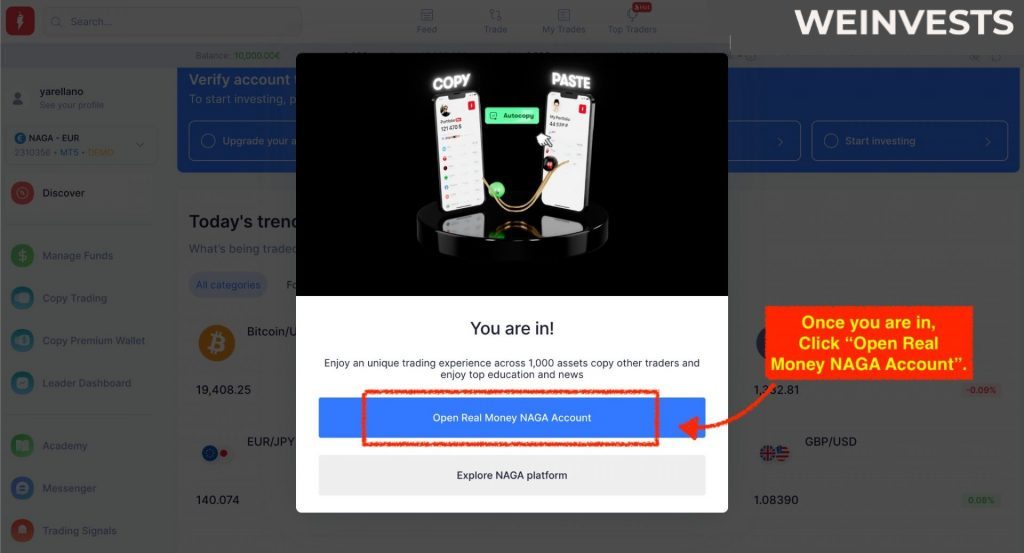 Step 5: Start the Verification Process
Start and complete the verification process. Enter the information being asked by the platform.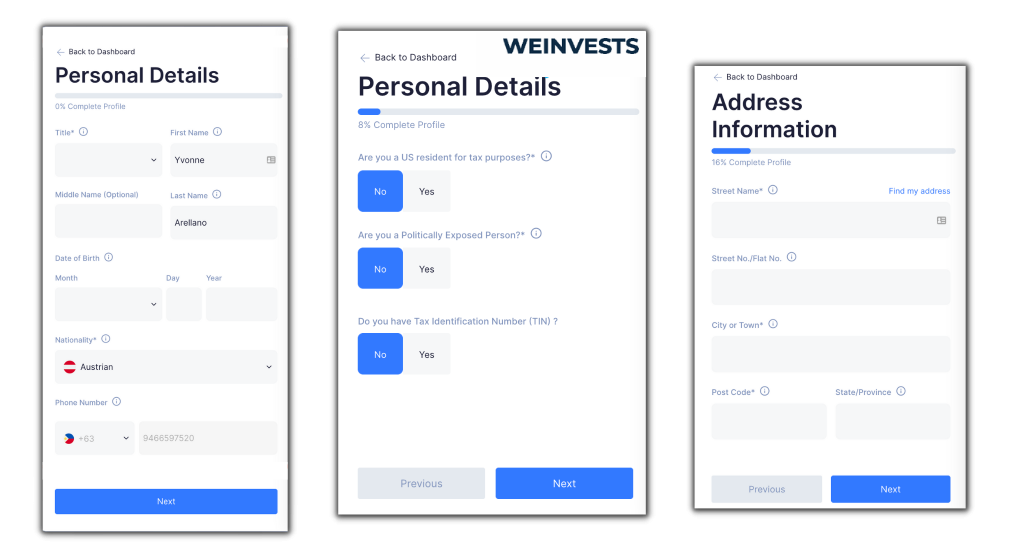 Step 6: Identity Verification
Complete Identity Verification by uploading your ID and by Recording your face movement from the webcam.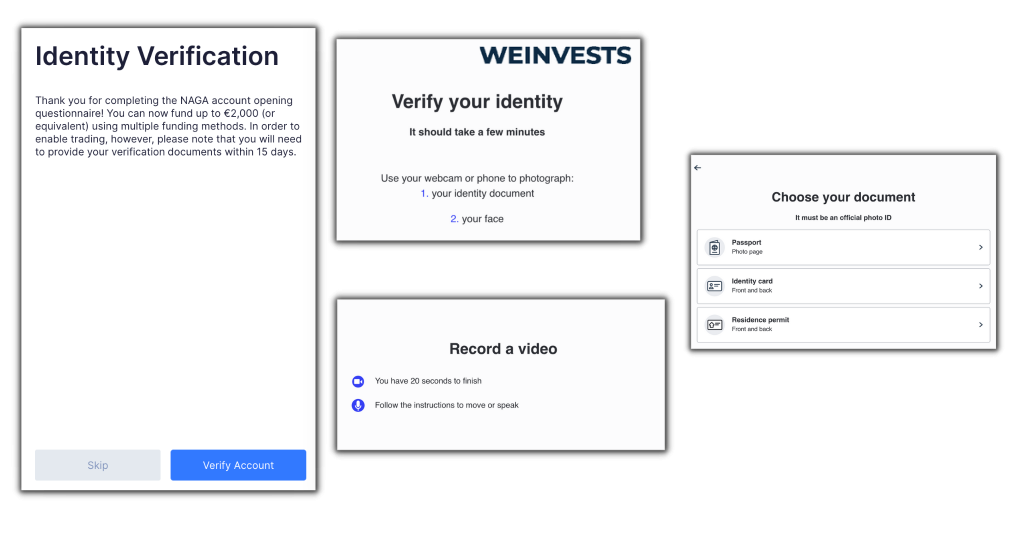 Step 7: Wait for the Approval from NAGA
Once you're done uploading your documents and personal details, The documents are being reviewed by the NAGA team. They will notify you through email of the status of your account.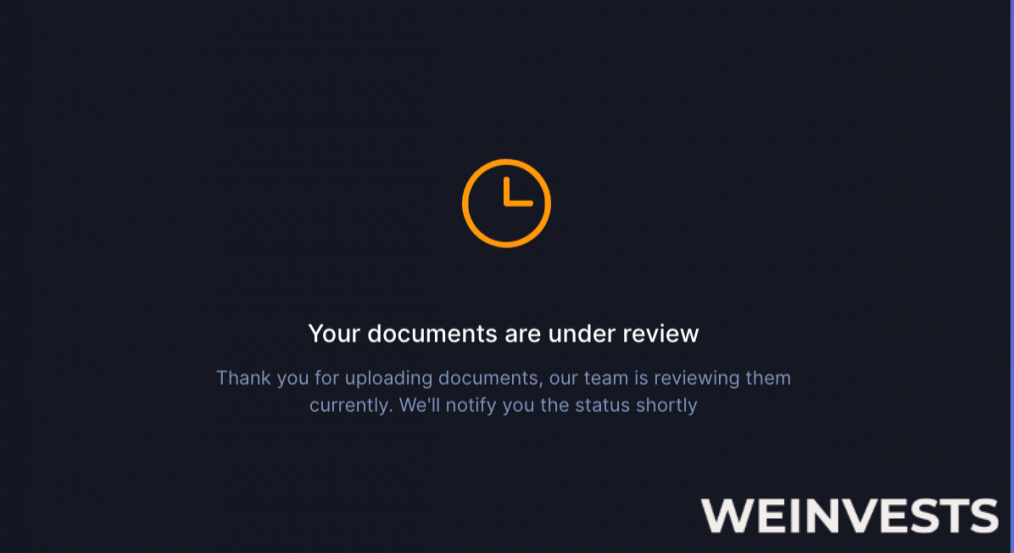 NAGA Demo Account
A true revelation in the online trading community, demo accounts have helped many aspiring traders gain the necessary experience without risking large sums of money. This tool will enable you to mimic a real NAGA account and experience how trading works. It even comes complete with a mock $10,000 initial deposit that you will use to conduct your demo trades.
The best aspect of the Demo account is that, even though the money is not real, the decisions you make will mirror real-world trading choices and you will be able to learn which choices are good and which are detrimental. What this means is that, when you finally feel like you are ready to start trading using real funds, you will be stepping into familiar territory, so you can hit the ground running.
This tool is not only for the beginner but for advanced traders as well. Even after years of trading, you might feel the need to change your strategy a bit. The best place to test your new ideas is within the safety of a demo account, where any miscalculations you would have made will not cost you a fortune.
How To Open a NAGA Demo Account?
Step 1: On the upper right-hand corner, click the Drop-down Menu.
Step 2: Select "Trading Accounts".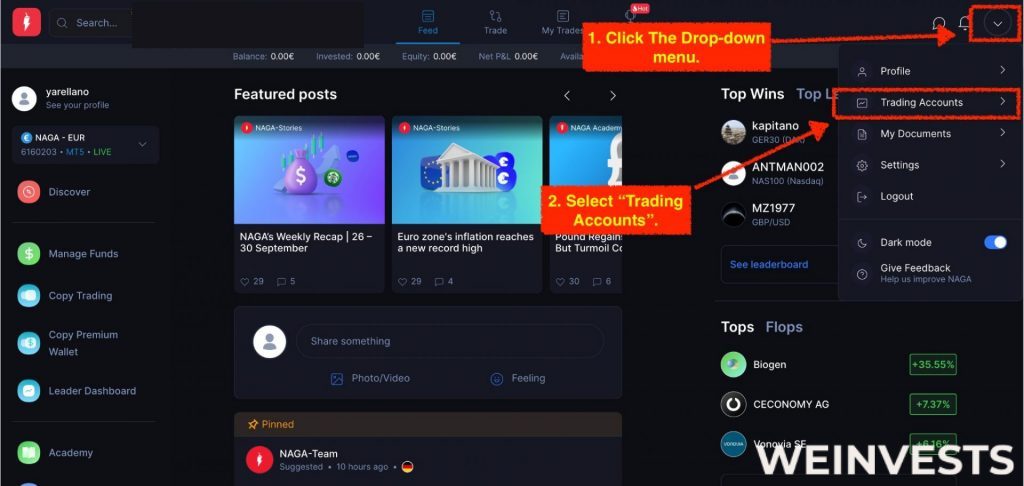 Step 3: Click the plus sign (+) beside "Add New Account".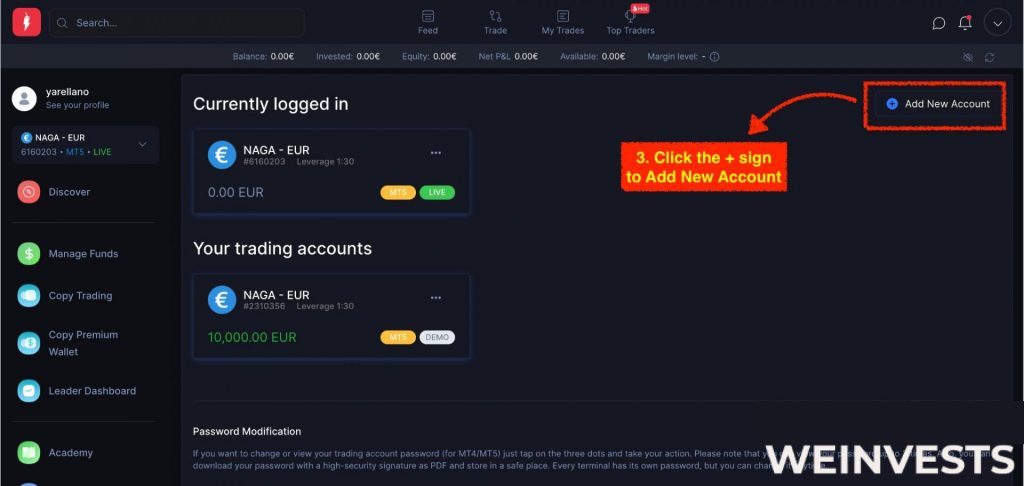 Step 4: Select "Demo Account" for the account type. Select the currency you'd like to use for the demo account, and then Click "Continue".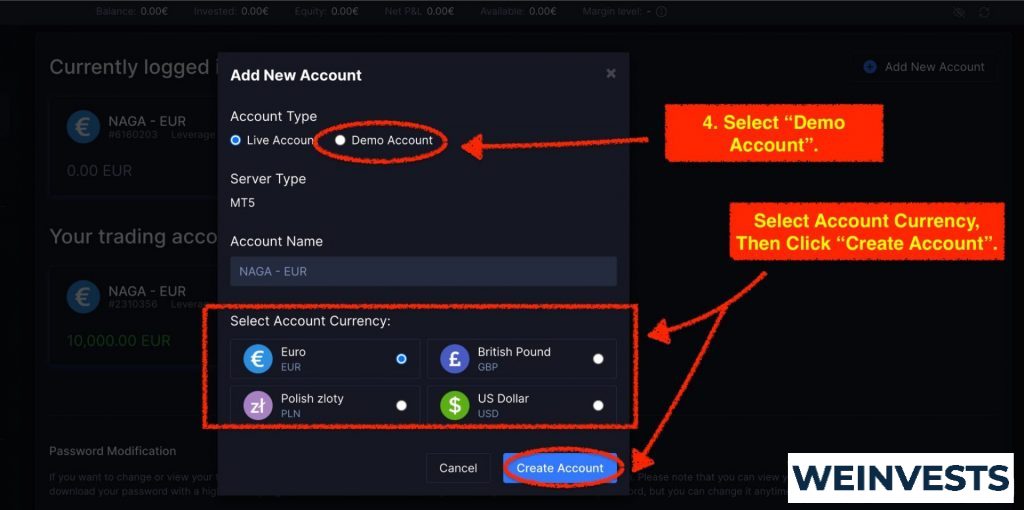 NAGA Educational Platform
NAGA educational center is very sophisticated, offering, on average, 3 online webinars per week. The most common language of instruction is English, although webinars are offered in other languages too. Also on offer are the latest news and trends in the trade market and downloadable educational guides.
Two webinars available online can be very helpful to you if you wish to learn more about trading on NAGA. One is on the official NAGA website, and the other equally helpful video I on the YouTube channel.
Twitter: https://twitter.com/naga_global
Facebook: https://www.facebook.com/nagaglobalofficial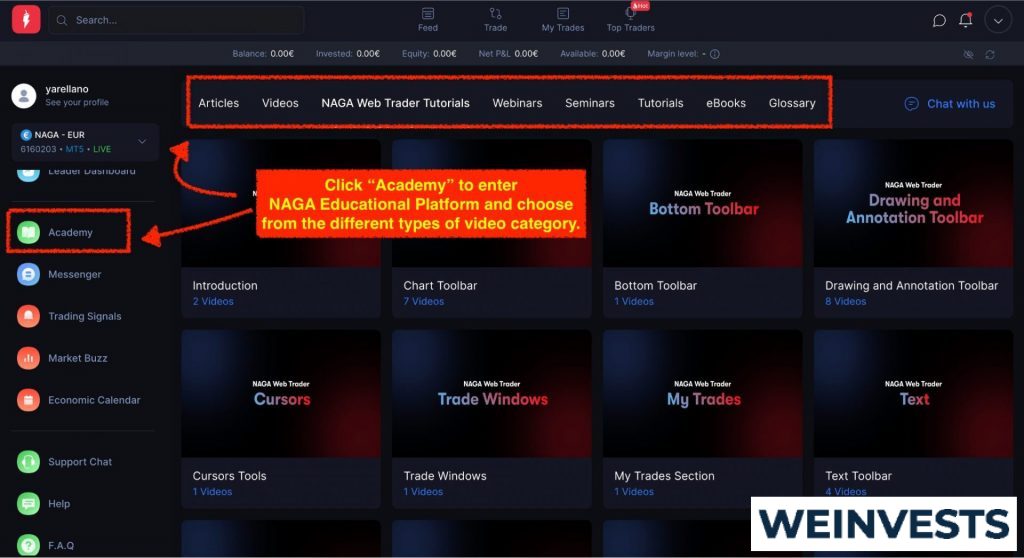 NAGA Customer service
Having heard so many great things about NAGA in this review, it should not come as a surprise to you that their customer service is absolutely top-notch. They have a dedicated support team that is there to guide you every step of the way and are available at all times. For any questions or concerns, you can contact the NAGA help center.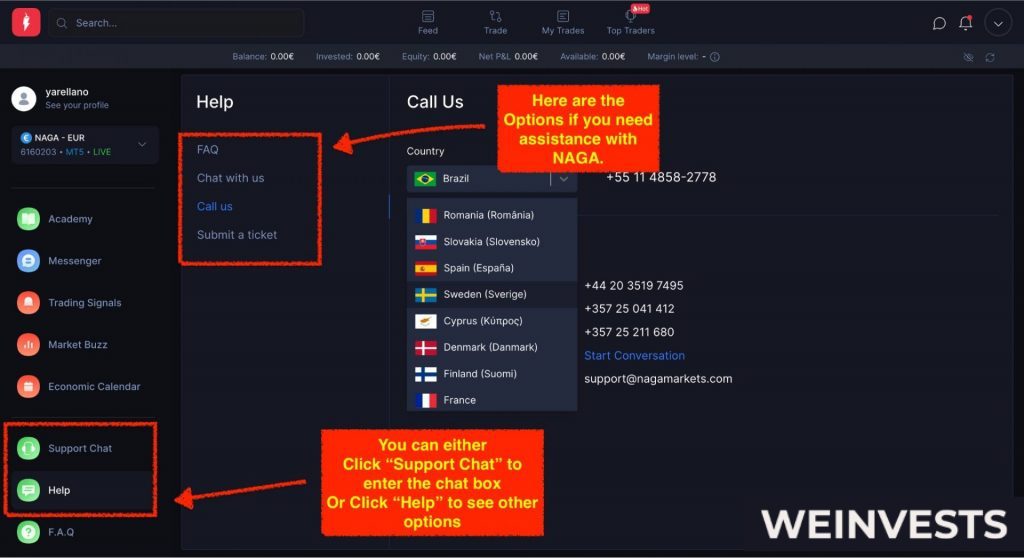 Frequently Asked Questions
What is the minimum deposit for NAGA?
The minimum deposit for NAGA is $250, which is low by industry standards
How long will a withdrawal take?
This depends on your preferred method of withdrawal but usually, it takes about 2-5 days.
What funding does NAGA accept?
Depending on your country of residence, you can use any of the following: bank transfer, debit card, MasterCard, China Union Pay, and so many others
Risk Disclaimer
WeInvests is a financial portal-based research agency. We do our utmost best to offer reliable and unbiased information about crypto, finance, trading and stocks. However, we do not offer financial advice and users should always carry out their own research.
Read More