This content represents the writer's opinions and research and is not intended to be taken as financial advice. The information presented is general in nature and may not meet the specific needs of any individual or entity. It is not intended to be relied upon as a professional or financial decision-making tool.
Fintech stocks refer to the shares of all those companies that are focused on financial technology and publicly traded. Financial technology brings together the most innovative tech developments and the financial system, to give people and businesses more intuitive and functional solutions to make transactions and manage personal and corporate finances.
Among all these stocks – the competition in the sector is fierce! – we selected five companies that all those interested in fintech should be watching: PayPal Holdings, Block Inc. (formerly Square), Robinhood Markets Inc., Coinbase Global Inc. and Affirm Holdings Inc
All the stocks related to these companies are stabilising or recovering and, in general, they look fairly priced.
Moreover, the sentiment surrounding the whole fintech industry is positive, especially because of its expansion across emerging markets and its constant evolution to meet people and businesses' needs.
In this article, we will provide you with more detailed information about the top players we selected.
What are Fintech Stocks?
We said that fintech brings together tech and finance, and that publicly traded companies pertaining to this industry offer the opportunity to invest and trade in fintech stocks. But there are some other pieces of info that it's pivotal to know about fintech stocks.
Being the companies they're linked to focused on facilitating people and businesses' lives, they were pivotal during the pandemic: while the stock market was extremely uncertain, fintech stocks overperformed, actually experiencing an unusual growth.
Now, most fintech companies need to make their growth more balanced and sustainable: fintech is here to stay – and improve – but stocks need to stabilise, and this is the reason why most fintech stocks are currently fairly priced – or even undervalued.
The companies we chose are currently experiencing this type of situation.
TOP 5 Fintech Stocks
For all the reasons we mentioned before, we can safely assess that traders and investors interested in fintech are watching the following stocks very closely.
In fact, since we are talking about reliable companies, which proved – and are proving – their resilience and strength, analysts, traders and investors expect the price of these fintech stocks to go up.
If you're interested in fintech stocks, you should know that the stocks we're going to talk about are in the portfolio of retail investors, funds and institutions.
The top pros of this company are the intuitiveness of the payment method they launched and its security: users are able to make transactions seamlessly only by using their email address, avoiding sharing other sensitive personal details with recipients. Moreover, PayPal can be used for free and people can organise their finances, create different groups of recipients and save accounts to make transactions even easier and faster.
Countless payment methods can be linked to PayPal, and users rewarded all these functionalities by creating always more active accounts.
The fintech stock, with the ticker PYPL, is currently trading below $79, a good price if we consider that it's still recovering from a downtrend. Analysts make positive predictions for 2023.
---
Square is in the portfolios of top funds and institutions, but current forecasts aren't still very clear. This can be positive under an investor perspective: the stock doesn't seem very volatile – at least in the near future – leaving room to new traders and investors that want to trade a fintech stock at a reasonable price. The stock is currently trading slightly above $75, under the symbol SQ.
---
The company, as it always happens, went through ups and downs, with an initial hype linked to the "meme stocks" – that is, those stocks made popular by retail investors, especially thanks to social media.
Currently, the fintech stock under the ticker HOOD is trading below $10, which is far below the very IPO price set at $38 in 2021.
Also in this case, forecasts tend not to predict too much volatility, with a price that should range between $8 and $11.
The goal of Robinhood – as the name of the company suggests – is to make financial markets open to anyone – and the fee-free trading offered by the app is in line with this purpose.
---
Coinbase Global
Currently, the company stock – under the ticker COIN – is trading slightly above $57.
An impressive drop, also due to recent issues that depend on the more severe attitude of regulators.
If you're interested in fintech stocks, and feel comfortable with cryptocurrency, COIN might be the right choice for you.
---
Affirm Holdings
Affirm is one of the fintech companies that experienced impressive growth after the breakout of the pandemic, but then it suffered both a natural downturn and the consequences of an unnatural growth: after an all-time-high at $176.65 experienced on November 8, 2021, AFRM is currently trading slightly above $12 – after touching a low at $8.80 on January 6.
The company is focused on offering BNPL – Buy Now, Pay Later – services. Affirm Global, in its relatively few years of activity, managed to close considerable acquisitions and partnerships – like the acquisition of Returnly and the partnership with Stripe. It's also important to note that Affirm is also the only BNPL partner of Amazon in the US.
List of Fintech Stocks
How to Invest in Fintech Stocks?
There are several ways you can invest in Fintech stocks to obtain exposure to this quickly expanding industry:
Stocks
Buying shares of certain Fintech companies is a simple way to invest directly in them. This involves opening a brokerage account and buying shares of specific firms listed on various stock exchanges.
Exchange-traded funds (ETFs) and Mutual funds (MFs)
ETFs with a Fintech focus provide an alternative way of investing in this industry. ETFs try to mimic the performance of a particular Fintech index or a collection of Fintech shares and are traded like individual stocks. A single investment in an ETF offers diversification across many Fintech companies. Another option is to invest in Fintech-focused MFs. These funds pool money from multiple investors and invest in a diversified portfolio of Fintech stocks. They are managed by professionals who conduct research and make investment decisions on your behalf.
Crowdfunding
To raise money, Fintech startups frequently use crowdfunding platforms. You can take part in these investment rounds as a financier, supporting innovative businesses in this sector in their early development stage. Multiple crowdfunding platforms offer opportunities of investing in Fintech startups through debt- or equity-based instruments.
It's crucial to conduct extensive research, examine financial statements, evaluate the competitive climate, and comprehend the regulatory framework before investing in Fintech stocks. Additionally, consider diversifying your portfolio across sectors and regions to manage the risk more effectively.
Drawbacks of Fintech Stocks

Investing in Fintech stocks may present appealing opportunities, however, it's crucial to be aware of potential drawbacks and risks involved, such as market volatility, regulatory and technological issues, as well as competitive challenges facing the sector.
The volatility of Fintech stocks is an important issue to take into account. Rapid price changes may result from the industry's fast-paced nature, shifting market conditions, and investor sentiments. Investors should be well-equipped to withstand market volatility and be ready for short-term price fluctuations.
Regulatory uncertainties are posing another challenge for Fintech. This industry operates in an environment requiring a high degree of regulatory involvement. Hence, frequent changes in policies and compliance rules can strongly impact Fintech companies' performance and profitability. Legal challenges and compliance costs can become a threat to the growth plans of Fintech companies.
Fintech is a competitive landscape with constant disruption. Established Fintech firms face competition from new entrants and developing technologies. Furthermore, reputable financial institutions may buy out or invest in Fintech startups, escalating the competition. The market share, profitability, and development potential of certain Fintech companies can all be impacted by increased competition, which can also affect the performance of Fintech stocks.
Technology risks are inherent in the Fintech sector. Fintech companies heavily rely on technology infrastructure and digital platforms. Technical glitches, cybersecurity breaches, data privacy concerns, and evolving technology risks can impact operations and reputation. Any significant technology-related disruptions can negatively affect the value of Fintech stocks.
Fintech stocks are also influenced by market sentiments and investor confidence. Investor perception of industry growth prospects, overall market conditions, and macroeconomic factors can lead to fluctuations in the valuation of Fintech stocks. Adverse market sentiments or a lack of investor confidence may impact stock prices.
Investors should carefully consider their risk tolerance, diversify their portfolios, do extensive research, and keep up with market trends and legislative changes to mitigate these risks. Making knowledgeable investment choices within the Fintech industry can be handled more accurately, through independent research or by getting a professional opinion from an investment advisor.
How to Choose Fintech Stocks to Invest In?
Choosing the right fintech stock for you is as important as knowing how to invest.
Also in this case, there are some principles you should always follow:
Invest in something you know or you feel comfortable with – for instance, if you're used to cryptocurrencies, you might prefer the stocks of a crypto-friendly company;
Don't choose overvalued stocks – this might lead you to totally unexpected and pointless losses;
Consider both fundamental and technical analyses before investing – this will help you to better understand both the company and the prices of its stocks.
Where to Buy Fintech Stocks?
There are countless brokers to buy fintech stocks online, but as we anticipated, we tested one broker in particular that seems to meet all the requirements of a reliable and intuitive platform – eToro.
If investing and trading are complex activities, and they can even feel overwhelming, eToro makes things easier.
Users constantly award this broker with positive reviews, since they appreciate all the features of the platform – including the easy sign up process, for which we prepared a little guide.
Step 1: Sign up and create a new account on eToro
On the homepage of eToro click on "Sign Up" and fill in the form with your email address, username, and password. Alternatively, use your Google or Facebook account to sign up.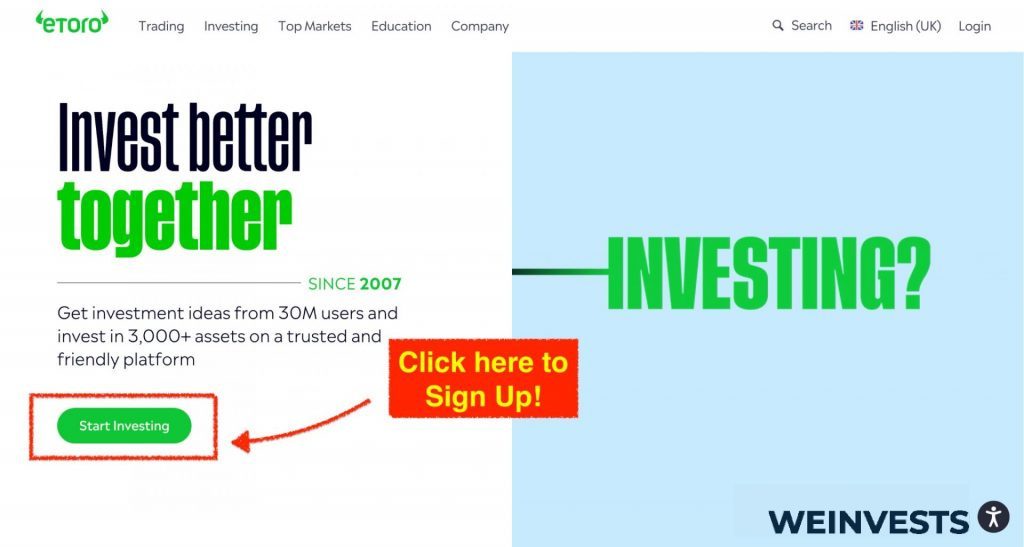 Step 2: Take a picture of your ID and just upload it
This will help eToro to confirm your identity and citizenship, to be compliant, and make sure that you're not coming from one of those countries where eToro doesn't offer its services.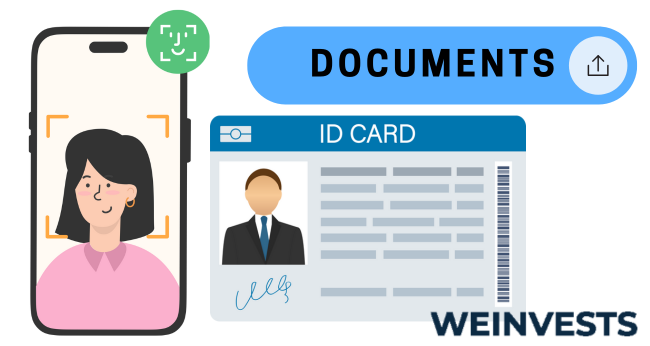 Step 3: Funds
To use the real eToro account (the platform also offers a demo account), you'll need to top up your account by using one of the payment methods available – like credit and debit cards, or digital wallets.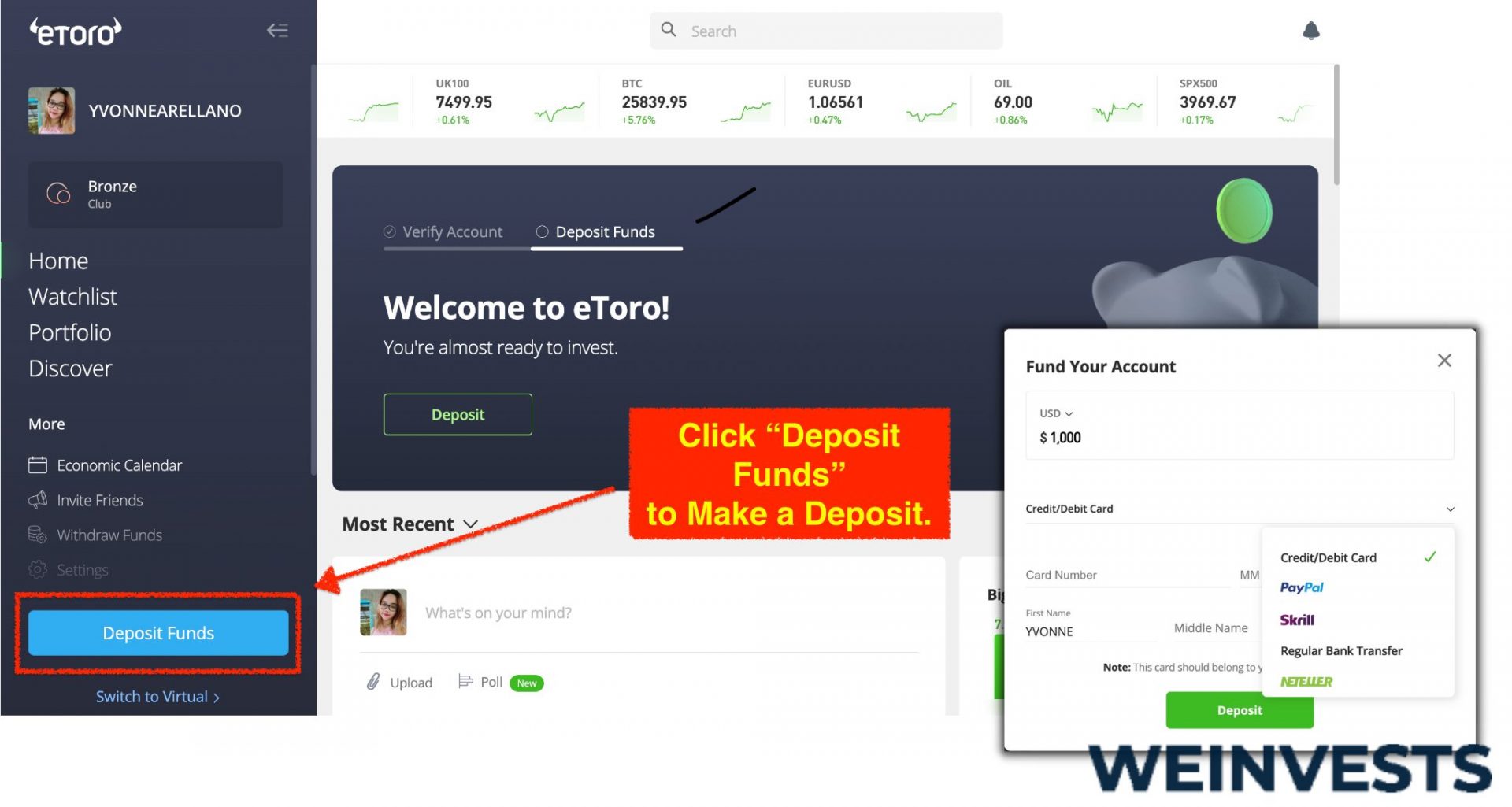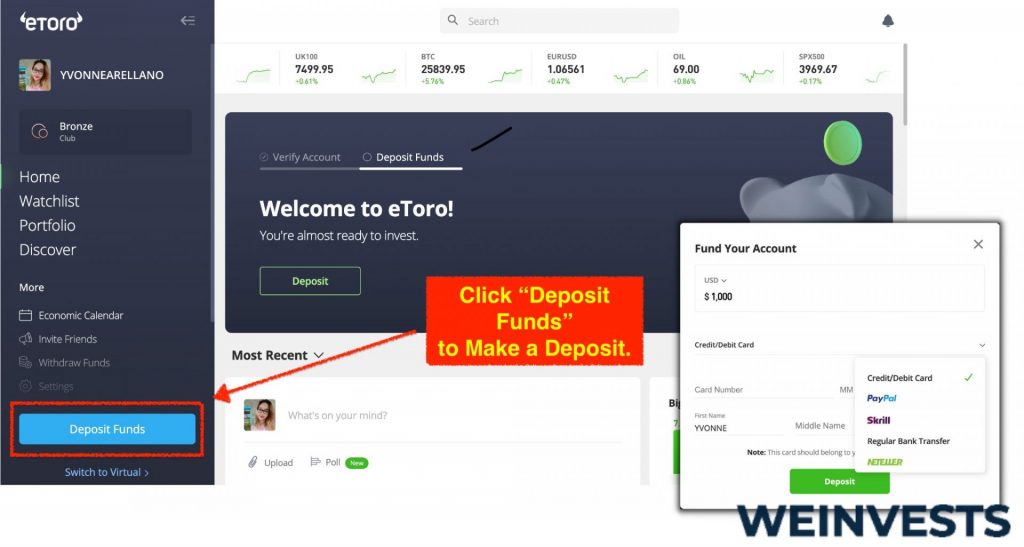 Step 4: Search for the Fintech Stock You're Interested In
Once you have enough funds – you can start with an amount as low as $10 – you're ready to invest in stocks. To easily find the fintech stock you're interested in, type the name of the company or the stock ticker in the search bar. You won't only find the page that will allow you to buy, but also opinions, data related to the company, and analyses.
Conclusion
Fintech stocks, and the fintech market in general, constantly make headlines: continuous growth, adoption of fintech solutions by emerging markets, constant innovations that simplify the lives of people and businesses.
On the other hand, the sector is facing a period of stabilisation that is following the impressive growth this sector experienced after the breakout of the pandemic – and this also implies layoffs and a drop in fintech stocks prices, which might represent a good moment to buy if you're interested in fintech companies.
Risk Disclaimer
WeInvests is a financial portal-based research agency. We do our utmost best to offer reliable and unbiased information about crypto, finance, trading and stocks. However, we do not offer financial advice and users should always carry out their own research.
Read More