This content represents the writer's opinions and research and is not intended to be taken as financial advice. The information presented is general in nature and may not meet the specific needs of any individual or entity. It is not intended to be relied upon as a professional or financial decision-making tool.
ETH, otherwise known as Ether, is an Ethereum blockchain token that is one of the top three cryptocurrencies in the world. As of October 2021, it has a market valuation of over $550 billion, which falls short of bitcoins $1.22 trillion, and advances Binance Coin's market cap of $107 billion.
Why Buy Ethereum?
While most digital assets shrank in 2019 from the peak in 2017, in 2021, the cryptocurrency market soared to new heights, with most coins at all-time highs. There are still many great reasons for buying Ethereum as the market continues to see innovation and improvements to the blockchain.
As of November 2021, the value of Ethereum sits at around $4,700, with the possibility of more upside potential. The main appeal of Ethereum is the network it is built on, as it offers vast opportunities for development and fine-tuning. There are also talks of Ethereum and other cryptocurrencies being used in the metaverse, further adding to its stature.
Ethereum is being used by multiple financial institutions and is backed by numerous Fortune 500 companies. These are the main reason why people are rapidly adding Ethereum to their digital asset portfolio.
Identify a Platform for Trading
The first step before placing any trades is to find the best trading platform for your requirements. When it comes to cryptocurrencies, there are a few top platforms that get the job done perfectly. These exchanges include Bitfinex, Binance, Gemini, Bitstamp, Kraken, and Coinbase. Every one of these platforms offers Ethereum to an investor through a quick signup process.
How to Buy Ethereum on eToro
Regardless of whether you've been in the crypto trading world for a week or three years, there are some cryptos that everyone knows. Ethereum, also known as Ether, is one of them. It's one of the most relevant coins to exist along with Bitcoin.
In recent years, Ethereum's value has dramatically increased. Therefore, numerous investors are examining it with attention. You might want to do this if you're interested in broadening your investment opportunities and changing your trading path.
However, how can you acquire this cryptocurrency if you don't have a reliable platform that you can trust? It's almost impossible, which is why eToro might be the solution to your problems. This guide tells you everything you need to know about this site and how to use it to buy Ethereum.
Step 1: Open an Account
Many digital assets lost value in 2019, but that was not the case with Ethereum. Instead, it became much more relevant. Thus, many investors wanted platforms that allowed them to buy this crypto, and this is where eToro comes in.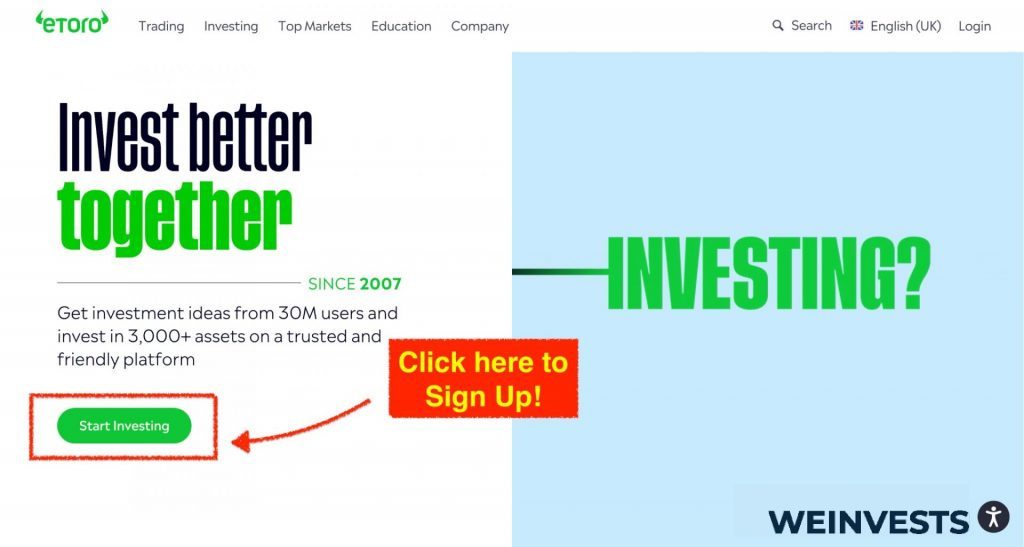 To get started with eToro, you have to open an account. Go to the site's homepage and fill out personal information.
A crucial part of this step is to review the information you're including. Don't submit your form until you make sure that every detail you added is correct. Once you're done, you can proceed to the next step.
Step 2: Upload ID
If you open an account on a trading platform and you don't have to verify your identity, you shouldn't trust it. There are, of course, some legit sites where verification is not needed, but the lack of these security measurements tends to be a red flag.
You don't have to worry about this with eToro because it takes security very seriously. As a new investor, you have to verify your identity, so you must upload a valid ID picture, for example, a picture of your passport.
When you open your eToro account, you also need to add proof of residence. Consequently, you might need a picture of a utility bill that's no more than three months old.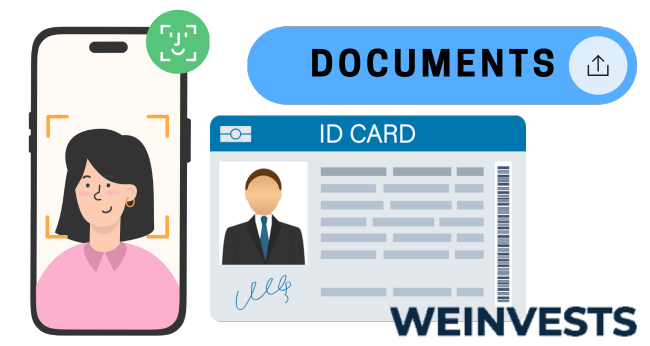 Step 3: Make a Deposit
Your account should be verified by now, so you can make a deposit and fund it.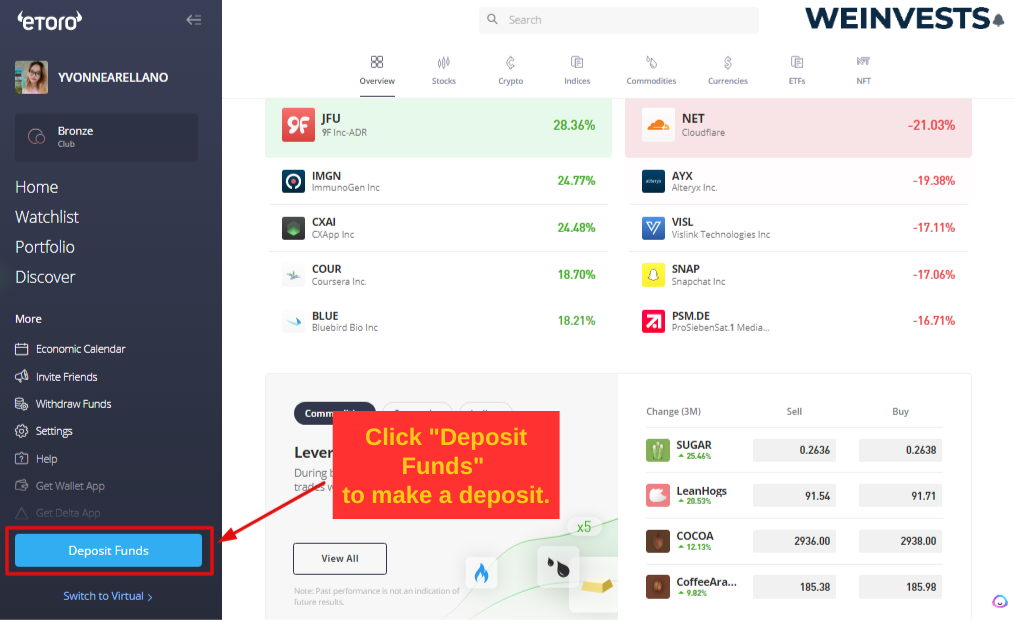 Log in, go to the 'Deposit' tab, and start by choosing how much money you want to invest first. After that, pick the currency you'll use, and select your payment method.
Step 4: Search for ETH
The eToro site offers numerous cryptocurrencies, but its layout is relatively straightforward. Thus, examine its features and locate Ethereum.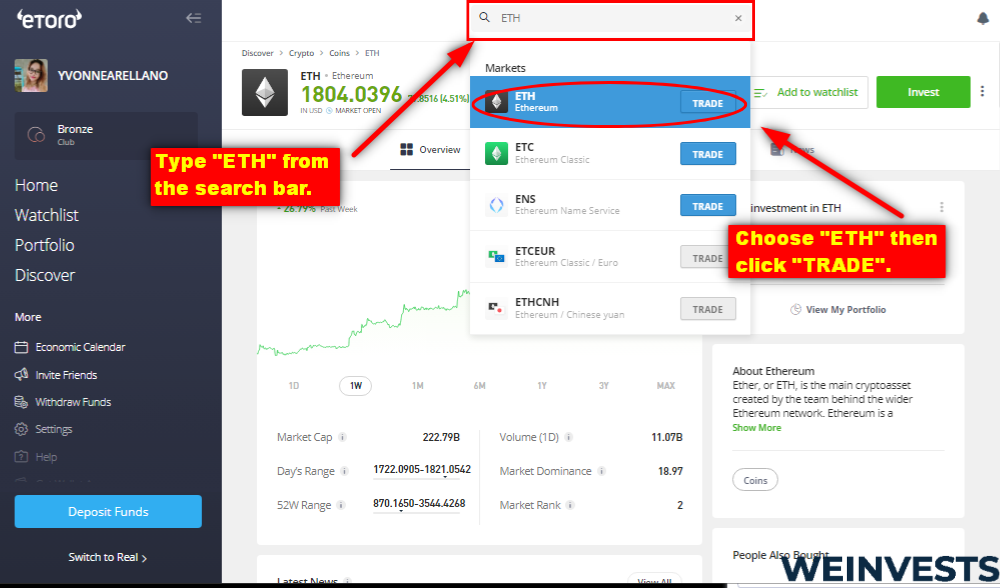 Step 5: Trade ETH
Lastly, you're all ready to start buying Ethereum. This is one of the most relevant cryptos nowadays, and it might be the ideal coin for you. Since you're using eToro to purchase it, you can start changing your trading journey by acquiring the amount you need for your goals!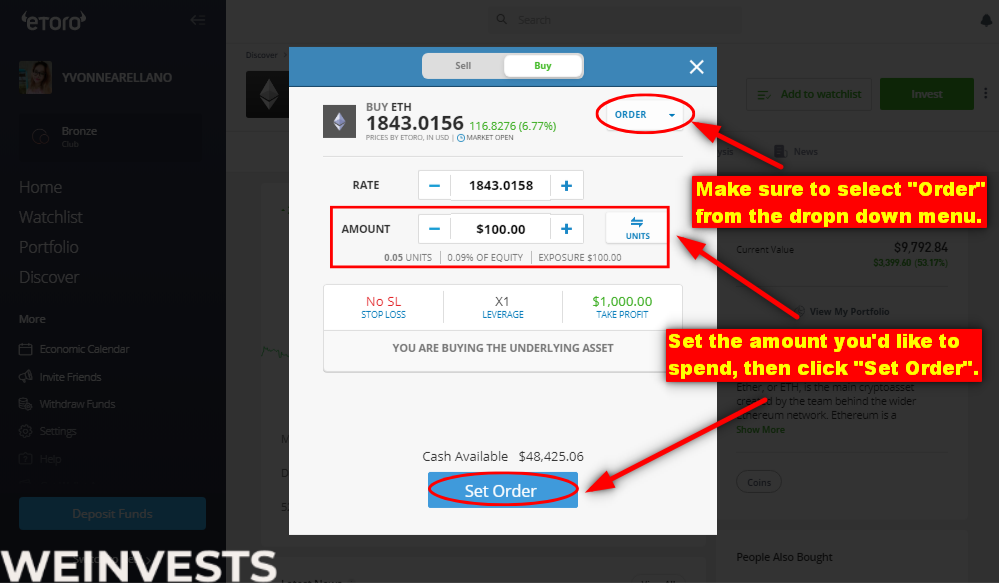 Create an Account
Once a suitable Ethereum exchange that fits your criteria has been found, the next thing to do is open an account. The procedure for signing up for a crypto exchange is similar to that of a brokerage platform. Details, such as your social security number, address, and name, are required for the registration process.
In most cases, the exchange asks for specific forms of identification to verify users and protect itself against money laundering. Once you are signed up, it usually takes around one to two days to verify your account, which is the final step of the account opening process.
Uploading your documents confirms your identity and establishes that the account passes regulations set out by the exchange.
Deposit Currency
Next, you need to connect the payment method to fund your account. Fiat currency platforms can be significantly easier than C2C exchanges for depositing coins. In most cases, after payment verification, you can add money through a debit card or bank account.
Most cryptocurrency exchanges do not require a significant investment amount so you can start for as little as $10 or as much as $2,000 or more. Typically, most Ethereum platforms have fees per transaction, so it may be best to trade significant amounts at once.
Ethereum is a well-known depositing currency for many cryptocurrency platforms, so storing a substantial amount of it can benefit an investor. On the other hand, depositing money into crypto to crypto exchanges can be slightly more challenging. These platforms require that digital coins be sent by code from one space to another. Typically, it takes around one hour to complete a code transfer when loading currency to a C2C platform.
Start Trading
Once the account has been verified and the money deposited, it is time to purchase Ethereum or other cryptocurrencies that the exchange has on offer. There are a variety of ways that you can trade Ethereum, and the platform gives you many tools to help with your analysis.
Please be aware of the various transaction fees regarding purchasing Ethereum from these exchanges. Depending on the cryptocurrency you want to invest in, there might be flat fees or a percentage of the transaction amount deducted from your purchase.
Ethereum and Wallets
Once Ethereum has been purchased through your chosen exchange, it can be withdrawn to a wallet or bank account in your name. Fiat exchanges simplify the process by selling your staked Ethereum and sending the balance to your cheque account. This is great for users who want access to their funds quickly and with as little effort as possible.
It is important to remember that crypto-to-crypto exchanges have an extended signup time and more transaction fees. On a C2C exchange, the platform needs a transfer code to send your Ethereum to a fiat broker. Only then can the platform sell the remaining Ethereum and cash out to your bank account.
On all cryptocurrency platforms, you have the option to send Ethereum to a hot or cold wallet.
Cold Wallet
A cold wallet is a secure storage place for your Ethereum. These are also known as hardware wallets and come in a USB stick with encryption technology. What is fantastic about these wallets is that they can protect your portfolio without connecting to the internet.
In most cases, these wallets come with software that works in parallel with encryption technology and allows you to view your portfolio offline. That sort of flexibility and safety is what cryptocurrency investors require in a world full of hackers.
Hot Wallets
Hots wallets are online-based storage places where Ethereum can be held. Many platforms offer these storage wallets and refer to them as your cryptocurrency cheque account.
It is not recommended to store large amounts of cryptocurrency in these hot wallets, as the business's security could be compromised. Most users transfer Ethereum between their cold and hot wallets when looking to open more positions on the market.
Make sure that the cryptocurrency exchange platform that you choose has the correct security measures in place to secure your coins. Most businesses display the encryption technology they use on their website and include a two-factor authentication when signing into a wallet.
You can take extra measures by installing an additional authenticator to protect your Ethereum hot wallet further.
The Risks of Investing in Cryptocurrencies
Investing in Ethereum and other cryptocurrencies comes with high risk because positions are speculative. This article is not a recommendation by weinvests, or its associates and traders should be aware that each situation is unique.
Sometimes Ethereum can be leveraged with specific brokers so that the user can speculate on the price swing. Leveraged trading is even riskier than long-term holding as it multiplies the risk on an open market position.
One great way to start Ethereum investing is by creating a trading strategy that suits your financial stature. It's a best practice only to invest money you are willing to lose to remain financially secure if the trade goes bust.
You can start by investing as little as $10 a week into an Ethereum portfolio, and after a year, you would have saved $500, plus interest gained from the long-term holding. A lot of investors use this strategy to diversify their portfolios and aid in risk aversion.
Conclusion
Ethereum is the second-largest cryptocurrency in the world and has a massive market cap. The blockchain it's built on has opened up a world of possibilities for developers to create more innovations for the platform.
Many financial institutions and other companies have successfully used Ethereum to transfer money between accounts at incredible speeds. With the spotlight on Ethereum and what innovation is going to come from the company, there has never been a better time to purchase your first coin.
What's the future of Ethereum (ETH)? Read our article to find out: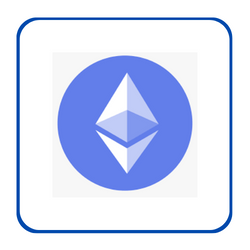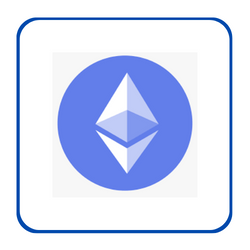 How to stake Ethereum
Ethereum transitioned from its previous model of proof of work to a proof of stake. This will allow users to stake their Ether coins in order to receive more of them. The
staking
process is part of Ethereum 2.0, which is a major upgrade that aims to make the network more sustainable and faster. Similar to other cryptocurrencies, Ethereum staking involves validating transactions on the blockchain to earn new coins. By holding a minimum amount of Ethereum in a wallet, you can confirm that a transaction is following the rules set by the network. In return for your work, you'll receive additional coins.
Risk Disclaimer
WeInvests is a financial portal-based research agency. We do our utmost best to offer reliable and unbiased information about crypto, finance, trading and stocks. However, we do not offer financial advice and users should always carry out their own research.
Read More