This content represents the writer's opinions and research and is not intended to be taken as financial advice. The information presented is general in nature and may not meet the specific needs of any individual or entity. It is not intended to be relied upon as a professional or financial decision-making tool.
Ethereum transitioned from its previous model of proof of work to a proof of stake. This will allow users to stake their Ether coins in order to receive more of them.
The staking process is part of Ethereum 2.0, which is a major upgrade that aims to make the network more sustainable and faster. Similar to other cryptocurrencies, Ethereum staking involves validating transactions on the blockchain to earn new coins. By holding a minimum amount of Ethereum in a wallet, you can confirm that a transaction is following the rules set by the network. In return for your work, you'll receive additional coins.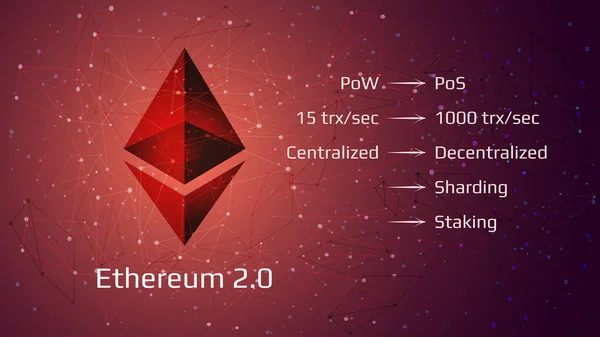 Pros & Cons of Staking Ethereum
Trading, staking or investing in cryptocurrencies may not be suitable for all investors. But along with risks, there are certain benefits to staking Ethereum.
Pros
Earning more on top of your investment via ETH rewards.
Help the network grow and contribute toward a decentralized world.
Cons
You must lock up your ETH for a period of time.
You can lose ETH if the value goes down by more than the added value of the rewards.
You must keep your address safe.
What is Ethereum staking?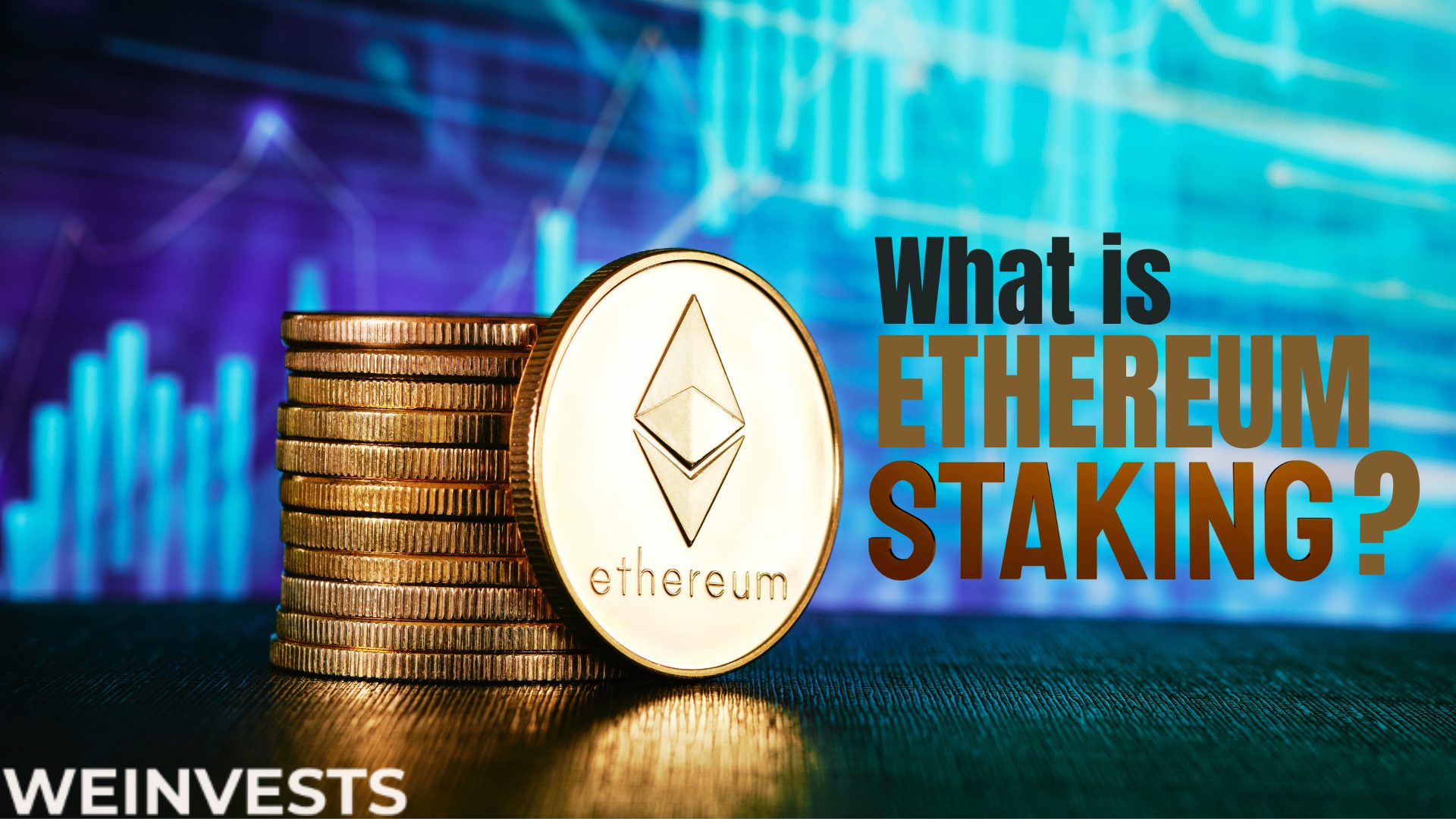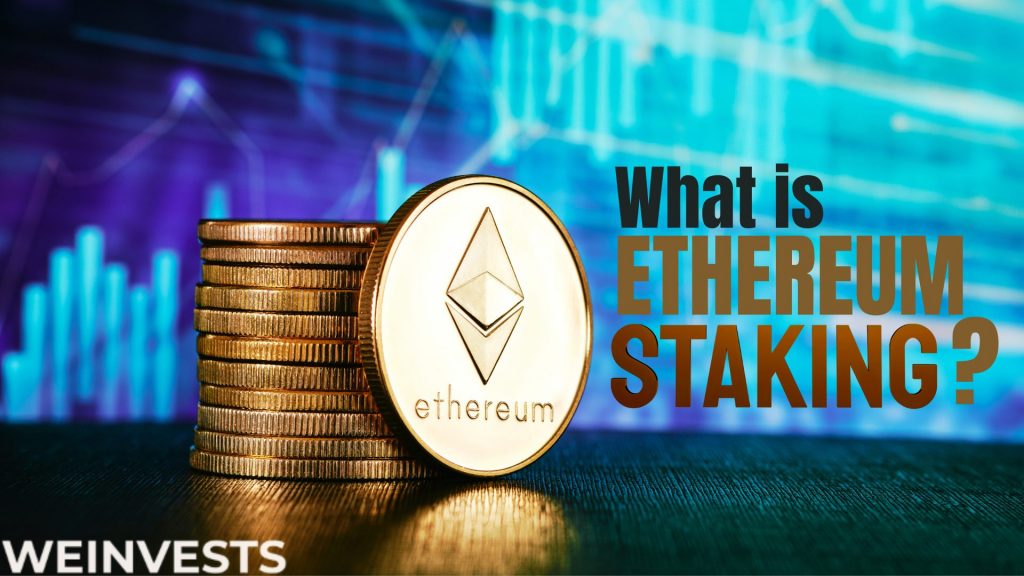 Staking is a process that involves locking up a portion of Ether to add new blocks to the Eth2 Beacon Chain. You can either join a pool with a lower amount of Ether or deposit 32 Ethereum to become a full-fledged node. Once the upgrade is complete, you'll have to wait until late 2023 to withdraw your deposited Ether.
By staking, you can add new blocks to the Ethereum Beacon Chain. You can either join a pool with a lower amount of Ether or deposit 32 Ethereum to become a full-fledged node.
Instead of using a powerful hardware to build an Ethereum blockchain, users can use the platform's decentralized network to deposit Ether and participate in the creation and validating of new blocks. This process is referred to as proof-of-Stake (PoS). In order to maintain the blockchain, only users who have deposited and locked a certain amount of Ether are allowed to participate.
By validating transactions correctly, you can earn rewards. However, if you make a lot of mistakes, such as incorrectly validating a block, you might lose some of your stake. This process, known as slashing, is designed to punish bad nodes.
How to stake Ethereum?
Today, there are various types of proof-of-Stake consensus mechanisms that are used in the world of blockchain technology. Each of these methods uses a specific form of PoS that is tailored to the needs of the network. For instance, in a PoS blockchain, users can participate in the creation and validation of blocks by holding a certain amount of native coins. The larger the user's stake, the more likely he or she is to get to participate in the next block.
If users fail to comply with the network's rules, they will lose a portion of their coins. This mechanism, known as slashing, ensures that stakers have a strong incentive to comply with the rules.
Solo staking: Ether can be staked directly on the Ethereum network. To do so, stakers have to run their personal Ethereum node. No programming skills are necessary to run a node, as all the software needed is provided by the Ethereum community. Nevertheless, the process of setting up a personal Ethereum node requires technical skills and knowledge.
Pooled staking: The much simpler way to stake Ether is through platforms that run the Ethereum nodes for their users. This allows users to stake Ether with a few clicks. Examples are eToro, Coinbase, Binance, Lido, Kraken, and Rocket Pool, among many others. For their services, the platforms usually charge a percentage of the staking rewards.
The annual percentage rate (APR) is around 4%. The more Ether you are staking within the network, the lower the APR.
Currently, users can only earn rewards from their stake on the Ethereum network until the completion of the merge and the implementation of the Shanghai upgrade. This is because the process of withdrawing from their accumulated Ether won't be available until sometime in 2023.
When staking Ether on a platform, investors will receive the current Ether APR minus the fee that they are being charged for their service. For instance, on Coinbase, they charge a 25% commission on the earnings earned. This means that investors will only get to keep 75% of the earnings. Other platforms, on the other hand, charge significantly less.
How to Stake Ethereum
Ethereum staking on eToro is a process that allows users who own and hold Ethereum (ETH) to earn rewards by locking their ETH until the launch of Ethereum 2.0, a network upgrade that will improve ETH's efficiency and scalability. eToro executes the staking process on behalf of its users and pays them monthly rewards in ETH. Users can stake their ETH using the eToro Money crypto wallet app and potentially earn up to 4.3% rewards per year…
Step 1: Verify your Account
Complete the sign-up form or you can log in with an existing account such as Google or Facebook.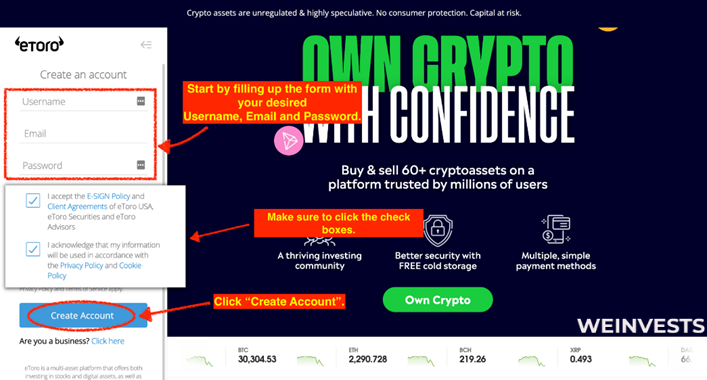 You must give eToro information about your identity, your trading background and goals,
photographic identification, and proof of your residence, as well as a phone
number that can be used for verification.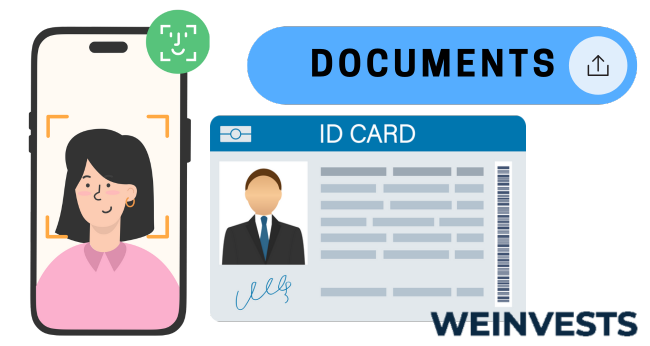 Step 2: Fund your Account
Enter the desired amount in the "deposit fund" tab. then decide which option you prefer.
Invest your money in an asset that qualifies for staking rewards after you've placed money into your account.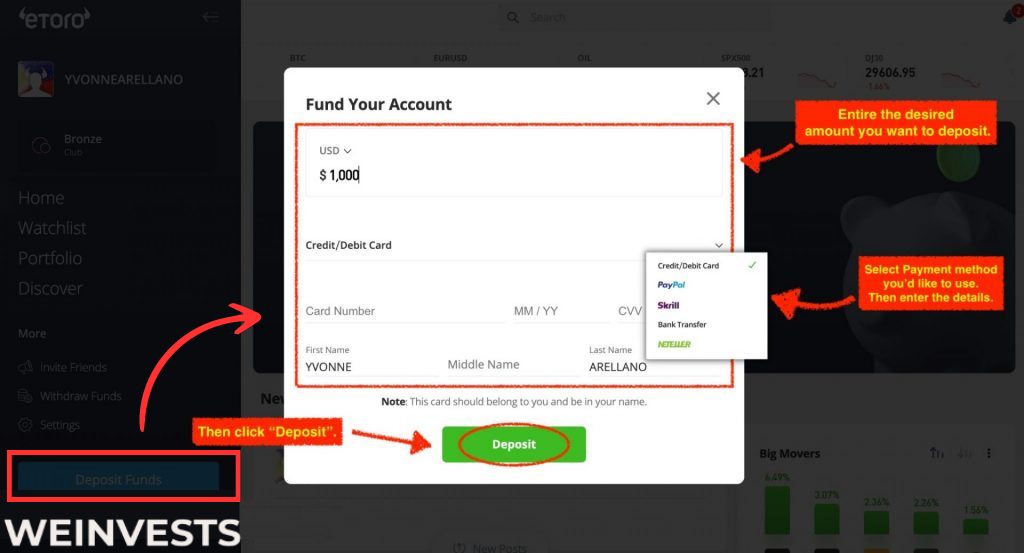 Step 3: Download eToro Money App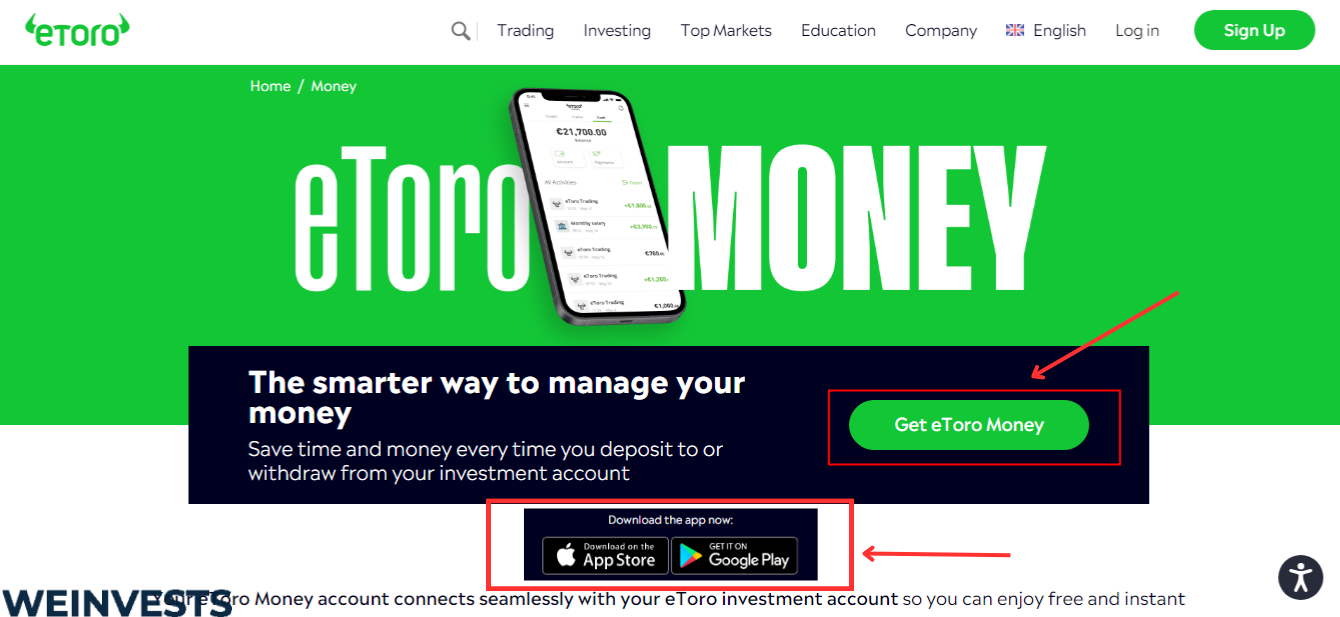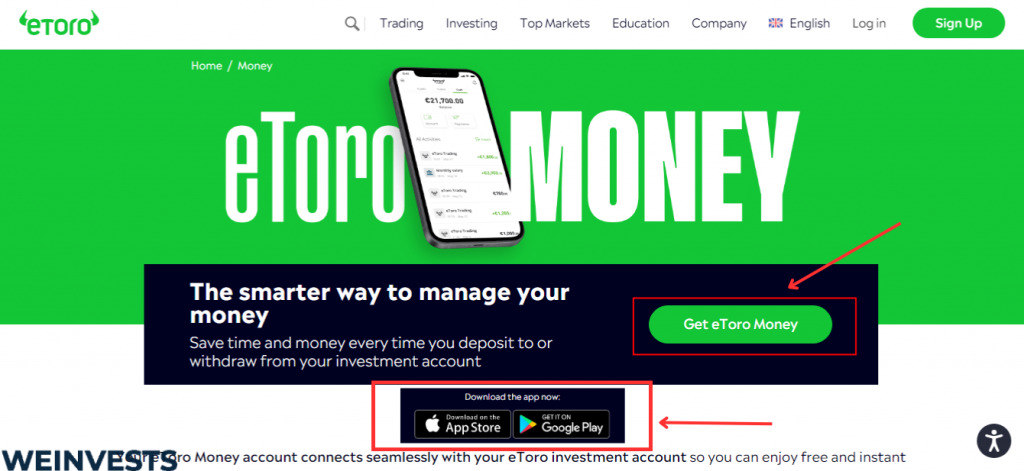 The eToro Money app is a mobile application that allows you to manage your eToro investment account and access various features such as crypto staking, crypto-to-crypto conversion, and SEPA bank transfers. You can download the eToro Money app from the App Store on iOS or the Play Store on Android. To use the app, you need to log in with your existing email and password of your eToro investment account and enter the SMS code.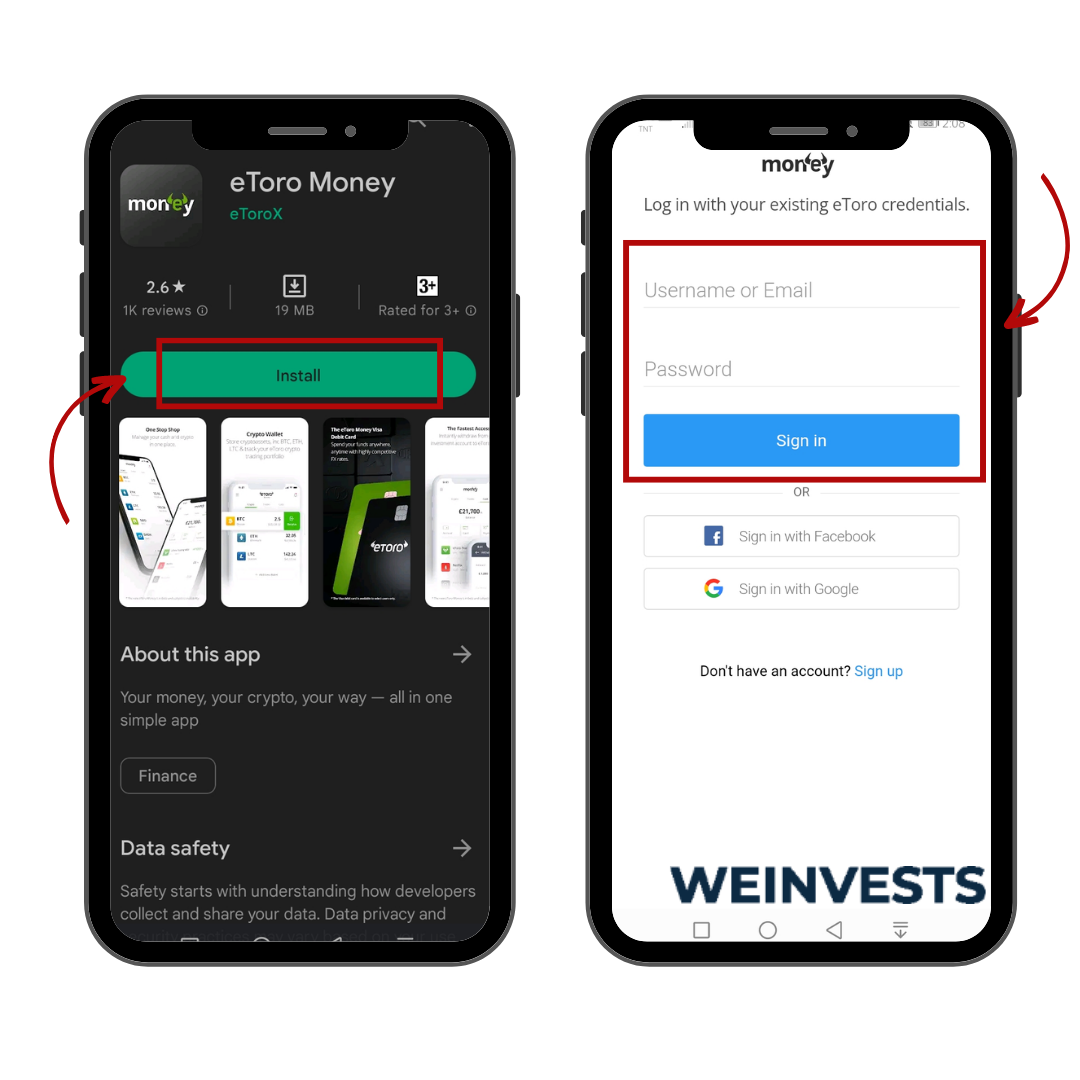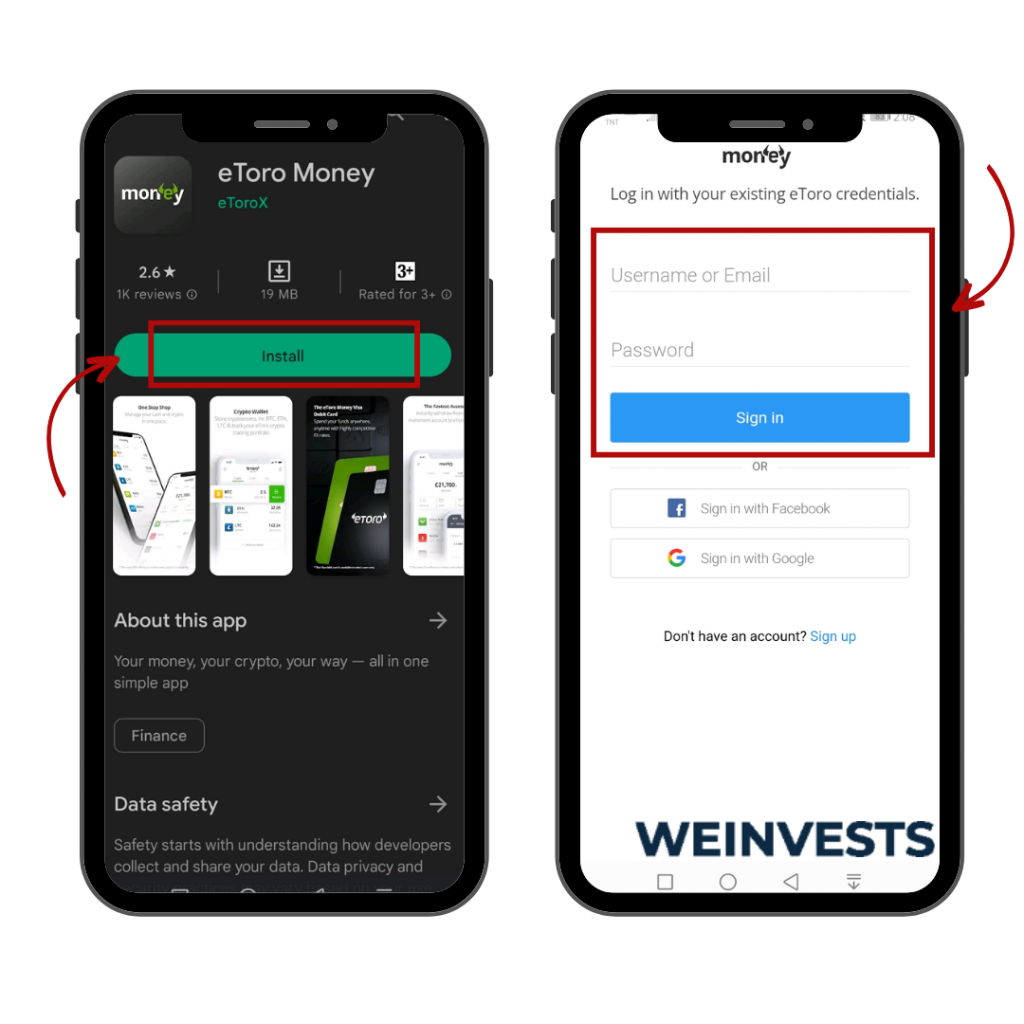 Log in to eToro money app using the same as user name and password of your eToro trading account
Step 4: Transfer to your wallet
Go to your eToro trading platform, and click the asset you that you want to transfer.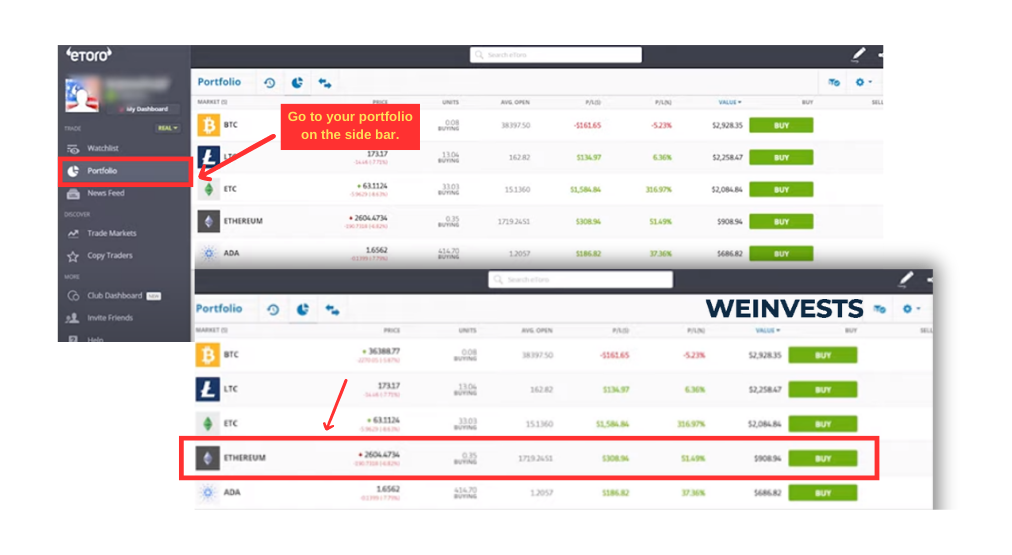 The " Edit Trade" screen will appear. If your trades meet the requirements for transfer, you should see the "Transfer to Wallet" option.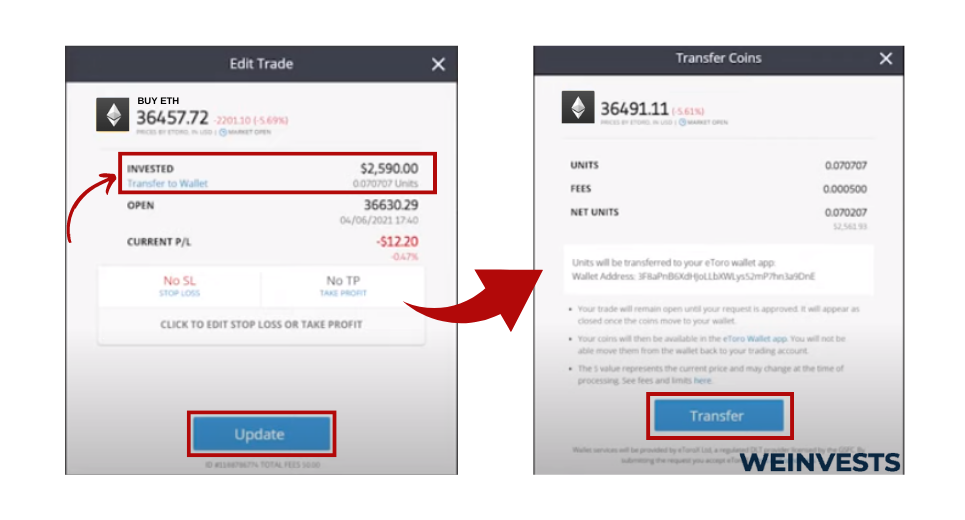 You should receive a notification to confirm your submission. The trade generally process within 5 business days.
Step 5: Stake
Now that you have Ethereum on your crypto wallet, you can now stake.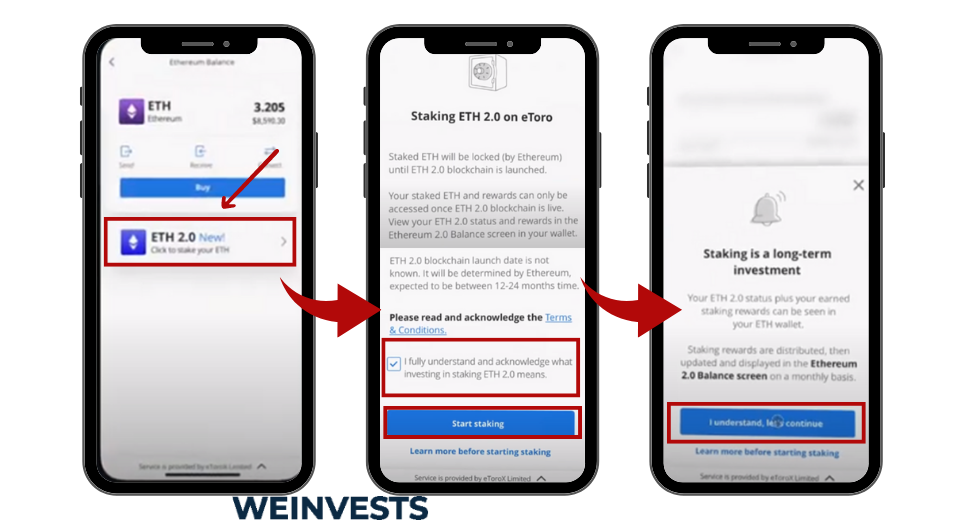 After acquiring Ethereum, select "stake your Ethereum" on your wallet's Ethereum page. Confirm that you've read and accepted the staking terms, which clarify your staked Ethereum will be locked. Upon clicking 'stake', a two-step verification process must be completed to initiate staking.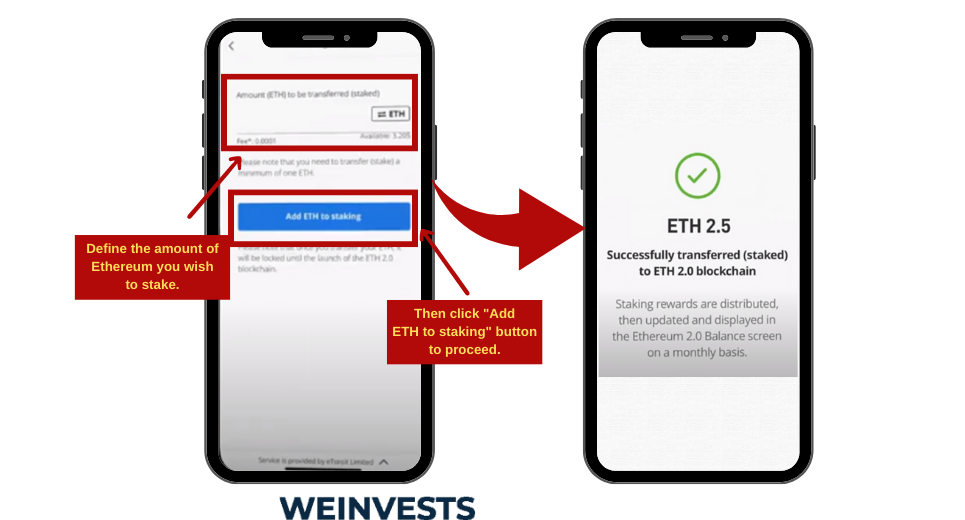 After staking Ethereum, you can view your balance, staked amount, and earnings in the Ethereum sub-wallet of your eToro Money crypto wallet. A monthly email will detail your staked Ethereum's growth. Once Ethereum 2.0 launches, you'll gain full access to your staked Ethereum and accumulated rewards.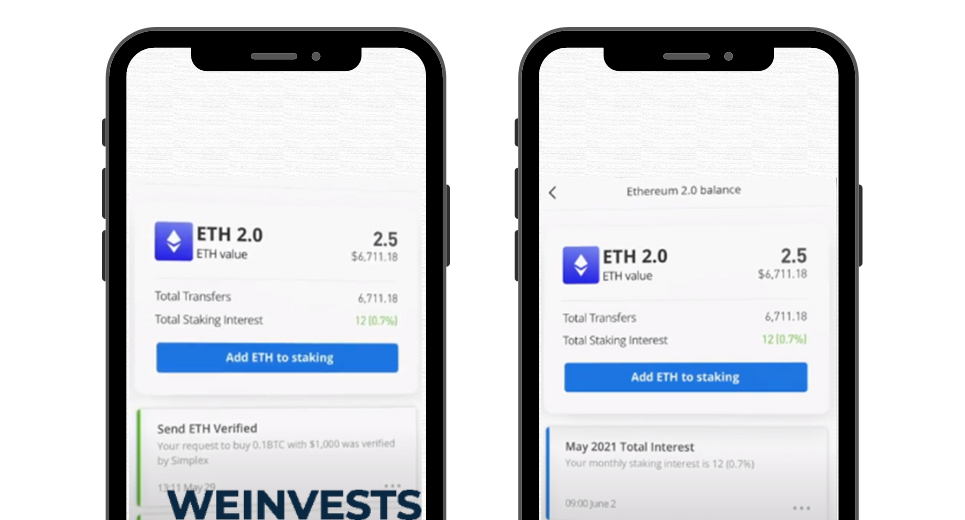 Ethereum Staking Tax
During the transition to PoS protocol, which is expected to happen with Ethereum 2.0, the shift from mining to staking will occur. The IRS has issued guidance regarding the tax implications of mining. According to the agency, people who mine virtual currency can recognize ordinary income at the time of their receipt.
Staking is similar to mining in that it involves acquiring wealth, which is similar to receiving interest on property. Based on this interpretation, it's generally believed that the income generated from staking is equivalent to the prevailing market value of the asset.
If a user has over $600 in income, they can receive a 1099-MISC form from their exchange. This tax form will allow them to track how much income they have earned through their activity on the platform. TaxBit Enterprise, a provider of tax forms for cryptocurrency exchanges, helps users complete their taxes.
Why do people like Staking Ethereum?
The positive predictions about the future of Ethereum have drawn many people towards staking it.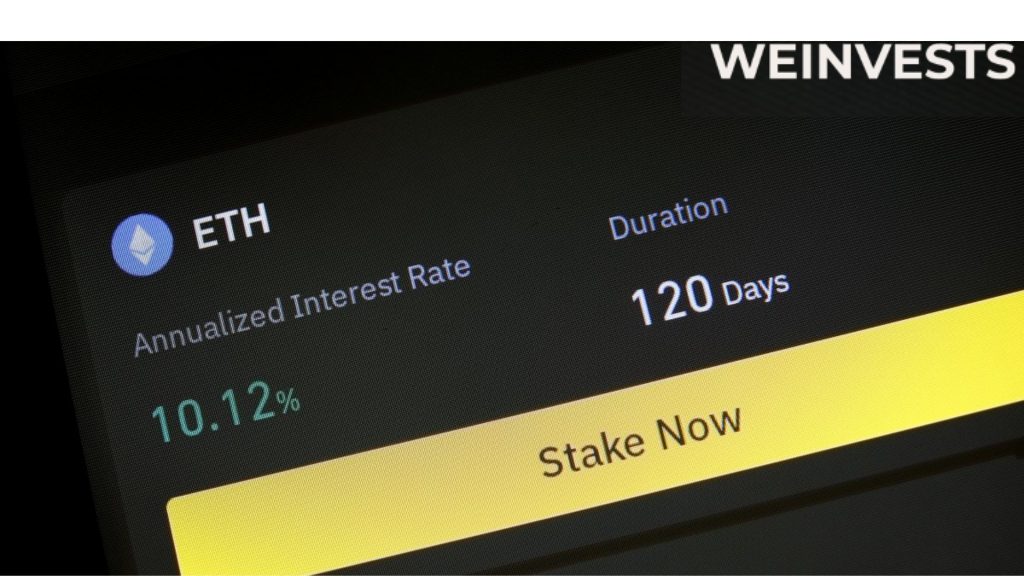 The reward rate for staking on Ethereum is 8%. The rewards are shared equally among the mining pool participants, but mining is more frequent and faster, which results in a more balanced distribution.
During the last year, the price of Ethereum increased by 400%. Although the price has slipped back from its high of $4300, this increase shows that the asset is becoming more popular among investors.
Ethereum Staking FAQs
How can I stake my ETH?
It depends on how much you want to stake. You need 32 ETH to activate your own validator, but you can stake less if you use a third-party service or join a staking pool.
How long is my staked ETH locked up for?
Although The Merge is still in its early stages, it is expected that staking withdrawals will be enabled soon. This will allow users to deposit and withdraw their ETH. Existing rewards will also be honored immediately following the upgrade to Shanghai.
The Shanghai upgrade is the next step following The Merge. As a result, newly issued Ethereum will remain locked and unliquidated for at least six months following the event.
Will Validators receive liquid ETH rewards before the Shanghai upgrade?
The fees and MEVs will be credited to the Mainnet account of the designated user, which can be accessed immediately. The protocol issues Ethereum as a reward to those who contribute to the consensus. This reward is stored in a Beacon Chain address that is unique to the user. This newly issued token will remain locked until the Shanghai upgrade.
The execution layer of Ethereum is separate from the consensus layer. When a user makes a transaction on the platform, they must pay for the gas, which is usually a tip to the system's operator. This ETH is already in the execution layer, and it can be immediately available to the users.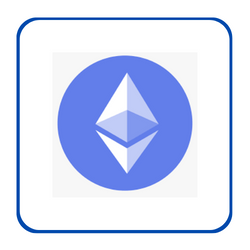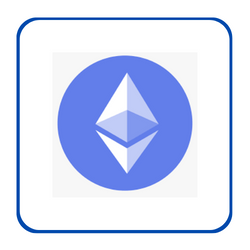 Risk Disclaimer
WeInvests is a financial portal-based research agency. We do our utmost best to offer reliable and unbiased information about crypto, finance, trading and stocks. However, we do not offer financial advice and users should always carry out their own research.
Read More