This content represents the writer's opinions and research and is not intended to be taken as financial advice. The information presented is general in nature and may not meet the specific needs of any individual or entity. It is not intended to be relied upon as a professional or financial decision-making tool.
PancakeSwap is a decentralized trading platform built on the BNB Smart Chain (BSC), is where users can trade, earn, and win crypto. Staking is possible on PancakeSwap because BSC is based on a Proof-of-Stake (POS) consensus algorithm. It relies on a Proof of Stake Authority (PoSA) through which users can stake coins to become validators.
BSC, which was recently rebranded as BNB Chain, is a different type of blockchain vs. Bitcoin, which relies on the energy-intensive Proof of Work (PoW) consensus algorithm. It relies on the computing power of miners to validate transactions on the blockchain. Those miners are then rewarded with newly minted bitcoins. By way of comparison, Ethereum recently migrated from a PoW to a PoS consensus algorithm.
PancakeSwap is behind what are known as staking pools through which users generate passive returns in exchange for placing their coins on the platform to bolster liquidity. The annual percentage rates (APRs) for staking the CAKE token, the native cryptocurrency of the PancakeSwap platform, are quite high, ranging between approximately 40% and over 53%, as illustrated in the below table.


Given all the hype around PancakeSwap and staking, we thought now would be an excellent time to dig a bit deeper into the platform. We have compiled the most important information you'll need to know about PancakeSwap staking and how to participate in the craze.
Pros
PancakeSwap is able to offer APRs in the double and even triple digit percentage range due to the popularity of the platform among traders and stakers alike.
Another benefits of staking on PancakeSwap is that it's a tried and true platform in the world of DeFi. You will be joining 2 million users on the PancakeSwap platform across 55 million trades in a 30-day period, and $3.7 billion staked in what is known as the total value locked (TVL).
This is one of the key features of staking, which is to let your money — or in this case crypto — work for you.
PancakeSwap has been audited by CertiK, which can give investors some assurance that the platform is transparent and not hiding anything.
Cons
The primary risk associated with staking CAKE tokens on PancakeSwap has to do with smart contracts on the blockchain. If there are any vulnerabilities in these automated contracts on the blockchain, bad actors might be able to exploit them and steal fund
DeFi is a lightly regulated market globally, leaving investors with little recourse if something goes wrong.
There are a couple of layers of fees involved with staking, including "unstaking" or withdrawal fees within the first 72 hours.
If the price of the CAKE token (or any token you stake) falls between when you place the coins on the platform and when you withdraw, you lose money when you unstake the coins.
What is PancakeSwap Staking?
Staking is the practice of committing some of your crypto tokens onto a trading platform for a period of time to provide liquidity to traders. If you were planning to hold the tokens anyway, it gives you an opportunity to earn while holding.
In the case of PancakeSwap,you can stake single tokens, like CAKE, in a syrup pool. Staking tokens could also be presented in pairs such as CAKE/BNB. Investors can choose to stake their CAKE tokens alongside another token, say BNB, in order to earn even more CAKE tokens.
By staking their tokens on the PancakeSwap platform, stakers provide traders with the liquidity they need to swap tokens. Stakers are rewarded for doing so with yields. The yields are generated from the fees paid by traders on the PancakeSwap platform for swapping one token for another.
For instance, if a trader wants to swap their Binance Coin (BUSD) tokens for Tether (USDT), both of which are stablecoins, they can do so on PancakeSwap for a fee. That fee is then returned to the investors who are staking their coins in the form of passive income. Staked coins are stored in what's known as a liquidity pool, which provides liquidity to traders. The more volatile the crypto asset, the higher the yield is likely to be simply because there is more risk involved. Staking yields are fluid and change constantly.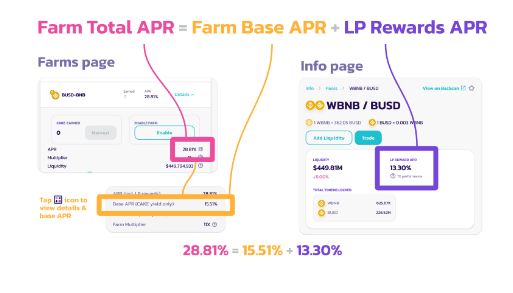 PancakeSwap offers different types of staking, including flexible and fixed. Flexible staking lets users stake their CAKE tokens and generate rewards with the option to unstake, or withdraw their CAKE tokens from the platform, at any time. Fixed staking ups the ante so that staker rewards are amplified in exchange for agreeing to lock up your CAKE tokens on the platform for a fixed period of time determined by the staker, aka liquidity provider.
How to Stake PancakeSwap?
Staking PancakeSwap (CAKE) tokens using the Simple Earn feature on Binance is an easy process. Follow these step-by-step instructions to stake your CAKE tokens and start earning rewards:
Step 1: Sign Up and Verify your Account
If you don't already have a Binance account, sign up by visiting https://www.binance.com/. Provide the necessary details, including your email address and a strong password. Verify your account by following the instructions sent to your email.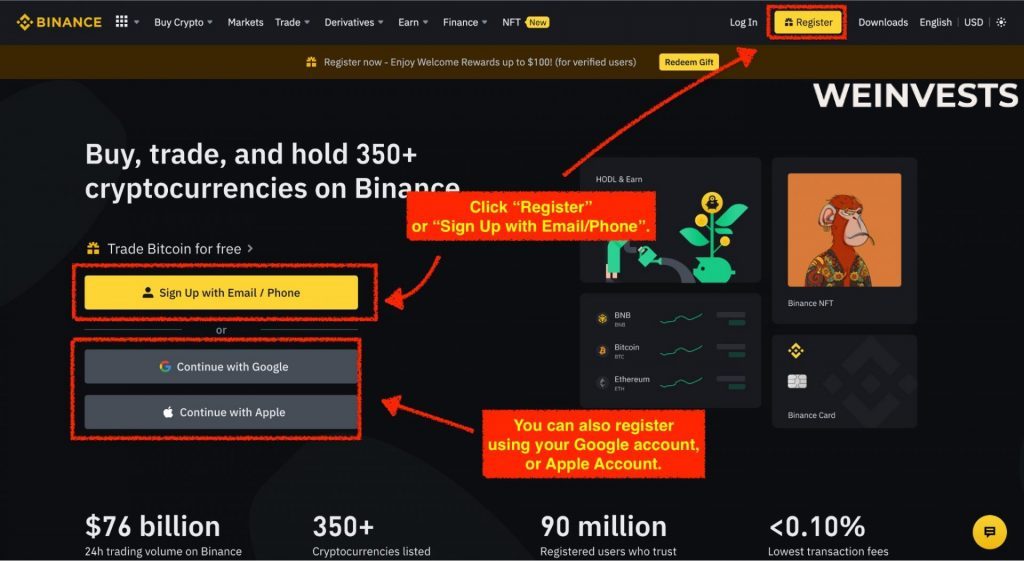 To access all Binance features, complete the KYC verification process. Go to your account dashboard and click on "Identification." Follow the on-screen instructions to provide the required information and documents.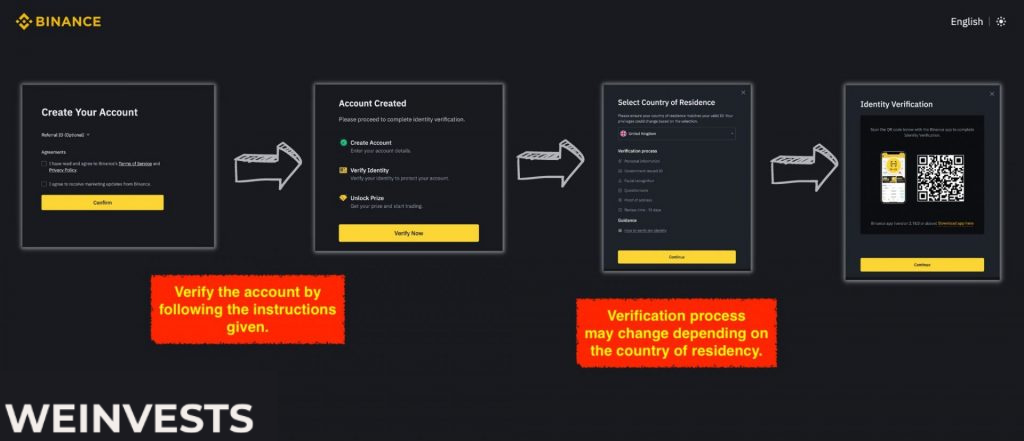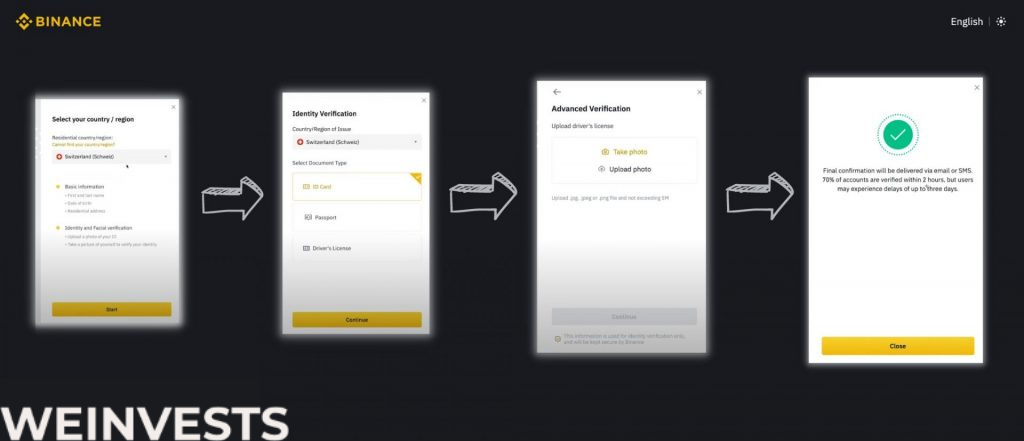 Step 2: Fund your Account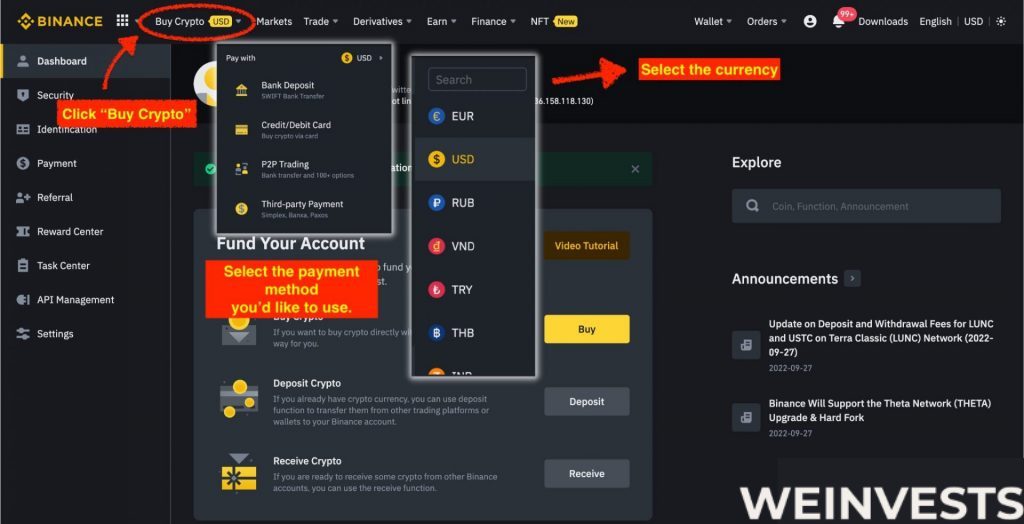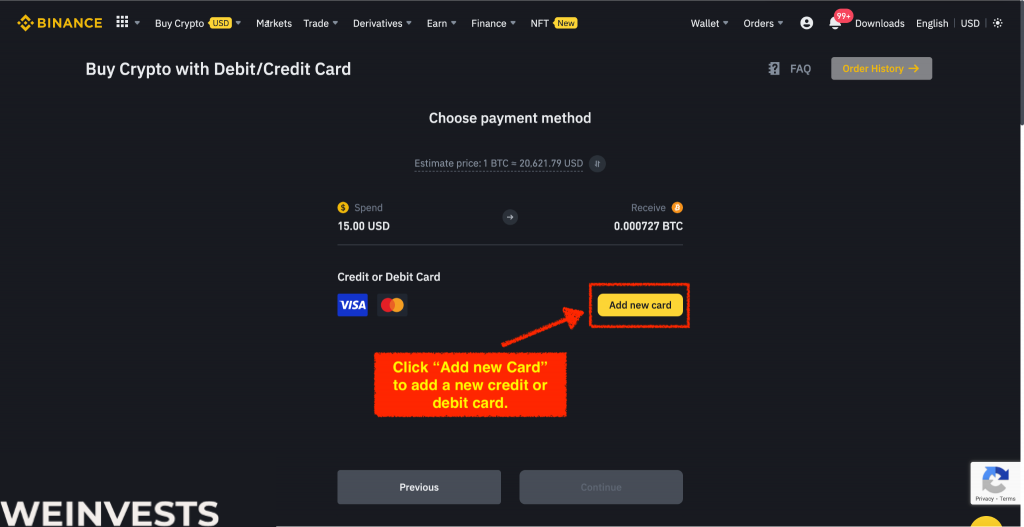 Step 3: Go To The Earn tab in the Main menu
After you have CAKE tokens in your Binance wallet, go to the Binance Earn section by hovering over "Earn" at the top of the page and clicking on "Binance Earn."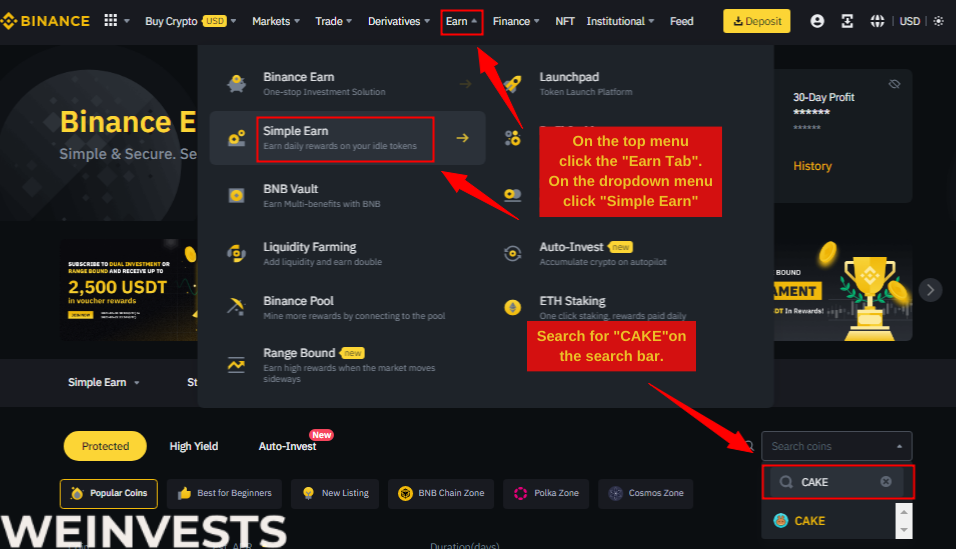 Scroll down the Binance Earn page and look for the "Simple Earn" section. Click on the "View More" button to see all available staking options.
In the Simple Earn section, search for the CAKE staking option. You may need to use the search bar to filter the results. Once you find the CAKE staking option, click on the "Stake" button.
Step 4: Analyze the Staking Parameters and Stake
Here, you can analyze PancakeSwap (CAKE) using the 'Calculate your crypto earnings' feature. You can input the amount you want to invest and see the projected earnings for 1 year, 2 years, 3 years, or 5 years. Simply click on the desired number of years to invest in 'CAKE'.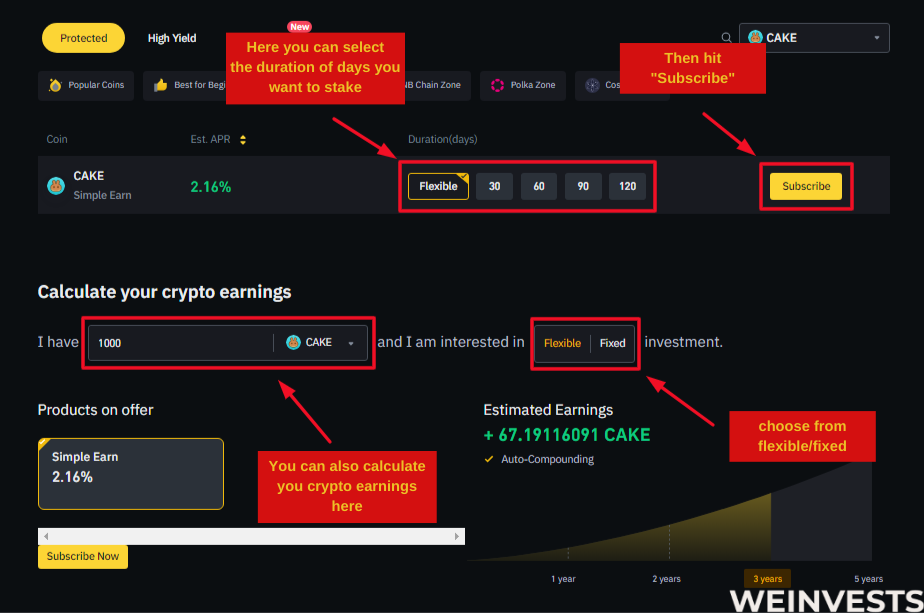 If you want to earn rewards with your CAKE on Binance.com, you can go to the "Products on Offer" section under "Earn" and choose between two options: "Simple Earn" and "Flexible DeFi Staking".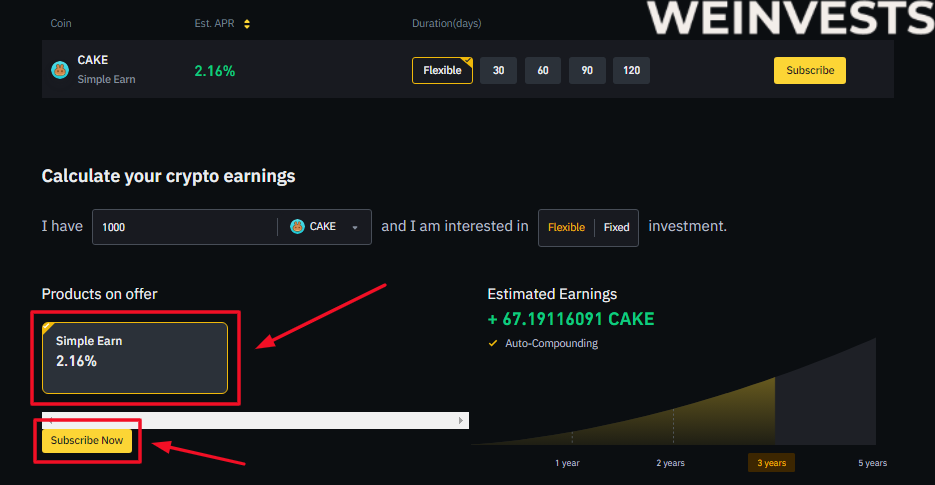 "Simple Earn" lets you deposit your CAKE in flexible or locked products and earn daily rewards. You can subscribe or redeem at any time, so you can maintain your assets' flexibility and liquidity. The rewards are sourced from Binance's own funds and are based on the market conditions.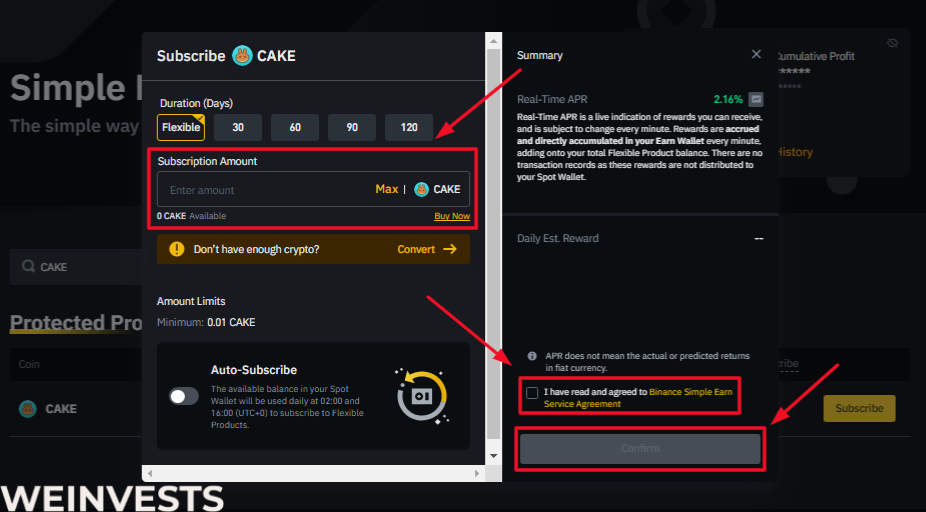 PancakeSwap Staking Tax
Now that you will be earning returns through staking your CAKE tokens, you'll have to also think about paying taxes on those earnings. Any income earned through staking in the U.K. should be treated as miscellaneous income, which is subject to income tax.
The value of the staking rewards on the day you receive them should be equivalent to the amount of taxable income. If you happen to be a financial trader in the crypto markets, your staking earnings may be taxed as trading income instead of miscellaneous income.
PancakeSwap does not distribute tax forms to investors. They simply aren't able to keep up with the prices for each and every transaction to determine capital gains. So this is up to each individual to do themselves or hire a tax professional to help. Some of the concepts to be aware of include:
Cost basis
Gross proceeds
Date the funds are received or invested
While collecting this information could be time-consuming, it could save you a lot of work when tax time rolls around. You will find crypto companies out there like CoinLedger that have made this process easier with crypto tax software, which will help you to generate tax reports in a few short minutes. You'll just have to be willing to connect your crypto wallet
Why do people like Staking PancakeSwap?
Staking is a way to earn passive income. People like staking on PancakeSwap, in particular, because it lets investors know in advance how much they can expect to earn by staking their coins. PancakeSwap displays a list of the hot staking pools and the types of APR they are generating.
So let's say that the annualized rate for staking CAKE tokens is 51.32%, and you stake $1,000 worth of CAKE tokens. At this rate, your rewards are $513.20 in addition to your initial investment of $1,000.
In addition to the double-digit APRs attached to trading pairs, people also like staking on PancakeSwap because there is no shortage of staking pools to choose from.
Conclusion
Staking is part of the decentralized finance (DeFi) phenomenon that has taken the financial services industry by storm.
PancakeSwap makes it simple to begin staking on the platform with single pools known as Syrup pools.
Staking is a wildly popular activity in the DeFi market. Don't forget to pay the piper (taxes) on your earnings.
PancakeSwap operates on Binance Smart Chain, which as of November 2021 had recorded over 1.7 billion transactions since it was launched in 2020.
PancakeSwap Staking FAQs
How much can I earn by staking PancakeSwap?
The rates at which you can earn rewards change frequently. If you invest $1,000 into staking CAKE, at an annualized rate of 51.29%, you can expect to earn approximately $42.00 per month or $512 per year.
Are there risks associated with staking PancakeSwap?
There are risks associated with DeFi and PancakeSwap is no exception. The primary risk is associated with the smart contracts, which is where funds are stored on the blockchain. Should there be any weaknesses in these contracts, scammers might be able to access these contracts.
When can I withdraw my earnings?
You can decide to withdraw your funds at any time. The PancakeSwap dashboard presents you with a digital card. All you have to do is click on the "minus" button on the card to begin withdrawing your CAKE tokens. This in turn will create an unstaking menu, which will let you withdraw a specified number of CAKE tokens, determined by you.
What if I've chosen fixed-term staking?
If you have opted into a fixed-term staking agreement, you can't make withdrawals until that period is over. When the fixed term is over, you've got seven days to either convert your CAKE tokens to flexible staking or begin another fixed-term staking term.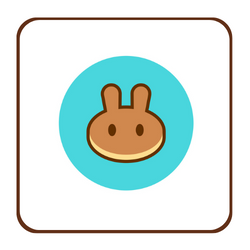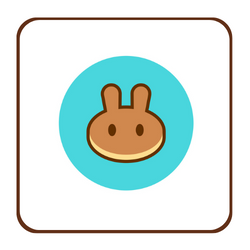 PancakeSwap (CAKE) Price Prediction 2023, 2024, 2025, 2030
Several analyses and forecasts have been done on the performance of CAKE. Therefore, it was determined that CAKE's price is going to keep increasing throughout the entirety of 2023, expecting it to rise between $18.60 and $22.30. These are the highest prices that the currency has reached up to date.
Risk Disclaimer
WeInvests is a financial portal-based research agency. We do our utmost best to offer reliable and unbiased information about crypto, finance, trading and stocks. However, we do not offer financial advice and users should always carry out their own research.
Read More