This content represents the writer's opinions and research and is not intended to be taken as financial advice. The information presented is general in nature and may not meet the specific needs of any individual or entity. It is not intended to be relied upon as a professional or financial decision-making tool.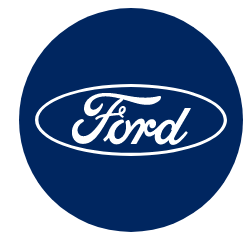 The cemented legacy of Ford Motor spans for decades and continues to be one of the best stock performers in the market. In the auto sector, Ford Motors stands on its own and occupies a unique position across the world. As the revenue generation for the giant car manufacturer breaks new records, there is strong enthusiasm and optimism among investors to drive its stock price.
Ford Motor manufacturers a unique line of cars under its Lincoln and Ford brands. In the last five years, there has been a more innovative, compact, and diverse line of products from the automaker. This, in turn, has stabilized and increased its stock price.
The focus of this post is to shed a light on the historical performance of Ford's stock and establish key parameters that would determine its future:
Ford Statistical Overview
Ford (FORD) Stock Forecast 2023
Ford is making great strides in the direction of EVs. It only accelerated the shift of traditional automakers towards EV production after the inflation Reduction Act, which grants EV customers tax credits, was passed in the US in August of this year. Ford is also making the appropriate preparations for a seamless transition.
Starting in 2023 it will report earnings from each segment independently under the Ford+ corporate brand, which will be helpful for management and investors to analyze the data in terms of the development of the EV transition.
Ford intends to create 600,000 electric vehicles by the end of 2023, and the good news is that it has bought 100% of the necessary battery capacity. The F-150 pickup vehicle, a Ford EV, is already selling fast, with October YoY EV sales increasing by 120%. Europe is Ford's second-largest market, and since the European Union intends to outlaw combustion engine vehicles by 2035, now may be the time to buy Ford Motors.
Ford's current performance may not be the best, but there are many reasons to enjoy Ford as a stock.
A 4.5% dividend yield should be viewed favourably by investors when deciding whether to invest in Ford, and it will be the icing on the cake if the business successfully manufactures 600,000 electric vehicles by the end of 2023 and keeps its pledge to expand earnings by 15% through year's end and beyond.
The most recent long-term estimate is that by the end of 2023, Ford prices will reach $20. The Ford price will increase to $15.71 in the first half of 2023, and then it will increase by $4.71 in the second half to complete the year at $20.42, i.e. +51% to the current price.
Additionally, Ford Stock Price Prediction 2023, based on technical analysis and Elliott wave theory, the price is expected to hit the Lower Range at $22.00, the Upper Range at $25.50, and the Medium Range at $23.75.
However, remember that any forecast or prediction is merely a recommendation made by experts or analysis.
Ford (FORD) Stock 2022
Ford's stock has fared poorly in 2022, falling by 44%. This is partly because of the increase in 2021 and the weak stock market in light of the general state of the world economy.
The automobile giant had a priority shift as it added the Bronco and Maverick brands to its lineup.
Its successful launch of the F-150 Lightning indicates the lingering market desire for an electric pickup truck that can compete with its conventional gas-powered counterpart in terms of performance.
Ford's decision to close two assembly plants and an engine factory in Brazil is one cost-cutting measure that highlights the company's shifting priorities. Before ceasing operations there, Ford's Brazilian production cost the business more than $11 billion over the previous ten years. Ford's move to liquidate these operations frees the firm from supporting its underperforming divisions, allowing it to redirect funds to more lucrative projects like EVs.
The Automobile company reported revenue totaling $70.20 billion for the first half of the fiscal year 2022 on June 30, 2022, and $37.90 billion for the second quarter. This is an increase from $24.12 billion and $57.68 billion in the same quarter of the fiscal year 2021, respectively.
Compared to the second quarter of the fiscal year 2021, when the Ford Credit division recorded earnings of $2.60 billion, the second quarter of the fiscal year 2022 saw reduced earnings of $2.56 billion. From $21 million in the same quarter of the fiscal year 2021, it experienced a rise to $25 million during the current quarter for its mobility division.
At the end of the second quarter of the fiscal year 2022, Ford had revenues of $74.66 billion; however, the business reported a net loss of $2.44 billion and a comprehensive loss of $512 million. Ford experienced a comprehensive loss of $3.57 million during the first six months of the 2022 fiscal year after costs and expenses were taken into account. The decline in value of Rivian, a car manufacturer in which Ford owns a 12% share, is responsible for most of the loss.
Ford reported cash and cash equivalents of $19.51 billion at the end of the second quarter of the fiscal year 2022, a decrease from the $20.54 billion recorded for the same period the previous year. Additionally, $30.71 billion in finance receivables were reported, a slight decrease from the $32.54 billion in the second quarter of the fiscal year 2021. At the end of the second quarter of the 2022 fiscal year, Ford's total liabilities and equity were $245.75 billion, down from $257.03 at the end of the same time the previous year.
Ford (FORD) Stock 2021
By December 30, 2021, the total car sales of Ford account for 64% of the company's revenue. Similarly, at the end of Q4 2021, Ford recorded one of its highest revenue around $136 billion. In 2021, Ford made a whopping profit of over $17.9 billion. And most of this profit came from the company's investment in Rivian, the manufacturer of electric trucks.
By Q4 2021, Ford's total earnings were still stable due to the company's ability to make instant changes after a worldwide computer chip shortage that delayed production. On November 6, 2021, the stock price of Ford reached $20 a share, which is the company's highest share value since September 11, 2001.
There is high mutual trust and confidence among investors toward CEO Jim Farley. In fact, due to the turnaround plan of Jim Farley, the stock price started to increase. The truth is that since CEO Farley assumed control of Ford on October 01, 2020, the stock prices of Ford have tripled. In fact, right after the announcement, Ford's stock prices increased by 5.9%. With Farley at the helm, Ford has managed to increase its stock price by 129%.
By Q3 2021, it became clear that the Investors and shareholders are now counting on the new CEO of Ford to roll out more ambitious plans and get a competitive edge over other leading car manufacturers in the auto sector. Despite the weak EPS rating of Ford's stock, the annual and quarterly earnings a share hint at the future growth potential of its stock.
In 2021, Ford started its transitional period and dive into the production of electric vehicles. 2021's forward estimates ultimately point toward unprecedented growth for the car manufacturer in the coming years. In terms of technical analysis, Ford stock saw a surge of 140% throughout 2021.
In fact, the 2023 stock price of Ford started at an all-time high, and the focus of the company is still to maintain this stock price threshold. One of the relative strengths of Ford is that it pulls back and recovers its sales, profit margins, and revenue growth which positively influences its stock price.

Ford (FORD) Stock 2020
First, the total revenue generation of Ford was just $9 billion in 2020 due to the COVID-19 pandemic crisis. Second, like other automakers, Ford hit some of its lowest stock levels in 2020. What's worse is that the stock price levels of Ford were already dwindling in 2019.
On April 27, Ford reported its Q1 results that managed to trigger a downward stock pressure. In 2020, most external variables were beyond the control and reach of Ford's management. Ultimately, Ford's stock was significantly devalued. On top of COVID-19, supply chain issues, recession fears, and rising inflation made matter worse for the automaker.
On March 23, 2020, Ford hit its lowest stock price of $4.11 due to COVID-19 lockdowns that led to fear in the stock market. Of course, the cynical market perception was going to end sooner or later but it did, however, created a drastic stock void for Ford.
Ford (FORD) Stock 2019
As a legacy automaker, Ford has managed to keep up with the changing dynamics of the auto industry and push its stock price in an upward direction. Whether it's a managerial change or the announcement of a new line of products from 2019 to 2023, Ford's always moving forward and ahead of the tide.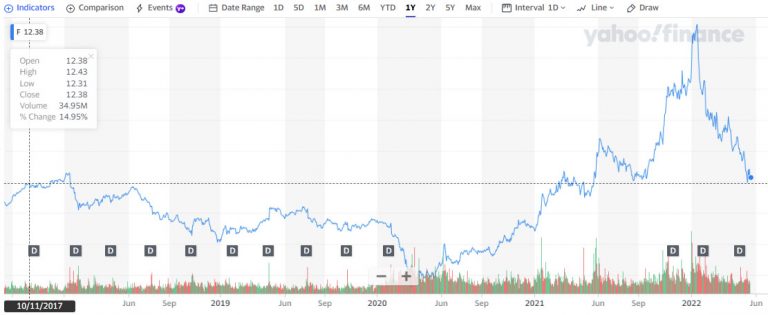 In fact, it is one of the main reasons Ford's shareholders have managed to earn considerably high returns for decades. Since the performance of automakers has become more erratic and the vitality and practicality of new trends are often not clear, Ford is adopting a different approach to boost its stock price and render high returns for its investors.
From the 1970s to the 1990s to the 2010s, Ford's investors have had significant returns on initial investments and now expect robust stock performance throughout the year. In 2019, there was low enthusiasm among analysts and a push from Ford management to improve its stock price.
However, on December 27, 2019, Ford's stock price increased by 16% with short-term bearish trends. After a slow stock price growth in 2019, there was a lot of skepticism in the market. And COVID-19 pandemic just made things worse for the company's stock in 2023.
In fact, by September 29, 2019, Ford's sales were decreasing at the rate of 3.5% and market conditions were getting more stringent. By the end of September 30, 2019, Ford witnessed a sales decline of almost 5%. But with the control of new management and entrance into the EV market, Ford managed to turn the tables on its key auto competitors and started to increase its profit margins, revenue generation, net income, and stock price.
Ford (FORD) Stock 2018
The graph shows that the stock price of Ford has come a long way since 2018. From 2013 to 2019, Ford's stock levels started to gradually decline. In 2018, however, the degree and pace of this decline were slower. In 2018, Ford's stock opened at $13.13 and closed at $12.00.
In 2018, there was consistent management conflict, added rumors, acquisitions, and a lack of ambitious drive that made it impractical for Ford's stock to increase in the stock market. In fact, in 2018, Ford's stock hit the lowest price point of $7.41.

In the first three quarters of 2018, you can say that the overall stock price performance was better than average. Ford understands that it operates in a highly volatile market and has had to roll out new initiatives to improve its stock value since the 1970s.
A decade ago in 2008, the stock price of Ford had plummeted to $8.1 but it was still not a historically low stock price. Although Ford had strong earnings in 2018 and 2019, its stock price levels were performing below market expectations. And that's mostly due to the fact that Ford does not like to have a direct and open competitive drive with its close rivals.
Conclusion
With hundreds and thousands of employees and a multitude of operational activities, Ford operates as one of the biggest auto manufacturers in the world. Henry Ford, the founder of the company, has left a great legacy for its successors. In most cases, the management and leadership at Ford Motors plan to significantly expand and optimize its operations and roll out a new line of products.
Although Ford Motor's annual earnings continue to grow through new and reinvestment efforts, the company's investors have had significant dividend cuts for the last ten years. And like EV auto manufacturers, Ford offers a conservative-style payout ratio that turns its dividend more sustainable.
In hindsight, investors from all backgrounds want to buy and invest in Ford's stock for its stable growth and rising stock streak over the last six quarters. In 2023, car stocks are bound to be volatile but legacy manufacturers like Ford intend to thrive even in a changing and complex market environment.
Risk Disclaimer
WeInvests is a financial portal-based research agency. We do our utmost best to offer reliable and unbiased information about crypto, finance, trading and stocks. However, we do not offer financial advice and users should always carry out their own research.
Read More