This content represents the writer's opinions and research and is not intended to be taken as financial advice. The information presented is general in nature and may not meet the specific needs of any individual or entity. It is not intended to be relied upon as a professional or financial decision-making tool.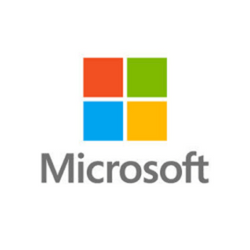 Microsoft is the world's largest software vendor and cloud-computing company. The company started business in New Mexico, United States of America, in 1975. The company, since its establishment, has grown to become the most sought-after operating system publisher and application programs provider for personal computers. The company also has its foot in different waters, including video game products, maintenance, and administration software, productivity software, software development products, and several hardware products.
In March 1986, Microsoft went public with its shares on The Nasdaq Stock Exchange and sold for $21 per share. Listed with the MSFT ticker symbol, Microsoft got to sell about 2.5 million shares on the first day, which helped the company raise a total of $61 million. As of then, according to analysts, MSFT's first-day listing was the deal of the year. Co-founder, Bill Gates, retained a 45% stake that was worth $350 million.
The past few years have seen Microsoft successful, with the company growing to a market cap of $1.86 trillion as of December 2022. The company's stock trades at $248.75 per share, about 21.66% down over a 1-year window. Overall, this has been a challenging year for Microsoft (MSFT) stock, but the learnings from previous years could help with the future.
Microsoft Stock Forecast 2023
At the end of Q1 2023, the Microsoft (MSFT) stock price sold at $250.66. Microsoft shares dropped by 6% in October 2022 as the results for the first quarter of 2023 were released. The earnings report missed most of what most analysts predicted, although revenue from their cloud services saw a huge leap of 11% as revenue increased by $4.8 billion.
With regard to guidance, Microsoft envisages $52.35-53.35 billion in revenue for the second fiscal quarter. According to the CEO, Satya Nadella, while on a conference call with analysts, the major issue Microsoft is battling is cyclical trends.
The company's finance chief, Amy Wood, mentioned that Azure growth should fall steadily by about 5% in constant currency for the second fiscal quarter, to about 37%.
On December 12, 2022, Microsoft announced a 10-year partnership with the London Stock Exchange Group. Microsoft aims to buy a 4% stake in the exchange and become the sole provider of data and analytics tools, including cloud computing products for LSEG. The announcement led to a 4% rise in LSEG's shares with a corresponding effect on Microsoft shares.
Most analysts' projection for Microsoft is positive, and many indicate investors should have a "hold" or "buy" position. Investors willing to hold can benefit in the long run, considering that MSFT is considered one of the safest and steadily-growing stocks.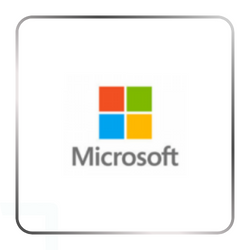 How To Buy Microsoft Stocks
Investing in Microsoft can be a lucrative opportunity. This article explains the process of choosing a brokerage, assessing the company's financials and its competition, acquiring Microsoft shares, and exploring alternative investment options. By following the steps outlined in this miniguide, you may make informed investment decisions, taking part in advancements within the tech industry and potentially benefit from Microsoft's future growth.
Microsoft Stock 2022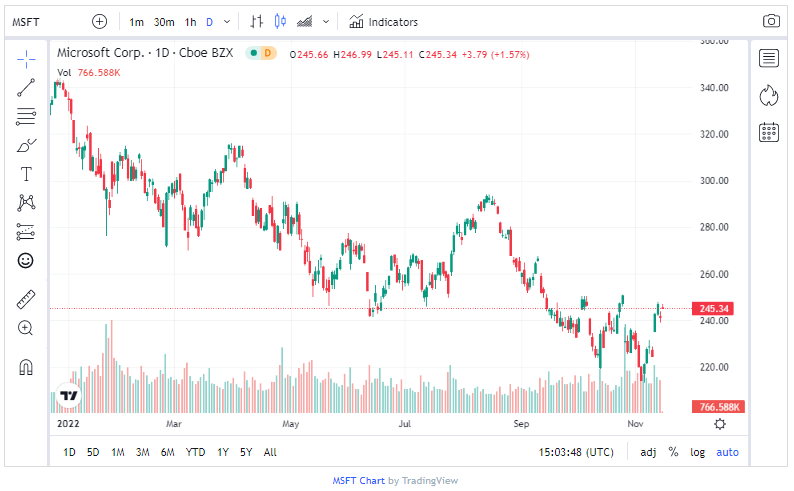 Microsoft's stock had its highest value in 2022 at the beginning of the year. Like many other tech stocks experiencing a downtrend, Microsoft shares are down by over 25% year-to-date. However, among the leagues of tech giants, Microsoft has done fairly better as some other tech stocks have dropped more than 50% from their price in January.
Microsoft's shares' all-time high was on the 1st of January, trading at $338. Since then, it gradually went on a downtrend seeing only spikes in March and July. The uptrend noted at these times coincided with Microsoft's quarterly release, which for the most part, was good. By the end of the 2022 fiscal year, Microsoft reported a revenue of $198.3 billion, marking an increase of 18%.
Microsoft Stock 2021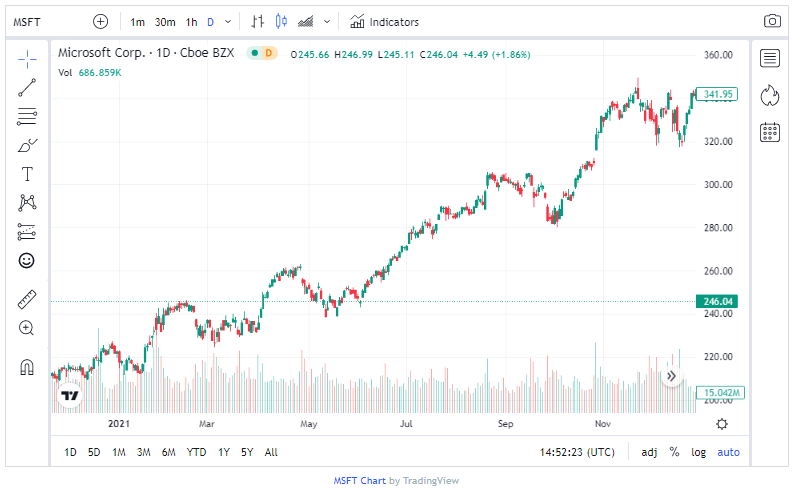 In 2021, Microsoft's stock took a gapping leap of about 51% from January to November, which was more than double what Nasdaq Composite (technology-heavy index) was able to accrue (22.2%). The heightened digital product demand as the world recuperated from the shutdowns of the COVID-19 pandemic was a major cause of this shift. Remote work became pronounced, users shifted to online communications more, etc.
Following the widespread coronavirus pandemic in 2020, Microsoft's 2021 stock year opened at $214.4 per share before closing out at $334. The positive trend of the stock through the year was as expected, which ended up being the 4th highest annual percentage change for MSFT since the turn of the century.
Microsoft Stock 2020
2020 began on a turbulent note for every company and industry as the COVID-19 pandemic began to set a course across different countries. MSFT opened the year at $158 and closed at $157.71 at the end of Q1. But things picked up quite nicely in a second quarter that opened at $152 and closed at $203. This forward surge of MSFT saw investors get returns worth $8.5 billion, thanks to increased sales of new Microsoft Surface devices, boosted cloud-rendering services, and a well-celebrated close to the Windows 7 chapter.
The company's stock climbed slightly to close out Q3 at $210, eventually setting the stage for a year-end at $222. Thanks to the closing price, MSFT earnings per share was pegged at $1.46, against the expected $1.36, to the delight of shareholders.
Microsoft Stock 2019
Data from S&P Global Market Intelligence revealed that the MSFT stock price gained about 55.3 in 2019. Charts show the company starting the first quarter of the year at $101 and closing at $117 by the end of March. Q2 saw the company hitting its revenue target due to Azure sales growth. These unprecedented sales saw the company's stock price rise from $119 on April 1 to $133 by the end of the quarter.
A similar trend followed in Q3, which saw the stock price close out at $139. The quarter's growth was heavily premised on the strong run Windows had in that period. This growth returned $7.4 billion to investors in this 3rd fiscal quarter. The company's 2019 excellent stock price run ended at $157 per share.
Microsoft Stock 2018
MSFT stock started the year at $86.13. The stock gained momentum through a gallop quarter to peg at $91.27 on March 29, 2018. The trend for the second quarter was similar to the first's, as Microsoft stock was only able to rest at $98.61. The first day of Q3 saw the MSFT stock close at $100 and eventually close at $111 on the last day. Unfortunately, Q4 took a downward turn as the opening $115 price per share tumbled to $101.57 on New Year's Eve. Overall, the MSFT stock only gained ~20% in 2018.
Microsoft Stock 2017
The first trading day of 2017 saw MSFT close at $62.58, with Q1 ending on a positive note of $65.88. This saw Microsoft return $6.6 billion to shareholders as share repurchases and dividends. The highlights from this fiscal quarter were the good earnings from Office and Cloud services. At the end of Q2, the stock price climbed further to $68.93, a result of the continued growth experienced by Office and Cloud services within that period. The subtle rise and fall continued until the year closed at $85.54.
Microsoft Stock 2016
Coming from a failed year for the Microsoft Lumia phones, 2016 was expected to be difficult for Microsoft. As expected, MSFT stock didn't see much of an overall change in the first quarter of 2016, as it opened the year at $54.32 and eventually closed at $55.23 on March 31. The stock dipped in Q2, clocking $51.17 as the year's first half wrapped up.
Q4 saw some highs and lows before eventually closing out at $62.14.
However, in the third quarter, the company found solutions to its issue, eventually closing at $57.60. The growth was thanks to the surge in its commercial cloud business and the climbing numbers for Windows 10.
Conclusion
Despite Bill Gates stepping down from the company's board in 2014, the company has continued to grow under the leadership of Tim Cook. In the last fiscal year that ended on October 25, 2022, Microsoft accrued revenue of $203.06 billion, which was about 17.96% from 2021. Despite the rays of recession the US is projected to expect, Microsoft is positioned for more growth. Hence, MSFT remains a strong stock investment option.
FAQ
Is Microsoft a good stock to hold?
According to Marketbeat, MSFT's strong dividend strength informs a 2.91 rating score, which suggests it is a good investment. However, you still need to make your research and be sure of how long you want to own it before you sell.
How often does Microsoft pay dividends?
Microsoft pays its dividends 4 times a year, which is every 3 months. This frequency is typical.
Who are Microsoft's main competitors?
Prominent technology companies remain competitors for Microsoft. Some of these are Apple (AAPL), SAP SE (SAP), Google (GOOG), and Oracle (ORCL).
Risk Disclaimer
WeInvests is a financial portal-based research agency. We do our utmost best to offer reliable and unbiased information about crypto, finance, trading and stocks. However, we do not offer financial advice and users should always carry out their own research.
Read More