This content represents the writer's opinions and research and is not intended to be taken as financial advice. The information presented is general in nature and may not meet the specific needs of any individual or entity. It is not intended to be relied upon as a professional or financial decision-making tool.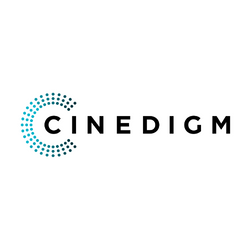 The content streaming and entertainment industry is one of the hottest market segments going. Netflix got things started when it launched its content streaming platform, and now there are multiple players vying for consumers' subscription income. You may never heard of Cinedigm (CNVS), but chances are you have watched its films or shows on one of the many major digital content providers.
Thanks to the rise of technology and mobile devices, streaming has disrupted the way that consumers view content. There is greater flexibility and more options than ever, and this is where Cinedigm is right at home. Cinedigm is an independent content company with many major content-streaming partners in the industry.
Cinedigm creates content across a wide spectrum of genres, including indie film, horror, and family entertainment. It also has a channel dedicated to iconic performances, including one for the late famous painter Bob Ross. The company uses the latest technology to stay at the forefront of the content streaming wars. Cinedegim boasts a portfolio of assets comprising:
50,000 film and TV programs
Almost 82 million monthly active viewers across web, mobile, and social media as of Q2 FY23
Over 100 million SVOD subscribers
1.1 billion unique consumer devices
In addition to demand among consumers, advertisers are also shifting their ad spend to streaming, which is a potential catalyst for CNVS stock.
One of the risks that Cinedigm is exposed to is that it is highly dependent on its partners to air its film and show content. If its relationships with Netflix or Amazon were to go awry, the stock price could suffer significant damage if investors become fearful about the company's future profits.
Another potential headwind is high inflation in the economy, which could result in consumers reducing their content streaming subscriptions to save on expenses.
In 2023, Cinedigm shuffled its C-Suite and named several new members to its executive management team in an attempt to clean up its accounting division. In addition, the company expanded its footprint with the announcement of a new network in Madrid on Amazon Freevee called the El Rey Network.
Cinedigm has been around for more than two decades. It is considered an internet play and delivers tailored content solutions to various industries, including retailers, media giants, and other technology companies. Cinedigm produces content such as motion pictures and television series that are aired elsewhere.
Cinedigm's partners include several household names like iTunes, Netflix, and Amazon. Cinedigm's content can also be watched on major cable television platforms including Comcast as well as satellite providers Dish Network and DirecTV. Big-box retailers like Walmart and Target are also partners.
Founded in 2004, Cinedigm is domiciled in New York. Cinedigm's stock trades on the Nasdaq under the trading symbol (CNVS) and had its IPO in November 2003.
Cinedigm (CNVS) Stock Forecast 2023
Wall Street analysts covering CNVShave a "strong buy" rating on the stock. Based on artificial intelligence (AI) stock price predictions, CNVS could reach a high of $0.55 and a low of $0.48, for an average price of $0.51 in 2023. As of November 2022, CNVSstock is in the portfolio of a number of hedge fund and asset managers, including Citadel Advisors, which could be a bullish sign for the future including 2023.
In its latest earnings report, Cinedigm grew its revenue by 39% though it also continues to suffer from a net loss. Streaming revenue, in particular, soared by nearly 80%. The company expects persistent revenue growth double-digit percentage range over the next couple of years, which could buoy stock price.
Cinedigm (CNVS) Stock 2022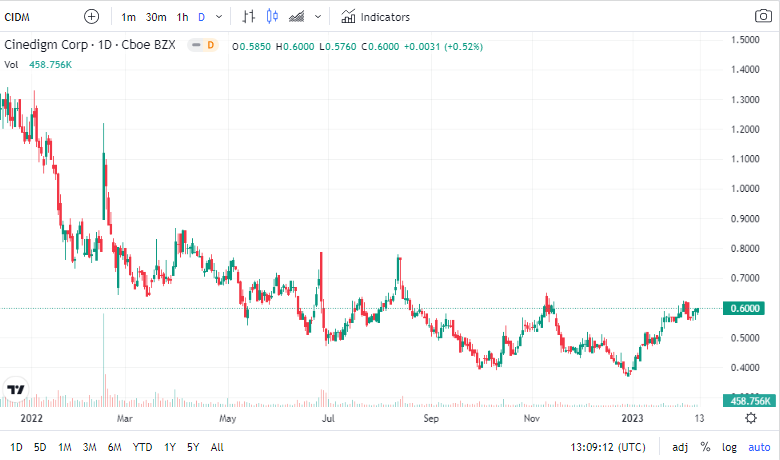 On Feb. 14-15, CNVS stock rose from $0.79 to $1.12. The rally was in response to the company's fiscal quarterly earnings results. The company experienced its best-ever quarter for streaming, displaying triple-digit growth for the fourth consecutive quarter.
During the week of Nov. 17, the stock suffered declines of 13%. Shares fell on the heels of the company's Q2 fiscal year 2023 earnings results. The stock seems to have been caught in the broader stock market sell-off.
In mid-December 2022, the stock entered a downtrend due to what technical traders describe as its momentum indicator dropping below the zero level.
CNVS Stock 2021
CNVS stock rallied in March 2021 on speculation that the company planned to enter the white-hot non-fungible token (NFT) market. Shares soared over 30% in a day followed by another double-digit percentage gain in the March 24-25 stretch. Cinedigm confirmed these rumors on Twitter, announcing NFT initiatives around its streaming channels.
The stock took a nosedive from $2.23 to $1.56 on Nov. 16, 2021. It was in response to the company's Q2 quarterly results, which were mixed. Investors focused on the missed revenue expectations.
CNVS Stock 2020
In May 2020, Cinedigm revealed that it was seeing continued record ad-supported audience and viewership growth that month. Montly active viewers reached 13.2 million during the period. The stock more than doubled from $0.62 on May 19, 2020 to $1.27 per share on May 20, 2020.
On July 16, 2020, Cinedigm announced a $10.82 million registered direct offering, planned for July of the same year.
CNVS Stock 2019
On Dec. 19, 2019, the company announced plans to acquire a 29% stake in Starrise Media, a leading Chinese entertainment company. The stock climbed from $0.80 per share to $0.85 on Dec. 22, 2019.
CNVS Stock 2018
August 23, 2018 the company announced its content business continued to grow and reduced its debt in its latest quarterly earnings.
CNVS Stock 2017
On Dec. 29, 2017, Bison Entertainment and Media Group announced the compilation of a $40 million investment in Cinedigm alongside a $10 million term loan agreement. The stock went from $1.46 on the day before the announcement to $1.50 to finish the year.
Conclusion
Content streaming is a very hot market in the United States, and Cinedigm is right in the middle of it. Cinedigm gives investors a way to gain exposure to the content streaming market with the added benefit of a diversified portfolio to offset risk. Cinedigm boasts nearly three-dozen streaming channels and tens of thousands of hours of programming.

And the trends are in its favor. The number of streaming services that families used has climbed 98% in the last half-decade. In addition, user and consumption growth hover at all-time highs since the pandemic, while the company is in a good position to benefit from a shift in ad spending from cable to streaming.

CNVS's stock has been more than halved in 2022. There were some internal setbacks, including inadequate oversight of its accounting department, which Cinedigm is in the process of fixing with a string of new hires. However, revenue is growing, and it seems the stock may have gotten caught up in the broader stock market downdraft. Nevertheless, it has been a challenging year for CNVS. But the company's fundamentals are improving. Investors must be patient to potentially reap rewards.

As Cinedigm keeps up with technology trends and continues to embrace innovation, as it has done with NFTs, the stock could be in favor once again — especially if the economy improves.
FAQ
Will Cinedigm trade above $1 again?
Based on its historical performance, CNVS could be quite volatile. It is finishing out 2023 at approximately the $0.44 level. The stock has been known to double on positive news in the past. Therefore, it is reasonable to expect that the stock could do it again and reclaim the $1 level or thereabouts.
Is CNVS a good stock to own in 2023?
It could be. Hedge fund traders appear to be bullish on CNVS based on their holdings as of January 2023. If they own it, it could be a stock that you also want to have in your portfolio. 
Who are Cinedigm's main competitors?
On the content side, Cinedigm considers the following companies its top competitors: Entertainment One, IFC Entertainment, Lionsgate Entertainment, Magnolia Pictures, RLJ Entertainment and AMC Networks.
Risk Disclaimer
WeInvests is a financial portal-based research agency. We do our utmost best to offer reliable and unbiased information about crypto, finance, trading and stocks. However, we do not offer financial advice and users should always carry out their own research.
Read More