This content represents the writer's opinions and research and is not intended to be taken as financial advice. The information presented is general in nature and may not meet the specific needs of any individual or entity. It is not intended to be relied upon as a professional or financial decision-making tool.
Most people have heard about blockchain as the foundational technology that fuels a wide range of cryptocurrencies. In 2022, it looks like investors want to learn more about blockchain to make long-term investment decisions. You may not be aware of it, but the blockchain market is expected to grow to $64.7 billion by 2026.
In the last few years, the use cases of blockchain technology have had an exponential increase. And when it comes to blockchain stocks, it is crucial to understand the big picture and have clarity about the future outlook. The fact of the matter is that there is a mainstream adoption of blockchain technology in different sectors. It means there is a long-term and exciting investment opportunities on the horizon.
The focus of this guide is to make it easier for investors to choose from the best blockchain stocks in 2023.
What are Blockchain Stocks AKA Crypto Stocks?
Blockchain stocks refer to the companies that continue to leverage blockchain technology and are at the forefront to make transformative changes. The blockchain, at its core, is a decentralized technology that records and stores transactions in a dedicated computer network.
Fundamentally, blockchain stores transactions in the form of blocks and chains them together through cryptography. This, in turn, makes it (almost) impossible to manipulate stored information on the blockchain. When it comes to blockchain stocks, every company uses blockchain technology differently.
For instance, Block focuses on crypto traders to make a speculation of tokens that use the blockchain and IBM develops blockchain-based software solutions to support specific business needs. Similarly, banks use blockchain technology to reduce auditing costs.
In fact, even Walmart now uses blockchain to maintain its high standards. Since blockchain technology is highly versatile, it would be fair to state that blockchain stocks have the potential for exponential growth in the coming years.
Top 5 Blockchain Stocks
For years, NVIDIA (NVDA) continues its streak as a leading manufacturer of GPUs. Whether it's autonomous vehicles, gaming, or artificial intelligence, NVIDIA understands that GPUs have become essential components. Plus, GPUs are integral hardware components when it comes to crypto mining. And miners use custom GPUs in order to process transactions through blockchain
In fiscal 2022, which ended in January, Nvidia's sales increased 61% to a record $26.91 billion. However, Nvidia's sales increased 9% year on year to $20.92 billion in the first nine months of fiscal 2023, while adjusted EPS fell 21%. Nvidia forecasts fourth-quarter sales to fall about 21% year on year and to be roughly flat for the whole year.
As the Russia and Ukraine conflict continues, the global stock market will see a dwindling trajectory in 2023. On the bright side, the recent decline in NVIDIA's stock price serves as an opportunity for the most committed investors.
In fact, long-term and experienced investors still believe that NVIDIA is one of the most profitable blockchain stocks to invest in. As of Q1 2022, NVIDIA is well-positioned to capitalize on the continuous adoption and growth of blockchain technology as well as the metaverse.
---
Although Amazon has a long list of products, blockchain may be one of its most exciting options in 2023.
More investors need to understand that Amazon is more than just giant retail – the company also hosts the biggest cloud service on a global scale.
As of 2022, you can use Bitcoin to cover the cost of Amazon goods and buy prepaid gift cards on Amazon. Market data also points out that the retail and cloud service giant is also planning to roll out its own crypto project. This would make it possible for customers to their fiat currency into digital currency. After that, customers can use digital currency to get any Amazon goods or services.
2022, Amazon reported a major increase in its earnings due to its cloud segmentation, Rivian, and AWS. With a great holiday season, Amazon's eCommerce segment managed to render great results that put fears of major retail shut down to rest.
Usually, investors are not 100% clear whether or not an investment is profitable until the stock market realizes it. And when it comes to AMZN, the market perception and optimism toward the company's offered goods and services is at an all-time high.
When you look at AMZN through the speculative valuation, it does, in fact, pose some investment risk. But like major companies, AMZN blockchain stocks serve as a speculative investment with a $923.76 billion market cap. The AWS offers dedicated Amazon Managed Blockchain that allows users to create and manage their custom blockchain networks.
In fact, there is a good chance Amazon may ultimately integrate blockchain tech into its giant eCommerce business model. When it comes to Amazon's Q1 2022 revenue, blockchain represents a small percentage.
Still, blockchain technology is bound to evolve and create more investment opportunities. Many people now realize that creating and managing a blockchain network through Amazon Managed Blockchain is a great solution. You can use AMB to manage certifications and invite new members to be part of the network.
---
In 2023, IBM makes up one of the best blockchain investments. Although IBM offers a variety of attractive products and services, its blockchain-based solutions continue to garner more attraction.
Although IBM has been sluggish in catching up with the software and internet services that currently rule the industry, it is banking that the IBM Blockchain platform will help increase productivity and lower risk. If you want to dangle your toes in the blockchain pond, IBM would be a smart place to start because it is reliable. The stock of IBM is rated a "buy" by analysts despite recent volatility.
In 2022, the prices of several tech stocks fell, but IBM fared well. The company's outstanding performance, which was made more amazing by its ability to overcome significant macroeconomic variables hurting it and other global tech businesses, such as a strong U.S. dollar, is the reason for IBM stock's resiliency.
Given the significant currency headwind on IBM's business, IBM increased its full-year 2022 prediction based on constant currency statistics as a result of the year 2022 performance. In 2023, IBM's 2022 success is anticipated to continue. The company's management reaffirmed on the Q3 earnings call that they expect mid-single digit revenue growth and continued progress toward the $35 billion cumulative free cash flow target for 2023.
The century-old tech company has always been favorable to long-term investors. IBM has cheaper blockchain stocks than other market players. In terms of blockchain, IBM Blockchain offers some of the most transformative solutions for its clients. Interestingly, IBM Blockchain is working to build a more sophisticated and robust supply chain.
---
Block Inc., previously, Square, functions as a P2P cash trading application that makes it possible for customers to pay anyone at any time. Block Inc. now also features advanced and swift payment processing that favors small businesses.
Back in 2018, Square allowed its customers to use Bitcoin, this added significant value to the company in 2022.
The major shift from Block stems from the fact that it wants to make the most out of blockchain tech and cryptocurrencies. In 2022, Block's Bitcoin revenue generation was $5.28 billion through the first three quarters.
Recent years have been quite the adventure for Block investors. Block stock increased over 11% in extended trading for the past quarter after the payments company posted earnings that exceeded Wall Street profit projections. Block is expected to be one of the most appealing and expensive stocks to buy in 2023.
---
With global brand recognition, PayPal, a digital payments pioneer, outshines other blockchain stocks thanks to its vast network of 29 million merchants and 426 million active accounts.
Most importantly, as an early blockchain adopter, PayPal has long seized the initiative, refining its blockchain solutions while keeping an eye on the present and the future.
For instance, significant investments in blockchain R&D, strategic acquisitions like Curv and Paxos, and alliances with leading blockchain firms demonstrate PayPal's commitment to shaping the future of payments.
Moreover, with a visionary CEO like Dan Schulman at the helm, PayPal stays on the pulse of innovation, underscoring its potential as one of the best blockchain stocks in 2023.
How to Invest in Blockchain Stocks?
Delving into the realm of Blockchain can be overwhelming, especially given its technical nature and relative novelty. Let's simplify it and demystify the steps to investing in this cutting-edge sector. Here are several routes to tap into the potential of the blockchain industry
Equities

The common avenue into the financial markets is through buying stocks. For those captivated by the blockchain industry, there are numerous publicly-traded companies with a significant blockchain focus. Contemplate investments in stocks such as Riot Blockchain (NASDAQ: RIOT), Marathon Digital Holdings (NASDAQ: MARA), Overstock (NASDAQ: OSTK), or IBM (NYSE: IBM). Yet, it's crucial to remember that investing in any form of stocks has inherent risks, and the blockchain space is no exception.
Mutual Funds

Venturing into blockchain stocks may be smoother via mutual funds, which offer a diversified blend of various stocks under professional management. While there are no blockchain-specific mutual funds as of May 2023, accredited individuals can explore closed-end blockchain mutual funds like Galaxy Digital Blockchain Fund, Bitwise Crypto Industry Innovators Fund, and Amplify Transformational Data Sharing Fund.
ETFs

ETFs provide an intriguing blend of stocks and mutual funds. They trade on exchanges like individual stocks but deliver a diversified portfolio akin to mutual funds, centered on a specific sector or theme. At present, as of May 2023, the Innovation Shares NextGen Protocol ETF (KOIN) is a notable blockchain-based ETF.

This ETF follows a unique index of companies engaged in blockchain and cryptocurrency activities, earning a substantial portion of their revenue from these areas.
Crowdfunding

Crowdfunding has emerged as a contemporary route into the blockchain market, allowing resource pooling with others to back a specific project or company. For instance, Ethereum, the leading smart contract platform, leverages crowdfunding for various projects. Platforms like Crowdfunder, StartEngine, and Wefunder are excellent resources for crowdfunding in the blockchain space. Note, however, that crowdfunding comes with its own unique set of risks and rewards and doesn't have the stringent regulation found in public markets.
Drawbacks of Blockchain Stocks
While the emerging blockchain market may seem like a lucrative venture, it's crucial to maintain a pragmatic, grounded perspective. Let's examine some potential drawbacks of investing in blockchain stocks.
Price Volatility

Blockchain stocks are known for their high volatility, with prices capable of fluctuating wildly in short periods. While some investors might find this exhilarating, others could find it unnerving. Make sure you are prepared for the level of risk and volatility inherent in this market.
Regulatory Uncertainty

The blockchain industry is still evolving, and regulatory bodies are trying to keep pace. Consequently, blockchain stocks can face sudden changes in regulations, which can impact their value. With a current lack of comprehensive regulation, investors are not necessarily shielded should things go awry. It's an inherent risk in this industry and one that should not be overlooked.
Liquidity Issues

Certain blockchain stocks might not be readily tradable, creating potential liquidity challenges. In such situations, it might be difficult to quickly liquidate these stocks into cash, particularly in turbulent market conditions. This lack of liquidity can make an otherwise attractive investment less desirable.
Technological Risks

As with any tech-driven sector, blockchain stocks carry specific technological risks. The underlying blockchain technology could encounter issues, or new, superior technologies could outpace a company's existing technology. Hence, it's crucial to stay up-to-date with technological advancements.
Security Concerns

Blockchain operates on decentralized networks, which introduces a different set of security challenges compared to traditional assets like stocks or bonds. In this emerging landscape, several high-profile instances of digital asset theft have underscored the need for strong security measures and highlighted the risks involved in blockchain stocks.
Where to Buy Blockchain Stocks?
Oftentimes, buying and investing in blockchain stocks may seem like a daunting and complicated process. And this is where eToro, the online broker, comes into the picture. It is a result-oriented and test solution that works as one of the best online brokers in the current marketplace.
With an online broker solution like eToro, investors would find it much easier to buy or invest in blockchain stocks. With each passing year, more and more investors are using eToro to make valuable and long-term investments with utmost convenience.
Here's a brief and simplified process to open an account on eToro:
Step 1: Open an Account
You can open an eToro account in a manner of minutes. On the main application form, you just need to fill out some personal information.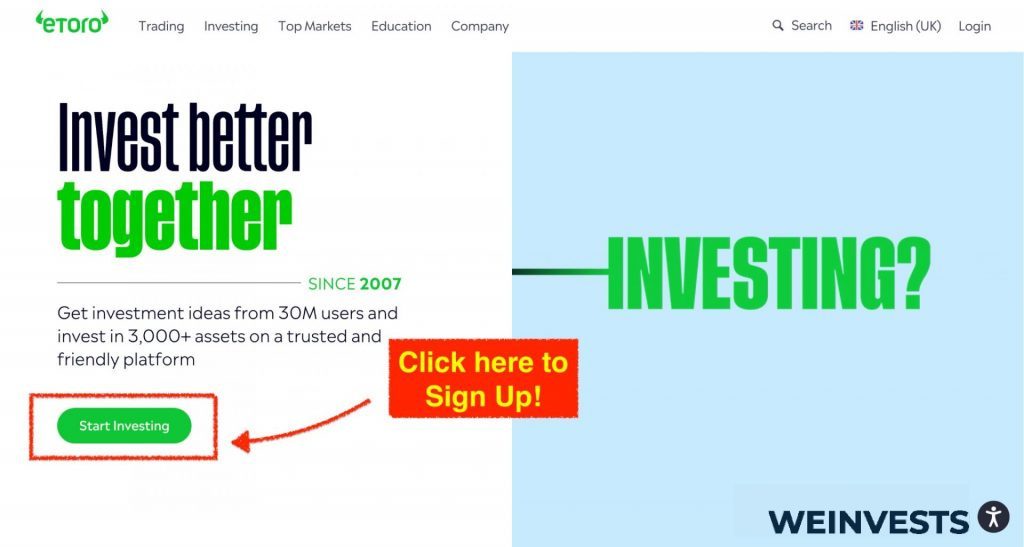 Step 2: Upload ID
In order to comply with KYC and AML regulations, eToro will require you to upload your ID so that it can verify it. You will need a driver's license or a valid passport as the main verification documents. You would also need a bank account statement for the last three months and a utility bill.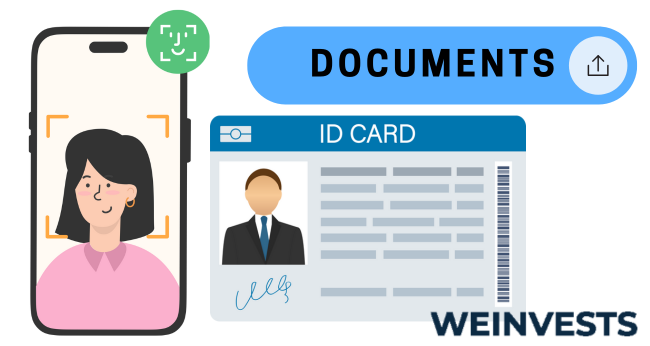 Step 3: Make a Deposit
Before you can in invest in specific blockchain stocks, you will first need some funds. You can make deposits without any fee through PayPal, Debit/Credit card, or wire bank transfer.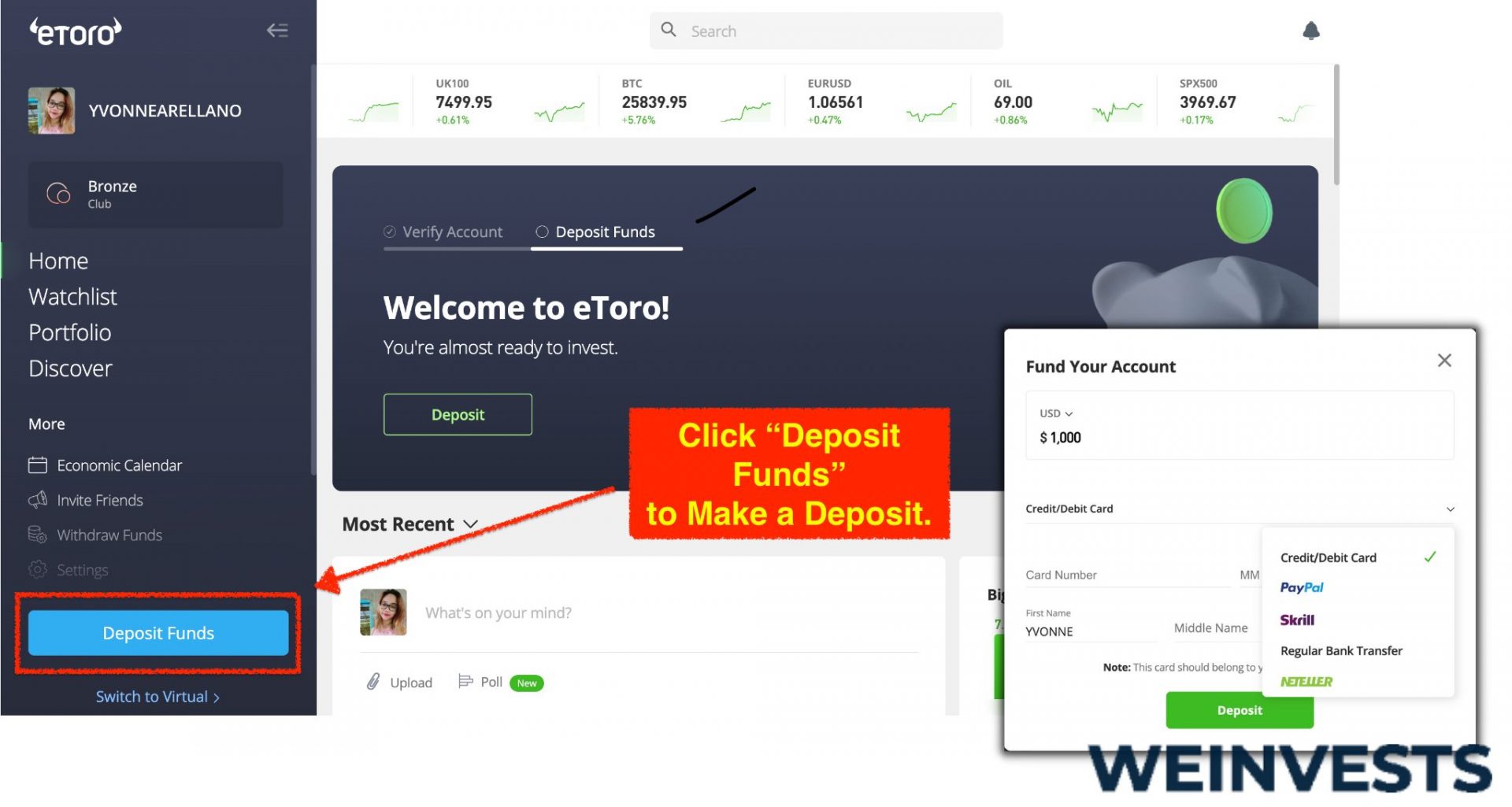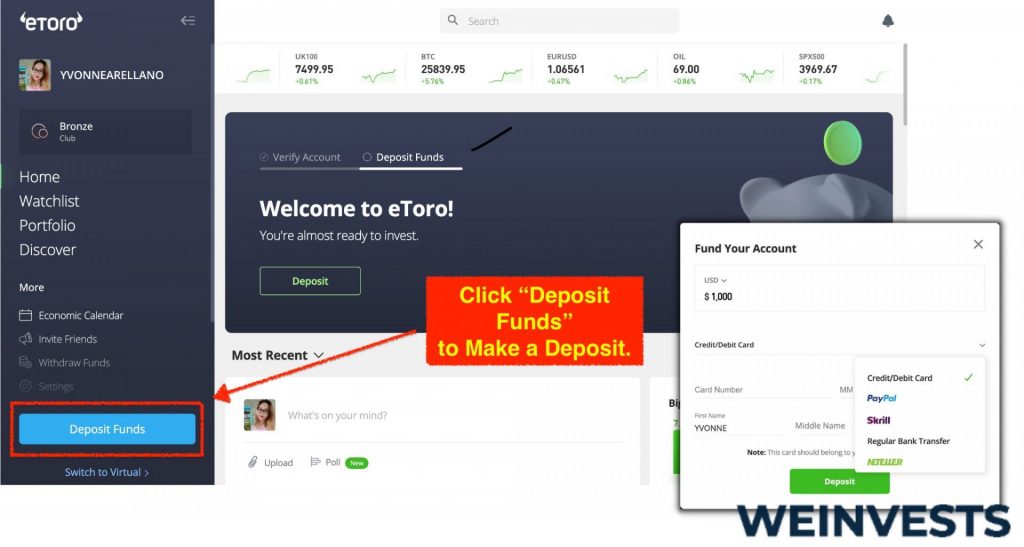 Step 4: Search for Stock
Throughout the eToro platform, you will find high-performance and attractive blockchain stocks you can invest in for an extended period. You can make a minimum stake of $10 with a single click on eToro.
Use the search box to search for a particular blockchain stock you want to invest in. Once you choose blockchain stocks, you can click on "Trade" to create a tick and process the order. Remember that the trading ticket allows investors to set predefined stop loss along with profit price levels.
Conclusion
In 2023, Wall Street understands the potential growth and investment opportunities around blockchain stocks.
Stock market experts and financial wizards believe that blockchain stocks serve as a good investment. Like other stock investments, make sure to diversity your blockchain portfolio. In hindsight, the right course of action for investors is to research different blockchain stocks and then make a long-term investment decision.
Risk Disclaimer
WeInvests is a financial portal-based research agency. We do our utmost best to offer reliable and unbiased information about crypto, finance, trading and stocks. However, we do not offer financial advice and users should always carry out their own research.
Read More