This content represents the writer's opinions and research and is not intended to be taken as financial advice. The information presented is general in nature and may not meet the specific needs of any individual or entity. It is not intended to be relied upon as a professional or financial decision-making tool.
Some cryptocurrencies are harder to buy than others, and Pi Network DeFi is definitely one of them. Luckily, this article is here to provide you with some of the ways in which you can buy this digital token that is deployed on the Binance Smart Chain.
Pi Network DeFi Tokenomics
Pi Network is a cryptocurrency that is not only unreleased but resembles a multi-level marketing scheme. Formally, the Pi Network is what enables a user to mine unreleased cryptocurrency on their mobile devices, which is ultimately what allows for the trading community to build a world-inclusive peer-to-peer marketplace that is driven by the most used cryptocurrencies worldwide.
This scheme of Pi Networks is supposedly the solution to buzzwords that are troubling the industry of crypto, for example:
Blockchain centralization
Mining inaccessibility for retail users as a result of costs
Proof-of-work mining's environmental impact
By allowing everyday individuals to mine, the Pi Network DeFi claims to offer the solution. The Pi Network can be joined by users as long as they are invited by another user and have a phone number that is valid. Using the network's mobile app, they can then mine PI at the click of a button, even if the balance that is accumulated does not reflect real-world values.
Since the project was incepted in 2019, Pi has claimed to have as many as 33 million users, called pioneers, aggregated on the app, and has built an impressive user base; however, whether Pi is a Ponzi scheme remains questionable, as it only recently emerged into the trading scene.
More Info:
How to buy Pi Network DeFi on PancakeSwap
Due to the fact that Pi Network DeFi is a relatively new coin, users currently can only swap Pi Network DeFi on PancakeSwap (V2). PancakeSwap is a decentralized exchange and has similarities to Sushiswap or Uniswap. However, PancakeSwap differs by running on the Binance Smart Chain instead, where users are able to trade BEP-20 tokens, in contrast to the Ethereum blockchain, where users trade ERC-20 tokens instead. This greatly reduces trading fees and is part of the reason why trading on this platform has recently gained so much popularity.
In short, Pi Network DeFi is a BEP-20 token that runs on the Binance Smart Chain (BSC), and the most efficient place to buy it is to transfer your Bitcoin to an exchange such as Binance, convert it to Binance coin, send the Binance coin to your wallet via the BSC and finally, swap your wrapped Binance coin for the Pi Network DeFi token on PancakeSwap. Below are in-depth steps on how one would go about buying Pi Network DeFi from PancakeSwap:
Visit the decentralized exchange's homepage at PancakeSwap website on your desktop or mobile device.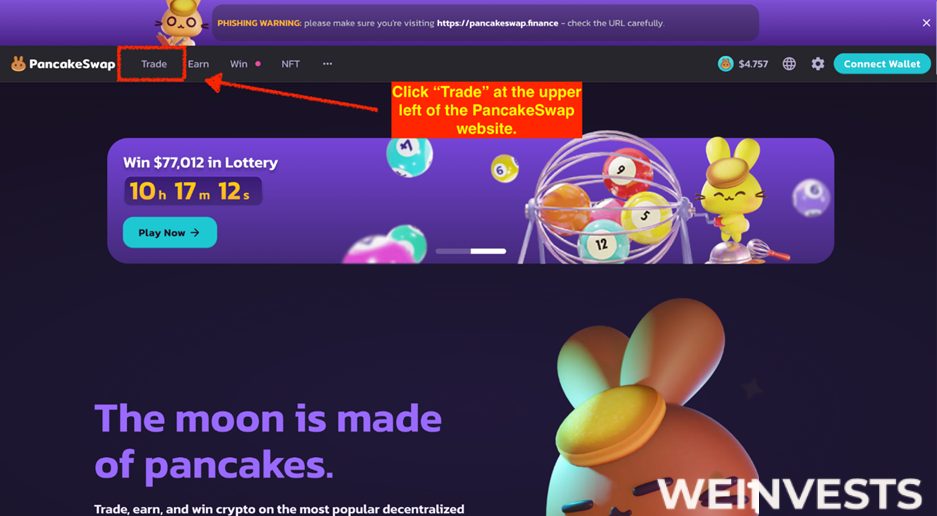 Step 2: Search for Pi Network DeFi
In this step, you can begin searching for the Pi Network DeFi coin.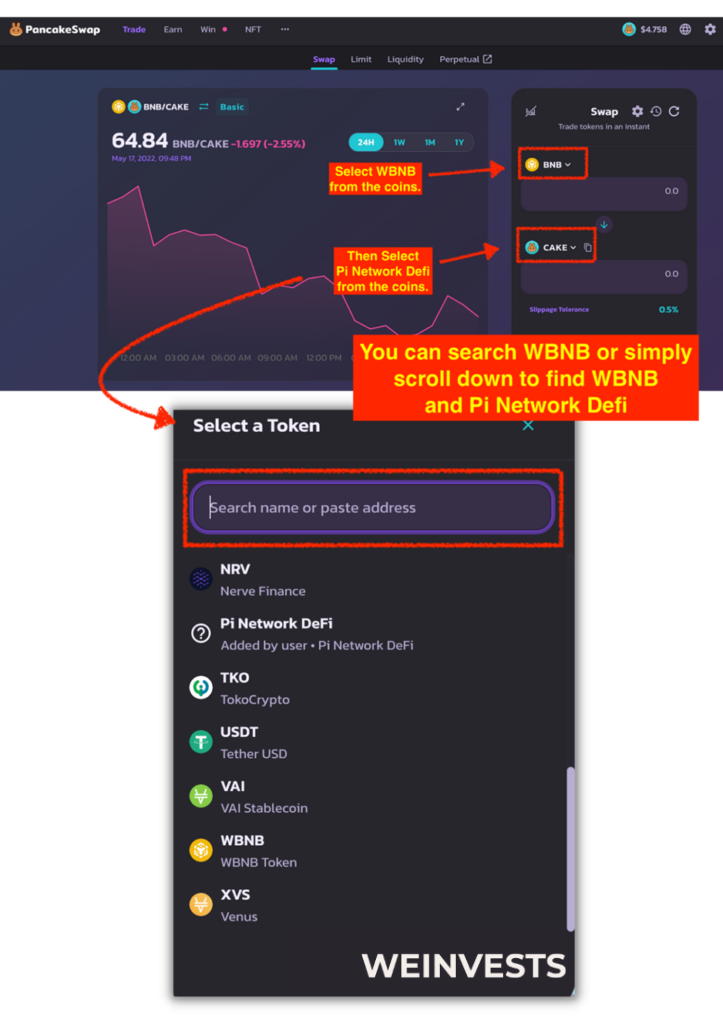 Step 3: Swap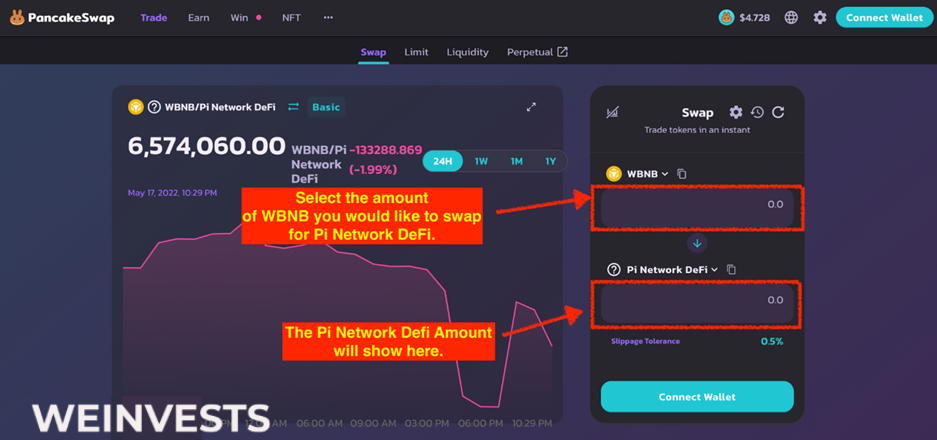 On PancakeSwap, find the "Swap" option. When you have clicked on this, you will be required to pick a token that you are wanting to trade from the dropdown menu, which will complete the "From" section. In the "To" section, you will select Pi Network DeFi. If you don't find Pi Network DeFi in the list, you can always input Pi Network DeFi's contract address and then add it. Next, click inside the input box and type in an amount for your "To" currency. Alternatively, you can type in an amount in the "From" input box and have the "To" amount estimated automatically.
Revise that the details you have inputted are right, and then select the "Swap" button. When ready, select the "Confirm Swap" key. Your wallet will then require you to confirm this action, and the way you will go about connecting your wallet to PancakeSwap is described in the step below.
Step 4: Connect Wallet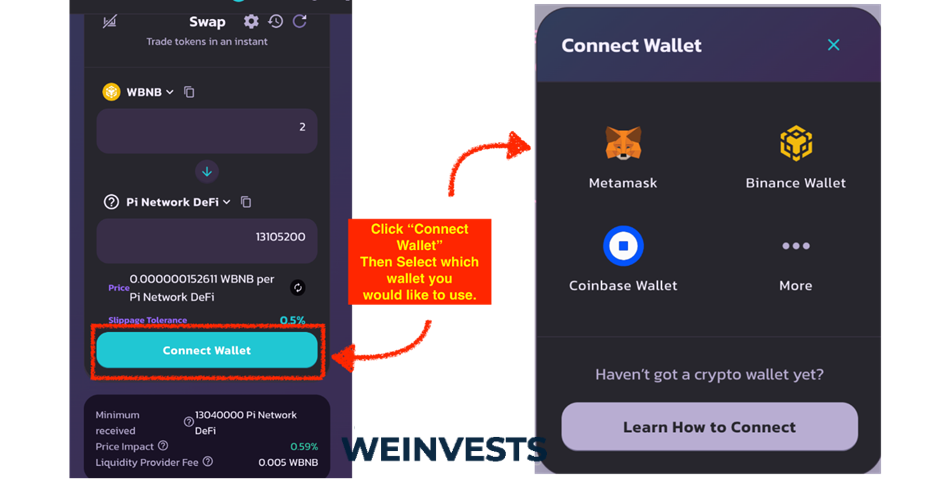 To connect a wallet to PancakeSwap, you first need to download and install an app wallet or a Web3 crypto wallet that is supported by PancakeSwap. Create and set up your chosen wallet. Once complete, transfer the purchased Binance coin, which is the mainnet cryptocurrency that corresponds to the blockchain that this decentralized exchange runs on, to your non-custodial crypto wallet address. Click "Connect Wallet," which can be found somewhere in the upper right corner of PancakeSwap, and follow the instructions to connect.
Once you have connected and confirmed the action of swapping in your wallet, your transaction details will be visible on the block explorer.
How to Buy Pi Network DeFi with PayPal?
You cannot buy Pi Network DeFi using PayPal directly; however, you can use Binance or another PayPal-supporting exchange to exchange your fiat currency in PayPal for Pi Network DeFi. At this point, Pi Network DeFi can only be swapped; this means that you can use any wallet that you want, as long as it supports PayPal, to buy wrapped Binance Coin and then swap them to Pi Network DeFi in PancakeSwap using the steps above.
How to Buy Pi Network DeFi with Credit Card?
When buying Pi Network DeFi with a credit card, your first step will always be to buy the Binance coin, which will, later on, be converted to Pi Network DeFi tokens. You can do this by registering with an exchange that allows for fiat currency to cryptocurrency purchases. Go to your chosen exchange's website and click on "Sign Up." Fill in the form by entering your name and email address, and then create a strong password. You will also need to ensure that you verify your email address.
Once your account has been opened with your chosen exchange, you will need to go through a know-your-customer (KYC) process. In this process you will be required to provide proof of residency as well as proof of identity; a government-issued passport, ID, or driver's license should be sufficient for this. Once you have successfully submitted the required documents, you should now be registered with the exchange, making you eligible to purchase cryptocurrency with your credit card.
Next, select the cryptocurrency you want to buy and enter the amount of fiat money you are wanting to spend. Alternatively, you can enter how many coins you are wanting to buy. When done, you can tap the "Buy" button, review that you have entered the correct amounts, add in your credit card details, and confirm your purchase. Now that you have purchased some of your chosen cryptocurrency, you can swap it for Pi Network DeFi on PancakeSwap.
It is important to note that fees are generally higher when you buy cryptocurrency using a credit card; however, your purchase is instant. Although it is cheaper using bank transfers, the transaction time is much slower, and can take almost up to a week just for you to receive your coins, which is a lot of time that many users don't have to spare.
Safe Storage
Due to the growing popularity of the Pi Network DeFi, incidents of scammers and websites asking pioneers for their wallet passphrases are increasingly on the rise. If you don't already know, your PI Wallet passphrase acts as your private key to this crypto wallet, and sharing your passphrase is basically handing over full custody of the crypto assets currently in your wallet. Therefore, it is most important in terms of safety that you do not share the passphrase of your Pi Wallet with anyone. This is because scammers and other third parties can use your passphrase to move or steal all of your crypto assets, including your Pi Network DeFi tokens.
More so, Pi Wallet is non-custodial, meaning only you have access to your passphrase. If you have unintentionally shared your Pi Wallet passphrase in the past, it is suggested that you stop using your wallet and create a new one, keeping the passphrase in your new wallet safe.
It is your responsibility to watch out for unaffiliated third parties and any person, mobile app, or website that asks you for your Pi Wallet passphrase. You can also report them to keep other pioneers from making the same mistakes.
Alternative Ways to Buy Pi Network DeFi
While there is one way to buy a cryptocurrency token, such as Pi Network DeFi, there are normally several others. Continue reading to find out whether this coin can be bought using ATMs, P2P exchanges, or brokerages.
Pi Network DeFi ATMs
While some physical ATMs provide time options for users to buy crypto, it is not recommended. Even if there are over 30 thousand crypto ATMs worldwide in as many as 78 different countries, it is still not recommended. Especially if you take into account their illegality in the United Kingdom where not even one of the crypto exchanges that have been registered with the FCA has been approved to offer its users crypto ATM services. There are websites dedicated solely to finding these ATMs, and the 80 of them that have been found operating in the UK alone are doing so illegally, and as such, traders should not be using them to purchase crypto.
P2P Exchanges
Currently, users cannot use P2P exchanges as an alternative way to buy Pi Network DeFi. At this point, they are only able to use PancakeSwap to swap Pi Network DeFi.
Mainstream Brokerages
The same thing mentioned above applies to mainstream brokerages as well; users are only able to swap Pi Network DeFi on PancakeSwap as of now.
How to Invest in Pi Network DeFi?
Usually, many investors choose to keep hold of their Pi Network DeFi tokens in hopes that over time the value increases. Pi Network DeFi tokens can be stored in either a crypto wallet or in a user's exchange wallet.
Users can also choose to trade Pi Network DeFi for other cryptocurrencies using a crypto exchange. There are decentralized exchanges that can meet the needs for the trading of Pi Network DeFi by offering trading pairs.
Alternatively, users can choose to earn rewards through staking coins. Staking helps to provide users with a way to maximize their holdings by stacking coins, which would otherwise just be sitting in a trading account or wallet.
Conclusion
With that being said, it is always recommended that you do your own research and keep up to date with the latest trends involving Pi Network DeFi. Even if you happen to use PancakeSwap to buy Pi Network DeFi, never invest more than what you can afford to lose.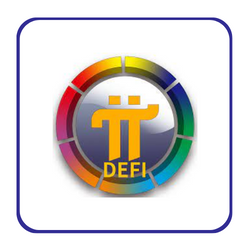 Pi Network DeFi Price Prediction 2023, 2025, 2030
Those that are curious as to whether or not there is an indication of when the 33 million pioneers mining on the Pi Network are ever going to benefit from their tokens are discussed in [[link]], where a full forecast of Pi Network DeFi is given.
Keep in mind that cryptocurrency markets are extremely volatile, which makes it a difficult task to be able to accurately predict what Pi Network DeFi's price will be in the future.
Risk Disclaimer
WeInvests is a financial portal-based research agency. We do our utmost best to offer reliable and unbiased information about crypto, finance, trading and stocks. However, we do not offer financial advice and users should always carry out their own research.
Read More