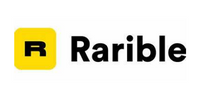 Open-source marketplace
Easy To Use
Peer to peer trading
Pros
It's a non-custodial, open-source marketplace
It makes the process easy for users who want to mint their tokens
Non-coders can experience a user-friendly journey
Peer to peer trading is available and NFTs and collectibles have low costs
Cons
Some people can falsely access the RARI token
It only supports Ethereum blockchain tokens
The site is relatively new, which is why there is not that much information available
Existing since 2020, Rarible has quickly become one of the most famous platforms where NFT lovers come together to get the best tokens they can find. Even though it now belongs to a group with a few of the best sites you can trust (along with OpenSea and many others), examining its features is essential before you start making any transactions.
This review focuses on all the details about Rarible: what it is, the features that it offers you, its fees, and so on. By the time you're done reading, you might be able to identify whether or not it's the right site to trust.
What Is Rarible?
If you are in the world of NFTs and cryptos, you probably understand what non-fungible tokens are. Therefore, you must know about the existence of marketplaces where you can acquire them if you're interested in expanding your investment options.
Rarible is one of these sites. It's one of the most famous NFT marketplaces that exist right now, and even though it hasn't been around for a long time, it has quickly gained popularity because of its top-notch features and one-of-a-kind characteristics.
This platform exists since 2020 and its creators were Alexander Salnikov and Alexei Falin. It's an open-source market where any user can sell, buy, or mint non-fungible tokens.
People like you or any other investor interested in NFTs can enter Rarible, purchase tokens, sell them, or mint their own, depending on what you want. Consequently, it's one of the most convenient sites that you can trust if you want to display unique artwork or other pieces.
Since it's a non-custodial marketplace, you own your tokens. Additionally, the platform offers IP (intellectual property) rights to users who can prove provenance.
Rarible Features
Examining the features of Rarible is one of the essentials of determining whether or not it's the ideal marketplace for you. Take a look at the characteristics that this site can give you:
How Rarible Works?
In plain sight, Rarible might sound just like any other NFT marketplace. You can buy, sell, and mint NFTs, you must pay gas fees, and you have different categories to choose from. There is no difference, right?
Wrong – there is a massive difference between Rarible and all other NFT marketplaces out there. Unlike other sites, the creators of Rarible wanted to make sure that the website acted like the future's digital museum.
To put it differently, the reason why Rarible is so unique is that only fantastic works get to be there. Anyone can submit their NFTs and get the platform to accept the tokens, but you have to go through an extensive verification process.
Even though it sounds like a tough process at first, think about it this way – anyone gets the opportunity of selling their NFTs through Rarible. It's such a convenient platform that even some celebrities have minted their works!
Our Rarible Analysis
Rarible is a very famous platform, and although it hasn't been online for long, it has quickly gained fame, which is why so many people talk about it.
If you look on the internet, you might find numerous reviews where people talk about it and leave positive comments. Nonetheless, how to know which ones are true?
In this review, you have learned about the primary aspects of Rarible already. Now, it's time for you to determine whether or not the experts found the site to be safe.
Even though it's new, it offers fantastic features. It stands out from the competition because anyone can verify their account and mint their NFTs as well as buy the best tokens they can find.
Rarible is a place where creators and NFT lovers come together for a specific purpose: to be joined by something in common. Since it works with the Ethereum blockchain, it's one of the safest sites to trust when you're looking for a marketplace to buy and sell tokens.
The Signup Process
At first, you might think that getting started with Rarible is a lengthy process, but it doesn't take that much. The following steps are what you must follow when you're setting up your account:
The first thing you need to do is create your account. Rarible takes people's identities very seriously, which is why this stage is vital.
After you're done setting up your profile and adjusting all its features to fine-tune it for the platform, you're ready to start exploring it and seeing everything that it can offer you.
Rarible certainly doesn't give you as many options as other sites in terms of the number of categories and NFTs you have available, but this doesn't mean there's a shortage of alternatives. On the contrary, it offers tokens that are fantastic for a lot of collectors, so learning all you can about this site is crucial, particularly before you purchase anything or make a sale.
After signing up, make sure to check your email (both inbox and spam folders) to see if you got a verification mail from the site. Once you've done that, you can proceed to set up your user profile on the platform.
This part is fun, but it's also essential, so you have to make sure that you do everything you need, especially if you want to eventually get a verification badge. Collectors don't necessarily need it, but what you want is to mint or sell NFTs on Rarible, having it might be immensely convenient.
Rarible sellers and artists must complete their profile, including a cover photo and everything. Furthermore, you must provide some social media links, and this is another one of Rarible's methods to verify your identity.
If you want to eventually get your verification badge, you might have added advantages if your social media profiles have a large following base, especially if you already participate in the Rarible community. However, this is not the only factor the site considers, so don't worry.
Asides from your social media accounts, Rarible also asks you for previous minted works. Collectors only need to provide a few examples of items they've bought, and overall, this step is way more important for sellers.
Lastly, you have to provide some reasons why you want to join Rarible, a self-description, and a few words about your work as an NFT artist. If you've gotten this far, congratulations! You're ready to proceed to the next step.
By now, you should be able to go through all of Rarible's NFT options. Check out what the platform can give you and start choosing the ones you want!
Ease of Use
Rarible is one of the most user-friendly platforms that users can rely on when they're buying NFTs. Since it offers the best features you can ask for, it's immensely straightforward, and this is essential when you're just getting started in this industry.
Platform Safety
This marketplace relies on the Ethereum blockchain for all its transactions. Therefore, it's immensely safe and its security protocols guarantee that all your tokens are under strict protection.
Transparency
Even though Rarible offers numerous positive features, the project has not been around for long. Therefore, there is no clear roadmap or detailed information about it. However, you can hope that in the future, its creators will publish it.
NFT Minting
Minting is an immensely straightforward process with Rarible. Even so, keep in mind that there is a lot of competition, so you might not get the results you want at first.
The Mobile App
Rarible has a mobile app available for iOS, which might be very convenient if you want to visualize and assess NFTs on the go. You can't buy or sell from the app, though, so keep that in mind when you start scrolling through it.
NFT Storage
This marketplace takes your security concerns very seriously when it comes to storing your collectibles, which is why it offers some of the best features you can ask for to keep your NFTs safe.
Fees
All transactions require you to pay a 2.5% fee on Rarible, which makes things very straightforward because you don't have to worry about additional payments.
Our Verdict of Rarible
Rarible started in 2020, and it has quickly become one of the most convenient platforms to use when you want to collect non-fungible tokens. Instead of relying on different marketplaces with numerous challenging features that might confuse you, Rarible's user-friendly layout can make things straightforward and fast.
With Rarible, beginners and advanced investors alike can find the NFTs they want, and it doesn't matter if you don't have any background experience – you can still get your verification badge if you work for it!
Now that you know that Rarible is a fantastic marketplace to check out, go inspect it and see if it's the right one for you!
Risk Disclaimer
WeInvests is a financial portal-based research agency. We do our utmost best to offer reliable and unbiased information about crypto, finance, trading and stocks. However, we do not offer financial advice and users should always carry out their own research.
Read More