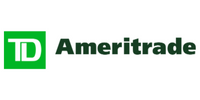 Valuable educational resources
Wide variety of asset classes
Several platforms to choose from
Pros
Low commissions
Robust security focus
Different channels for customer support
Cons
Lacks crypto wallet
Other account related fees might apply
Customer support waiting time might be long
TD Ameritrade Highlights

| | |
| --- | --- |
| 📈 Demo Account | Free demo account with $100,000 virtual funds to practice trading |
| 💸 Leverage | Up to 4:1 intraday and 2:1 overnight leverage on marginable stocks |
| 📊 Available assets | Stocks, ETFs, mutual funds, options, futures, forex, bonds, and CDs |
| 💵 Deposit Methods | Bank transfer, wire transfer, check deposit, and account transfer |
| 🗠 Minimum Trade On Stocks | No minimum trade size or amount |
| 💰 Min Deposit | No minimum deposit to open an account; $2,000 minimum deposit to trade on margin |
| ⚖ Regulation | Regulated by FINRA and SIPC |
| 🌐 Countries | Mostly US, with some limitations to China, Hong Kong, Malaysia, Singapore, Thailand, Taiwan, and Canada |
TD Ameritrade is a well-known online brokerage that provides its clients with a vast array of financial instruments and services. The US-based company TD Ameritrade was founded in 1971 and has a long history of offering its customers high-quality services and products. Customers may trade in several financial products using the company's user-friendly platforms including:
Stocks
Options
ETFs
Futures
Currencies
Mutual funds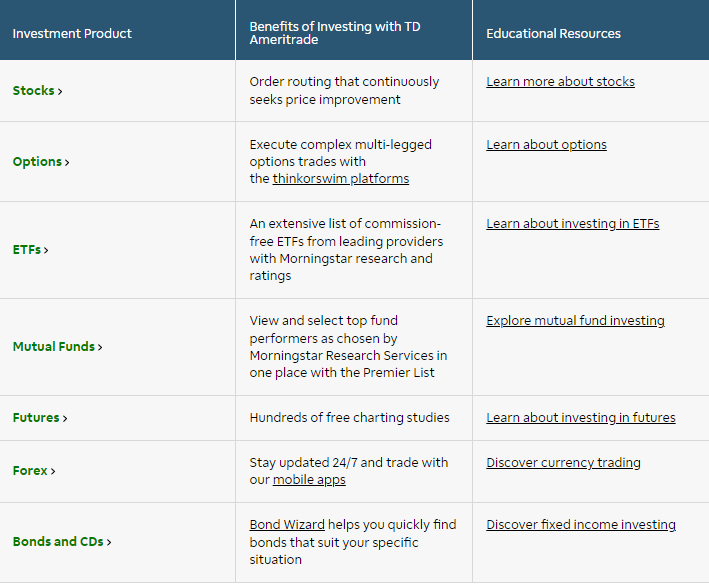 TD Ameritrade is also known for its educational materials meant for its investors. To assist investors in learning more about the financial markets and how to make wise investing decisions, the company provides many educational materials and tools, such as webinars, articles, and tutorials, to name a few. In addition, TD Ameritrade offers its clients access to a network of financial advisers who may give them individualized recommendations and investment guidelines.
Charles Schwab Company, a well-known provider of financial services with a long history of financial services for its customers, purchased TD Ameritrade in 2020. Due to this transaction, TD Ameritrade and Charles Schwab are now collaborating to provide their clients with a wider selection of products and services. Yet, TD Ameritrade continues to run under its own company name and upholds its dedication to providing cutting-edge products and client support.
Is TD Ameritrade a Good Option for You?
An important question that investors might ask themselves before using TD Ameritrade as their brokerage account is: "Can you trust TD Ameritrade?"
With a long history of offering its customers high-quality goods and services, TD Ameritrade has made a name for itself as an honest and dependable broker in the market.
TD Ameritrade's user-friendly platforms make it simple for users to purchase and sell financial products and can be considered one of its finest features, therefore, making the platform a suitable match for both beginner and professional traders. The broker also offers a variety of tools and educational materials that can help investors in making well-informed investing decisions.
For its products and services, the broker has received various honors, including Best Broker for Stock Trading Platform and Best Broker for Novice Investors. To further strengthen its reliability and dependability, it is worth mentioning that TD Ameritrade is also subject to regulation by several financial supervisory bodies which they cover in the next section in more detail.
Is TD Ameritrade Regulated?
Yes, TD Ameritrade is a regulated broker. The company is registered with several regulatory authorities in the US, including:
Securities and Exchange Commission (SEC)
Financial Industry Regulatory Authority (FINRA)
Commodity Futures Trading Commission (CFTC)
The SEC is a federal agency responsible for regulating the securities industry in the United States, while FINRA is a self-regulatory organization that oversees broker-dealers in the country. The CFTC is a federal agency that regulates the futures and options markets in the United States.
The Securities Investor Protection Corporation (SIPC), which offers insurance protection for clients in the event of broker-dealer insolvency, is another organization that TD Ameritrade is a member of. The SIPC provides up to $500,000 of insurance protection, including up to $250,000 for cash held in a brokerage account. As a regulated broker, TD Ameritrade must adhere to strict rules and regulations to ensure the safety and security of its customers' funds and personal information.
Who is TD Ameritrade Recommended for?
The broker provides a user-friendly interface that is simple to use and makes buying and selling financial products a quick and straightforward process.
Moreover, TD Ameritrade provides a variety of educational tools and resources, including webinars, articles, and tutorials, that may assist investors in learning more about the financial markets and how to make wise investment decisions. This makes it a wonderful choice for people who want to increase their knowledge and expertise in investing.
TD Ameritrade also provides sophisticated trading tools and platforms as well as access to a network of knowledgeable financial advisors for more seasoned customers. This makes it a suitable choice for people seeking more complex investment strategies and wanting to collaborate with a financial advisor to meet their objectives.
TD Ameritrade Trade Experience
The trading platform TD Ameritrade supports a variety of devices and systems, including desktop, web, and mobile devices, giving users flexibility and convenience when executing trades and accessing market data.
Important to consider are also additional fees that arise from trading financial instruments. This requires thorough research to get an overview of the costs applicable when trading with TD Ameritrade. The following list will give you an overall understanding of the fee structure incorporated in this trading platform: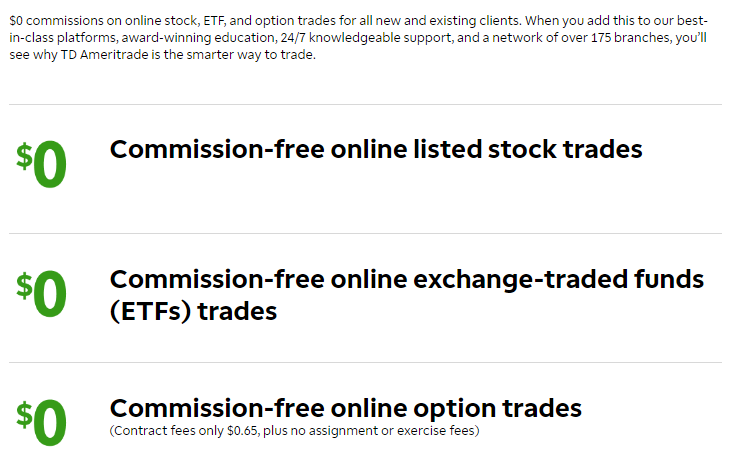 Commissions and fees
Alike other financial brokers, TD Ameritrade charges commissions and fees for trading stocks, options, ETFs, and mutual funds. Depending on the account and product type, different costs apply; some accounts even permit commission-free trades for specific items.
Moreover, the business levies fees for several account-related services, such as wire transfers and printed statements. The CFD fees charged by TD Ameritrade may differ according to the asset being traded. Non-trading costs may also be charged, such as account transfer, maintenance, and inactivity fees.
Generally, TD Ameritrade's costs are competitive with those of rival brokerages, but before opening an account, investors should carefully check the applicable charges.
CFD fees
Trading CFDs (Contracts for Difference) through TD Ameritrade entails costs, which change based on the asset being traded. For instance, the company charges spreads, which are the difference between the ask and bid prices on an instrument, and those spreads might vary depending on the asset class.
Also, the platform might levy overnight costs for keeping CFD holdings open overnight, which can further reduce the potential return on the trade.
For margin trading on CFDs, TD Ameritrade may also impose financing costs. These charges are determined by the position's notional value and the current interest rates for the period.
Online fees
TD Ameritrade does not charge online fees for accessing its trading platform.
Non-trading fees
TD Ameritrade does charge non-trading fees such as:
Account maintenance fees
Account transfer fees
Inactivity fees
Wire transfer fees
Paper statement fee
How to open an account with TD Ameritrade?
Opening an account with TD Ameritrade is a straightforward process. Below are the steps you can follow to open an account from scratch:
Step 1: Go to the TD Ameritrade website and click on the "Open New Account" button.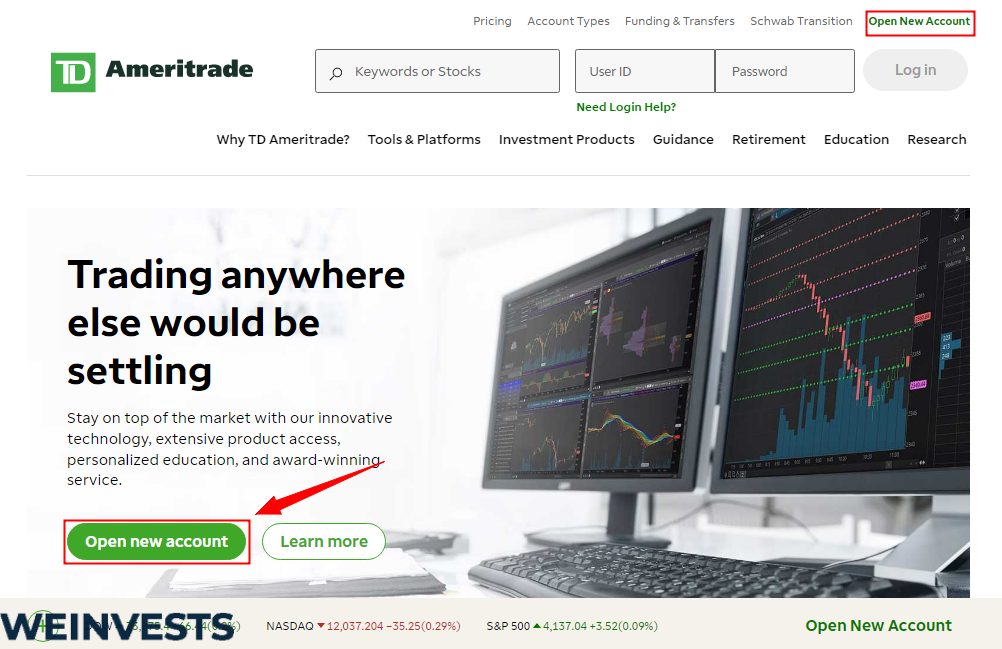 Step 2: Enter your personal information, including your name, date of birth, address, and Social Security number.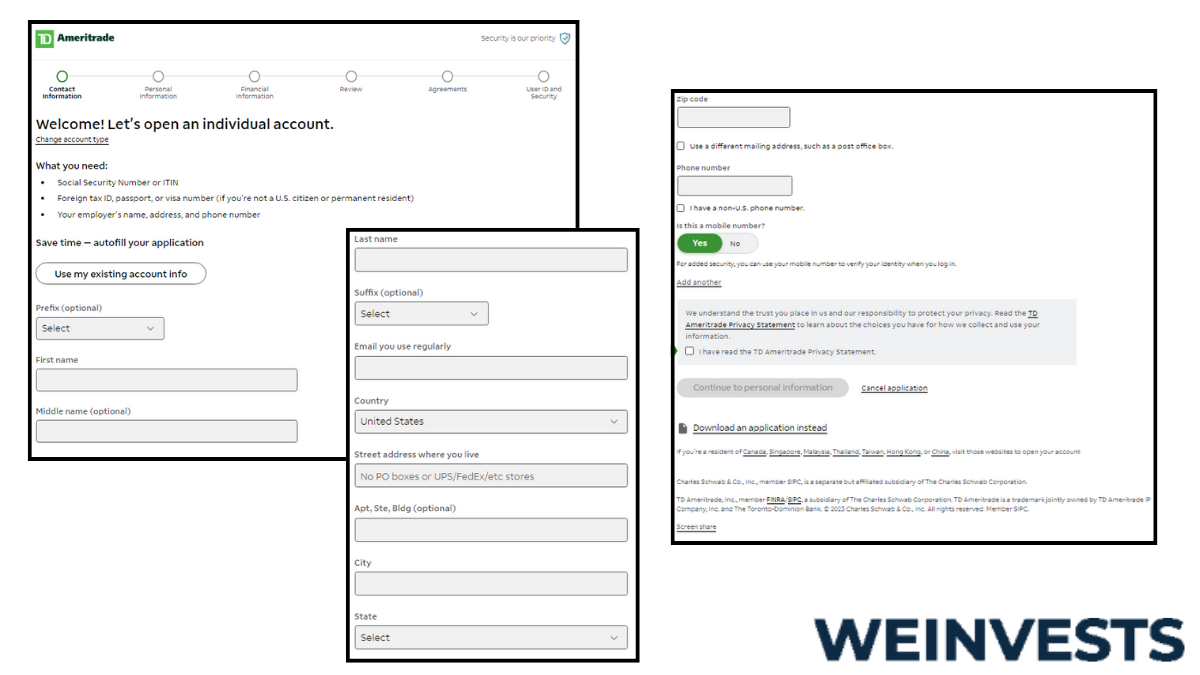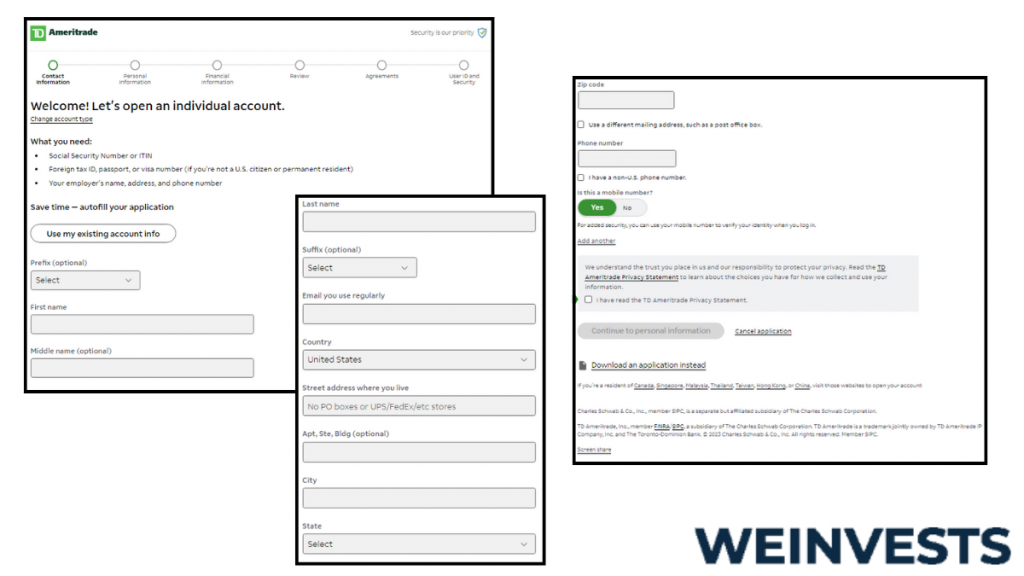 Step 3: Read and agree to the terms and conditions of the account.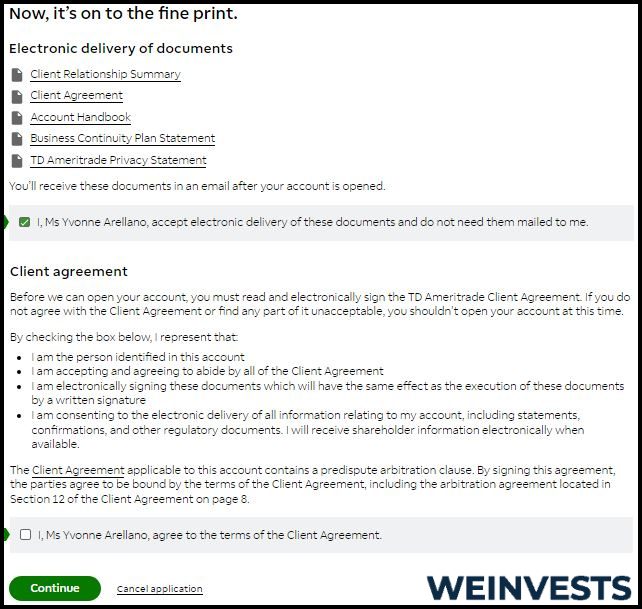 Step 4: Fund your account by transferring funds from your bank account, depositing a check, or transferring assets from another brokerage account.
Step 5: Once your account is set up, you can start trading and investing in a wide range of financial instruments, including stocks, ETFs, options, and mutual funds.
TD Ameritrade demo account
TD Ameritrade does offer a demo account for traders to test the platform or practice trading without risking their own funds. This allows users to simulate trades and test their strategies without using real money.
TD Ameritrade Education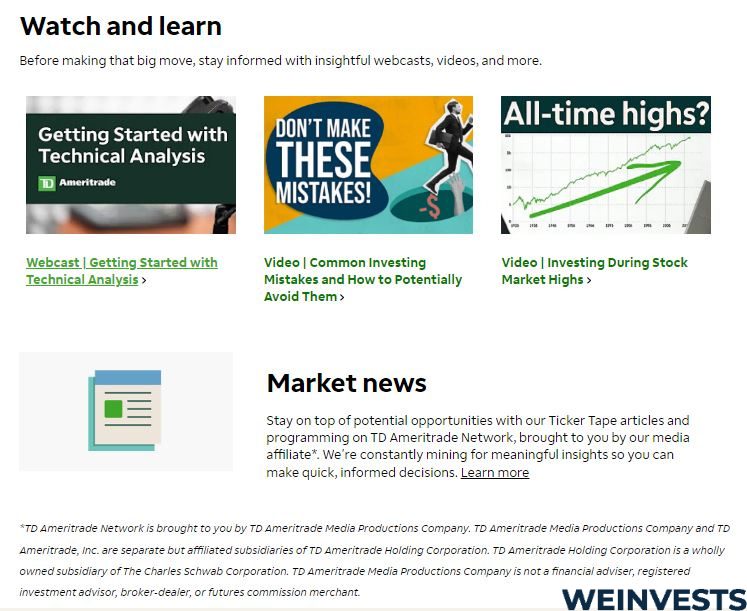 To assist investors in becoming more knowledgeable about the financial markets and how to make wise investing decisions, TD Ameritrade offers a variety of educational resources. The following are a few of the education channels offered by TD Ameritrade:
YouTube: Videos posted by TD Ameritrade provide instructional material, market analysis, and expert interviews. Moreover, the channel offers live streaming of seminars and events.
Blog: For investors of all experience levels, the TD Ameritrade blog offers a variety of information and insights. The information on the blog is intended to assist investors in making wise investing decisions.
Customer Support
A key component of TD Ameritrade's service is customer support, which guides customers through the difficulties of investing in financial markets. Customers may contact the brokerage for help through methods including phone, email, and live chat. Although most customers find the support staff to be helpful and professional, others have complained about long wait periods and trouble getting their problems fixed. Moreover, TD Ameritrade provides a comprehensive knowledge base and online discussion groups for self-help.
TD Ameritrade Crypto Wallet
TD Ameritrade does not provide crypto wallet services.
Conclusion
TD Ameritrade is a well-known provider of financial services and offers its customers a comprehensive selection of investment products and services. Investors may simply access their accounts and make trades or investments at their convenience thanks to a user-friendly website and mobile app. The company's dedication to providing resources and education for its customers is another important asset since it equips them with the information and skills which they need to make wise selections.
Although TD Ameritrade's customer service is typically supportive, there is still room for improvement in several areas, like wait times and problem-solving. Yet, the brokerage is committed to providing a dependable and trustworthy service, and its strategic investments in the sector, such as ErisX, show that it is closely monitoring the development of the financial market.
From novice to seasoned investors, TD Ameritrade's brokerage and investing services are available to all types of clients. Although the business does charge fees for some goods and services, people looking to increase their wealth via wise and educated investing selections will find that its offering and instructional tools are well structured.
FAQ
What types of accounts does TD Ameritrade offer?
TD Ameritrade offers a range of account types, including individual and joint brokerage accounts, Traditional and Roth IRA account, education savings accounts, and trust accounts.
What fees does TD Ameritrade charge?
For trading stocks, options, and ETFs as well as mutual funds and other financial products, TD Ameritrade levies fees. Depending on the product and the type of account you have, the costs vary. Moreover, they impose fees for some services connected to accounts, including wire transfers and paper statements.
How can I contact TD Ameritrade's customer support?
TD Ameritrade offers a variety of channels for customer support, including phone, email, and live chat. You can find the contact information for TD Ameritrade's customer support on their website or mobile app.
Risk Disclaimer
WeInvests is a financial portal-based research agency. We do our utmost best to offer reliable and unbiased information about crypto, finance, trading and stocks. However, we do not offer financial advice and users should always carry out their own research.
Read More