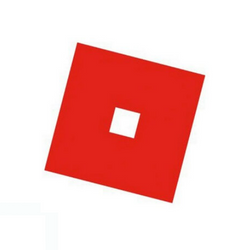 This content represents the writer's opinions and research and is not intended to be taken as financial advice. The information presented is general in nature and may not meet the specific needs of any individual or entity. It is not intended to be relied upon as a professional or financial decision-making tool.
Roblox Corporation, a US video game developer, got its stock (RBLX) trading on NYSE in 2021. Since the IPO, the stock's price was cut in half.
With the company being a key Metaverse player and the stock trading at a discount to the IPO valuation, many investors will naturally wonder how the price is going to move in the future.
In this post, we will examine what Wall Street predicts for RBLX, some key prospects of the business, and how the stock price behaved up until now.
Let's have a look at the business model of Roblox Corporation first…
Business Overview of Roblox Corporation
Roblox Corporation, founded in 2004 and headquartered in San Mateo, California, is a US video game developer. Since its inception, the company has been developing an online game platform and game creation system called Roblox.
Roblox allows its users to create games, but also play games that are created by other users. The platform was released by David Baszucki (co-founder and CEO) and Erik Cassel (deceased co-founder) back in 2006.
The company provides its virtual currency, Robux, to users in exchange for real currency. Players can then use Robux to buy in-game features and customizations made by game creators. The company will charge a 70% commission for such transactions before they release the Robux payments to the creators who in turn can exchange it for real currency.
Roblox Stock Forecast 2023
Since RBLX only started trading in 2021, it's difficult to make bold predictions about the stock price. With that being said, according to Wall Street consensus, the stock price is going to reach $35 in the next 12 months. This median price target suggests a 14.4% upside.
This upside may not be a conservative forecast if you take into account some business fundamentals of Roblox…
The company has been operating at a loss for some time now. Even if it is a key player in the Metaverse, such a position can hardly allow investors to ignore its operating results. We need to learn more about how the Metaverse will develop and how competitive Roblox will end up being in the area.
But there are other factors that we can consider to gain more insight into Roblox's fundamentals.
For instance, Roblox hired Chris Misner in 2018 to help the company expand internationally.
Misner had previously spent 6 years working for Apple's e-commerce business. He launched the Apple Online Store in China and grew it to billions of dollars in revenue.
In 2019, he launched Roblox in Chinese, German, and French.
Another notable move was hiring Dan Williams to help Roblox transition from a third-party cloud computing service to a proprietary one. He previously held senior leadership positions at Facebook and Dropbox, among others.
It's also important to note that Roblox's co-founder and CEO, David Baszucki, sold a company he built with Erik Cassel from the ground up for $20 million back in 1998. Roblox was also built from the ground up by him and Cassel and now, nearly two decades later, has a market capitalization of approximately $20 billion.
Clearly, the CEO's background along with the intelligent talent acquisition of the previous decade signify nothing but confidence in the success of the business.
But there is also quantifiable data that we can examine to gain more insight. To that end, the company's latest quarterly report can help us.
First, the daily active users have been steadily increasing for almost 3 years now. There were around 10 million users per day in the first quarter of 2018 and Roblox reported them at almost 60 million in the latest quarter:
The hours users have engaged with the platform have also climbed dramatically from ~2 billion in the first quarter of 2018 to ~14 billion in the last quarter of 2022:
Bookings were more or less flat across the 3 fiscal years reported. This is a key metric as it captures both earned and unearned revenue. Unearned revenue is payments received for virtual currency that may be converted back to actual cash instead of used for in-game features.
This highlights a gap between user acquisition and monetization performance. Although the daily users and engagement went up, Roblox didn't seem to be able to grow its profitability along with them.
Nevertheless, the company has plenty of time to figure this out. It has more than $3 billion in cash and its free cash flow has been mostly positive. "Mostly" because it lately started heavily investing in servers and related equipment.
This level of liquidity also ensures that the company's substantial leverage doesn't pave the road to insolvency any time soon.
But the fact that RBLX is overvalued certainly doesn't score any points for it. The price may have been cut in half, but it still has some way to go before it becomes relatively attractive.
RBLX is currently trading at 50 times its book value and 9.4 times its revenue.
For context, the S&P 500 is trading at 2.3 times the book value and 3.8 times the revenue.
For more context, one of Roblox's direct competitors, Unity Software, is trading at 6.5 times its book value and 8.2 times its revenue.
In other words, RBLX may be suitable for purchase on a speculative basis, but the price will need to drop more before purchasing shares can be classified as an investment. There's a high risk that the market will drive the price even lower in the short term if offsetting factors that preserve the hype are not present.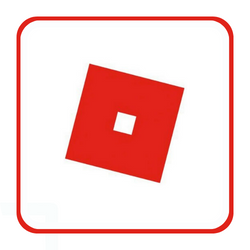 How To Buy Roblox Stocks
Metaverse, alongside artificial intelligence, are concepts many companies seek to develop and utilise as demand and interest for…
RBLX Stock 2022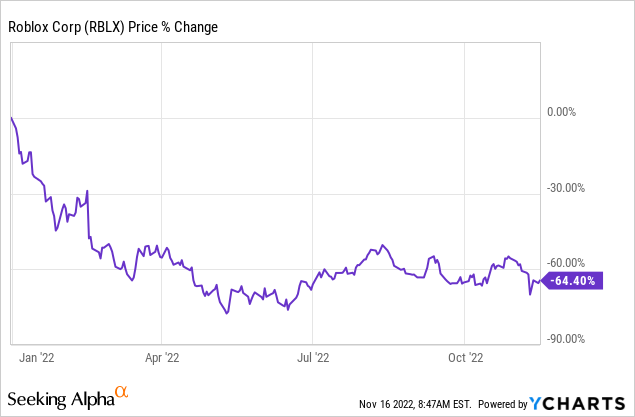 Since January 2022, the stock has been in a downward trend, having fallen by ~64% by now.
The selloff may be mostly related to unmet analysts' expectations. But it could also be viewed as the realization that the growth of the business in 2021 was abnormal since COVID-19 restrictions encouraged more engagement with what the industry had to offer in general.
To gain more insight, let's take a brief look at some key periods when RBLX witnessed sharp price swings.
On November 9th, RBLX witnessed the biggest drop in the year (-21%). The same day, the company released its earnings results for the third quarter. The market likely reacted to the EBITDA figure ($50.9M) that was below estimates of $59.6M.
More or less, the price level the stock fell from that day was the one it climbed to a few weeks back on October 17th, when the stock traded ~20% higher than the previous day's closing price. That could be associated with the firm's announcement regarding the Daily Average Users [DAUs] rising by 23% since September and other positive engagement indicators.
We can observe another similar correlation between price behavior and the announcement of growth drivers on September 17th. The price dropped by ~12% in just two days after the company announced its performance results for August.
The market may have been focused on the bookings results which were down on a YoY basis while ignoring the rest of the metrics which were all positive.
Another significant price drop that followed unmet bookings expectations occurred on February 16th. The price plummeted by ~26% after the company released its Q4 results for 2021. In this case, bookings growth was very good; it just fell short of analysts' expectations. The stock got a break on September 9th when the market pushed its price up by ~8%, likely over news that the company will be testing an ad format to monetize its platform by the end of the year. Of course, Roblox will not be moving away from its current business model. It sees advertising more as an effort to diversify its revenue.
RBLX Stock 2021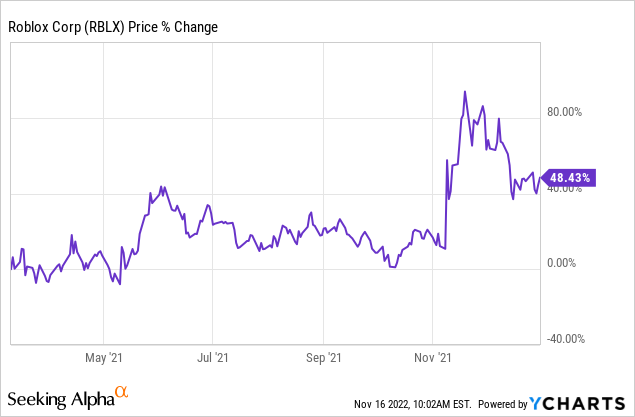 Roblox Corporation went public on March 10th, 2021 with the market initially pricing its stock at a $41.9 billion valuation. Between the IPO date and December 31, 2021, RBLX climbed by ~48%.
That's impressive, but it naturally raises the question as to why the stock fell so dramatically in 2022.
The 9% dip on December 15th which was the beginning of the fall tells the story. That day, the company released its November results which, although good, were not as good as those in October. The high user engagement in 2021 could be attributed to the industry growing as a whole due to COVID-19 policies affecting the schooling system.
In other words, Roblox's business may have witnessed an abnormal growth period that is not representative of how the business will perform in the future. It's likely that as the market started sobering up from this engagement performance that was driven by a general pandemic-induced acceleration, it started "correcting" the price for RBLX.
A good representation of this correlation between abnormal engagement and high demand for RBLX is the 21% price increase on May 11th. This sharp swing followed the company's first public report, noting a great performance across many metrics.
But the most significant stock price hikes will be found during the November 8 – 19 period, which totaled a ~75% price increase. On November 8th, Roblox Corporation released its results for the third quarter which were overly positive.
All in all, it is likely that the market didn't view the company's performance in the context of an overall non-sustainable growth in the industry.
Conclusion
Roblox is definitely an interesting company with some promising prospects. But it's too early to tell with any degree of certainty where its business is headed.
2021 was a great year for the stock as its price climbed by almost 50%. Yet, the generally abnormal performance of the industry that year makes it an unsuitable indicator for any intelligent forecast.
Besides, reality eventually struck the market and the stock fell by ~64% in 2022. And still, the price isn't at a level to reflect the fundamentals of Roblox's business yet.
Though its current status doesn't make it particularly attractive, the stock remains an asset to watch out for. Roblox's management conveys confidence and may be able to bring value to shareholders in the long term.
FAQ
Roblox may have a promising future for its business and a key role to play in Metaverse. However, the price is still high to classify a purchase of its shares as a good investment. If the price drops further, though, another examination of the fundamentals may change this.
Does Roblox pay a dividend?
Roblox doesn't pay a dividend. It has a lot of growth potential and uses its cash flow to invest in the infrastructure that will help it grow its business. That way, it may be able to deliver value to shareholders through the appreciation of the stock price instead.
Does Roblox have any debt?
Yes, Roblox has $1.4 billion in long-term debt and $1.7 billion in current liabilities (debt that needs to be repaid within 12 months). Its D/E ratio (long-term debt to shareholders' equity) is 3.3x; or its long-term debt is 3.3 times higher than its equity (net worth).
Risk Disclaimer
WeInvests is a financial portal-based research agency. We do our utmost best to offer reliable and unbiased information about crypto, finance, trading and stocks. However, we do not offer financial advice and users should always carry out their own research.
Read More