This content represents the writer's opinions and research and is not intended to be taken as financial advice. The information presented is general in nature and may not meet the specific needs of any individual or entity. It is not intended to be relied upon as a professional or financial decision-making tool.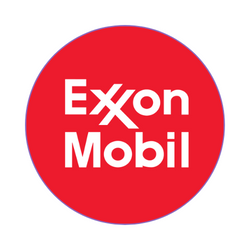 Exxon Mobil Corp. is a US-based multinational company with its core business in the energy sector. It engages in the exploration, development, and distribution of oil, gas, and petroleum products. The company operates through the so-called – Upstream, Downstream, and Chemical segments.
The Upstream part produces crude oil and natural gas. The Downstream business direction manufactures and trades petroleum products. The Chemical segment offers petrochemicals. The company was founded by John D. Rockefeller in 1882 and is headquartered in Irving, Texas. Its current Chairman and CEO is Darren Woods, elected to this position in early 2017.
The company officially went public back in 1920 (then called Standard Oil), getting listed on New York Stock Exchange (NYSE), thus having one of the longest histories of both – as a publicly traded company and of successful operation within its industry. Nowadays, Exxon Mobil's shares are still traded on the same NYSE, under the ticker of XOM. With its current market capitalisation of over USD 425 billion, it is classified as a Mega-cap company.
Exxon (XOM) Stock Forecast 2023
Ahead of its last earnings announcement for the third quarter, Exxon Mobil Corp. was expected to post quarterly earnings of USD 3.82 per share in its upcoming report, which would represent a year-over-year change of over +140%. At the same time, revenues were expected to be at around USD 120 billion, up nearly 62% as compared to the year-ago quarter.
On 28th October 2023, the company announced its last quarterly earnings of USD 19.7 billion, or USD 4.68 per share assuming dilution – a major positive surprise for the market participants and analysts. The presented results included net favorable identified items of nearly USD 1 billion associated with the completion of the XTO Energy Canada and Romania Upstream affiliate divestments. Capital and exploration expenditures were USD 5.7 billion, bringing year-to-date 2023 investments to around USD 15 billion, on track with full-year guidance of USD 21 to USD 24 billion.
Third-quarter earnings were USD 1.8 billion or 10% higher versus the prior quarter, as higher natural gas realizations, record through and output in energy products, and continued internal cost control had a positive impact on the company's business and financials. Overall, Exxon's annual earnings are expected to rise from USD 22.4 billion in fiscal year (FY) 2021 to over USD 30 billion by FY 2027. Specifically, Exxon Mobil's net profit is guided to increase by +100% between FYs 2019 and 2025, prior to expanding by an additional +20% between FYs 2025 and 2027.
The company's cash increased by USD 11.6 billion in the third quarter with a free cash flow of USD 22 billion. Shareholder distributions were USD 8.2 billion for the quarter, including USD 3.7 billion in dividends and USD 4.5 billion of share repurchases, bringing year-to-date repurchases to USD 10.5 billion, consistent with the company's plan to repurchase up to USD 30 billions of shares through 2023.
Exxon declared a fourth-quarter dividend of USD 0.91 per share, payable on 9th December 2023. The increase of USD 0.03 per share reflects confidence in its strategy, business performance, and financial strength. This will mark 40 consecutive years of annual dividend growth (with an average annual growth rate of 5.9%), making Exxon's stock (XOM) a Dividend Aristocrat – an S&P 500 member with at least 25 years of dividend growth. Clearly enough, reliable and growing dividend levels show the company's commitment to return profits to shareholders, of which approximately 40% are individual investors, while the Vanguard Group, Inc. is the largest institutional investor with 8.45% ownership.
Currently, XOM has a consensus rating of buy: the company's average rating score is 2.65 and is based on 13 buy ratings, 7 hold ratings, and no sell ratings. The 21 analysts offering 12-month price forecasts for Exxon's stock have a median target of 120.00, with a high estimate of 138.00 and a low estimate of 100.00. Note, that the latest closing price for XOM as of 8th December 2023 was 104.42, whereas the stock hit its all-time high closing price of 114.18 fairly recently, just on 22nd November 2023.
All of the above-described factors have a positive impact on Exxon's stock price prospects for the next year and beyond, making it a potential candidate to be added to both – individual and corporate investment portfolios.
Additionally, Exxon is strongly pursuing its ESG strategy, positioning itself as a socially and environmentally responsible corporate entity. Jointly with CF Industries, a leading global manufacturer of hydrogen and nitrogen products, they have entered into the largest-of-its-kind commercial agreement to capture and permanently store up to 2 million metric tons of carbon dioxide emissions annually, which is the equivalent of replacing around 700,000 gasoline-powered cars with electric vehicles. This landmark project represents large-scale, real-world progress on the journey to decarbonize the global economy, making Exxon more attractive for ESG-focused responsible investors.
Exxon (XOM) Stock 2022
The YTD result of the XOM stock performance is above +77% compared to the market result of -15% based on the S&P 500 as a measurement indicator. This energy giant was indeed affected by the negative market sentiment through 2022, however, stood strong through the macroeconomic headwinds, supply-chain issues, and other challenges faced by the global economy.
The stock price had a rally from the beginning of the year until early June, reaching a per share price of USD 104.59 on 8th June, well above its starting point of USD 61.19, then sliding nearly -18% down to USD 86.12 merely within 10 days. It was trading in the range of between USD 83 and USD 95 per piece till early October, before a new rally up to its all-time high of USD 114.18 on 22nd November 2022. As we write this, it is down by 8.5% from the high of USD 104.42 on 8th December, expected to stabilize in the area of USD 102-106 till the year-end.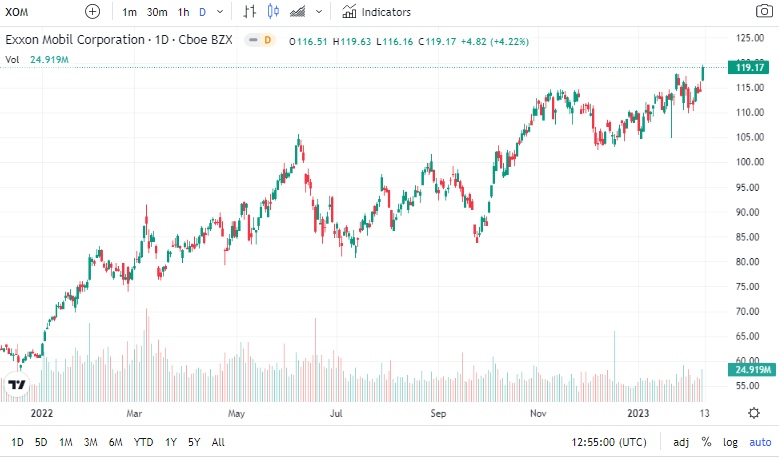 Exxon (XOM) Stock 2021
There were a few significant moves in Exxon's stock price throughout FY 2021. Notably, during the first half of the year, there were a few jumps boosting the stock price by over 55% as of 24th June (USD 64.52 per piece) from the year's starting point.
In the third quarter, XOM saw a pull-back, falling by almost 17% from its June highs, reaching USD 53.69 on 20th September. Then it returned by another +23.5% rally within the next 1.5 months, moving up to USD 66.36 on 9th November. The stock price slid down by nearly 10% from there to USD 59.79 on 1st December, finishing the year with a nice climb back to its near-highs 2021 of USD mid-sixties per share.
All in all, XOM had an impressive performance throughout FY 2021, delivering a +40% improvement in its share price.
Exxon (XOM) Stock 2020
Like for the rest of the market, 2020 began with a sharp downslide for Exxon's stock, more than halving its share price by mid-March when the first lockdowns hit the Western hemisphere. Then XOM saw a brief recovery towards early June, which was followed by another decline to the level of USD 32.62 at the end of October. It recovered from there on, reaching mid-forties by the year-end, resulting in its share price decline of around 34% for FY 2020.
Conclusion
Since after the 2008-2009 market crash, driven by the subprime housing market crisis, Exxon's stock price saw two sharp declines. The first one happened between October 2007 and April 2010, when the stock lost nearly 40% of its market value. Following that was an even sharper collapse of almost -60% from mid-2018 to mid-2020, when XOM hit its lowest point of below USD 35 per piece since 1998. From there onwards, Exxon's stock price has been on a rise to its recent all-time high of USD 114.18 just a few weeks ago in November 2023.
The key fundamentals of Exxon Mobil are robust and its stock has been crowned by the honorable title of Dividend Aristocrat, having a history of 4 decades of constant dividend growth behind it. The majority of the analysts covering XOM provided a buy rating, believing that the company and its stock have good prospects. The forecasted price targets for FYs 2027 and 2034 are respectively USD 250 and 400, according to some analysts.
FAQ
Why did Exxon's stock price growth accelerate recently?
On the one hand, as part of the global economy's post-pandemic recovery attempts, Exxon benefited from the increasing demand for its products. On the other hand, the global giant of oil and gas, as well as related by-products' production, has benefited from the Russia-Ukrainian full-scale war, which limited supply and sharply increased the demand for the above-mentioned products, especially towards the fall and winter months, when many countries, especially in Europe, are cumulating their winter reserves.
The expectation one could have when investing in XOM at this point is two-fold: firstly, it's one of the strongest players in its industry, which is paying a solid and stable dividend over 40 years of consecutive increase in its dividend amount. Secondly, as already mentioned in the article, the growth prospects of Exxon are promising given its financial and technical indicators, as well as forecasts of the covering analyst.
Risk Disclaimer
WeInvests is a financial portal-based research agency. We do our utmost best to offer reliable and unbiased information about crypto, finance, trading and stocks. However, we do not offer financial advice and users should always carry out their own research.
Read More