This content represents the writer's opinions and research and is not intended to be taken as financial advice. The information presented is general in nature and may not meet the specific needs of any individual or entity. It is not intended to be relied upon as a professional or financial decision-making tool.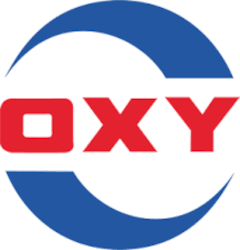 Occidental Petroleum is trending higher and higher this year. At the same time, Warren Buffett's Berkshire Hathaway has been buying more and more of the stock since early 2023.
In some way, the market may have already captured the possibility Warren Buffett will take the company private. For this reason, it's interesting for any potential investor to know what analysts think about the future of the stock's price.
In this article, we want to present you with all the essential forecasts regarding the price, the company's sales, and earnings per share.
But we won't stop there; we will also equip you with all of the relevant information about Occidental Petroleum's fundamentals and give you an overview of the most significant price swings of this year.
Let's get started…
Business Overview of Occidental Petroleum
The company was founded in 1920 and is headquartered in Houston, Texas. It engages in the acquisition, exploration, and development of oil and gas properties in the United States, the Middle East, Africa, and Latin America.
The company operates through 3 segments:
Oil and Gas

This segment is responsible for exploring and developing oil and condensate, natural gas, and natural gas liquids (NGLs).
Chemical

In this segment, among the basic chemicals it manufactures and markets are caustic soda, ethylene dichloride, chlorinated organics, calcium chloride, chlorine, potassium chemicals, chlorinated isocyanurates, and sodium silicates; vinyls include polyvinyl chloride, vinyl chloride monomer, and ethylene.
Midstream and Marketing

A major function of this segment is the gathering, processing, transporting, storing, purchasing, and marketing of oil, condensate, NGLs, natural gas, carbon dioxide, and power. Additionally, this segment trades around its assets, which include transportation and storage capacity, as well as invests in other companies.
Occidental Petroleum (OXY) Stock Forecast 2023
Source: CNN Business
Based on Wall Street's 12-month median price target and the stock's price, Occidental Petroleum has a 17.1% upside.
This is interesting because analysts don't generally expect higher quarterly sales and earnings per share for this one…
EPS Forecast
Source: TipRanks
According to analyst estimates, OXY will earn $2.14 with a range of $1.80 to $2.55 in the next quarter. Last quarter's earnings per share were $2.44. In the past year, OXY has beaten its EPS estimates 75% of the time, while the industry as a whole has beaten them 58.28% of the time. As a whole, OXY has outperformed its industry over the last calendar year.
Revenue Forecast
Source: TipRanks
OXY's sales forecast for the next quarter is $8.85B, with a range of $7.36B to $9.74B. Sales for the previous quarter were $9.38B. In the past 12 months, OXY beat sales estimates 100% of the time, while its industry beat sales estimates 81.1% of the time. OXY outperformed its industry in the last calendar year.
Setting Wall Street's expectations aside, the stock may indeed grow that much in the short-term future, but it's hard to know if it's going to be in the next 12 months.
Nevertheless, there are several good reasons why analysts' expectations are not unreasonable.
One of them is the company's conservative capital structure:
The company's debt is just 0.7 times its equity. That almost makes up for the low interest coverage of OXY at 3.6 times for the last fiscal year.
Additionally, the company's liquidity is adequate:
That's based on the latest annual report in which current assets were 1.2 times the current liabilities.
Regarding profitability now, Occidental has a good record of growing revenue and free cash flow:
While net income has shrunk by approximately 50% over the last 10 years, sales have grown by 122.8%, while free cash flow has grown by 29.13%.
It was also pleasant to see that Occidental is making good use of its free cash flow.
OXY has enjoyed excellent capital allocation flexibility in recent quarters due to its robust cash flow. The following chart shows that CAPEX reinvestment has resumed aggressively to fuel future growth:
Back in 2014, it spent $2B on CAPEX. As a result of compressed oil prices, it plummeted and stayed at $800M for years, suffering underinvestment. Following the COVID pandemic, oil prices bottomed out in 2020, and its profitability recovered, allowing it to resume reinvestment. The company's capital expenditures have been recovering rapidly to a level of over $1 billion today.
This is all good news, but we need to talk about the company's valuation as well.
Compared to its peers, OXY is overvalued based on 4 valuation ratios. But what really stands out is its P/B ratio of 3x because of how much higher it is compared to competitors'.
Now, the biggest risk for Occidental Petroleum is its dependence on commodity prices, as a production-oriented energy company.
The price of petroleum has decreased lately and is currently at an eleven-month low. The realized petroleum price is expected to contract sharply in the fourth quarter, resulting in diminished free cash flow prospects for Occidental Petroleum. As the company faces lower free cash flow and margins, it may also reduce the size of its stock buybacks.
It's also important to note that some portion of OXY's trading price may be reflecting Buffett's investment. If this is true, it creates a risk of an aggressive sell-off in the case Buffett withdraws from this investment.
Let us briefly fill you in regarding Berkshire's involvement if you haven't followed recent events…
Buffett met Occidenta's CEO for the first time in 2019 after Berkshire invested $10 billion to secure Occidental's acquisition of Anadarko, beating Chevron (CVX). The investment was structured by Berkshire buying 100,000 shares of preferred stock with an annual dividend of 8%.
Buffett took advantage of lower prices to make an additional investment (in addition to the preferred stock Berkshire already owned as a result of the Anadarko deal). According to Becky Quick, Buffett started investing after reading Occidental's earnings conference call transcript for Q4 2021.
In his SEC 13F filing for the June quarter, Buffett revealed that his stake in OXY grew by 16.26% between April and June, and is now worth $9.3 billion.
In the past, Buffett's Berkshire Hathaway was permitted to acquire up to 25% of Occidental Petroleum. However, the conglomerate can acquire up to 50% now.
Occidental Petroleum (OXY) Stock 2022
The stock has increased by 120.9% YTD. To gain some insight into what may have been the cause of this growth, we need to examine some events that accompanied the most notable price swings:
Jan. 04 (+7.47%)

Brent crude topped $80 per barrel, the best settlement in nearly six weeks, as OPEC and its allies agreed to increase production, expecting the COVID-19 omicron variant will not significantly impact global oil demand.
Feb. 25 – Mar. 02 (+24.86%)

Investors have taken note of Occidental's recent guidance and new financial framework, which clarified the company's intentions to reduce debt and reward shareholders rather than boost production; The company has "no need and no intent to invest in production growth," as CEO Vicki Hollub stated.
Mar. 05 (+8.4%)

As European Union foreign ministers considered a ban on Russian energy, crude oil prices rose to their highest finish in nearly two weeks.
May 13 (+8.21%)

On Tuesday, Berkshire bought 716,355 shares at $57.32 each, and on Thursday, it bought 185,419 shares at $57.34 each, giving it 15.3% interest in OXY, worth $8.5 billion.
Jun. 28 (+4.77%)

Berkshire Hathaway announced it had bought an additional $44M worth of the company's shares
Aug. 03 (-6.26%)

Analysts were disappointed with Q3 production guidance, according to Bloomberg. In Q2 the company produced 1.14 million barrels of oil equivalent, but 32 thousand barrels a day fewer than in Q1.
Aug. 19 (+9.88%)

Berkshire Hathaway received approval from the Federal Energy Regulatory Commission to purchase up to 50% of Occidental.
Conclusion
Occidental Petroleum has still room for growth according to analysts, as you can see. But that applies to its price. Revenue and EPS estimates imply no growth.
Currently, analysts are generally conservative when it comes to OXY's future price behavior. The estimated upside can be justified by many factors. Occidental's a profitable enterprise that keeps on growing. Management is also serious about delivering shareholder value through accelerated reinvestments.
However, the stock is currently overvalued compared to some of its most relevant peers. Warren Buffett holding the stock and rumors spreading regarding taking it private may be the reason for this premium.
An interested investor who wants to decrease the risk with OXY's high multiples may want to diversify their exposure to this industry before they purchase it. Purchasing OXY using a large portion of one's portfolio may end up like a bad bet.
FAQ
Who owns Occidental oil?
Institutional investors control 77.37% of OXY's outstanding shares, constituting a majority stake in the company. Almost no other company in the Oil & Gas Production industry has this level of interest. It's also noteworthy that Warren Buffett has accumulated a 20.2% stake through multiple transactions during 2022.
Does Occidental Petroleum pay a dividend?
Yes, its forward yield is currently 0.81% and the payout ratio 4.35%. Previously, the company's ex-dividend date was 2022-12-09. The next dividend payment for Occidental Petroleum shares will be $0.1300 per share on 2023-01-17 for shareholders who own the stock before this date.
What does Occidental Petroleum do?
Occidental Petroleum is an independent exploration and production company with operations in the US, Latin America, and the Middle East. A major part of its business involves developing and producing oil, natural gas, and natural gas liquids (NGL).
Risk Disclaimer
WeInvests is a financial portal-based research agency. We do our utmost best to offer reliable and unbiased information about crypto, finance, trading and stocks. However, we do not offer financial advice and users should always carry out their own research.
Read More