This content represents the writer's opinions and research and is not intended to be taken as financial advice. The information presented is general in nature and may not meet the specific needs of any individual or entity. It is not intended to be relied upon as a professional or financial decision-making tool.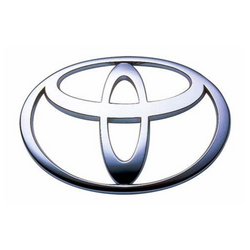 Toyota Motor Corporation (ticker symbol: TM) is an automobile manufacturer company headquartered in Aichi, Japan. Toyota is known for producing the most reliable cars, which also is the reason why various Taxi companies prefer to acquire Toyota cars for their services. Founded in 1937 by Kiichiro Toyoda, the corporation is the second-biggest automaker by revenue worldwide (with about USD 276 billion in 2021) and the largest in Japan. Akio Toyoda is currently the CEO of Toyota. The company is currently employing around 360 000 employees worldwide. Toyota's main competitors include Volkswagen Group, Renault-Nissan, and General Motors.
IPO-ed in 1984 on NYSE, Toyota Motors went public on the market at USD 7.14 per share. The stock price has been rising constantly, with an all-time high closing price of USD 206.11 on January 13, 2023. However, the stock price has been decreasing ever since. Toyota's share price had its year-to-date low at USD 130.29 on 30th September 2023. The stock experienced a rebound and has been trending upwards again since then.
Toyota reported mixed results in Q2. Despite the revenue rising by over 22% and the deliveries by around 10%, the operating profits dropped to USD 4.2 billion from the previous USD 5.6 billion last year. The company has been experiencing headwinds, due to disruption to manufacturing because of coronavirus lockdowns in China, rising interest rates, and foreign exchange volatility.
Toyota (TM) Stock Forecast 2023
While Toyota has foretold its operating profit forecast of USD 17 billion for the upcoming year 2023, it cut its production goal for the year to 9.2 million vehicles from 9.7 million vehicles. That said, profits are projected to remain down by about 20% versus last year due to supply chain-related headwinds, which eventually will lead to either the stock price descending or remaining in the same area as in December 2022 – at least for the beginning of 2023.
Toyota made 2 negative estimates regarding EPS in 2023 in the first and second quarters. In Q1 a negative surprise of -5.79% was reported. Nevertheless, a positive quarterly revenue report was witnessed for the same period. The Q2 report was much worse – about -30% which leads to the expectation and hope by the market participants that Q3 will be positive and will rebound to balance the most recent negative quarterly reports. An estimate of 3.78 EPS and 65.46 billion in revenue growth is reported, which are expected to be surpassed. This of course will lead to a bullish movement in the stock price.
The Wall Street analyst predicted that Toyota Motor's share price could reach USD 179.41 by the end of 2023. The average Toyota Motor stock price prediction forecasts a potential upside of 25.16% from the current share price of USD 143.34.
Taking a deeper look into the forecast in the company's financial statements, we see a mostly positive outlook. Toyota Motor's current yearly Earnings Per Share (EPS) is USD 12.94. On average, analysts forecast that TM's EPS will be USD 16.93 for 2023, USD 18.74 for 2024 and In 2025, TM's EPS is forecasted to hit USD 21.21 which should have a positive impact on the stock price if realized.
Furthermore, Toyota Motor's forecast that its annual earnings growth rate for 2023 is at 17.91% which would beat the US Auto Manufacturers industry's average forecast earnings growth rate of 12.06%.
The technical analyses show different results in Toyota's case. The analysis was carried out by looking at 26 different indicators (i.e. Oscillators, Moving Averages). The Oscillators mostly had an all in all neutral outcome, e.g. for Oscillators which showed neutral results: Relative Strength Index, Average Directional Index, etc. With 2 buy signals (Momentum) and 1 sell signal (MACD).
Moving forward to Moving Averages the results were different: with 9 sell, 1 neutral and 5 buy signals. Wrapping up, the technical analysis shows that the stock is with a "Hold" rating at the moment and for the first few months of 2023.
Let's try to understand the future stock movement by breaking down the latest income statement, balance sheet results, and production news.
Looking at the income statements of the previous years we can see that there was a pull-back of the stock price as the income statement in 2020 resulted in USD 500 million less income than the year before. Contrary to the income statement of 2021 which lead to an increase in TM's share price as the total revenue rose. This gives a positive outlook for the end of 2023 and the start of 2023 as the income statement of 2022 is expected to come in better than what was seen in 2022.
On the other side looking at the balance sheet we can see that it has a relatively smaller impact on the share price volatility, as the balance sheet of 2021 showed came with reduced assets and more liabilities in comparison to the balance sheet of 2020, which nevertheless did not have any large impact on the share price of the company.
Toyota Stock 2022
The year-to-date result of the TM stock performance is -20.91% compared to the market result of -10.91% based on the NYSE Composite Index as an overall market performance indicator. The overall market downturn certainly caused some part of the price decrease in Toyota's stock in 2022, however, there are also other factors such as the company's inability to meet the consensus earnings each quarter generating a negative surprise for each consecutive quarter in 2022.
As already mentioned above, there were two negative quarter earnings which caused the drop in the share price. However, the payment of dividends on 29 November 2022 probably sent a positive vibe to the market making investors more optimistic as the stock has been rising ever since.
All in all a positive outlook for the end of the year is to be recognized when looking at the chart, as the stock is on a bullish run as we write this. If the expectations are met with the income statement and the total revenue then the stock should stay on its run and rise steadily afterward. Otherwise, a further weakening in the stock price is possible.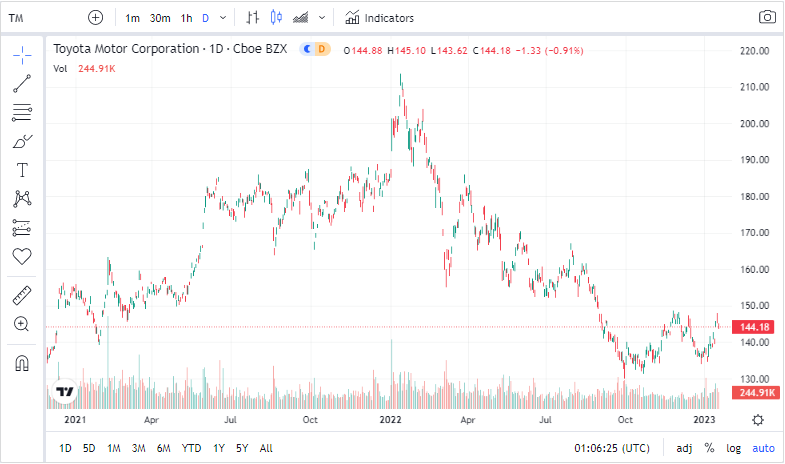 Toyota Stock 2021
The year 2021 started on a positive note for the TM stock. Toyota had 4 EPS reports, which all resulted in positive surprises and most of them followed a slight increase in share value. Overall, the share price rose 22.83% in 2021. Even though it was a good year for TM, the annual earnings statement still came in negative by -1.13%. Nevertheless, it was higher than the estimate for 2023.
Toyota also helped some health and humanitarian organizations in the same year which was also part of its ESG commitment that was positively reflected in the stock price. Collaborating with the International Rescue Committee and Community Jameel, Toyota Motors helped to conquer the humanitarian crisis in Lebanon. Another investment, which also was a donation by Toyota, has been the provisioning of the first refrigerated vehicles for the safe transportation of vaccines to obtain WHO's performance, quality, and safety pre-qualification. Both of these news resulted in a positive impact on its share price.
Toyota Stock 2020
Toyota reacted surprisingly to COVID-19 in 2020, as the firm invested in health companies and started generating profit from such products as hand sanitizers. This fast reaction made TM survive the financial crisis almost unharmed, as their total revenue decreased only by -6%, which in comparison to other companies, is a relatively good result. While experiencing some turbulence and headwind in 2020, TM still managed to achieve an increase in its share price by 13.21% for the year.
Conclusion
Toyota's stock price has risen drastically from its initial IPO price when it was trading at around USD 7 per share comparing this to the current stock price of USD 143.34. The difficulties with car production due to supply chain issues and the negative economic situation this year hold investors back from purchasing TM's stock at the current levels. That is why the indicators and technical analysis suggest holding on to the shares (if in possession of some), but not entering. However, given the robust brand name and strong financials, the company has the potential to see growth in its stock once global uncertainty related to the macro-economic situation and supply chain issues fade away. All in all, Toyota Motors has shown strong stock performance in the past years and also has a promising future.
FAQ
Why is TM's stock price decreasing?
Toyota Motors has experienced some headwinds in the fiscal year 2022 due to production shortages and negative surprises in quarterly earnings reports, which had a big impact on the share price.
Where can I find information on the latest financial results?
On Toyota's website under "Financial Results" or "Investors News". You can also find information on trading platforms like Tradingview or other websites. Make sure your source of information is reliable.
Risk Disclaimer
WeInvests is a financial portal-based research agency. We do our utmost best to offer reliable and unbiased information about crypto, finance, trading and stocks. However, we do not offer financial advice and users should always carry out their own research.
Read More