Metaverse, alongside artificial intelligence, are concepts many companies seek to develop and utilise as demand and interest for transformative digital technology rise. One key player, Roblox, stands out from its competitors. The tech company combines the two innovative features and creates a unique online platform and game creation system, attracting many customers and investors.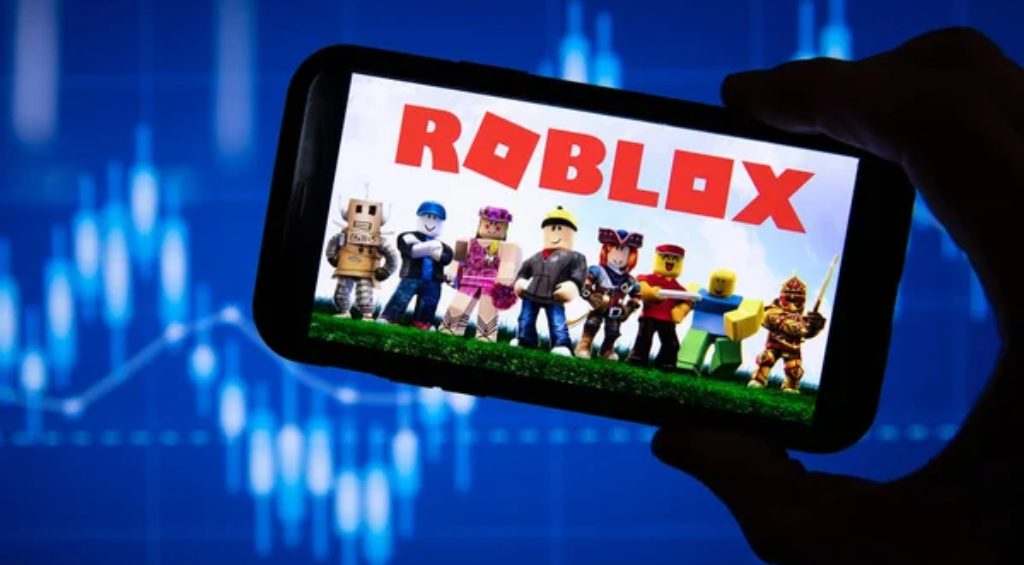 Roblox was created in 2006, and it became public in 2021 and acquired a market cap of 38.26 billion, as the stock price closed at $69.50 following the release. Today, shares of the kid's gaming company are traded for $40.34. The value is significantly lower than its IPO price; however, Roblox has appeared in many headlines lately as the company delivered an exciting earnings report for Q1 2023. Moreover, RBLX is up 44.85% year-to-date, making the stock an intriguing opportunity to watch from investors. Read on and learn how to buy one of the newest tech stocks on the market by making an informed decision through our comprehensive guide.
How much does it cost to buy Roblox stock?
Decide How Much to Invest In Roblox Shares
Tech stocks have experienced a significant boom recently due to innovation, disruption, and digital transformation that has drastically sped up in 2023. Before jumping in and investing in Roblox following the hype, investors must consider critical factors, including budgeting, developing an investment strategy, and portfolio diversification. That way, they can make the most informed decision based on their goals, trading needs, and financial situation.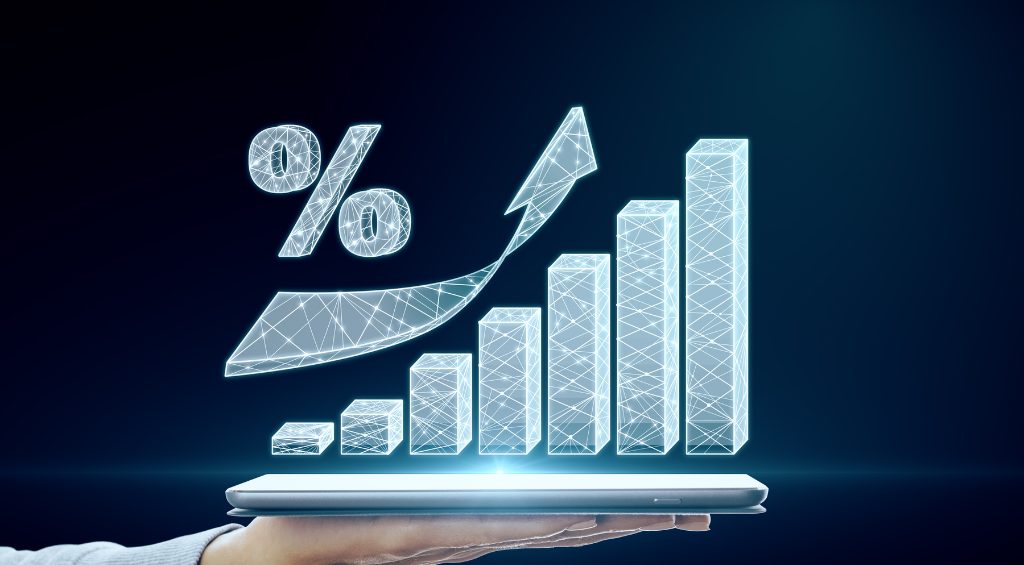 When discussing personal finances and budgeting, let's mention the current price of Roblox shares. Today, the stock is traded at a low daily range of $40.26 and a high of $42.99, with a current price of $40.34. That said, as an investor, you can consider how this stock fits into your budget. Furthermore, think about a budgeting strategy that goes along with your financial plan. A notable example would be asset allocation, a diversification strategy that revolves around investing in different types of assets, including stocks, bonds, and cash.
Lastly, tie in your budgeting and diversification strategies, assess your risk tolerance, and create an investment strategy. Do you prefer the riskier approach of growth or value investing, or perhaps you choose the safer route of dividend investing and the long-and-hold system? Find your investment style and match your Roblox investments in accordance with it.
How to Buy Roblox Stocks With eToro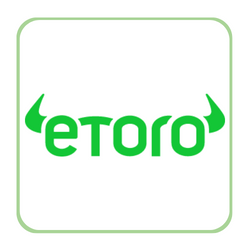 It is essential to pick the right trading platform to develop an investment strategy. The best online brokers offer helpful resources and tools that streamline the investment process and make buying Roblox stock a piece of cake. One such broker is eToro, famous for its global presence, interactive community of investors, and trading platform with comprehensive tools. Our short step-by-step guide showcases how you can buy Roblox stocks through eToro, assisting you in acquiring the asset in less than ten minutes:
Step 1: Open an Account
First, visit eToro and register for an account by clicking the signup button. You will then be prompted to fill in an electronic form with personal information like phone number, email address, and full name. There is also an option to log in via Facebook or Gmail, which investors can pick as a faster alternative. Proceed to the next step by agreeing with the provider's terms and conditions and ticking the relevant box to indicate your agreement.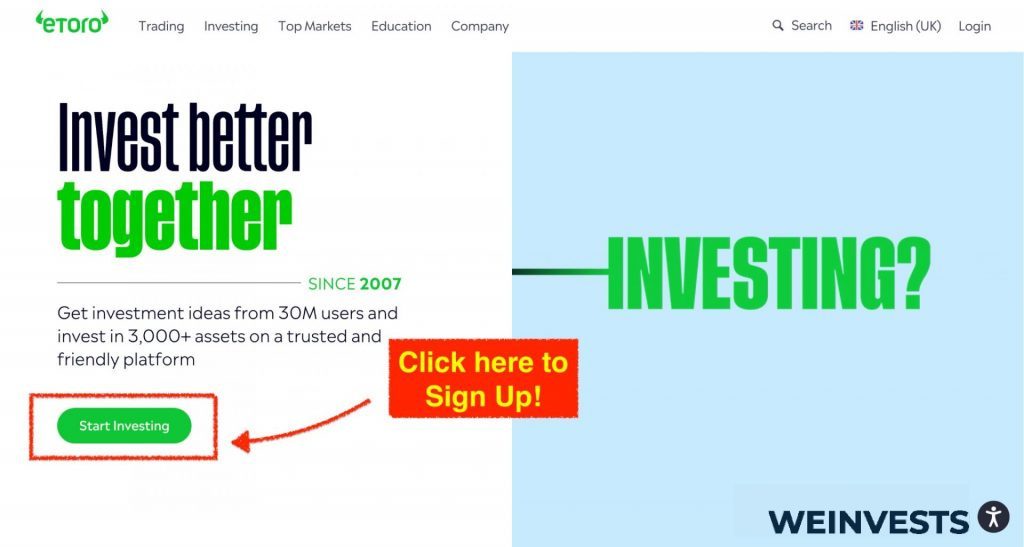 Step 2: Upload ID
As with every online broker, once a customer has registered an account, he will need to go through a KYC process to verify his account. The process is simple: prepare two documents, a Proof of Identity (PoI) and a Proof of Address (PoA), and take a clear picture. The first one, for example, could be an ID card, while the other is a utility bill of at most three months.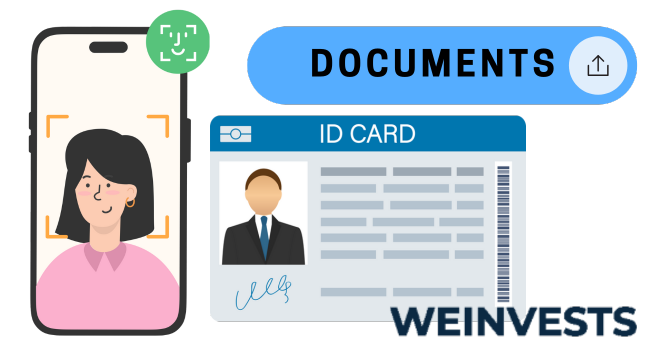 Step 3: Make a Deposit
For the safety of personal information and funds, eToro uses SSL encryption, so all transactions are fast and reliable. You can fund your account by logging into your account and clicking on the deposit button. After that, choose the currency you wish to deposit, the number of funds, and your preferred method for executing the transaction. Transactions are usually processed instantly, but you must wait 4 -7 days if you pick the bank transfer.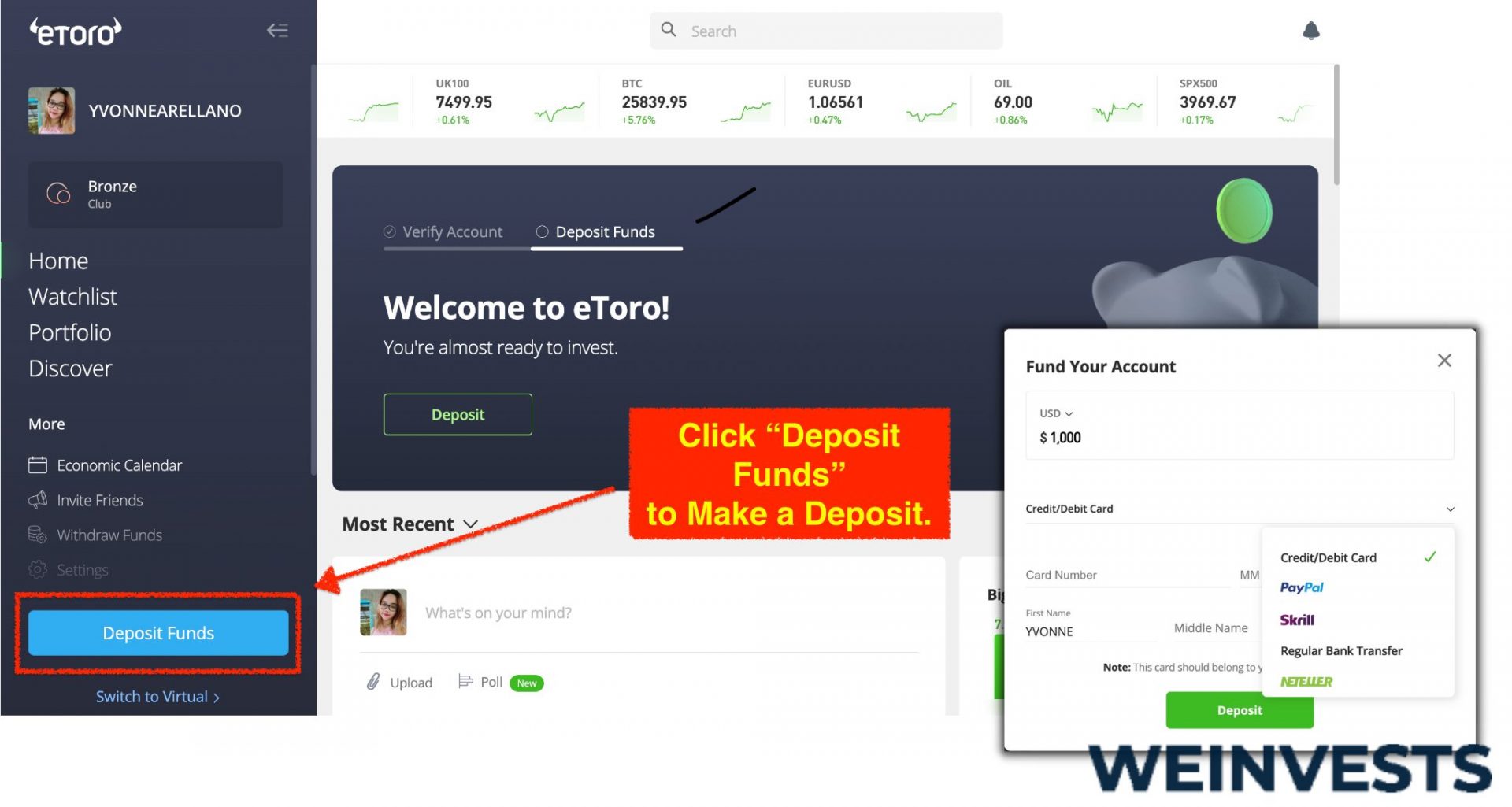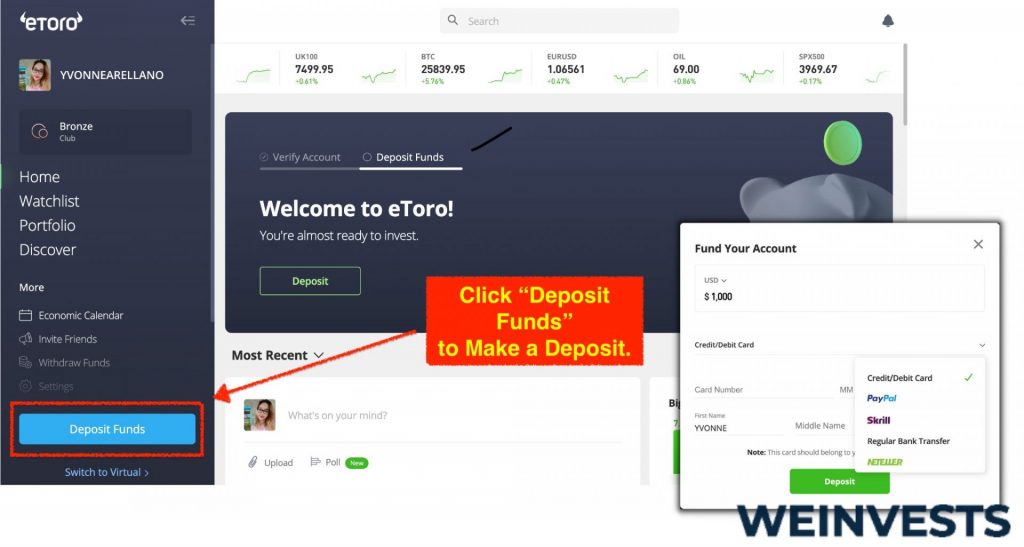 Step 4: Search for Roblox
Locate the search bar on the top of the eToro webpage and type in "Roblox" or "RBLX." Click on the stock from there, and the website will redirect you to its trading page. The search bar is handy for quickly finding and utilising instruments and related data in the online broker's portal.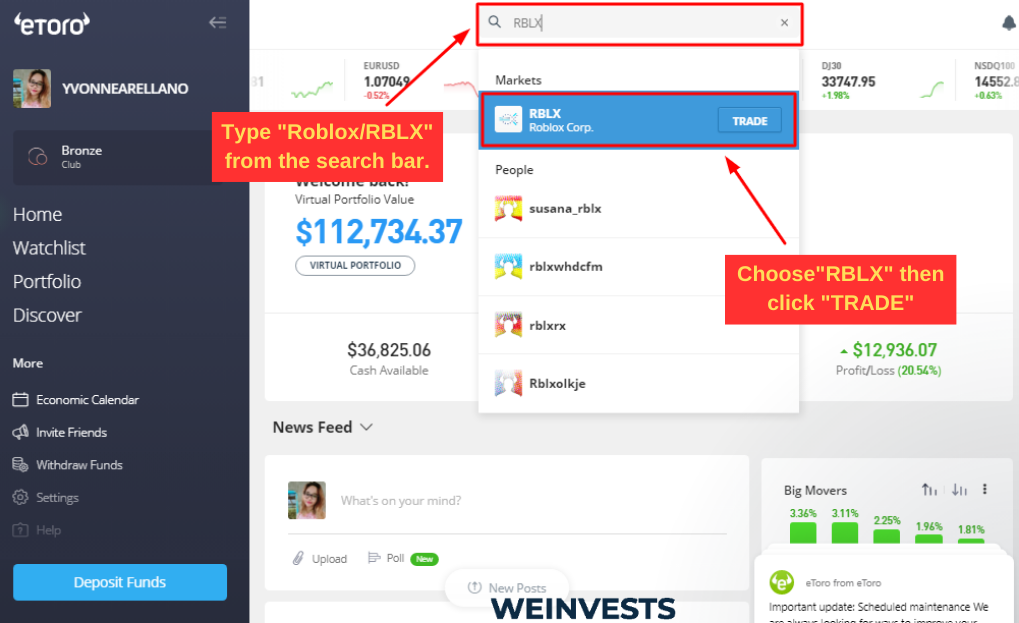 Step 5: Buy/Sell Roblox
On the trading page of the Roblox stock, you can analyse its financial performance and make a more educated investment based on the data. Finalise your investment by calculating your desired amount, choosing between a market or limit order, and selecting your preferred technical settings like stop loss and take profits levels. Make any last revisions to your trade, and once you are confident everything is under your strategy, click "Open Trade" to complete the deal.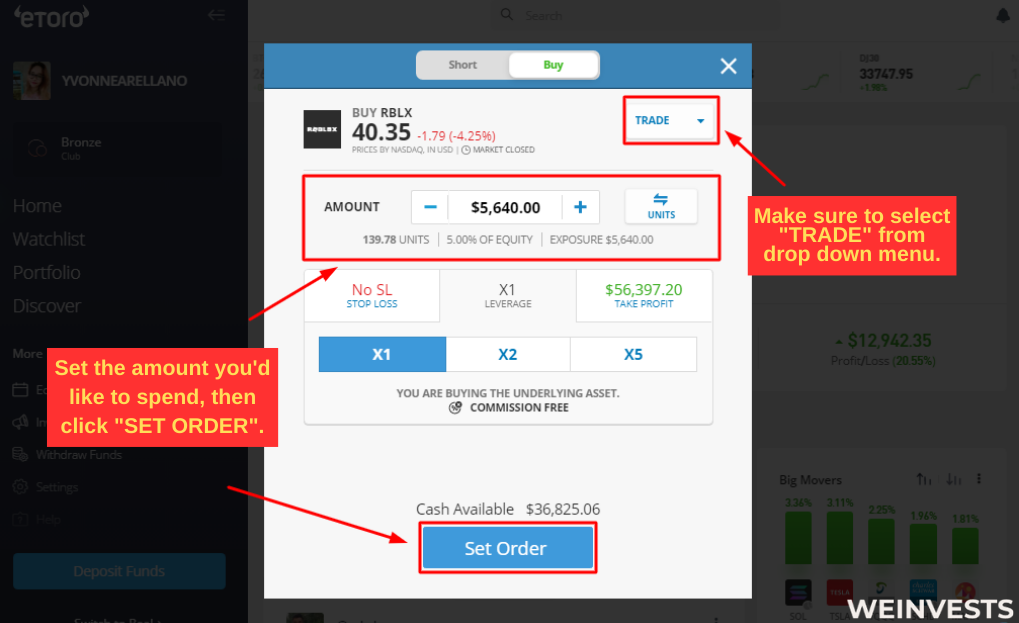 Make sure to conduct thorough research before investing or consider seeking the assistance of a financial advisor. The stock market is highly volatile and hides risks; it is advisable to follow your investments regularly to stay informed on the latest trends and fluctuations.
Choosing the right brokerage
When diving into the world of investing and buying Roblox stock, choosing the right brokerage is key. You need to take three main steps, but first, let's explain the difference between online and full-service brokerages and the distinction in fees and conditions.
Online brokers offer trading platforms for traders with any skill level, offering a set of trading tools and analytics. The commissions and fees are relatively low; however, the investment process is entirely in the hands of the retail investor. On the contrary, full-service brokers offer personalized advice and research but come with higher costs.
Opening a brokerage account
Investors also need to consider the account opening process. Online brokers usually require filling up a short registration form with the investor's personal information and providing PoA and PoI documents. For full-service brokers, you may need to provide additional financial information. You can then fund your account by transferring funds electronically or linking your bank account.
Placing an order to buy Roblox stock
Now that your account is funded with cash, placing a limit or market order is time. Market orders buy the stock at the current market price, while limit orders let you set a specific price you're willing to buy. When investing, you may consider using a dollar-cost averaging strategy to better manage your financials.
Monitoring and managing your investment in Roblox stock
Lastly, keep a close eye on your investment in Roblox stock. Monitor its performance and stay informed about company news. Stay proactive in managing your investment to make well-informed decisions along the way.
Analyzing Roblox's Financial Performance Before Buying
Before diving into Roblox stock, it's crucial to analyse its financial performance and weigh the risks and potential rewards.
Key financial metrics paint an intriguing picture. Roblox reported revenue of 655.34M, showing a robust 22.01% year-over-year growth that surpassed analyst predictions by 1.10%. However, the net income decreased by 67.48% to -268.31M due to a cooldown after the pandemic turmoil.
Earnings per share (EPS) fell short of expectations at -0.44, missing the projected -0.39 by -12.74%. Considering these figures and delving deeper into the company's financial health is essential.
Conducting comprehensive research and understanding the financial landscape and market position are all vital factors when investing in Roblox stock.
Alternative Ways to Invest in Roblox
There are several different ways you can put your money in Roblox. We will cover three popular alternatives, which will help you diversify your investment strategy and get access to more tailored approaches.
Putting your money into exchange-traded funds (ETFs) and index funds that hold Roblox is one approach that offers investors instant diversification. These instruments essentially serve as a basket of assets like the Roblox stock, reducing the risk of investing in one company.
Secondly, having a solid understanding of stock options and futures related to Roblox can bring several advantages. It can help you capitalize on market opportunities without actually owning the stock.
Investors looking for more flexibility in their budgeting strategy may explore the option of investing in partial shares. eToro is a trading platform that allows traders to buy fractional shares with a minimum deposit requirement of just $10.
Conclusion
Investing in Roblox stock presents a unique opportunity in the ever-expanding world of the metaverse and gaming industry. However, before taking the plunge, conducting thorough research and due diligence is crucial to make informed investment decisions. Consider key factors such as budgeting, investment strategy, and portfolio diversification. Determine how much you are willing to invest and align it with your financial goals and risk tolerance. Start your journey of buying and investing in Roblox stock confidently, armed with the knowledge gained from thorough research and due diligence.
FAQs
What Is Roblox?
Roblox has evolved as a platform that allows users to create their own games using Roblox Studies, an advanced tool for designing 3D environments, scripts, and more. The project's unique vision is to empower creativity and inspire people to create fantastic virtual worlds by implementing a social aspect and thus gathering a considerable follower base.
When did roblox come out?
Roblox was created in 2004 and released to the public in 2006. The company became public in 2021 and immediately gained massive success around the Covid-19 pandemic when the stock surged to an all-time high of 134.72 on November 19, 2021.
What Does BTC Mean In Roblox?
Although the term BTC in Roblox may sound familiar to the popular cryptocurrency Bitcoin, it actually stands for "Back To Catalog." This is a button used by players who want to navigate back to the catalogue section of Roblox, where they can buy various items like clothing, accessories, gear, and more.
How Much is Roblox Worth?
At the time of writing the article, the Roblox stock is traded for $40.32 per share. This value of RBLX is currently more than 68% higher than its all-time high; however, the company's latest earnings report indicates recovering revenue and EPS.
Risk Disclaimer
WeInvests is a financial portal-based research agency. We do our utmost best to offer reliable and unbiased information about crypto, finance, trading and stocks. However, we do not offer financial advice and users should always carry out their own research.
Read More