This content represents the writer's opinions and research and is not intended to be taken as financial advice. The information presented is general in nature and may not meet the specific needs of any individual or entity. It is not intended to be relied upon as a professional or financial decision-making tool.
Biotechnology – often referred to as biotech – benefits from both biology and technology to create innovative and fast solutions that can correctly and efficiently address health issues.
Biotech has no geographical boundaries, since a major advantage of this technology is that it can be easily reproduced and used at a global scale.
Especially due to the pandemic, institutions and people realised how important it is to create and deliver medicines as fast as possible, and to help the highest number of people.
But biotech has not only to do with vaccines: it addresses countless diseases, including genetic diseases and cancers. Companies that focus on this technology are valuable tools to improve the health of people and the planet.
Of course, not all companies are equal, as well as not all stocks related to this type of company are equal: in this article, we will cover the best biotech stocks to buy in 2023, providing you with useful information if you're interested in this fast growing sector.
What are Biotech Stocks?
Biotech is a term used to indicate biotechnology. It mixes biology and technology to find solutions that can improve the health of human beings and, in general, the health of the planet.
The fact that this technology exploits biology allows us to study how organisms function and what are the processes they use to stay healthy.
Biotechnology doesn't only involve the creation of medicines, but also food and environmentally friendly products.
Biotech stocks are shares of those companies that use biotechnology to create new products, and that are listed on public exchanges. People interested in this kind of technology can easily invest in these companies, which are currently highly considered.
In fact, after the pandemic, companies in the biotech sector gathered the attention of investors.
As you will see, some of the top biotech stocks to invest in 2023 are related to those companies that were involved in the creation of anti-Covid vaccines.
TOP 5 Biotech Stocks – 2023
Inovio Pharmaceuticals
Infections, cancer, and health issues associated with the human papillomavirus (HPV) are some of the diseases the company aims to treat thanks to DNA medicines.
To reach this goal, the company also created its own technology.
SynCon® is the algorithm developed by INOVIO: it is used to study the DNA sequence and identify the target antigen – the antibody – of a disease in order to use it in the manufacturing of a new medicine.
Moreover, INOVIO developed its own smart devices. CELLECTRA® devices were created to allow experts to open reversible small holes in cells and inoculate the newly created plasmids.
Finally, INOVIO Pharmaceuticals is a biotech company not only focused on finding new biotech-based solutions, but also in distributing them and in creating proprietary technology.
---
Ocugen Inc
After the outbreak of the pandemic, Ocugen contributed to research a vaccine against the pandemic, further improving its expertise in the creation of vaccines.
Despite this, the main focus of the company remains gene and cell therapies.
Gene therapies are mainly addressed to retinal diseases, also inherited diseases. The company also aims at treating blindness, actually helping millions of people across the globe.
Cell therapies are mainly focused on treating orthopedic issues, including serious diseases like cartilage lesions.
Ocugen also pays attention to the growth of the company in terms of quality of the workplace.
---
Pfizer
At the beginning of the twentieth century, the company had sales for over $3 million, and has been one of the top companies for the production and distribution of medicines since the very beginning.
The company is committed to creating medicines to treat different kinds of diseases, and it also has particular attention to sustainability, human rights, and inclusivity.
In fact, the company also supports global healthcare initiatives through its grants, and cooperates with public institutions to improve health also in the poorest countries.
Its governance, focused on environment, health, and safety (EHS) is one of the reasons behind the success of the stocks of Pfizer.
Also in the case of Covid-19, Pfizer was one of the main companies involved in the creation and distribution of anti-Covid vaccines.
---
Moderna
Moderna uses biotechnology to study mRNA and create new medicines thanks to this innovative approach. The goal is to benefit from the information included in human mRNA to synthesise proteins able to help the body to reinforce its immune system and fight diseases.
The company doesn't use this method only to create vaccines, but it also aims to create medicines to treat cancer and metabolic diseases – among other health issues.
With more than 10 years of experience, Moderna managed to create a proprietary platform, the mRNA DESIGN STUDIO.
Thanks to this platform, Moderna can study mRNA, target the right proteins, and reproduce them to create new treatments. This process can find countless applications for different kinds of diseases. The fact that the company uses both biotechnology and its proprietary platform allows them to reproduce proteins at scale, thus managing to create new products very quickly.
This also allows the company to adjust their production to face emerging diseases.
---
BBIO – BridgeBio Pharma
BBIO is mainly focused on treating cancers and genetic diseases, some of the most challenging health issues to address.
The design of the medicines produced by the company is mainly based on genetic drivers and the most technologically advanced research and production methodology.
BBIO uses computational genomics and statistics to map genetic diseases, in order to better understand and address them and use a more efficient process.
Once the research of the company experts is complete, medicines are produced and tested, to be then delivered across the globe thanks to commercial infrastructures.
This allows the company to be one of the fastest companies for what concerns the production and delivery of new medicines.
Attention to transparency is one of the most prominent characteristics of BridgeBio Pharma, along with its capability to merge biotechnology, innovative medicines and the use of efficient financial models to serve people around the world.
How to Invest in Biotech Stocks?
The first and most common way to invest in biotech stocks is to purchase the shares of a company that operates in the biotech sector. Shares of such large and public companies are traded on the stock exchange where investors can buy and sell by using their brokerage accounts.
Alternatives to shares are ETFs and mutual funds. Similar to biotech stocks biotech ETFs are exchange-traded and can be accessed relatively easily through brokerage accounts. Some ETFs might be focused on biotech only so they are giving you a diversified opportunity to gain exposure to the biotech stocks in a relatively cost-efficient manner. Unlike ETFs, mutual funds are not actively traded on the stock exchange so investors need to discuss with the mutual funds directly or gain exposure to the mutual fund through an investment broker. Otherwise, the characteristics of mutual funds are very similar to ETFs, besides the fact that the ETFs are traded on the exchange.
Some start-up biotech firms might be emerging as well and although they might not be publicly available they are sometimes trying to raise additional capital by crowdfunding. Investors who would like to invest early and potentially participate in the growth of the company if they believe in it could enter into the crowdfunding space of biotech firms. This allows becoming an early shareholder or a debt-holder of a biotech start-up depending on what way the crowdfunding is done.
Drawbacks of Biotech Stocks
The biotech firms are heavily dependent on research and development (R&D) which is a significant cost for the firm and may harm the profitability of the firm. Hence the R&D costs if not successful might negatively impact the biotech share prices.
In addition to the uncertainty related to the R&D outcome, there is the risk of a long development process after the R&D in order to receive all the regulatory approvals to be able to bring the drugs to production and consumption ready. The regulatory and approval landscape might come as a barrier for the drug to enter the market even if the R&D shows promising results which may also negatively impact the biotech share prices.
Since the biotech industry is heavily dependent on R&D it also comes with the capital needed to be able to perform the R&D, especially in the initial stage but later on as well for the continued development of products. This might lead to dilution of ownership in the company and sometimes lead to costly capital acquisition to maintain the investment capacity of the biotech firms. This also might lead to an impact on the financial statements of the firm and cause the market to readjust the biotech stock price downward.
Biotech is one of the many industries that are heavily dependent on technological developments and innovations. Lack of such developments or the emergence of alternative technologies which might lead to better treatment may impact the biotech industry overall causing the biotech share prices to decline.
Where to Buy Biotech Stocks​?

Taking advantage of an online broker such as eToro is beneficial when investing in biotech stocks as it eliminates the requirement of going through multiple platforms to invest and trade the right stock. With the onset of the digital era, it has become difficult for investors to make the proper selection of a broker.
Step 1: Open your Personal Account
To open an account, you'll need to fill an application form to provide the platform with some personal details, and more information about your investing and trading experience.
Once you complete your application, you'll be ready to invest in the top biotech stocks of 2023.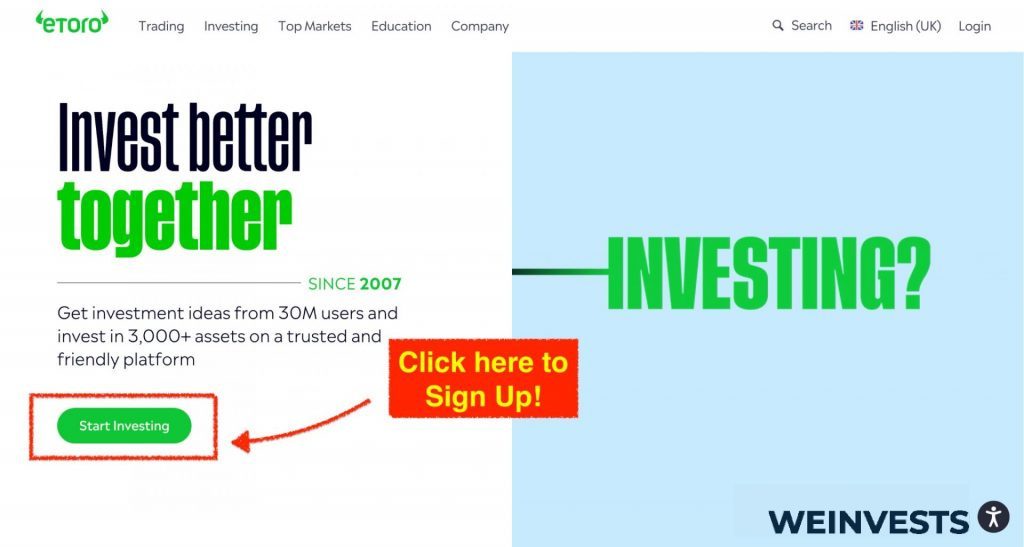 Step 2: Upload ID
This is a document that eToro needs to comply with regulations in terms of KYC (Know Your Customer) and AML (Anti Money Laundering).
Documents are required not only to verify your identity but also as proof of residency and proof that you own the bank account you want to use to invest in eToro.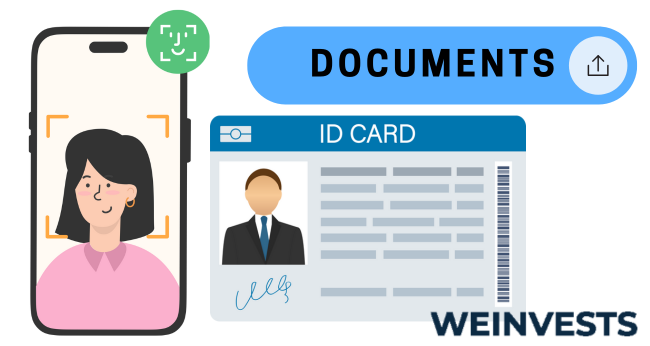 Step 3: Make a Deposit
Even if eToro offers you a virtual wallet to test your trading and investment strategies, you need to deposit money in your real portfolio to have the opportunity to make real profits.
Depositing money will be easy since eToro allows you to use both credit and debit cards.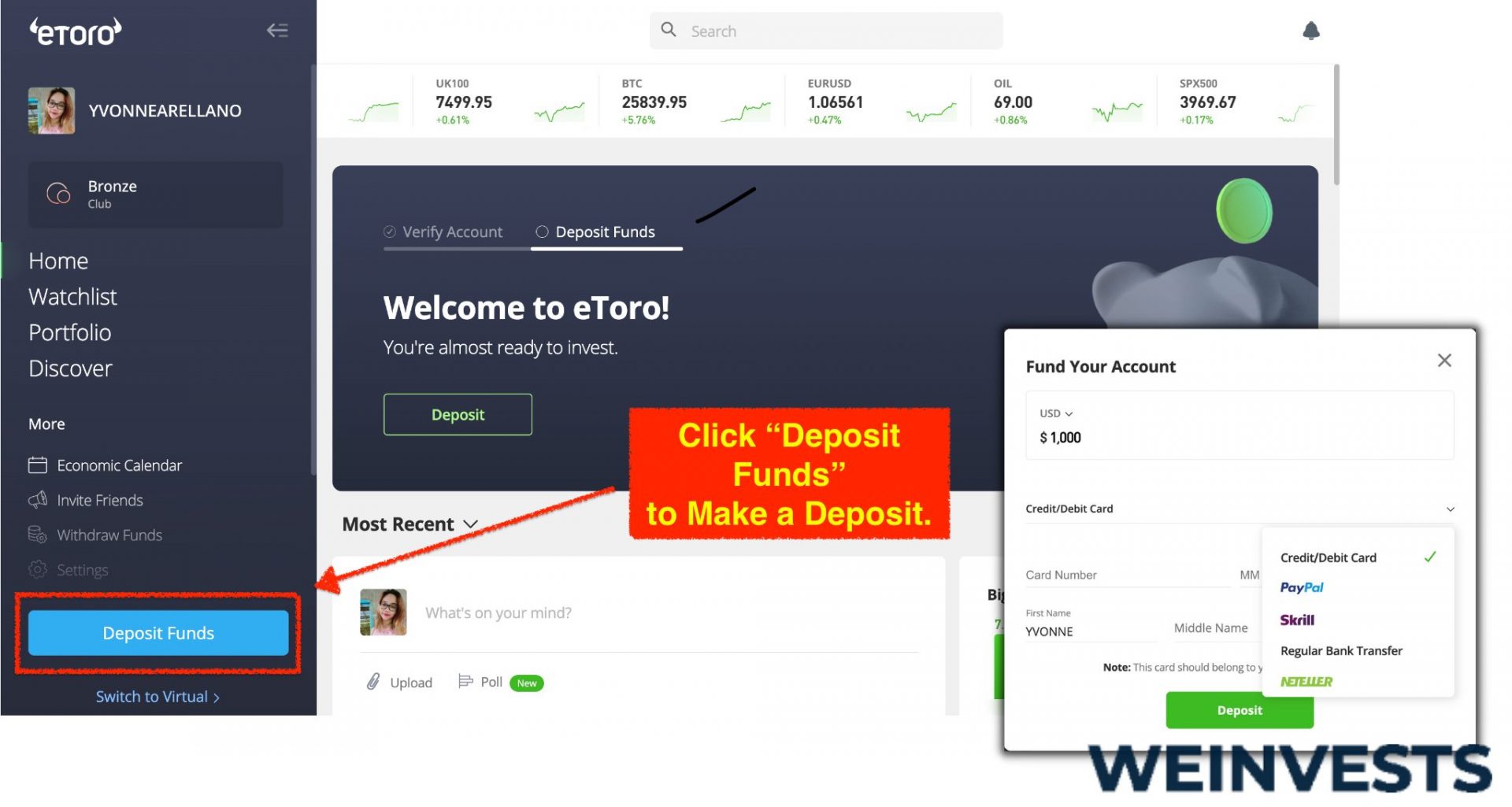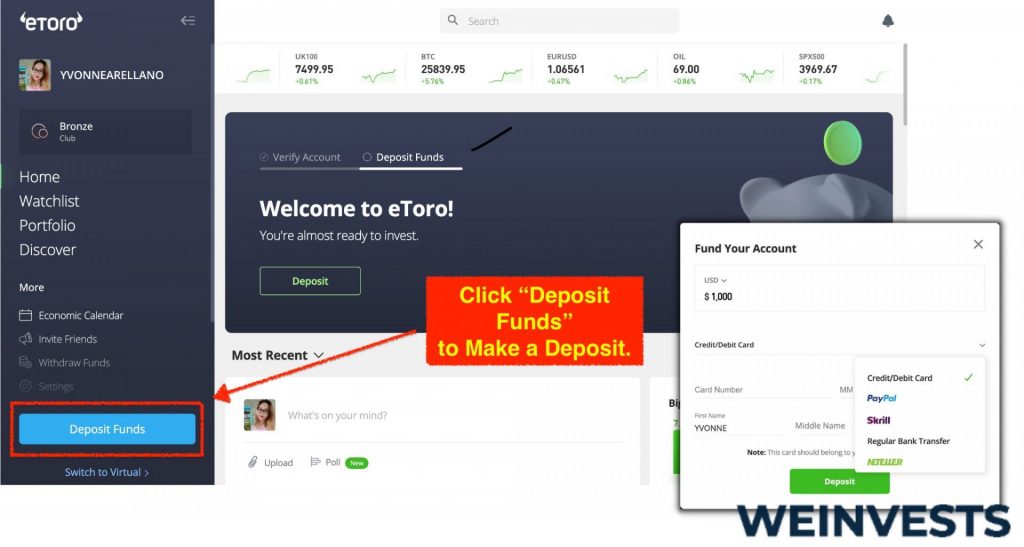 Step 4: Search for Biotech Stocks​
eToro has a wide selection of stocks, and if you have something particular in mind, you can use its search bar to find it quickly. After you identify the stock you're looking for, you can hit the "trade" button to initiate your order. In addition, you can use the available features to determine the stop-loss and take-profit price prices, thereby automating your trading – an important element, if you don't want emotions to influence your trading activity.
Conclusion
Biotech is a type of technology that uses biology to find solutions that can improve human health and the health of the planet.
All those companies that are focused on this technology and are listed on public exchanges, give you the opportunity to invest in their stocks.
If you're interested in this sector, you need to know more details about the market – as well as you need to find the right tools to invest.
For these reasons, we gave you more detailed information about the top 5 biotech stocks to trade in 2023 – along with some useful suggestions to choose the right tool.
Right now, the top biotech stocks are mainly related to companies that proved to be extremely fast and resilient during the pandemic, but also companies focused on addressing some of the most challenging health issues – like cancer and genetic diseases.
The top companies we covered are INOVIO, Ocugen, Pfizer, Moderna and BBIO.
Despite our information being reliable and well researched, never forget to do your own research before investing money.
Risk Disclaimer
WeInvests is a financial portal-based research agency. We do our utmost best to offer reliable and unbiased information about crypto, finance, trading and stocks. However, we do not offer financial advice and users should always carry out their own research.
Read More